Tucked into a red rock canyon 1.5 miles from the oasis town of San Pedro in Chile's northern desert, Nayara Alto Atacama has an unmatched sense of place and is one of our favorite hotels in Chile.
Away from the bustle of San Pedro town, the setting allows guests to focus on the stillness of the desert. The lodge merges harmoniously into its surroundings, and the eight-acre grounds feature native plants and a llama paddock.
The lodge amenities include six outdoor pools of varying temperatures, an outdoor Jacuzzi, restaurant, bar, lounge, boutique, gardens, and spa. A stargazing platform (with high-gauge telescope and loungers) was built atop rocky hill nearby.
The Nayara Alto Atacama Lodge
The 42 rooms at Nayara Alto Atacama are intended to blend into the landscape. Their design incorporates native building techniques and materials. For example, the rooms do not need air conditioning; they are kept cool naturally through orientation, altitude, and double-roof construction.
Most guests choose the full-board program for their stay. This program includes group-basis guided touring (maximum eight guests per group), three meals daily, open bar with select beverages, and group-basis transportation to and from the Calama airport. It's an excellent value.
Nayara Alto Atacama Location
Located in the Catarpe Valley of the Salt Mountain Range, just over a mile from the plaza of San Pedro, Nayara Alto Atacama is the only lodge in the San Pedro region that is completely enveloped by natural surroundings.
The Atacama Desert is one of the driest places on the planet with endless canyons, caves, caverns and gorges to explore.
Guests can wander through pre-Inca and Inca sites, a hilltop stargazing platform, and hiking trails.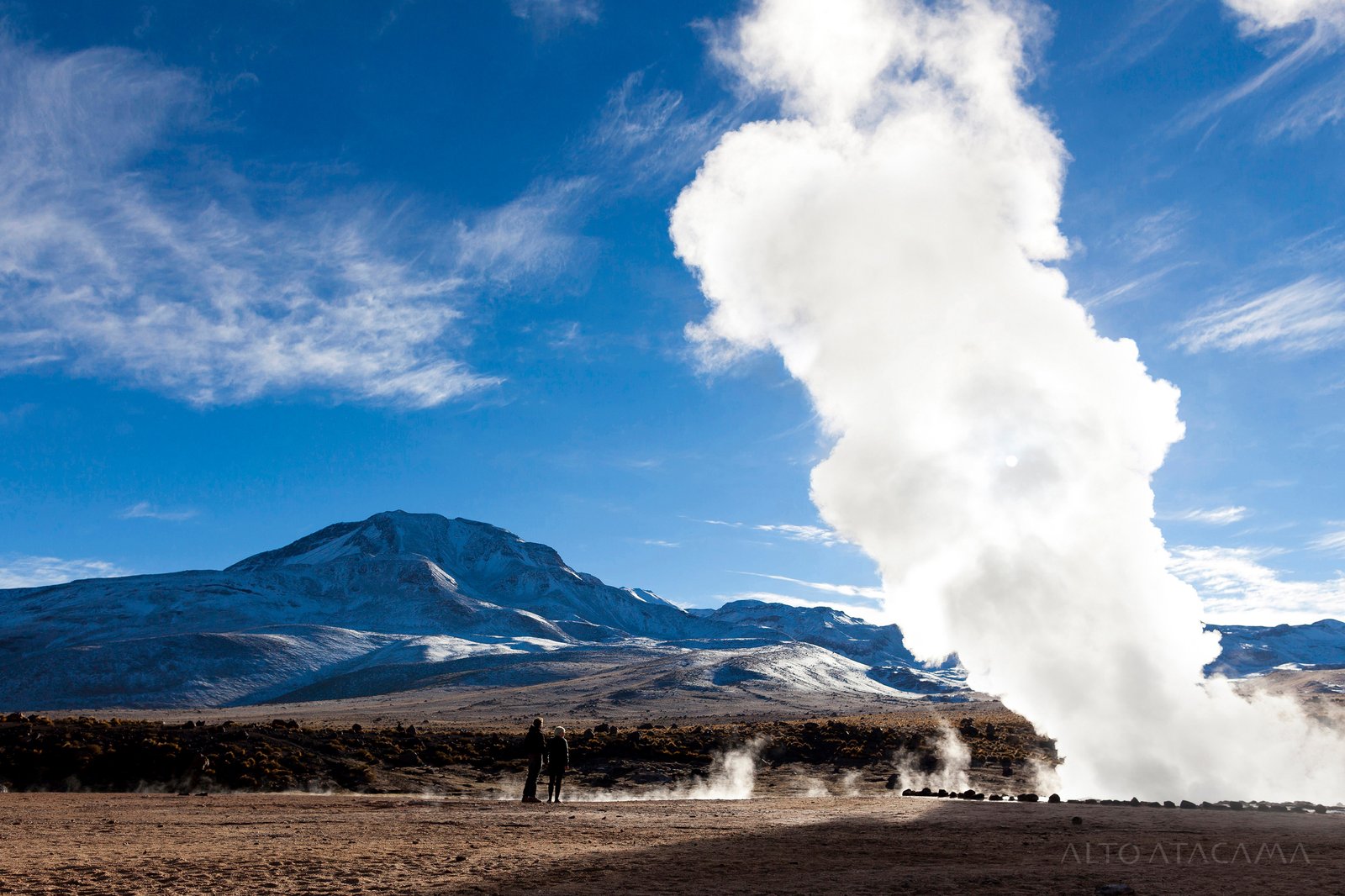 Nayara Alto Atacama Accommodations
Nayara Alto Atacama's design was influenced by local village architecture and meant to blend seamlessly into its environment and appear as a part of the terracotta-colored ridge that surrounds it.
Construction incorporates traditional building design and materials — wood, stone, and adobe.
The dramatic setting paired with complete tranquility make the Alto Atacama a destination unlike any other hotel in the region.
In-room amenities include bathrobes, slippers, hair dryers, security box, minibar with complimentary soft drinks and mineral water.
Tilo Suites
The 10 Tilo suites are located in the garden landscape of Alto Atacama, with an ideal view of the Catarpe Valley.
These large room suites are 770 square feet, fitted with a private terrace and additional outdoor shower. Two of the suites are interconnected to accommodate large families. These rooms also have TVs.
Catarpe Rooms
The 27 Catarpe rooms are 550 square feet with unparalleled views of the Cordillera de la Sal Range and the Catarpe Valley.
Catarpe rooms are equipped with a private terrace and do not have TVs.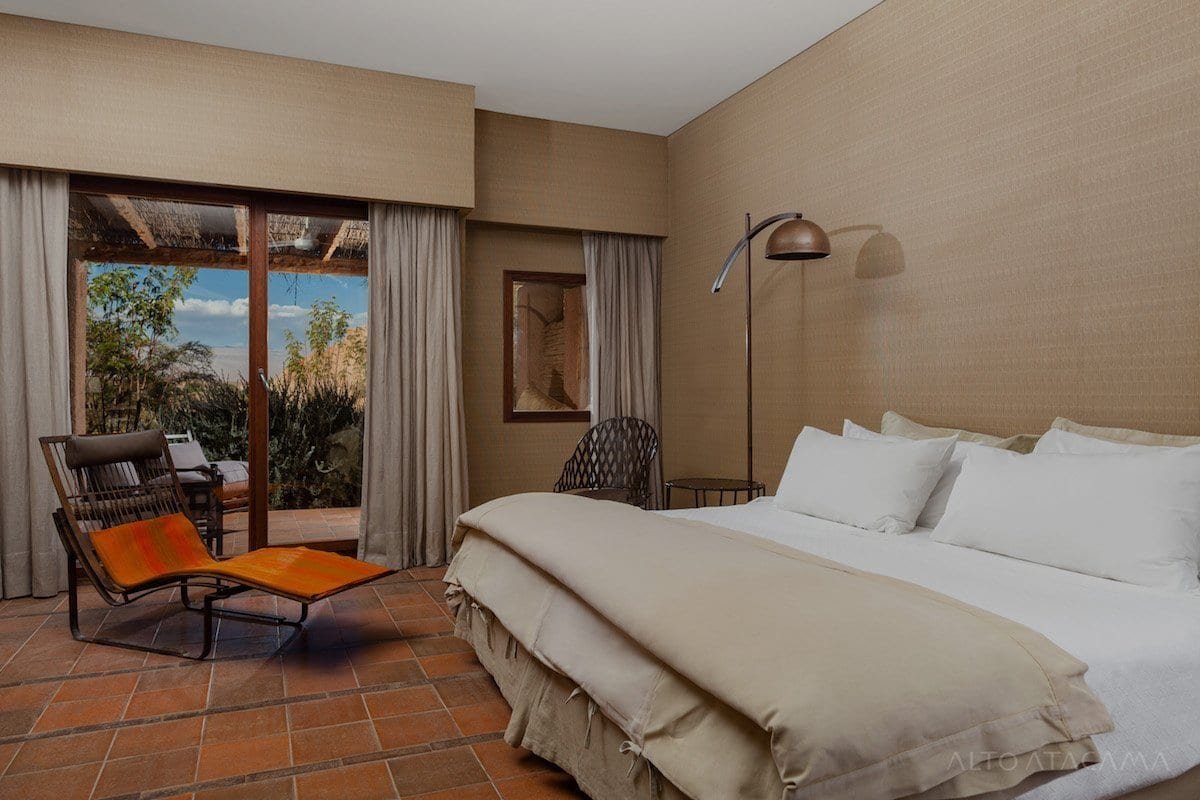 Quitor Rooms
The 5 Quitor rooms are 550 square feet and offer pristine views of the hotel gardens, framed against the Cordillera de la Sal as the backdrop.
These rooms have private terraces, but no TV. One room is wheelchair accessible.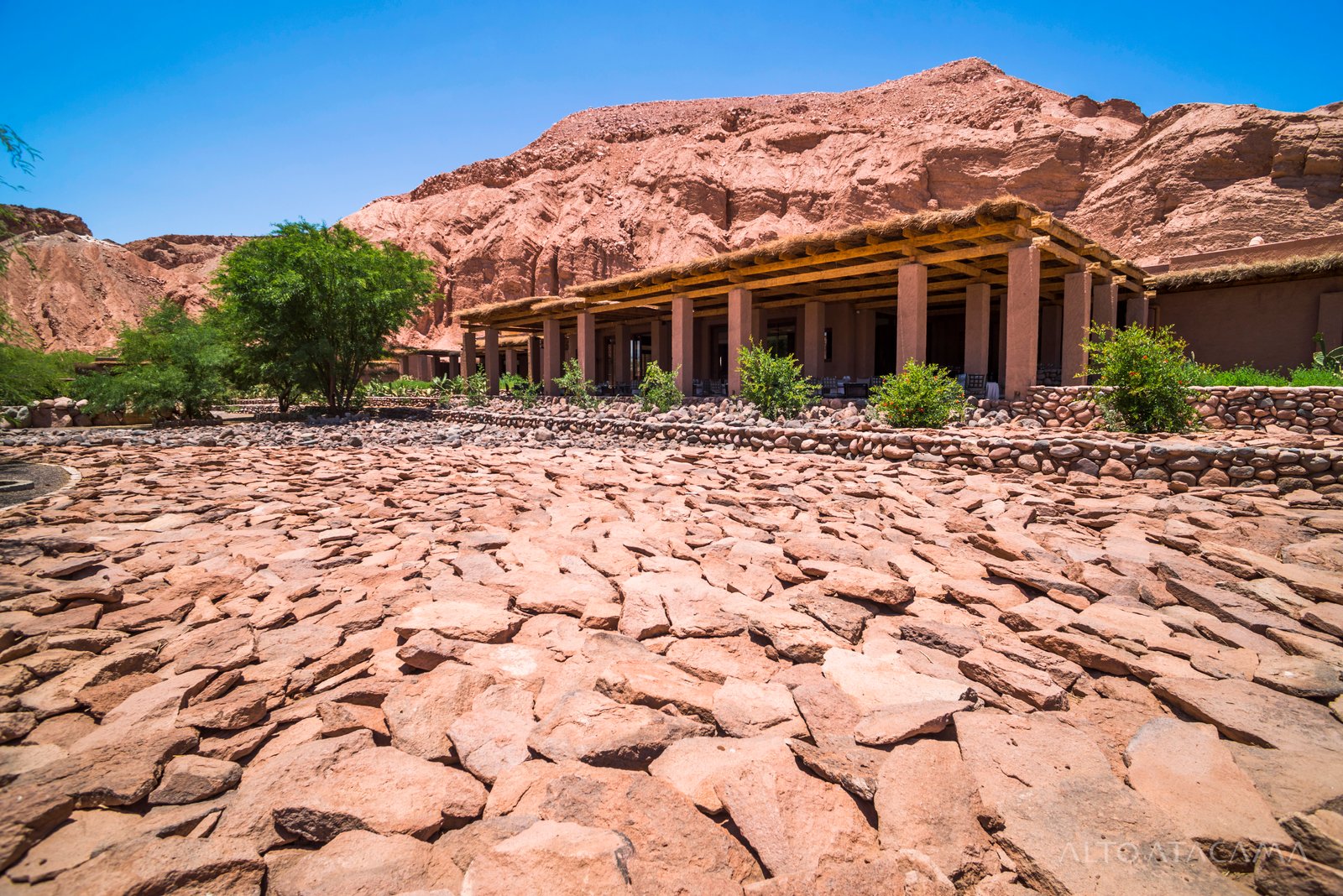 Nayara Alto Atacama Amenities
Food and Wine
The hotel restaurant offers a menu of locally grown organic foods including Socaire potatoes, native quinoa and Chanar-based sweets.
The restaurant works closely with local producers to source food directly to the table.
The intimate indoor and outdoor settings at Nayara Alto Atacama allow guests to mingle and unwind while indulging in fine dishes and selection of internationally acclaimed Chilean wines.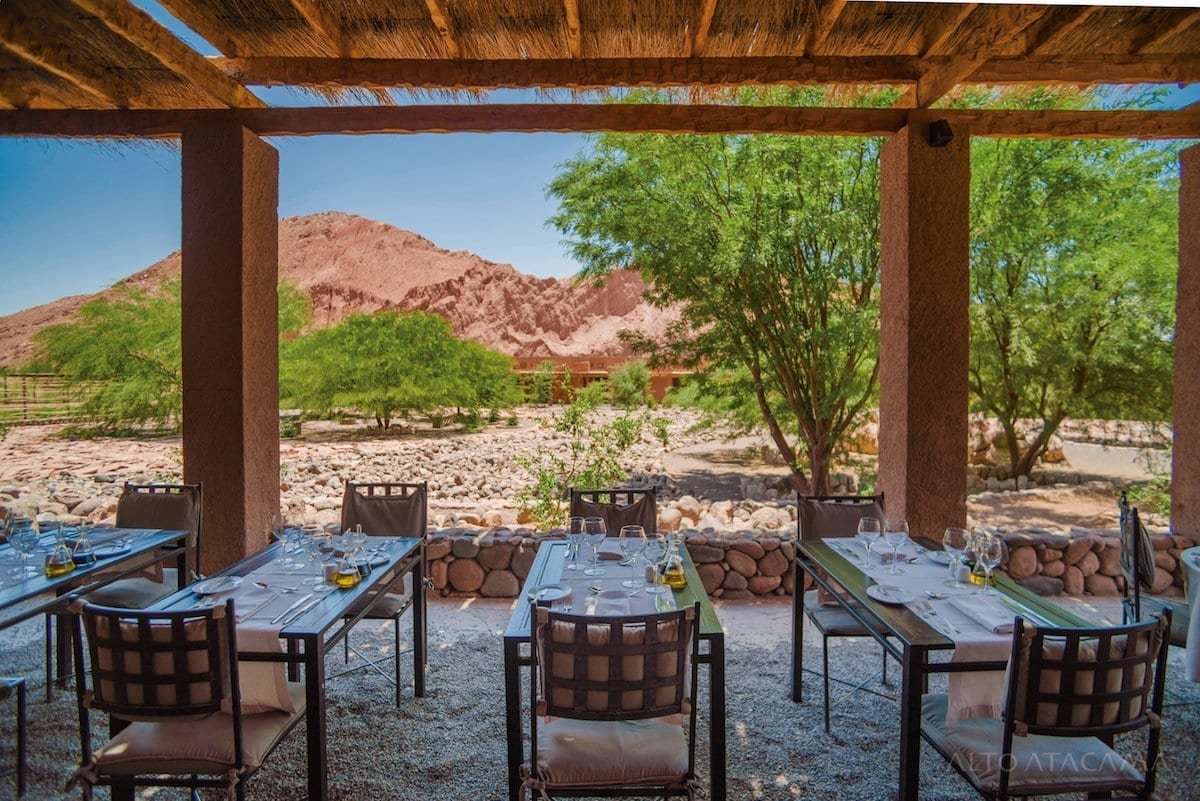 Puri Spa
Though San Pedro de Atacama is one of the driest places on earth, water from glacial snow is what turns it into an oasis, making their spa a revitalizing experience. Water and aromatic scents are what invigorate the body after days of exploring the Desert.
Options include Finnish sauna, Turkish bath, Scottish showers, and hot tubs.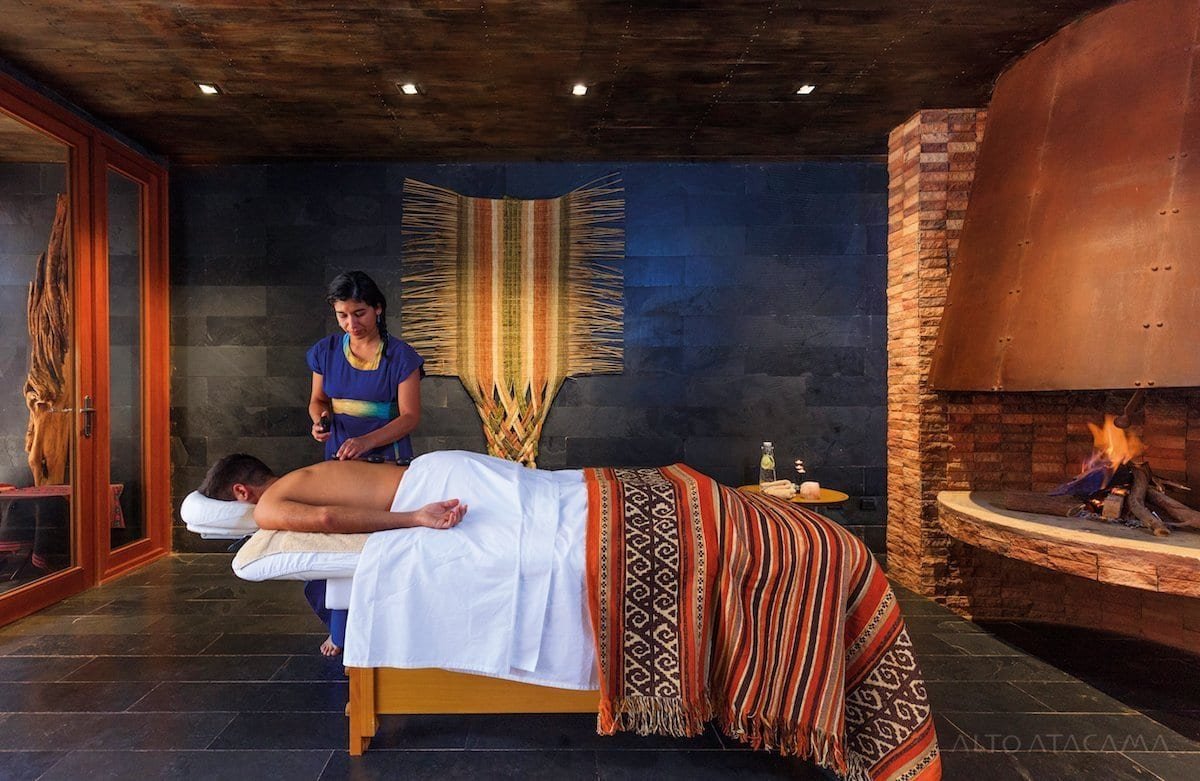 Pools
Nayara Alto Atacama doesn't just have one pool, but six outdoor pools and an outdoor Jacuzzi that overlook the vibrant Catarpe Valley. Each of the pools are protected by a stone wall to ensure privacy.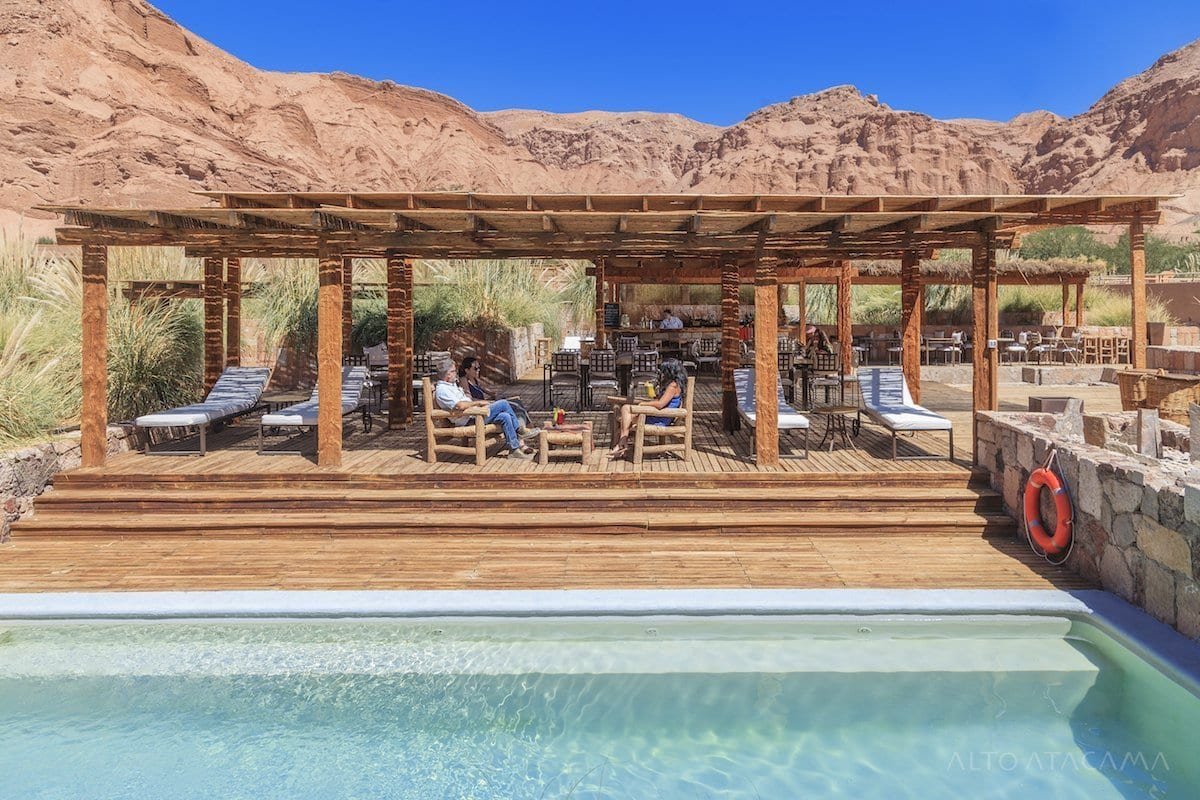 Due to its rarity in the region, all water at Nayara Alto Atacama is purified to reduce its impact on the environment.
An outdoor bar and dining room in the pool area offer guests the option of eating by the water, or relaxing with a drink in hand.
Gardens
With twenty years of experience under his belt, Veronica Poblete developed the concept of an Andean park to pay tribute to the traditional landscape of the area.
The gardens are a small palette of the desert. Every plant was sown with native seeds and grown in local soil.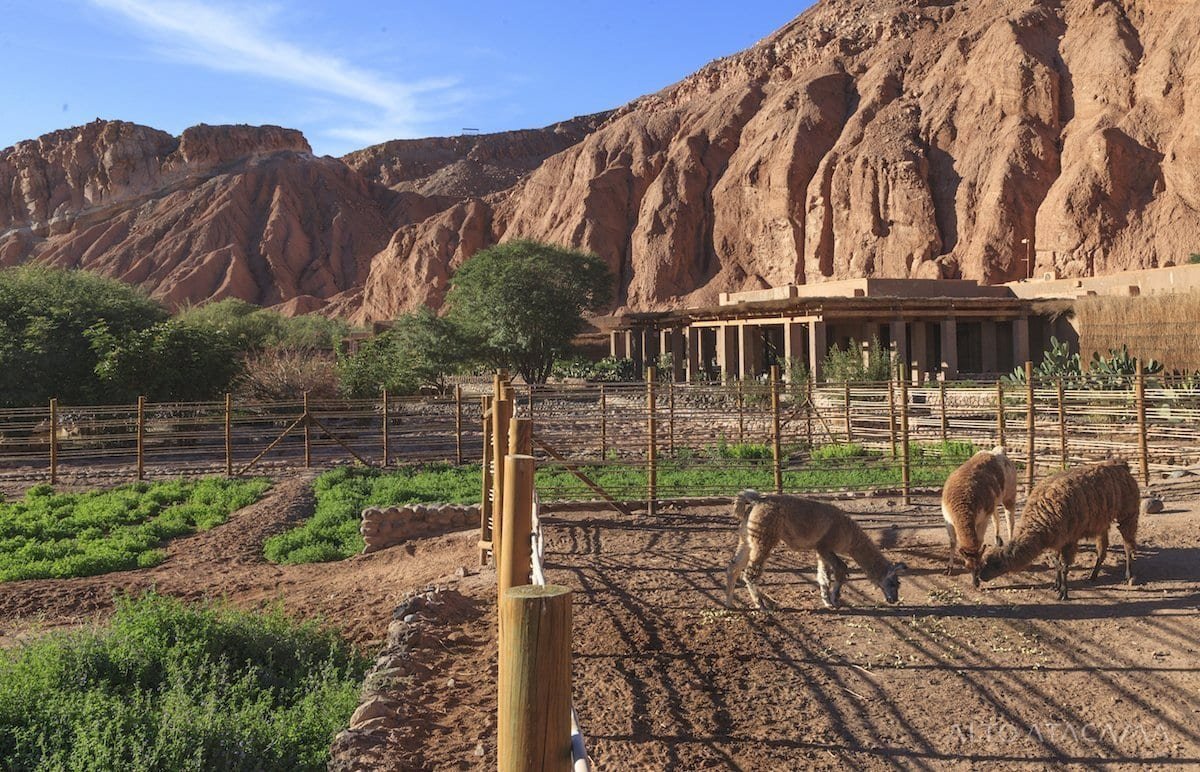 All materials were gathered by hand and stones were transported by donkeys.
Even the stone bricks were hand carved to ensure that the Nayara Alto Atacama Andean Park is a reflection of cultures and peoples who once walked this desert.
Excursions
Nayara Alto Atacama seeks to open a traveler's eyes to explore and to connect with truly authentic experiences.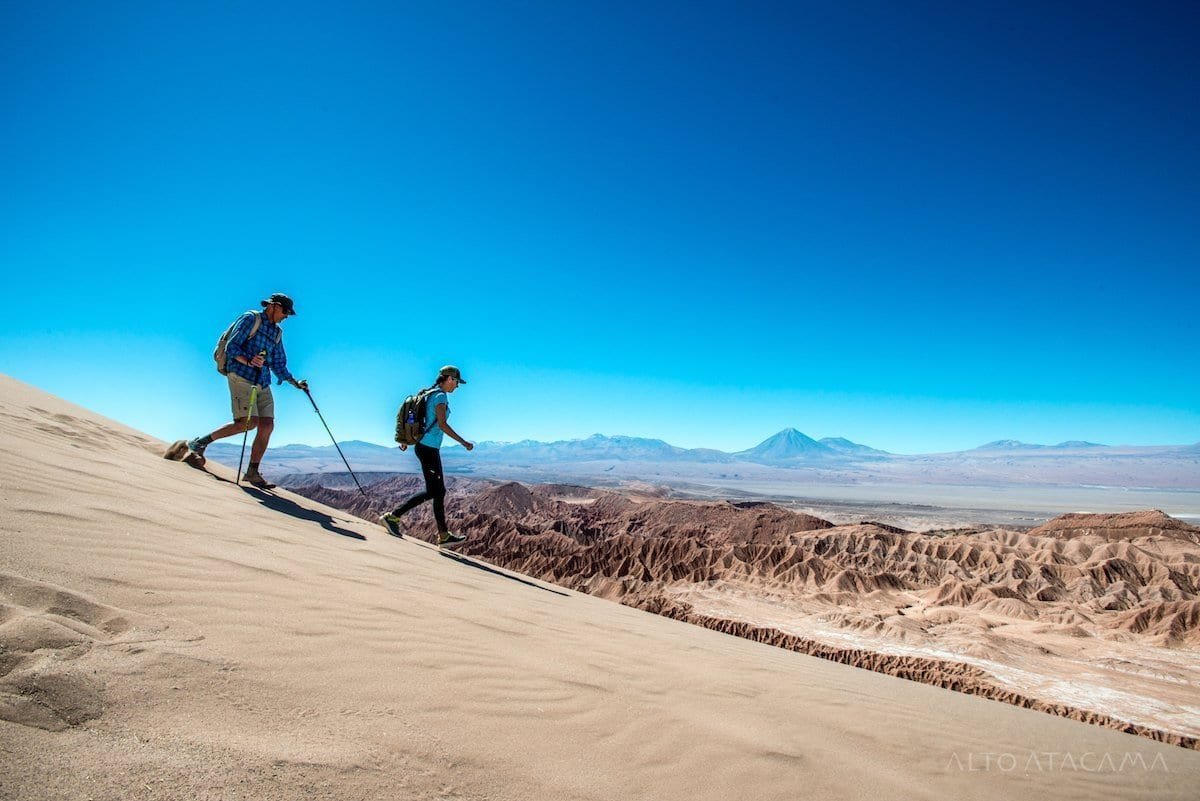 Nayara Alto Atacama encourages guests to get off the beaten track, interact with the local indigenous culture and explore the desert's varied landscapes by foot or bike.
More than half of Nayara Alto Atacama's staff is indigenous, and their personal stories and histories enrich a guests' understanding of the region.
Geysers, hot springs, volcano climbs, mountain biking through desert canyons, and exploring ancient Incan ruins and petroglyphs are just a few of the 30 adventurous excursions offered, always led by highly trained local guides.
Riding is not offered at Alto Atacama because horses are not native to the Atacama, and they have an adverse effect on the landscape.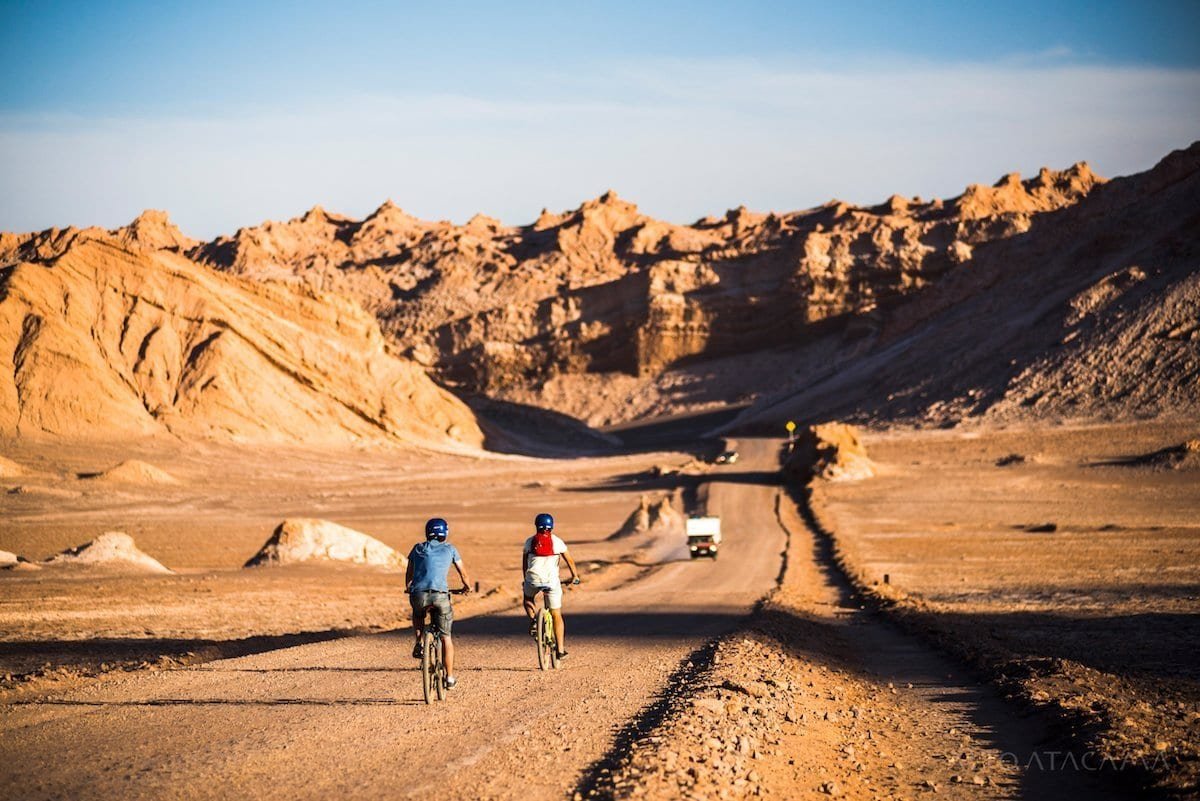 ARE YOU CONSIDERING A STAY AT NAYARA ALTO ATACAMA? LANDED PROVIDES PERSONALIZED, CUSTOM TRAVEL WITHIN CENTRAL AMERICA, SOUTH AMERICA, AND THE ANTARCTIC. WE'LL CREATE A UNIQUE ITINERARY PLAN TAILORED TO YOUR INTERESTS AND DREAMS. EXPERIENCE THE TRIP OF A LIFETIME. SPEAK WITH ONE OF OUR EXPERT TRAVEL PLANNERS TODAY AT 801.582.2100.