Panama's Private Island Retreat
Nayara Bocas Bali is a Balinese-inspired, over-the-water getaway. Designed by Panamanian architect Andres Brenes, the project is located in the Bocas del Toro archipelago on Frangipani Island, a private island off Panama's Caribbean Coast.
The hotel is enhanced by original artwork, such as a hand-carved soap stone mural and a sculpted two-ton sugar root.
Guests enjoy privacy and elbow room; the bungalows and communal spaces at Bocas Bali are spaced along a half mile of ten-foot-wide boardwalks overlooking the sea, gardens, and mangroves.
Bocas Bali is the Panamanian sister resort to El Castillo in Costa Rica. Both hotels have a minimum age requirement of 16 years.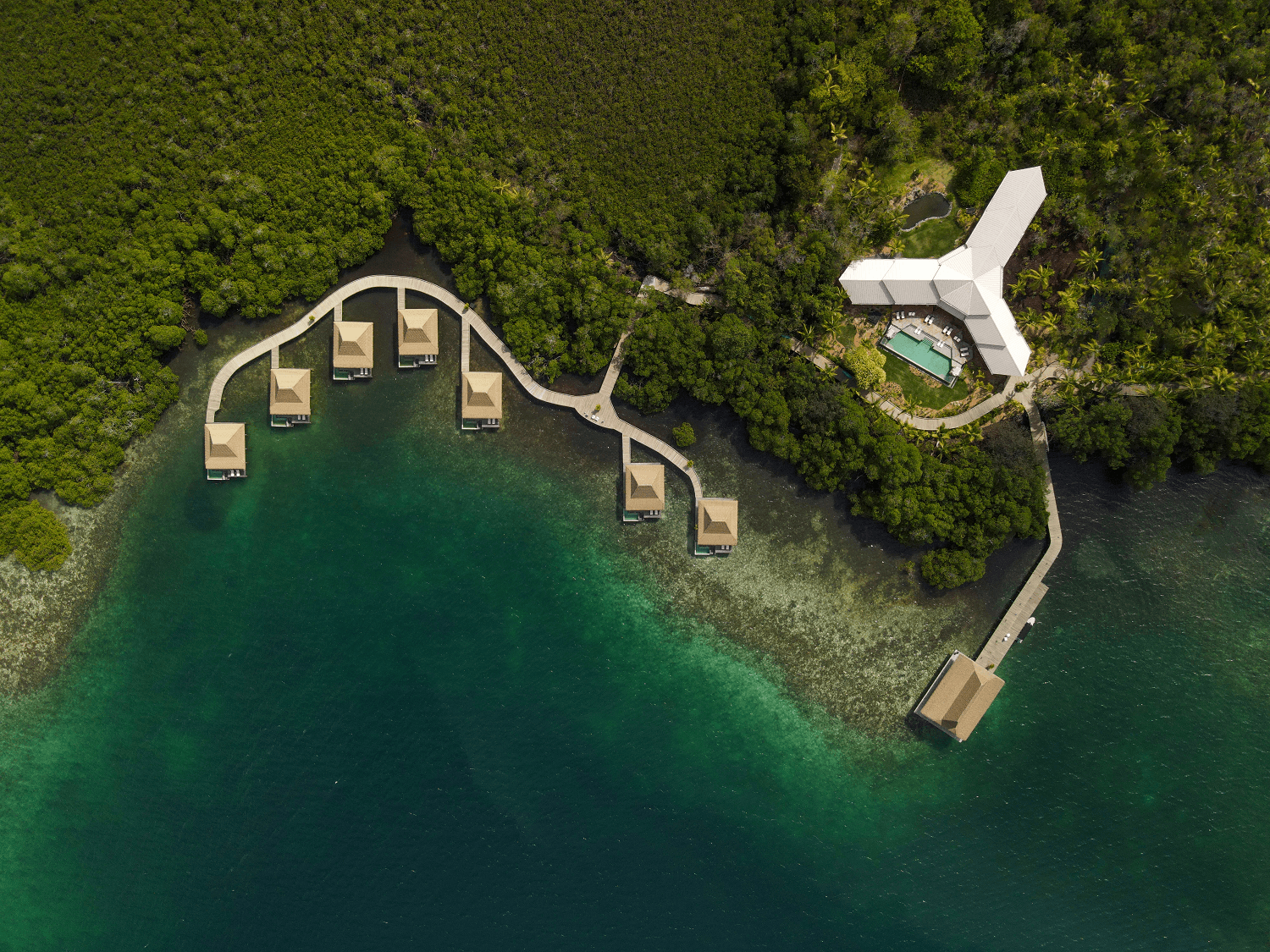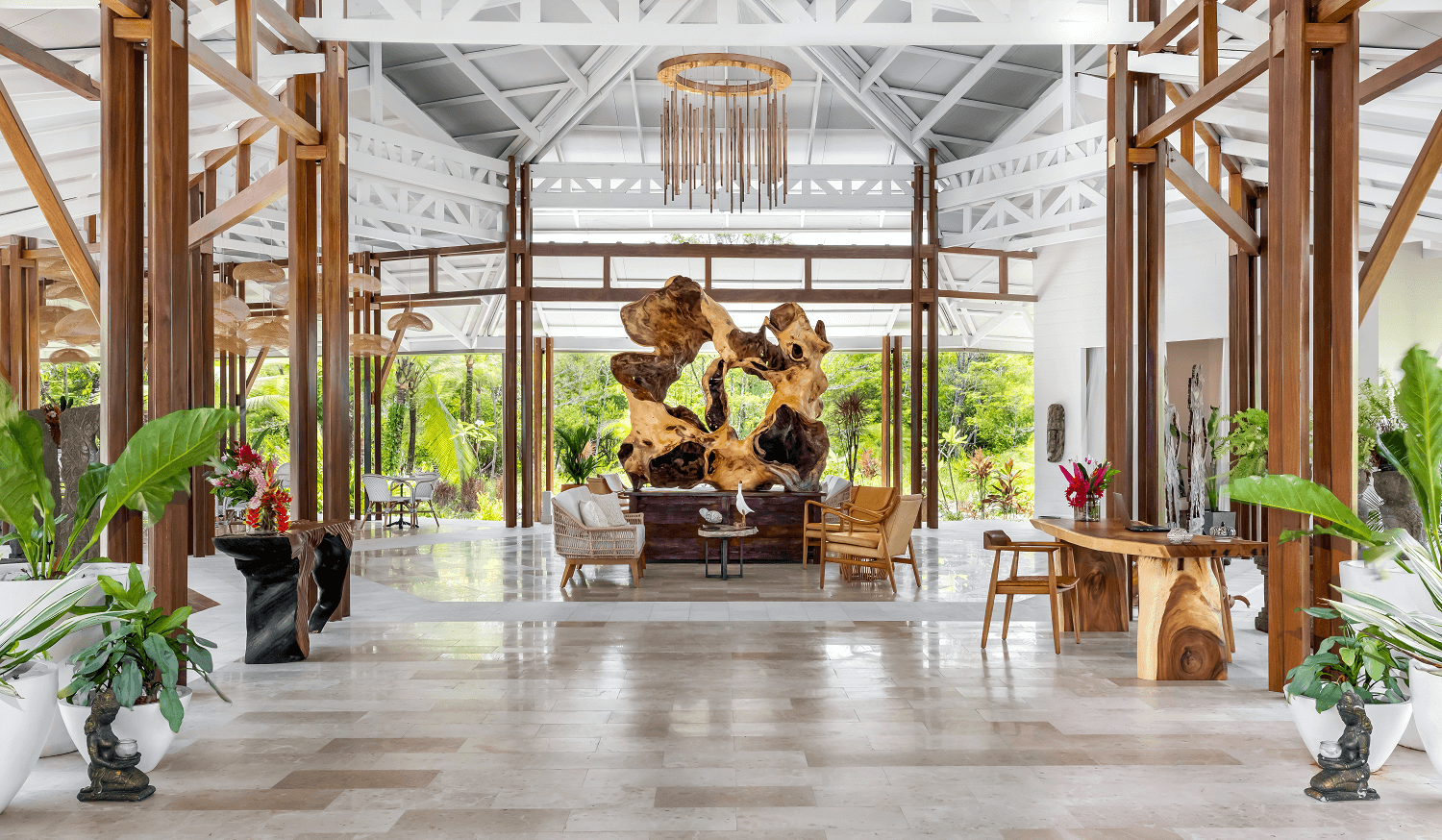 Bocas Bali Experience
A complete experience at Bocas Bali means anything, anytime, and anyplace.
Guests at Bocas Bali usually choose to stay between three or four nights. The Bocas Bali experience includes all meals and select beverages, as well as airport transfers, and a selection of activities.
Additional transfers to Bocas Town can be arranged on-site or in advance and may come at an additional cost.
Bocas Bali is 100% off-grid. Catchment basins store 55,000 gallons of rainwater, providing for all of the retreat's purified freshwater needs. Electricity is generated by solar panels. Wi-Fi is available in rooms and common areas.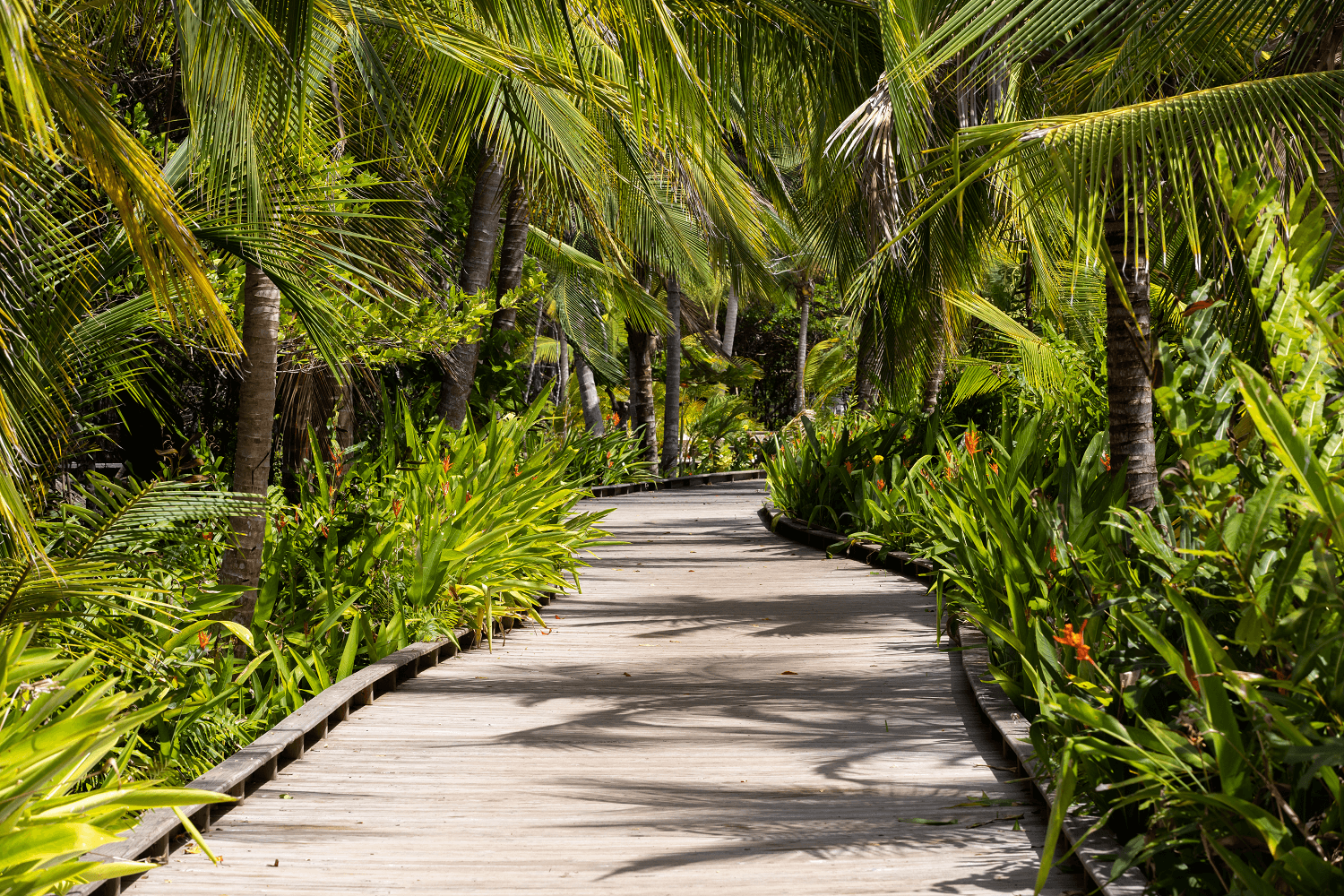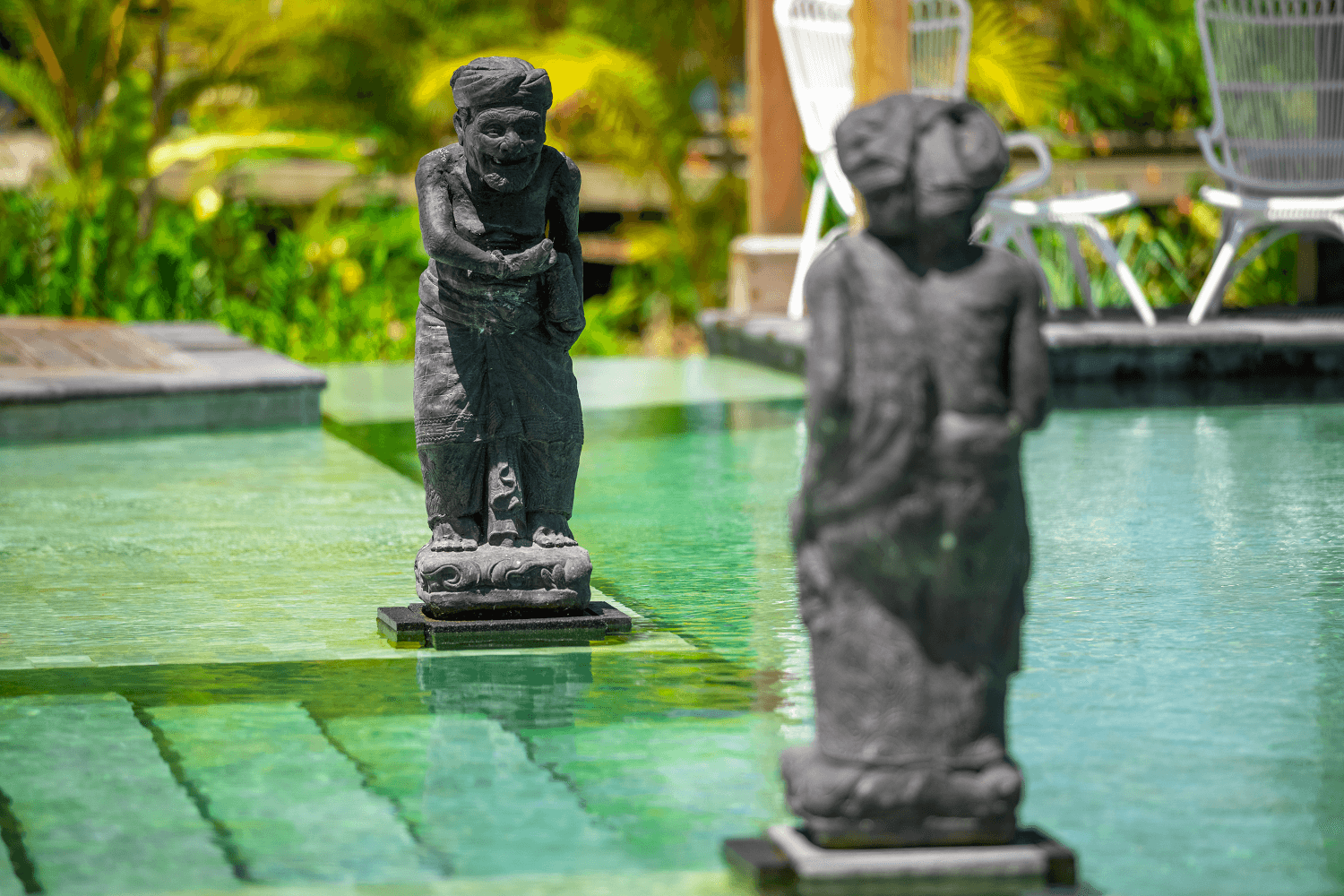 Bocas Bali Amenities & Services
Guests at Bocas Bali have access to a waterfall pond, a dinner restaurant, a cafe and bar, and lounge areas. Wi-Fi is available in rooms and common areas.
The hotel's clubhouse–the Colonnade–overlooks a seventy-foot freshwater infinity pool. The clubhouse is also the location of the Coral Café, the gym, and the spa.
Paddleboards, kayaks, and snorkeling gear are at the ready. Concierge and room service are available around the clock.
The resort also has the first over the water beach.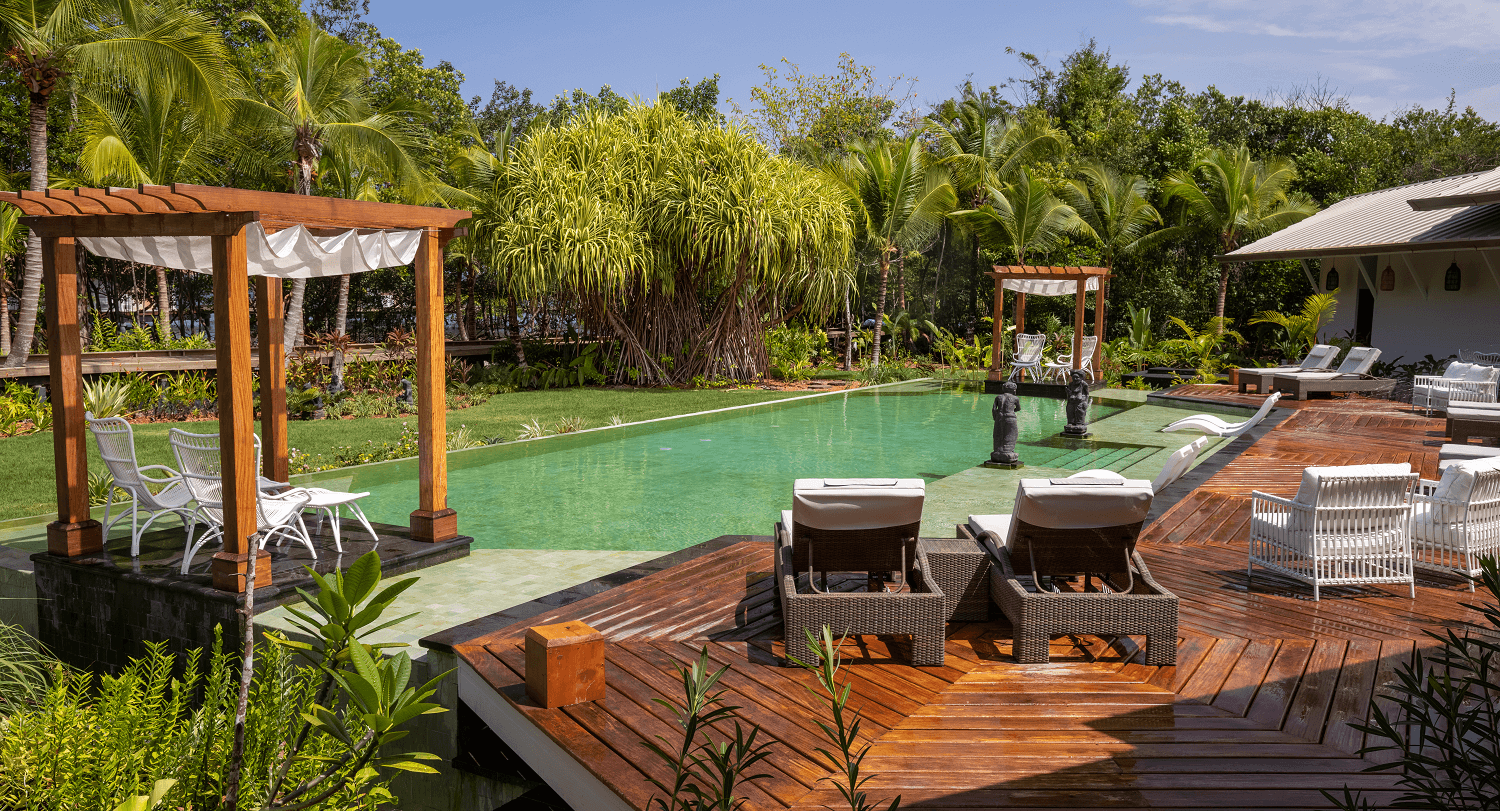 Bocas Bali Culinary Experience
The Elephant House Restaurant and Bar is a 100-year-old Balinese structure, shipped and lovingly reassembled at Bocas Bali. Set over the water, this restaurant offers international dishes with a Panamanian twist. The menu features hand-selected meats, the freshest seafood, and locally-grown organic produce.
The poolside Coral Café and Bar serves up al fresco breakfast, lunch, drinks, and snacks. Meals can also be served on the privacy of your Villa.
Bocas Bali Executive Chef Joseph Archbold is a native of Bocas Del Toro.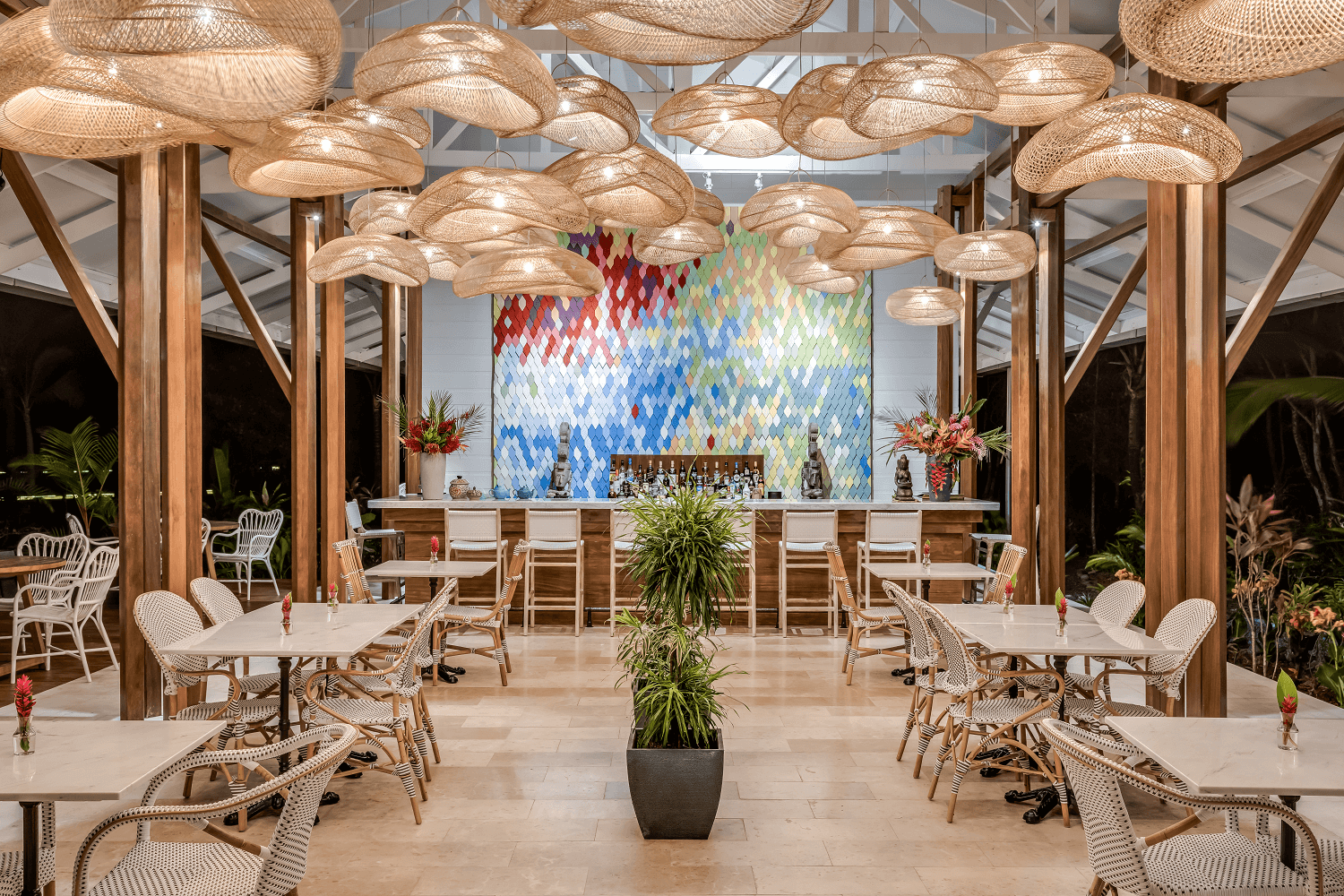 Bocas Bali Accommodations
The sixteen bungalow villas at Bocas Bali are located just steps from the pool or sea. Each villa is stocked with snorkels, snacks, beer, wine, and soft drinks.
These spacious villas measure approximately 1,100 square feet, including the private terrace. Each is furnished with a king-size bed with 300-thread-count, organic cotton linens.
In-room amenities include:
A tablet with room service app
Air conditioning
Smart TV with Wi-Fi connection
Coffee machine
Security box
Bathrobes
Reef-safe bath and body amenities
Hairdryer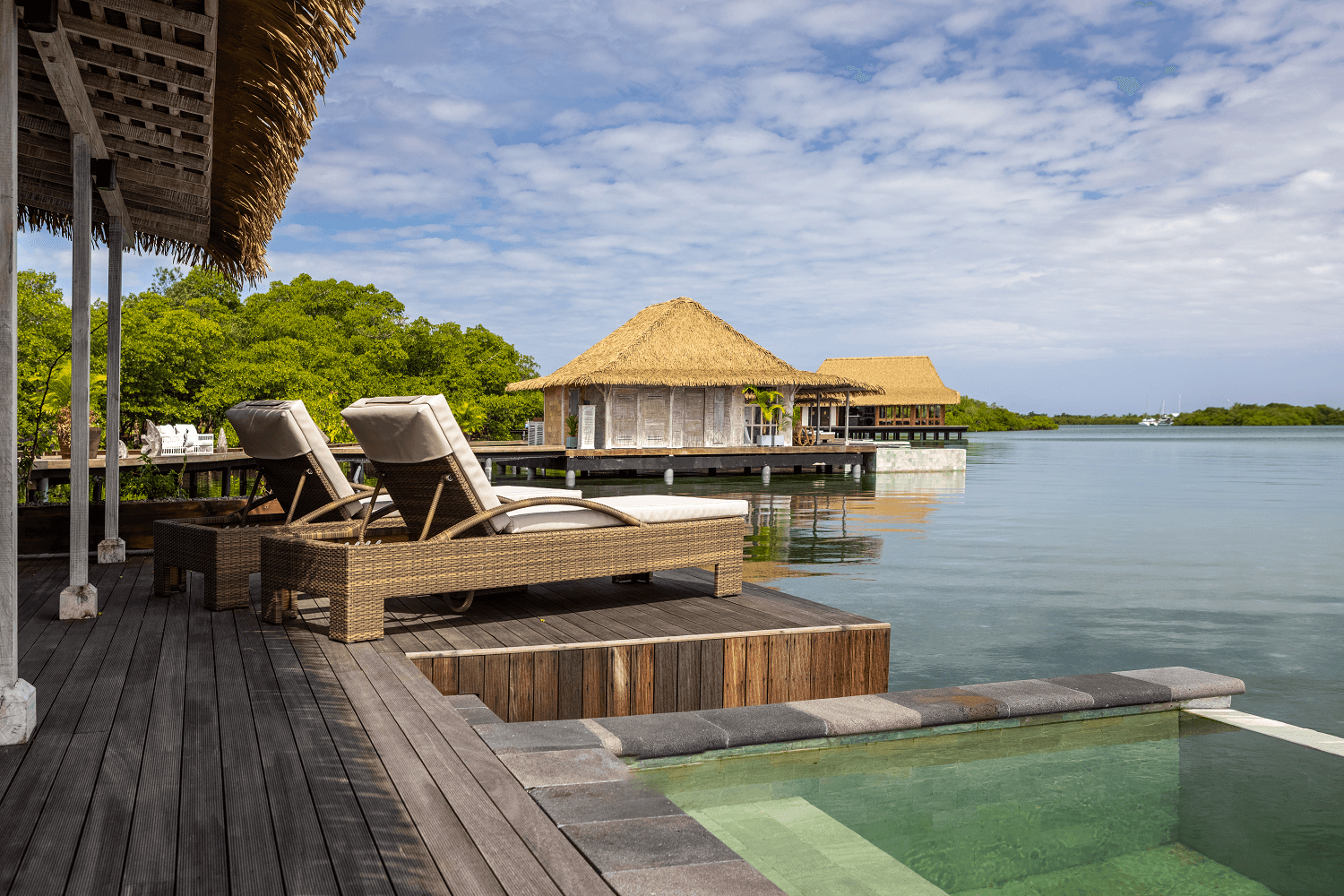 Private Pool Over-Water Villa
Private Pool Villas take full advantage of the Bocas breezes. This side of the bay is well suited for snorkeling, with abundant starfish in red, orange, and gold.
These villas feature a private saltwater pool, stairs to the sea, snorkel masks and fins, and a Balinese tumpang sari canopy over the bed.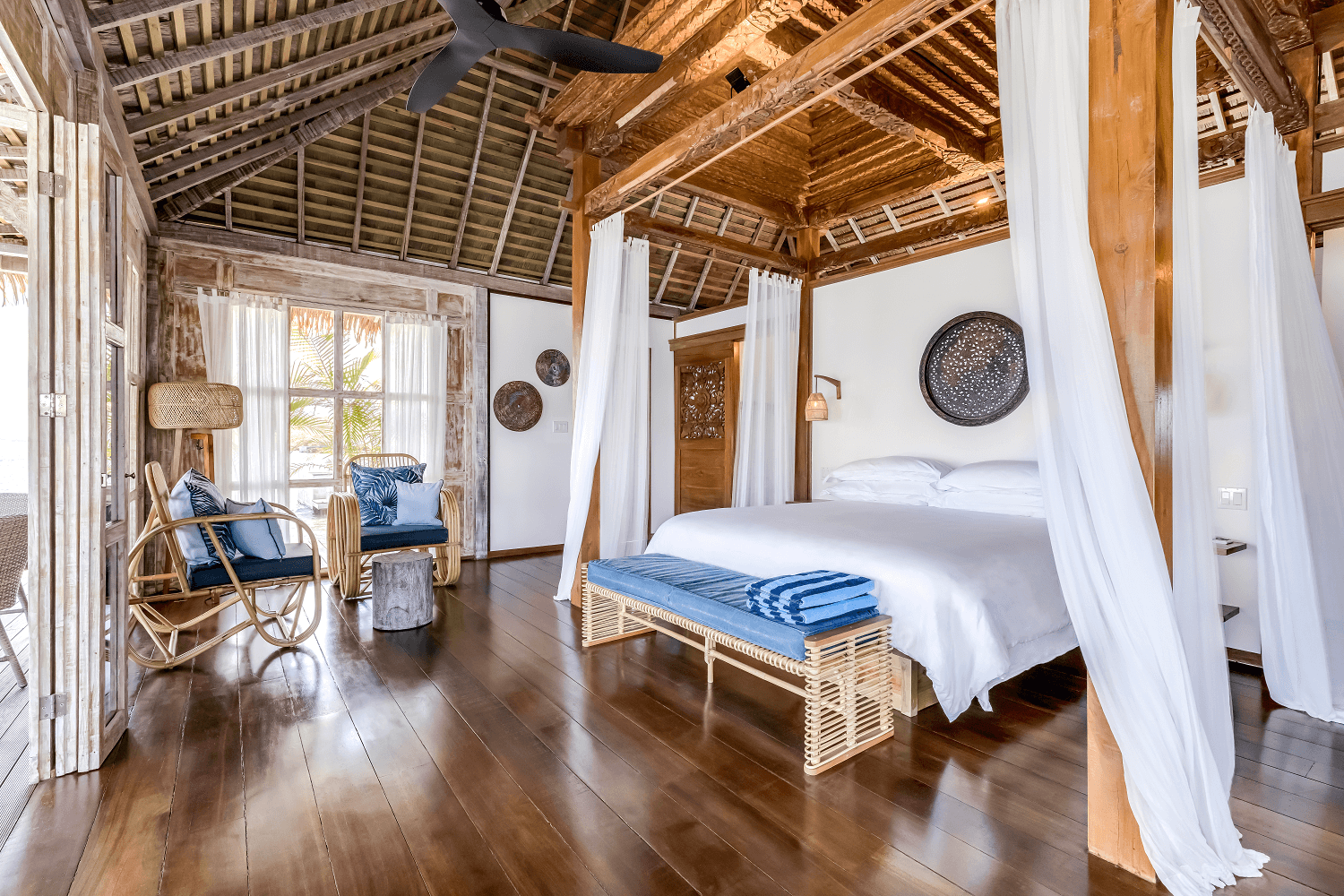 Water Window Over-Water Villa
These overwater villas are equipped with a glass floor inlay, allowing guests to view the marine life below.
Glass Floor Villas feature an outdoor sofa, ladder stairs to the sea, snorkel masks and fins, and a Balinese tumpang sari canopy over the bed.
IBUKU Island Treehouses – Coming in the Spring of 2022
These bamboo treehouses were designed by Elora Hardy and are located approximately 40 feet from the ground. These villas feature a Javanese hand-hammered copper bathtub, circular doors, and a living room area.
How to Get There?
The resort is just 10 to 15 minutes by boat from Bocas Town. Commercial flights are available to Bocas del Toro.
Better yet, LANDED arranges private seaplane charters that land directly in front of the resort.
You can also visit Bocas Bali from Costa Rica. Regional airlines also offer 50-minute flights between San Jose and Bocas del Toro. LANDED can arrange private charter flights.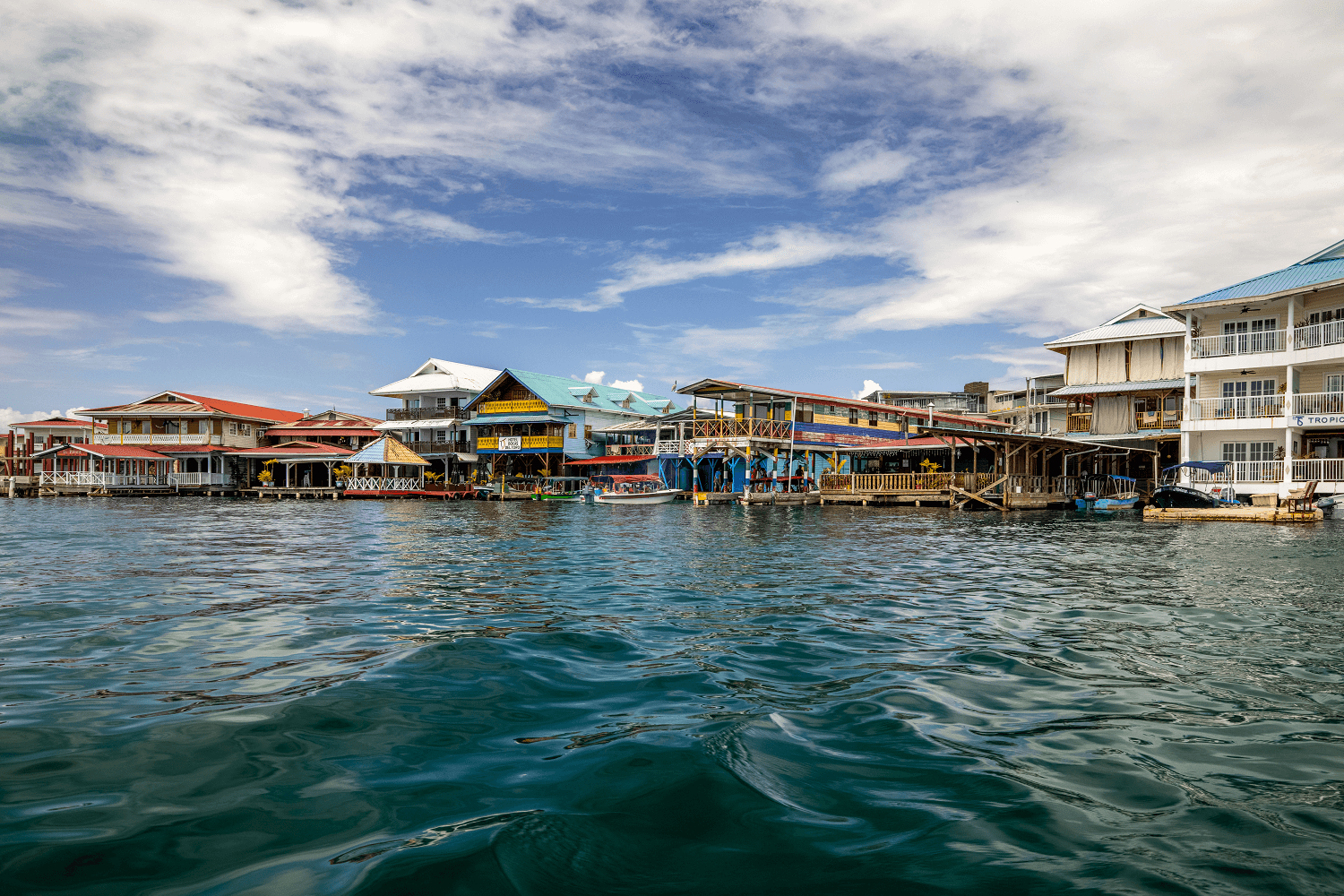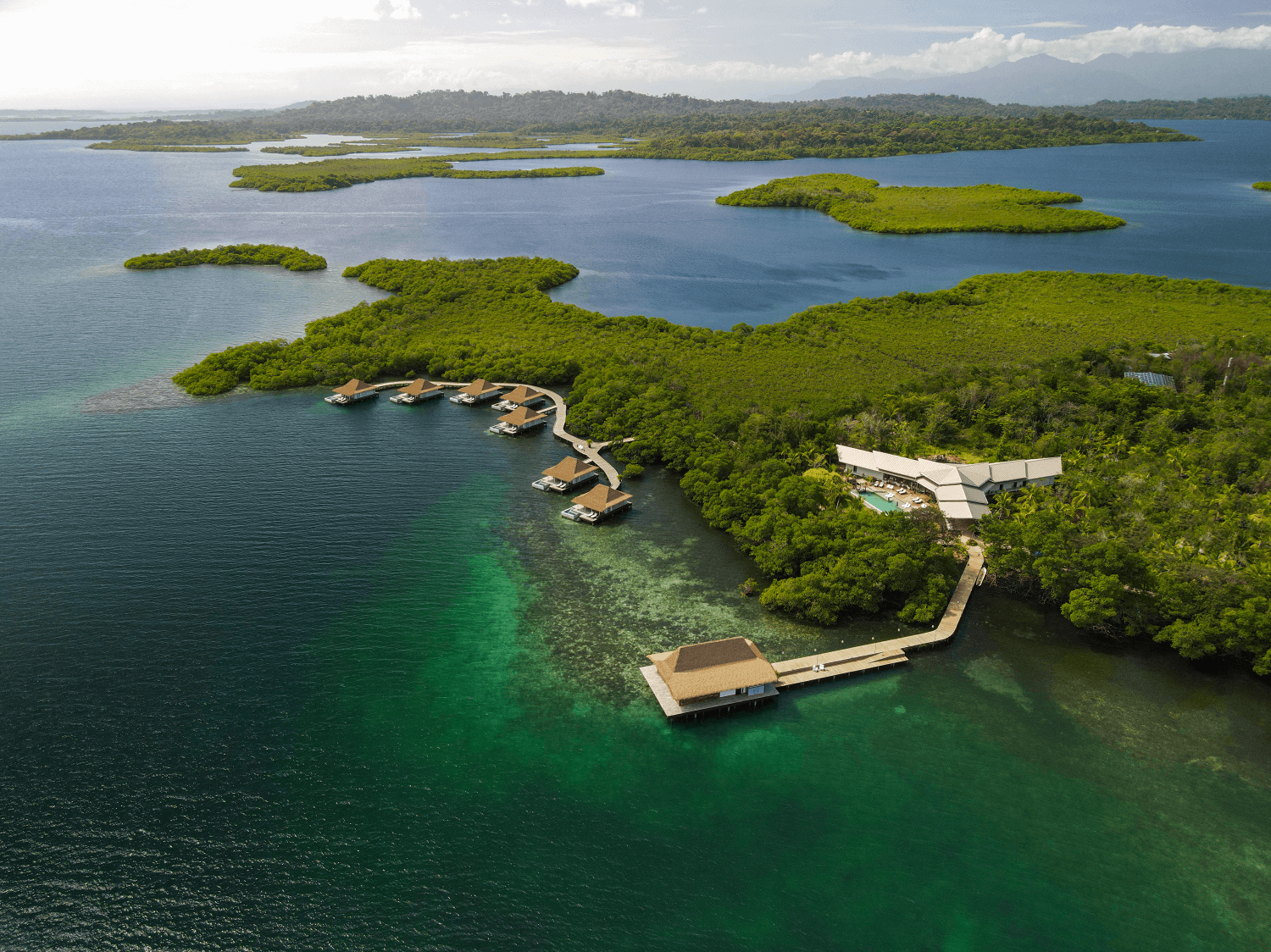 Activity Options in Bocas del Toro
Activities in Bocas del Toro extend over land and sea. Options range from hiking to kayaking, from sailing to surfing.
LANDED arranges privately guided experiences with our client's unique interests in mind. We've tailored experiences such as:
Seaplane and helicopter day trips throughout the San Blas Islands and mainland Panama
Excursions to Dolphin Bay and Monkey Island
Expertly guided inland and offshore fishing trips
Chocolate making workshops at organic cacao farms
Waterfall and rainforest hikes
Cultural visits to indigenous communities
* Some activities come at an additional cost.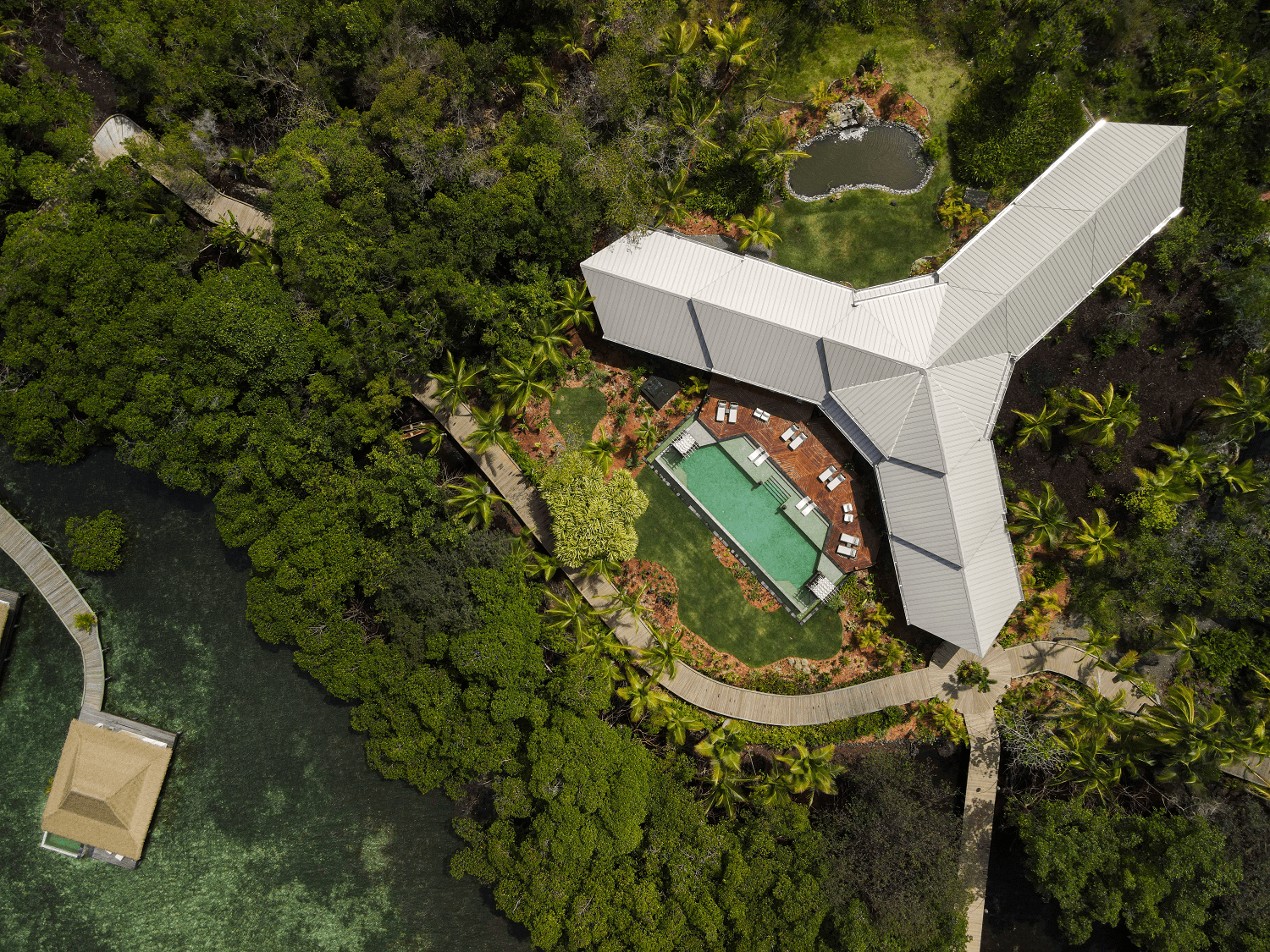 ARE YOU CONSIDERING A STAY AT BOCAS BALI? LANDED PROVIDES PERSONALIZED, CUSTOM TRAVEL WITHIN CENTRAL AMERICA, SOUTH AMERICA, AND THE ANTARCTIC. WE'LL CREATE A UNIQUE ITINERARY PLAN TAILORED TO YOUR INTERESTS AND DREAMS. EXPERIENCE THE TRIP OF A LIFETIME. SPEAK WITH ONE OF OUR EXPERT TRAVEL PLANNERS TODAY AT 801.582.2100.