The Cormorant: Galapagos Catamaran Charter
Launched in 2011 and renovated in October 2017, the Cormorant is one of the most advanced and comfortable vessels in all of the Galapagos.
This luxury motor catamaran combines speed—ten knots—with steadiness (catamarans tend to be more stable than monohull vessels).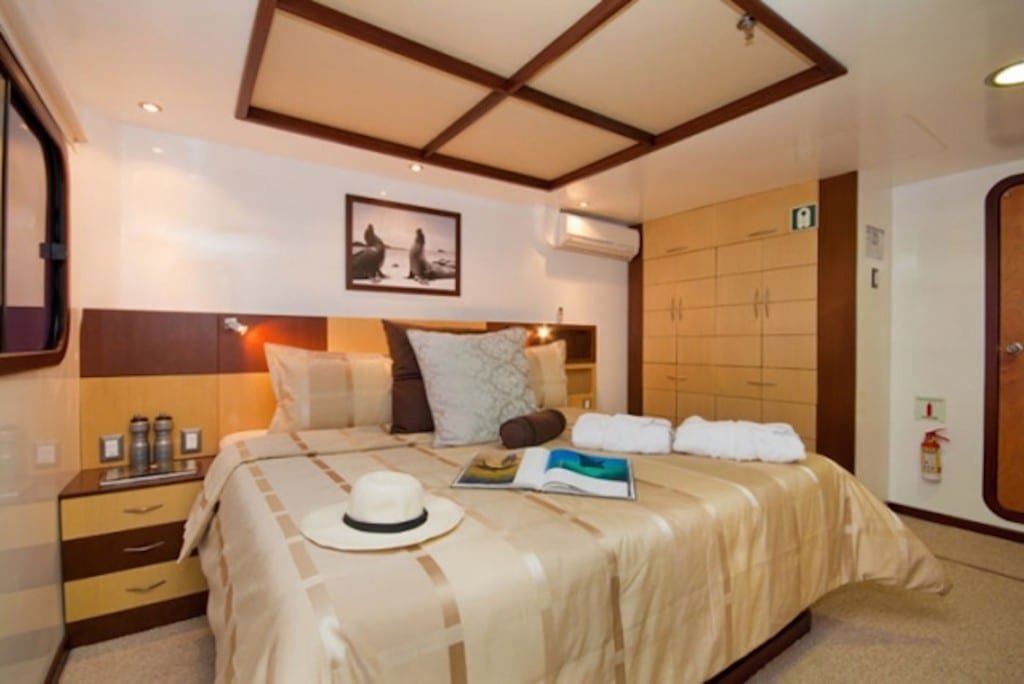 The Cormorant is 108 feet long, with a beam of 39 feet.
Amenities include a spacious lounge, dining area, bar, sundeck with jetted tub, and lounge chairs.
The crew of eleven includes an expert bilingual guide, two chefs, and a cruise manager.
Private Bathrooms, Balconies, and Air Conditioning
The Cormorant accommodates 17 passengers in seven comfortable cabins. Four interconnecting twin cabins (301 square feet) are found on the upper deck.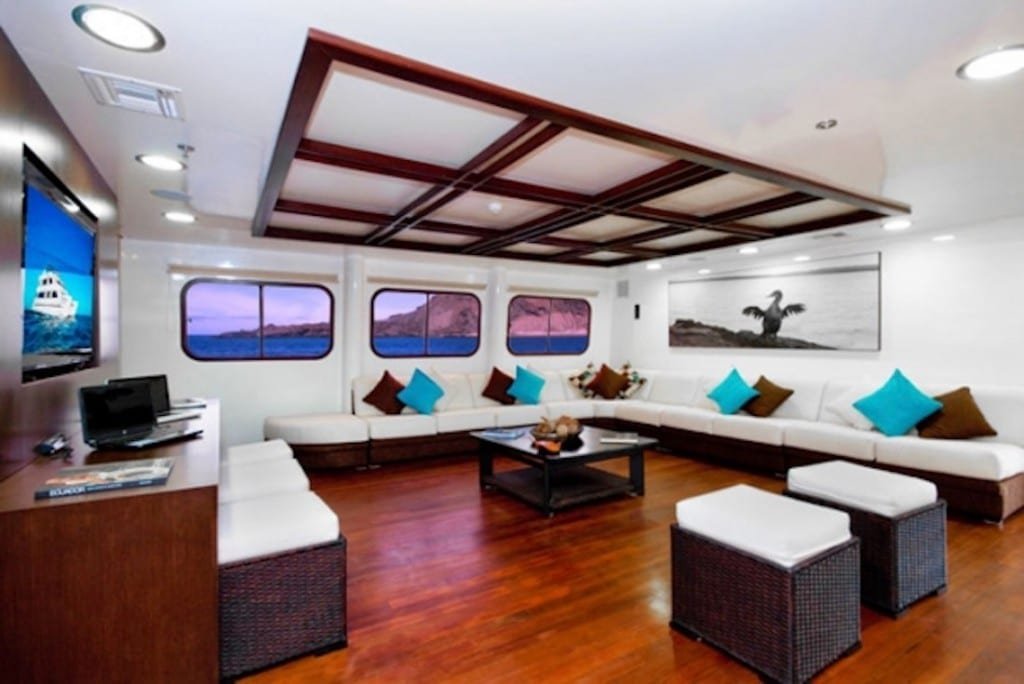 Cormorant Staterooms
The main deck has two double staterooms (301 square feet) and two large suites (441 square feet) with private balconies. The lower deck includes one single-occupancy cabin (150 square feet).
Each guest room includes a private bathroom and air conditioning.
Private Balconies and Ocean View Windows
The upper and main deck cabins have large windows and private balconies.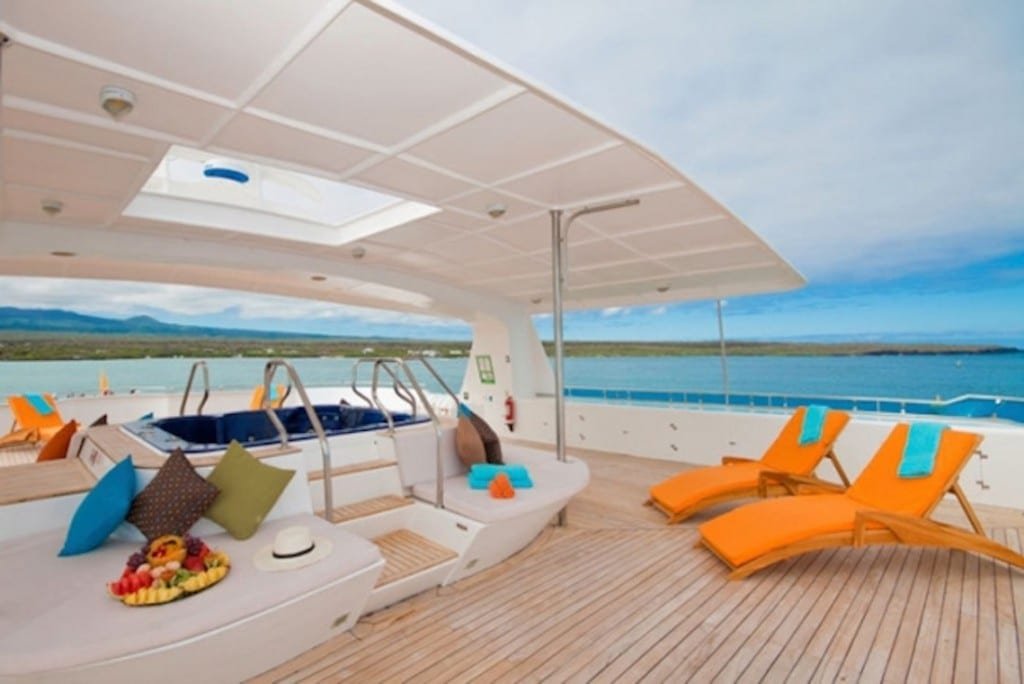 GROUP-BASIS GALAPAGOS CRUISES AND PRIVATE CHARTERS
Group-basis cruise options are available for four, five, and eight days.
Cormorant Galapagos cruises depart on Sundays and Thursdays.
The Cormorant can also be chartered for private cruises, allowing guests to customize their cruise itineraries.
Land-Based and Dive Tour Extensions
Cormorant cruises can be combined with land-based extensions and dive tours.
Those looking for more information on Galapagos Yacht Charters can find it here.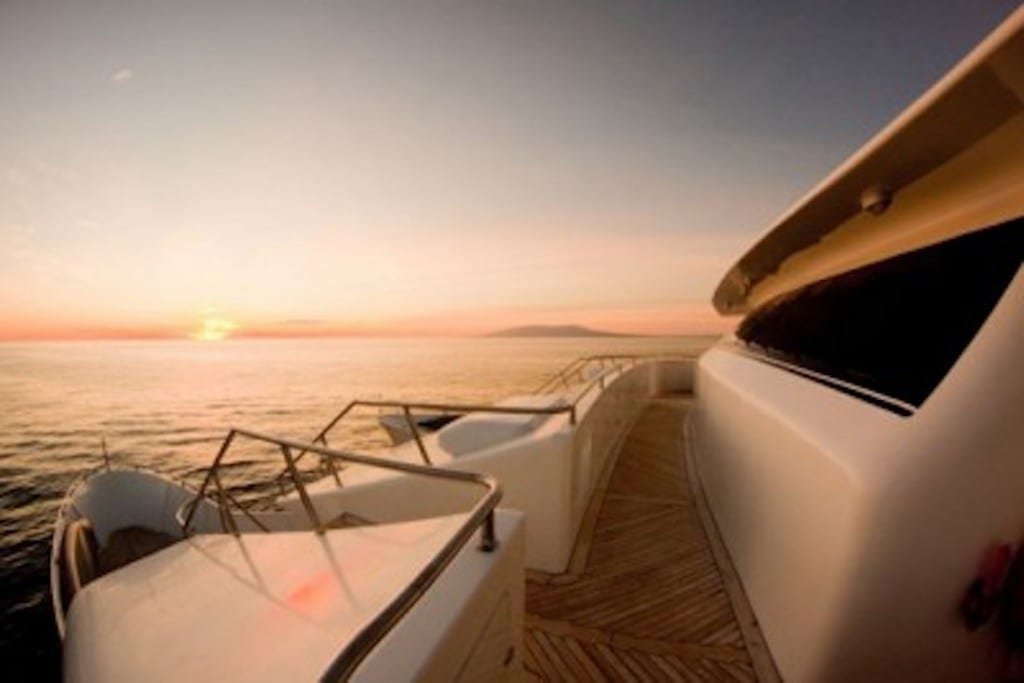 LANDED arranges cruises aboard the Cormorant, as well as air travel, land transportation, tours, and accommodations in mainland Ecuador. Speak with a travel planner today at 801.582.2100. We'll take care of the details.
"We have seen much fine scenery that of the Tropics in its glory & luxuriance, exceeds even the language of Humboldt to describe."
Charles Darwin
GO WITH LANDED.

Could not have been more pleased.  This was the trip of a lifetime for our family.  Thank you!
IF YOU LIKE TO TRAVEL.

What an amazing adventure we have had. The whole rhythm of the trip was perfect, and leaving one place for the next worked perfectly. Wish we had a month to really explore. Thanks again!
DO IT.

One of our best trips ever, made excellent by LANDED's attention to detail. The guides, drivers, and "handlers" were superb. The hotels were top notch. We felt relaxed and pampered all the way. Will definitely look to LANDED to plan our next trip to South America.
Absolutely amazing. Thanks again John. Carlos was the best guide I've ever had anywhere in the world. Top notch talent.
There is not a single thing on the itinerary that we would change.  The guides were knowledgeable, friendly, and prompt.  The hotels were beautiful, the food delicious and the pace of the activities was perfect for us. Thank you so much for making our trip such a fantastic experience.
In short, our trip was amazing, and, as we had hoped, the Inca civilization was fascinating to us. Thanks so much for your constant assistance and thorough planning.
The planning, service and execution of the trip was flawless – thank you for making it perfect!
LANDED's services were excellent. You were helpful and knowledgeable, making our trip a memorable one.  I will use your services in the future as I continue to explore Central & South America.
It was like being in a very well organized dream. Your patience with my questions and concerns during the planning stage was remarkable.
I've never had such great service from a tour operator. Not only were you a great help on the planning-insuring that I was staying at the right places and enjoying the type of activities we love-but the follow up was incredible. I look forward to working with you again on a another trip.
You actually got to know us, which made it possible to know just what we like. You promised the best trip ever and you kept your promise.
The entire trip was amazing. Both the hotel & restaurant recommendations were well thought out and helped us thoroughly enjoy our honeymoon.
LANDED is like the ultimate virtual guide, suggesting the high points and helping us get the most out of a week's time.
We had a great time, and didn't miss anything. We zip-lined, rafted, sailed and surfed. The contacts and drivers were professional and courteous. We don't want to be back at work. Thank you for all of the work you did to set up this trip.