Isabela II: Eco-Friendly Galapagos Yacht
With just 20 cabins and capacity for only 40 passengers, Isabela II prides itself on offering an intimate Galapagos archipelago experience.
Guests of this vessel can enjoy scouting the Galapagos Islands in groups of 14 guests or less per naturalist guide.
Snorkeling excursions are also available, in addition to a diverse array of other coastal expedition options.
Onboard, guests will find pangas, a glass-bottomed boat and kayaks; each available for guided expeditions.
Isabella II Cabin Options
Isabela II cabin options include:
(1) Standard Cabin (128

ft²

)
(16) Classic Cabins (139

ft²)

(2) Classic Family Cabins (139

ft²)
On the Main Deck, the range-topping Owner's Cabin (170 ft²) is conveniently located in close proximity to the yacht's social areas.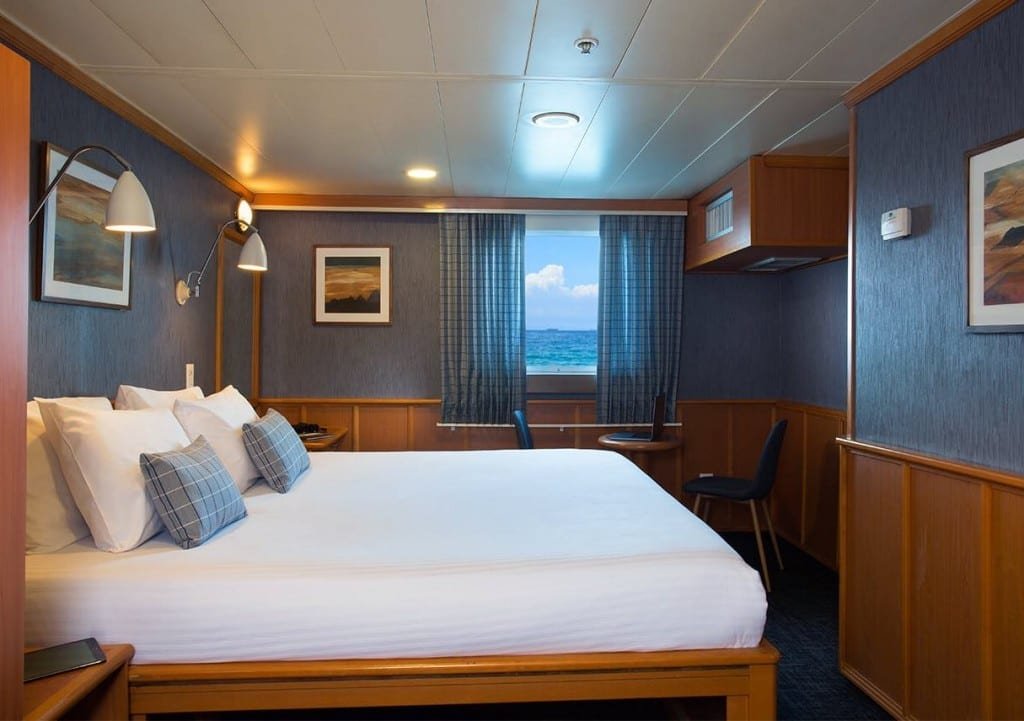 On-board Isabela II amenities incude:
Bar
Hot Tub
Business Center
Al Fresco Dining Area
Stargazing Program
Boutique/Gift Shop
Sunbathing Area
Fitness Room
This Galapagos yacht also features Gourmet meals, designed by a Cordon Bleu-trained gastronomy director.
Special Dietary Need Accomodation
With advance notice, the Isabela II culinary staff can accommodate special dietary needs, including vegetarian, lactose-free, gluten-free, and food allergies.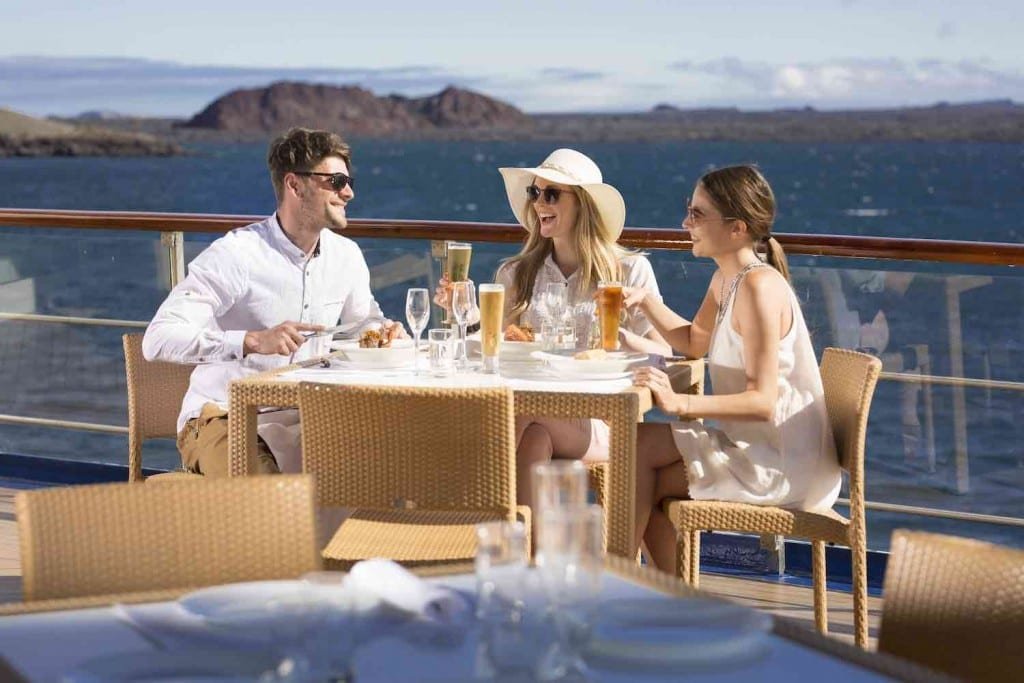 Taking great pride in their commitment to sustainibility, the proprietors of this Galapagos cruise ship have implemented the following eco-friendly practices:
Fuel-Efficient Modern Engine Technology
Classifying and Recycling Solid Waste & Inorganic Refuse
On-Board desalinasation Plant for Fresh Water Production
Special deck lights to decrease inter-island insect dispersal
Shipping Burned oils and Bi-Products Back to Mainland Ecuador
Eco-Minded Preventive Maintenance
Tin-Free Hull Paint
Isabela II also features a traditional library and state-of-the-art multimedia presentation technology, used to enhance onboard natural history lectures.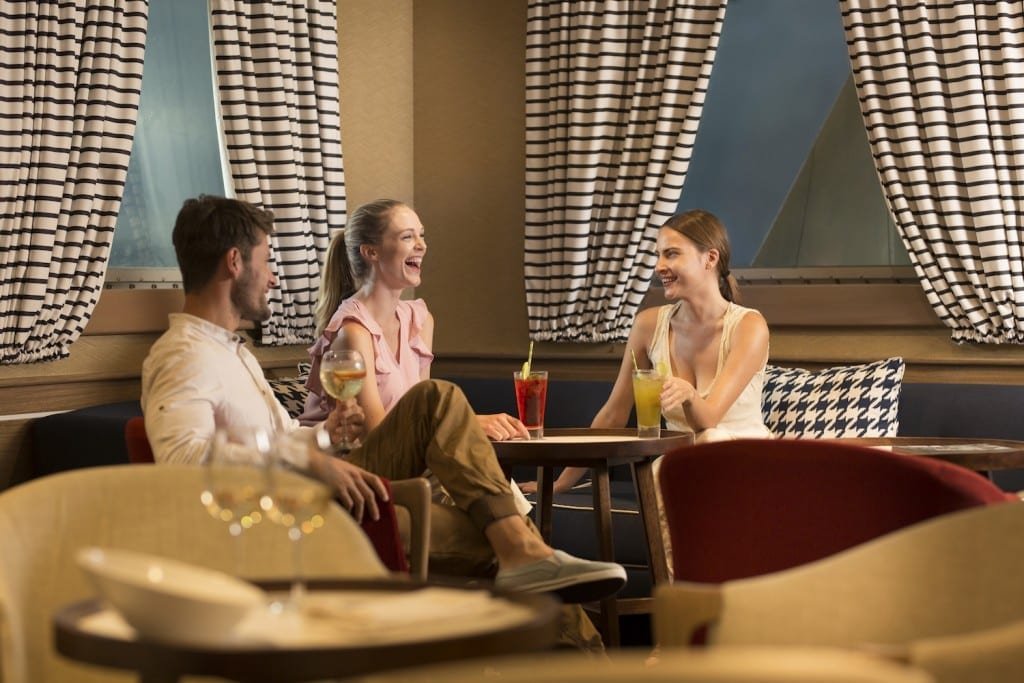 Isabella II Offers a Wide Range of Group-Basis Cruise Options, including:
Central Galapagos Islands (5 Day/4 Night)
Southern Galapagos Islands (5 Day/4 Night)
Northern Galapagos Islands(7 Day/6 Night)
Central and South Galapagos Combined Itinerary (9 Day/8 Night)
Vessel Specifications
The yacht is 183 ft. (55.94 m) long, with a 38 ft. (11.58 m) beam. It's powered by two 1000 HP Cummins engines and capable of a top speed of 10 knots.
Isabella II is also available for private charters.
Looking for more information about chartering in the Galapagos?
Check out our free guide.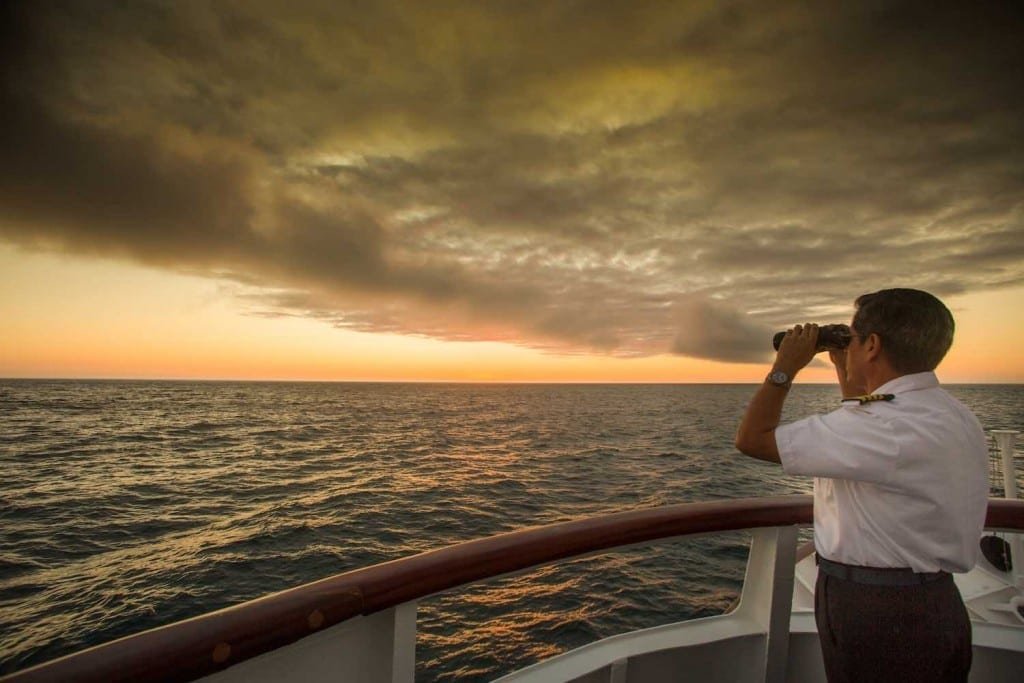 Isabela II Galapagos Voyages can be combined with pre- and post-cruise touring in mainland Ecuador, Peru, Panama, Colombia, or Costa Rica. Contact LANDED at 801.582.2100 for full information and availability. We've got you.
" Take only memories, leave only footprints."

Chief Seattle

GO WITH LANDED.

Could not have been more pleased.  This was the trip of a lifetime for our family.  Thank you!
IF YOU LIKE TO TRAVEL.

What an amazing adventure we have had. The whole rhythm of the trip was perfect, and leaving one place for the next worked perfectly. Wish we had a month to really explore. Thanks again!
DO IT.

One of our best trips ever, made excellent by LANDED's attention to detail. The guides, drivers, and "handlers" were superb. The hotels were top notch. We felt relaxed and pampered all the way. Will definitely look to LANDED to plan our next trip to South America.
Absolutely amazing. Thanks again John. Carlos was the best guide I've ever had anywhere in the world. Top notch talent.
There is not a single thing on the itinerary that we would change.  The guides were knowledgeable, friendly, and prompt.  The hotels were beautiful, the food delicious and the pace of the activities was perfect for us. Thank you so much for making our trip such a fantastic experience.
In short, our trip was amazing, and, as we had hoped, the Inca civilization was fascinating to us. Thanks so much for your constant assistance and thorough planning.
The planning, service and execution of the trip was flawless – thank you for making it perfect!
LANDED's services were excellent. You were helpful and knowledgeable, making our trip a memorable one.  I will use your services in the future as I continue to explore Central & South America.
It was like being in a very well organized dream. Your patience with my questions and concerns during the planning stage was remarkable.
I've never had such great service from a tour operator. Not only were you a great help on the planning-insuring that I was staying at the right places and enjoying the type of activities we love-but the follow up was incredible. I look forward to working with you again on a another trip.
You actually got to know us, which made it possible to know just what we like. You promised the best trip ever and you kept your promise.
The entire trip was amazing. Both the hotel & restaurant recommendations were well thought out and helped us thoroughly enjoy our honeymoon.
LANDED is like the ultimate virtual guide, suggesting the high points and helping us get the most out of a week's time.
We had a great time, and didn't miss anything. We zip-lined, rafted, sailed and surfed. The contacts and drivers were professional and courteous. We don't want to be back at work. Thank you for all of the work you did to set up this trip.