M/V Legend: Galapagos Cruise
This Galapagos vessel features a 100-guest capacity, yet still strives to provide an intimate experience with friends and family.
Guests of M/V Legend can enjoy the Galapagos in total comfort, choosing from a wide selection of itineraries, ranging in length from 3 to 14 nights.
Legend's open decks allow passengers to admire the Galapagos flora & fauna, enjoy a BBQ at night while stargazing from the Moon Deck, and spend the days sun bathing at the pool and bar area.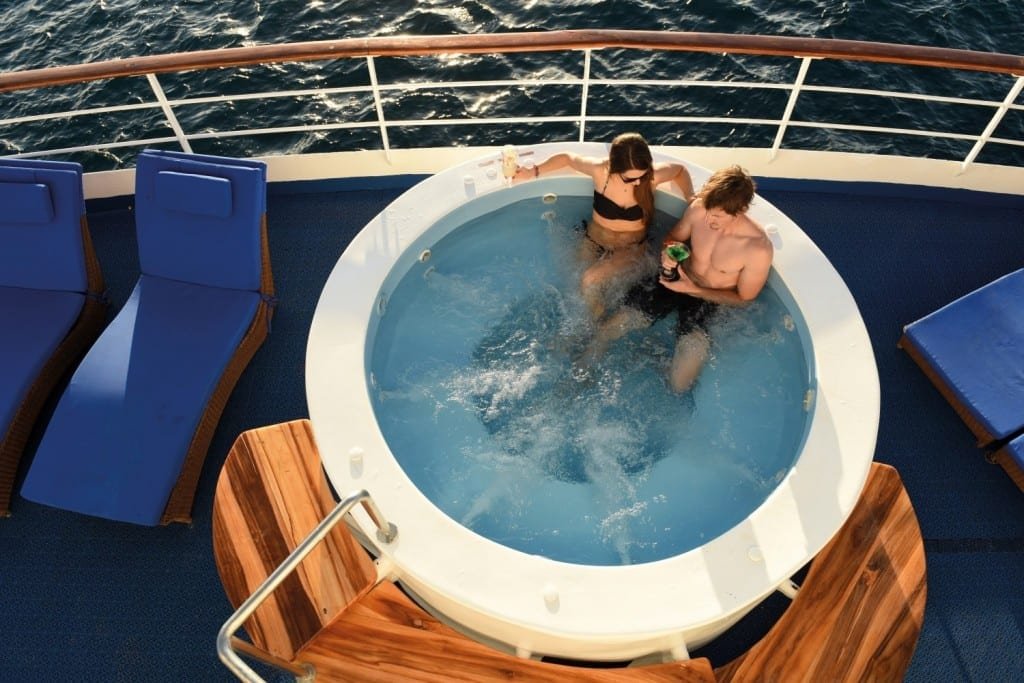 The staff of M/V Legend is committed to providing guests a personalized Galapagos experience.
Legend is equipped with a glass bottom boat, transparent kayaks, a kid's corner, a naturalist center, boutique, snorkeling equipment room, Lonesome restaurant and a full auditorium facility able to cater to corporate conferences.
Legend Cabin Options
This yacht's four decks house 56 cabins, fully-equipped with private facilities and ample amenities.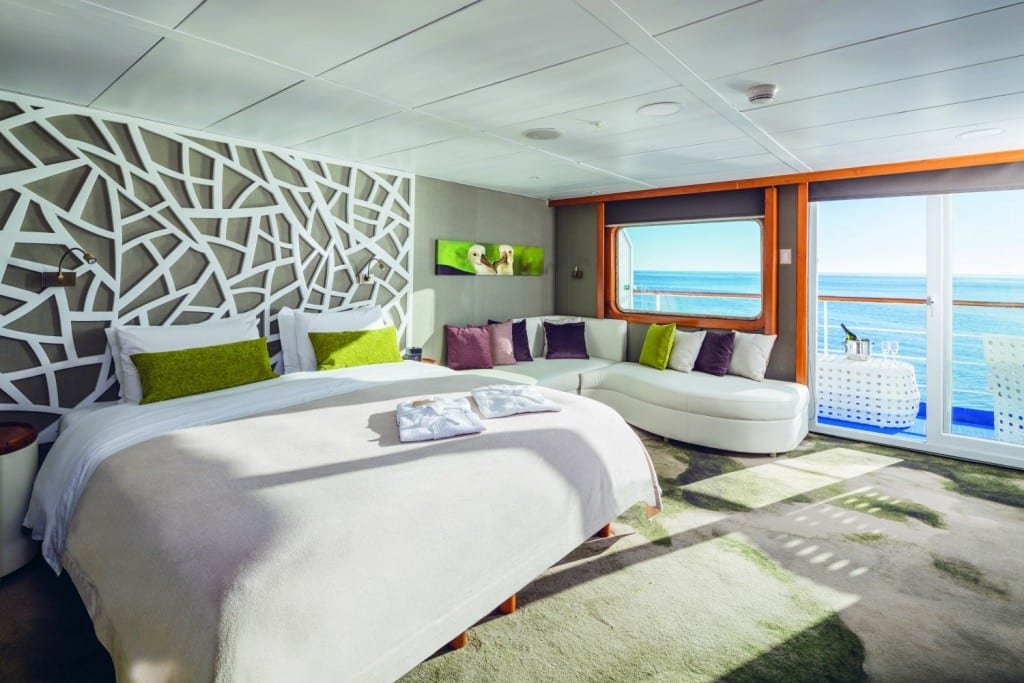 Legend offers four cabin categories, including:
(3) Standard (Interior)—Avg. 140 ft² (13 m²)
(7) Standard Plus Suites—Avg. 118 ft² (11 m²)
(24) Junior Suites—Avg. 161 ft² (15 m²)
(4) Junior Plus Suites—Avg. 215 ft² (20 m²)
(17) Balcony Suites—Avg. 237 ft² (22 m²)
(1) Legend Balcony Suite—355 ft² (33 m²)
The Legend Balcony suite and Balcony Suites each include:
Panoramic windows & private balcony
Complimentary bottle of champagne
Top of the line amenities & bathrobe
Thermos & iconic postcards as souvenirs
All M/V Legend cabins feature:
Complimentary GoGalapagos Thermos and Bag
Double and triple cabin options
Alarm Clock / Speaker
Two Types of Pillows
Safety deposit box
Air Conditioning
Reading lights
Organic shampoo, conditioner and soap
Housekeeping 3 times daily

Plentiful Storage Space

Entertainment System
Turn Down Service
Hair Dryer
Telephone
TV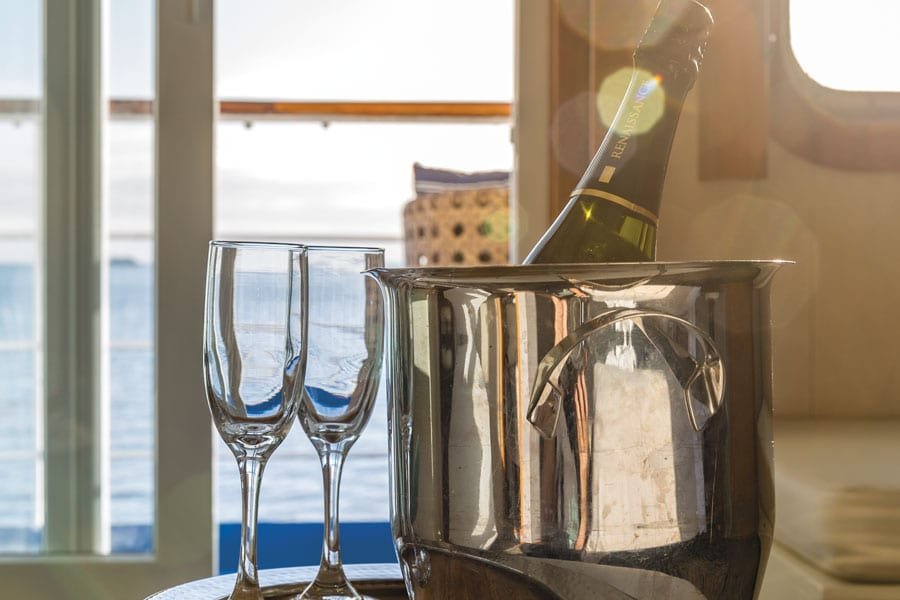 Guests of legend can enjoy two guided Galapagos excursions every day of their cruise.
Rental wetsuits and free snorkeling equipment are also available for use.
Onboard meals focus on a wide variety of fresh, local and international cuisine, options including al fresco breakfast and BBQ dinners.
Legend offers a free, 24-hour coffee station, 24-hour medical attendant, onboard Wi-Fi zones, fitness center, pool, jacuzzi, and sun beds.
M/V Legend Technical Specifications
Gross Tonnage: 2890 t.
Length: 301 ft (92 m)
Wide: 47 ft (15 m)
Decks: 4
Made in: Germany
Rebuilt: 2002
Refurbished: 2017
Speed: 17 knots
Cruise speed: 15 knots
Life Rafts: (22) for 25 pax each
Dinghies: (6) for 20 pax each
Safety: ISM, SMC, ISSC, IOPP, DOC
Expedition leader: 1 multilingual naturalist
Guides: 7 multilingual naturalists
Passenger Capacity: 100
Electricity: 110v
Crew: 60
For more information on group-basis Galapagos cruises and yacht charters, check out LANDED's free guide.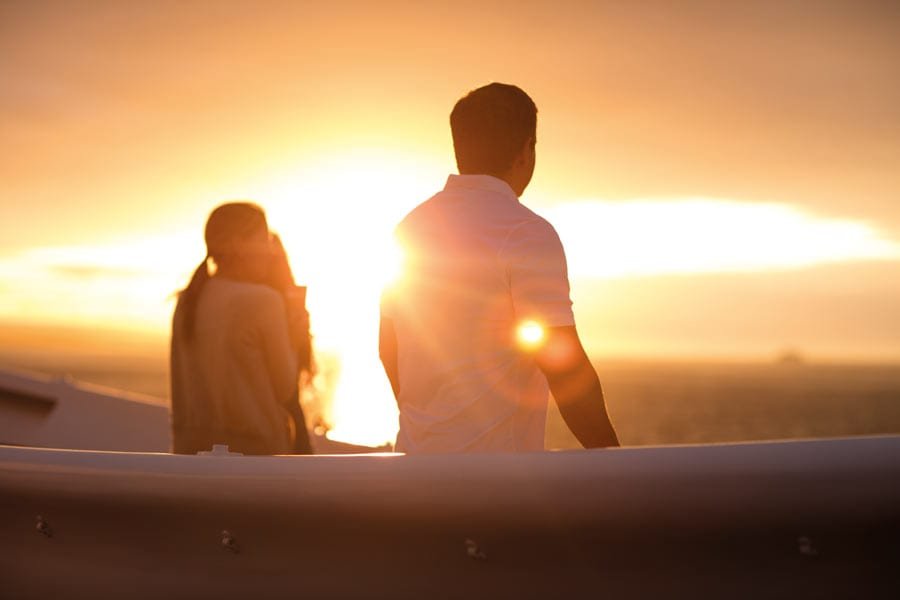 LANDED books cabins onboard the Origin. We also arrange air travel, touring, and accommodations in mainland Ecuador. Speak with a travel planner today at 801.582.2100. We'll take care of the details.
"He who is outside his door already has the hardest part of his journey behind him."
Dutch Proverb
GO WITH LANDED.

Could not have been more pleased.  This was the trip of a lifetime for our family.  Thank you!
IF YOU LIKE TO TRAVEL.

What an amazing adventure we have had.  Many thanks to you for putting it together. The whole rhythm of the trip was perfect, and leaving one place for the next worked perfectly. This trip definitely made me want to experience other great spots in South America as the people have been wonderful and the places incredible. Wish we had a month to really explore.  Everybody in the family had a great life experience. Thanks again!
DO IT.

One of our best trips ever, made excellent by LANDED's attention to detail. When planning the trip our travel planner listened to us carefully, asked the right questions, and customized the trip to have just the right balance of adventure and city sights for us. The guides, drivers, and "handlers" were superb. The hotels were top notch. We felt relaxed and pampered all the way. Will definitely look to LANDED to plan our next trip to South America.
Absolutely amazing. Thanks again John. Carlos was the best guide I've ever had anywhere in the world. Top notch talent.
We returned yesterday from our trip and I wanted to let you know that it was absolutely amazing!  There is not a single thing on the itinerary that we would change.  The guides were knowledgeable, friendly, and prompt.  The hotels were beautiful, the food delicious and the pace of the activities was perfect for us. Thank you so much for making our trip such a fantastic experience.
In short, our trip was amazing, and, as we had hoped, the Inca civilization was fascinating to us. Thanks so much for your constant assistance and thorough planning.
The planning, service and execution of the trip was flawless – thank you for making it perfect!
LANDED's services were excellent. You were helpful and knowledgeable, making our trip a memorable one.  I will use your services in the future as I continue to explore Central & South America.
It was like being in a very well organized dream. Your patience with my questions and concerns during the planning stage was remarkable.
I've never had such great service from a tour operator. Not only were you a great help on the planning-insuring that I was staying at the right places and enjoying the type of activities we love-but the follow up was incredible. Your team checked in with us several times during the trip to confirm that everything was going well, and that the guides you assigned were satisfying us. It's one thing to get a "thank you card" or a "hope your trip was great" note after you're back, but to insure that it's going well during the trip is a welcome first! I look forward to working with you again on a another trip.
You actually got to know us, which made it possible to know just what we like. You promised the best trip ever and you kept your promise.
The entire trip was amazing. Both the hotel & restaurant recommendations were well thought out and helped us thoroughly enjoy our honeymoon.
LANDED is like the ultimate virtual guide, suggesting the high points and helping us get the most out of a week's time.
We had a great time, and didn't miss anything. We zip-lined, rafted, sailed and surfed. The contacts and drivers were professional and courteous. We don't want to be back at work. Thank you for all of the work you did to set up this trip.