M/Y Passion: Galapagos Yacht Charter
The M/Y Passion stands out among the luxury yachts in the Galapagos—its designed and exclusively offered for charter.
Passion's service ratio—one crew-member per guest—is unparalleled.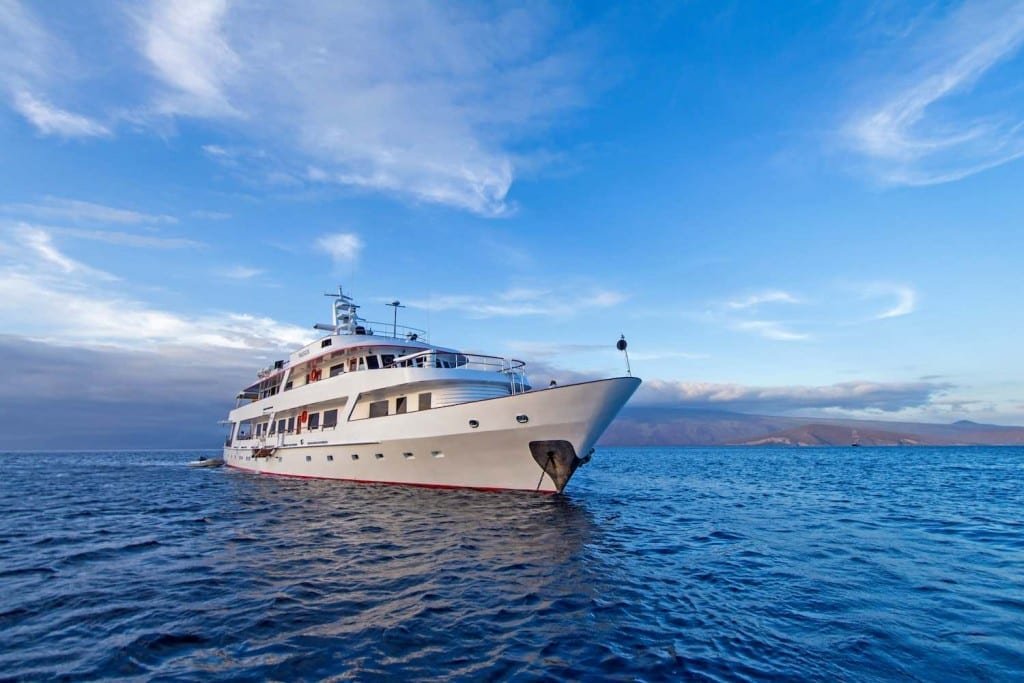 Two Spacious Suites
The Passion features two king-bedded suites:
The Master Suite—(352 square feet, on middle deck)
VIP Suite—(351-square feet, on the lower deck)
Uniquely, Passion's Master and VIP suites have two bathrooms each, with one bathtub per suite.
The VIP Suite includes a daybed.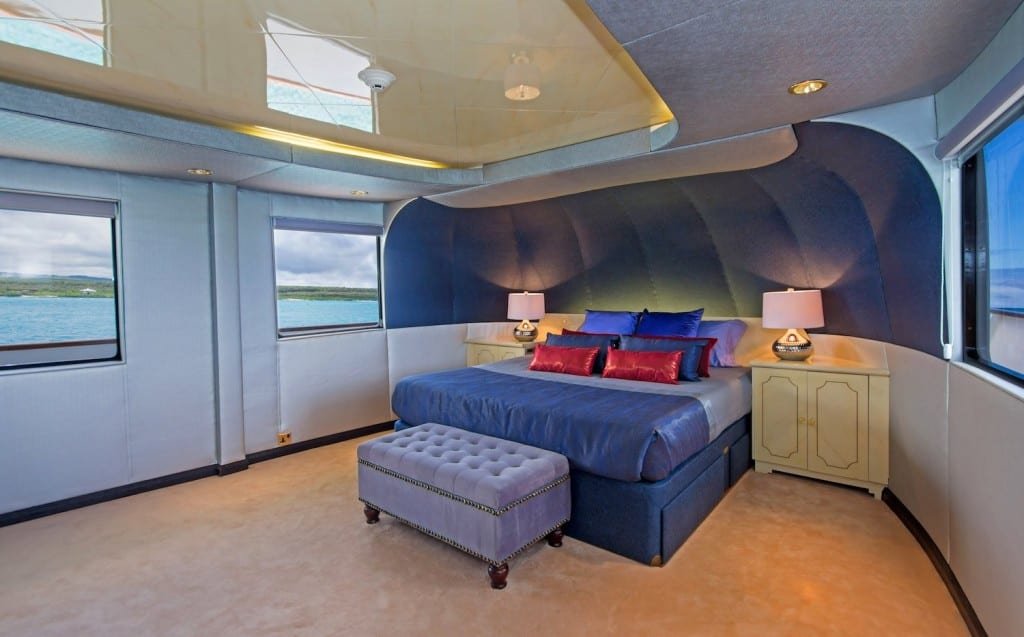 M/Y Passion Staterooms
The four other staterooms on the lower deck (averaging 193 square feet) also feature en-suite bathrooms with bathtubs.
One of these cabins has a queen bed, one has two twins, and the other has both a full and a twin.
Although charters are usually for parties of twelve, three additional guests can be accommodated.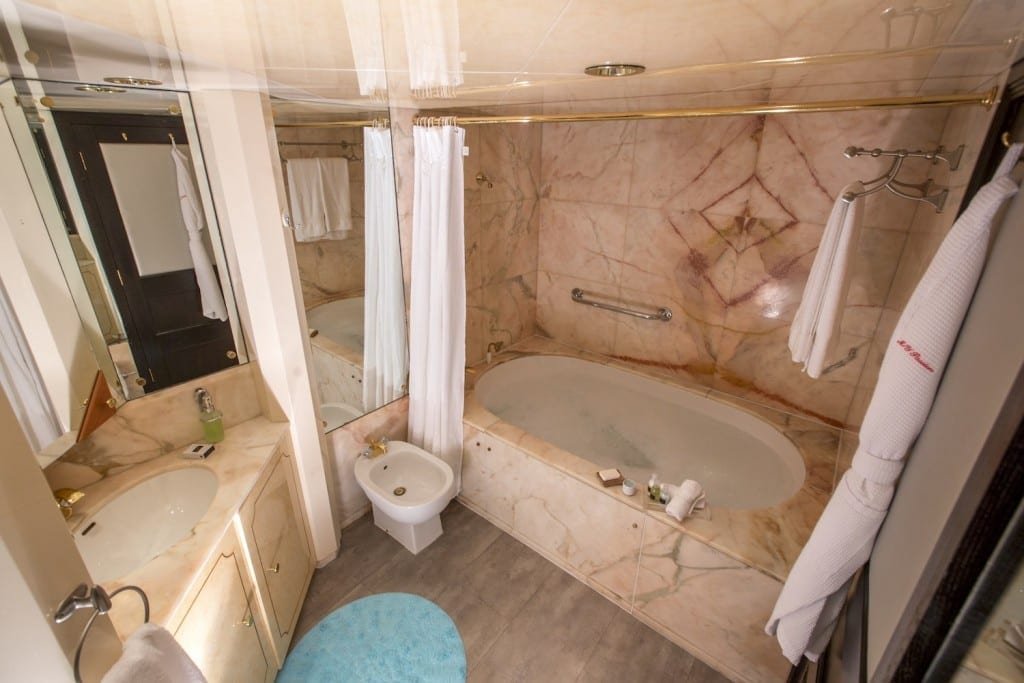 As aforementioned, Passion's VIP Suite has a daybed. and two of the staterooms have beds that can be used as doubles.
Passion also has two cribs available for guest use.
Generous Amenities
Cabin amenities include:
Closed-Circuit Television
DVD players
USB Outlets
Robes
Hairdryers
Security Boxes
All are fully air-conditioned and individually climate controlled.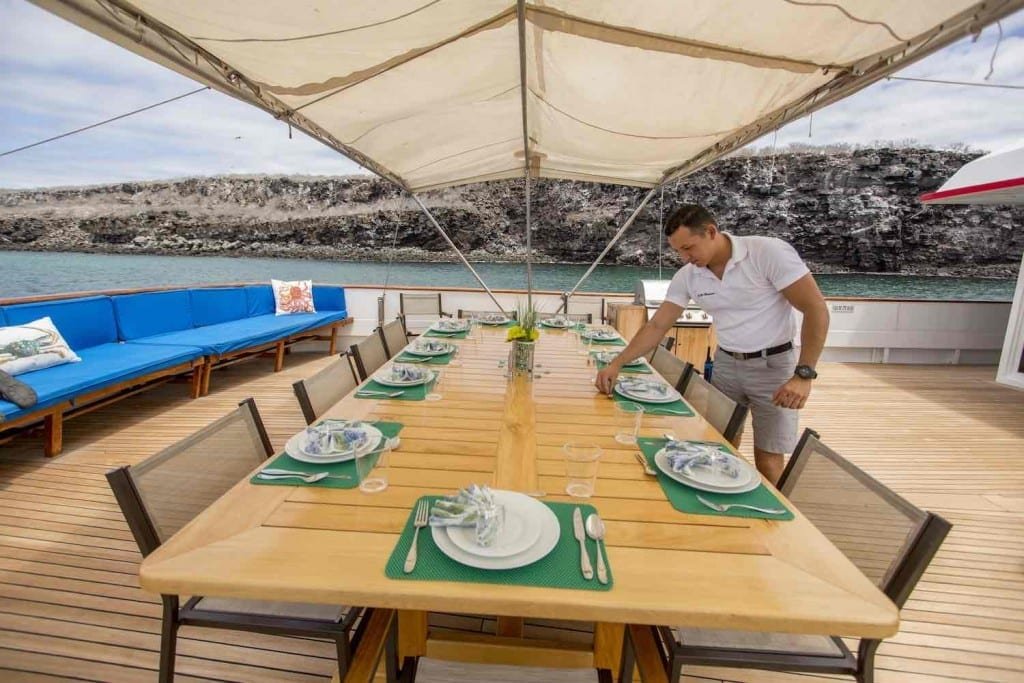 Sky Lounge and Hot Tub
The Passion offers an unrivaled amount of social space per passenger.
Common areas include a panoramic sky lounge with wet bar, a secluded sun deck with lounge chairs and a jetted tub, and over 2,100 square feet of teak decking.
Made to order meals can be enjoyed al fresco on a dining deck or at a family dining table.
Passion Galapagos Charter Options
The Passion is available for charters of eight days / seven nights (Saturday to Saturday) and for five days / four nights (Saturday to Wednesday and Wednesday to Sunday).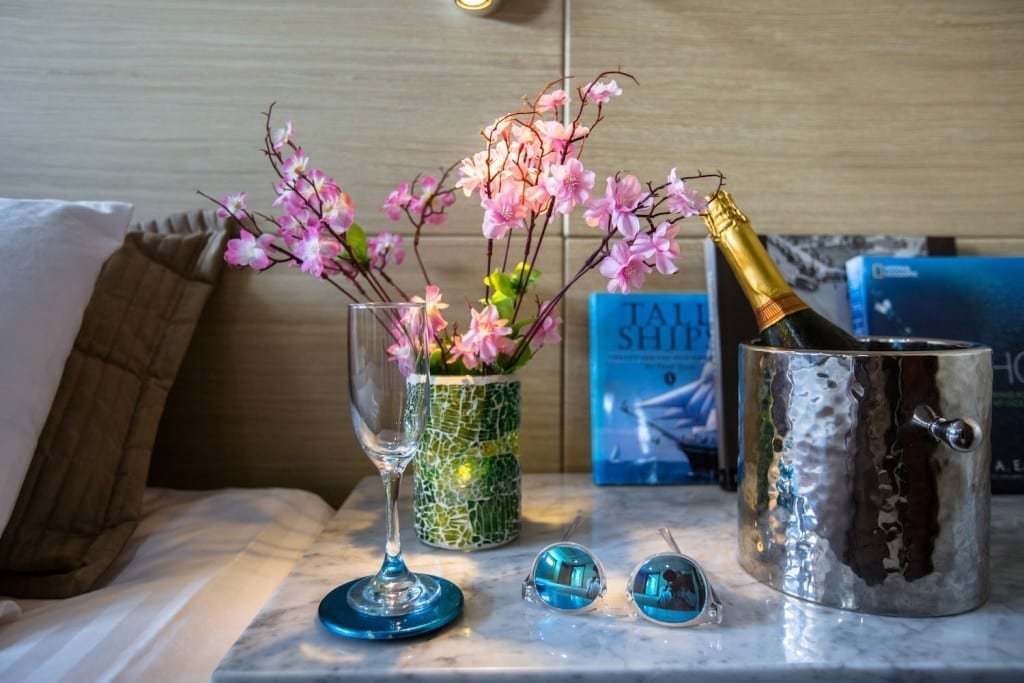 The "East" itineraries concentrate on the eastern and central islands of the archipelago, while "West" itineraries navigate in the central and western islands.
Each day of your cruise, you'll explore the islands with a naturalist guide, observing the remarkable Galapagos wildlife and experiencing this otherworldly landscape up-close.
Kayaks and snorkel equipment are provided, as are wetsuits. Diving tours can also be arranged.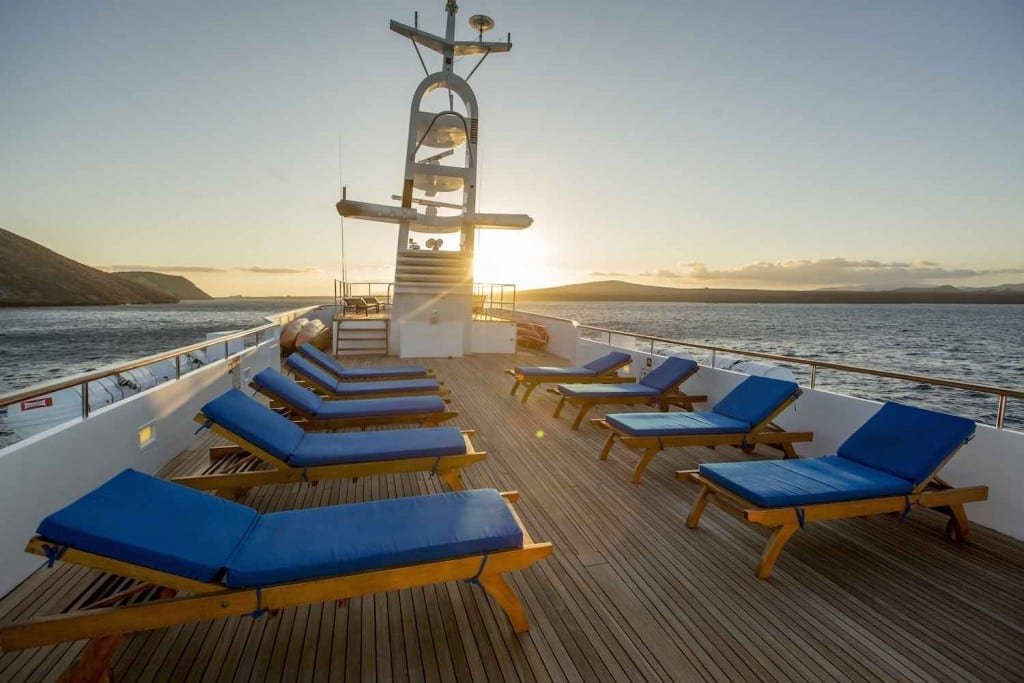 Vessel Specifications
The Passion has a length of 159 feet and a beam (width) of 28 feet. It's also graciously equipped with electronic Vosper stabilizers and a cruising speed of 10 knots.
The Passion was constructed in Greece, underwent a complete 2014 retrofit in the Netherlands, and entered service in the Galapagos in 2015.
Wanting more information on Galapagos Yacht Charters?
Check out our free guide here.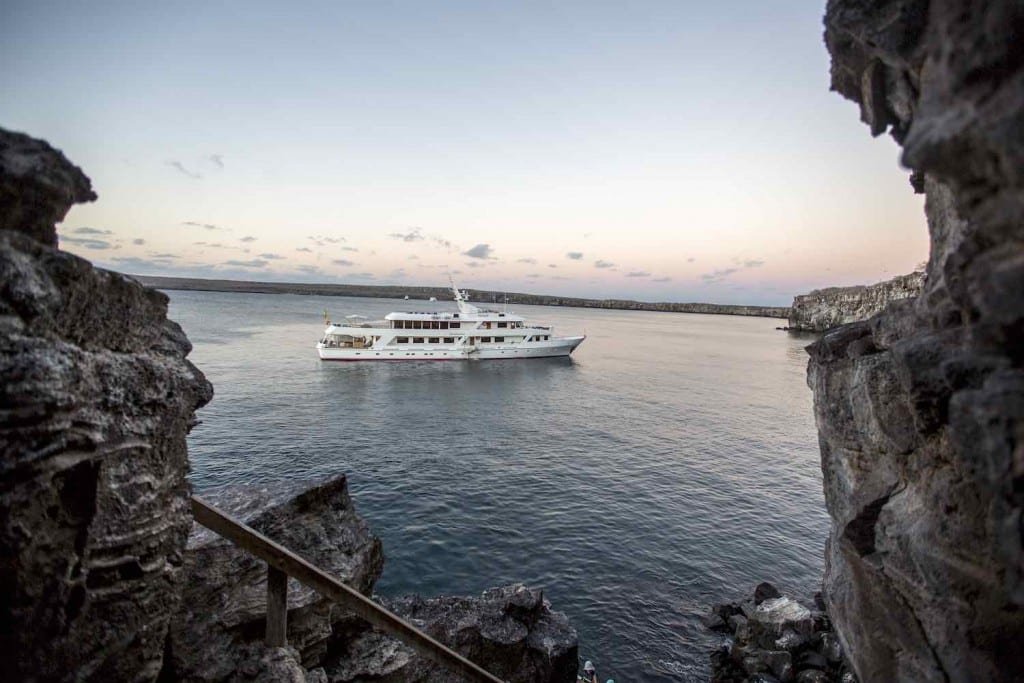 Charters of The Passion can be combined with pre- and post-cruise touring in mainland Ecuador, Peru, Panama, Colombia, or Costa Rica. Contact LANDED at 801.582.2100 for full information and availability. We will respond to your request the same day.
"One's destination is never a place, but a new way of seeing things."
Henry Miller
GO WITH LANDED.

Could not have been more pleased.  This was the trip of a lifetime for our family.  Thank you!
IF YOU LIKE TO TRAVEL.

What an amazing adventure we have had. The whole rhythm of the trip was perfect, and leaving one place for the next worked perfectly. Wish we had a month to really explore. Thanks again!
DO IT.

One of our best trips ever, made excellent by LANDED's attention to detail. The guides, drivers, and "handlers" were superb. The hotels were top notch. We felt relaxed and pampered all the way. Will definitely look to LANDED to plan our next trip to South America.
Absolutely amazing. Thanks again John. Carlos was the best guide I've ever had anywhere in the world. Top notch talent.
There is not a single thing on the itinerary that we would change.  The guides were knowledgeable, friendly, and prompt.  The hotels were beautiful, the food delicious and the pace of the activities was perfect for us. Thank you so much for making our trip such a fantastic experience.
In short, our trip was amazing, and, as we had hoped, the Inca civilization was fascinating to us. Thanks so much for your constant assistance and thorough planning.
The planning, service and execution of the trip was flawless – thank you for making it perfect!
LANDED's services were excellent. You were helpful and knowledgeable, making our trip a memorable one.  I will use your services in the future as I continue to explore Central & South America.
It was like being in a very well organized dream. Your patience with my questions and concerns during the planning stage was remarkable.
I've never had such great service from a tour operator. Not only were you a great help on the planning-insuring that I was staying at the right places and enjoying the type of activities we love-but the follow up was incredible. I look forward to working with you again on a another trip.
You actually got to know us, which made it possible to know just what we like. You promised the best trip ever and you kept your promise.
The entire trip was amazing. Both the hotel & restaurant recommendations were well thought out and helped us thoroughly enjoy our honeymoon.
LANDED is like the ultimate virtual guide, suggesting the high points and helping us get the most out of a week's time.
We had a great time, and didn't miss anything. We zip-lined, rafted, sailed and surfed. The contacts and drivers were professional and courteous. We don't want to be back at work. Thank you for all of the work you did to set up this trip.