Santa Cruise II: Galapagos Cruise Ship
Fully refurbished in 2015, Santa Cruz II houses 50 modern cabins with room for 90 total guests.
Firmly committed to protecting the delicate ecosystem of the Galapagos archipelago, the proprietors of M/V Santa Cruz II take pride in leveraging "the newest sustainable advances in sailing."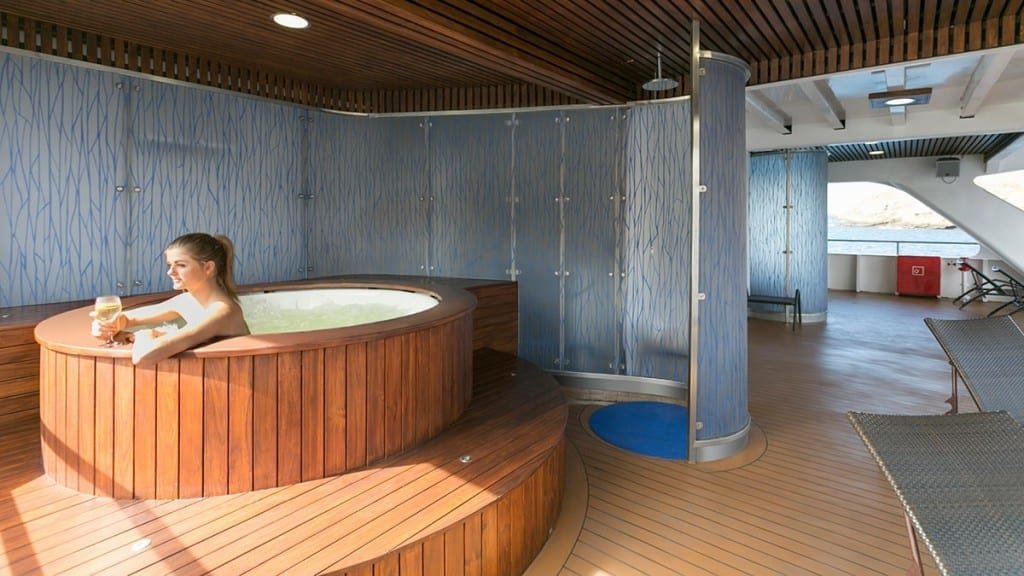 With five spacious decks and chic interiors designed by Richard Nilsson, Santa Cruz II was built on the principle of stylish simplicity.
The result is a luxurious ambience, from which guests can appreciate the breath-taking views of the enchanted islands.
Santa Cruz II Accommodations
Passengers of Santa Cruz II may choose from a variety of options, ranging from single cabins to Darwin Suites.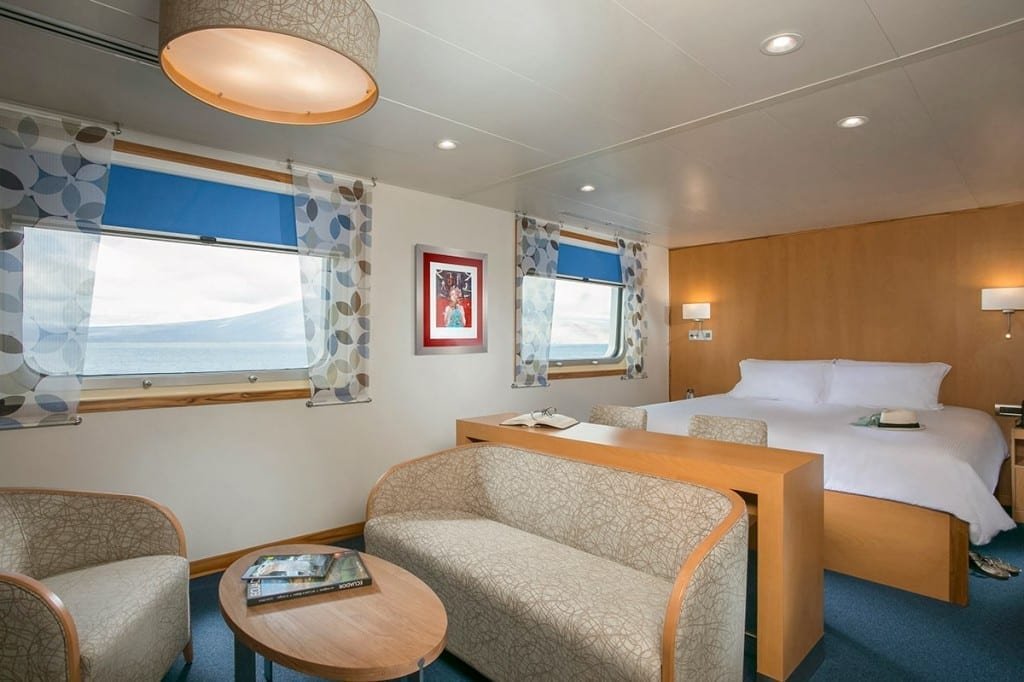 Santa Cruz II options include:
(2) Voyager Cabins—(127.0 ft² / 11.8m²)
(23) Explorer Horizon Cabins—(163.2 ft² / 15.2 m²)
(17) Explorer Expedition Cabins—(163.2 ft² / 15.2 m²)
(3) Explorer Panorama Deck Cabins—(163.2 ft²/ 15.2 m²)
(2) Explorer Family Cabins—(191.9 ft² / 17.8m²)
(3) Darwin Suites—(325 ft² / 30m²)
Explorer cabins are available in both single and double bed floor plans.
Darwin Suites can be interconnected with an Explorer Cabin, providing an additional 163 sq. ft. (15 m2) of space.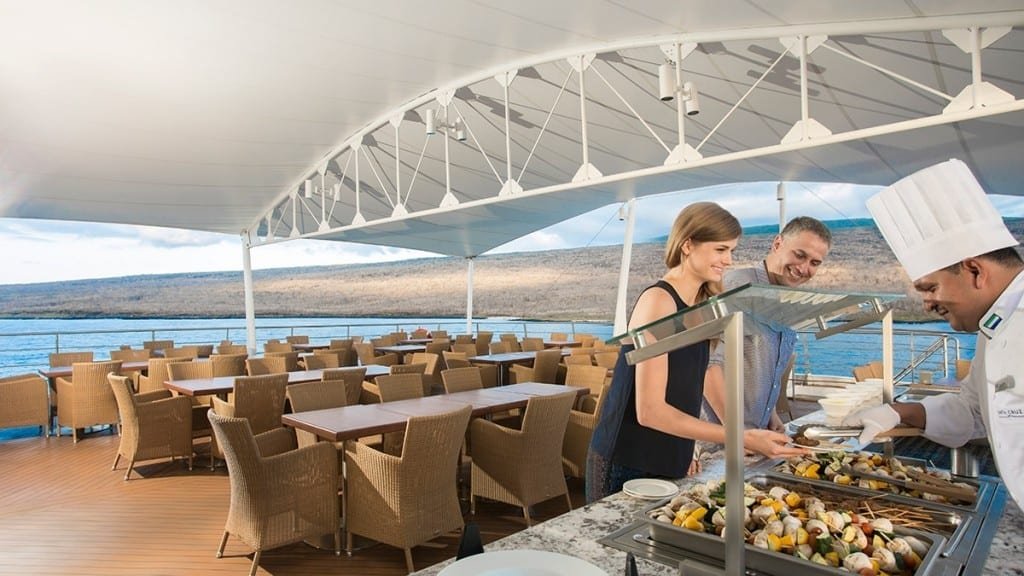 Darwin suites also feature enhanced service, double picture windows and luxurious facilities, and details such as a take-home Galapagos coffee table book and a tablet loan for each cabin.
Onboard communal amenities include:
Library
(2) Ocean-View Hot Tubs
Indoor and Al Fresco Dining Area
24-hour Coffee Station
Lounge Bar
Gym
The Santa Cruz II also features an on-staff Gastonomy Director, guiding the preparation of delectable and elegant Ecuadorian and International cuisine.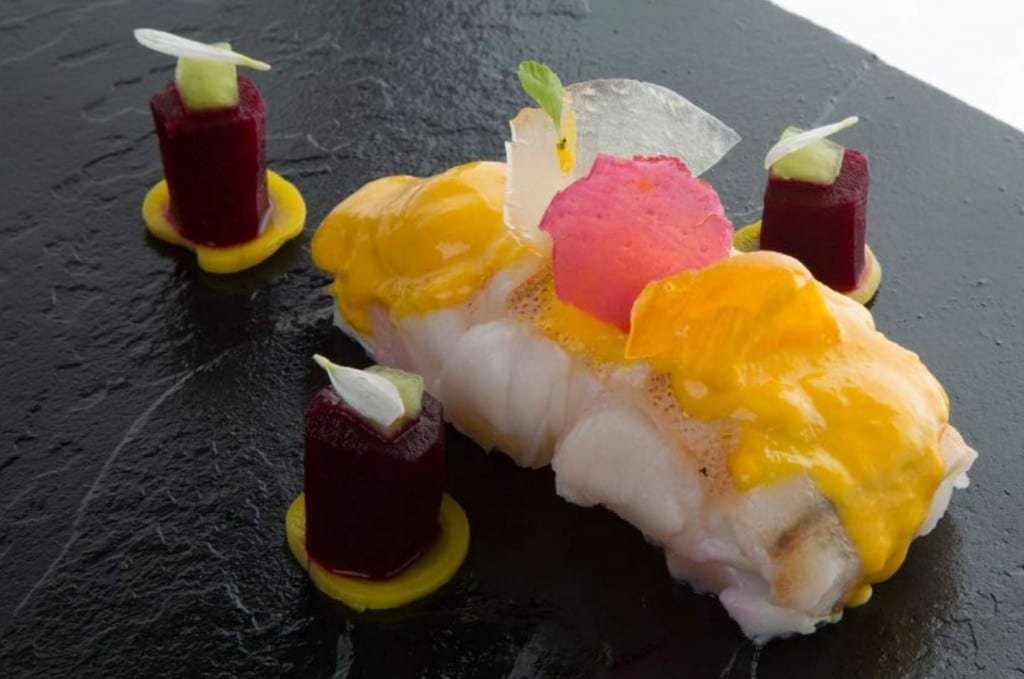 Onboard menus predominantly feature fresh food such as fish from the surrounding waters, alongside locally-sourced fruit and vegetables.
Group-Basis Galapagos Cruise Options
Santa Cruz II offers four, five and nine night Galapagos cruises, focusing on either the Northern, Eastern or Western Islands of the Galapagos archipelago.
The crew includes seven naturalists, along with an Expedition Leader, responsible for ensuring excursions fully exploit the wonders of the Galapagos.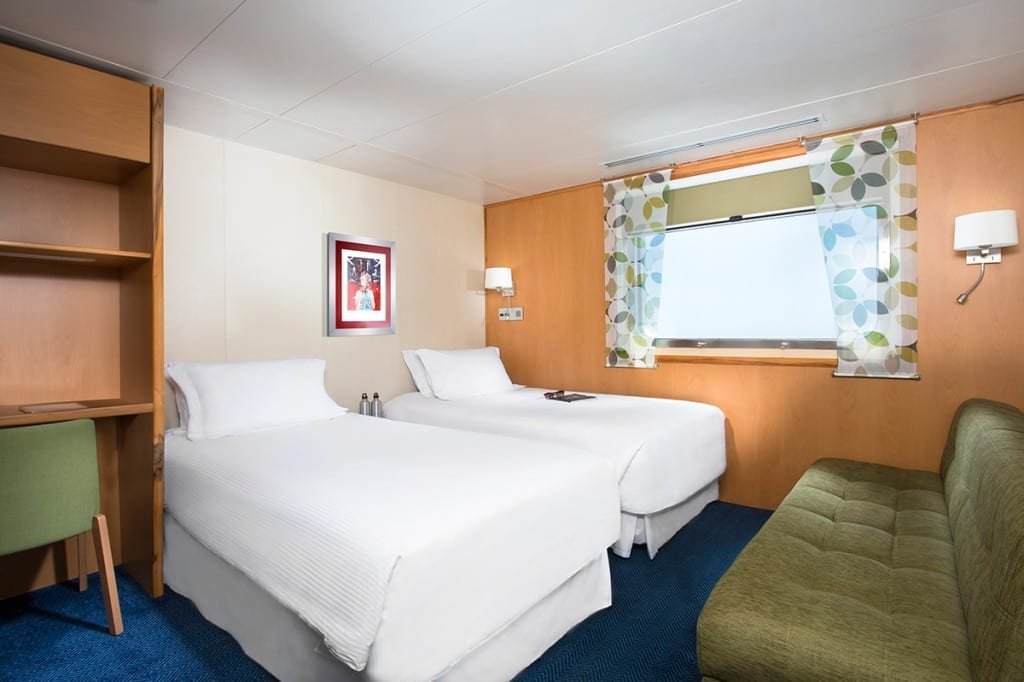 Guests of Santa Cruz II can also embark on customized land treks and enjoy free-of-charge aquatic activities such as:
Kayaking
Snorkelling with Sea Lions
Glass-Bottom Boat Excursions
All of these activities are availible within the limits of the Galapagos National Park.
Vessel Specifications
Santa Cruz II is 235 ft. (71.8 m) long, with a 43 ft. (13.4 m) beam. It's powered by twin 850 HP Cummins engines, with a top speed of 10.5 knots.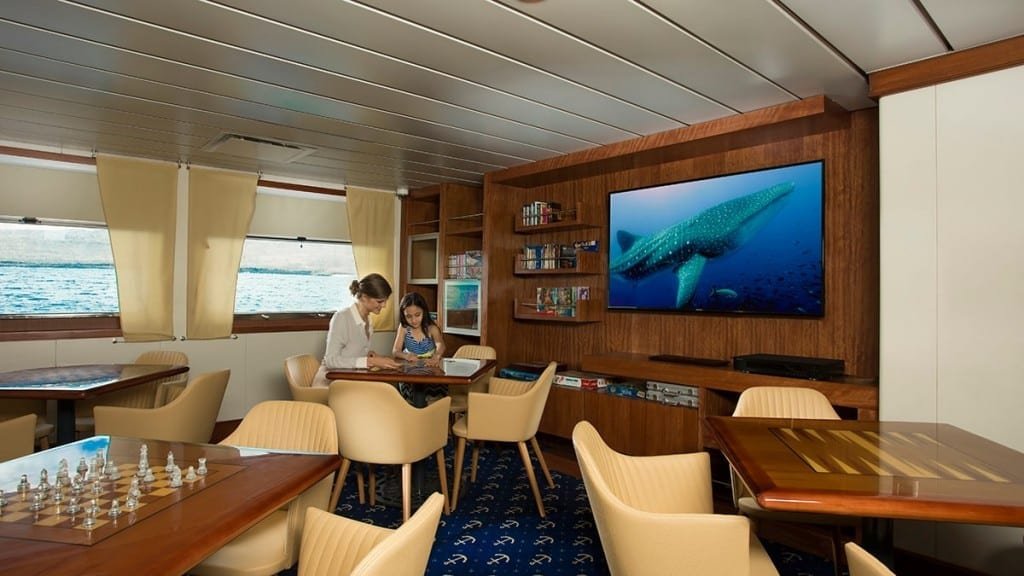 Guests of Santa Cruz II can also embark on customized land treks and enjoy free-of-charge aquatic activities such as:
Kayaking
Snorkeling with Sea Lions
Glass-Bottom Boat Excursions
All of these activities are available within the limits of the Galapagos National Park.
Want more information on Galapagos cruises and yacht charters?
Check out our free guide.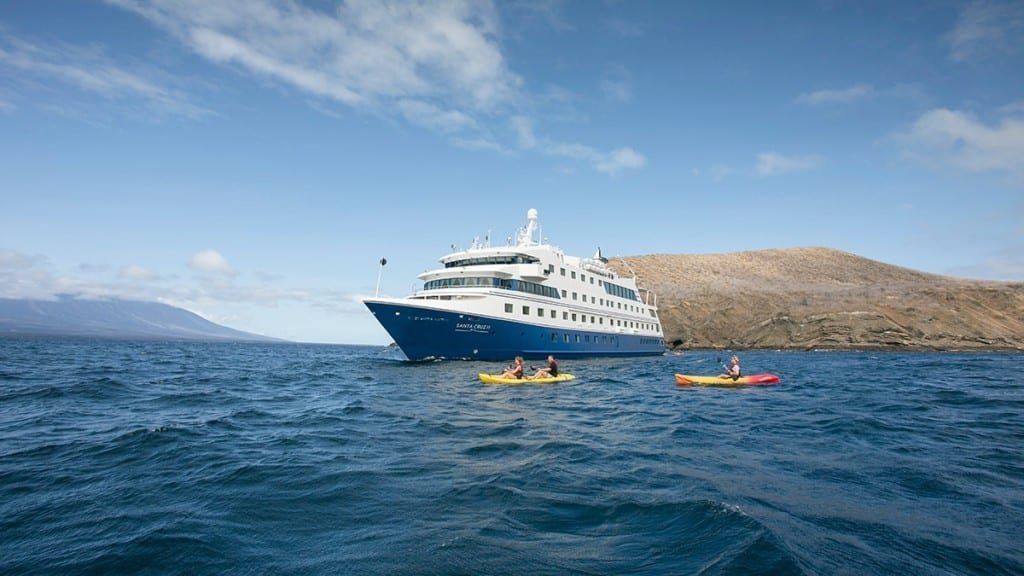 Santa Cruz II Galapagos Cruises can be combined with pre- and post-cruise touring in mainland Ecuador, Peru, Panama, Colombia, or Costa Rica. Contact LANDED at 801.582.2100 for full information and availability. We've got you.
"We travel not to escape life, but for life not to escape us."
Anonymous
GO WITH LANDED.

Could not have been more pleased.  This was the trip of a lifetime for our family.  Thank you!
IF YOU LIKE TO TRAVEL.

What an amazing adventure we have had. The whole rhythm of the trip was perfect, and leaving one place for the next worked perfectly. Wish we had a month to really explore. Thanks again!
DO IT.

One of our best trips ever, made excellent by LANDED's attention to detail. The guides, drivers, and "handlers" were superb. The hotels were top notch. We felt relaxed and pampered all the way. Will definitely look to LANDED to plan our next trip to South America.
Absolutely amazing. Thanks again John. Carlos was the best guide I've ever had anywhere in the world. Top notch talent.
There is not a single thing on the itinerary that we would change.  The guides were knowledgeable, friendly, and prompt.  The hotels were beautiful, the food delicious and the pace of the activities was perfect for us. Thank you so much for making our trip such a fantastic experience.
In short, our trip was amazing, and, as we had hoped, the Inca civilization was fascinating to us. Thanks so much for your constant assistance and thorough planning.
The planning, service and execution of the trip was flawless – thank you for making it perfect!
LANDED's services were excellent. You were helpful and knowledgeable, making our trip a memorable one.  I will use your services in the future as I continue to explore Central & South America.
It was like being in a very well organized dream. Your patience with my questions and concerns during the planning stage was remarkable.
I've never had such great service from a tour operator. Not only were you a great help on the planning-insuring that I was staying at the right places and enjoying the type of activities we love-but the follow up was incredible. I look forward to working with you again on a another trip.
You actually got to know us, which made it possible to know just what we like. You promised the best trip ever and you kept your promise.
The entire trip was amazing. Both the hotel & restaurant recommendations were well thought out and helped us thoroughly enjoy our honeymoon.
LANDED is like the ultimate virtual guide, suggesting the high points and helping us get the most out of a week's time.
We had a great time, and didn't miss anything. We zip-lined, rafted, sailed and surfed. The contacts and drivers were professional and courteous. We don't want to be back at work. Thank you for all of the work you did to set up this trip.