The Galapagos Endemic
The 16-passenger Galapagos Endemic motor catamaran was launched in July 2018. It operates exclusively within the Galapagos Islands.
The Galapagos Endemic is considered a "senior-friendly" vessel. It has fewer stairs than other catamarans, with better accessibility and special accommodation options.
The Galapagos Endemic carries a crew of 10, plus a cruise director, and an expert naturalist guide.
The vessel is 115 feet long, with a width (beam) of 45 feet, and a draft to baseline of 6.1 feet. With two 500-horsepower engines, Galapagos Endemic has a cruising speed of 12 knots.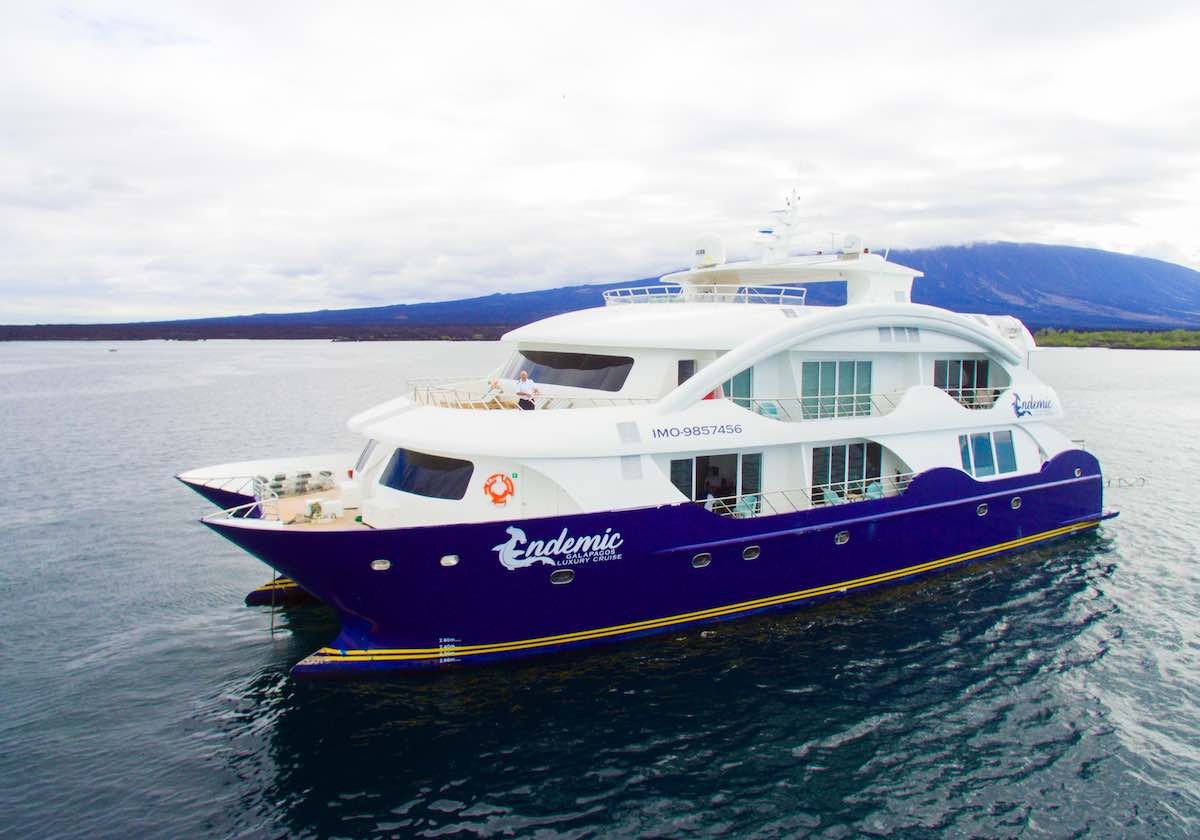 The Galapagos Endemic's Sky Deck offers lounge chairs, al fresco dining, and a hot tub.
The Upper Deck has a sun terrace and forward observation platform with lounge chairs. For guests with special mobility considerations, private dining can be arranged on this deck.
The Main Deck has a forward observation platform, a briefing room, lounge, and interior dinging room.
Other amenities include a BBQ station, television lounge, coffee station, library, kayaks, and snorkeling gear.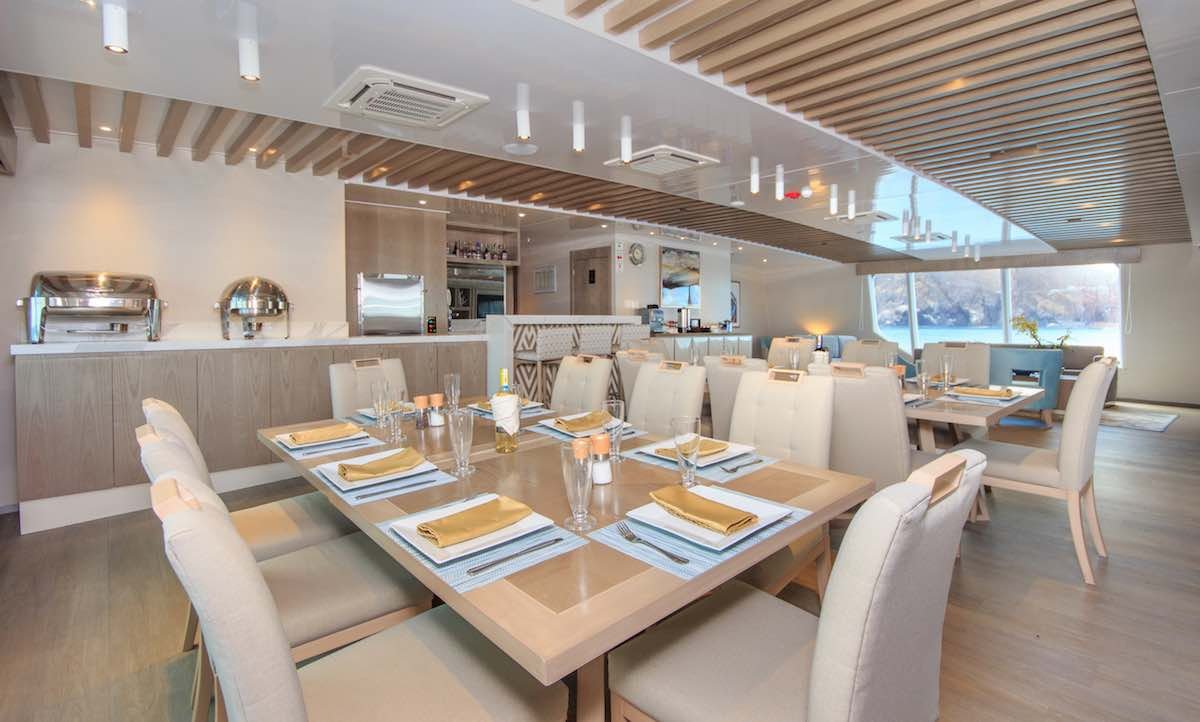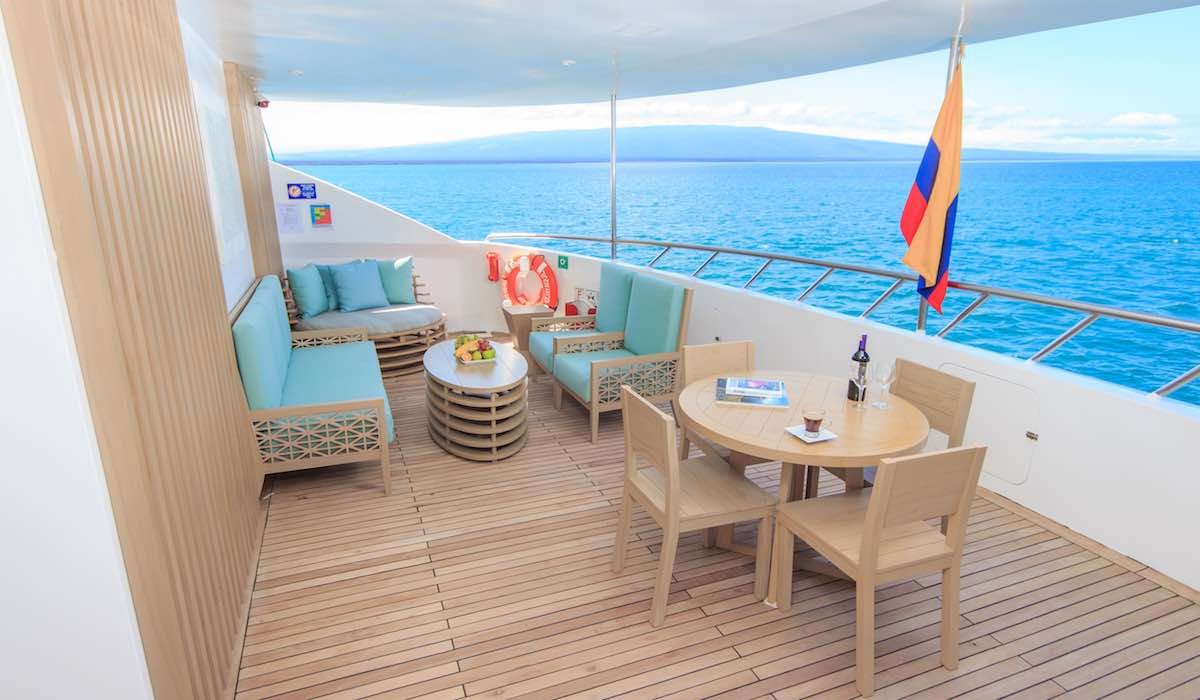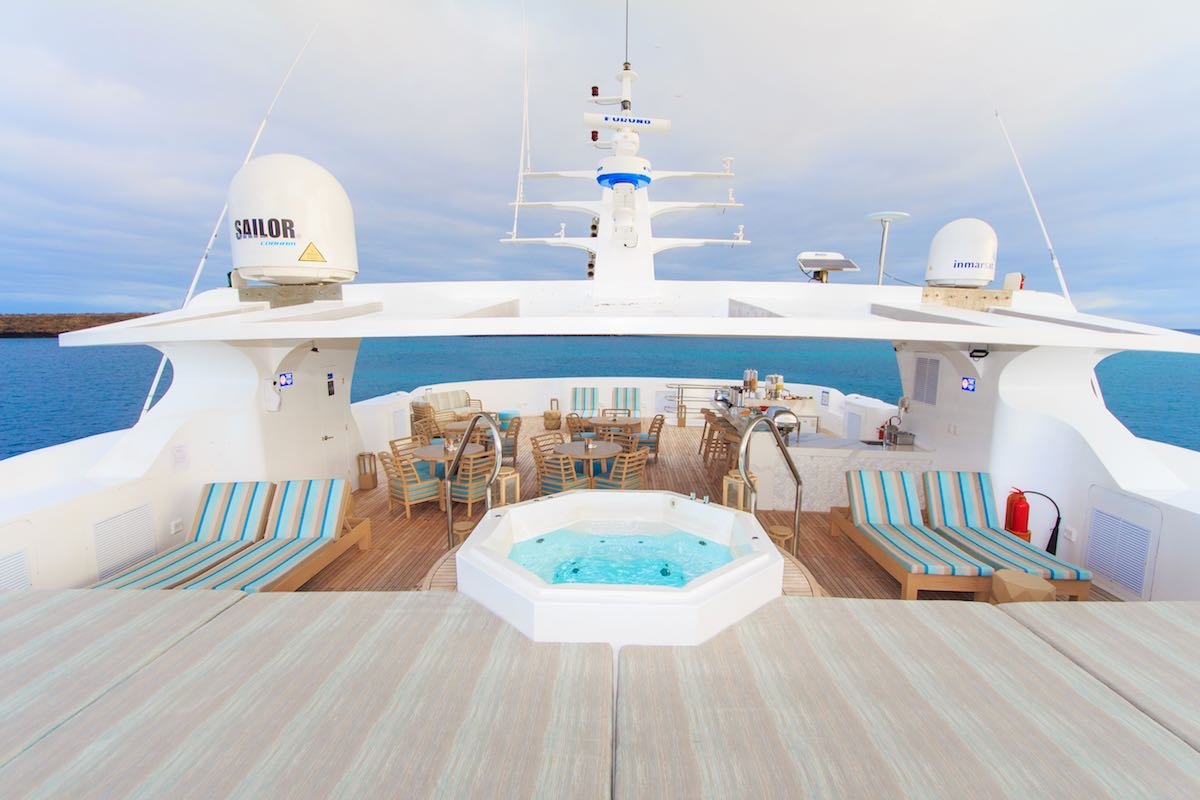 Galapagos Endemic Cabin Options
The Endemic has capacity for 16 guests:
4 panoramic suites on the Main Deck (double occupancy, approximately 344 square feet)
4 suites on the Upper Deck (double occupancy, approximately 344 square feet)
Each panoramic suite cabin has air conditioning, a balcony, private bathroom, and either a king-size bed or two twin-size beds. Additional features include storage space, a writing desk, hair dryer, and a security box.
The Upper Deck also has one single-occupancy cabin with a private balcony. This cabin can be used to add an additional naturalist guide on charter cruises.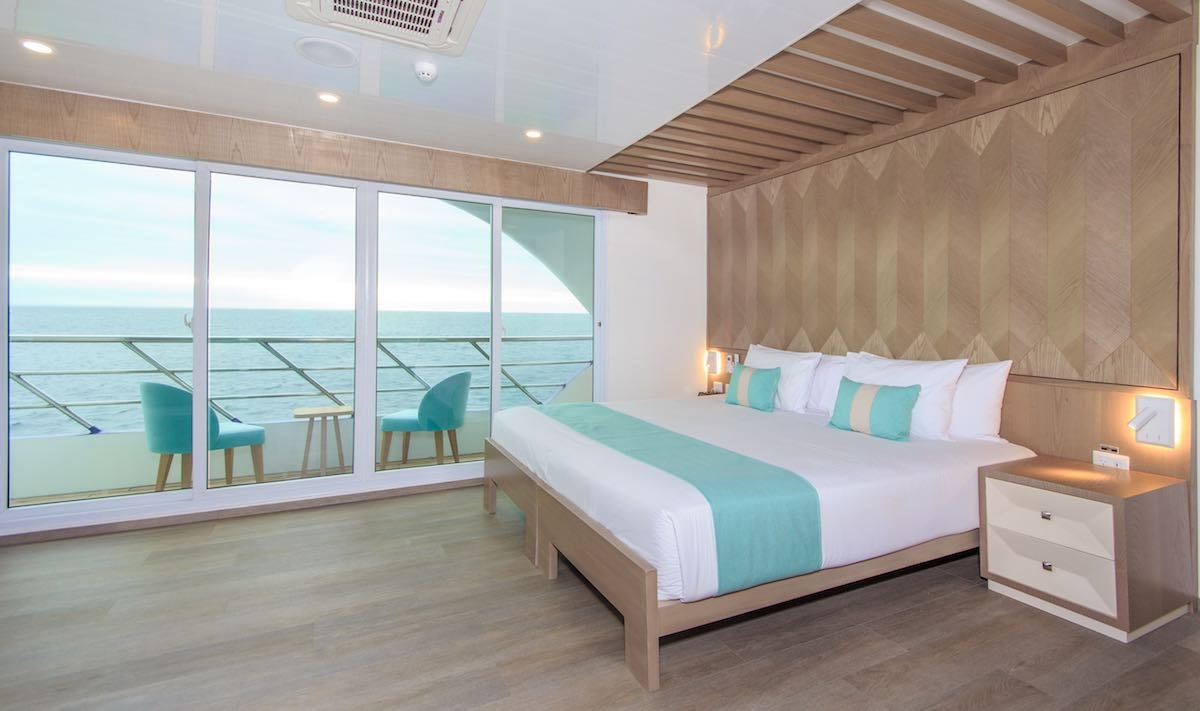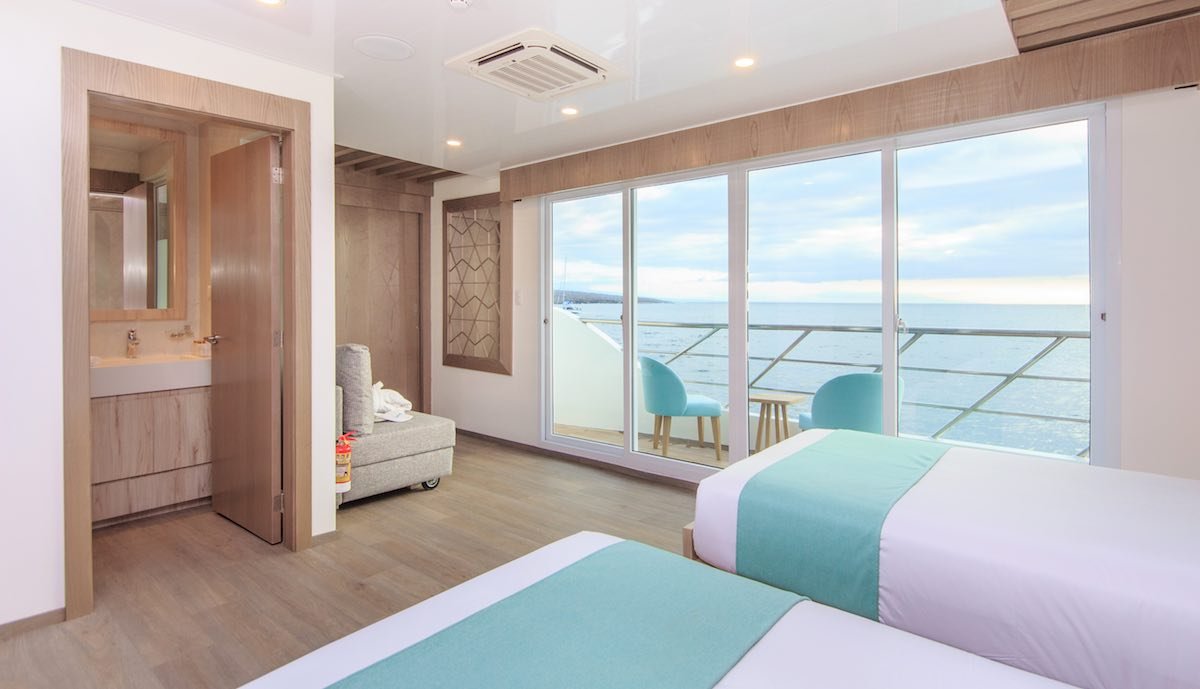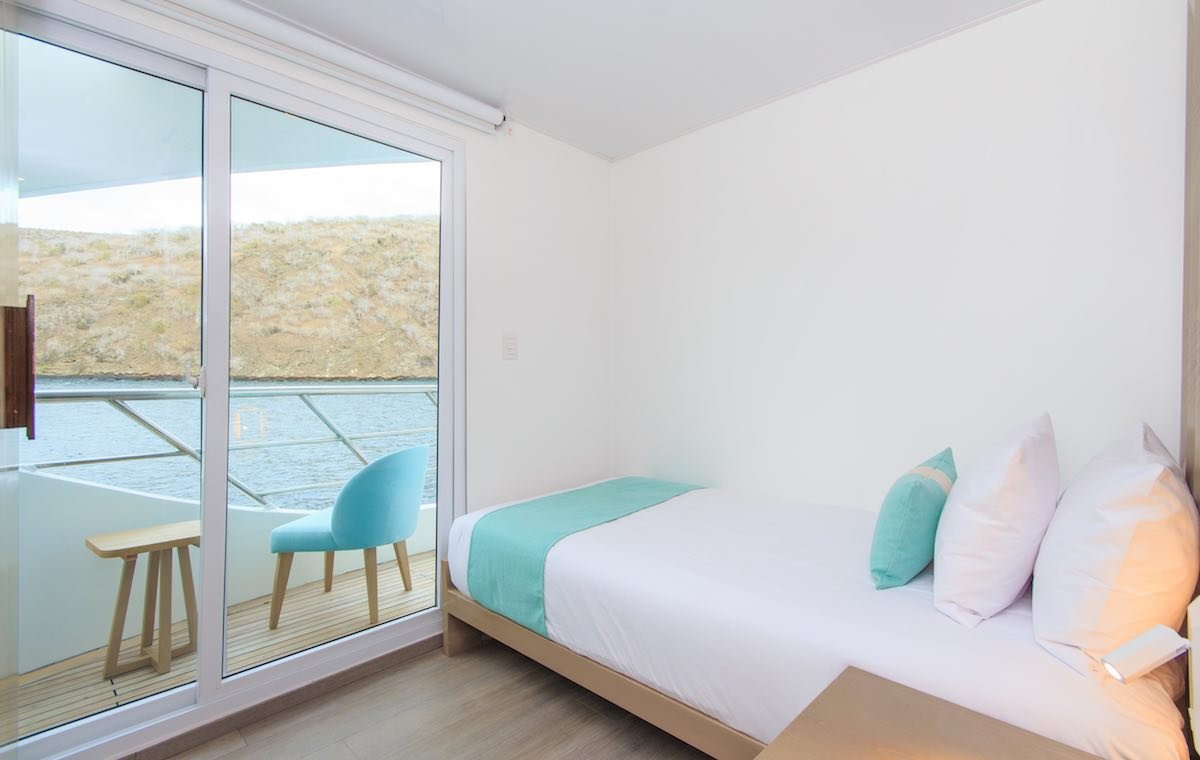 Endemic Itineraries
The Galapagos Endemic offers 3, 4 and 7-night cruise itineraries.  Charter itineraries are also available.
Expert naturalist guides (1 per 16 guests) lead hiking, kayaking, snorkeling and wildlife observation excursions.
---
Sample 4-night Cruise: 
Sunday: Arrival at Baltra airport and transfer to yacht; in the afternoon visit Dragon Hill and Santa Cruz Island
Monday: Arrival at Kicker Rock, off San Cristobal Island; in the afternoon visit Isla Lobos/Sea Lion Island
Tuesday: Arrival at Gardner Bay on Española Island; in the afternoon visit Suarez Point
Wednesday: Arrival at Santa Cruz island in the morning; in the afternoon visit Charles Darwin station
Thursday: Arrival at South Plaza Island in the morning; in the afternoon transfer to Baltra Airport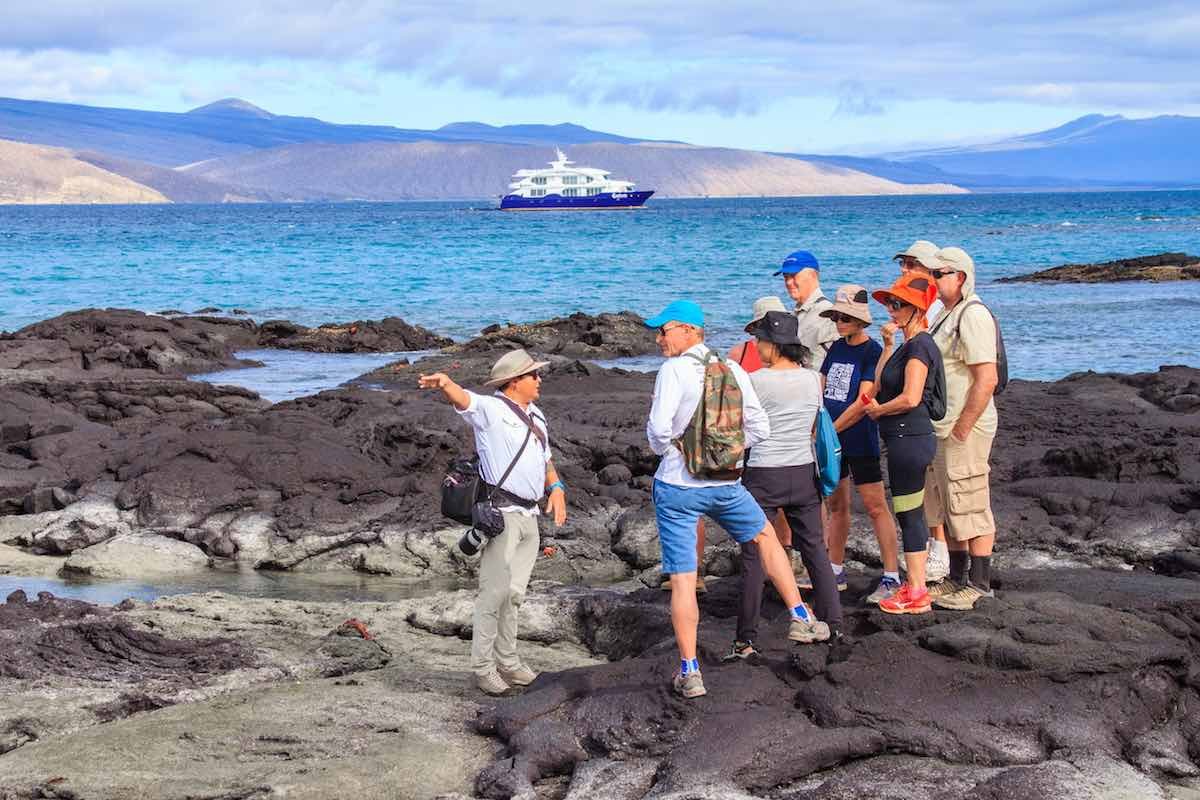 Endemic Technical Specifications
Year of Construction: 2018
Type: Luxury motor catamaran
Length: 115 feet
Max Speed: 12 knots
Capacity: 16 passengers, 10 crew members + 1 cruise officer + 1 bilingual guide (an additional guide can be added for private charters)
For more information on group-basis Galapagos cruises and yacht charters, check out LANDED's free guide.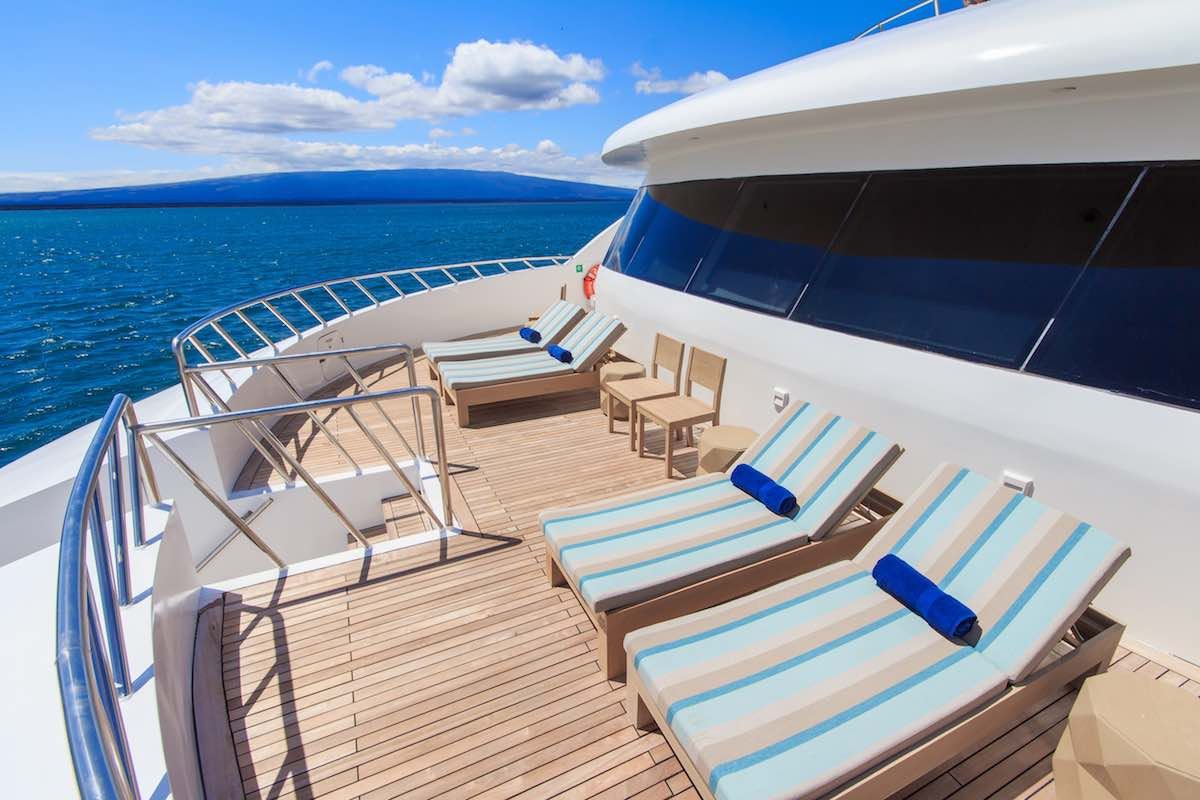 LANDED has a direct contract with the Galapagos Endemic; we book individual cabins as well as private charters. We can also arrange air travel, touring, and accommodations in mainland Ecuador. Speak with one of our expert travel planners today at 801.582.2100. We'll take care of all the details.
"He who is outside his door already has the hardest part of his journey behind him."
Dutch Proverb
PERFECT

Could not have been more pleased.  This was the trip of a lifetime for our family.  Thank you!
GO WITH LANDED

If you're planning to travel, go with LANDED. You won't be disappointed.
AMAZING ADVENTURE

The whole rhythm of the trip was perfect, and leaving one place for the next worked perfectly. This trip definitely made me want to experience other great spots in South America.
TRIP OF A LIFETIME

The locations were amazing. Your on-the-ground team was fantastic–knowledgeable and accommodating. Beautifully organized.
ABSOLUTELY AMAZING

The best guide I've ever had anywhere in the world. Top notch talent.
GREAT SERVICE

You were a great help in planning–ensuring that I was staying at the right places and enjoying the type of activities we love–and the follow up was incredible.
YOU GOT TO KNOW US

Exactly the bonding and sharing experience we'd hoped for. The rhythm, variety, and tone was spot on. With effective listening skills, you built a good picture of what we wanted–more complicated than "just" luxury. The result was a great trip, one made just for us.
BEST EVER

Excellent attention to detail. You listened carefully, asked the right questions, and customized with just the right balance. Superb guides. We felt relaxed and pampered all the way. You'll plan our next trip.
FANTASTIC EXPERIENCE

Not a single thing on the itinerary that we would change.  The guides were knowledgeable, friendly, and prompt.  The hotels were beautiful, the food delicious and the pace of the activities was perfect for us.
DO IT!

In short, our trip was amazing. Thanks so much for your constant assistance and thorough planning.
PERFECT

The planning, service and execution of the trip was flawless – thank you!
EXCELLENT

LANDED was helpful and knowledgeable, making our trip a memorable one.  I will use your services in the future as I continue to explore Central & South America.
A VERY WELL ORGANIZED DREAM

Your patience with my questions and concerns during the planning stage was remarkable.
THANK YOU

You actually got to know us, which made it possible to know just what we like. You promised the best trip ever and you kept your promise.
ENTIRELY AMAZING

Your recommendations were well thought out. We thoroughly enjoyed our honeymoon. Thank you!
THE ULTIMATE GUIDE

LANDED is the ultimate. You helped us make the most out of a week's time.
DIDN'T MISS A THING

We zip-lined, rafted, sailed, and surfed. The contacts were professional and courteous. We don't want to be back at work. Thank you for all of the work you did to set up this trip.