El Pedral Boutique Hotel
El Pedral Hotel de Campo is a boutique hotel within a working sheep ranch (an estancia) on the coast of Argentine Patagonia.
Here, in the wind-swept province of Chubut, the land forms a vast plain—the Patagonian Steppe—stretching hundreds of miles from the Andes to the Atlantic. El Pedral rests at the eastern end of that expanse.
Where the steppe meets the sea, the land plummets hundreds of feet down sandstone cliffs to pebbled beaches.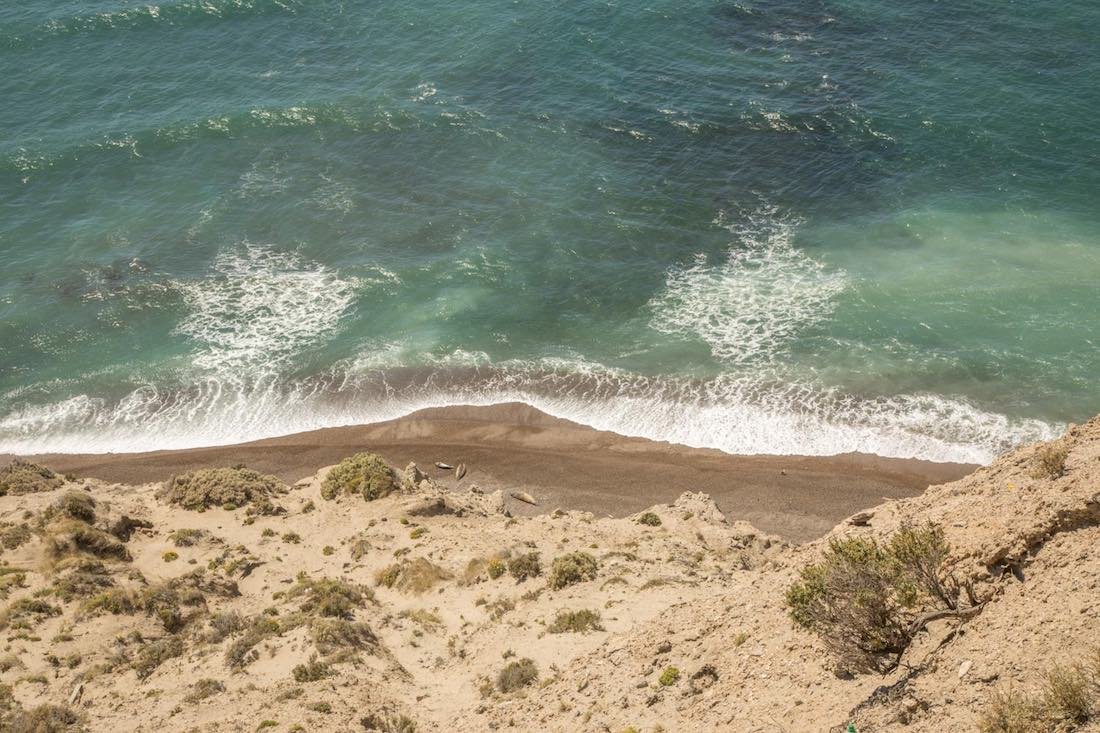 Whale Watching at Puerto Piramides
El Pedral's land spans the eastern tip of Punta Ninfas–Mermaid Point. The pebbly shore of Punta Ninfas is the seasonal home of Magellanic penguins, elephant seals, and sea lions. It is protected by UNESCO as a World Biosphere Reserve.
Punta Ninfas forms the southern arm of the Golfo Nuevo. The northern side of the gulf is formed by the Valdes Peninsula. This gulf is a rich fishery, supporting Southern Right whales and orcas.
Whale watching cruises are offered at Puerto Piramides, on the southern coast of the Valdes Peninsula.
Patagonia is known for its nearly constant wind, so powerful that the land is naturally devoid of trees. The bushy shrubs have adapted small leaves and succulent spines. Anything manmade is either supported by guidewires, sheltered by non-native trees, or on the verge of falling over.
El Pedral Guest House
El Pedral's guest house consists of the Arbeletche family home (completed in 1923) and two neighboring row houses of four rooms each.
The main house includes the kitchen, dining room, lounge, sunroom, and one more guest room. A short walk from the main house is the "quincho" with a pool, ping pong table, foosball table, and an outdoor barbeque area.
The quincho also has two dining rooms to accommodate lunching day trip tours, which come to see the elephant seals and penguins.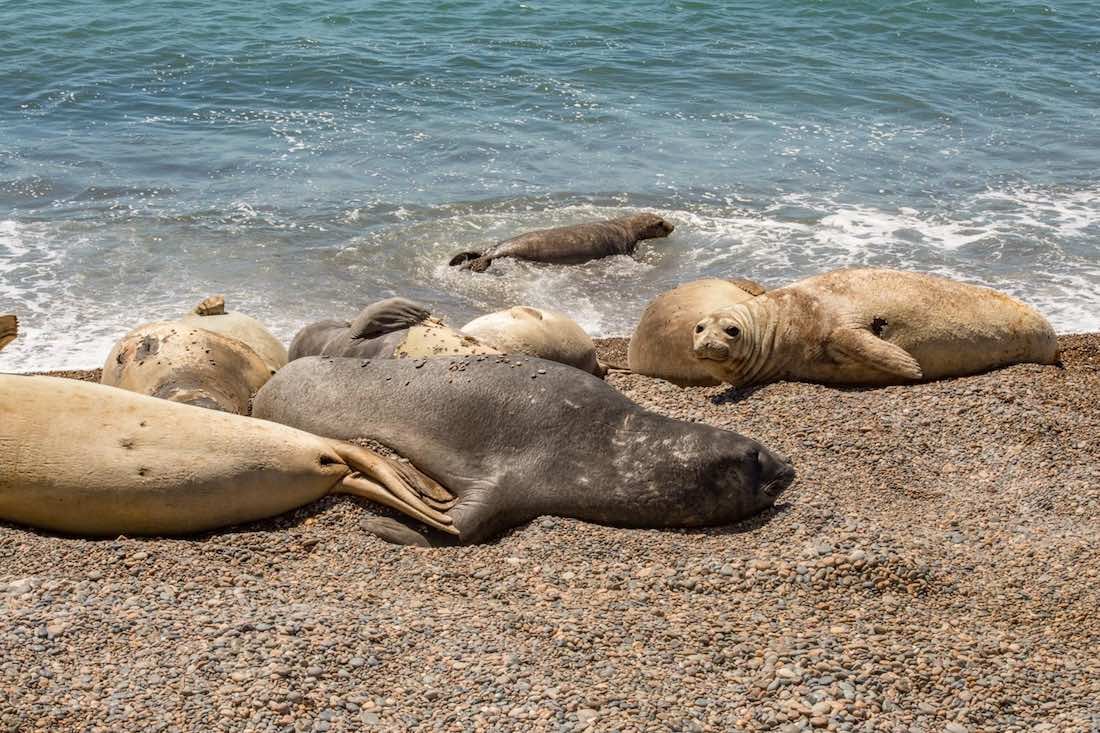 El Pedral Rooms

The simple, no-fuss rooms at El Pedral are light-filled and traditional, with whitewashed walls, native wood floors, and comfortable beds.
Rooms have in-wall space heaters, but not air conditioning (not needed). The windows have blackout curtains. Rooms can be arranged with either one double-occupancy bed (roughly a king) or two twin beds.
Rooms in the row houses are in pairs, with a shared outside door. A roll-away bed can be added. One room (#2, Orca) has three twin beds. It can be combined with #1 (Pinguino) as a family suite.
Bathrooms have shower / tubs, toilet, bidet, vanity, and hairdryers. The hot water heaters kick one once the hot tab is turned all the way on; adjustments can then be made.
Rooms at El Pedral do not have security boxes, and keys are left in the main house while you're away.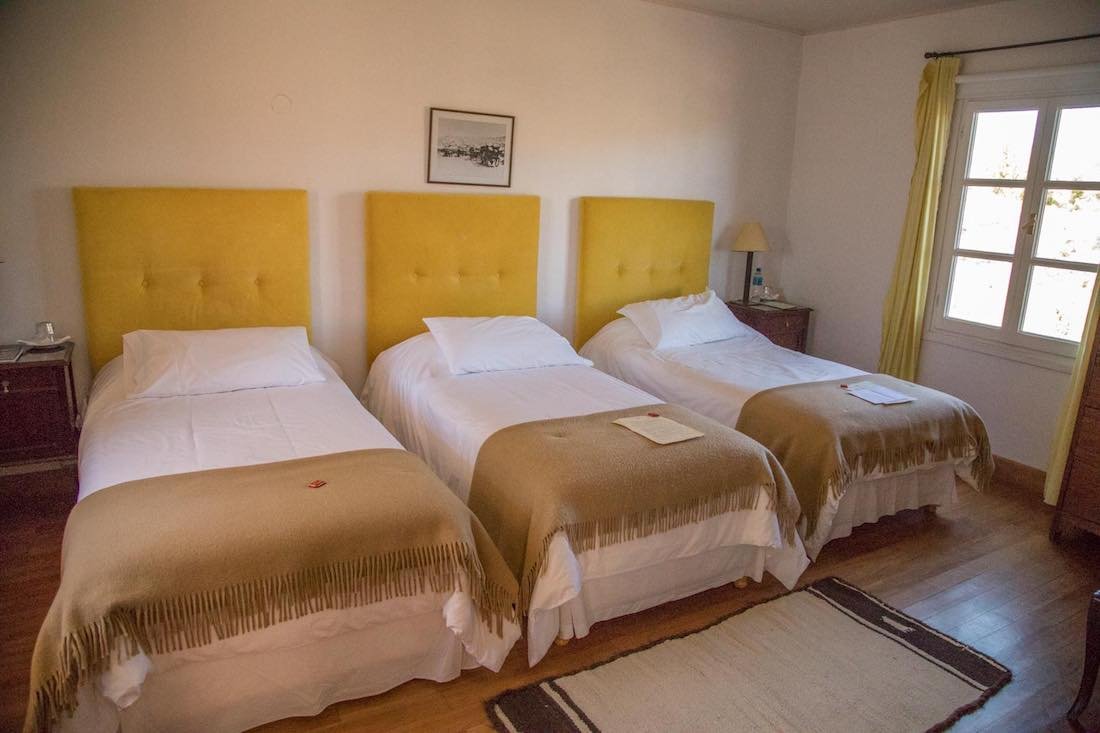 El Pedral Dining and Amenities

Food is a highlight, and it is included. A surprising variety of fresh breads, medialunas, empanadas, soups, roasted vegetables, meats, and desserts, are prepared in a handful of cast iron pans by chef Pablo.
A traditional Patagonian barbeque (asado) can be scheduled if desired—usually once per stay. Dietary restrictions and preferences can be followed; just let us know your needs in advance. An honor bar is located in the main house.
Electrical power is sourced by windmills, solar panels, and a generator. Lights go out at 10:30PM and come on again at 7:30AM. Mobile phone signals are difficult to find.
Wi-Fi is available only in the main house, and the connection is slow. El Pedral rooms do not have television. This is a place to slow down and unwind. Bring a book to read by the main house's fireplace.
Active Adventure
The main attraction here is the wildlife. Unlike the heavily-touristed colonies at Punta Tombo, guests at El Pedral can visit the on-property wildlife communities in near solitude.
The whale-watching boats launch from Puerto Piramides, on the Valdes Peninsula, two hours from the ranch. Expect to have up to 20 people on each boat. These are long, open-bow launches.
The Punta Ninfas elephant seal and penguin colonies are roughly 30 minutes by car from the estancia's house.
Be prepared for a steep climb down to (and then back up from) the elephant seal colony. The hike to the penguin colony is about 1 kilometer from the car park (sandy, pebbly, level trail).
Some of the owners of El Pedral also operate the "Yellow Submarine" from Puerto Piramides. It's not an actual submersible; it has seating and windows below the waterline for underwater viewing of whales, sea lions, and fish.
It's Instagram can be found at yellowsubmarinearg.
Mountain Biking and Hiking
Mountain bikes are provided at El Pedral. The gravel roadway to the penguin colony is roughly 4 kilometers per direction. It is flat terrain, with sand and pebbles—easier on foot than by bike.
Several self-guided hiking trails cross the El Pedral property. It is possible to observe foxes, guanacos, rheas, mountain cats, hares, turkey vultures, shorebirds, and sheep on these hikes.
The Golfo Nuevo Viewpoint—5 kilometers per direction, with 70 meters of elevation change. Medium difficulty.
The Loma Blanca Viewpoint—3 kilometers per direction, with 70 meters of elevation change. Medium difficulty.
El Pedral's managers recommend tips be handed at the end of your stay, using a special envelope provided by the lodge. Tips can be left in this way for guides and for the lodge staff.
Recommended amounts: $10 per guest per day for lodge staff, and $10 per guest per full day for guides.
An Authentic Argentinian Experience

We're putting El Pedral on a list of special places where one can experience honest-to-goodness Argentina. It provides simple, sincere comfort, without being overly soft or structured. Days unfold here, if you'll let them, leaving you rested and rewarded.
LANDED recommends a three-night stay for most guests. If you arrive in the morning, you can visit the elephant seal and penguin colonies on your arrival afternoon.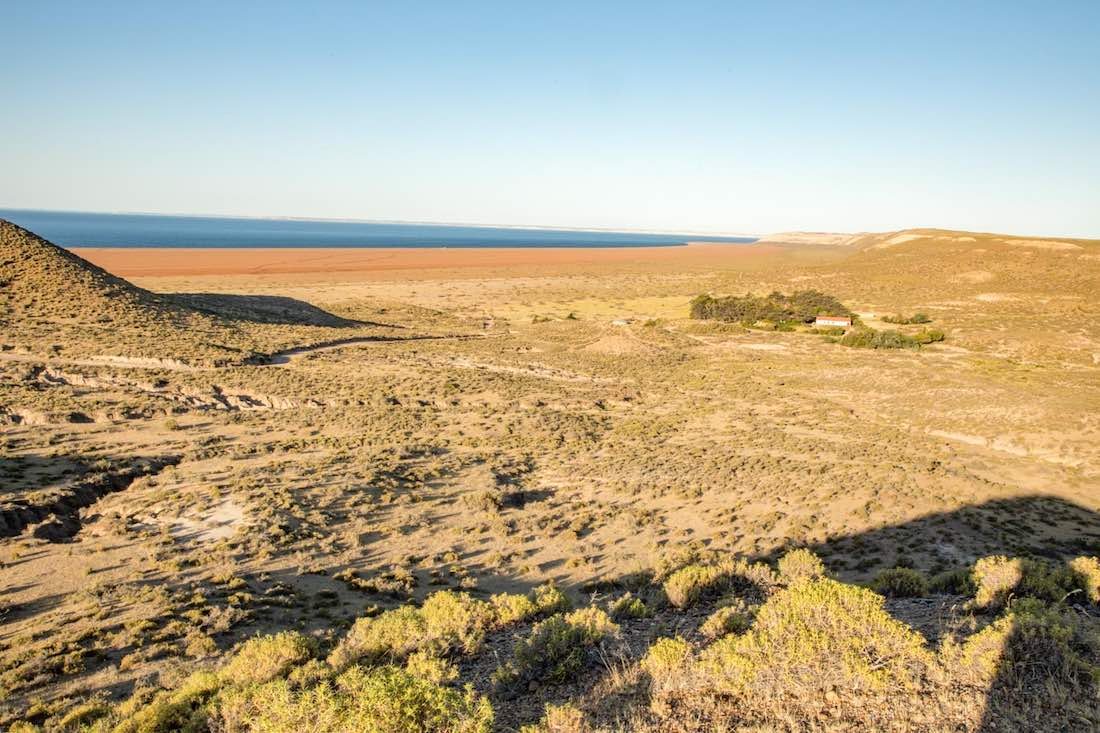 The next day could be for biking and hiking, and the final day could be for whale watching. If you arrive in the evening, consider a four-night stay.
El Pedral is an excellent place to decompress between Buenos Aires and Antarctica, or after strenuous hiking in other parts of Patagonia. In spirit, it feels akin to Estancia Cristina, Nibepo Aike, Estancia Los Potreros, and Puerto Valle—places that offer luxury of experience, solitude, and sincere hospitality.
El Pedral draws visitors from across North America and Europe, as well as a significant number from Japan. The average guest is over 50.  Even if you're not particularly agile, you can enjoy El Pedral.
Children are welcome (highchair, car seats, a scoot bike, and children's bikes are available).  At the time of this writing, the property had three loveable dogs and a few oddly shaggy cats.
El Pedral History
The original estancia (ranch) was founded around 1898 by Basque shepherd friends Felix Arbeletche and Felix Olazabal. A few years after their arrival, Arbeletche married an Olazabal—Maria—and lived in a shepherd's camp wagon while following their herd.
Eventually, Maria moved from the wagon to a series of huts. The first two were trampled by wild horses. In the third hut, Maria bore two children, Sofia (b. 1905) and Juan (b. 1096) Bautista.
As the family's sheep herd grew, modest wealth followed. Maria took the children to Spain for education. Their father would visit them each year. In 1914, when war broke out in Spain, the family returned to Argentina, eventually moving to Buenos Aires for continued education.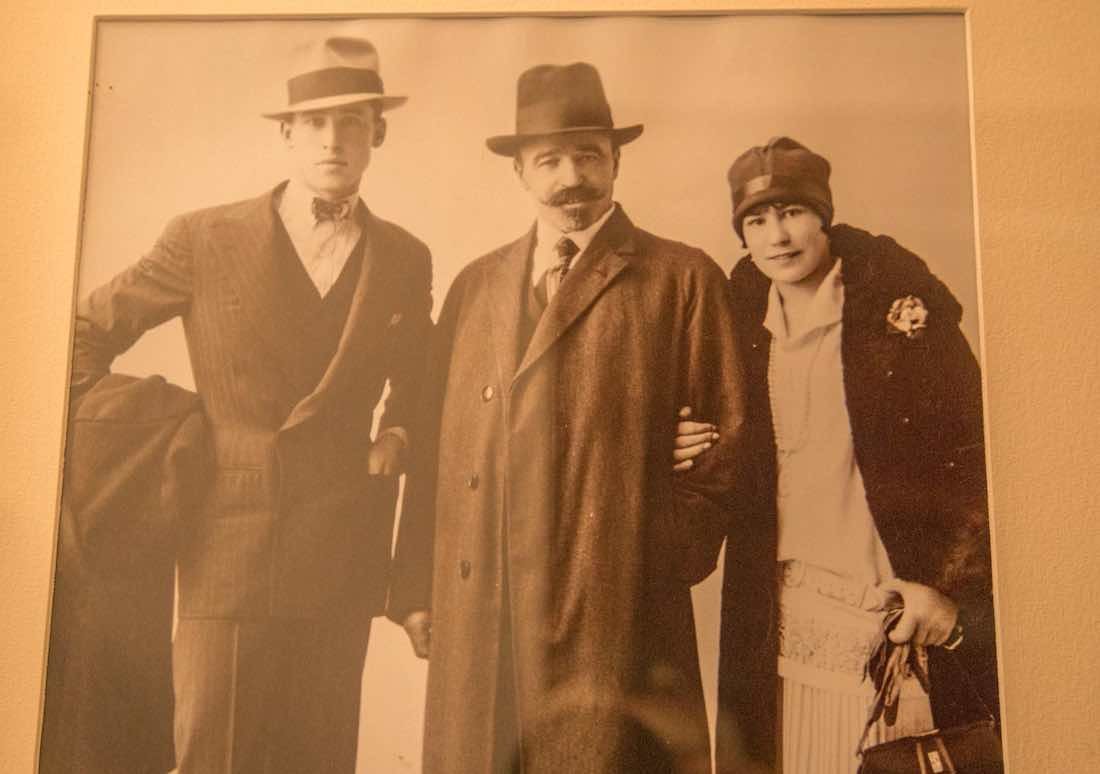 Mr. Arbeletche continued to amass wealth through sheepherding. While the family lived in Buenos Aires, he managed the holdings in Patagonia. In 1920, he purchased the land at Punta Ninfas, where the main house now rests.
As an oasis for Maria, who had suffered innumerable hardships during their years together in Patagonia, Mr. Arbeletche began work on a light-filled house, gardens, and an orchard.
The home was constructed in a valley sheltered from the winds, with views of the coast. The materials and many of the furnishings were shipped from Europe directly to the coast of the estancia.
Unfortunately, Maria died in 1921, before the home was completed. The house was inaugurated in 1923, where Mr. Arbeletche lived for another 17 years.
Inside, you'll find photos of Felix, Maria, and their children's families.  Entering the house today, you can sense the love and devotion that went into it's construction.
Getting to El Pedral

By car, the estancia is one hour south of Puerto Madryn. The nearest major airport is in Trelew, one hour and 50 minutes from El Pedral by road—the last hour is gravel road.
Daily flights connect Trelew (REL) with Buenos Aires (AEP). Trelew also has seasonal connections to Ushuaia (USH).
Puerto Madryn has a small airport that receives twice weekly flights on a regional airline (Andes). These flights are to / from Buenos Aires (AEP).  Puerto Madryn is one hour (gravel road) from El Pedral.
When to Visit
El Pedral is open to guests during the Austral spring and summer seasons, from September to April.
During the summer months, rain is possible, but the days are generally warm and breezy, with daylight from approximately 7AM to 9PM. El Pedral does have a sandy beach, Playa La Visera (Visor Beach), suitable for sunbathing from late November to January.
El Pedral's September to April season aligns with the visits of its migratory wildlife. In September, the male Magellanic penguins arrive to prepare nests.
Penguin Watching at El Pedral
The females arrive a few weeks later to choose a nest, and the mate who happens to inhabit that nest. The chicks hatch in November, leave the nests in January, and change plumage in February. These penguins migrate each year, leaving El Pedral from March to April.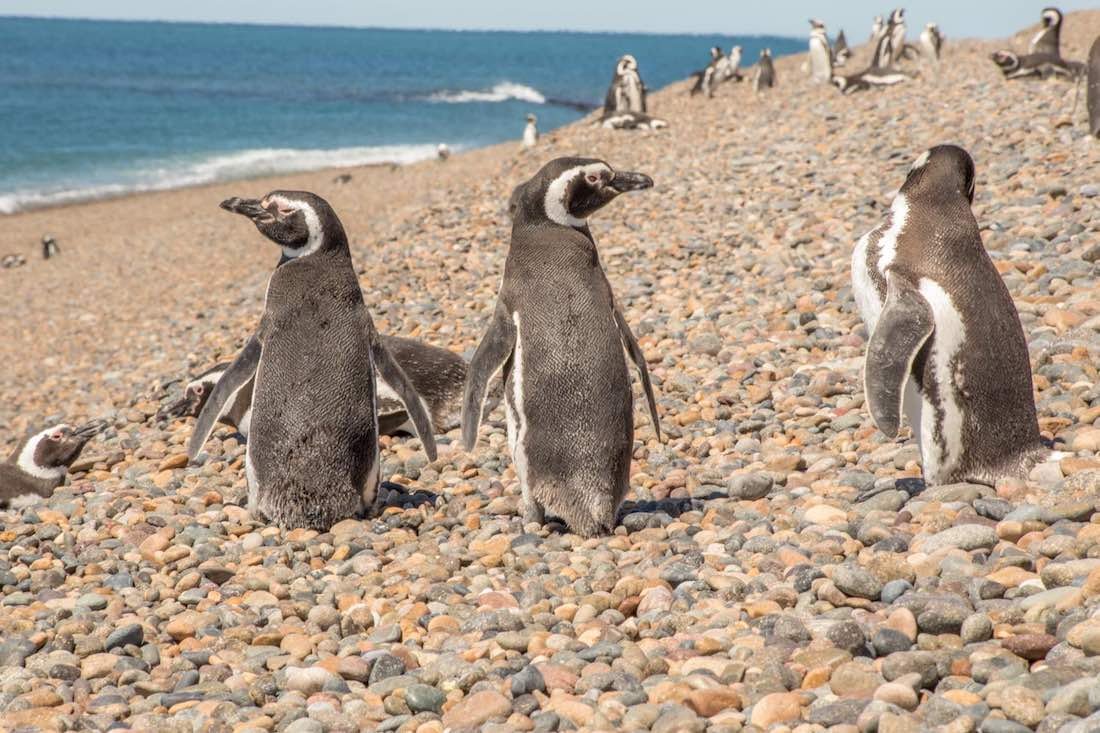 Puerto Madryn has a small airport that receives twice weekly flights on a regional airline (Andes). These flights are to / from Buenos Aires (AEP).  Puerto Madryn is one hour (gravel road) from El Pedral.
El Pedral's nesting grounds mark the southern end of their route. The northern end is in Rio de Janeiro state in southern Brazil.
The area's whales also migrate. Southern Right Whales are baleen feeders, filtering plankton in the Golfo Nuevo from June to December (then migrating to New Zealand).
The presence of orcas (killer whales) coincides with that of the penguins and the pupping season of seals and sea lions (September to April). Orcas are known to practice "strand feeding" here, hunting penguins and seal pups right at the edge of the beach.
Southern sea lions and Southern elephant seals are year-round residents. Seal pups are born in October-November and are weened approximately one month later.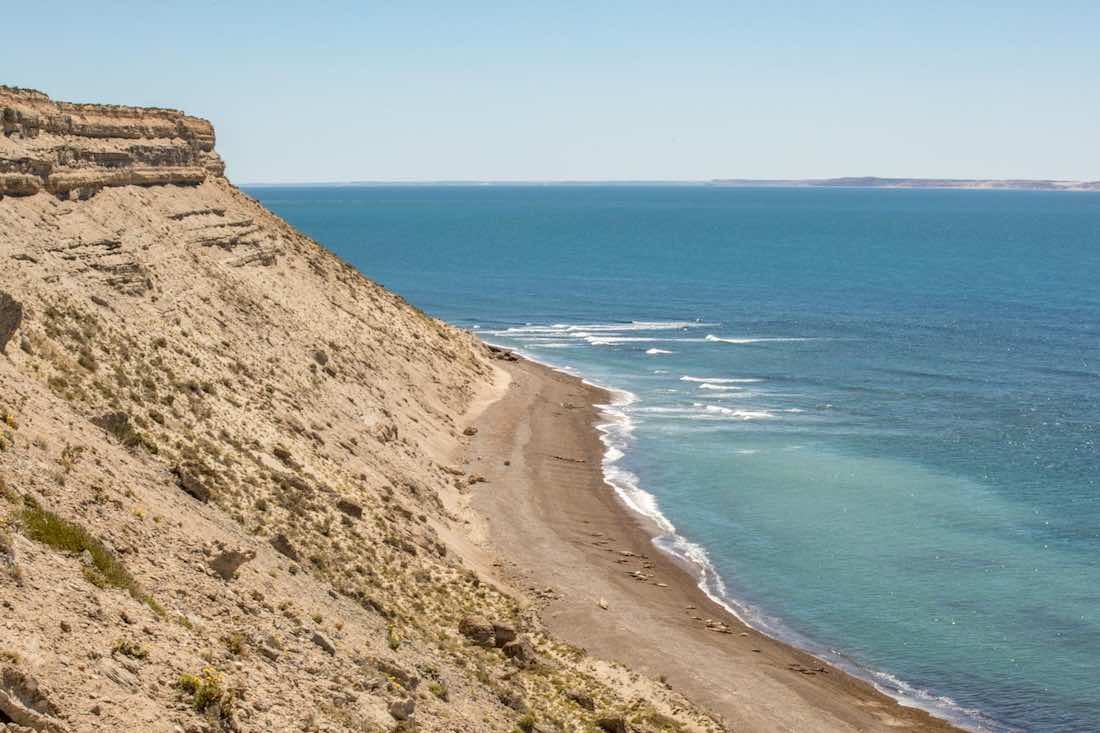 Are you considering a stay at El Pedral? LANDED provides personalized, custom travel within Central America, South America, and the Antarctic. We'll create a unique itinerary plan tailored to your interests and dreams. Experience the trip of a lifetime. Speak with one of our expert travel planners today at 801.582.2100.