BARICHARA: COLUMBIAN BEAUTY
Barichara is widely regarded as one of the most picturesque settlements in Colombia.
Since being protected as a national monument in 1978, much of the town's historic core has been lovingly restored.
Well-heeled travelers from across Latin America come to enjoy the town's timeless beauty, fine vistas, and relaxed pace.
Barichara's sleepy central park is dominated by the 18th century Catedral de la Immaculada Concepcion—an elegant structure of sandstone block and red tile.
Iglesia de Santa Barbara
Other architectural highlights include the Iglesia de Santa Barbara (on a hilltop north of town) and the Casa de Aquileo Parra Gomez (with exhibits of fossils and demonstrations by local weavers).
Visitors to Barichara often stay for three or more nights, taking at least one day to hike the ancient trail to the colonial town of Guane, six miles to the northwest.
This tiny village is known for its archeological museum and 17th century stone chapel.
Hiking The Camino Real
The hike takes approximately 2.5 hours in each direction on a fossil studded path (part of the Camino Real), passing through rugged canyon and scenic sierra.
Twelve miles southeast of Barichara sits San Gil, which is frequently described as Colombia's adventure capital.
Camino Real active adventure options include:
White Water Rafting
Horseback Riding
Mountain Biking
Zip-lining
Paragliding
Rappelling
Spelunking
Bungee Jumping
LANDED can arrange multi-day active adventure itineraries for those interested.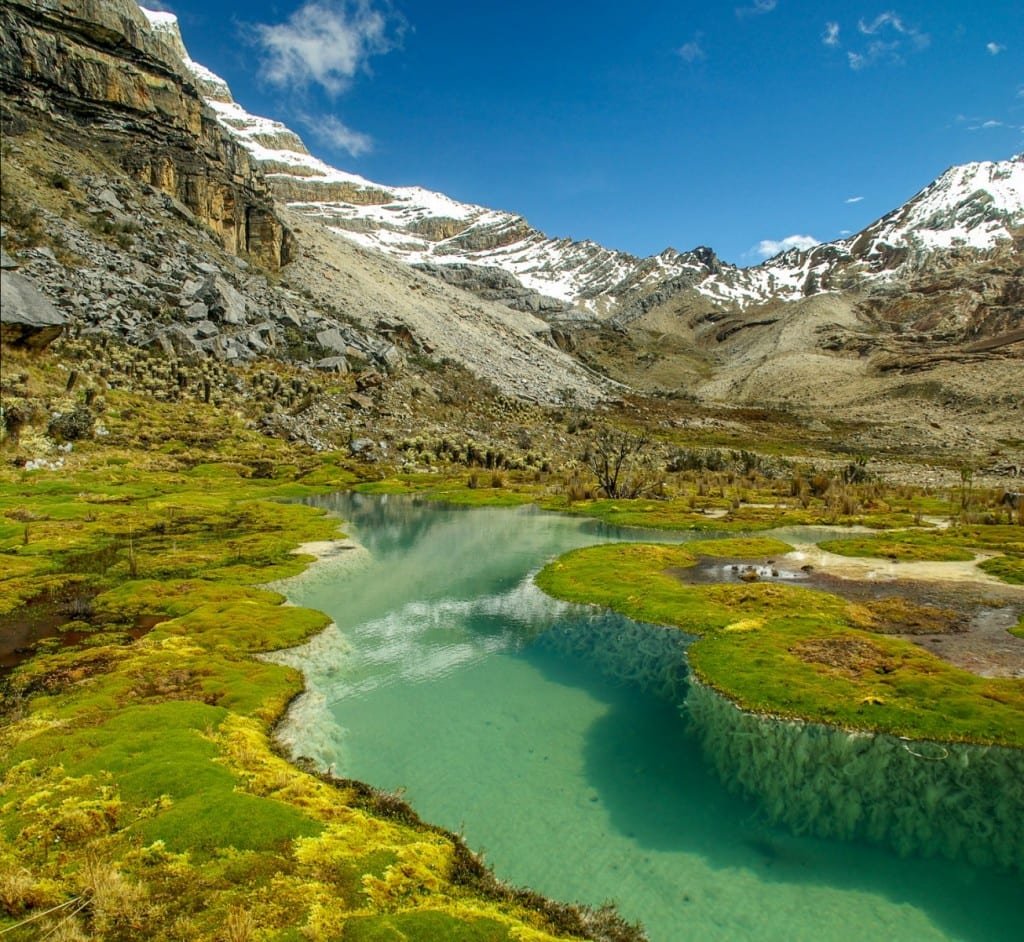 Barichara is located 215 miles northeast of Bogota, high above the Rio Suarez, at approximately 4,300 feet above sea level.
Getting to Barichara
Driving to Barichara takes about 6.5 hours from Bogota or 2.5 hours from the Bucaramanga airport.
Nonstop flights (approximately one hour of flying) connect Bucaramanga to Bogota. Private transfers and car rentals can be arranged.
In recent years, Barichara has added a handful of charming boutique hotels and cafés many specializing in preparing hormigas culonas —a local delicacy.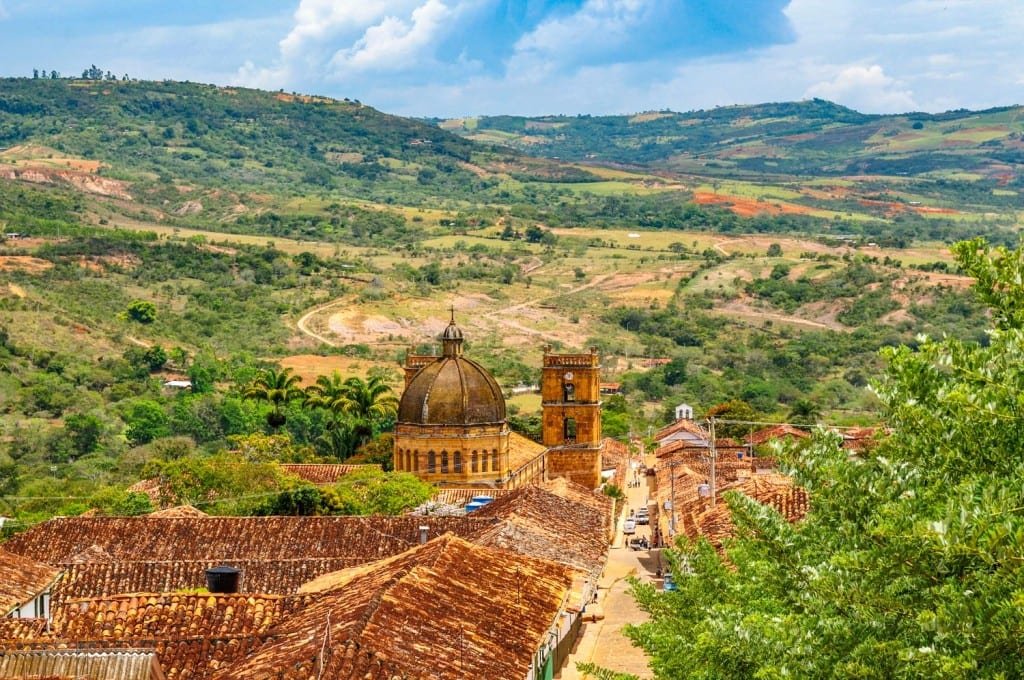 LANDED designs personalized, custom travel in Barichara and throughout Central America, South America, and the Antarctic. We'll create a unique itinerary plan tailored to your interests and dreams. Experience the trip of a lifetime. Speak with one of our expert travel planners today at 801.582.2100.
"The traveler was active; he went strenuously in search of people, of adventure, of experience. The tourist is passive; he expects interesting things to happen to him. He goes 'sight-seeing."
Daniel J. Boorstin
GO WITH LANDED.

Could not have been more pleased.  This was the trip of a lifetime for our family.  Thank you!
IF YOU LIKE TO TRAVEL.

What an amazing adventure we have had.  Many thanks to you for putting it together. The whole rhythm of the trip was perfect, and leaving one place for the next worked perfectly. This trip definitely made me want to experience other great spots in South America as the people have been wonderful and the places incredible. Wish we had a month to really explore.  Everybody in the family had a great life experience. Thanks again!
DO IT.

One of our best trips ever, made excellent by LANDED's attention to detail. When planning the trip our travel planner listened to us carefully, asked the right questions, and customized the trip to have just the right balance of adventure and city sights for us. The guides, drivers, and "handlers" were superb. The hotels were top notch. We felt relaxed and pampered all the way. Will definitely look to LANDED to plan our next trip to South America.
Absolutely amazing. Thanks again John. Carlos was the best guide I've ever had anywhere in the world. Top notch talent.
We returned yesterday from our trip and I wanted to let you know that it was absolutely amazing!  There is not a single thing on the itinerary that we would change.  The guides were knowledgeable, friendly, and prompt.  The hotels were beautiful, the food delicious and the pace of the activities was perfect for us. Thank you so much for making our trip such a fantastic experience.
In short, our trip was amazing, and, as we had hoped, the Inca civilization was fascinating to us. Thanks so much for your constant assistance and thorough planning.
The planning, service and execution of the trip was flawless – thank you for making it perfect!
LANDED's services were excellent. You were helpful and knowledgeable, making our trip a memorable one.  I will use your services in the future as I continue to explore Central & South America.
It was like being in a very well organized dream. Your patience with my questions and concerns during the planning stage was remarkable.
I've never had such great service from a tour operator. Not only were you a great help on the planning-insuring that I was staying at the right places and enjoying the type of activities we love-but the follow up was incredible. Your team checked in with us several times during the trip to confirm that everything was going well, and that the guides you assigned were satisfying us. It's one thing to get a "thank you card" or a "hope your trip was great" note after you're back, but to insure that it's going well during the trip is a welcome first! I look forward to working with you again on a another trip.
You actually got to know us, which made it possible to know just what we like. You promised the best trip ever and you kept your promise.
The entire trip was amazing. Both the hotel & restaurant recommendations were well thought out and helped us thoroughly enjoy our honeymoon.
LANDED is like the ultimate virtual guide, suggesting the high points and helping us get the most out of a week's time.
We had a great time, and didn't miss anything. We zip-lined, rafted, sailed and surfed. The contacts and drivers were professional and courteous. We don't want to be back at work. Thank you for all of the work you did to set up this trip.