Things to do in Antarctica
Things to do in Antarctica: What to do in the Antarctic
Searching for information about what to do in Antarctica? We've got you.
With planning, your options of "what to do in Antarctica" expand.  From abseiling to zodiac tours, opportunities for things to do in Antarctica are diverse.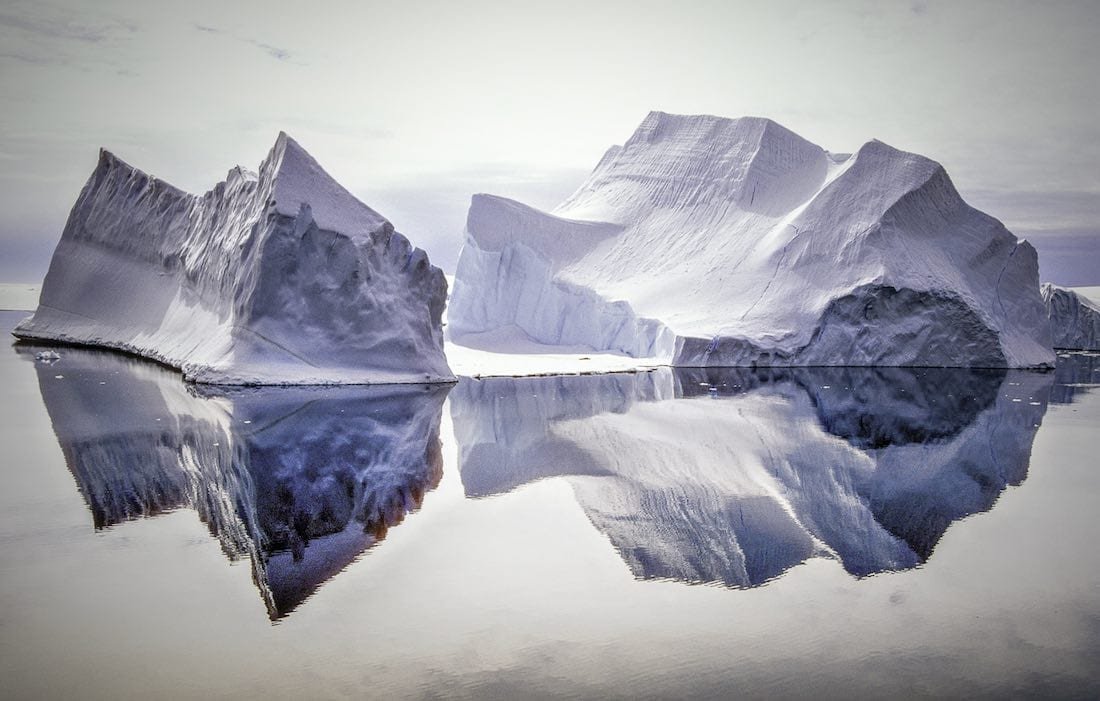 [toc]
Take an Antarctic Cruise
Most visitor to Antarctica arrive by ship. LANDED has direct relationships with many Antarctic operators and can help you find the perfect fit for your needs.
Whether you're looking for a luxury cruise or an active adventure expedition, Antarctic cruise options are diverse.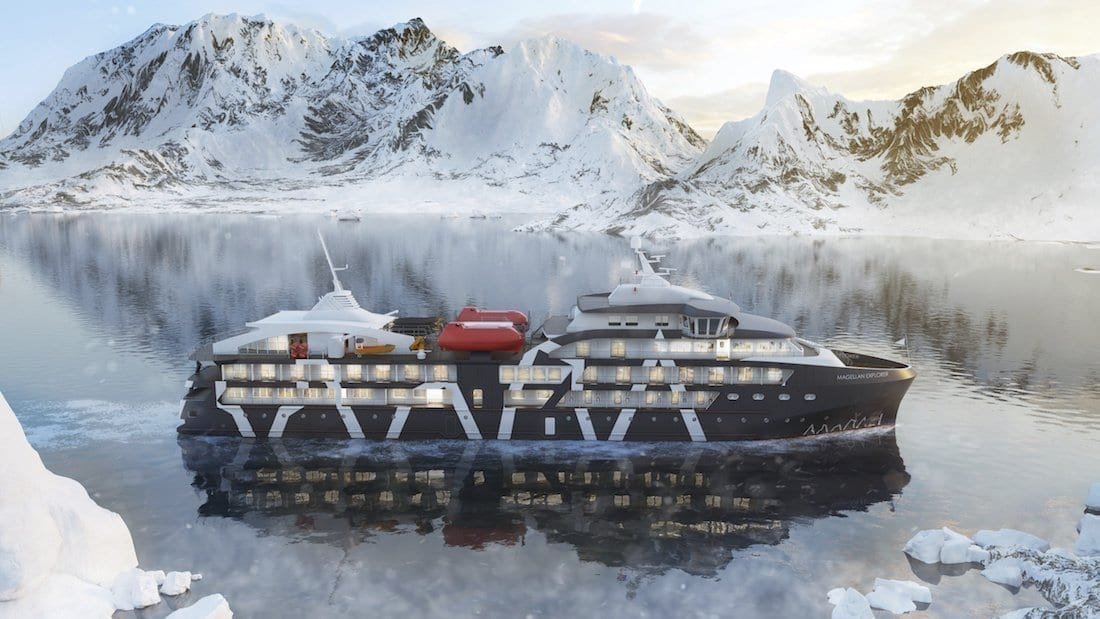 Cross the Drake Passage
The Drake Passage marks the site of the greatest oceanic bottleneck on the planet. The flow of water between the oceans is estimated to be 140 million cubic meters per second.
During this great mixing, frigid Antarctic waters merge with warm northern currents, resulting in an upsurge of nutrients responsible for sustaining the region's impressive biodiversity.
If time and temperament allow, we encourage you to make the crossing of this legendary stretch of ocean by ship. Crossing the Drake is among the greatest things to do in Antarctica.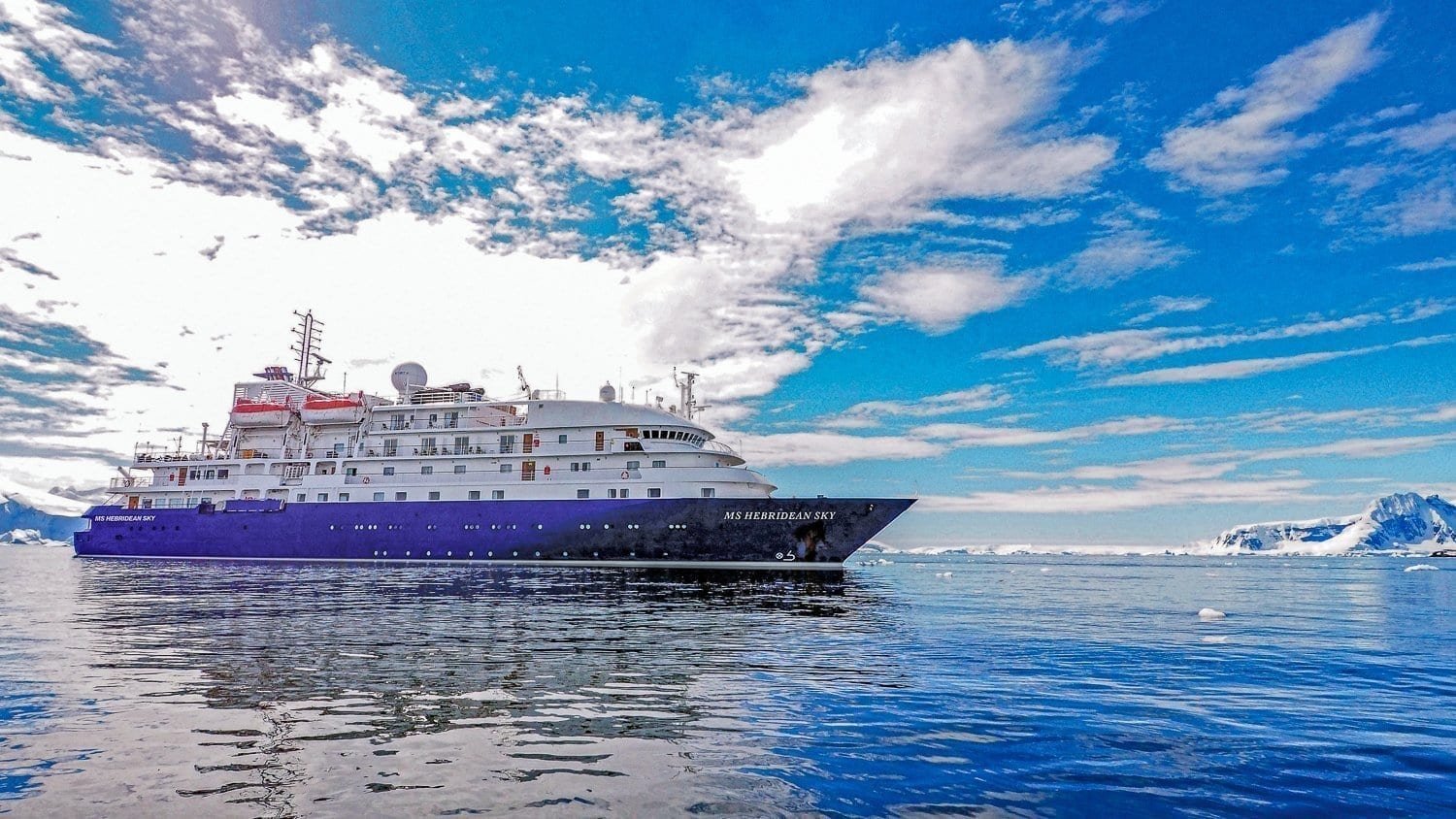 LANDED has connections with more than 20 Antarctic cruise ship operators and
can help you find the perfect vessel
for your wants and needs.
Still need convincing? Check out our Top Ten Reasons why you should cross the Drake Passage by sea.
Ship-Based Helicopter Tours
When considering things to do in Antarctica, some LANDED clients end up interested in ship-based helicopter touring.
A few Antarctic cruises include helicopter tours of Antarctica, enabling visitors to access remote, rarely-seen inland locations of special significance.
Two Antarctic cruise operators offer scenic helicopter flights—approximately 15 to 20 minutes each direction—to the Emperor Penguin colony at Snow Hill. Other available flight options carry passengers over coastal mountains, or above the ice of the Weddell Sea and Ross Sea.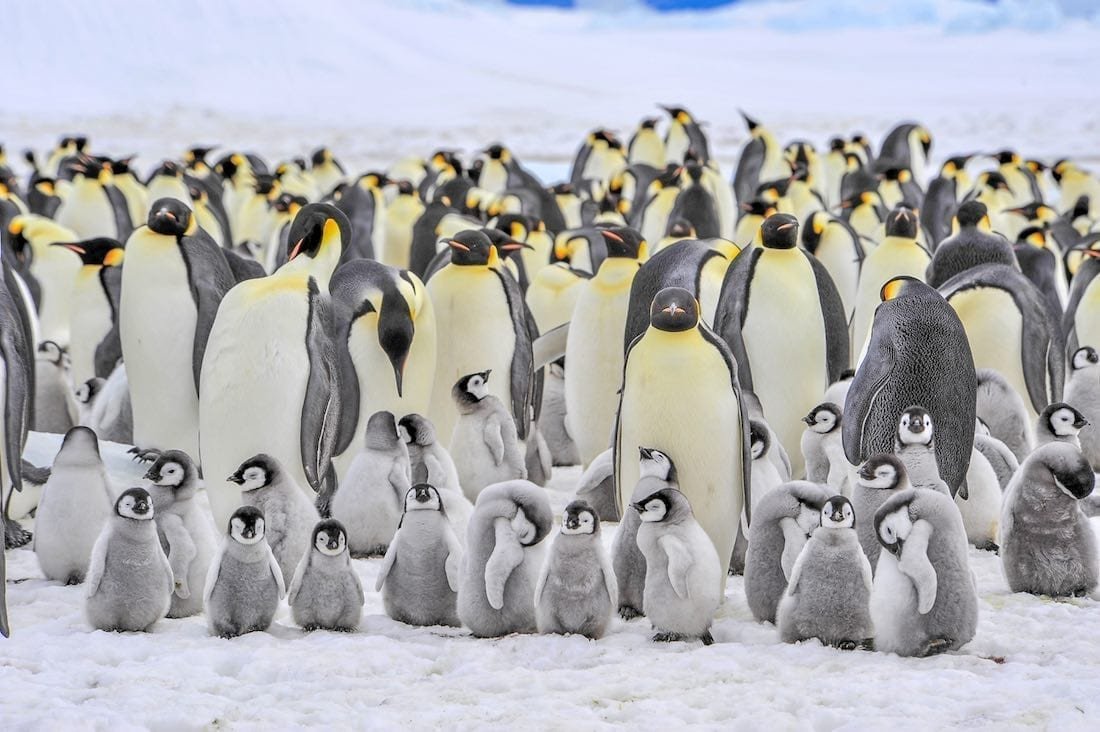 Antarctic helicopter flights typically carry 4 to 6 passengers at a time.
Want to learn more about things to do in Antarctica? Speak to one of our Antarctica travel designers today, or give us a call at 801.582.2100. The team at LANDED will help you sort through the options and book the perfect fit.
Scuba Diving Excursions
SCUBA diving is possible Antarctica. A few Antarctic cruises offer SCUBA diving excursions for experienced divers. Required levels of expertise must be verified in advance of the cruise.
These dry-suit dives can be done in the company of penguins and seals. Dive team leaders and dive guides are responsible for safety during these operations.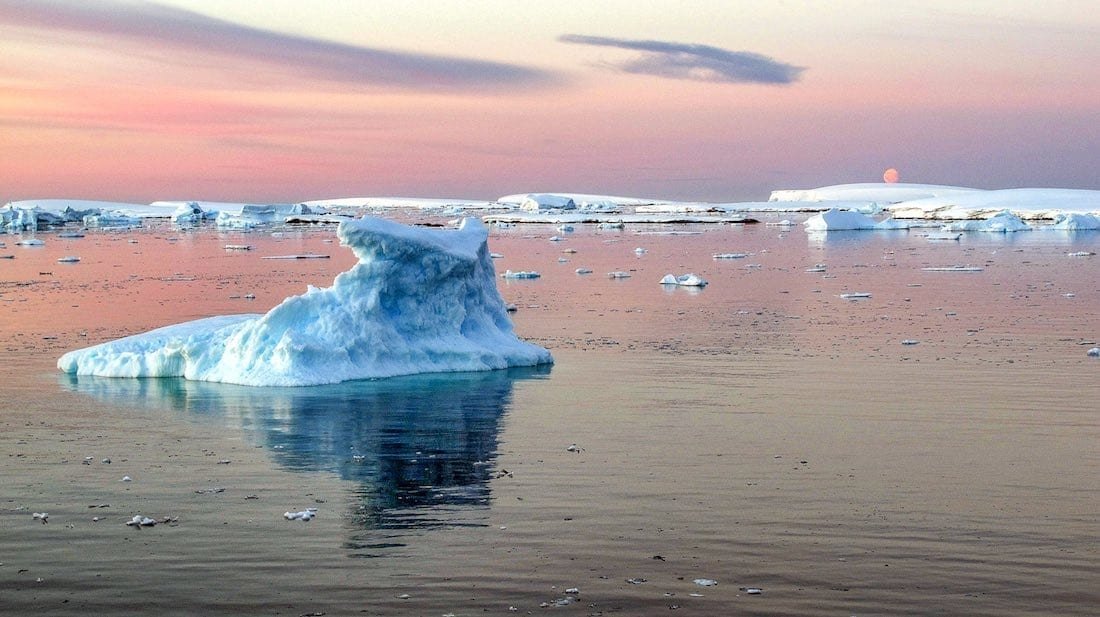 Basic equipment (e.g. SCUBA tanks, compressors, weights) is available on board. Divers bring their own dry suits, regulators, fins, and masks.
Some ships, such as MV Ortelius, can accommodate up to 24 guest divers.
Diving is conducted from the Zodiacs, using the buddy system (pairs or threes) and shot lines. A typical day involves an early morning dive briefing (and likely one the night before), morning dive, lunch on the ship, afternoon dive, and evening equipment preparation.
Antarctic Dives are limited to a depth 20 meters, with a length of between 30 and 45 minutes.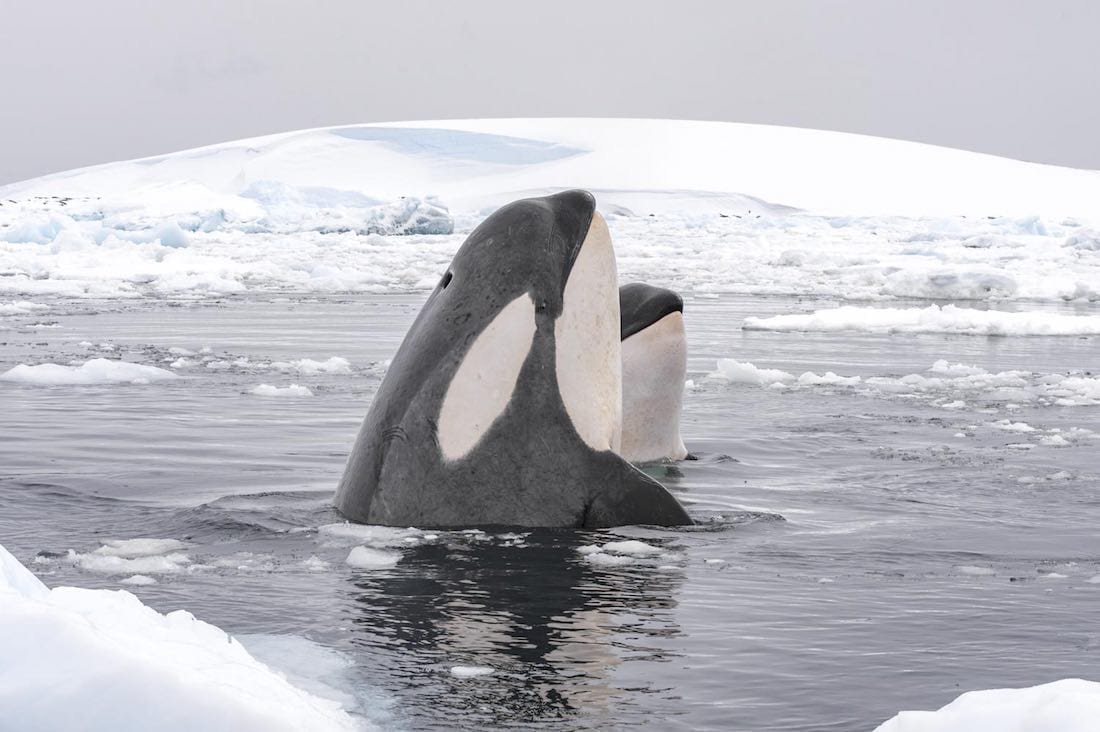 Antarctica SCUBA excursions can be conducted around rocks and boulders, on walls, at shallows (often with seals and penguins), around icebergs, and near the edge of fast ice. Snorkeling is possible near whales.
Need more information about things to do in Antarctica? Speak with one of our Antarctic travel experts today.
Skiing in Antarctica
Interested in skiing in Antarctica? A few Antarctic cruise operators offer ski mountaineering for experienced alpine skiers.
Conditions permitting, small groups can climb and then ski in steep, snow-covered, glaciated, and potentially dangerous alpine environments.
These groups are accompanied by certified mountain guides, who are responsible for the safety of the group.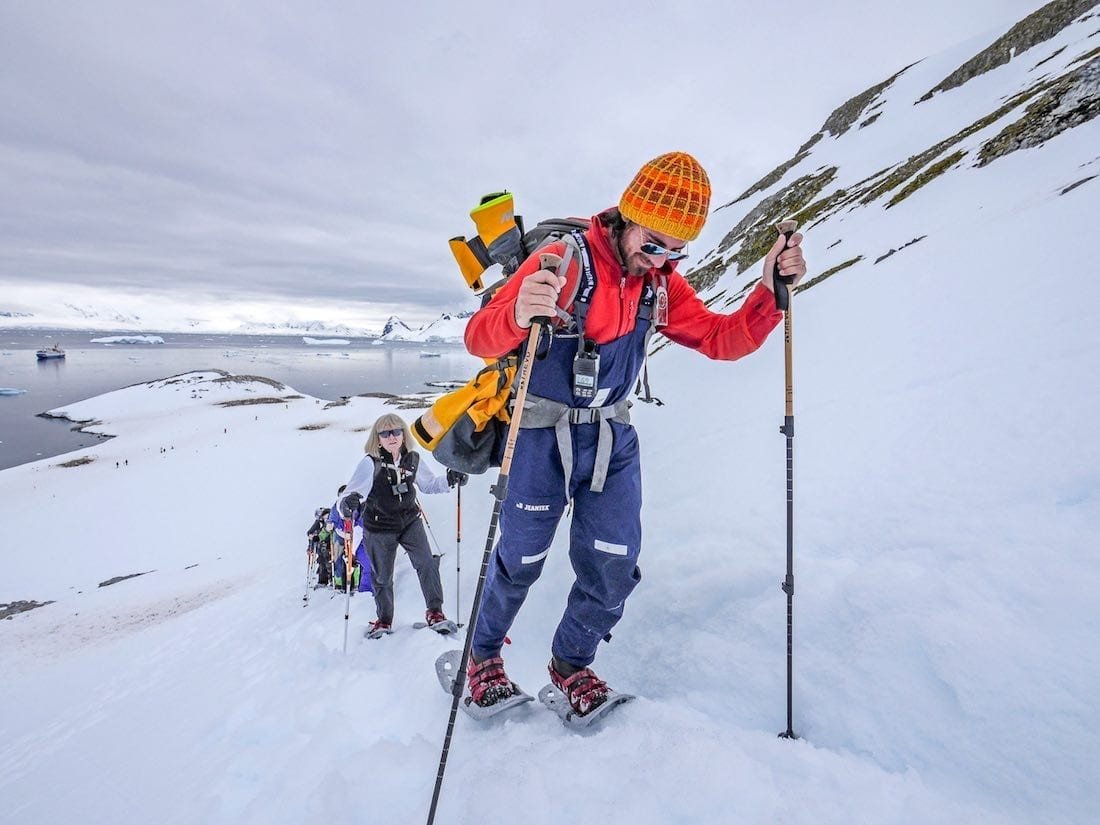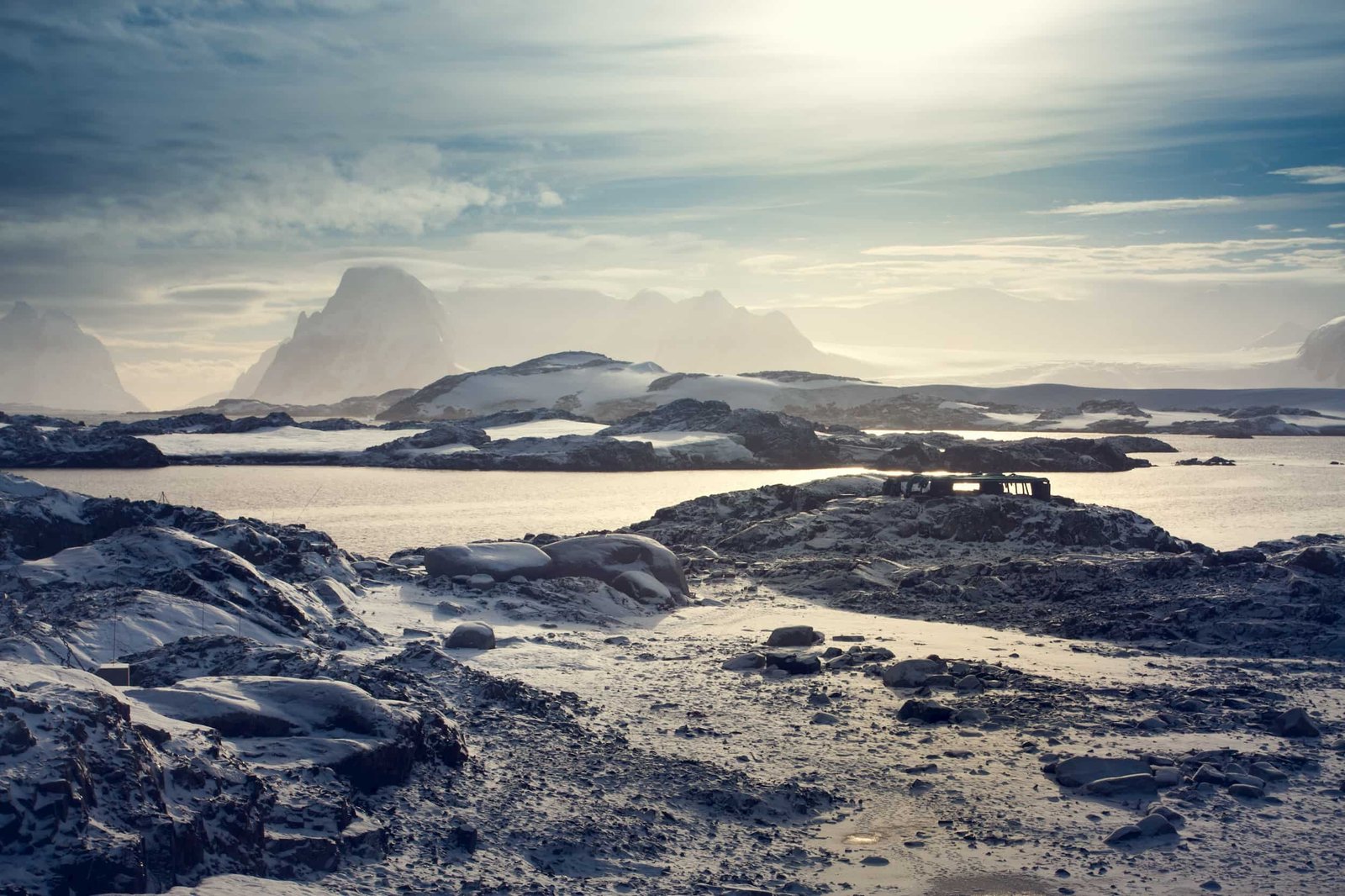 Antarctic Photography Workshops
One of the more popular things to do in Antarctica is participate in a photography workshop. Several Antarctic cruises offer photography workshops, led by on-staff photo experts.
Some Antarctic cruise operators offer separate courses for beginners and for advanced photographers. Lectures are provided, covering topics such as composition, exposure, white balance, and SLR basics.
Additional guidance is provided during Zodiac cruises or at landing sites.
Along the same lines, photo contests represent another popular thing to do in Antarctica. Many Antarctic cruise ships hold photo contests with prizes for best of category images. Typical categories include wildlife, landscape, ice, and emotions.
Kayaking in the Antarctic
When wondering what to do in Antarctica, active adventure seekers are often interested in kayaking.
Imagine skimming through the calm, cerulean waters of an Antarctic bay. The only sounds are those of your paddle, quietly dipping through the clear surface.
Icebergs float nearby sparkling in shades of white, gray, and blue. An uplifted hand from your guide signals you to stop. You wait, listening intently to the perfect stillness.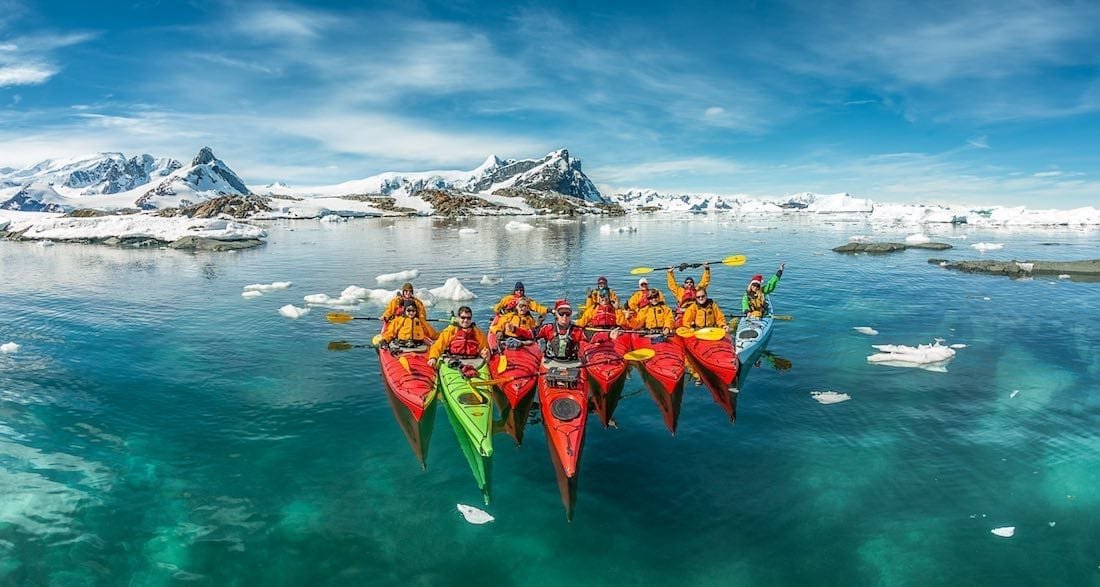 Then it comes—the explosive spray of an enormous exhale, only a few meters in front of your craft. Soon the whale's back rises more clearly above the surface.
You follow the giant, awaiting each new spray. Then, after one more breath, it disappears. You continue your paddling and encounter seals, penguins, cormorants, and petrels.
Kayaking in Antarctica is an unforgettable experience—one that can change your relationship with nature.
In your kayak, you're eye to eye with wildlife; they are often curious about you. You move silently, on your own power, and in a small group.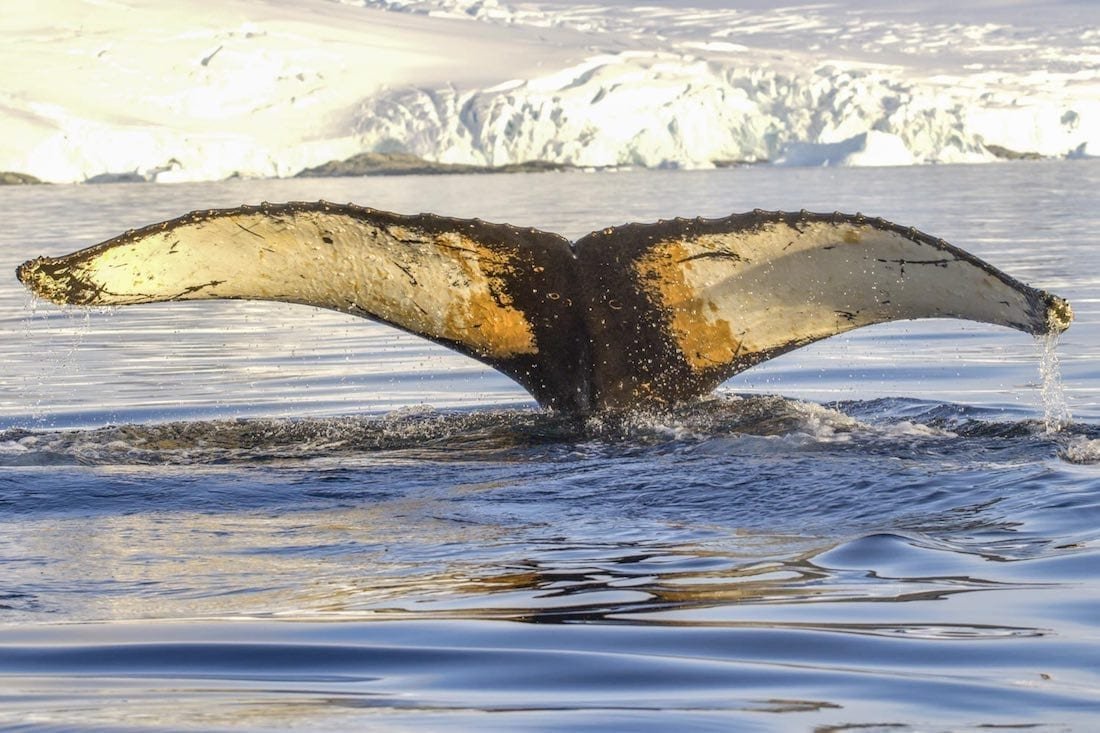 Often, no one says a word; each participant is moving in a meditative rhythm, trying to process the wonder of this landscape and its native inhabitants.
Several Antarctic cruises offer kayaking as an additional activity. Often, fewer than 20 spots are available; you'll need to register in advance and pay a supplemental fee.
The fee helps cover the cost of equipment and the expense of adding dedicated kayak guides to the expedition team.
Nearly all of the operators use closed-hull kayaks, either with one or two seats. Some operators provide dry suits, while others use wetsuits. Booties, spray skirts, life jackets, paddles, and other equipment are provided, along with a safety briefing.
A Zodiac support boat follows the group. Experience is not necessary, but it will help you enjoy your kayak time in Antarctica.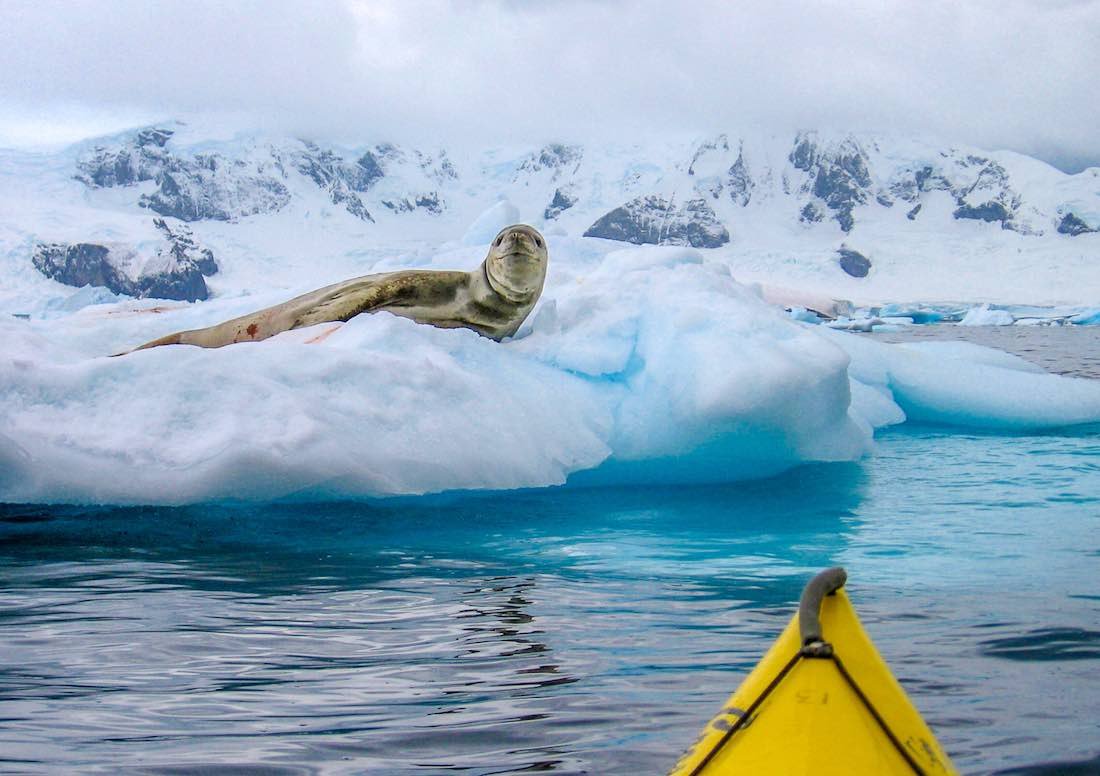 Mountaineering
For adventurous travelers, Antarctica offers a unique challenge. The mountains here are astonishingly steep.
Ice climbing and glacier trekking can be arranged, subject to weather conditions. Abseiling and rappelling are also possible. Usually, the maximum group size is six.
Packing lists for mountaineering trips include trekking poles and crampon-ready mountaineering boots. But in most cases, all other equipment (crampons, harnesses, ice axes, ropes, etc.) is provided by the on-site operations teams.
Climbing Mt. Vinson
For many mountaineers, the primary goal of a trip to Antarctica is the ascent of Mt. Vinson—Antarctica's highest peak (16,050 FASL).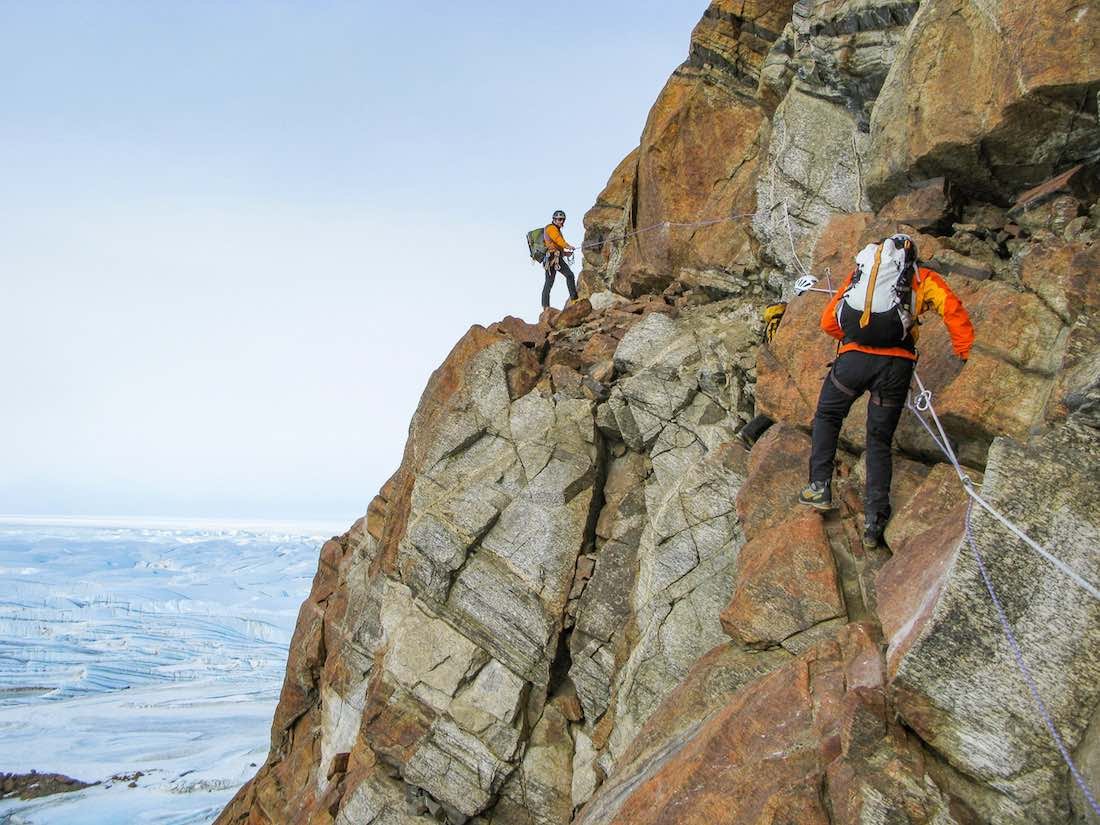 In most cases, all other equipment (crampons, harnesses, ice axes, ropes, etc.) is provided by the on-site operations teams.
Snowshoeing
Snowshoeing is a great way to maximize your time at an Antarctic landing site.
You'll spend less time marching, and more time enjoying the wildlife and scenery. With this in mind, it's easy to see why snowshoeing is a popular thing to do in Antarctica.
For many Antarctic travelers, the snowshoeing experiences here are their first anywhere. Snowshoeing  is a skill that is easy to learn and hard to forget.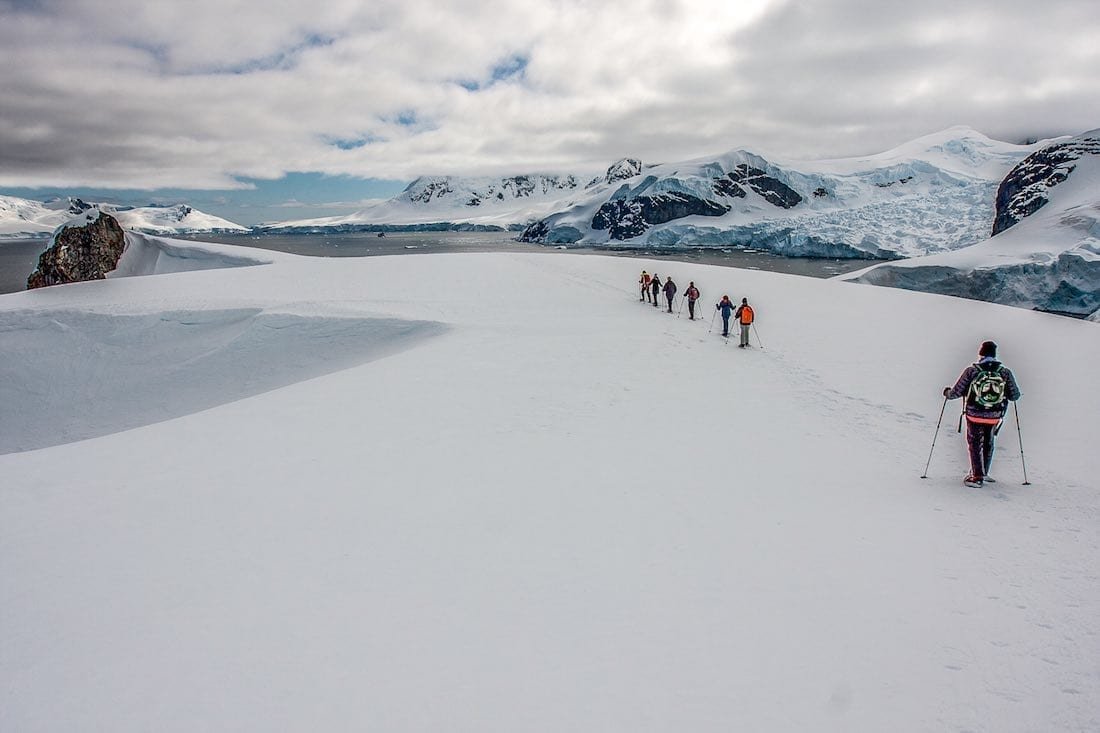 Especially in deep snow, human steps can create leg-holes that become dangerous pitfalls for penguins. Snowshoes displace your weight, minimizing the depth of your tracks and reducing hazards to penguins.
Camping in Antarctica
In hindsight, many Antarctic travelers remember their night on the mainland as a highlight of the trip. They recall the stillness and beauty of the Antarctic landscape, interactions with Antarctic wildlife, and the sherbet-color night sky.
The also speak nostalgically about the excitement they felt away from the mothership—the independence and sense of adventure.
Several expedition cruise itineraries include camping excursions—usually for one or two non-consecutive nights.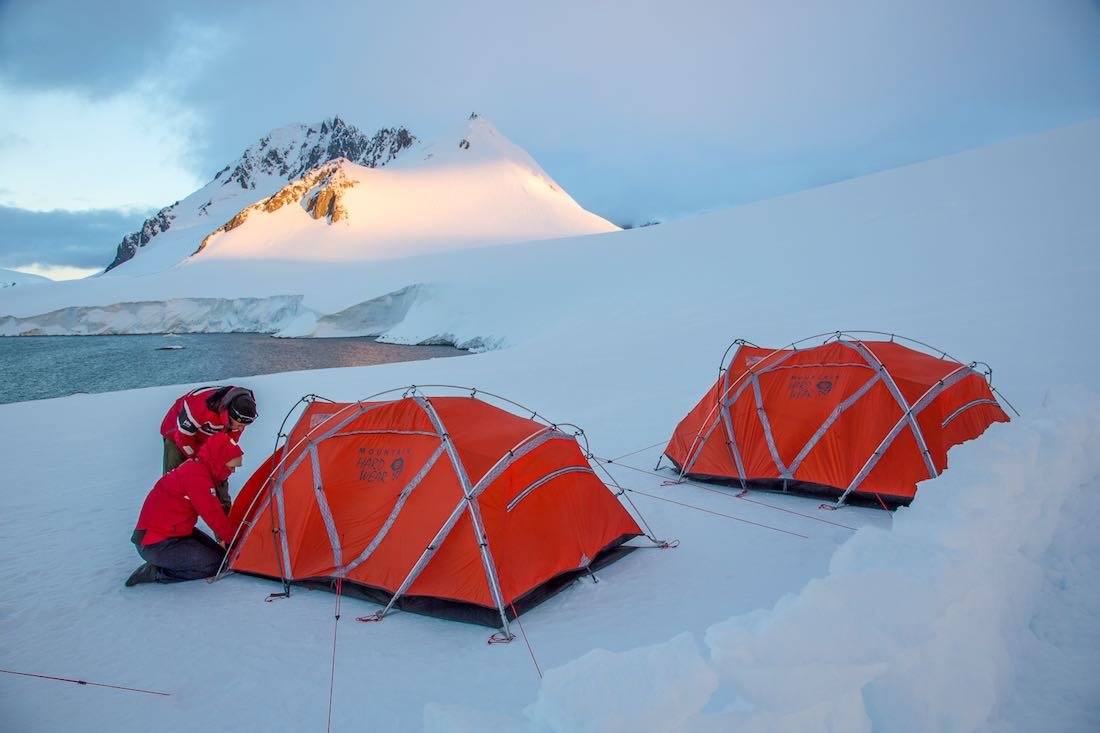 On most Antarctic cruises, participation is limited; passengers must register in advance and pay a supplemental fee to cover the equipment and staff costs.
Sleeping bags, sleeping pads, tents or bivvy bags, chemical trap toilet, and other equipment are provided. You may want to pack a designated "pee bottle" to avoid getting out of your tent in the night.
Dinner and breakfast are served on the ship; food and beverages (other than water) are not allowed at the landing sites.
Antarctic Zodiac Cruises and Wildlife Tours
Yet another popular thing to do in Antarctica involves Zodiacs—inflatable rubber boats with outboard motors.
Zodiac boats are the workhorses of Antarctic expeditions. Stored topside while the mothership navigates, these agile exploration vessels are used in both landings and scenic tours.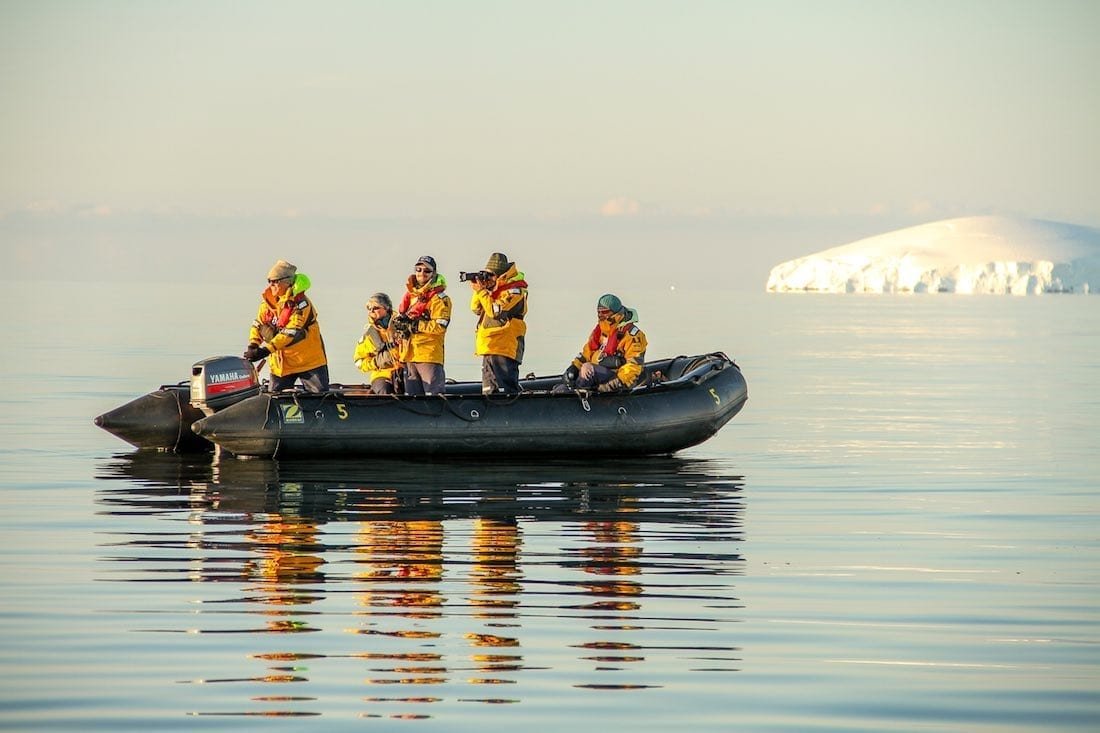 Most expedition-style Antarctic cruises carry a flotilla of Zodiacs. These boats usually have 60 horsepower 4-stroke outboard engines.
Passengers sit on the inflated sides (capacity is usually ten + pilot). The decks are rigid, adding stability and allowing passengers to kneel while taking photographs of wildlife and scenery.
For travelers with limited mobility, Zodiacs are an essential tool for experiencing Antarctica.
Many cruises offer Zodiac cruise excursions that do not require participants to hike. Instead, the Zodiacs pilot guests along the coast and near floating ice for close observation of penguin colonies and seals.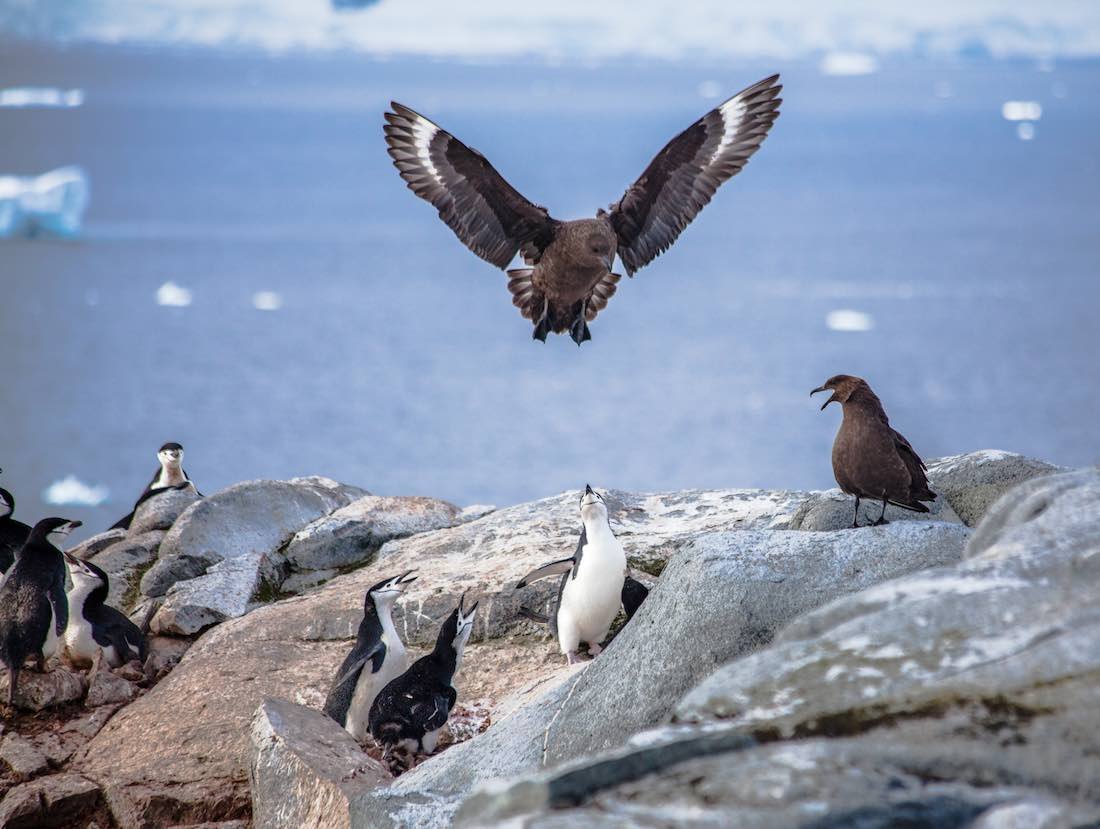 These navigations also allow for views of icebergs and glaciers. Zodiac cruise participants usually cover more territory than other travelers see while afoot at a landing site.
When you select a cruise, you should consider several Zodiac-related factors.
How many Zodiacs does the ship carry? What size engines are used? Will boarding be by ship side gangways, or a stern loading platform? What training do the Zodiac pilots have?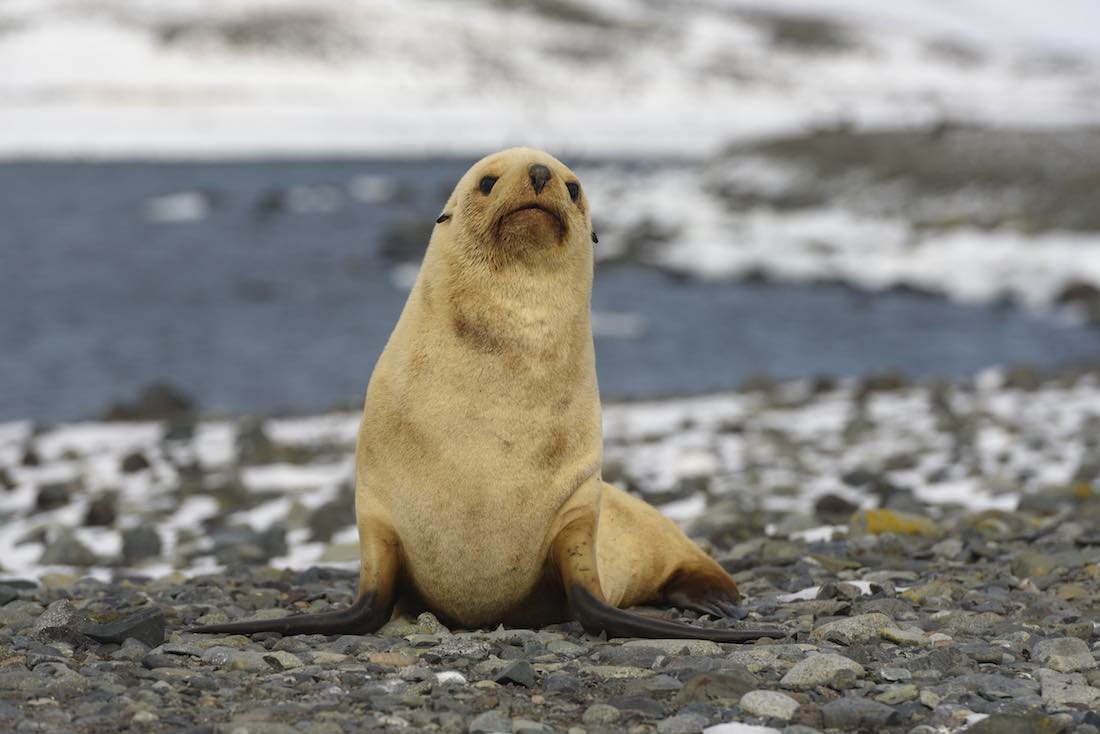 Antarctic Wildlife Watching Excursions
Wildlife watching is one of the most popular things to do in Antarctica.
During your journey to Antarctica, you can encounter:
Endemic Seals
Endemic Fish
Endemic Vertebrae
Birdwatching
When pondering what to do in Antarctica, Birding ends up on many traveler's lists. Antarctica and the surrounding Antarctic regions are home to a handful of endemic penguins and birds.
Birders looking for things to do in Antarctica can chose from a number of birding excursion options, some zodiac-based and others on shore.
Looking for more information on Antarctic wildlife? Check out this free guide.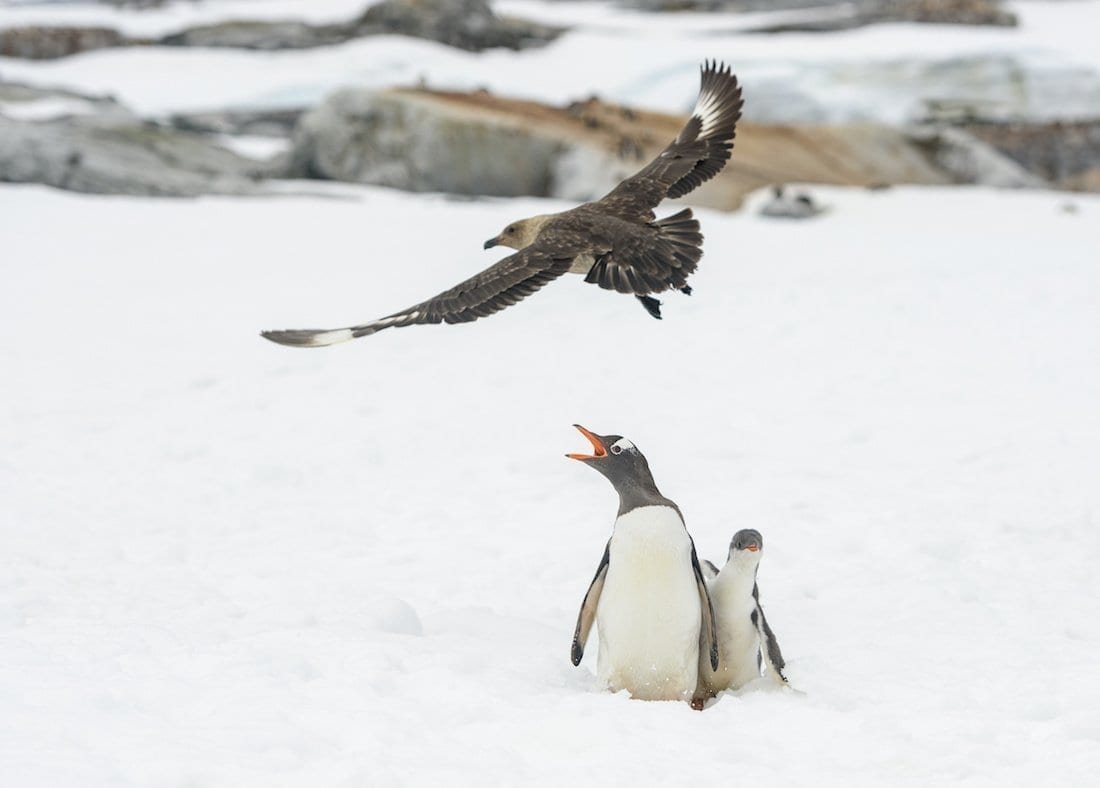 Whale Watching
Wildlife watching is another popular thing to do in Antarctica. Antarctica is home to 10 whale species and is a great destination to observe them in their natural habitat.
While exploring the Antarctic, visitors can find:
Humpback Whales
Fin Whales
Southern Blue Whales
Sei Whales
Antarctic Minke Whales
Southern Right Whales
Orcas (Killer Whales)
Long-Finned Pilot Whales
Sperm Whales
LANDED can arrange zodiac boat whale watching expeditions and connect you with a seasoned expedition team to improve your chances of encountering these mystical creatures.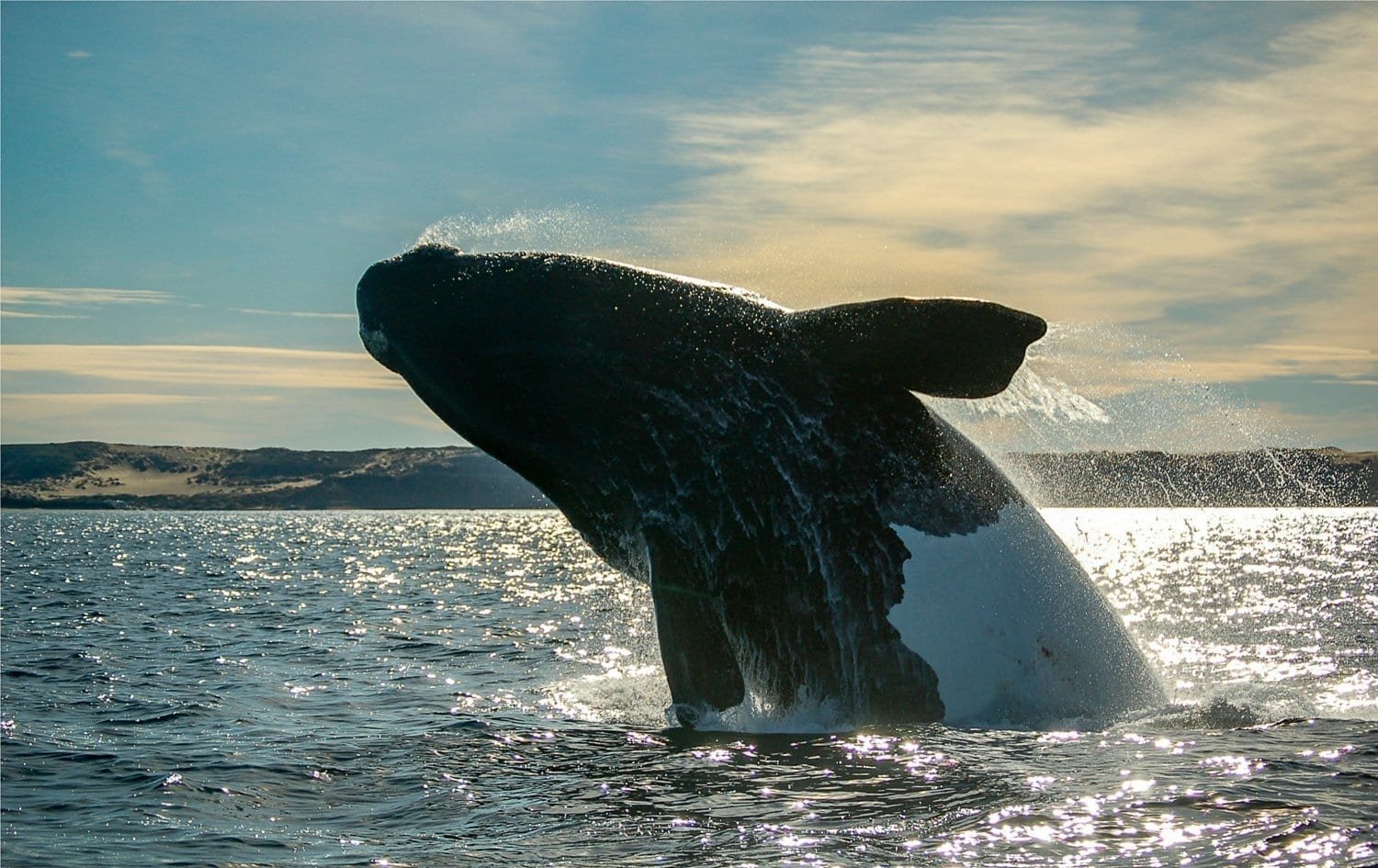 Visit a Polar Research Station
During certain times of year, Polar research stations open their doors to guests.
Antarctica is home to a collection of research bases, operated by Argentina, Brazil, Peru, Russia, Korea, China, Poland, and Uruguay.
The USA operates a large scientific research station at the South Pole. While research station is generally off limits to visitors, LANDED can help you arrange a tour.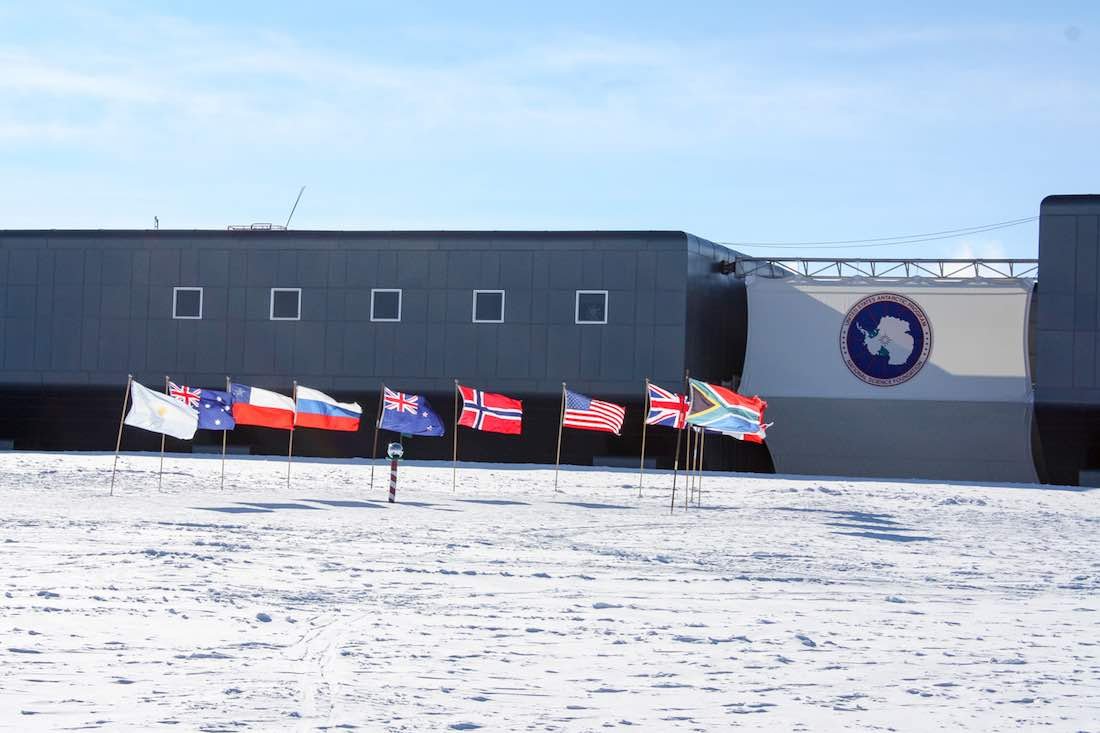 In the company of a station guide, registered guests can usually visit the pole markers, the plaque display, and other "common areas" such as the electronics lab, galley, greenhouse, gym, and store.
Take the Polar Plunge
One of the more adventurous things to do in Antarctica is taking a polar plunge.
Considered a rite of passage by some, a polar plunge involves jumping into the frigid waters of the Antarctic, wearing nothing but a swimsuit.
Considering the Antarctic waters are the coldest in the entire world, this polar activity is definitely one of the most extreme things to do in Antarctica!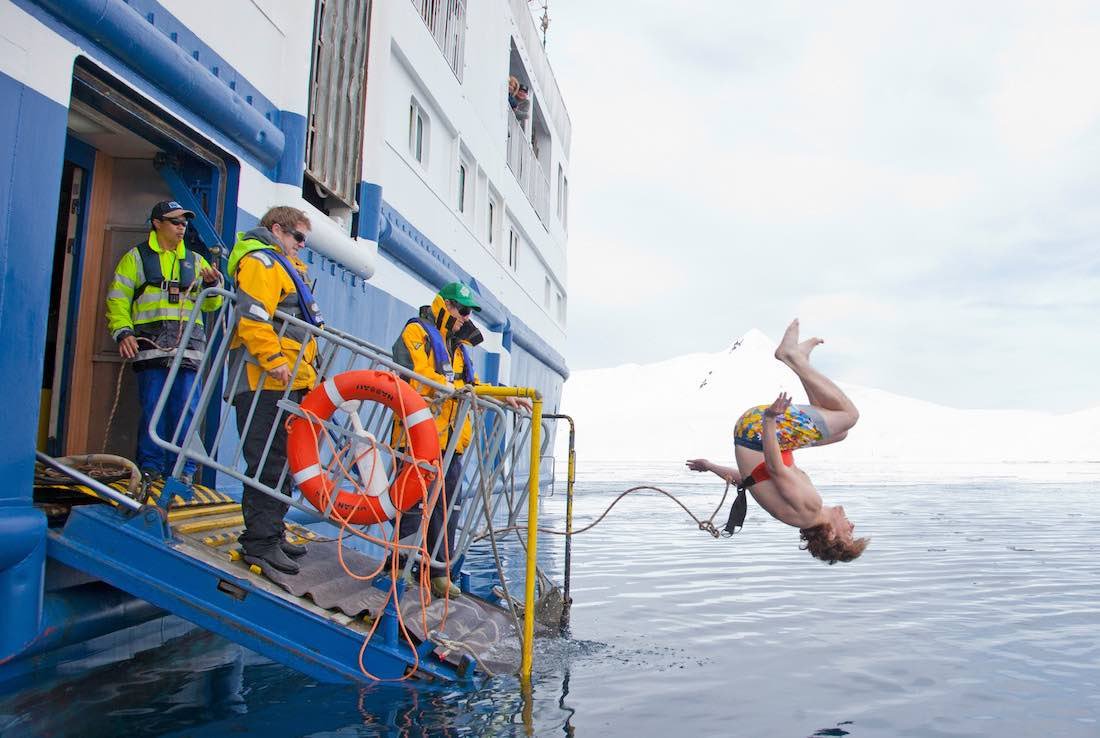 Antarctic Abseiling (Rapelling)
Abseiling another thing to do in Antarctica that appeals to thrill-seekers.
Known as rappelling in the United States, this Antarctic activity involves using a rope and climbing harness for a controlled vertical descent down a vertical face.
While most rappelling takes place on a rock face, Antarctica is one of the few places in the world where you can abseil down ice.
Kite Skiing
Kite skiing represents yet another answer to the question: What to do in Antarctica?
Also known as 'snow kiting', this outdoor Antarctic sport involves using a kite to propel oneself across flat snowy or ice-covered surfaces on skis.
Kite skiing is just one of the many activities available at White Desert's Whichaway Camp. More information on Whichaway camp and other Antarctic lodging options can be found in our free Antarctic lodging guide.
In the interest of environmental conservation, White Desert limits the annual number of visitors allowed at Whichaway.
For those interested in a visit to this exclusive camp, LANDED enjoys a direct line of communication with its proprietors.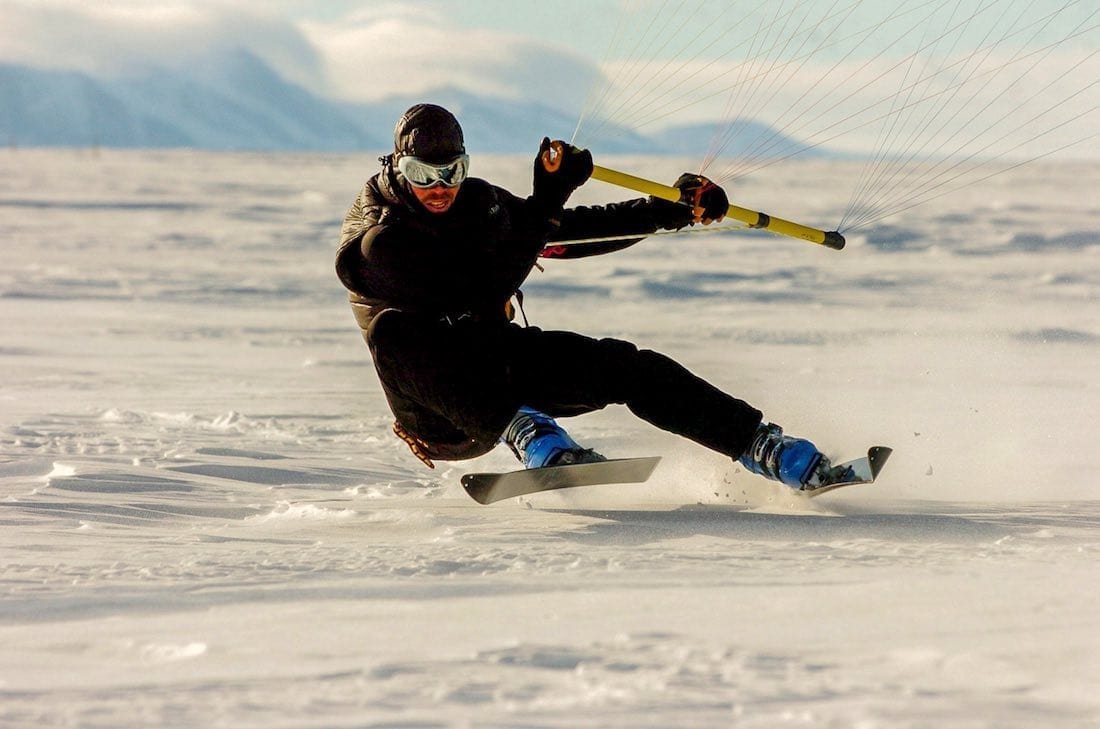 Fat Tire Biking
Fat tire bikes have wide tires that displace weight and allow riders to traverse snow and gravel.
This Antarctic activity requires specially-designed bikes with larger tires designed to tackle the rugged terrain of Antarctica.
Riding a fat tire bike across the Antarctic landscape is surreal. While availability is limited to a few destinations, fat tire biking is possible at Union Glacier camp.