Where to Stay in Antarctica: Antarctic Hotel Alternatives
Looking for an Antarctic hotel? Many people are surprised to discover there are actually no hotels in Antarctica. Regardless of the total absence of hotels in the Antarctic, it is possible to stay on the continent.
While there are no true Antarctic hotels, the available hotel alternatives are diverse. These range from luxury lodges to comfortable campsites. Whether you're looking for information on luxury Antarctica lodges, Antarctica camping, or Antarctic expedition cruises, we've got you.
As aforementioned, finding an Antarctic hotel is not an option and most research stations and bases only accept guests for pre-scheduled tours, not overnight stays. Still, visitors looking for an Antarctic hotel can choose from several excellent Antarctic hotel alternatives:
Luxury lodges
Luxury cruises
Expedition cruises
Camps for wildlife observation and outdoor adventure.
The season for leisure travel to Antarctica is late October through early March; lodges and camps are closed for the Austral Summer and shoulder months (April through September).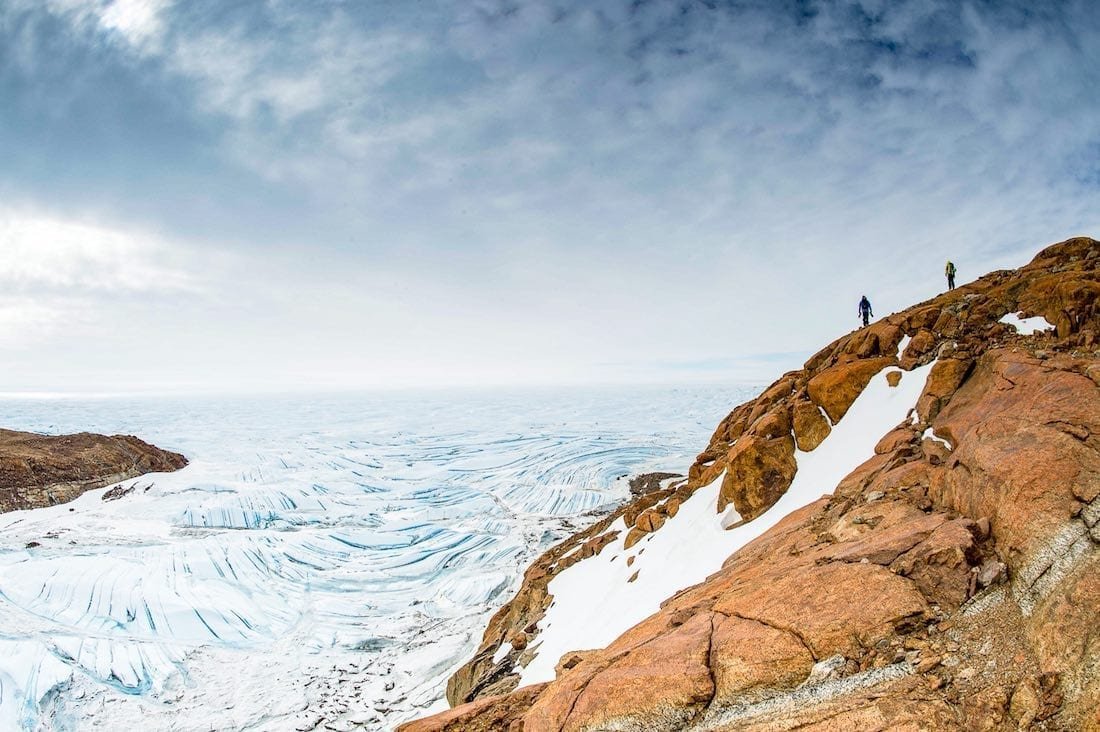 Whichaway Camp — Luxury Lodge in Antarctica
White Desert's Whichaway Camp is the closest you'll find to a hotel in Antarctica. This luxury lodge represents the finest Antarctica hotel alternative available.
Whichaway Camp is situated Antarctica's rugged, ice-clad interior. Featuring amenities one would expect from an luxurious Antarctic hotel, Whichaway is the first of its kind—the only luxury lodge on the continent of Antarctica.
White Desert also offers private charter jet service to the interior of Antarctica—a 5-hour Gulfstream flight from Cape Town directly to Whichaway.
While in residence at this luxurious Antarctic hotel alternative, guests can trek to ice tunnels, enjoy picnics, ice climb, mountaineer, and kite ski.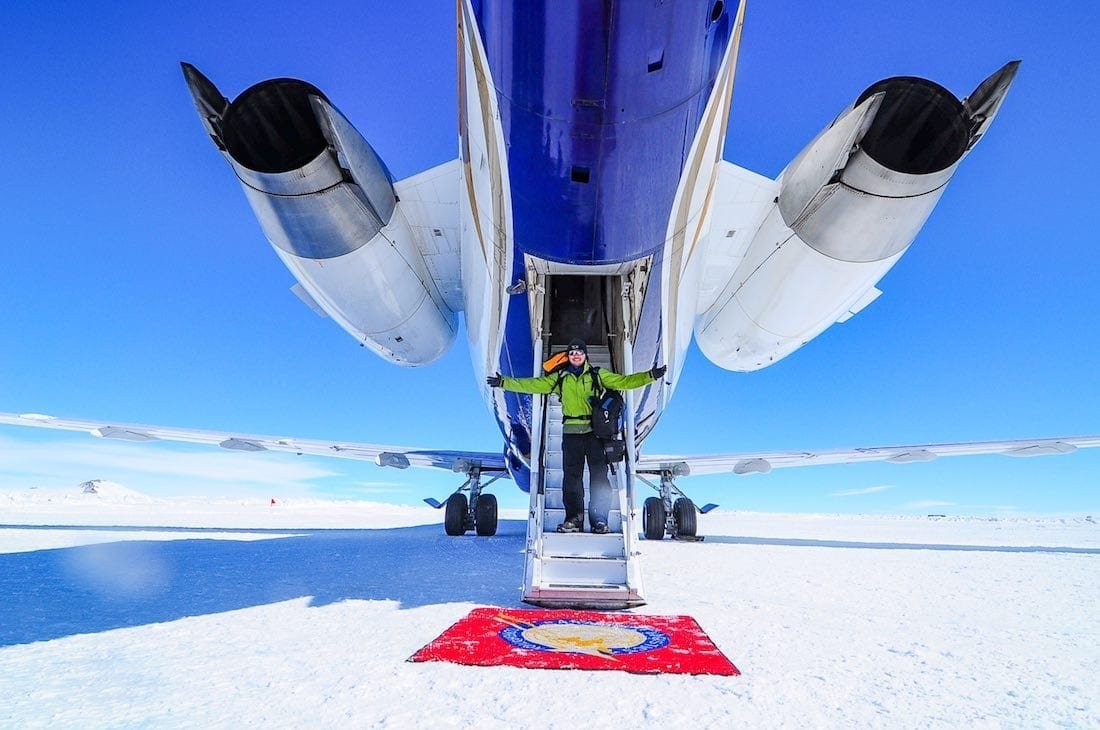 Whichaway Camp rests near the base of a 200-foot wall of ice, near a frozen lake.
Reminiscent of an Antarctic boutique hotel that's been divided into pieces, Whichaway consists of six private, domed pods and three communal domes that serve as reception, lounge / library, and dining room.
Dining at Whichaway is another element that's on par with what you'd expect from a fine Antarctic hotel. Guests at this luxury lodge are treated three-course meals prepared by Chef Janna Viney, featuring seafood and steak, al fresco champagne lunches and full English breakfasts.
Other amenities of the lodge include premium beverages and an on-site sauna.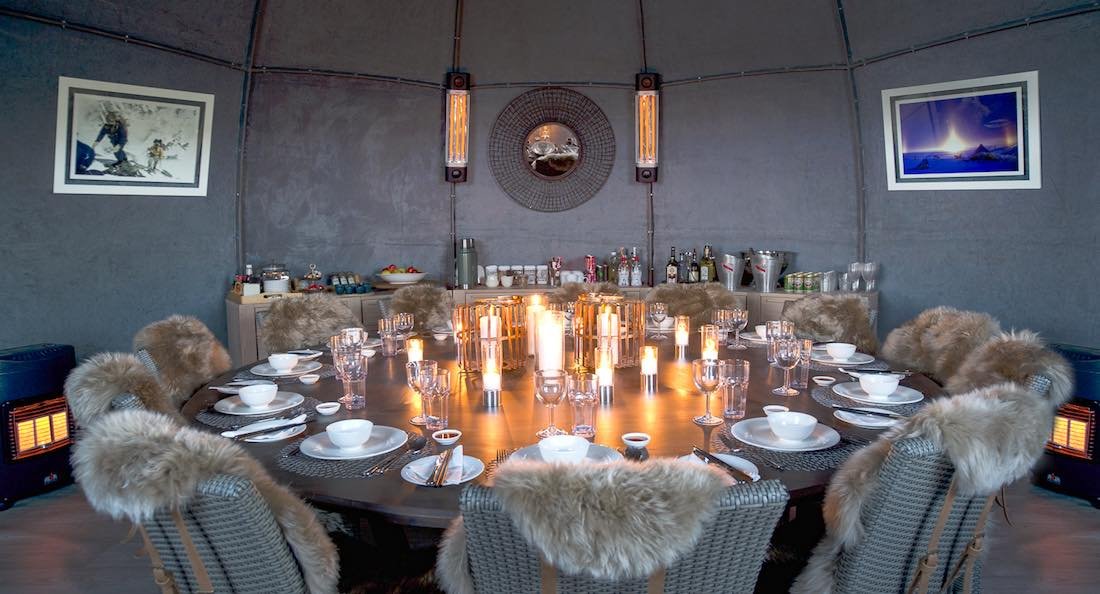 Each of White Desert's 20-foot diameter private "eco-sleeping pod" cabins (state-of-the-art fiberglass domes) is furnished with two double beds or one king bed.
Each Whichaway pod is furnished with these amenities:
Natural wood floors
Warm textiles
Fur throws
Efficient heating
Writing desk
En-suite washing area and toilet
The pod cabins at Whichaway are designed for double occupancy.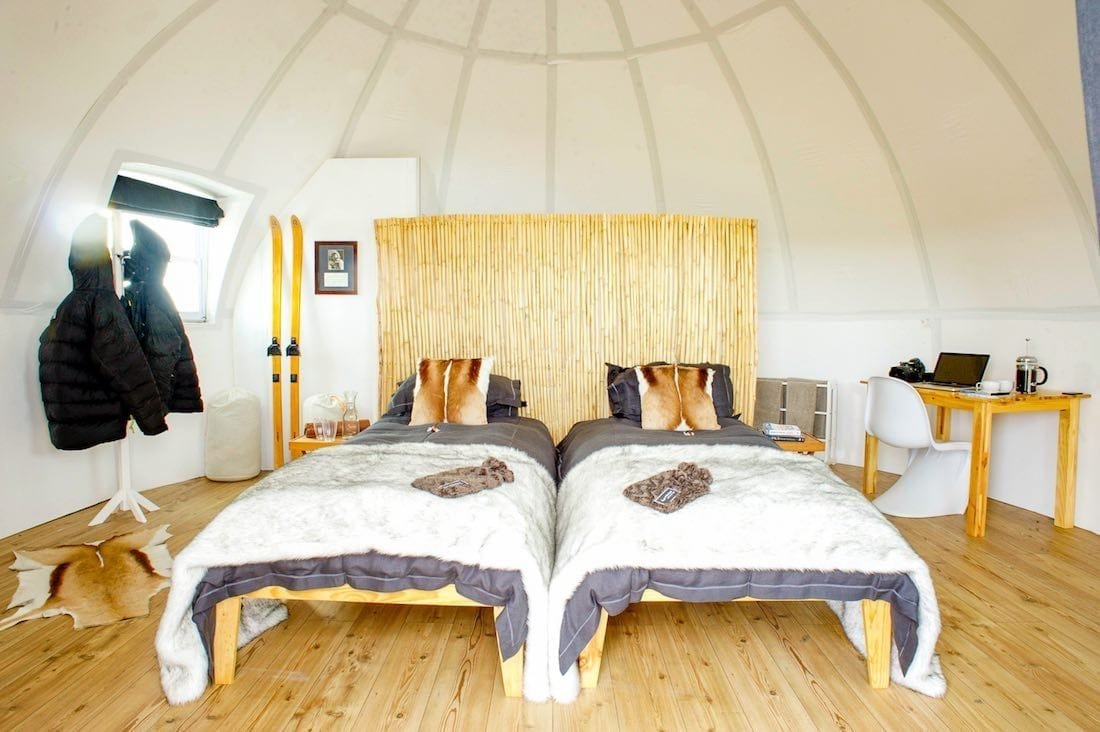 Whichaway Ice & Mountins Adventure Program
The four-day Whichaway "Ice & Mountains" adventure program begins in Cape Town, South Africa.
After a briefing, you'll fly 5.5 hours by charter jet to the Wolf's Fang blue-ice runway in the Drygalski Mountains.
Spend the day among the jagged peaks, then make the 25-minute evening flight (DC3 Basler aircraft) to White Desert's Antarctic luxury lodge.
While in residence at Whichaway Camp, guests can set the pace and intensity of their adventure.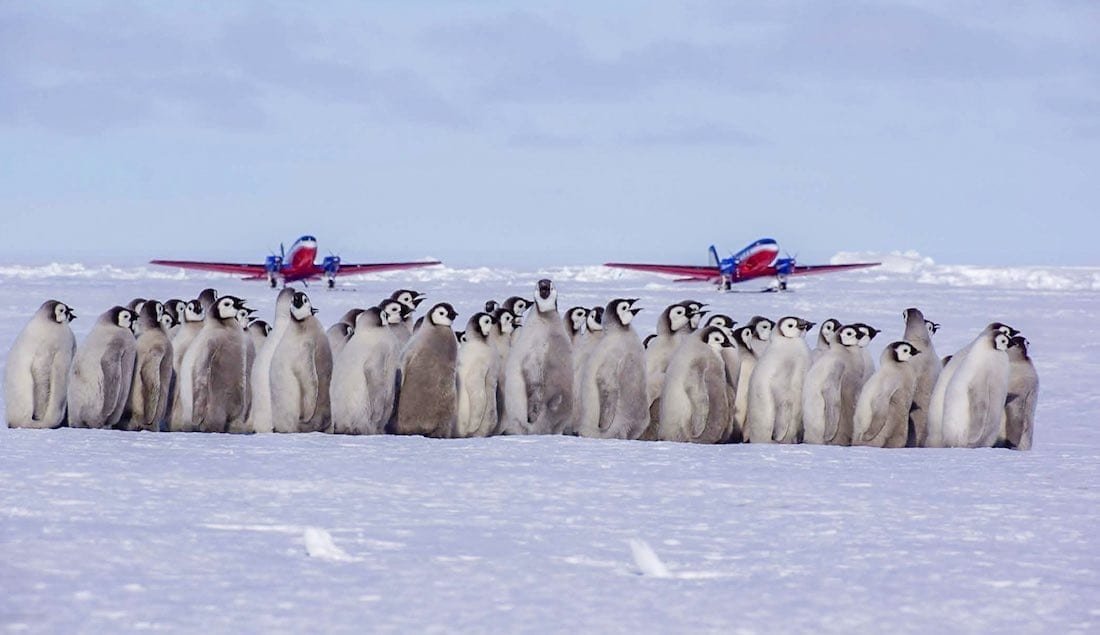 Some guests prefer gentle treks to the electric blue ice tunnels, glacier picnics, and visits to scientific research bases. For others, the highlights include mountaineering, kite-skiing, and abseiling.
The Gould Bay Camp in the Weddell Sea is a more spartan Antarctic hotel alternative. This tented camp is a good base for visiting the nearby Emperor Penguin colony.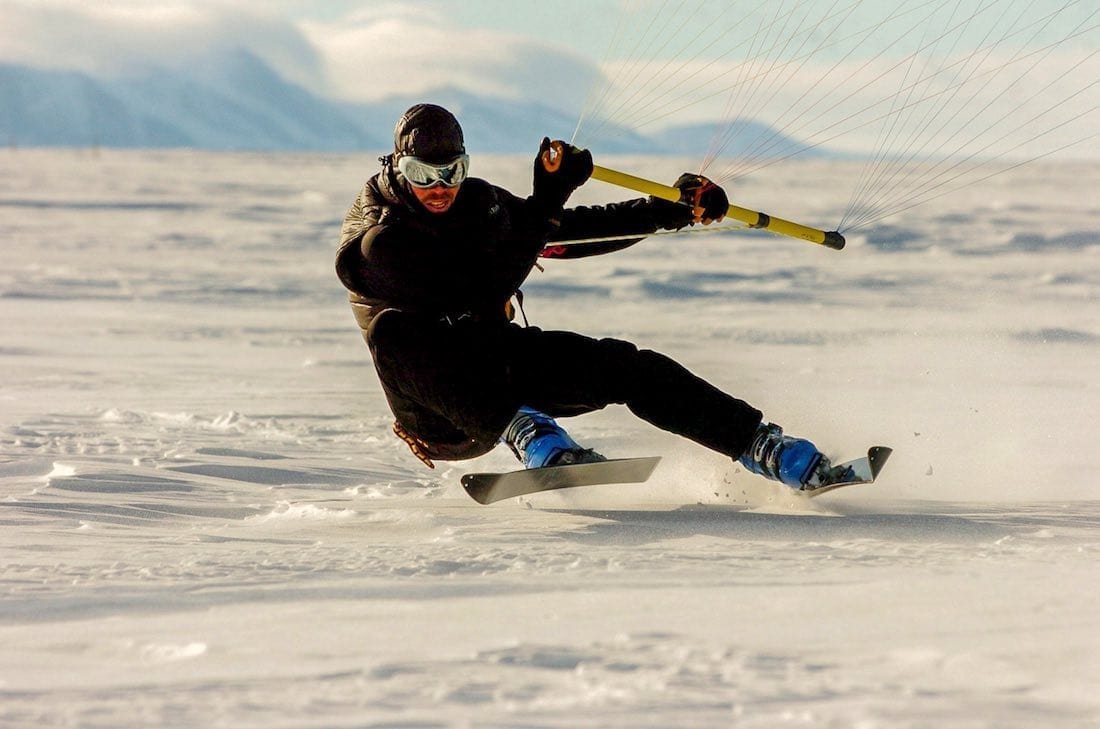 Gould Bay is located around 420 miles from the Union Glacier, making it also one of the most remote camps in existence. Contrary to what you'd expect at an Antarctic hotel, accommodations at Gould Bay are simple and utilitarian.
This spartan Antarctic camp is set up to offer the closest possible proximity to the Emperor colony without disturbing the penguins –approximately one mile from the observation site, with great care taken to minimize ecological impact.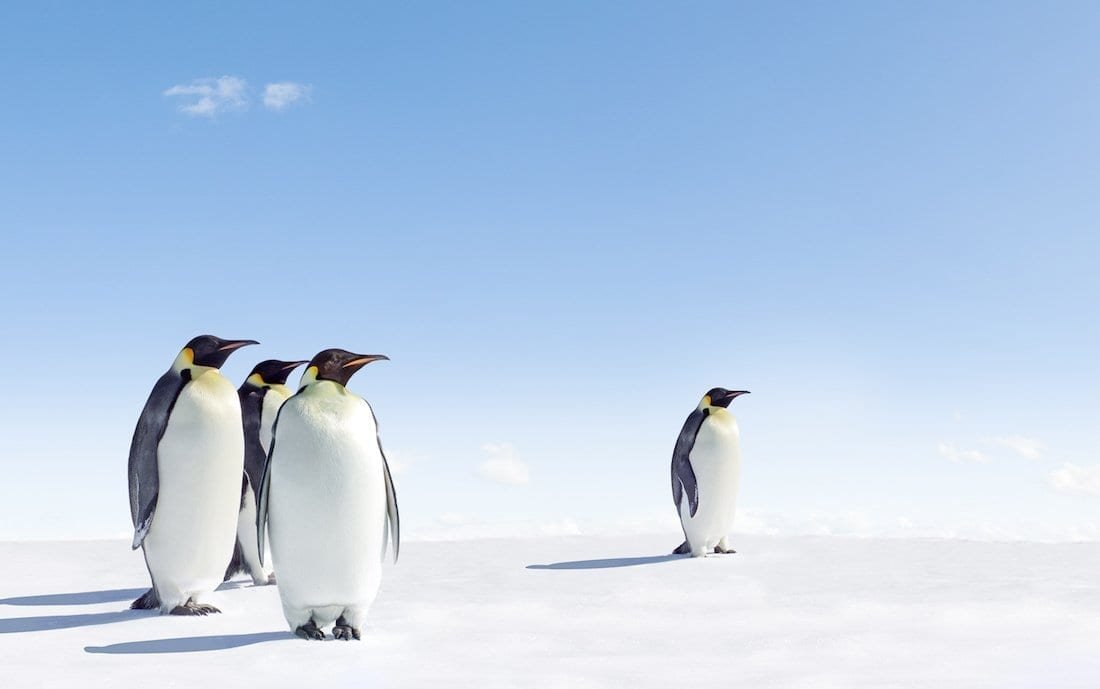 Union Glacier Tented Camp
Another available Antarctica hotel alternative is the tented camp at Union Glacier in the Ellsworth Mountains, a short flight from Mt. Vinson—Antarctica's highest peak (16,050 feet above sea level).
The site at Union Glacier is a full-service camp, operating exclusively during the Antarctic Summer (November-January).
Exclusively accessible by air, Union Glacier Camp sits around 1859 miles from the southernmost tip of Chile.
Accommodations at Union Glacier camp consist of 35 double-walled, dual occupancy clam tents.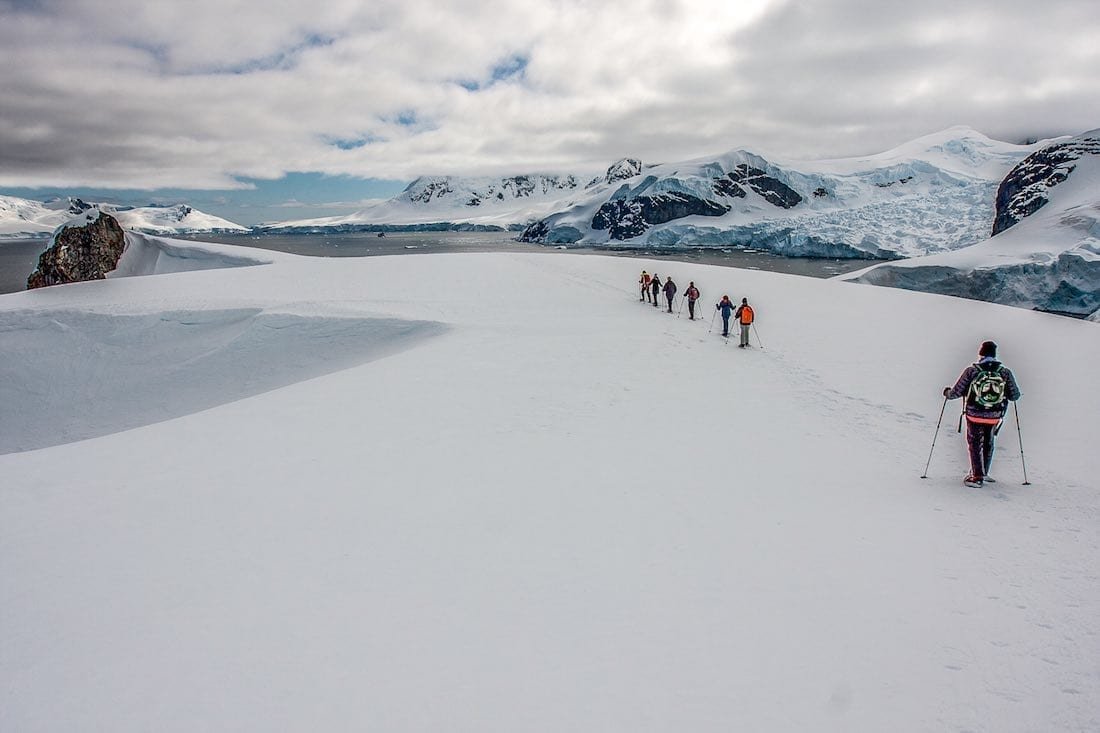 While this camp is far from a luxury Antarctic hotel, each tent is appreciably equipped with a wooden floor and natural solar heating, keeping indoor temperatures between 60 and 70 degrees Fahrenheit.
Tents at Union Glacier Camp are also equipped with a cot, mattress, pillow, linens, towels, and wash basin. Showers and bathrooms at Union Glacier Camp are communal.
Despite working within the constraints of a camp, the kitchen staff at Union Glacier strives to recreate a hotel dining experience. Meals are served in the central dining tent daily, with menus featuring fresh fruits, vegetables, meats, and cheeses flown in from Chile.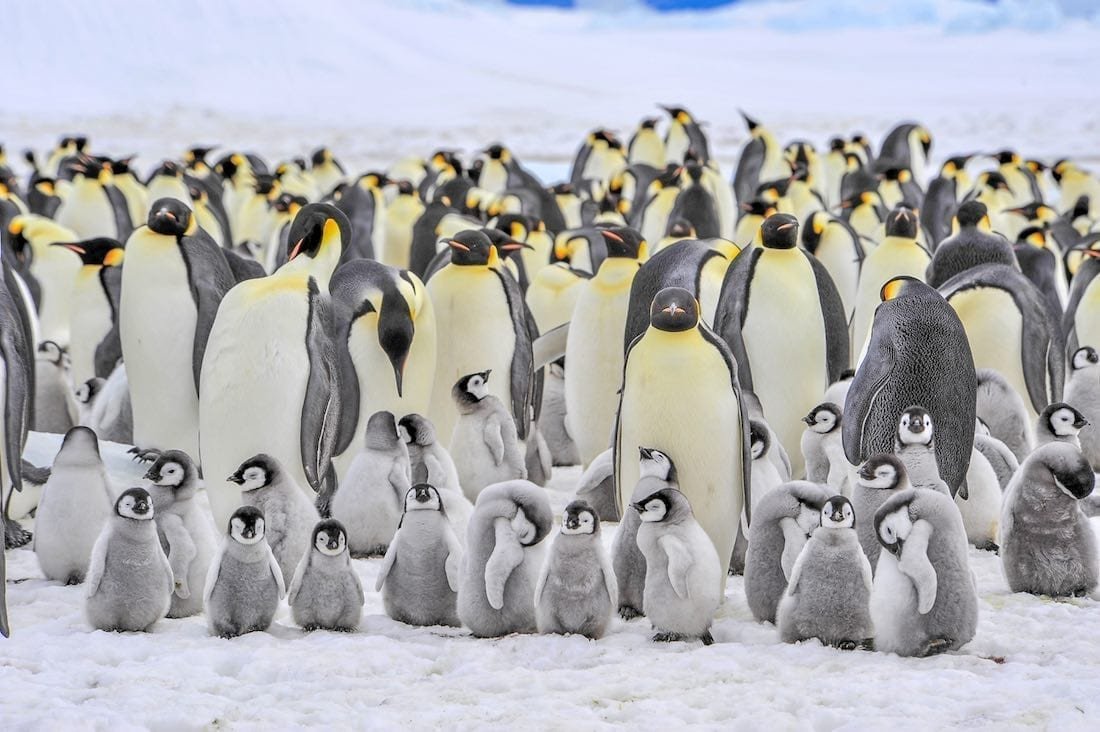 Guests can choose from a variety of active adventure activities tailored to the weather and their individual interests.
Activity options at Union Glacier camp include:
Group excursions
Cross-country skiing
Fat tire biking
Walking tours
Polar library
Each evening at the campsite, guest lecturers host talks on a range of subjects, from polar history to glaciology.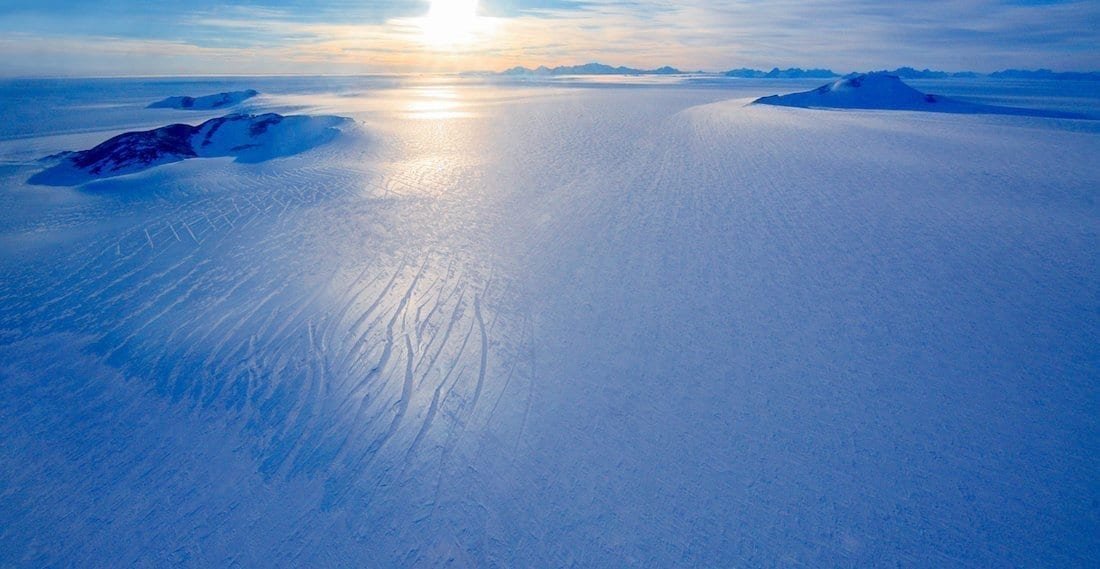 Express Overnight Antarctic Stays
If you want to visit Antarctica with limited time, LANDED can arrange an overnight stay at an Antarctic camp.
Express Antarctic camping itineraries typically center on a visit to King George Island in the South Shetland Islands off the coast of the Antarctic Peninsula.
These programs depart from (and return to) Punta Arenas, Chile. These programs operate on specific / fixed dates from December to February.
The overnight program starts at US$7,780 per person. A full-day program with no overnight is also available, starting at US$6,660 per person. Charter options can be arranged.
Instead of crossing the Drake Passage from South America to Antarctica by ship—a journey of approximately 50 hours—you can fly over those 500 miles of potentially rough sea.
The flight time from Punta Arenas, Chile to King George Island in the South Shetland Islands of Antarctica (and vice versa) is approximately 2 hours.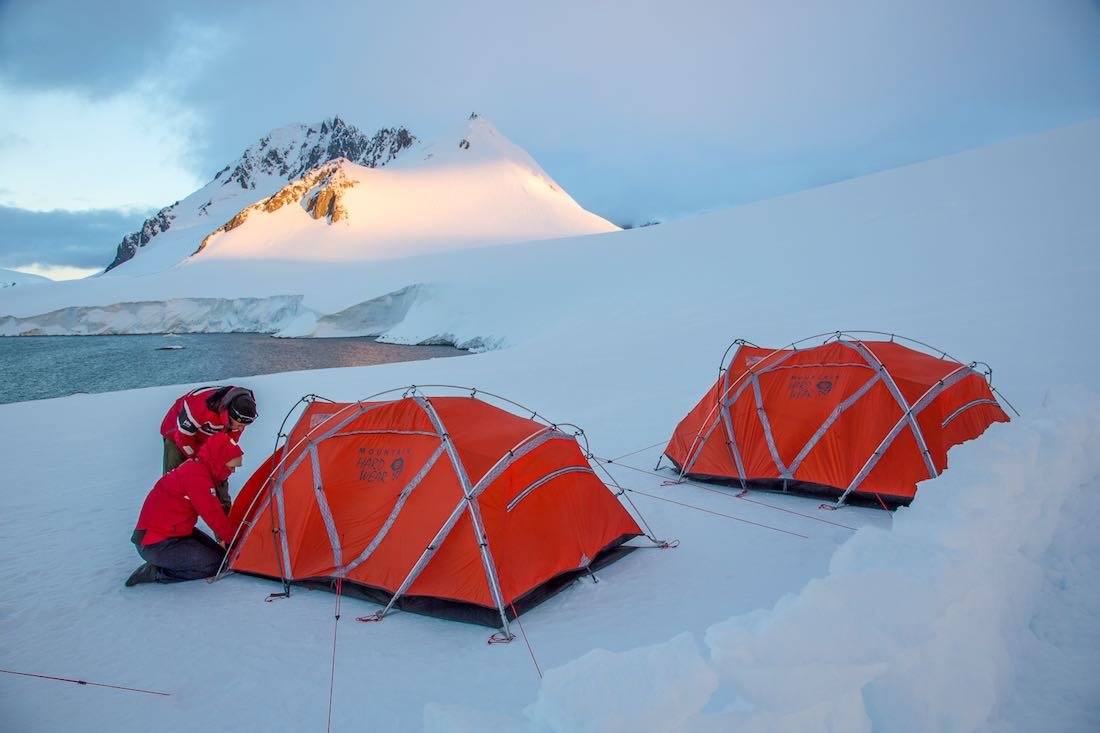 Temporary Ice Camps offer accommodation on a private basis, or for groups of up to 16 guests.
A far reach from an Antarctic hotel, shelters at these camps are basic but comfortable. Meals and transport (via Hagglunds or snowmobiles) can also be arranged.
During your stay on King George Island, we can arrange wildlife viewing, snowshoeing, snowmobiling, and Zodiac cruising.
The itinerary for express Antarctic programs follows this plan:
Early morning departure by air from Punta Arenas, Chile. Times vary with weather conditions. Flight time is approximately two hours.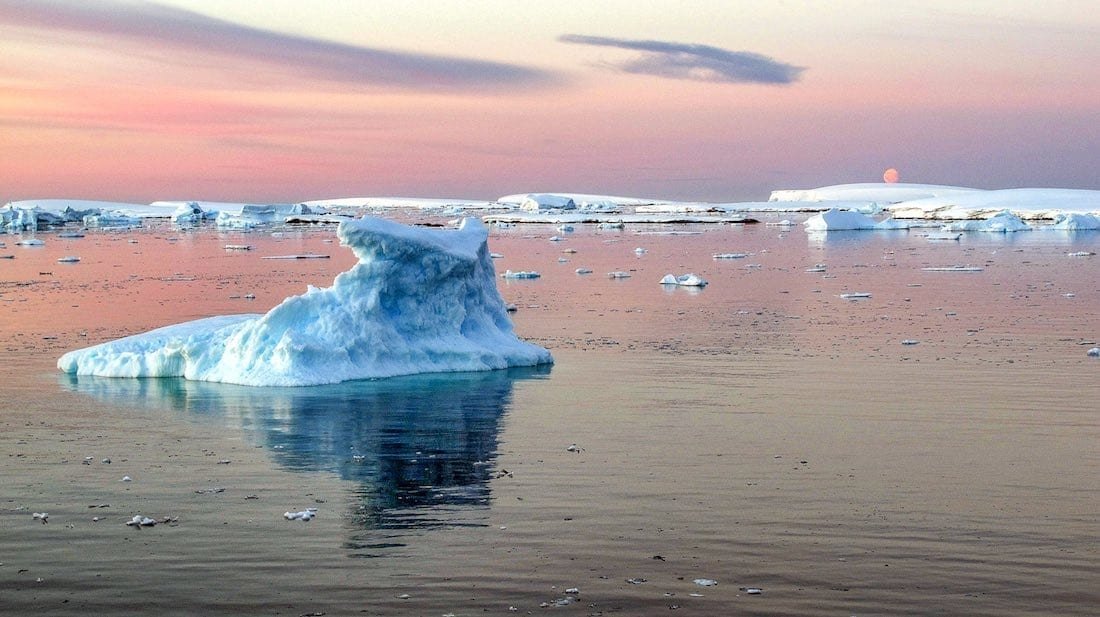 Fly over the Straits of Magellan, Tierra del Fuego and the Darwin Mountains, Cape Horn, and the Drake Passage.
Arrival at Frei Station, King George Island in the South Shetland Islands. Visit to Villa Las Estrellas, the island's colorful Chilean town first populated by civilians.
Lunch or snack, depending on time of flight arrival.
Continue by Zodiac to the Collins Glacier for views from the sea.
Zodiac navigation to Ardley Island to visit the Gentoo Penguin colony (approximately 4,500 breeding pairs). The island is also home to smaller populations of Adelie Penguins and Chinstrap Penguins, as well as petrels, skuas, and terns.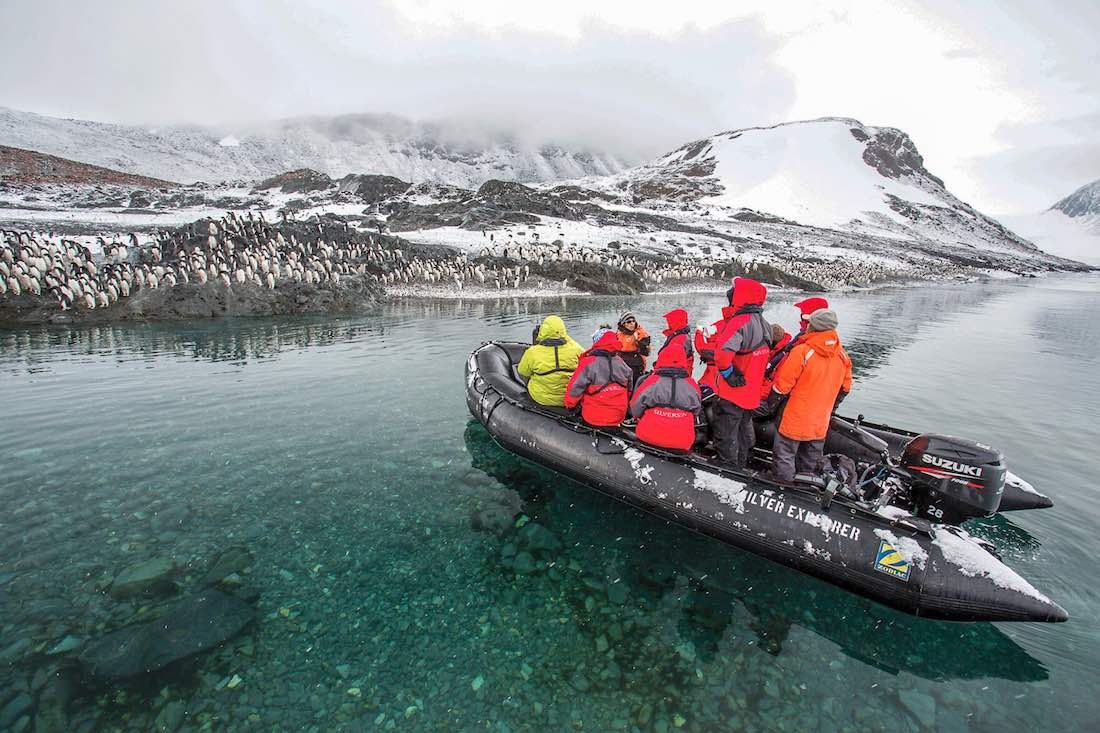 Visit the Russian Orthodox Church at Bellingshausen Station at Collins Harbor (Russia).
Depart by air from Frei Station to Punta Arenas, Chile. Times vary with weather conditions. Flight time is approximately two hours.
The total time on King George Island is usually around five hours.
Another alternative is an overnight stay at the Ice Camp on the island, with opportunities for snowmobiling, snowshoeing, and kayaking.
Because the programs are weather dependent, passengers need to be mentally prepared for early or late departures.
Travel insurance is a must for trips to Antarctica.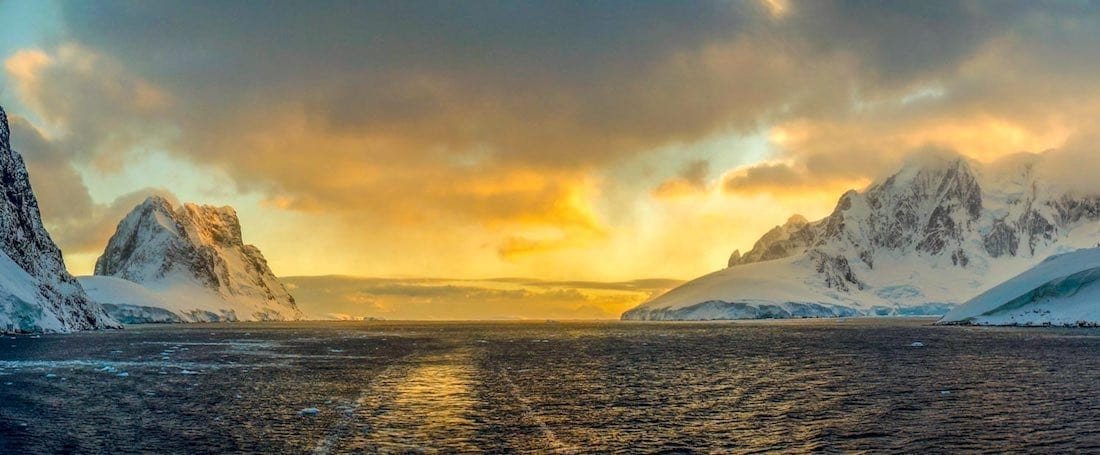 LANDED has the connections to help you make the most of your Antarctic travel. Speak to one of our Antarctica experts today at
801.582.2100
. We can help you book your stay and design your touring before and after Antarctica.