Lencois Maranhenses National Park
The Lencois Maranhenses National Park protects one of the most stunning landscapes in South America: over 570-square miles of towering white dunes, interlaced with emerald lagoons.
Spread out like lencois (bed sheets) on the Northeast Coast of Brazil, these sparkling dunes formed as river sediments of the eons drifted inland on ocean winds.
From January to June the desert valleys and flats fill with rainwater, forming crystal clear lakes.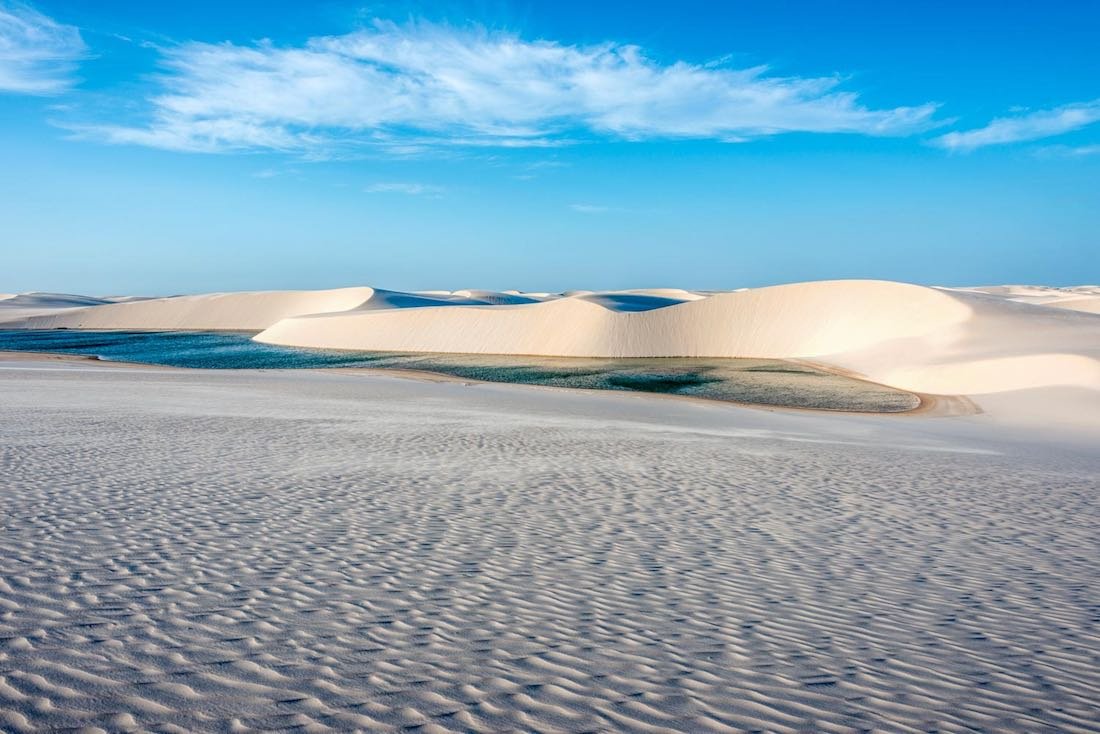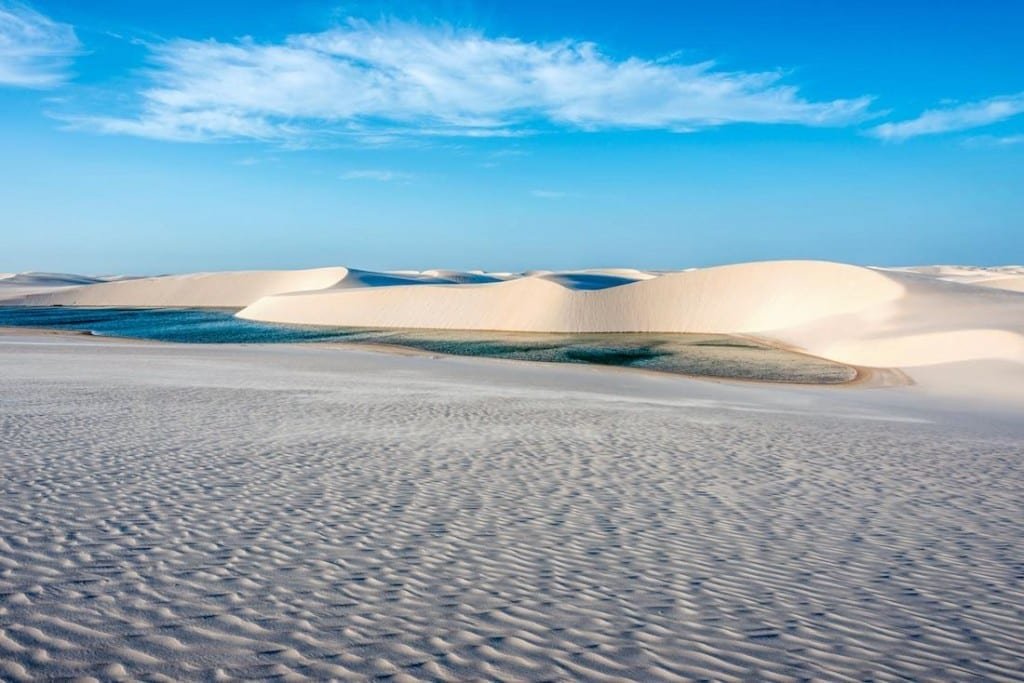 Miraculously, fish, turtles, and crabs inhabit the larger lagoons at Lencois Maranhenses.
Fishing, Swimming, & Dune Buggies
Accompanied by certified guides, park visitors can ride dune buggies, swim in the lagoons, and enjoy 30 miles of deserted beaches.
Other excursions include river tours, wildlife viewing in the nearby mangroves, and fishing trips.
Lencois Maranhenses is most easily reached by flights from Sao Luis (3.5 hours from Sao Paulo and Rio de Janeiro) followed by a three-hour (150-mile) overland transfer.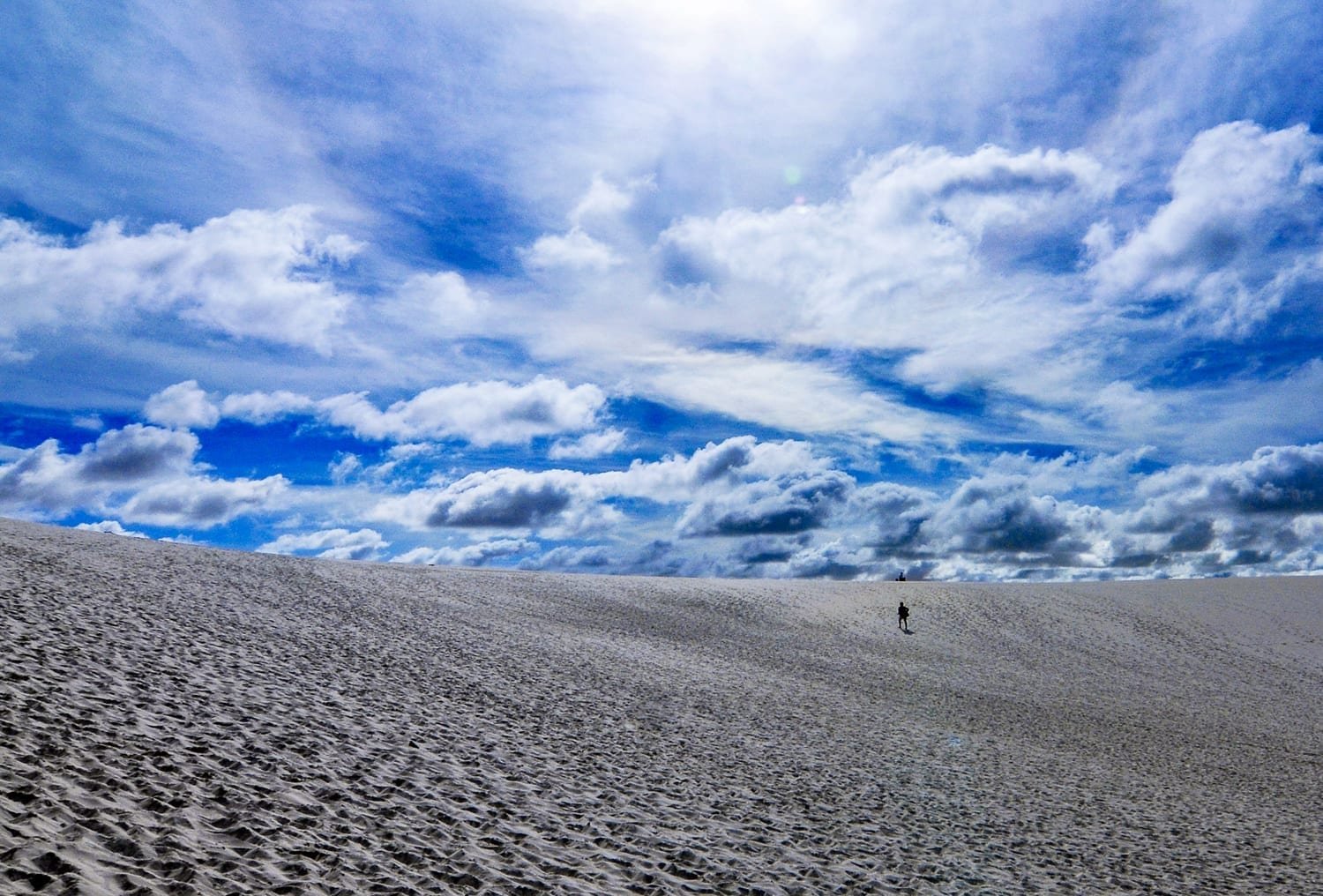 The dune-backed town of Barreirinhas, located on the park's eastern border, offers simple, yet comfortable accommodations and excellent camaroada (shrimp stew).
Best Time to Visit Lencois Maranhenses
The best time to visit is from May to October when the rains have abated, but the lagoons are still flooded.
Expected daytime temperatures hover between 85°F and 95°F.
Sun protection (including sunglasses) is essential.
When you travel with LANDED, you'll be relaxed, prepared, and delighted. In fact, more than 90% of our business is repeat or referral. Speak with one of our expert travel planners today at 801.582.2100. Soon, you'll have LANDED.
"I had to live in the desert before I could understand the full value of grass in a green ditch."
Ella Maillart
PERFECT

Could not have been more pleased.  This was the trip of a lifetime for our family.  Thank you!
GO WITH LANDED

If you're planning to travel, go with LANDED. You won't be disappointed.
AMAZING ADVENTURE

The whole rhythm of the trip was perfect, and leaving one place for the next worked perfectly. This trip definitely made me want to experience other great spots in South America.
TRIP OF A LIFETIME

The locations were amazing. Your on-the-ground team was fantastic–knowledgeable and accommodating. Beautifully organized.
ABSOLUTELY AMAZING

The best guide I've ever had anywhere in the world. Top notch talent.
GREAT SERVICE

You were a great help in planning–ensuring that I was staying at the right places and enjoying the type of activities we love–and the follow up was incredible.
YOU GOT TO KNOW US

Exactly the bonding and sharing experience we'd hoped for. The rhythm, variety, and tone was spot on. With effective listening skills, you built a good picture of what we wanted–more complicated than "just" luxury. The result was a great trip, one made just for us.
BEST EVER

Excellent attention to detail. You listened carefully, asked the right questions, and customized with just the right balance. Superb guides. We felt relaxed and pampered all the way. You'll plan our next trip.
FANTASTIC EXPERIENCE

Not a single thing on the itinerary that we would change.  The guides were knowledgeable, friendly, and prompt.  The hotels were beautiful, the food delicious and the pace of the activities was perfect for us.
DO IT!

In short, our trip was amazing. Thanks so much for your constant assistance and thorough planning.
PERFECT

The planning, service and execution of the trip was flawless – thank you!
EXCELLENT

LANDED was helpful and knowledgeable, making our trip a memorable one.  I will use your services in the future as I continue to explore Central & South America.
A VERY WELL ORGANIZED DREAM

Your patience with my questions and concerns during the planning stage was remarkable.
THANK YOU

You actually got to know us, which made it possible to know just what we like. You promised the best trip ever and you kept your promise.
ENTIRELY AMAZING

Your recommendations were well thought out. We thoroughly enjoyed our honeymoon. Thank you!
THE ULTIMATE GUIDE

LANDED is the ultimate. You helped us make the most out of a week's time.
DIDN'T MISS A THING

We zip-lined, rafted, sailed, and surfed. The contacts were professional and courteous. We don't want to be back at work. Thank you for all of the work you did to set up this trip.