Paraty: Costa Verde
West of Rio de Janeiro, the BR-101 highway divides forested mountains from steep coastal cliffs.
This is the Costa Verde (Green Coast)—admired for its tranquil bays, isolated beaches, and lush islands such as Ilha Grande. Offshore, the turquoise waters support a variety of colorful fish, Magellanic penguins, and Southern right whales.
As the coast curves to the southwest around the Baia da Ilha Grande, it arrives in the colorful town of Paraty (or Parati).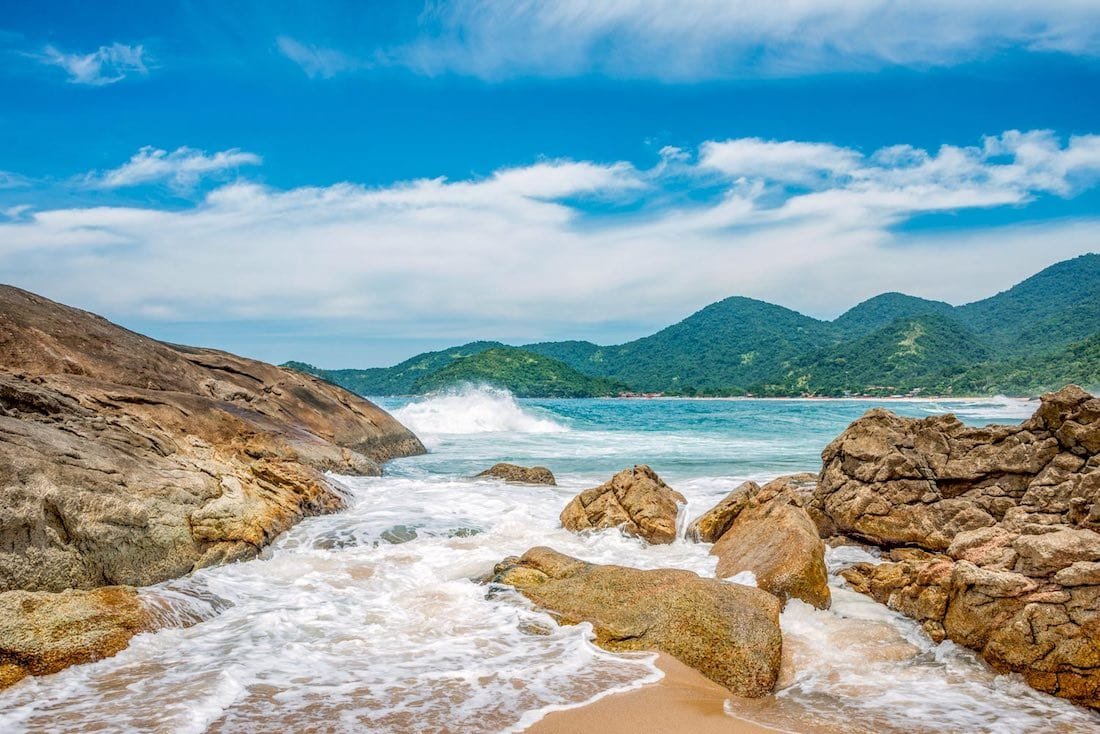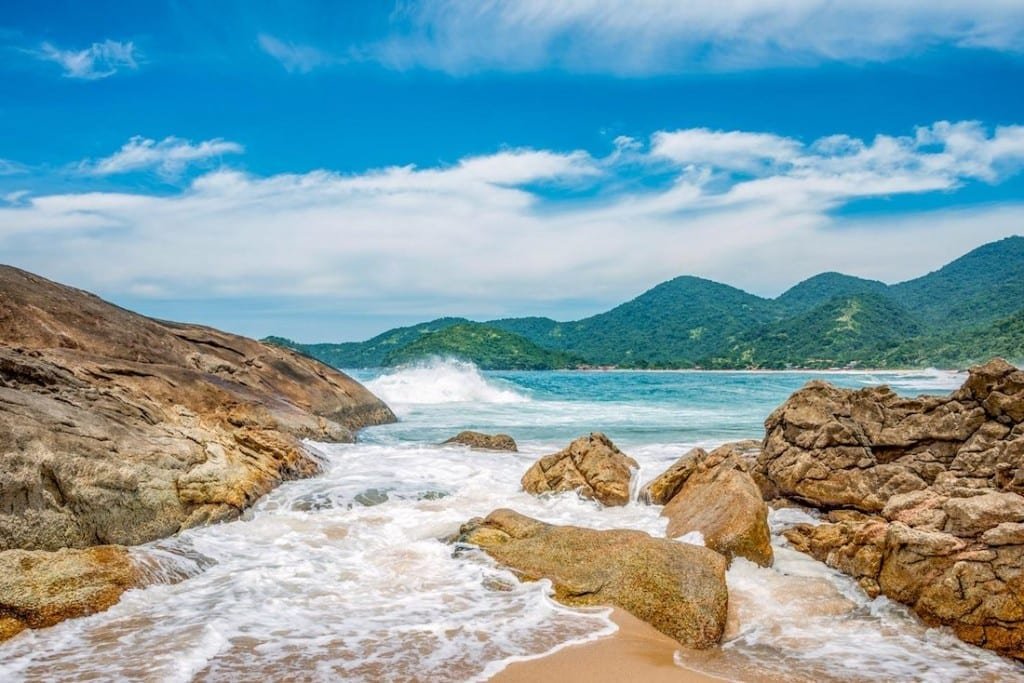 Settled by the Portuguese in the 16th century, Paraty became the primary port for shipments of Minas Gerais gold.
The town's colonial prominence is evident in its fort, baroque churches, and sunken cobblestone streets (ingeniously designed to be cleaned by the tides).
Paraty's other charms include quiet plazas, a remarkable puppet theater, and over a dozen nearby beaches.
Most visitors come to Paraty for three or more nights.
Paraty hosts a fine collection of boutique hotels, in addition to numerous private luxury villas.
Visitors can enjoy diving, snorkeling, sailing, surfing, horseback riding, hiking and visits to a local cachaça distillery.
Day trips to Ilha Grande by private yacht can be arranged.
Mata Atlantica
Due north of Paraty, the Mata Atlantica (Atlantic rainforest) is broken by rocky ridges and grasslands. This is the home of Itatiaia, Brazil's first national park.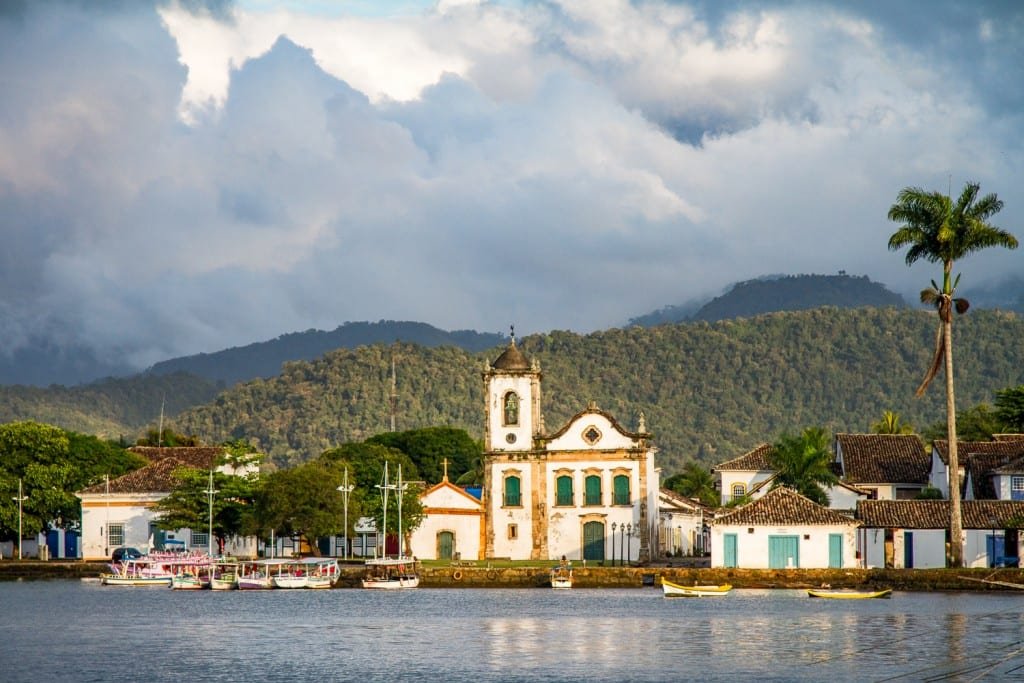 Visitors to this park can explore forested trails to waterfalls, climb rugged cliffs, and observe more than 250 bird species.
Guided day-trips from Paraty or Rio are available.
The nearest international airport to Paraty is Rio de Janeiro (GIG), 146 miles to the northeast. However, the local airfield is suitable for light aircraft and small jets.
Paraty Helicopter Charters
Helicopter charters are also available, with helipads accommodating aircraft up to 5 tons.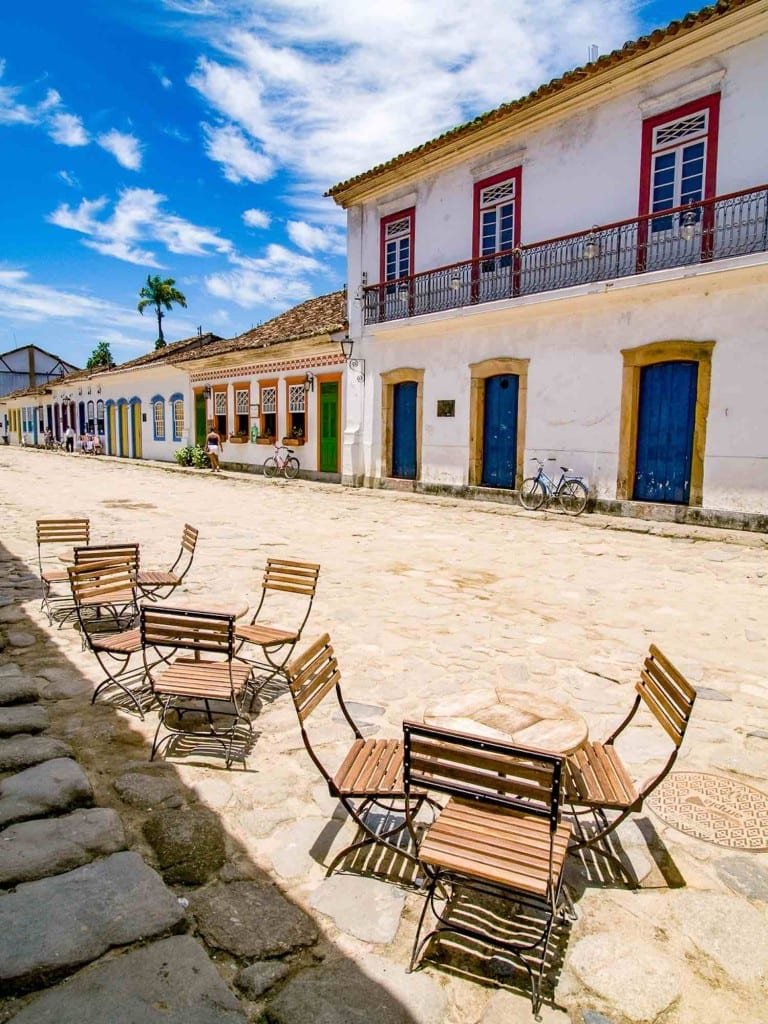 Private land transfers can be arranged from either Rio (3.5 hours) or Sao Paulo (about 5.5 hours).
Both roads generally in good condition and picnic lunches can be arranged.
Paraty Climate
Paraty is a year-round destination, with high temperatures averaging 80°F to 84°F from October to May. Averages cool to the high-70's during the June to September winter.
Precipitation is greatest from October to April (6.6 to 9.5 inches per month) and lowest from June to August (around three inches).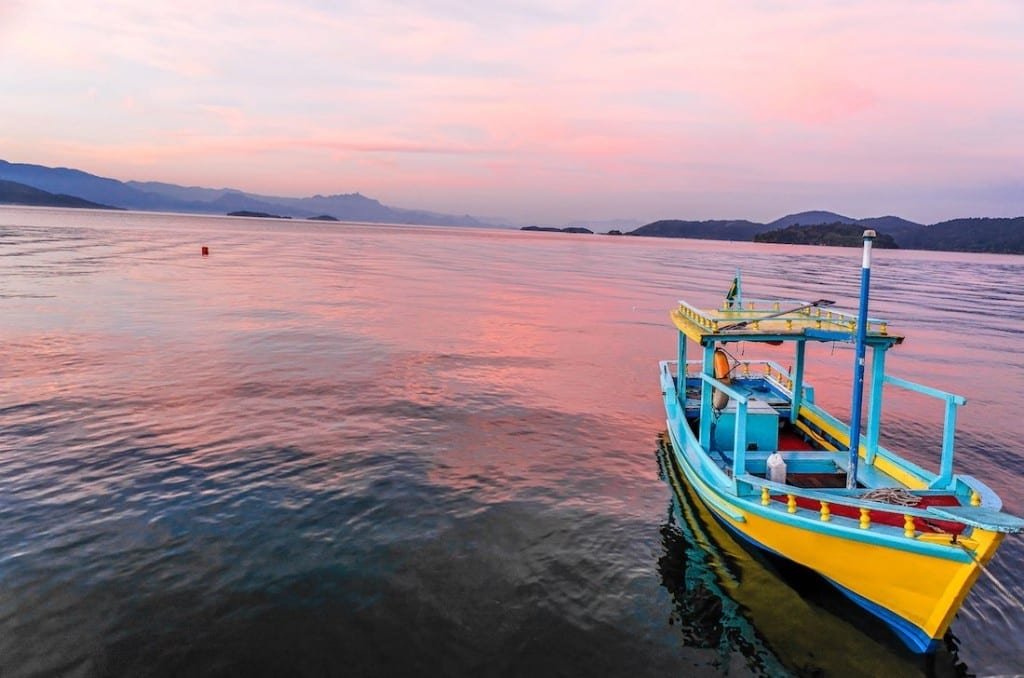 At LANDED, each travel request is personal. After all, you're trusting us with your most precious asset—free time with the people you care about. By getting to know you, we'll create the most memorable, most exceptional trip of your life. Call us today at 801.582.2100. Dream big. We've got you.
"Look deep into nature, and then you will understand everything better."
Albert Einstein
PERFECT

Could not have been more pleased.  This was the trip of a lifetime for our family.  Thank you!
GO WITH LANDED

If you're planning to travel, go with LANDED. You won't be disappointed.
AMAZING ADVENTURE

The whole rhythm of the trip was perfect, and leaving one place for the next worked perfectly. This trip definitely made me want to experience other great spots in South America.
TRIP OF A LIFETIME

The locations were amazing. Your on-the-ground team was fantastic–knowledgeable and accommodating. Beautifully organized.
ABSOLUTELY AMAZING

The best guide I've ever had anywhere in the world. Top notch talent.
GREAT SERVICE

You were a great help in planning–ensuring that I was staying at the right places and enjoying the type of activities we love–and the follow up was incredible.
YOU GOT TO KNOW US

Exactly the bonding and sharing experience we'd hoped for. The rhythm, variety, and tone was spot on. With effective listening skills, you built a good picture of what we wanted–more complicated than "just" luxury. The result was a great trip, one made just for us.
BEST EVER

Excellent attention to detail. You listened carefully, asked the right questions, and customized with just the right balance. Superb guides. We felt relaxed and pampered all the way. You'll plan our next trip.
FANTASTIC EXPERIENCE

Not a single thing on the itinerary that we would change.  The guides were knowledgeable, friendly, and prompt.  The hotels were beautiful, the food delicious and the pace of the activities was perfect for us.
DO IT!

In short, our trip was amazing. Thanks so much for your constant assistance and thorough planning.
PERFECT

The planning, service and execution of the trip was flawless – thank you!
EXCELLENT

LANDED was helpful and knowledgeable, making our trip a memorable one.  I will use your services in the future as I continue to explore Central & South America.
A VERY WELL ORGANIZED DREAM

Your patience with my questions and concerns during the planning stage was remarkable.
THANK YOU

You actually got to know us, which made it possible to know just what we like. You promised the best trip ever and you kept your promise.
ENTIRELY AMAZING

Your recommendations were well thought out. We thoroughly enjoyed our honeymoon. Thank you!
THE ULTIMATE GUIDE

LANDED is the ultimate. You helped us make the most out of a week's time.
DIDN'T MISS A THING

We zip-lined, rafted, sailed, and surfed. The contacts were professional and courteous. We don't want to be back at work. Thank you for all of the work you did to set up this trip.