Surfing San Juan
San Juan del Sur is the most famous beach town in Nicaragua.
Returning visitors are spreading the word about this area's uncrowded beaches, excellent surf breaks, and stunning sunsets.
In recent years, a handful of boutique hotels opened here, drawing both families and honeymooners, in addition to the regular crowd of wealthy Nicaraguans and foreign surferos.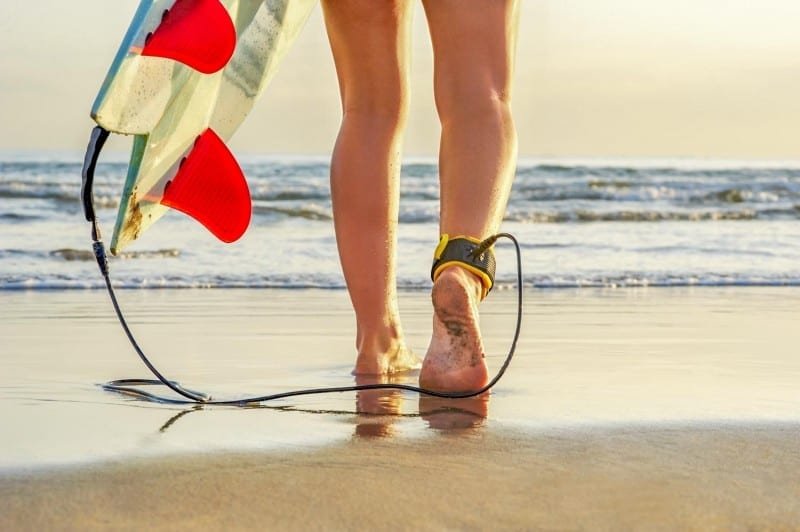 Playa Remanso, Tamarindo, and Hermosa
A string of beaches stretches eleven miles south of town.
Some are accessible on foot, others by rough road or water taxi. Closest to town, Playa Remanso is known for its tidepools and blowholes.
Neighboring Playa Tamarindo and Playa Hermosa provide exposed point breaks with reliable surf.
Playa El Coco and Playa Yanqui
Further south, Playa Yanqui and Playa El Coco offer left and right surf breaks.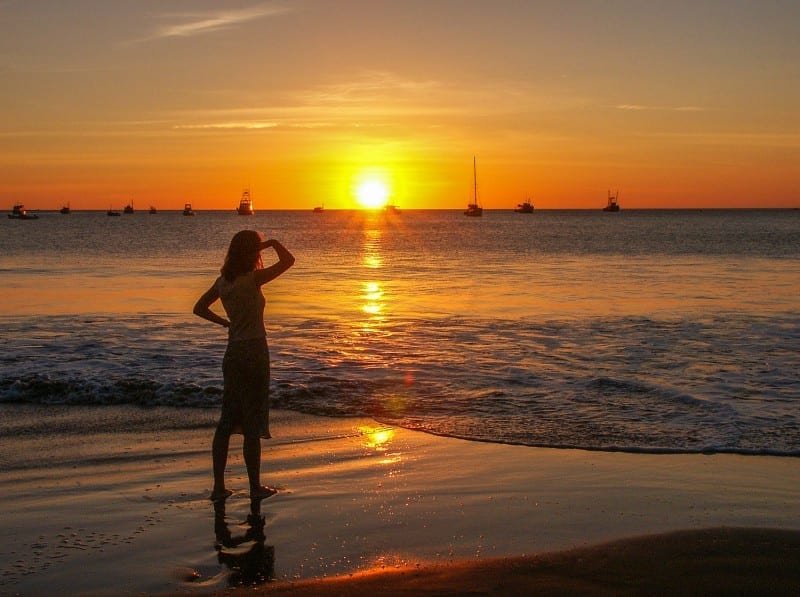 Surfing Playa El Coco & Turtle Watching at La Flor
Below Playa El Coco, the La Flor Wildlife Refuge is a critical nesting site for Olive Ridley sea turtles.
From July to February, tens of thousands of nesting females arrive en masse, each laying around 100 eggs.
After around 50 days, hatchlings emerge from the sand, before quickly dashing for the water.
Playa Marsella and Playa Madera
North of San Juan del Sur, Playa Marsella, and Playa Madera are the region's most accessible beaches.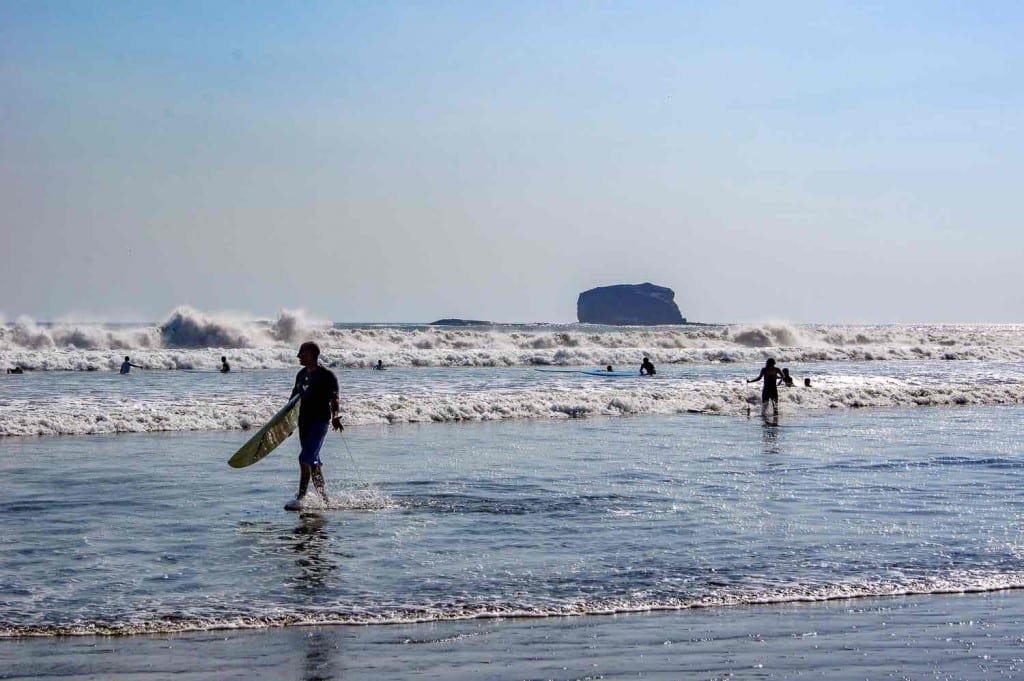 Farther to the north is Bahia Majagual, a pretty stretch of golden sand and a favorite surf spot.
Playa Octal: Morgan's Rock
To the north lies the isolated Playa Ocotal, a gentle arc backed by tropical dry forest.
Ocotal is the site of Morgan's Rock Eco-Lodge, one of our all-time favorite beach destinations.
Charter Yachts, Scuba and Deep Sea Fishing
Visitors to San Juan del Sur can charter yachts for deep sea fishing, or sail to an isolated beach for a picnic.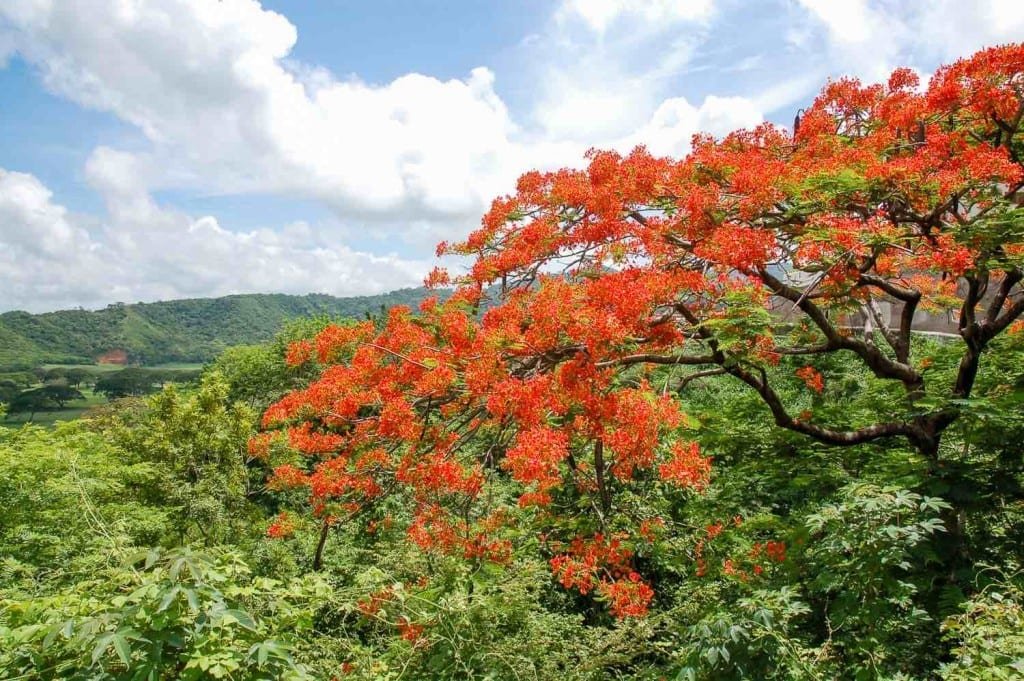 Other activities available in this area include diving, zip-line canopy tours, horseback riding, kayak trips to mangrove estuaries, and day trips to Masaya and Granada.
Getting to San Juan del Sur
San Juan del Sur is located approximately 60 miles (70 minutes) south of Granada and 32 miles (40 minutes) north of the Peñas Blancas-Costa Rica border.
Visits to San Juan del Sur are easily combined with extensions to Granada or Costa Rica's Nicoya Peninsula.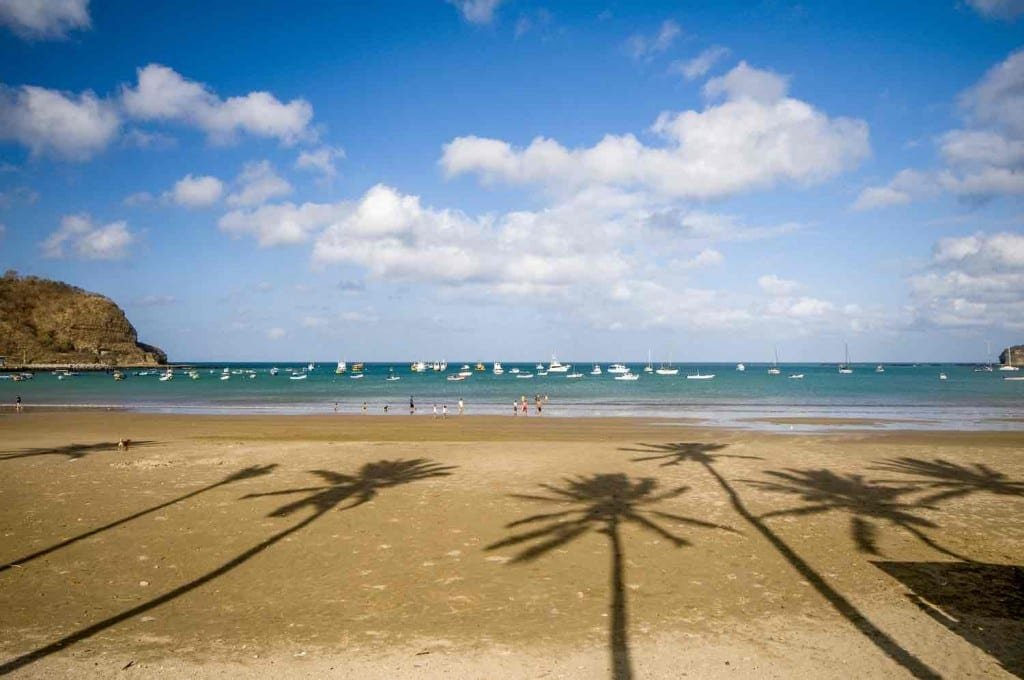 Generally, the best time to visit San Juan del Sur is between December and March, when rains have subsided, but the landscape is still bright green.
September and November mark the height of the May to November rainy season.
Peak turtle nesting season is August to October.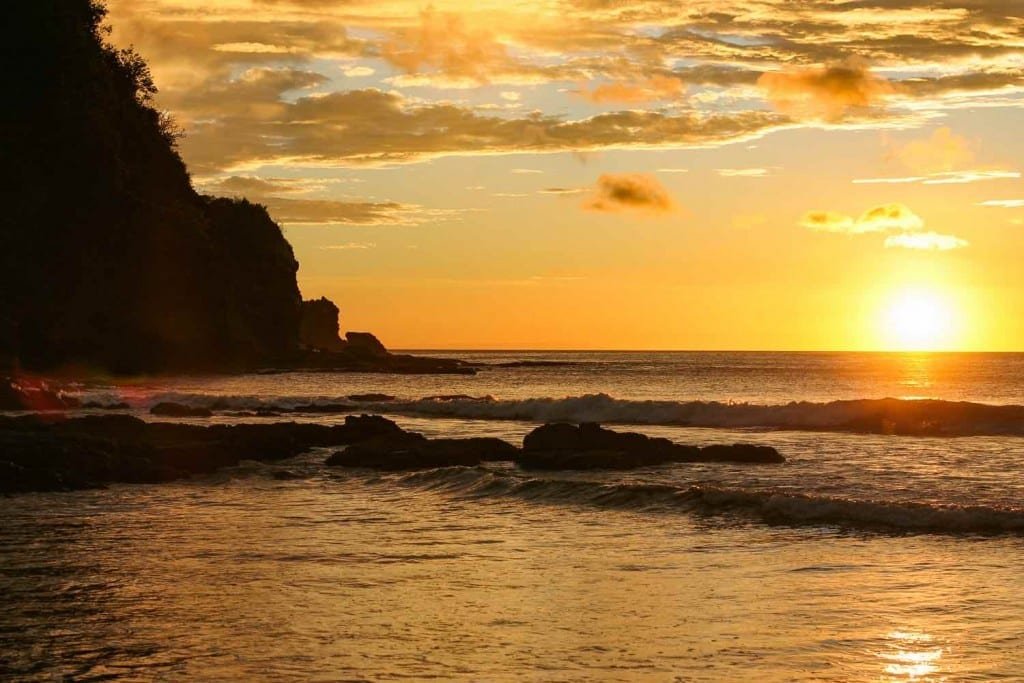 Looking for customized, private travel within Nicaragua? When you travel with LANDED, you'll be relaxed, prepared, and delighted. In fact, more than 90% of our business is repeat or referral. Speak with one of our expert travel planners today at 801.582.2100. Soon, you'll have LANDED.
"Travel does what good novelists also do to the life of every day, placing it like a picture in a frame or a gem in its setting, so that the intrinsic qualities are made more clear. Travel does this with the very stuff that everyday life is made of, giving to it the sharp contour and meaning of art."
Freya Stark
GO WITH LANDED.

Could not have been more pleased.  This was the trip of a lifetime for our family.  Thank you!
IF YOU LIKE TO TRAVEL.

What an amazing adventure we have had.  Many thanks to you for putting it together. The whole rhythm of the trip was perfect, and leaving one place for the next worked perfectly. This trip definitely made me want to experience other great spots in South America as the people have been wonderful and the places incredible. Wish we had a month to really explore.  Everybody in the family had a great life experience. Thanks again!
DO IT.

One of our best trips ever, made excellent by LANDED's attention to detail. When planning the trip our travel planner listened to us carefully, asked the right questions, and customized the trip to have just the right balance of adventure and city sights for us. The guides, drivers, and "handlers" were superb. The hotels were top notch. We felt relaxed and pampered all the way. Will definitely look to LANDED to plan our next trip to South America.
Absolutely amazing. Thanks again John. Carlos was the best guide I've ever had anywhere in the world. Top notch talent.
We returned yesterday from our trip and I wanted to let you know that it was absolutely amazing!  There is not a single thing on the itinerary that we would change.  The guides were knowledgeable, friendly, and prompt.  The hotels were beautiful, the food delicious and the pace of the activities was perfect for us. Thank you so much for making our trip such a fantastic experience.
In short, our trip was amazing, and, as we had hoped, the Inca civilization was fascinating to us. Thanks so much for your constant assistance and thorough planning.
The planning, service and execution of the trip was flawless – thank you for making it perfect!
LANDED's services were excellent. You were helpful and knowledgeable, making our trip a memorable one.  I will use your services in the future as I continue to explore Central & South America.
It was like being in a very well organized dream. Your patience with my questions and concerns during the planning stage was remarkable.
I've never had such great service from a tour operator. Not only were you a great help on the planning-insuring that I was staying at the right places and enjoying the type of activities we love-but the follow up was incredible. Your team checked in with us several times during the trip to confirm that everything was going well, and that the guides you assigned were satisfying us. It's one thing to get a "thank you card" or a "hope your trip was great" note after you're back, but to insure that it's going well during the trip is a welcome first! I look forward to working with you again on a another trip.
You actually got to know us, which made it possible to know just what we like. You promised the best trip ever and you kept your promise.
The entire trip was amazing. Both the hotel & restaurant recommendations were well thought out and helped us thoroughly enjoy our honeymoon.
LANDED is like the ultimate virtual guide, suggesting the high points and helping us get the most out of a week's time.
We had a great time, and didn't miss anything. We zip-lined, rafted, sailed and surfed. The contacts and drivers were professional and courteous. We don't want to be back at work. Thank you for all of the work you did to set up this trip.