EVOLUTION MOTOR YACHT
"The Golden Age of Travel opened the far concerns of the globe to journeys characterized by a new style and grace. Exotic and romantic destinations offer a sense of adventure combined with a new level of comfort and service, where how one traveled became as important as the destination."
 This golden age lives on today aboard the M/V Evolution, where the destination is designed to be experienced as a voyage through one of the world's most remarkable natural wonders, the Galapagos Islands.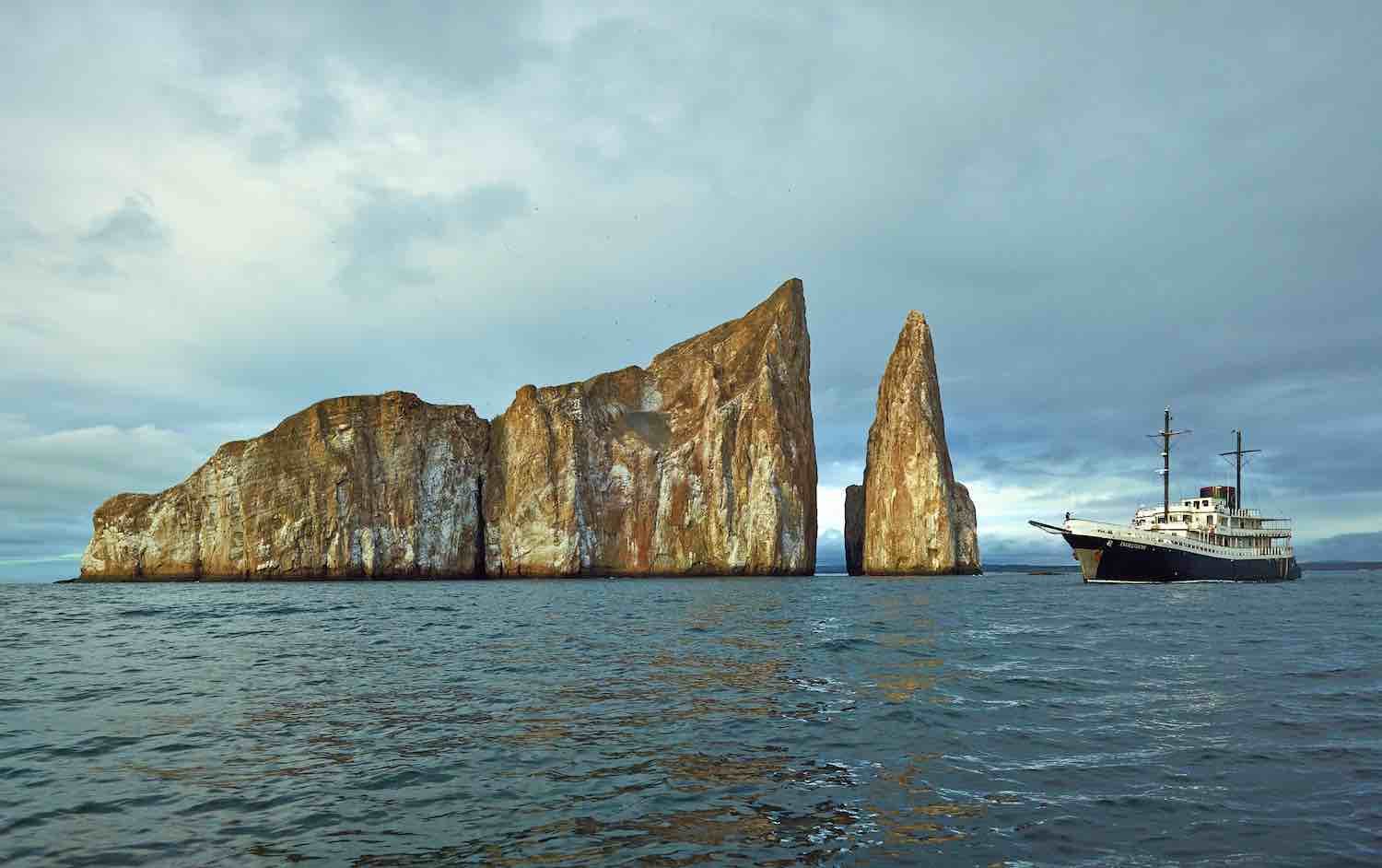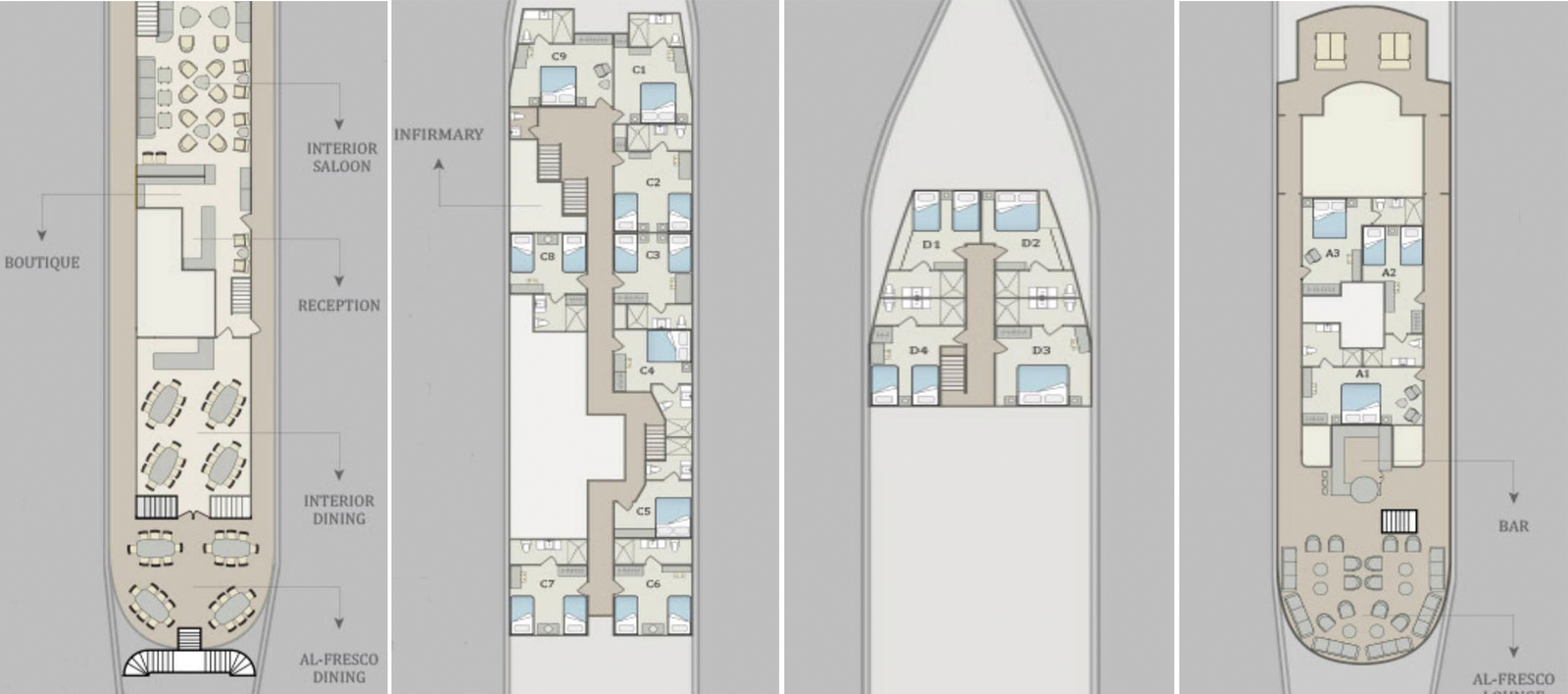 The Evolution is 58.5 meters long and 8.9 meters wide, with a steel monohull.
This Galapagos yacht carries a crew of eighteen, in addition to two naturalist guides and a cruise director.
ENSUITE BATHROOMS AND OUTDOOR SKY LOUNGE
From the rich wood paneling and brass appointments of its dinning saloon, to the rattan furnishings of its outdoor sky lounge, the 32 passenger M/V Evolution is designed to evoke warmth and richness.
It's cabins each include twice-daily cleaning and feature full ensuite bathrooms.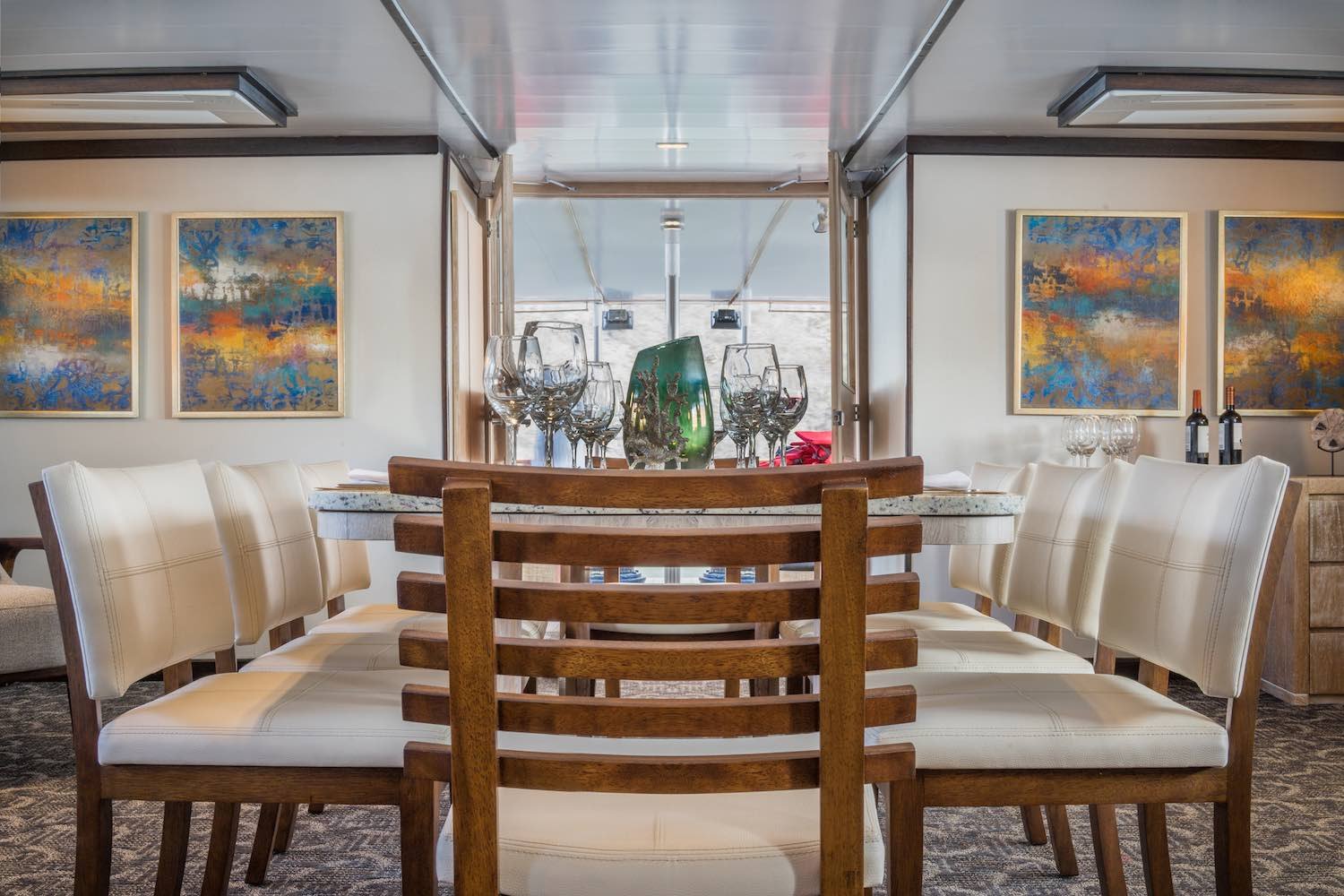 Evolution also offers many spaces where you can relax outdoors and under shade, while inside the yacht is fully air conditioned.
ONBOARD BOUTIQUE AND AL FRESCO DINING
The main saloon, where your guide will give presentations on the each day's activities, provides a relaxing environment with a giant wrap around sofa and full entertainment center.
An onboard boutique carries both necessities and souvenirs.
M/V Evolution provides fine onboard dining in both her dining room and al fresco on the rear deck.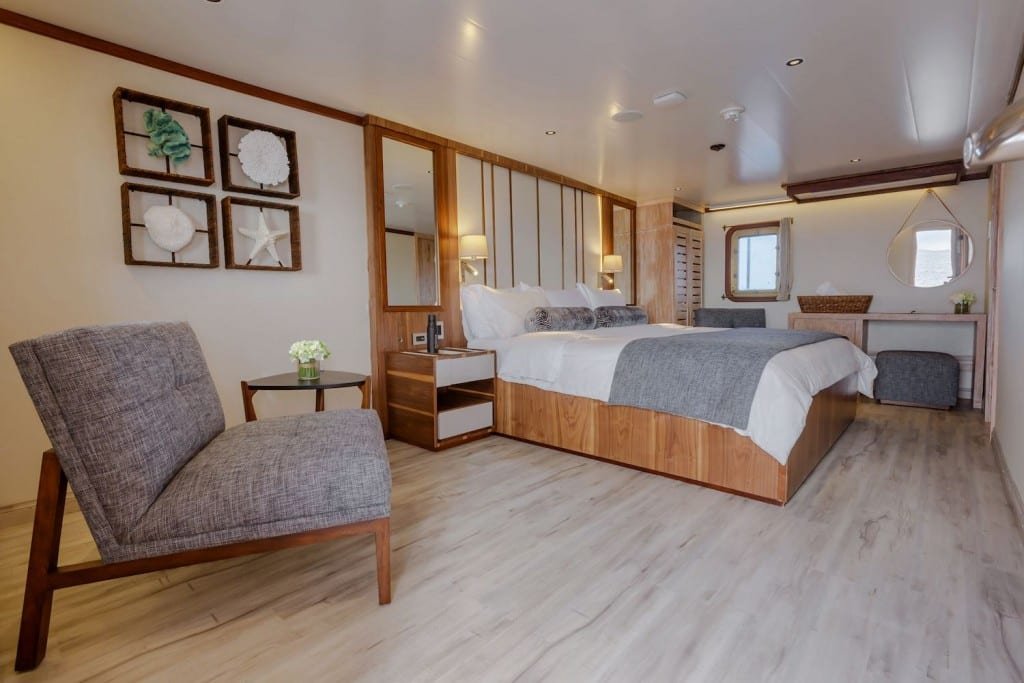 SUNSET HAPPY HOUR
At sunset, happy hour is a highlight atop the sky lounge bar, as is time spent enjoying Evolution's sundeck and giant Jacuzzi.
Other Evolution Amenities include:
Spacious Lounge with Bar and Presentation Facilities
Shaded Deck
Snorkeling Gear
Wetsuits
Sea Kayaks
Library with Board Games and Video Game Console
The bow deck features a jetted tub and lounge chairs. For families traveling with young children, the Evolution offers special activities such as stargazing and movie nights.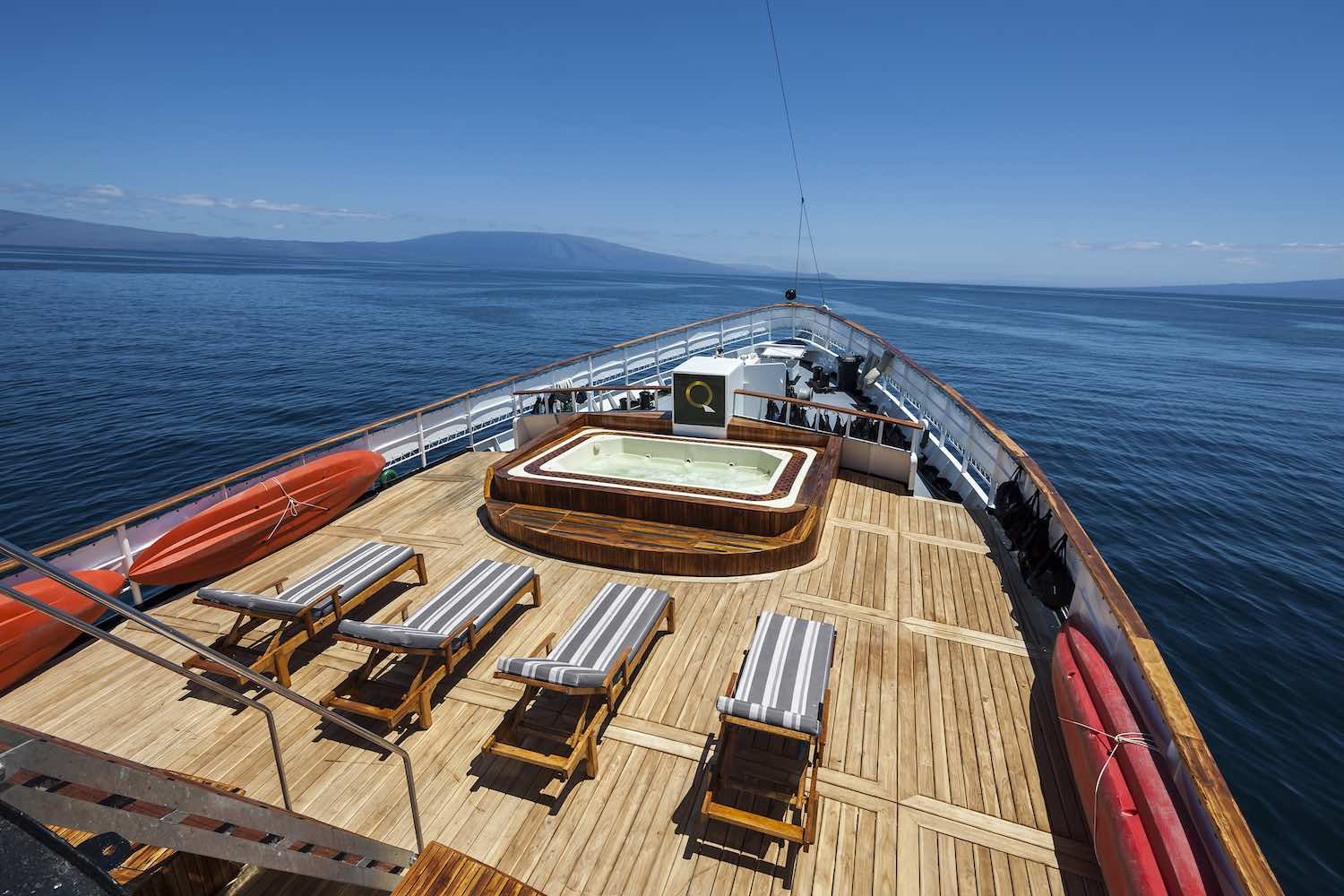 SOMETHING FOR EVERYONE
Breakfast, lunch, and dinner are served buffet style, with vegetarian and other special menus arrangeable upon request.
Children's menus are available as well.
Water, soft drinks, and juices are included in the cruise package, along with meals and twice daily hors-d'oeuvres.
OCEAN-VIEW MASTER SUITES
This vessel has capacity for 32 passengers in sixteen passenger cabins. The two master and one twin suite are located on the Albatross Deck (bridge level).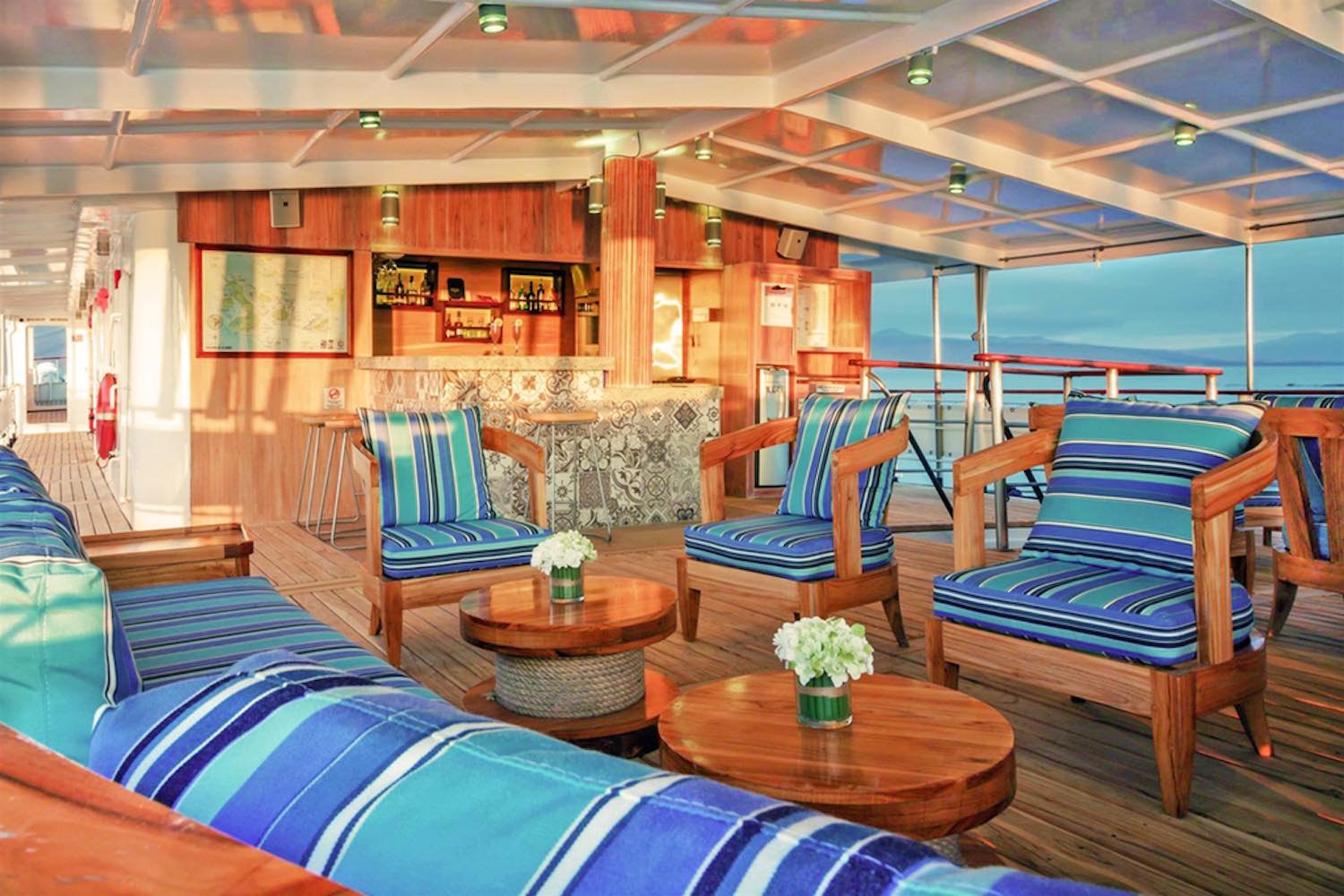 These suites feature ocean-view windows. The Cormorant Deck (main level) houses nine premium staterooms with portholes.
The four deluxe staterooms (with portholes) are located on the Darwin Deck (lower level).
INDIVIDUALLY-CONTROLLED AIR CONDITIONING
Each cabin has a private bathroom with a hairdryer, individually-controlled air conditioning, safety deposit box, and storage space.
Beds in most cabins can be either a single queen or two twins.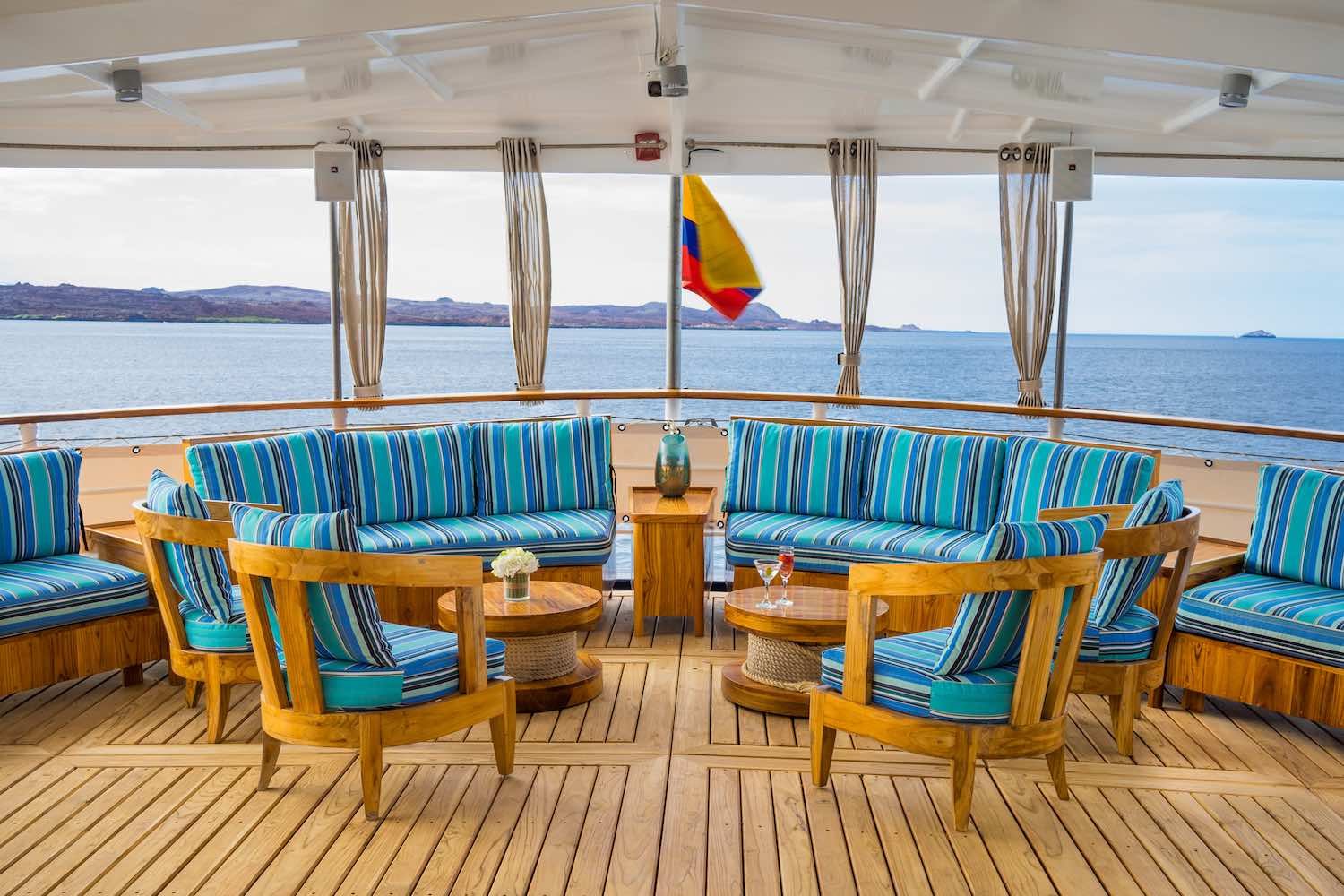 Group-basis cruises on board Evolution run from Saturday to Saturday.
It's eight-day, seven-night Galapagos itinerary usually visits the islands of San Cristobal, Hood, Santa Cruz, Bartolome, Tower, Fernandina, Isabela and North Seymour.
PRIVATE GALAPAGOS CHARTERS
The Evolution can also be chartered for private cruises, allowing guests to customize their cruise itineraries.
Cruises on the Evolution can be combined with land-based extensions and dive tours.
Looking for more information on Galapagos Yacht Charters?
Check out our free guide.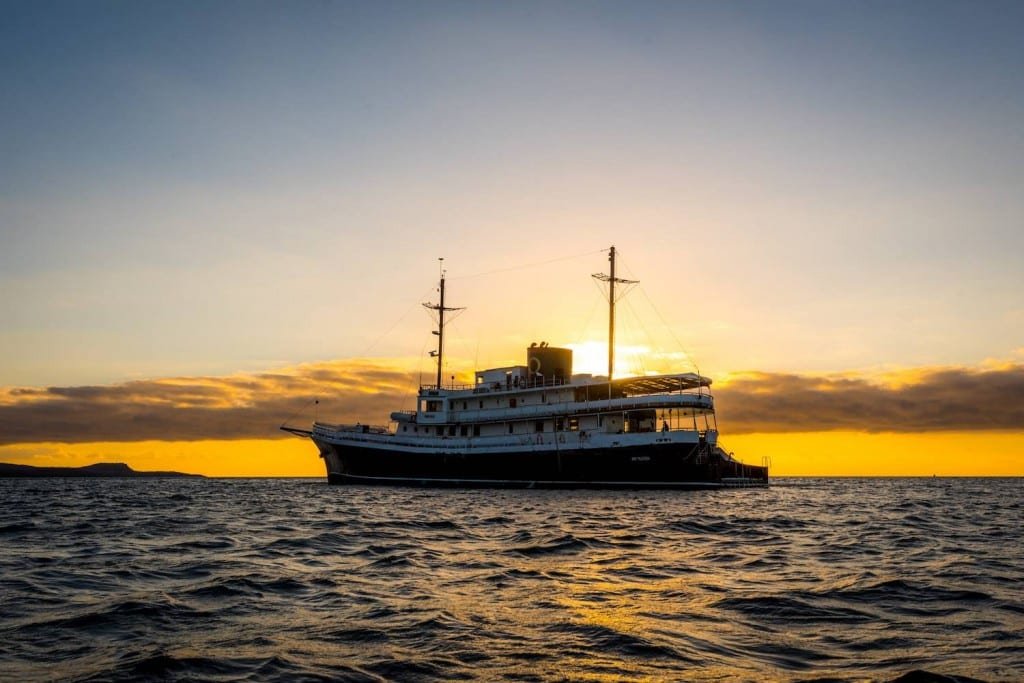 LANDED arranges cruises aboard the Evolution, as well as air travel and jet charters, land transportation, tours and accommodations in mainland Ecuador. Speak with a travel planner today at 801.582.2100. We'll take care of the details.