M/Y GRACE GALAPAGOS YACHT
Chartering a yacht in the Galapagos Islands is an unforgettable experience.
"Set along the equator, some 600 miles off the South American coast of Ecuador is a crown jewel of the natural world. The Galapagos Islands live up to our dreams of a sheltered place far removed from the usual concerns."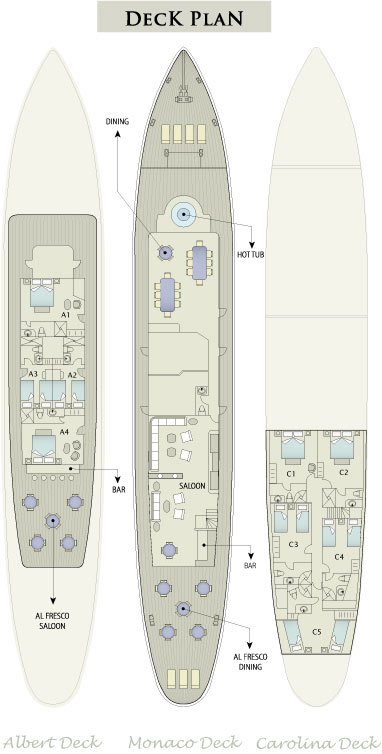 The Galapagos seas are generally calm, making travel by yacht the best way to experience the full spectrum the islands have to offer. As only a handful of Galapagos park visitor sites are accessible by day boats, those opting for yacht charter avoid spending unnecessary time getting to and from their desired destinations.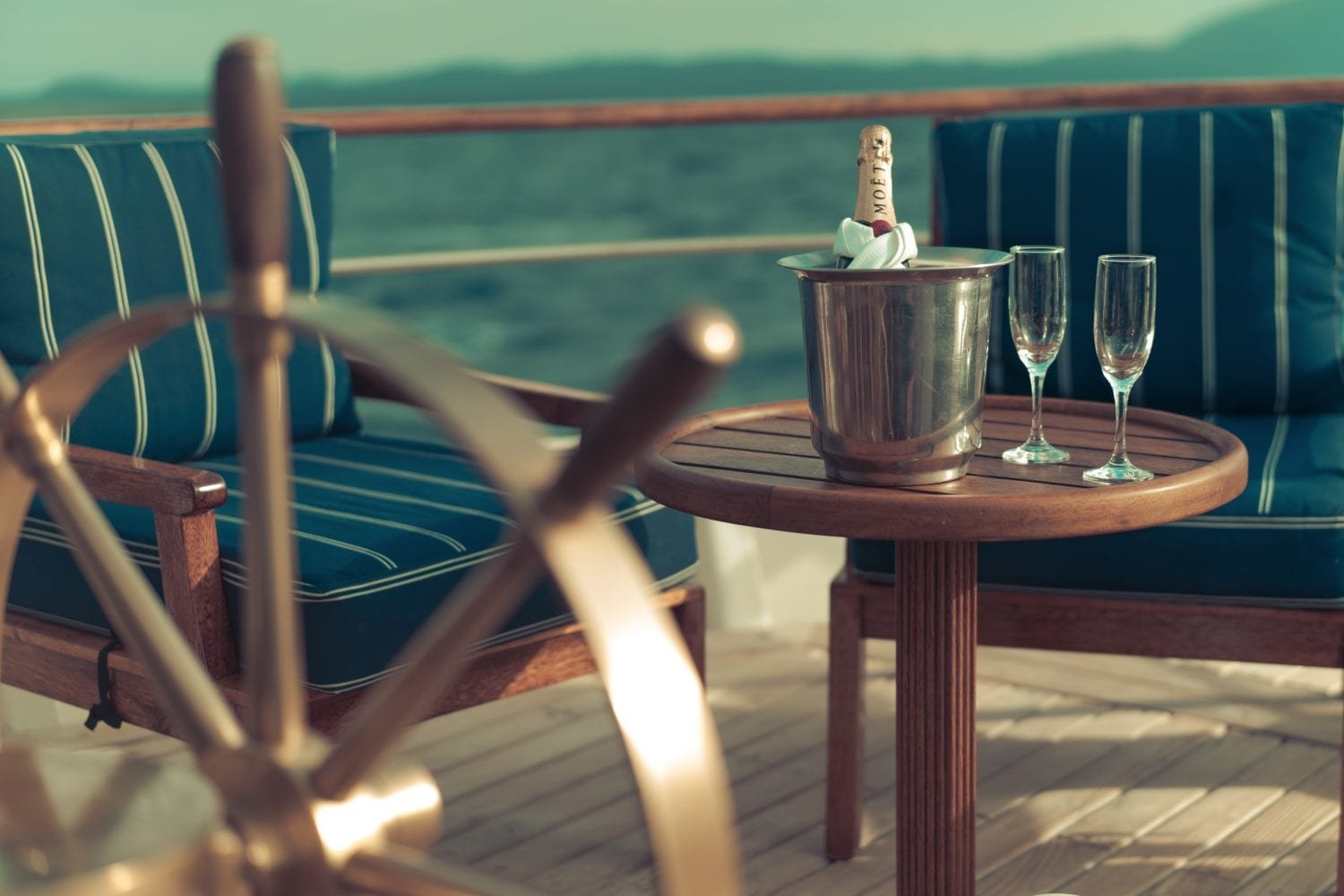 M/Y Grace is an authentic classic adventure yacht for those seeking to explore the Galapagos in true style.
Her history includes distinguished service in the British Navy during WWII and a pedigree that lays claim to ownership by tycoons, industrialists and royalty.
GRACE CABINS AND SALOONS
Her comfortable and tastefully designed cabins offer full ensuite bathrooms.
There are three levels on which to relax outdoors and under shade while inside, the yacht is fully air conditioned.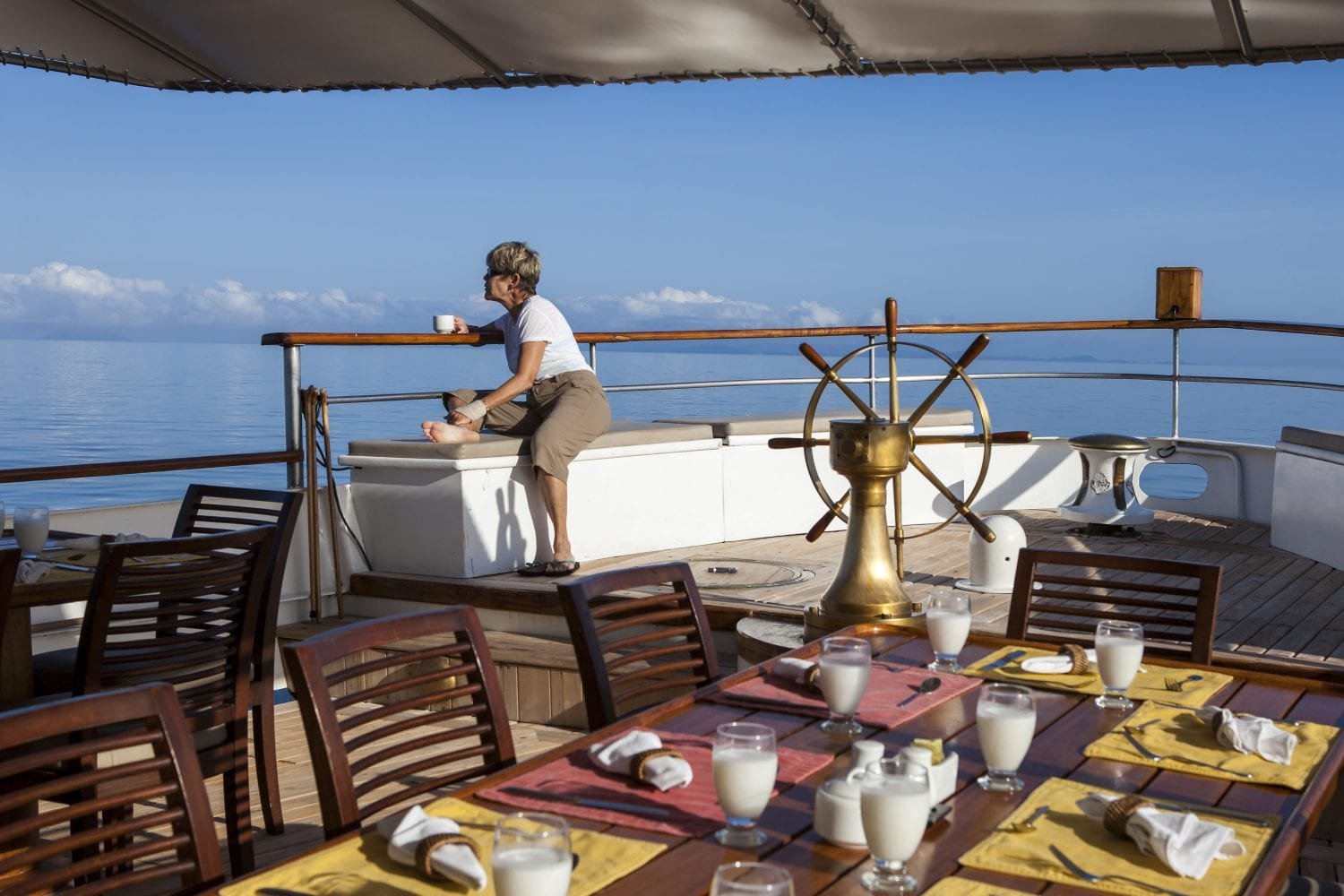 The main saloon, where your guide will give presentations on the each day's activities, provides a relaxing environment with a full entertainment center.
An onboard boutique carries both necessities and souvenirs.
FINE ONBOARD DINING AND SUNSET HAPPY HOURS
M/Y Grace provides fine onboard dining in both her dining room and al fresco on the rear deck.
At sunset, happy hour is a highlight atop the sky lounge bar and is often accompanied by leaping dolphins and rays.
Did we mention the yacht's sundeck and sizable Jacuzzi to warm up in after snorkeling?
M/Y GRACE HISTORY AND SPECIFICATIONS
Built by Camper & Nicholson in the 1920s, the Grace is still one the most elegant yachts in all of the Galapagos.
Its named after its late owner, Princess Grace of Monaco, who received it as a wedding gift from Aristotle Onassis in 1953.
Before sailing to the Galapagos, the Grace was completely renovated and retrofitted between 2007 and 2009.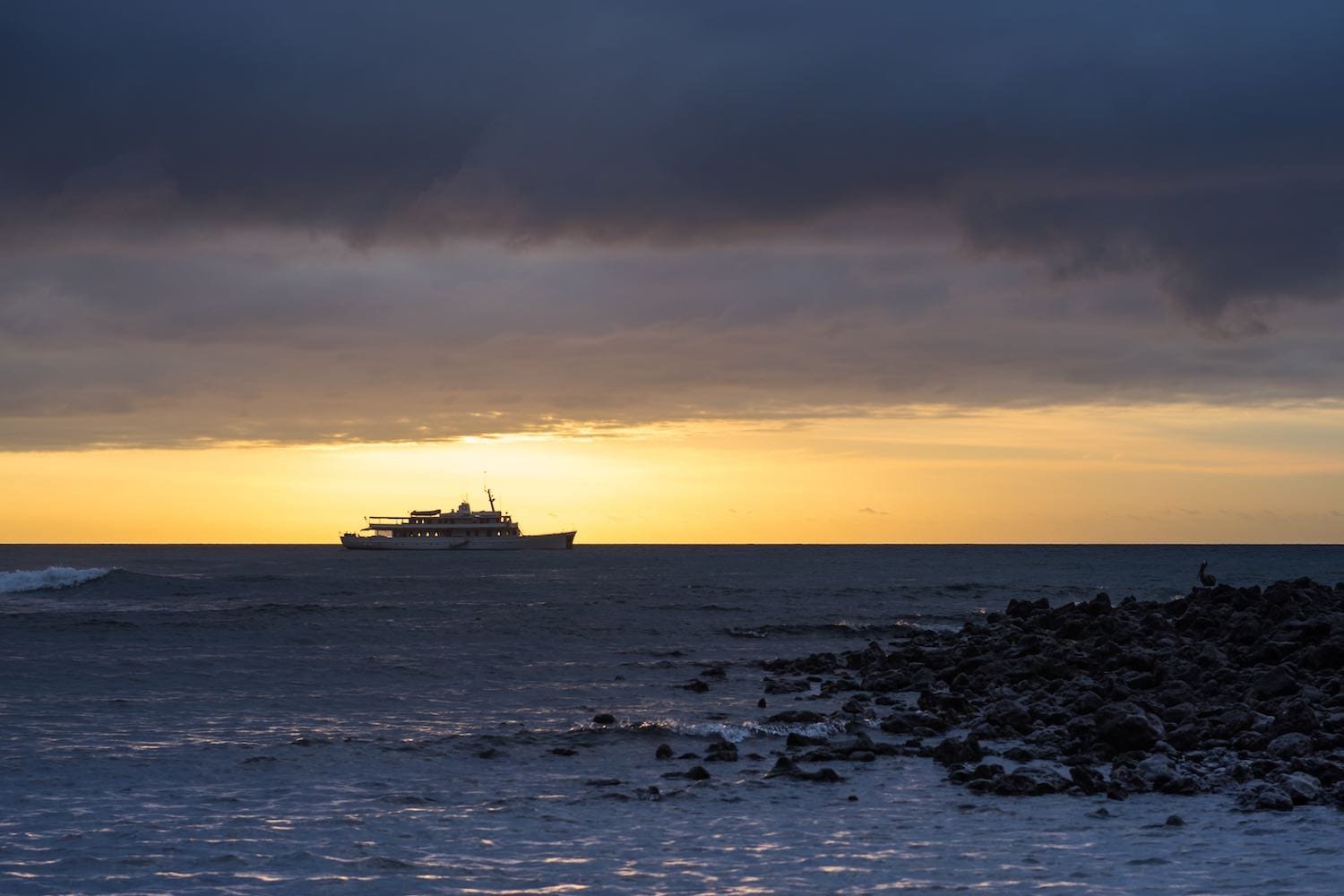 M/Y Grace is 145 feet long, with a beam of 22 feet.
Cruising speed is twelve knots.
GRACE ONBOARD AMENITIES AND GALAPAGOS ACTIVITIES
Onboard amenities include a jetted-tub, sun deck, bar, indoor and al fresco dining areas, library, sea kayaks, snorkeling gear, and wetsuits.
The Grace carries an expert twelve-member crew, including one bilingual naturalist guide for every nine guests on a full yacht.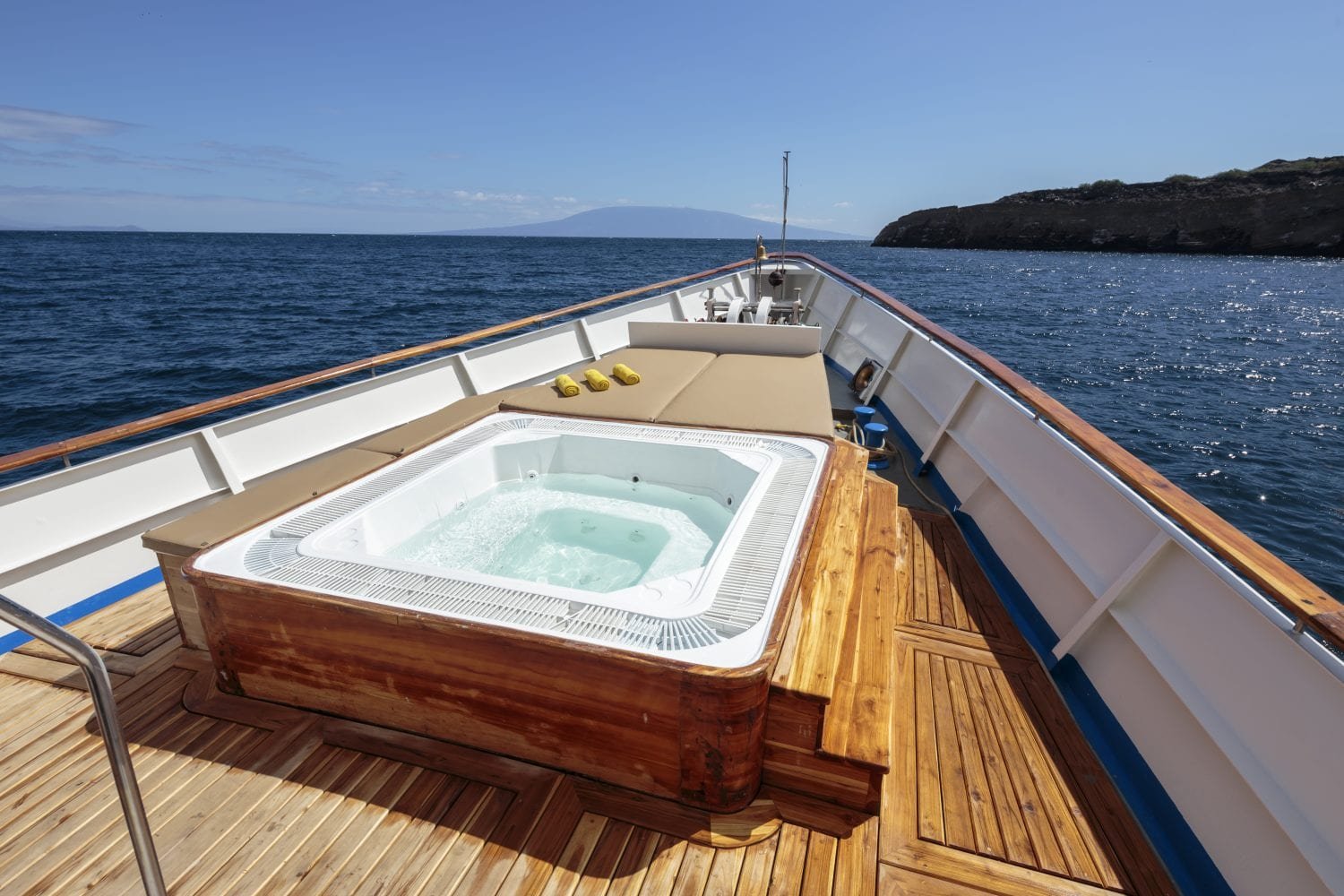 In addition to the island and snorkeling tours included in the cruise package, Grace passengers can enjoy optional scuba diving tours on the day the yacht reaches Puerto Ayora.
Onboard amenities include a jetted-tub, sun deck, bar, indoor and al fresco dining areas, library, sea kayaks, snorkeling gear, and wetsuits.
FIVE PREMIUM STATEROOMS & TWO MASTER SUITES
With nine cabins in total (two master suites, two twin suites, and five premium staterooms), this vessel has capacity for eighteen passengers.
Each cabin features private bathrooms, hairdryers, individual climate controls, safety deposit boxes, and ample storage.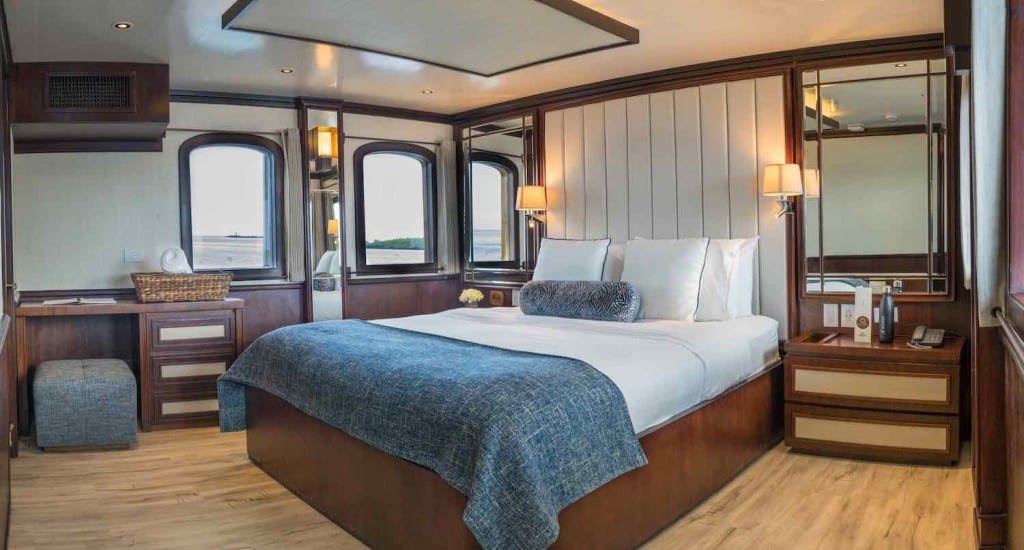 Group-basis cruises depart each Saturday for eight days and seven nights.
Those interested in viewing a detailed Grace itinerary can find one here.
The Grace can also be chartered for private cruises, allowing guests to customize their cruise itineraries.
Cruises on the Grace can also be combined with land-based extensions.
More information on Galapagos Yacht Charters can be found in our free guide.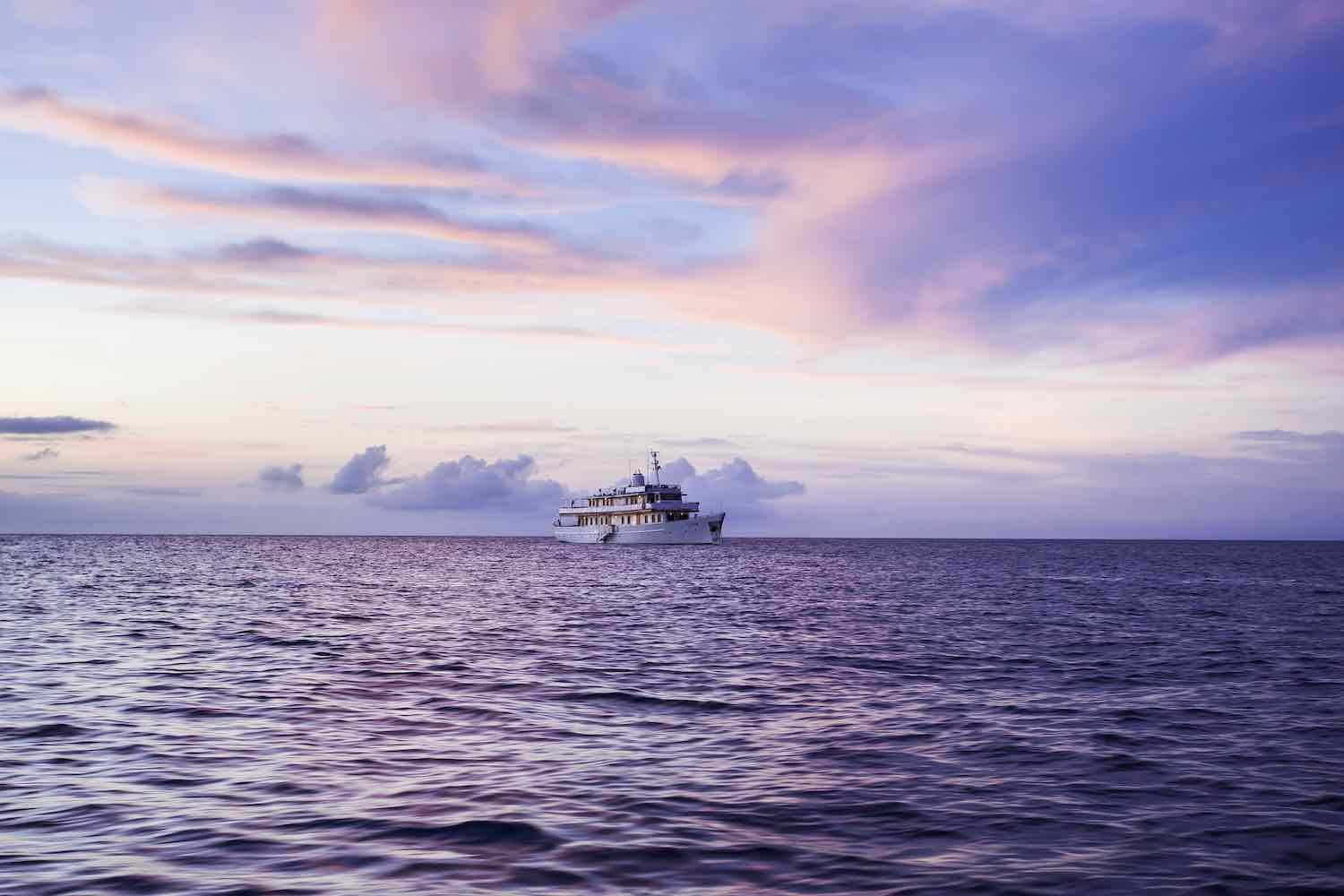 LANDED arranges cruises aboard the Grace, as well as air travel, land transportation, tours and accommodations in mainland Ecuador. Speak with a travel planner today at 801.582.2100. We'll take care of the details.