Pacuare Lodge rests on a lush hillside overlooking the Pacuare River, within 25,000 acres of pristine rainforest.
Pacuare Lodge is an eco-retreat; solar systems heat the lodge's water and generate its electricity. Electrical outlets are available only at reception. Electric lighting is limited to a few hours before sunrise and after sunset, allowing you to see the stars clearly. Wi-Fi is tenuous, and available only at reception.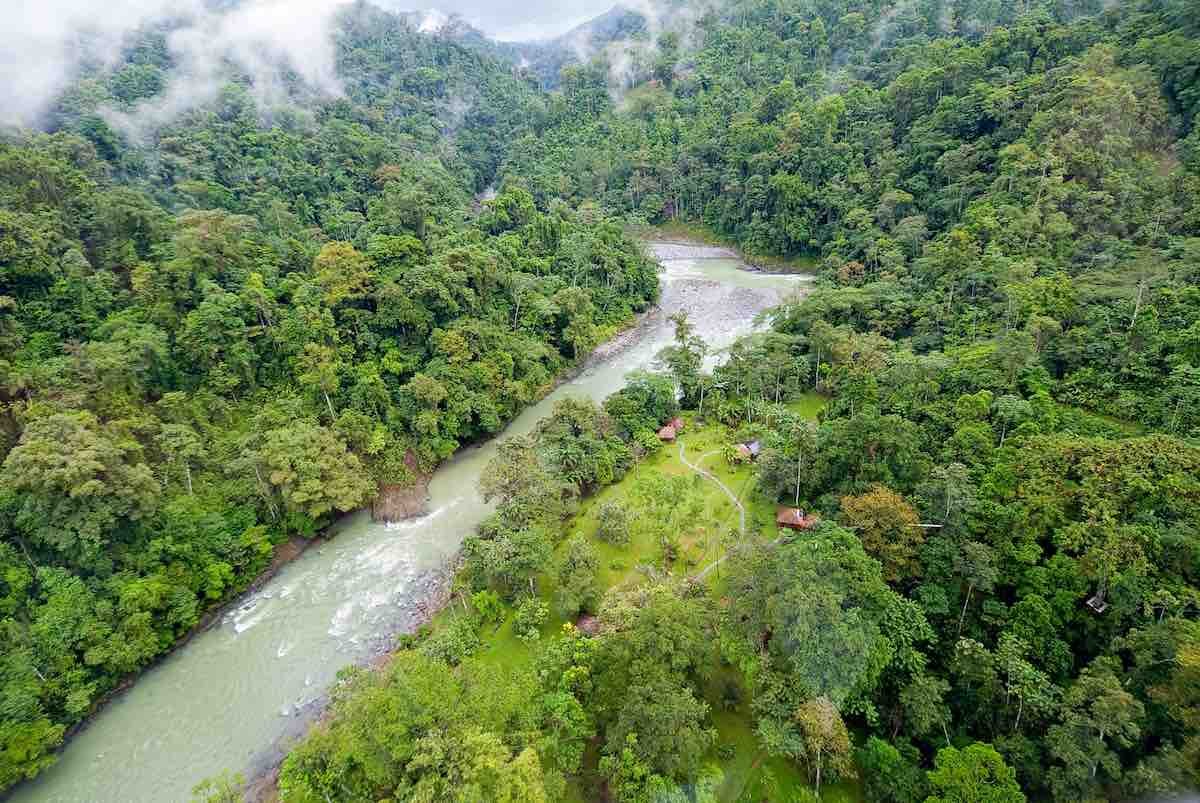 Getting here is an adventure; most guests arrive by raft, guided by expert pilots along the river's Class III rapids. Because arrival and departure each take most of a day, a 2-night minimum is recommended.  Most of our clients choose stay 2 to 3 nights.
The minimum age for rafting is 12-years-old and minimum age for guests arriving by road is 7-years-old.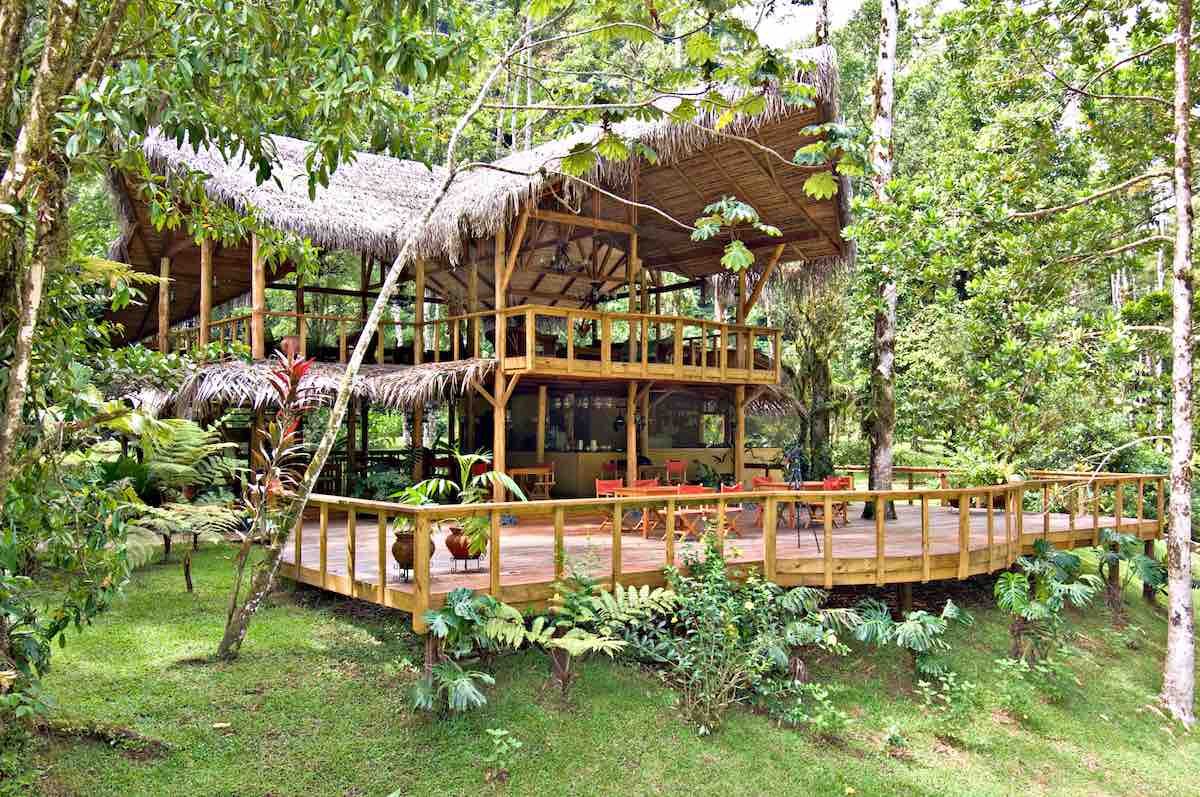 The Nairi Awari Restaurant serves candle-lit meals emphasizing organic, locally-grown ingredients.
Among the lodge's other amenities are a bar, massage rooms, gardens, and wildlife observation decks.
On-site adventure options range from kayak excursions and horseback rides to zip-line tours and rappelling. White water rafting is, of course, also a highlight.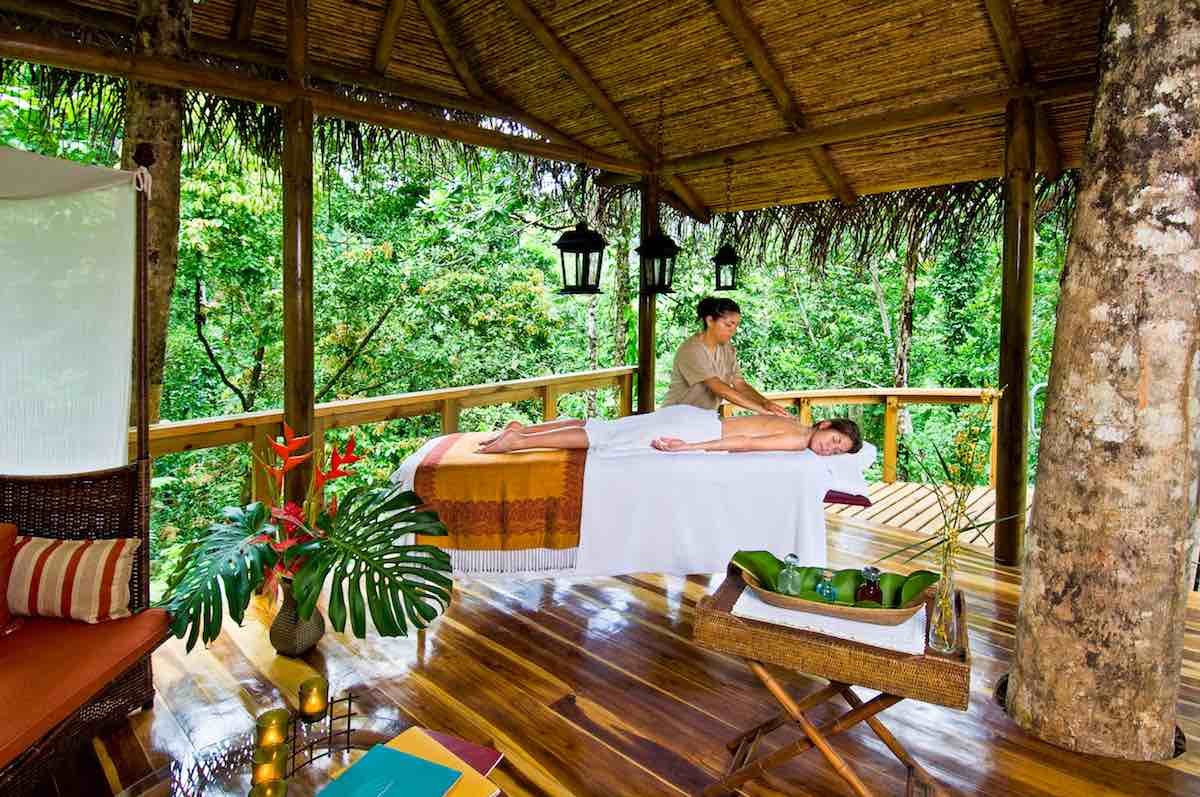 Accommodations
The 20 bungalow-style suites and private villas feature open-air floorplans, vaulted cane ceilings, natural wood, window screens, and bed-canopy netting.
Some upper category accommodations add plunge pools, outdoor showers, and living rooms.
Although staying at Pacuare is no hardship, you'll need to adapt your expectations to the environment; you can post those photos to Instagram when you emerge from the forest, and the few days of disconnection will do you good.
Guestrooms do not have in-room power outlets, electric lights, or air conditioning.
---
Jaguar Suite 
The most luxurious suite at Pacuare Lodge is the 3,767-square-foot Jaguar Suite. The room is equipped with a spring-fed pool, outdoor showers, bathrooms, and large terrace.
---
Linda Vista Villas 
This 2,500-square-foot villa features a master bedroom with sitting area, private terrace, living room with daybeds, private pool, and bathroom overlooking the jungle.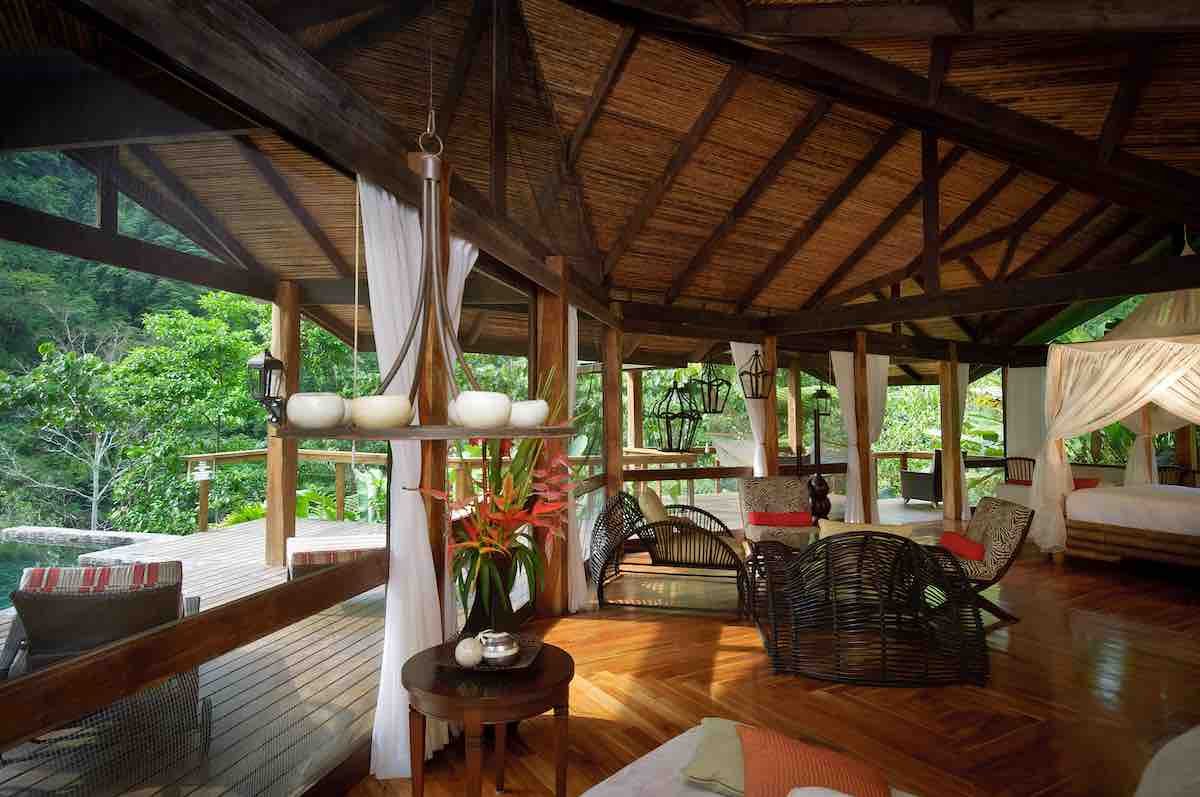 ---
Canopy Villa 
These canopy villas suspended in the rainforest feature a high roof, teak floors, and 180-degree rainforest view. It is furnished with a king-size canopy bed, deck with hammocks, sundeck, swimming pool and indoor and outdoor showers.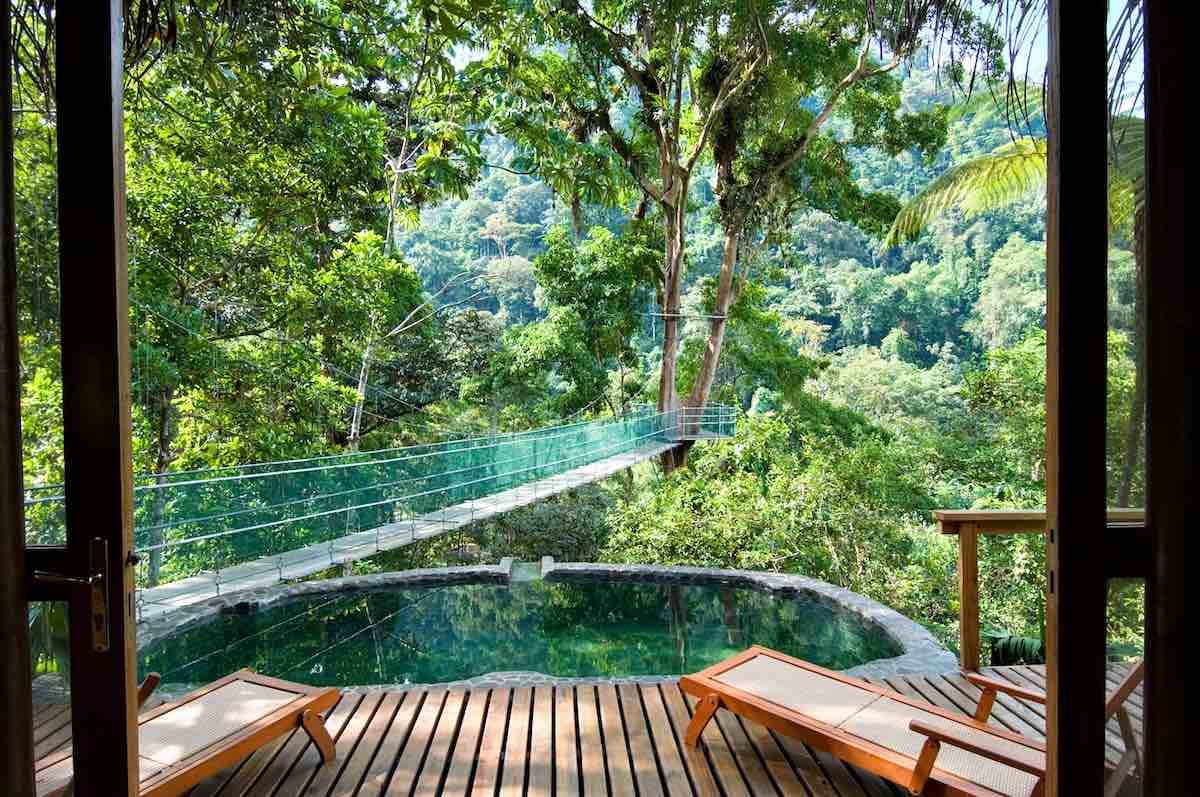 ---
River View Suites 
These 980-square-foot suites feature a private terrace that opens to views of the Pacuare River. The suite features a king-size canopy bed, hardwood floor, bathroom and open-air heated shower.
---
Garden Suites 
The 670-square-foot garden suites feature a private terrace, king-size canopy bed, and rainforest views.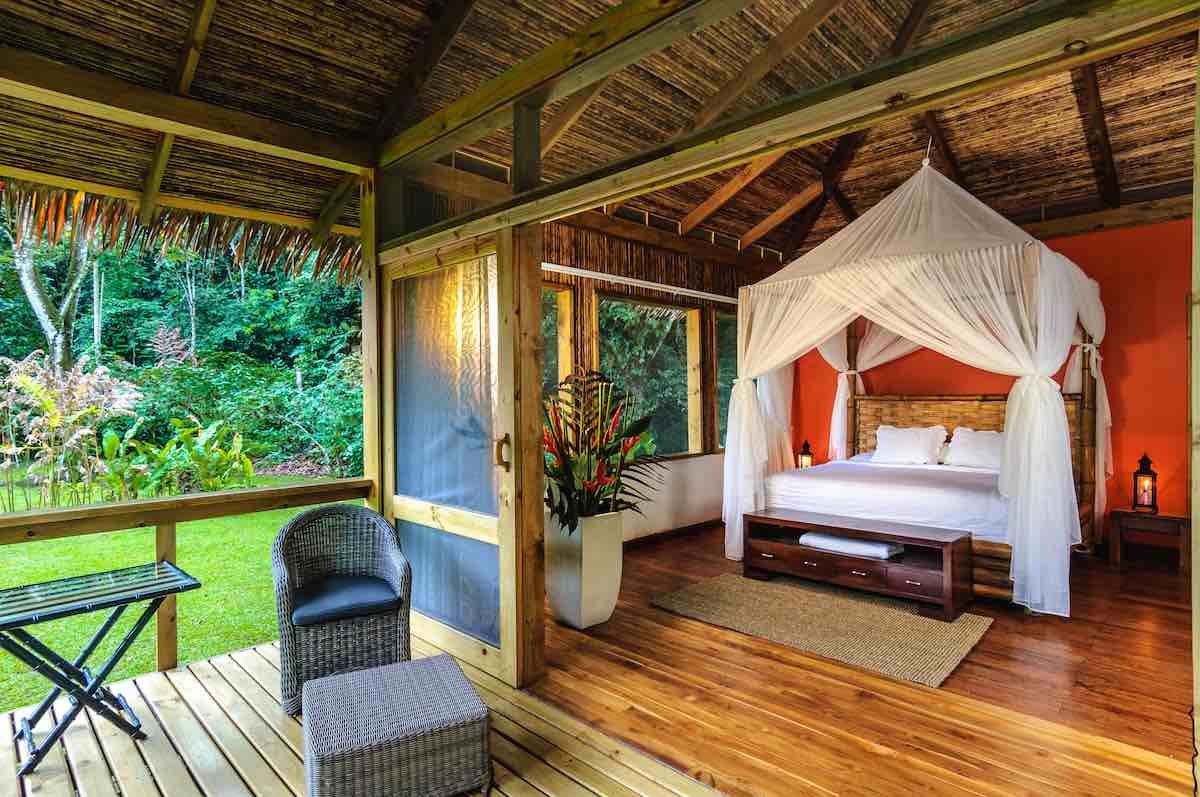 ARE YOU CONSIDERING A STAY AT PACUARE LODGE? LANDED PROVIDES PERSONALIZED, CUSTOM TRAVEL WITHIN CENTRAL AMERICA, SOUTH AMERICA, AND THE ANTARCTIC. WE'LL CREATE A UNIQUE ITINERARY PLAN TAILORED TO YOUR INTERESTS AND DREAMS. EXPERIENCE THE TRIP OF A LIFETIME. SPEAK WITH ONE OF OUR EXPERT TRAVEL PLANNERS TODAY AT 801.582.2100.