Pacuare Lodge rests on a lush hillside overlooking the Pacuare River, within 25,000 acres of pristine rainforest.
Pacuare Lodge is an eco-retreat; 120 solar panels and two hydroelectrical turbines heat the lodge's water and generate its electricity. Wi-Fi is available in the suites, reception area, and restaurant. Please consider that due to the remote location, the internet connection might be unstable at times. As a sustainable lodge, energy consumption is always a consideration. Due to their high-energy requirements, hair dryers and flat irons are not permitted and the property does not have air-conditioned rooms.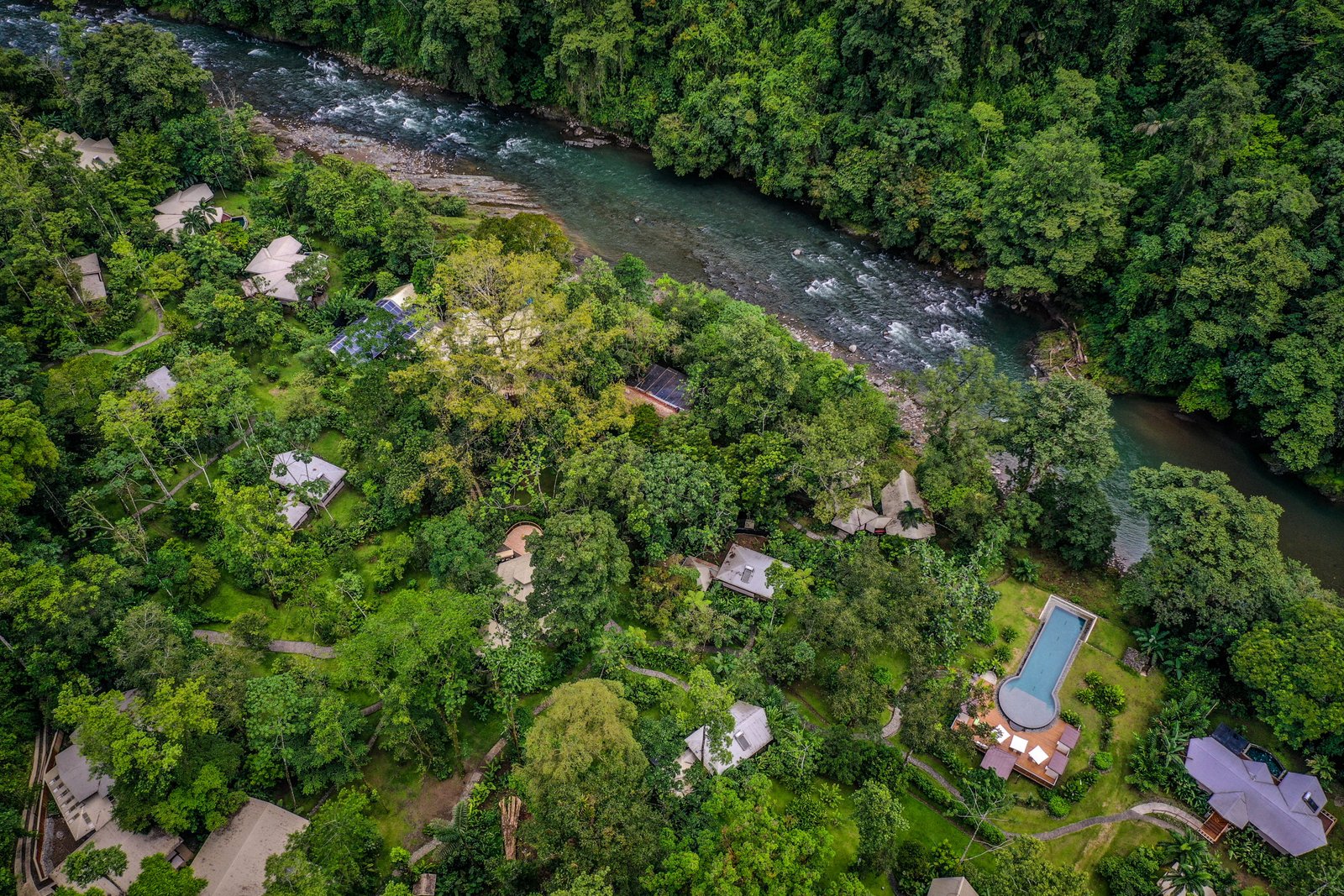 HOW TO GET THERE?
Getting here is an adventure; most guests arrive by raft, guided by expert pilots along the river's Class III rapids. Because arrival and departure each take most of a day, a 2-night minimum is recommended.  Most of our travelers choose to stay 2 to 3 nights.
There are no roads to Pacuare Lodge, so most guests use the river. The drive from San Jose to the put-in of the Pacuare River is approximately three hours, including a stop for breakfast along the way. Once in the river, you'll row an hour or two – depending on river conditions – to Pacuare Lodge.
If you're not comfortable rafting into the lodge, don't worry. You can get there by land, too. From Turrialba, a two-and-a-half-hour trip will take you to Santa Marta, where you board a four-wheel-drive vehicle for the remaining six-kilometer gravel road journey to the banks of the Pacuare River. Once in the river, leave the four-wheel-drive vehicle and cross the river on a hanging gondola that will carry you above the river from riverbank to riverbank. At the other side an electric car will be waiting for you to take you to the hotel´s lobby where a welcome cocktail awaits your arrival.
LANDED can arrange helicopter transfers as well. Helicopters can either land at Pacuare's private heli-pad or, for those guests that don't want to miss the arrival by raft, in Santa Marta to put-in the Pacuare River.
The minimum age for rafting is 12-years-old and the minimum age for guests arriving by road is 7-years-old.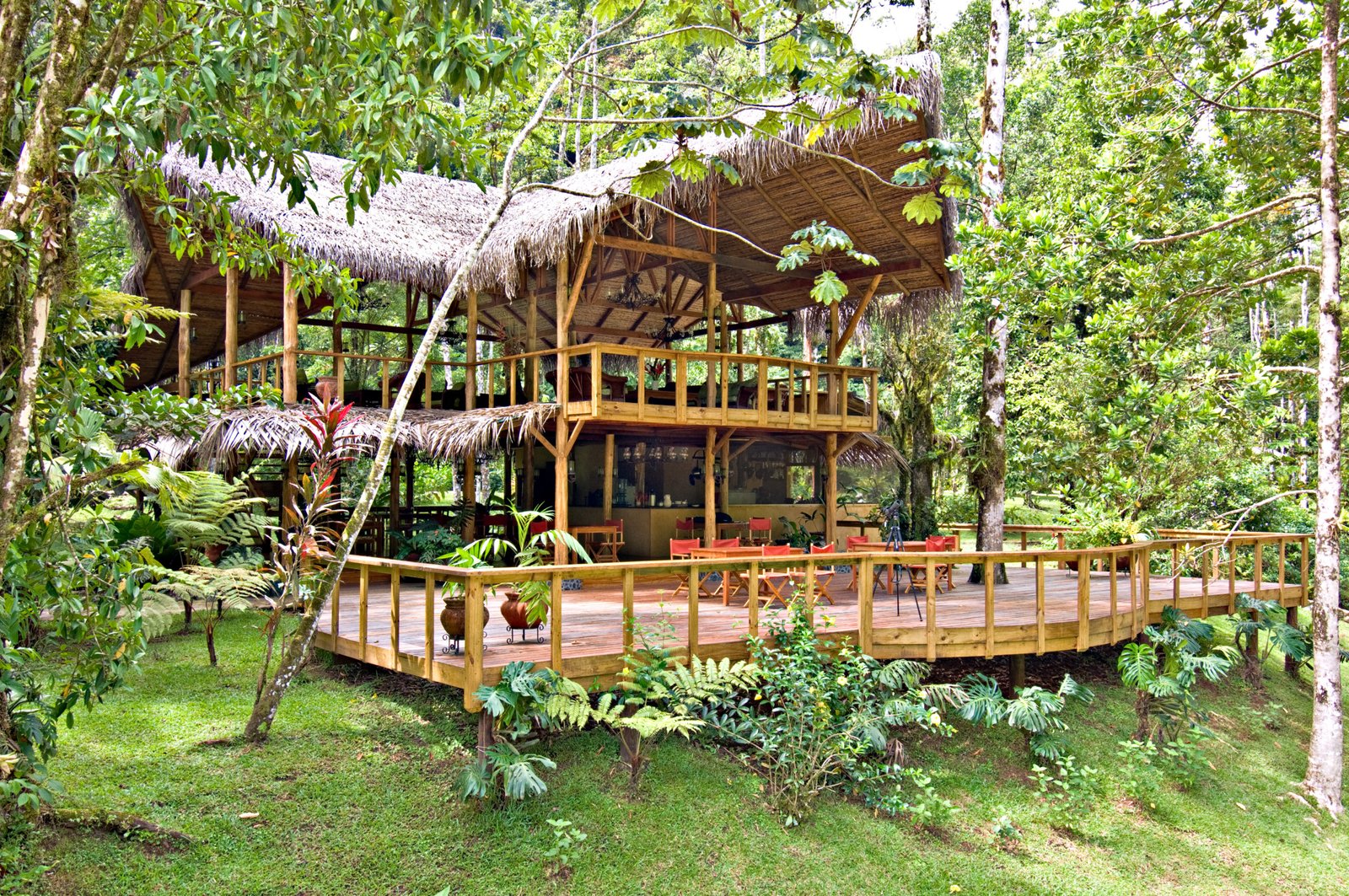 AMENITIES
The Nairi Awari Restaurant serves candle-lit meals emphasizing organic, locally-grown ingredients.
Among the lodge's other amenities are a bar, massage rooms, gardens, and wildlife observation decks.
On-site adventure options range from kayak excursions and horseback rides to zip-line tours and rappelling. White water rafting is, of course, also a highlight.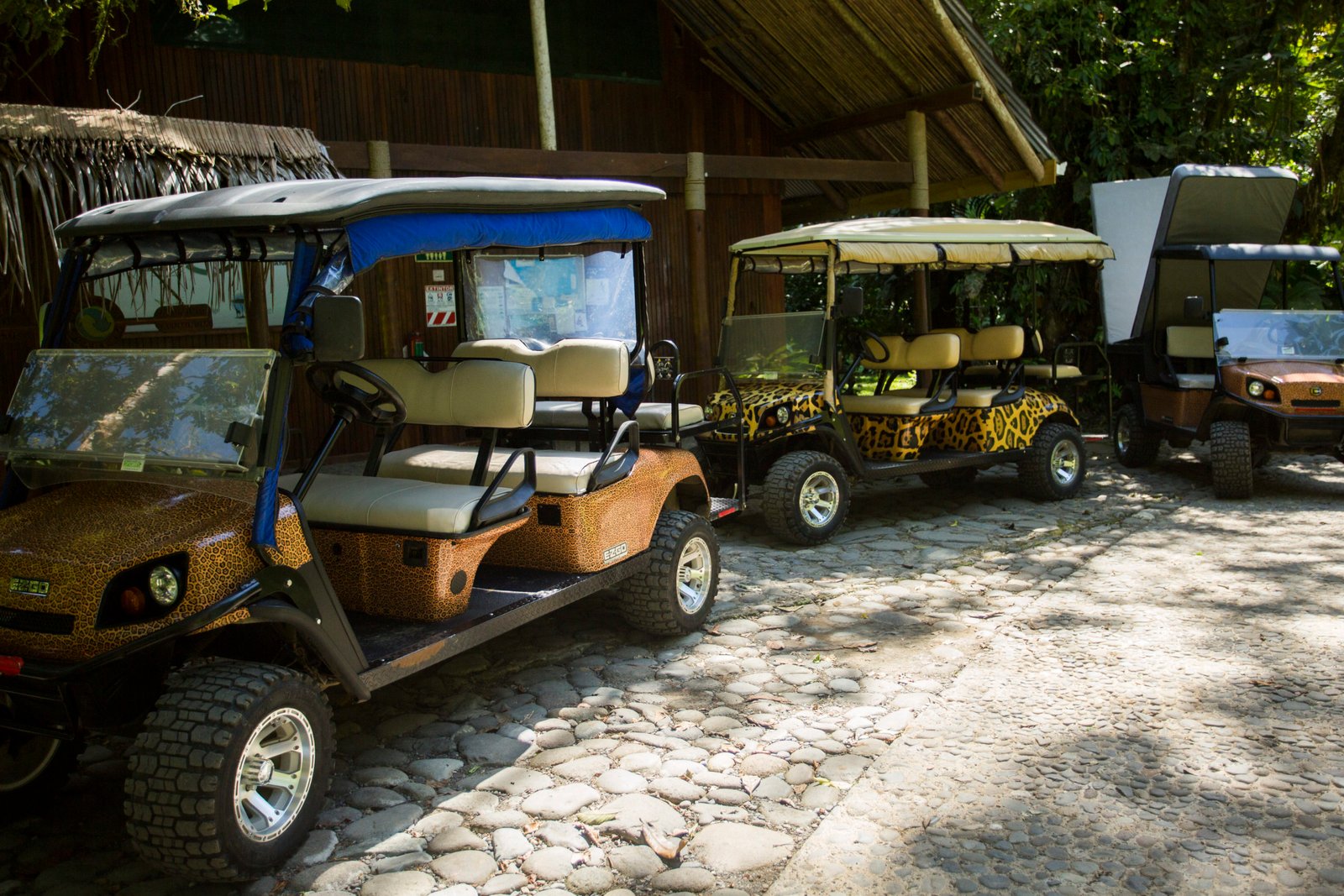 ACCOMMODATIONS
The 20 bungalow-style suites and private villas feature open-air floorplans, vaulted cane ceilings, natural wood, window screens, and bed-canopy netting.
Some upper-category accommodations add plunge pools, outdoor showers, and living rooms.
Although staying at Pacuare is no hardship, you'll need to adapt your expectations to the environment; you can post those photos to Instagram when you emerge from the forest, and the few days of disconnection will do you good.
Guestrooms do not have in-room power outlets, electric lights, or air conditioning.
---
Jaguar Villa
The most luxurious suite at Pacuare Lodge is the 3,767-square-foot Jaguar Suite. The room is equipped with a spring-fed pool, outdoor showers, bathrooms, and a large terrace.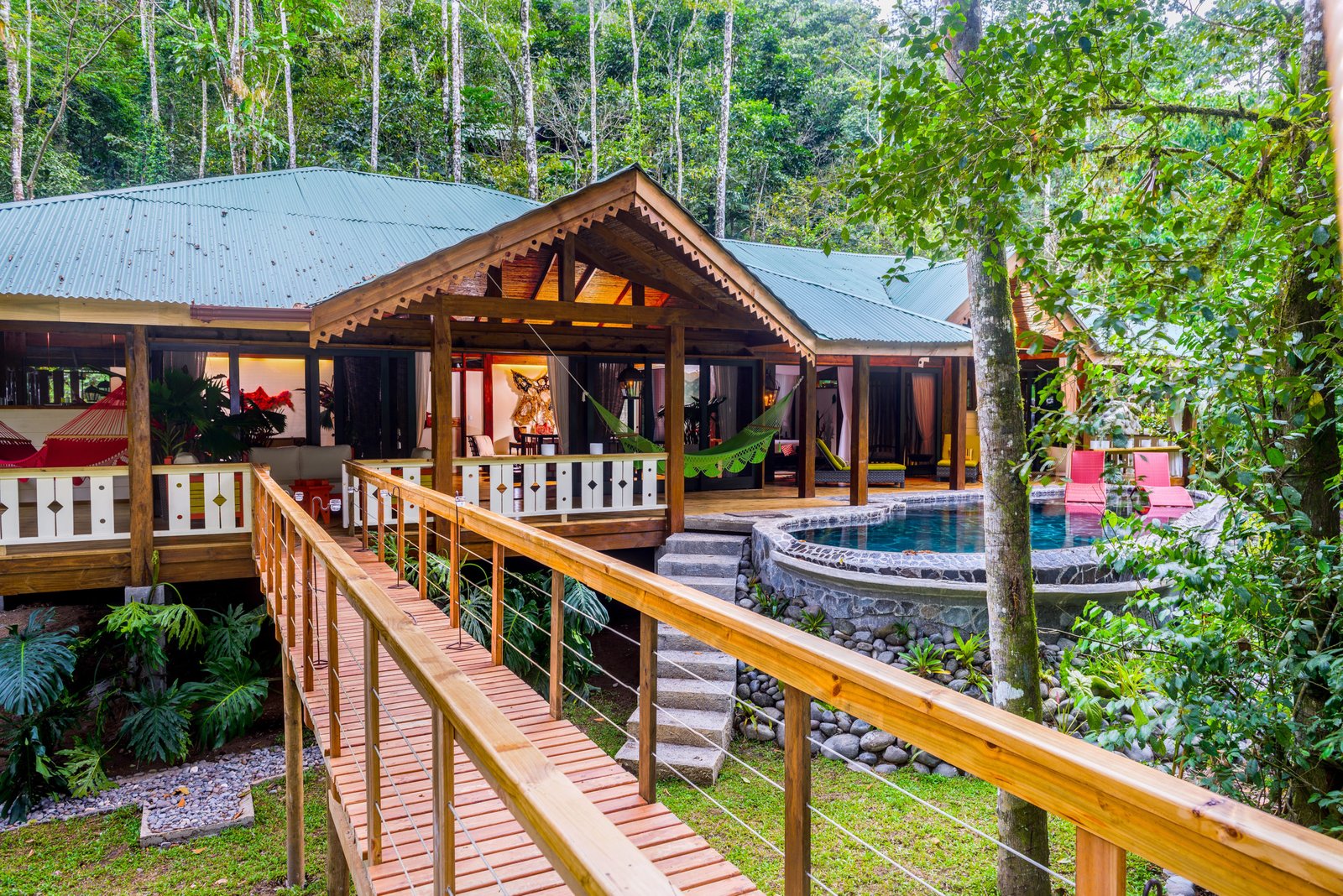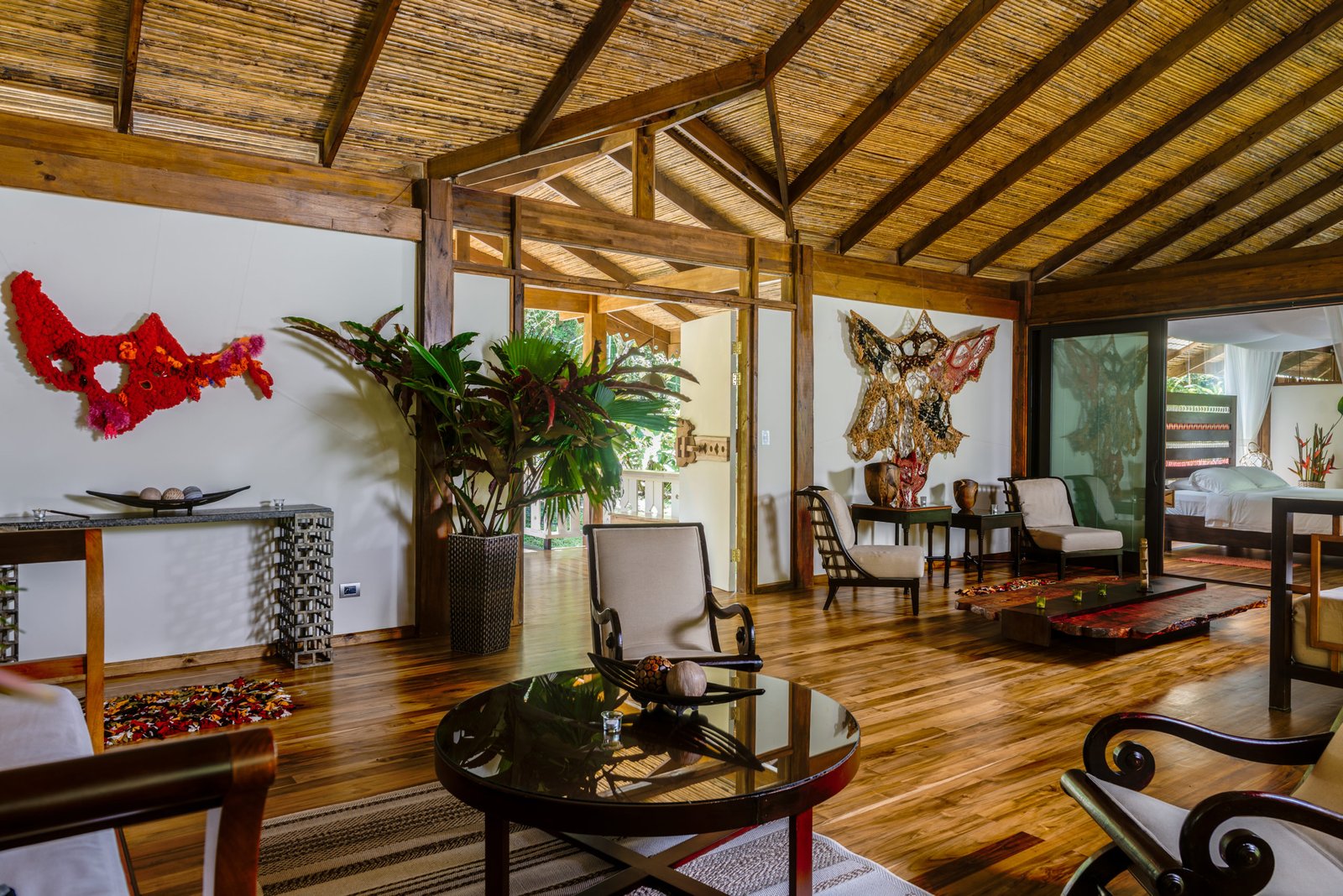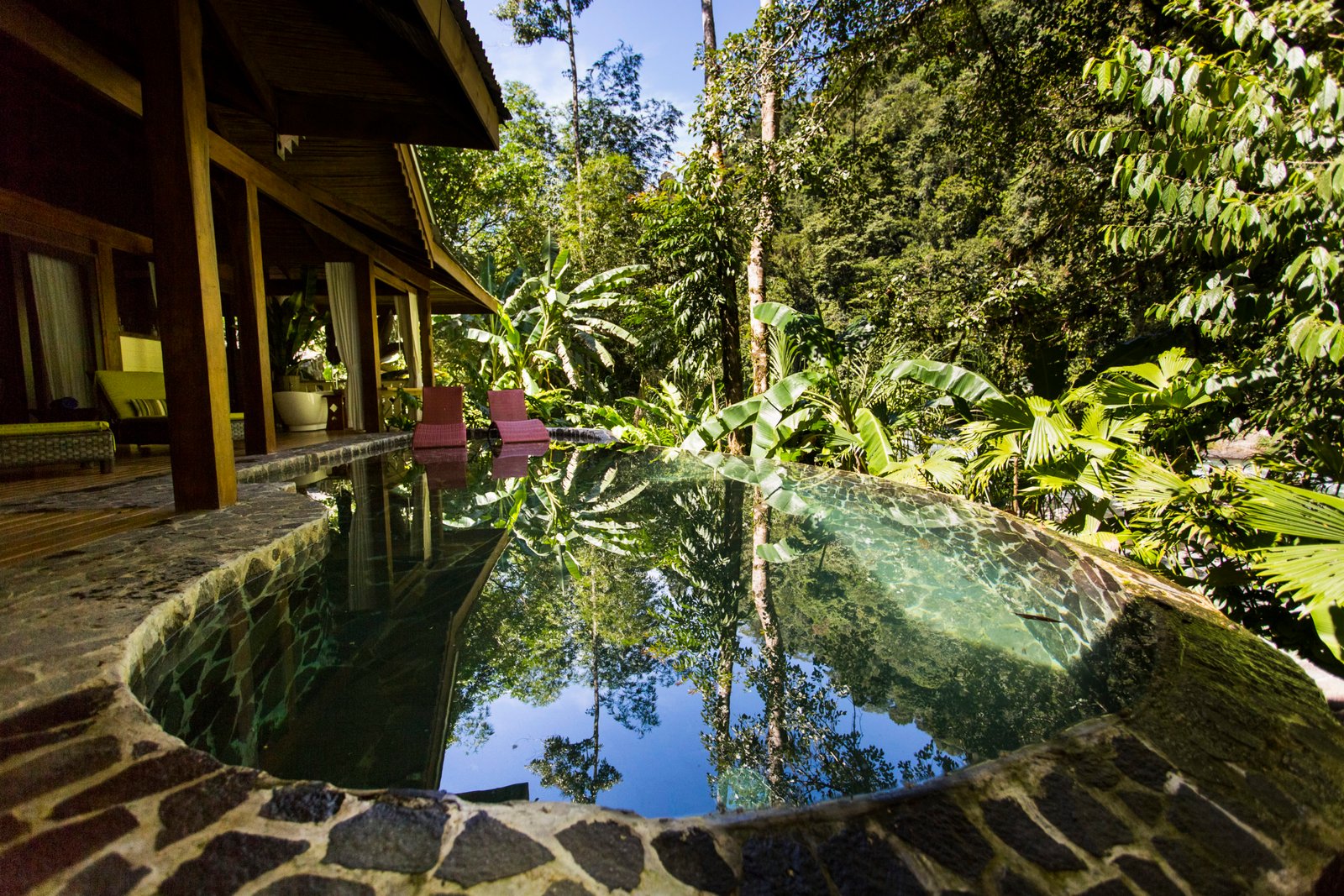 ---
Linda Vista Villas 
This 2,500-square-foot villa features a master bedroom with sitting area, private terrace, living room with daybeds, private pool, and bathroom overlooking the jungle.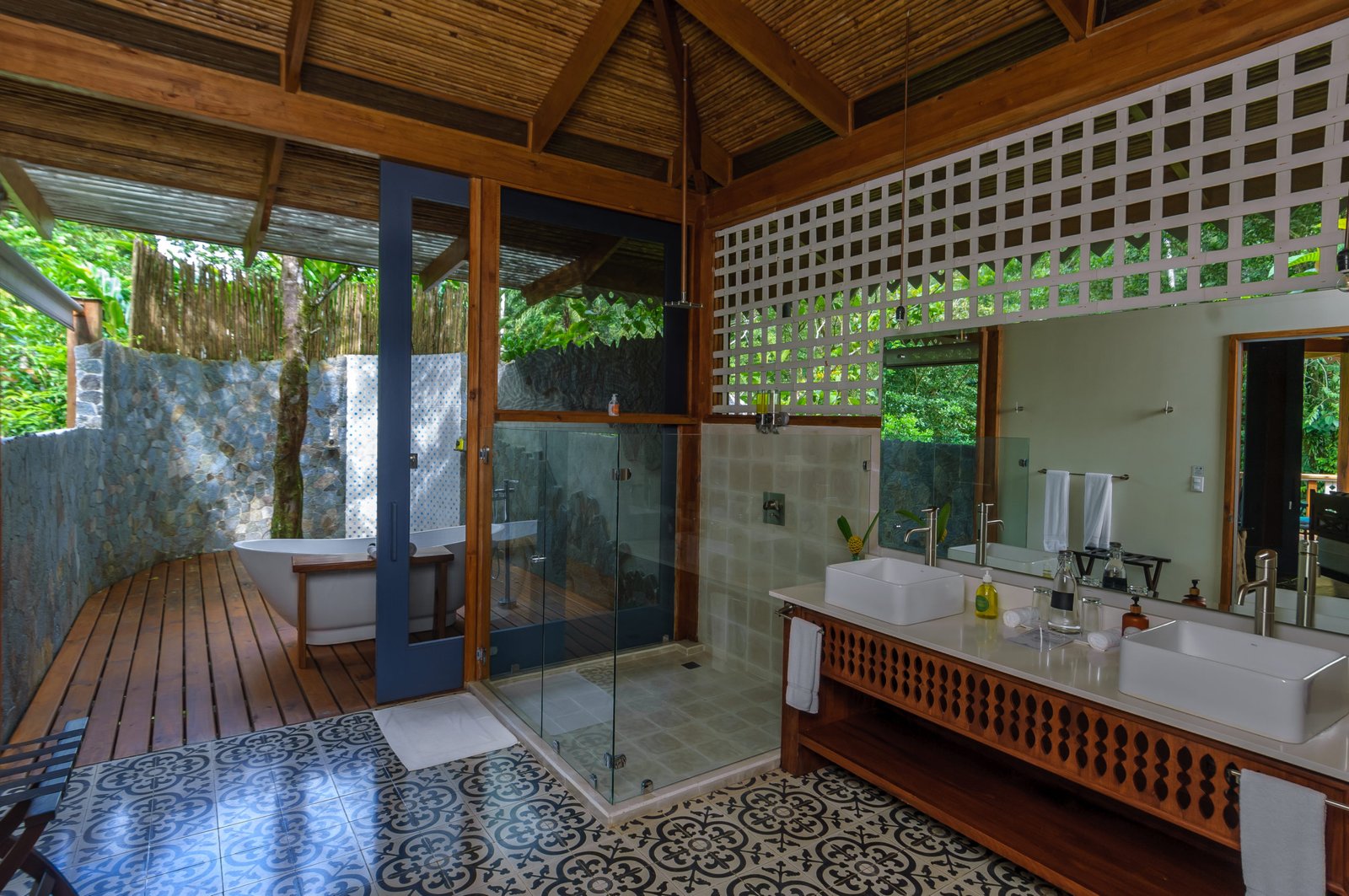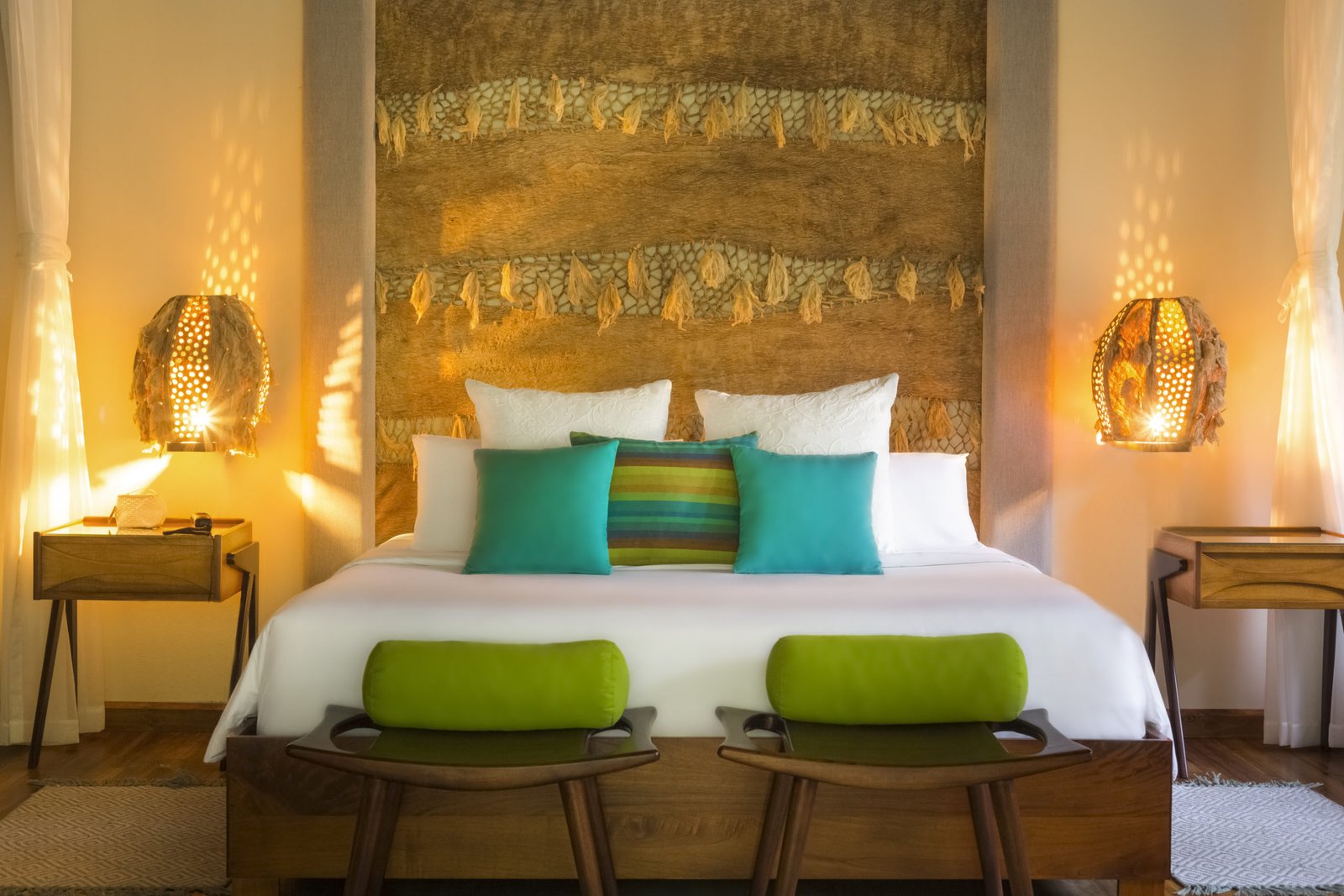 ---
Canopy Villa 
These canopy villas suspended in the rainforest feature a high roof, teak floors, and 180-degree rainforest view. It is furnished with a king-size canopy bed, deck with hammocks, sundeck, swimming pool and indoor and outdoor showers.

---
River View Suites 
These 980-square-foot suites feature a private terrace that opens to views of the Pacuare River. The suite features a king-size canopy bed, hardwood floor, bathroom, and open-air heated shower.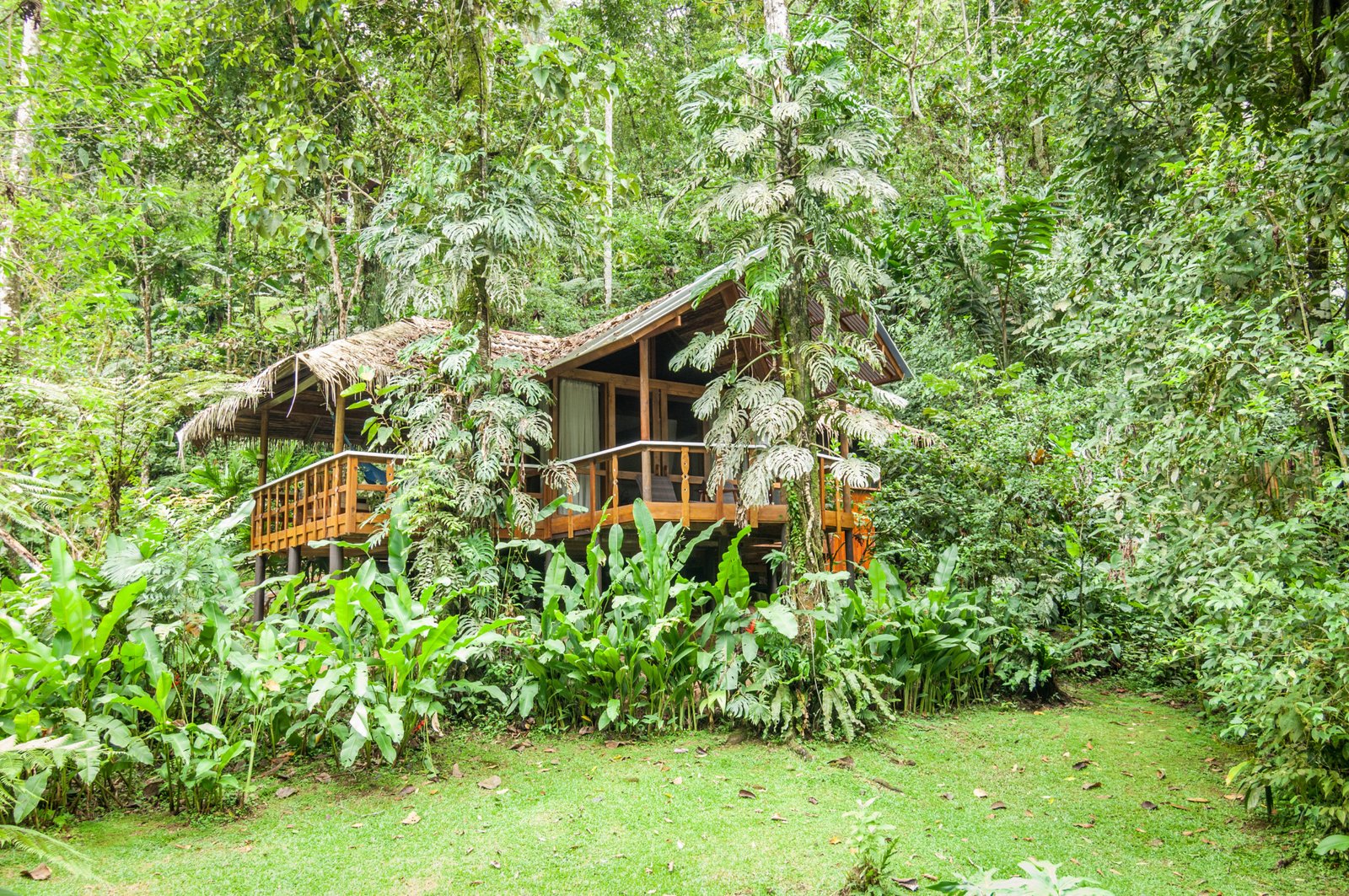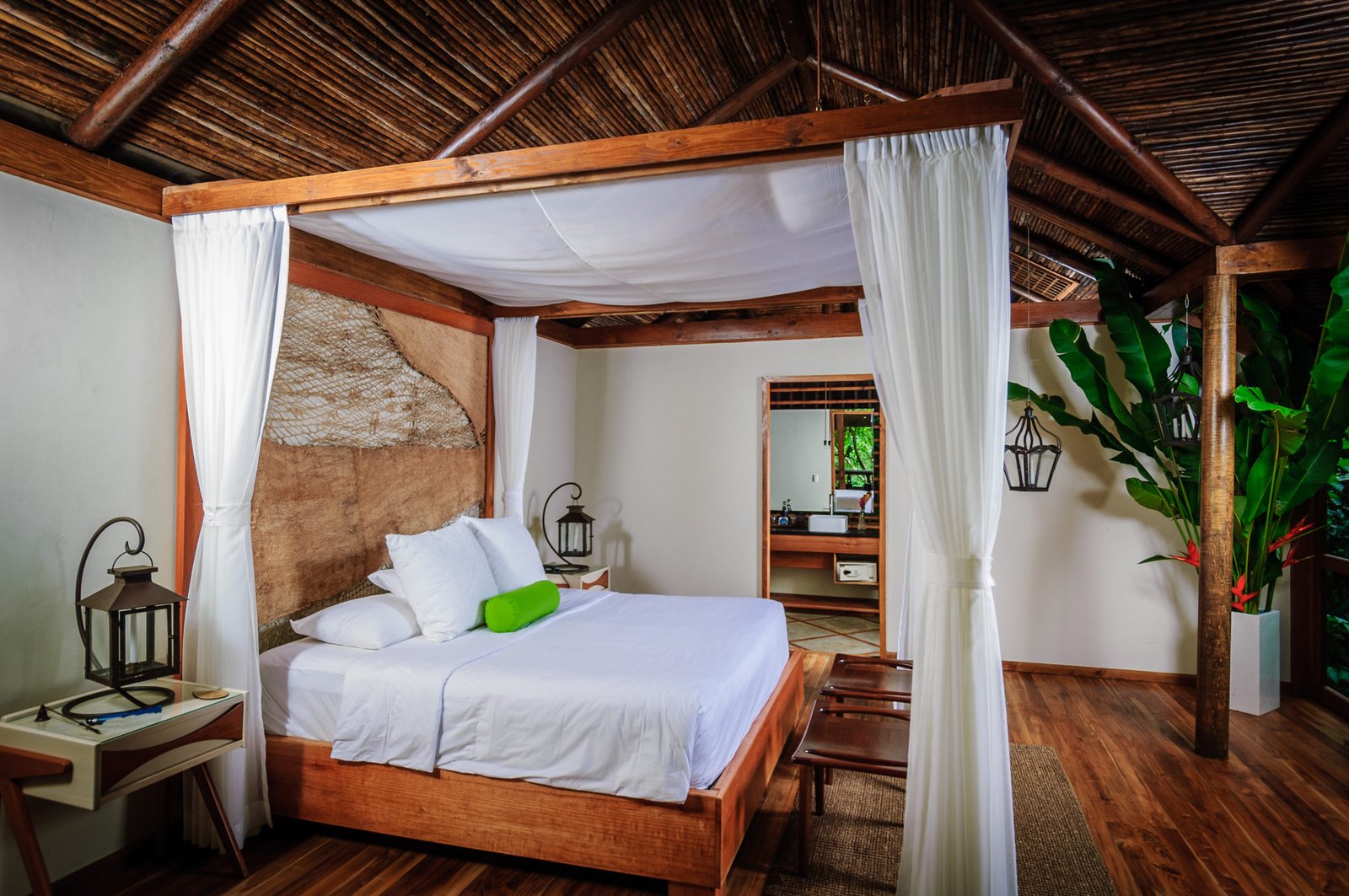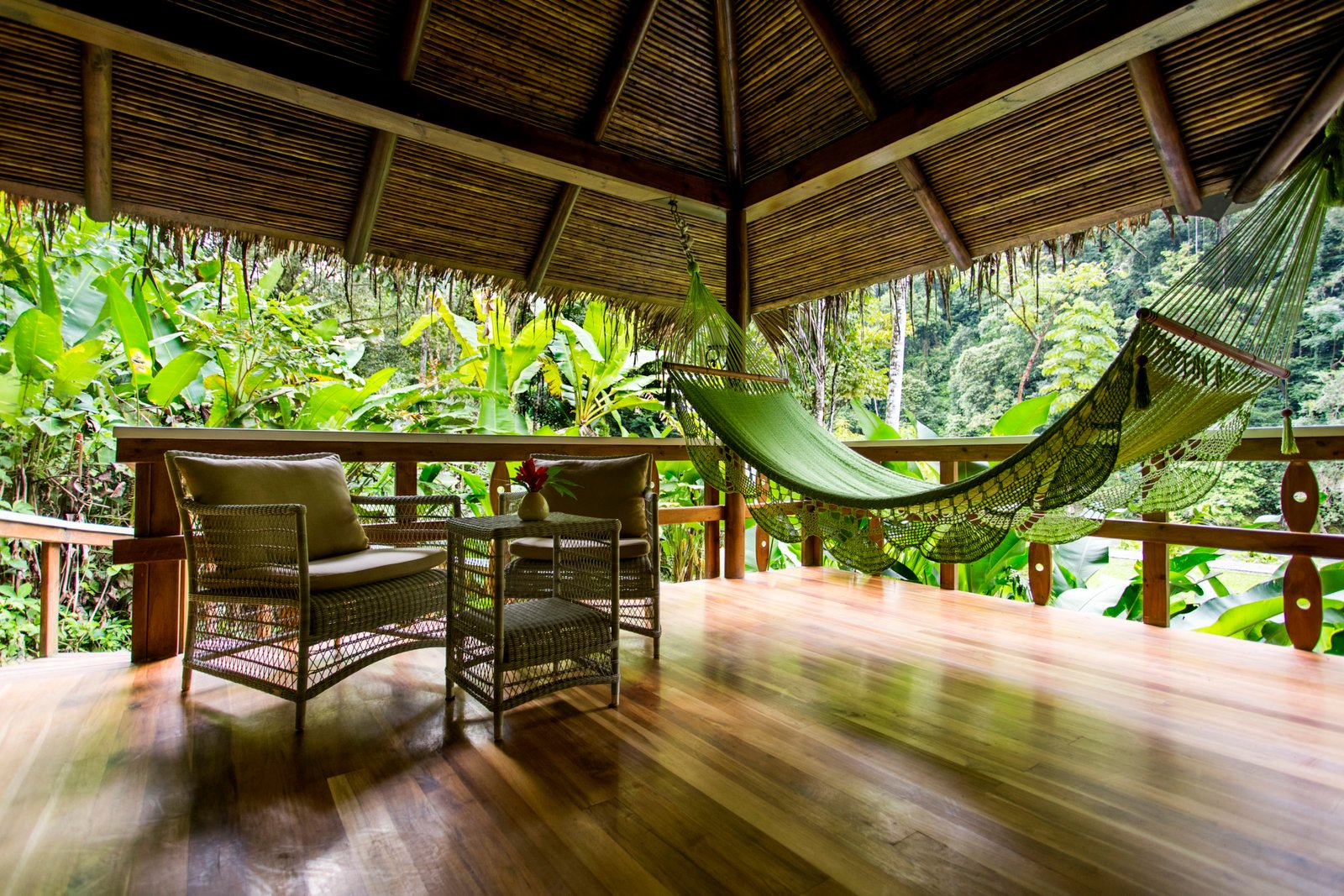 ---
Garden Suites 
The 670-square-foot garden suites feature a private terrace, king-size canopy bed, and rainforest views.
ACTIVITIES
On-site adventure options range from kayak excursions and horseback rides to zip-line tours and rappelling. White water rafting is, of course, also a highlight.
Guests at Pacuare can enjoy night hikes, canopy tours, tropical canyoning tours, early morning birdwatching, the Cabecar Indigenous hike, the Ancient Trail & Hidden Waterfall hike, sustainability tours, rural experiences, and 'The Loop' included in their rate. Additional touring can be arranged at an additional cost.
ARE YOU CONSIDERING A STAY AT PACUARE LODGE? LANDED PROVIDES PERSONALIZED, CUSTOM TRAVEL WITHIN CENTRAL AMERICA, SOUTH AMERICA, AND THE ANTARCTIC. WE'LL CREATE A UNIQUE ITINERARY PLAN TAILORED TO YOUR INTERESTS AND DREAMS. EXPERIENCE THE TRIP OF A LIFETIME. SPEAK WITH ONE OF OUR EXPERT TRAVEL PLANNERS TODAY AT 801.582.2100.