Within the pristine Amazon Rainforest, Posada Amazonas lodge seeks to connect their guests to the natural and cultural wonders of the Tambopata jungle.
Located two hours from Puerto Maldonado, Posada Amazonas is set inside the private communal reserve of the Ese Eja Native Community of Infierno, adjacent to the Tambopata National Reserve.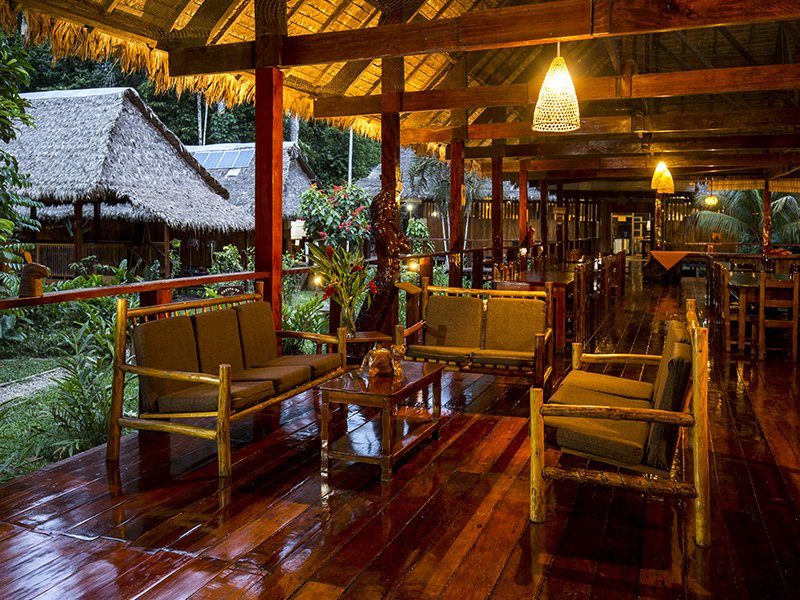 Posada Amazonas is owned by the Ese Eja indigenous community and managed in partnership with Rainforest Expeditions.
Constructed with traditional materials–palm and sustainably harvested hardwoods–and building techiquest, Posada Amazonas allows its guests to experience a slice of Esa Eja life, while supporting the conservation of indigenous lands and culture.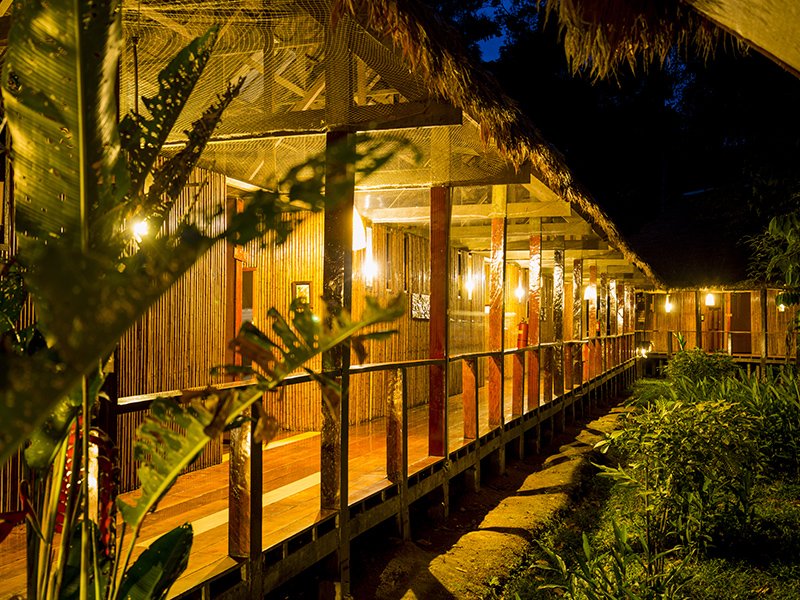 The complete (full-board) experience at Posada Amazonas includes group-basis transportation to and from Puerto Maldonado with fixed departure times, meals, as well as group-basis guided excursions and activities. Private guides can be arranged through LANDED.
All guides at Posada Amazonas are members of the native community of Infierno. They grew up in Tambopata, and have deep knowledge of local fauna and flora.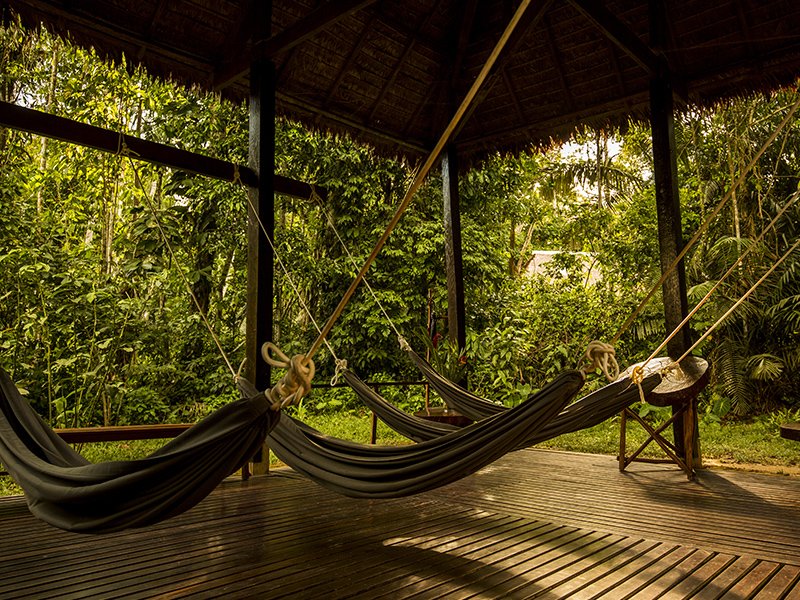 Amenities & Services
Posada Amazonas offers a selection of natural spa treatments, a selection of on-site activities, and opportunities for off-site community visits and cultural excursions.
The Lodge features a 100-foot canopy tower, with views of the vast rainforest. At the etho-botanical center you can learn about medicinal plants, fruits, and native cacao from a local shaman.
WiFi is available at Posada Amazonas; however, internet connection is unstable and might vary on weather condition and number of guests.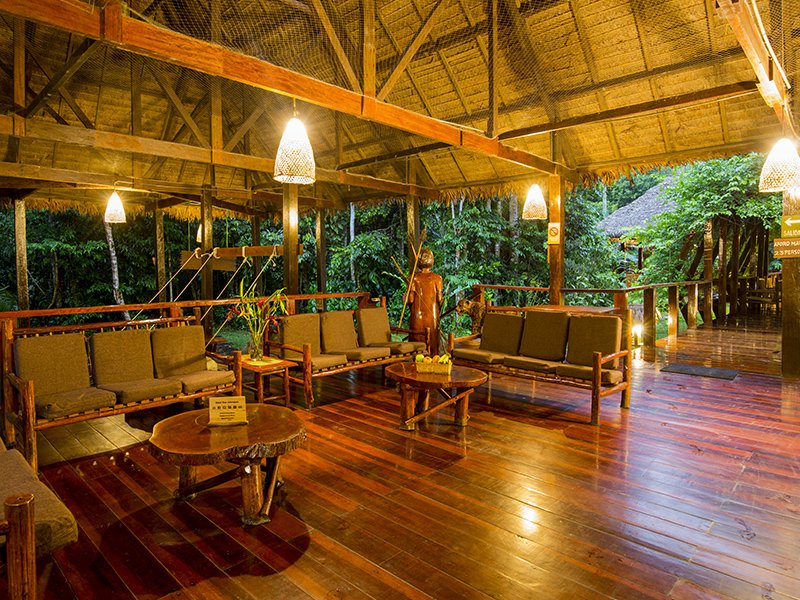 Accommodations 
Rooms at Posada Amazonas feature eco-friendly toiletries, safety box, and umbrellas. Comfort Rooms and Suites add Wi-Fi and a hammock.
Electricity at the rooms is available three times per day: From 6AM to 8AM – From 12PM to 2PM – From 5PM to 10PM (referential times, subject to change and weather conditions).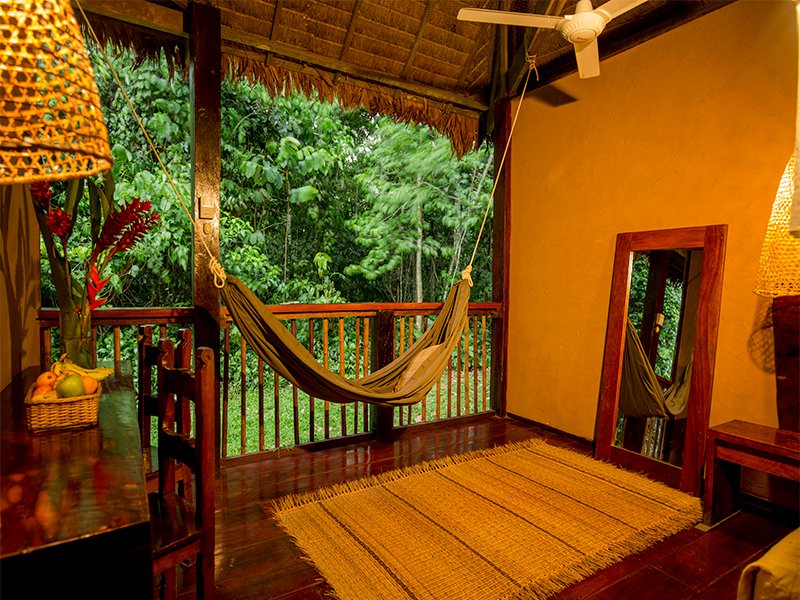 Suites
Each Suite (604 square feet) is furnished with two queen-size beds with mosquito beds. These rooms also feature an indoor sitting area with free minibar, and a ceiling fan.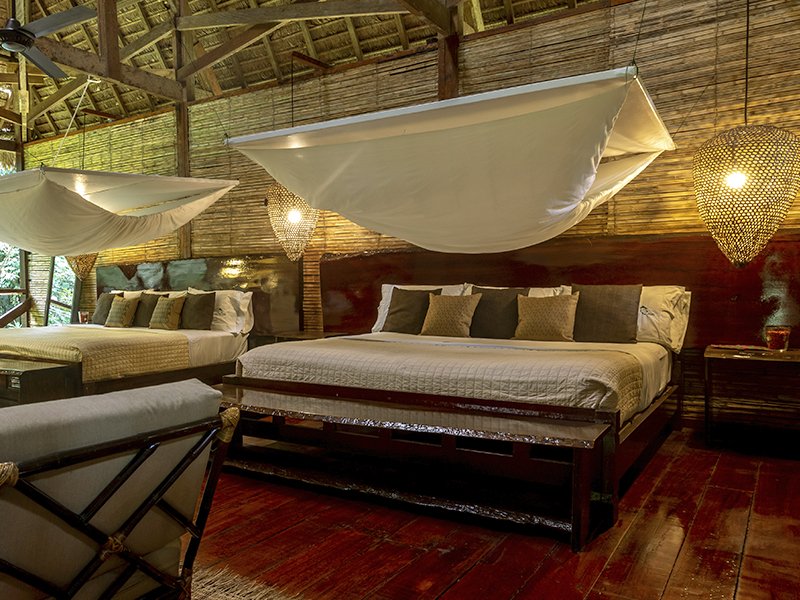 Comfort Rooms
Comfort rooms (453 square feet) are furnished with two double-size beds.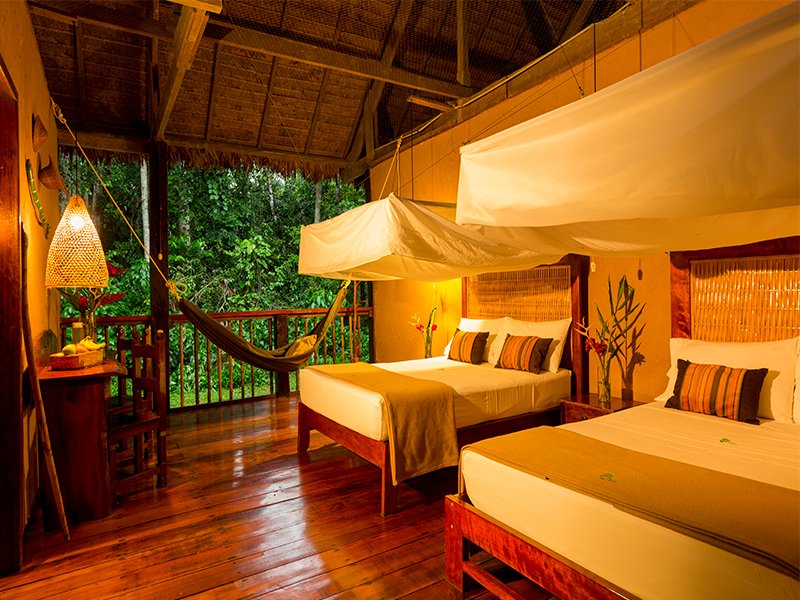 Superior Rooms
Superior Rooms are 453 square feet and can be furnished with either two or three twin-size beds.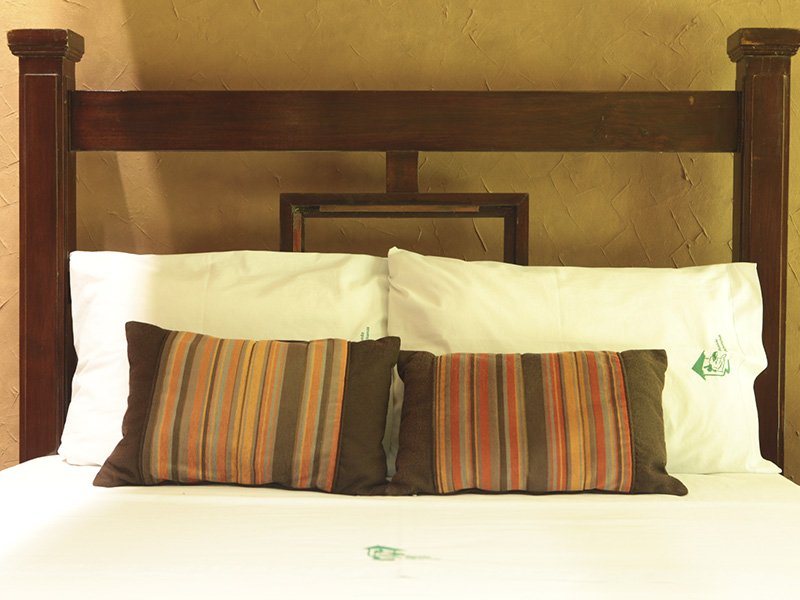 How to get there?
Once you arrive at the city of Puerto Maldonado, in southeastern Peru, hotel representatives will pick you up at the airport and take you on a one-hour road trip, followed by an hour cruise by motorized riverboat on the Tambopata River. The cruise time may vary, as guides often stop to show guests wildlife.
Flights to Puerto Maldonado depart from Lima or Cusco and take 1.5 hour from Lima and 0.5 from Cusco. Pick up from the airport is at 1:00 PM and at 1:30 PM, while transfers from the lodge to the airport depart at 7:00 AM and 8:00 AM.
Luggage is transported by hand in several stages of the trip, so guests are asked to limit their weight to 32 pounds per piece. Your luggage will be waiting for you at the airport on your departure date. After taking care of your luggage, a 40 minute land transfer will lead you to the community port of Infierno.
Upon arrival in Infierno, guests board stout canoes equipped with outboard motors to head upstream to Posada Amazonas. The boat trip often includes guests' first sightings of macaws, herons, alligators and capybaras.
Once you've arrived to the wild jungles of Tambopata, access to the lodge requires going up a staircase with about 70 to 90 steps from the riverbank (varying depending on the season, rainy or dry, due to the fluctuation of the river level), which usually takes guests about 15 minutes.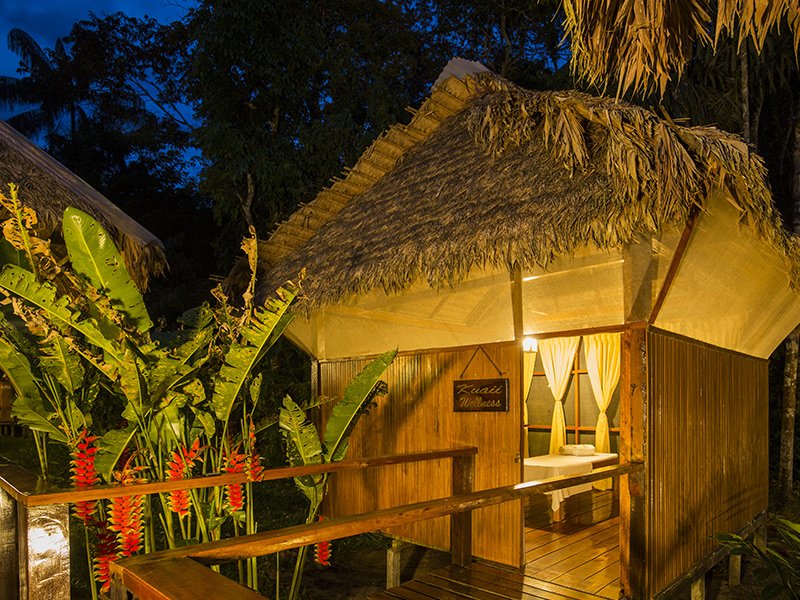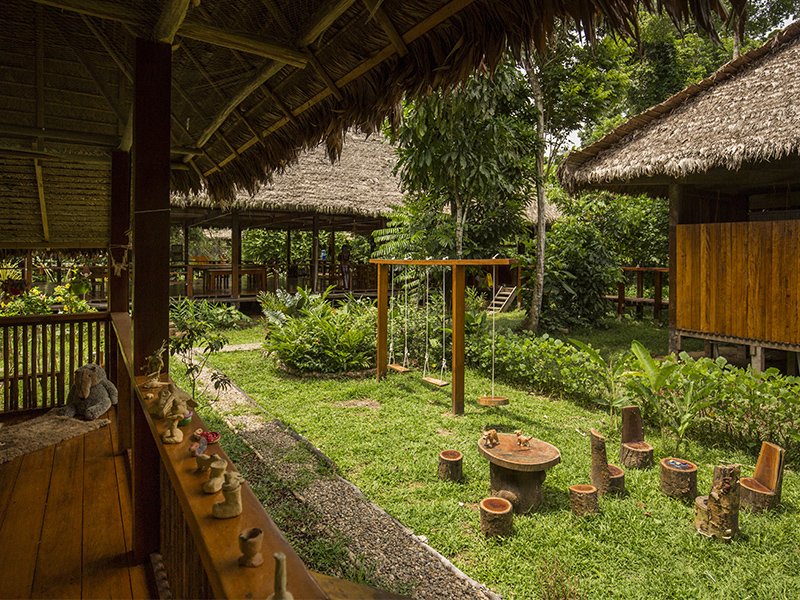 ARE YOU CONSIDERING A STAY AT POSADA AMAZONAS? LANDED PROVIDES PERSONALIZED, CUSTOM TRAVEL WITHIN CENTRAL AMERICA, SOUTH AMERICA, AND THE ANTARCTIC. WE'LL CREATE A UNIQUE ITINERARY PLAN TAILORED TO YOUR INTERESTS AND DREAMS. EXPERIENCE THE TRIP OF A LIFETIME. SPEAK WITH ONE OF OUR EXPERT TRAVEL PLANNERS TODAY AT 801.582.2100.