Tambopata Research Center (known colloquially as "TRC") is the only lodge that lies within Tambopata National Reserve–one of the crown jewels of Peru's Amazon Basin. TRC one of the most remote lodges in South America. It is axiomatic that remoteness has advantages when you're seeking rare wildlife; reportedly, one of every three guests at TRC has seen a jaguar. Good luck doing that from a "more convenient" lodge or a river cruise.
Jaguars are a hallmark species, signifying the purity of the surrounding ecosphere. Where you find them, you're likely to find other healthy populations. Such is the case here. Tambopata Research Center is home to the Tambopata Macaw Project, one of the most important efforts to study and support wild macaws.
Tambopata Research Center strives to limit its footprint; some of the efforts are obvious (no concrete building foundations), while other operating practices are important but unobtrusive. TRC has been carbon neutral for many years.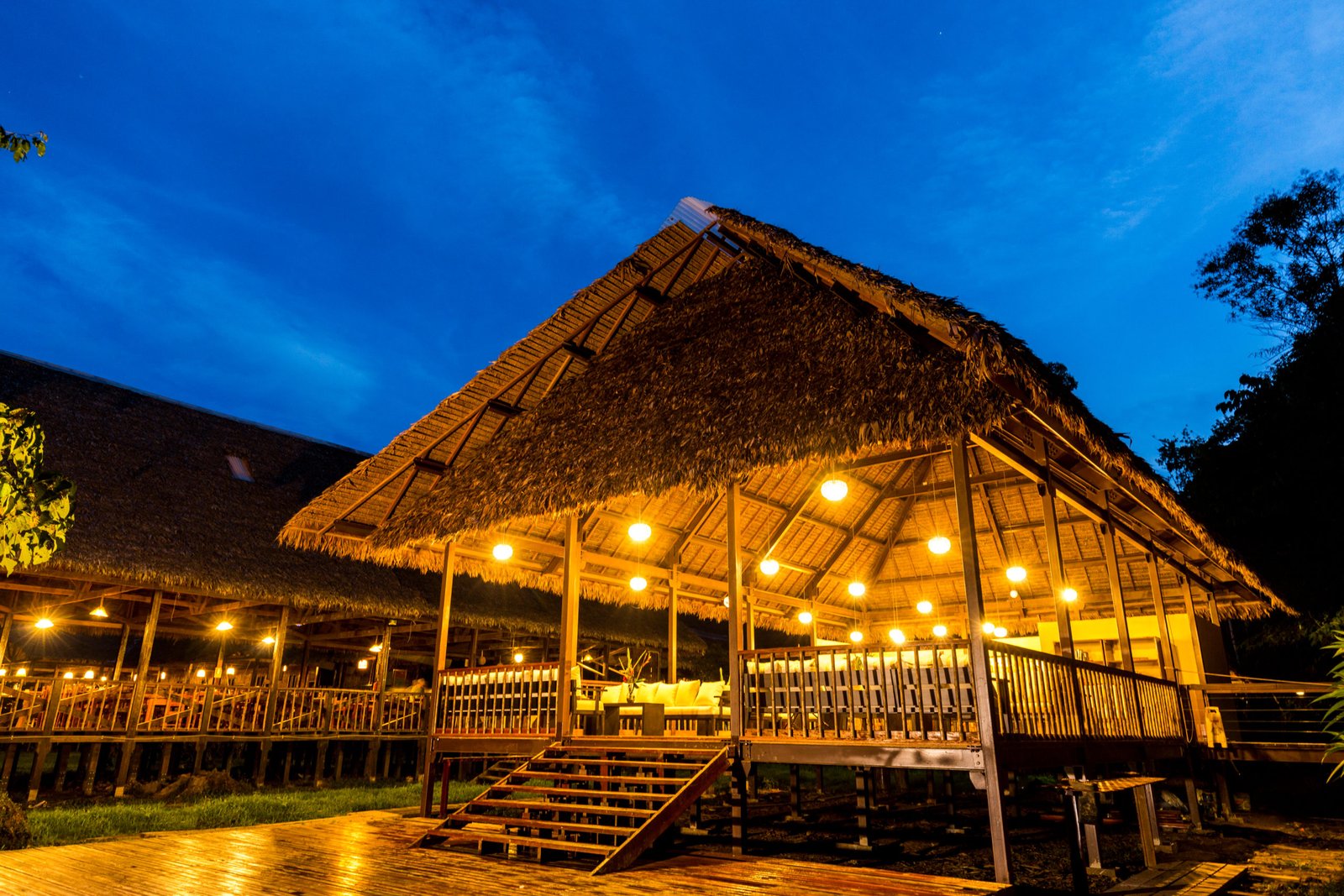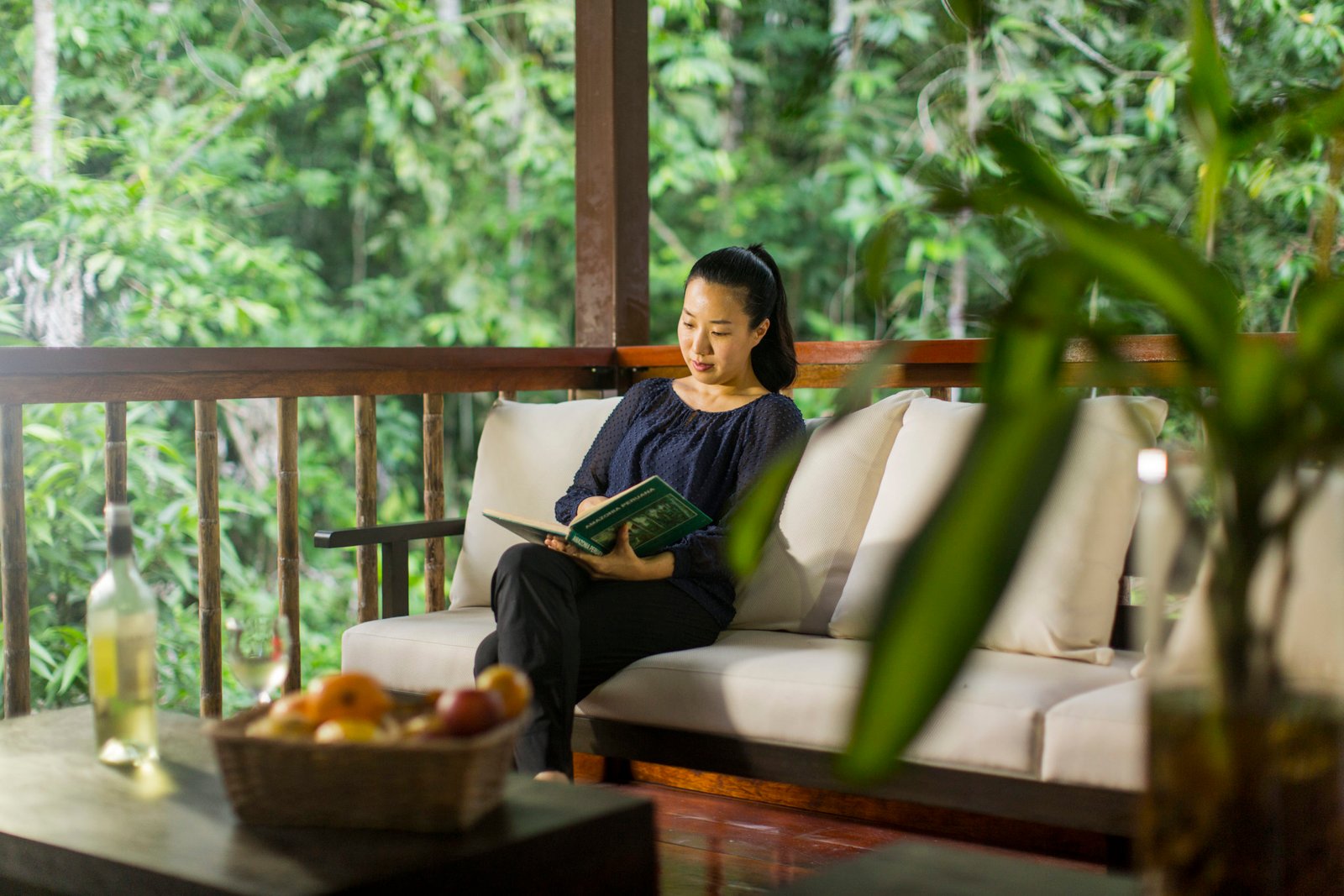 Most of LANDED's clients choose to stay two to four nights. During their stay, our clients enjoy a range of rainforest walks, canoe tours of the tributaries and flooded forest, cultural visits, and wildlife observation. You'll likely encounter several primate species, sloths, caimans, turtles, giant river otters, and dozens of bird species. If you follow the thinking that birds are dinosaur descendants, this is Peru's Jurassic Park.
The most popular programs at Refugio Amazonas include group-basis transportation to / from the airport town of Puerto Maldonado (connections to Cusco and Lima). These programs also include meals and group-basis excursions and activities with expert guides. LANDED can also arrange private transportation and privately guided explorations throughout the rainforest.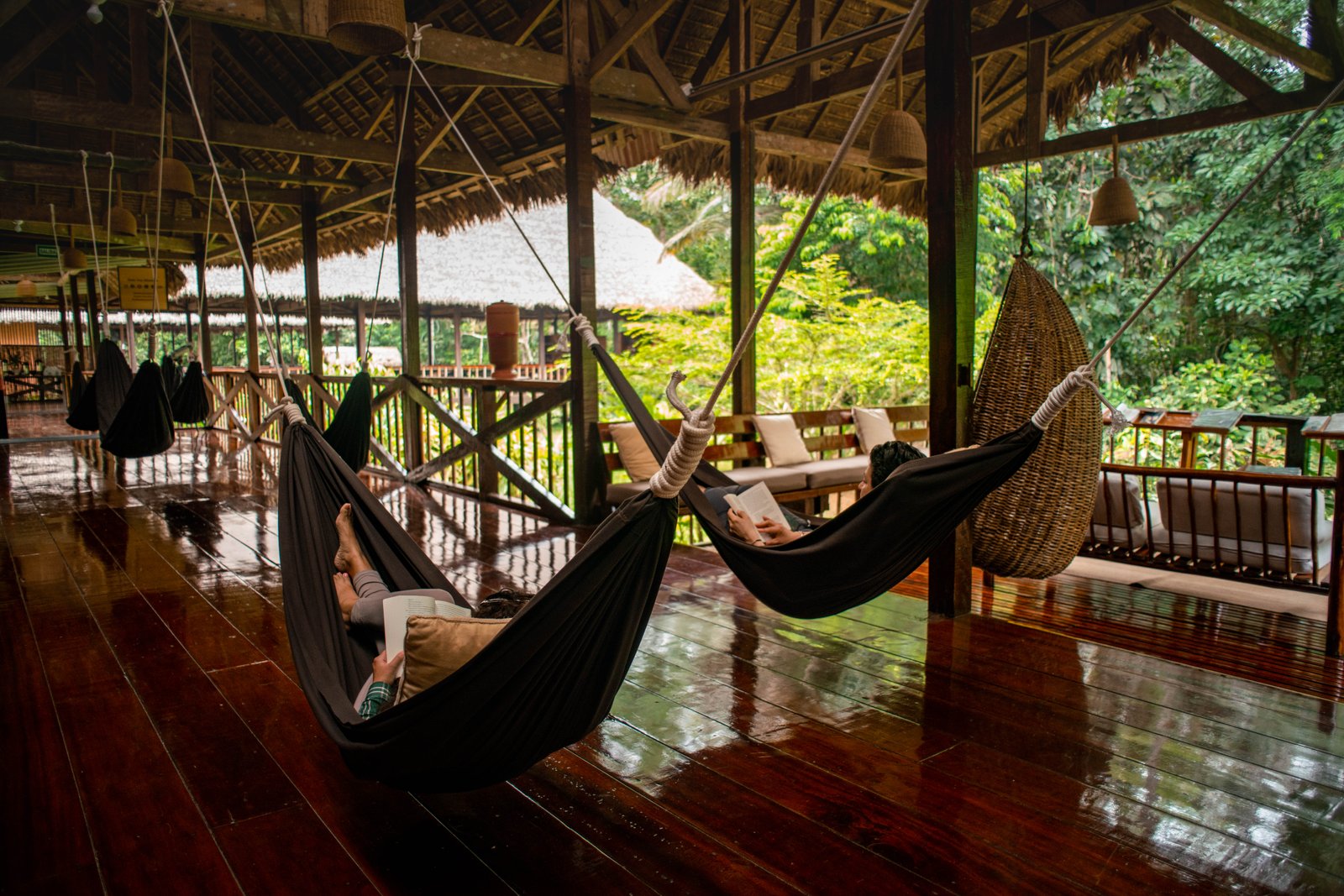 Amenities & Services
Among the amenities at Tambopata Research Center are a boutique, a spa area, and on-site games and activities. WiFi is available at Tambopata Research Center; however, remote rainforest internet connections are notoriously unstable; the signal quality varies with weather conditions and guest demand. This is a place to unplug, let the pressures of work slip away, and focus on the now.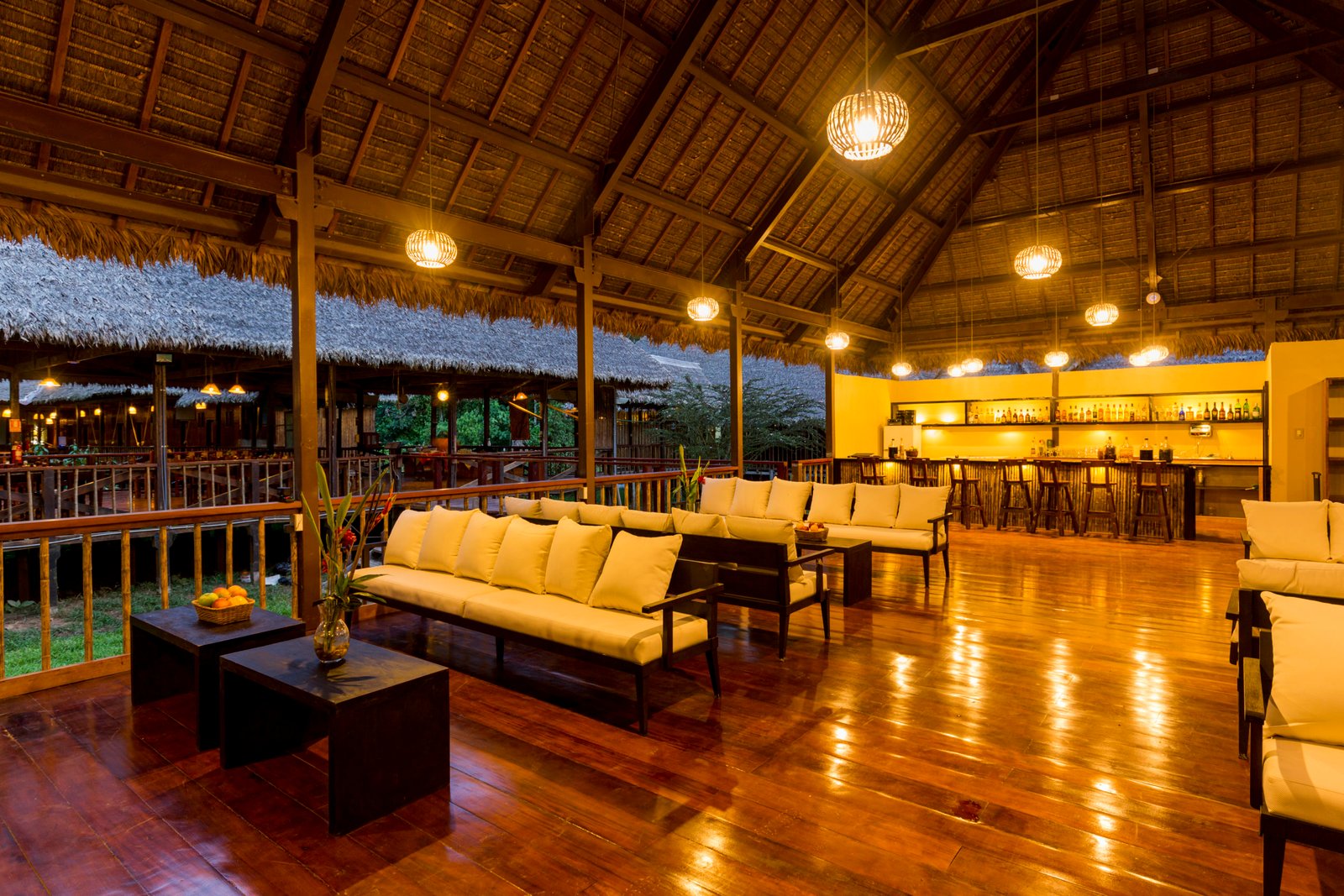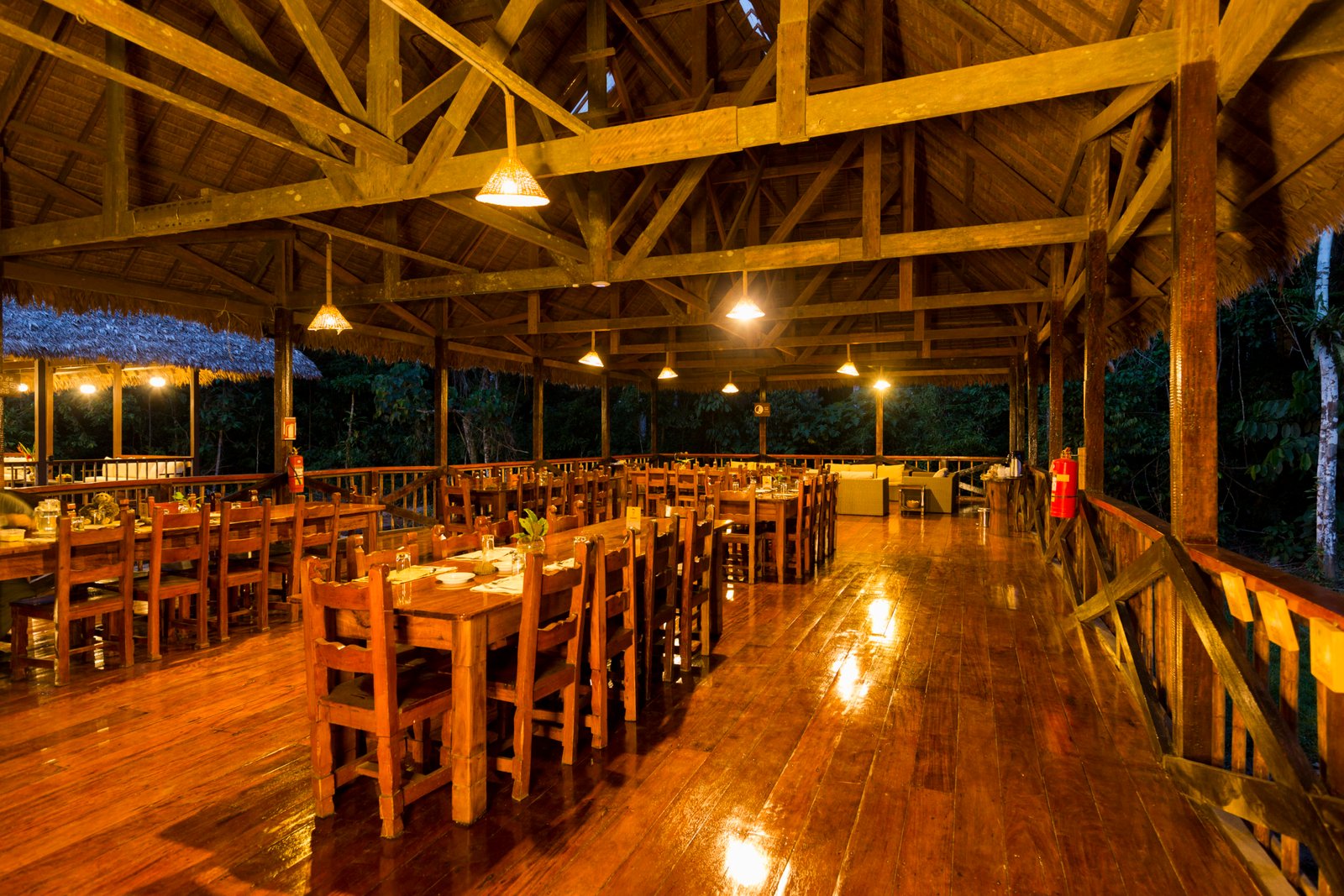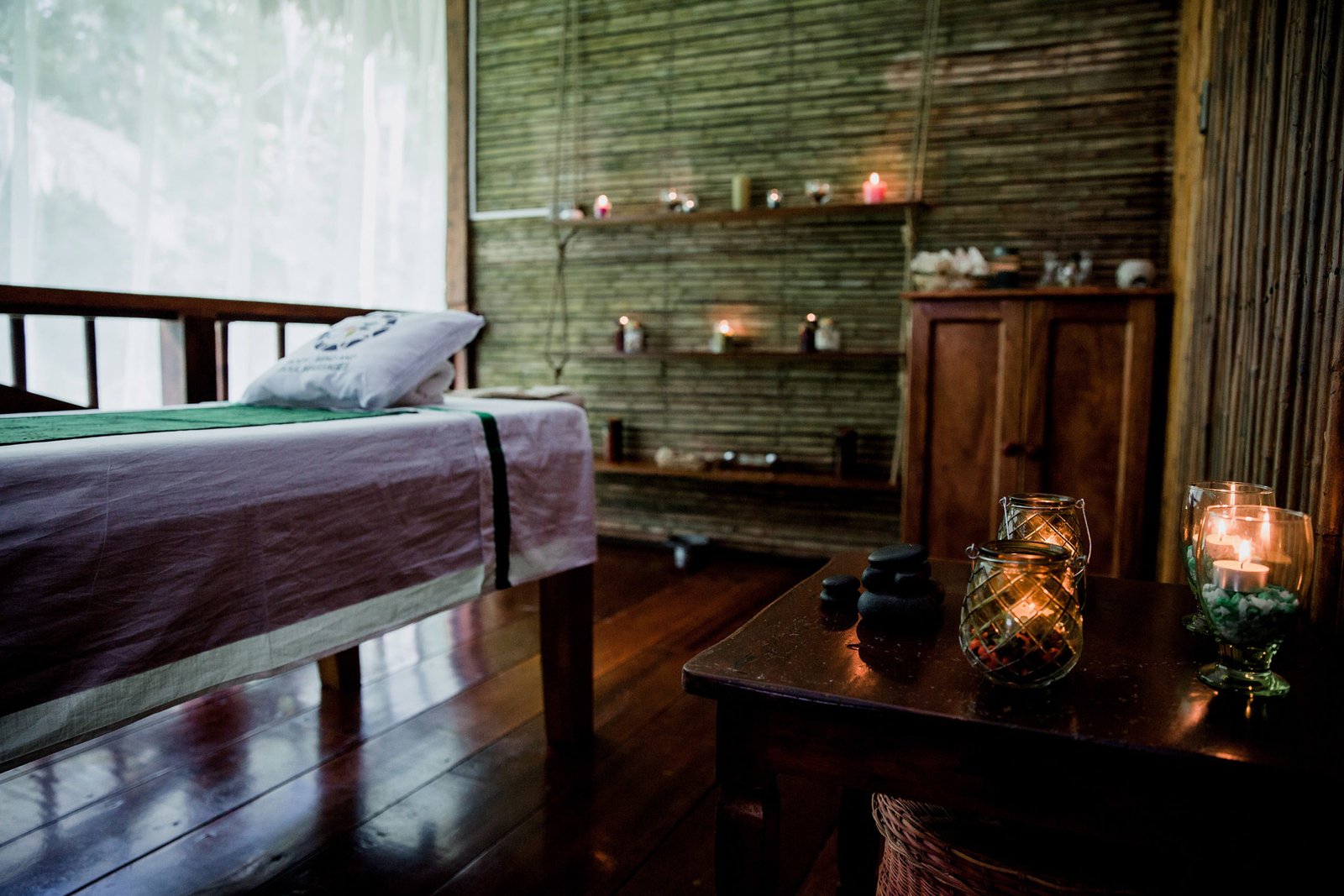 Tambopata Research Center is located near five distinct habitats. Guests have access to a variety of trails and canoe excursions covering floodplain, palm swamps, terra firma, and river overlook terrains. In addition, the Lodge's walkways–elevated between the forest's canopy and floor–bring you eye to eye with birds, butterflies, and primates.
TRC's private reserve protects two vital clay licks–clay cliff faces used by birds to obtain dietary mineral supplements. These mineral deposits draw large flocks of macaws and parrots. Guests can speak with macaw biologists, ecologists, and other experts while they do fieldwork.
Accommodations 
Rooms at Tambopata Research Center oriented with one wall facing the surrounding jungle. Each guest room has en suite bathroom with sink, flush toilet, and shower. Yes, you'll have hot and cold running water. In-room amenities include eco-friendly toiletries, a security box, and umbrellas.
Comfort rooms, Suites, and Deluxe Suites include Wi-Fi.
Electricity at the rooms is available three times per day: From 6AM to 8AM – From 12PM to 2 PM – From 5 PM to 10 PM. These are referential times, and are subject to changing and weather conditions and the complexities of jungle electrical maintenance.
Deluxe Suites
Each Deluxe Suite measures approximately 915 square feet and is furnished with two queen-size beds. These rooms also feature an indoor sitting area with free minibar, a ceiling fan, a private terrace with a hammock, and an outdoor living room with a bathtub and shower.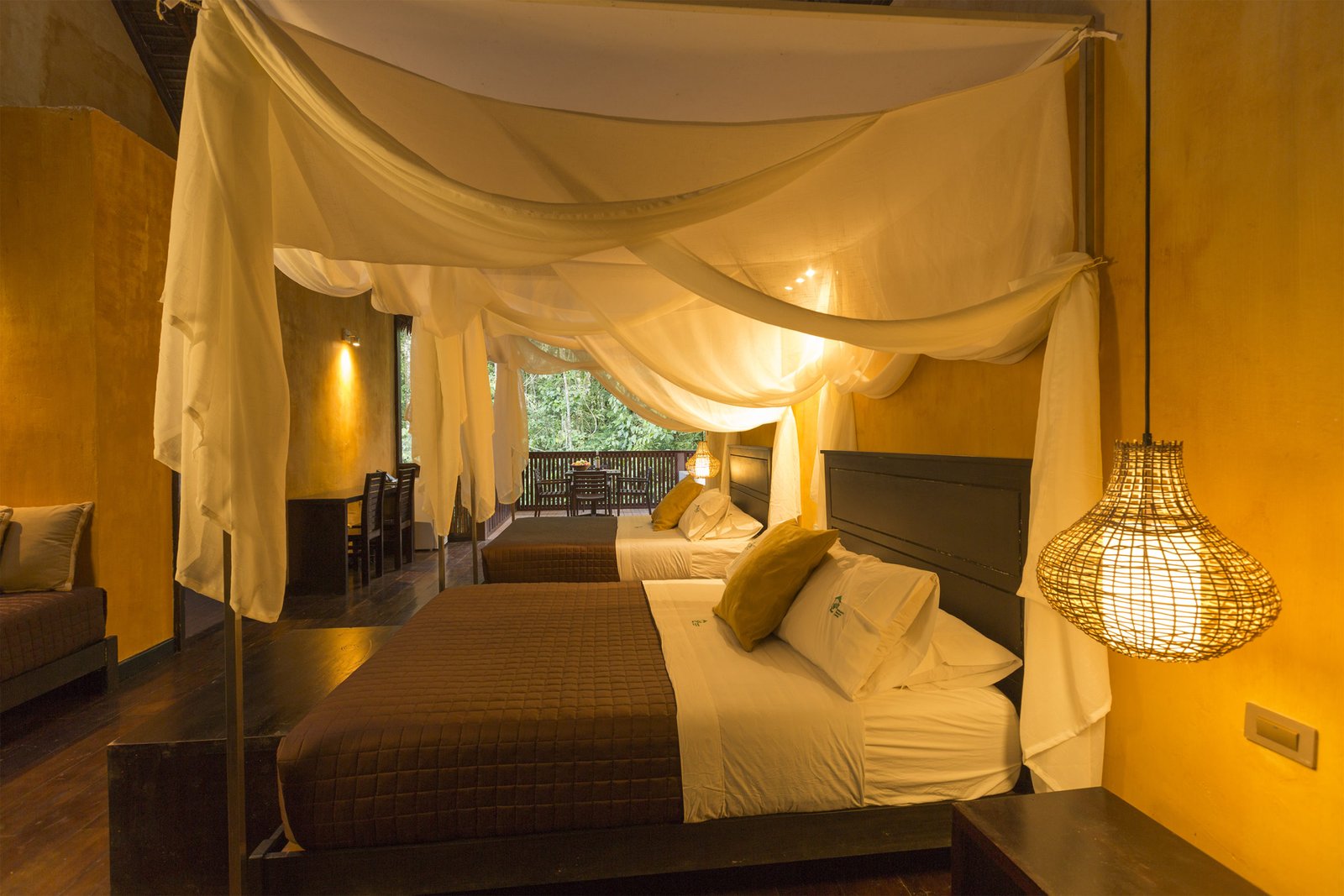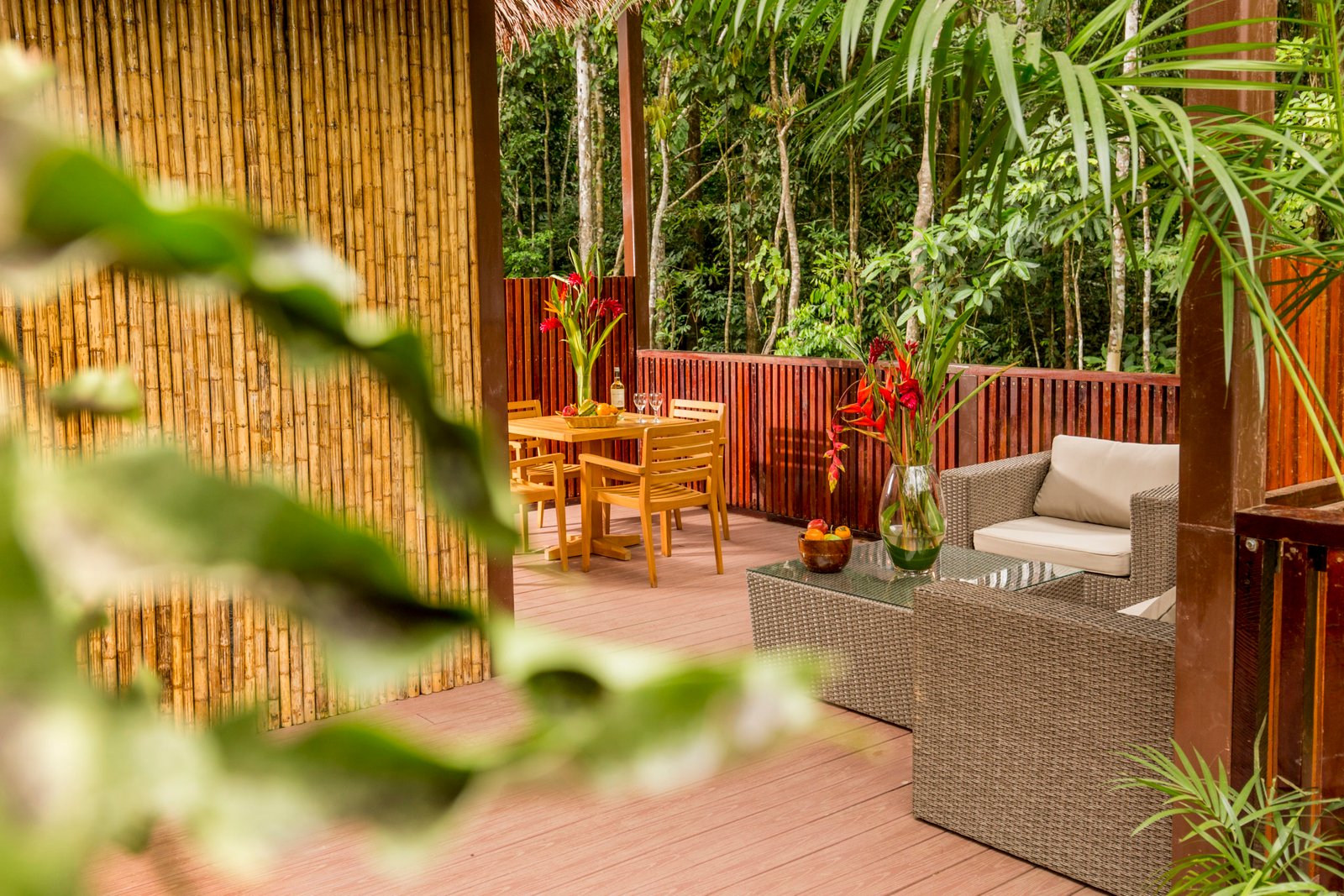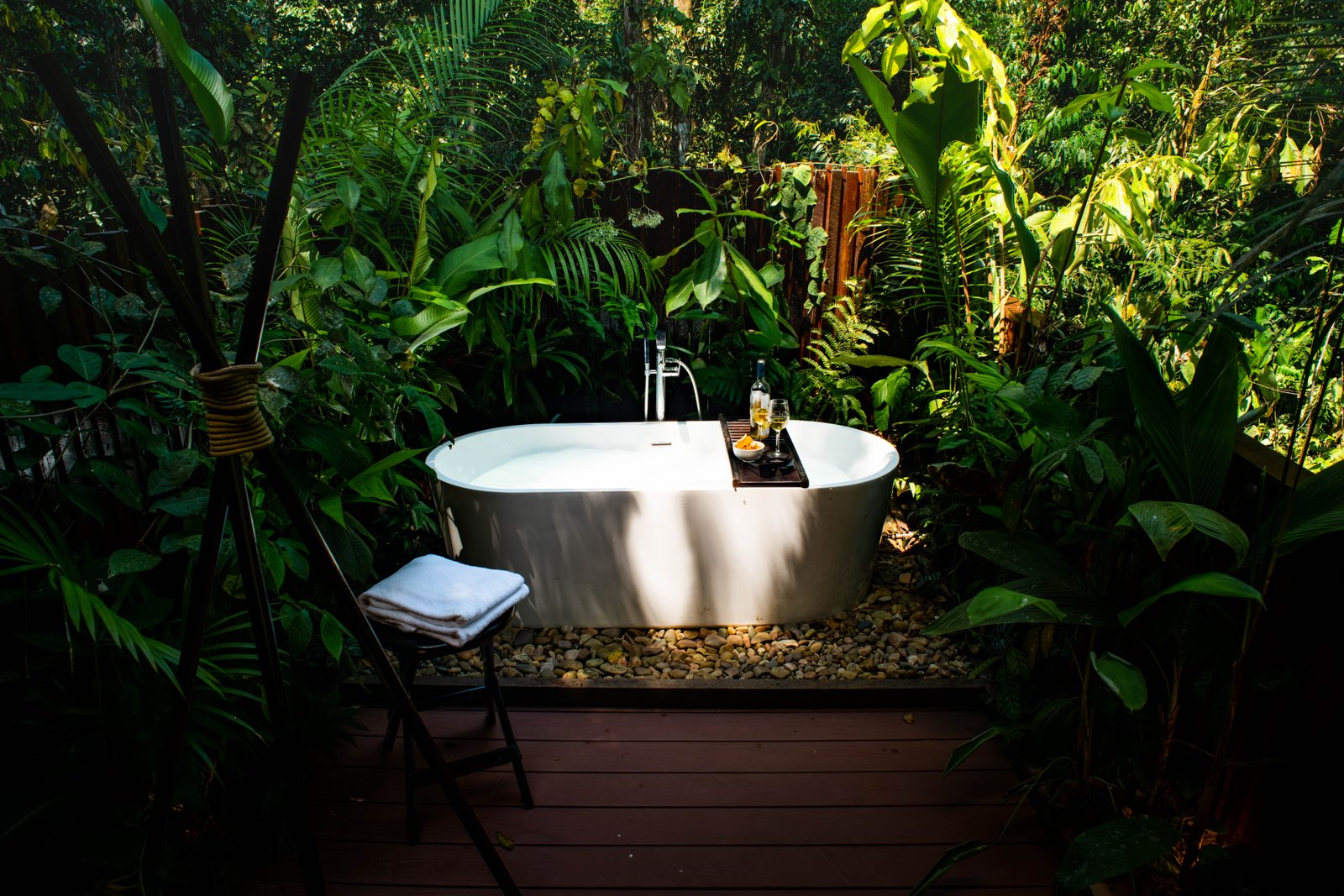 Suites
Suites measure approximately 590 square feet and are furnished with two queen-size beds. Suites feature an indoor sitting area and a ceiling fan.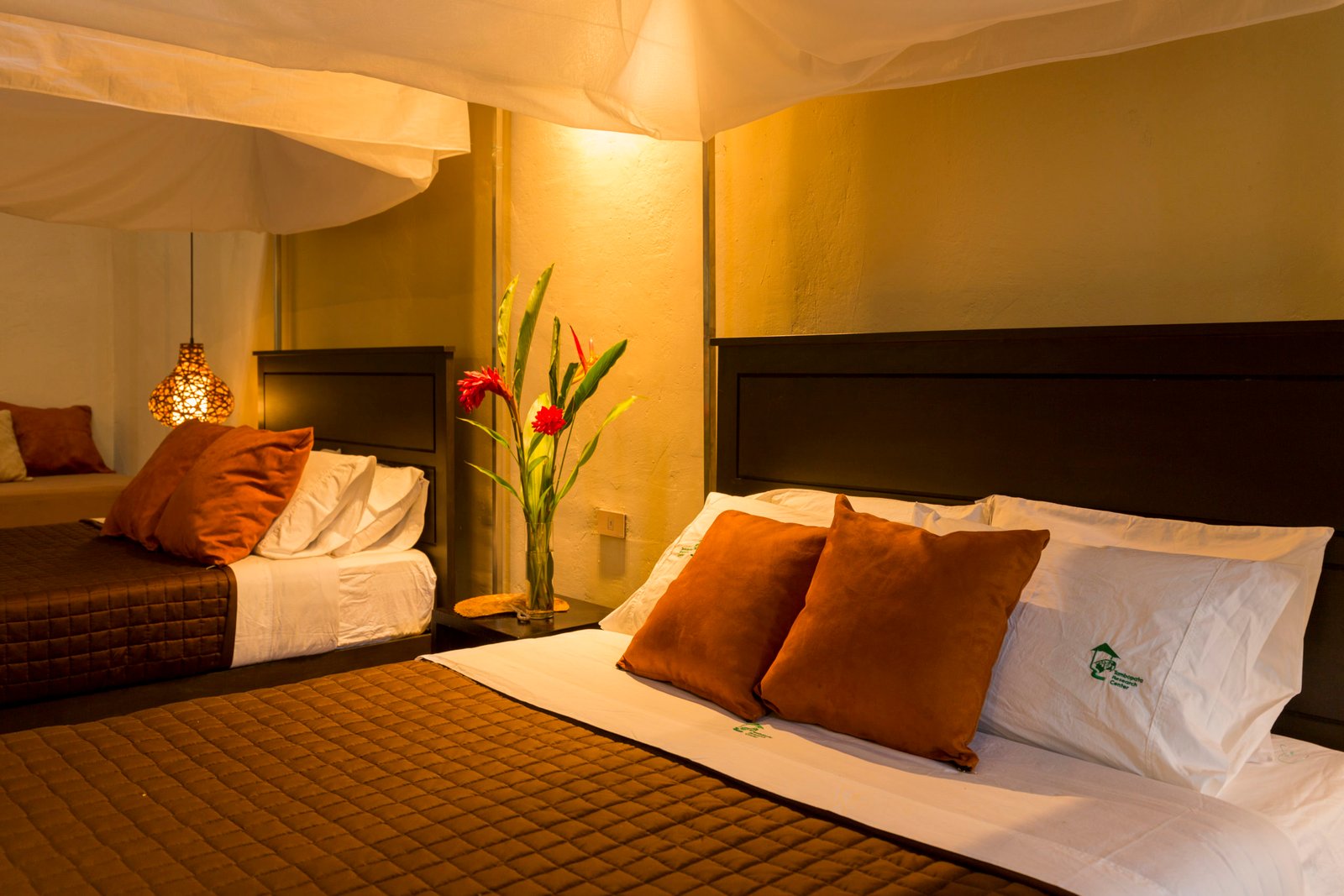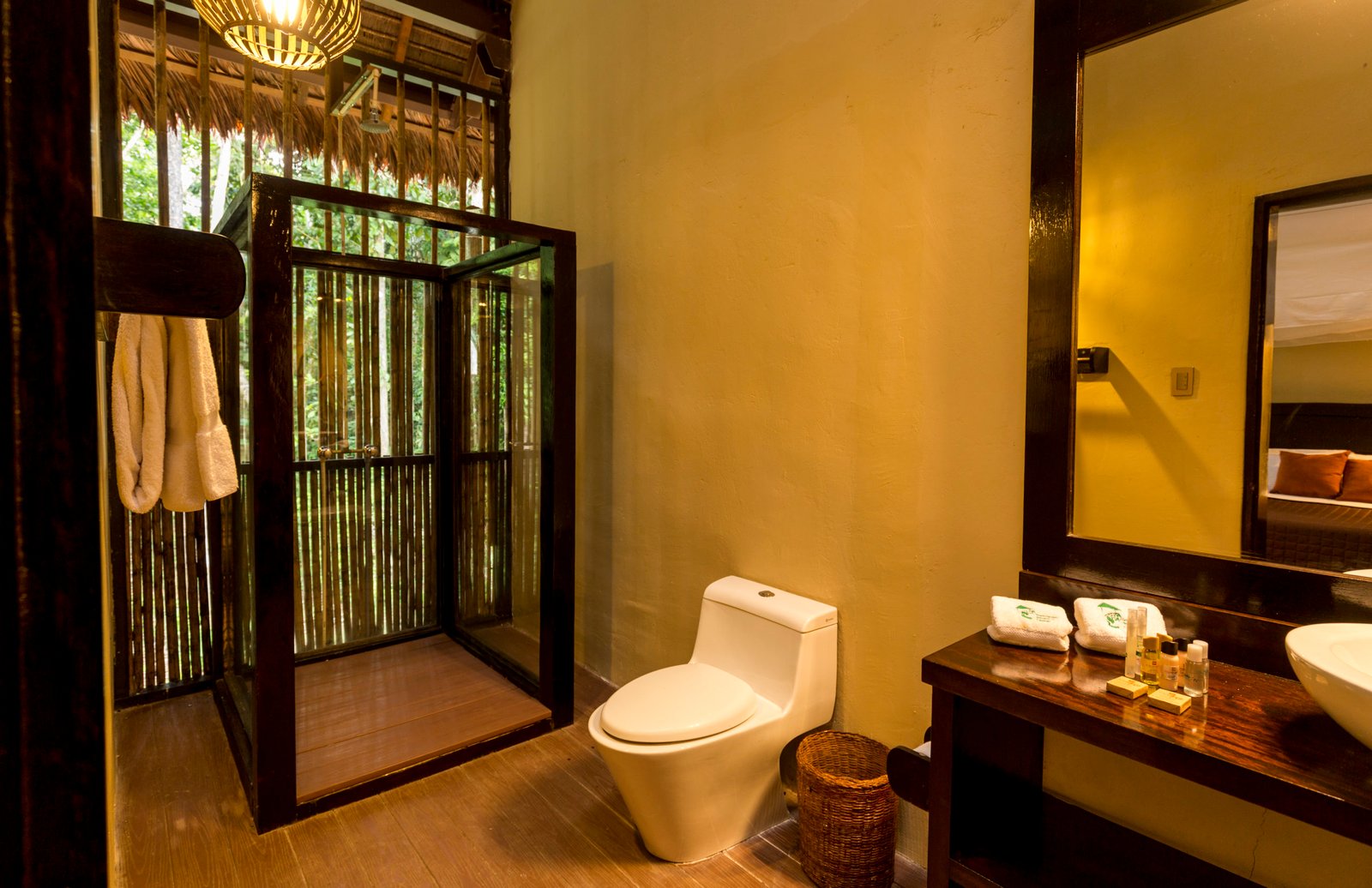 Comfort Rooms
Comfort rooms (approximately 479 square feet) are furnished with two double-size beds.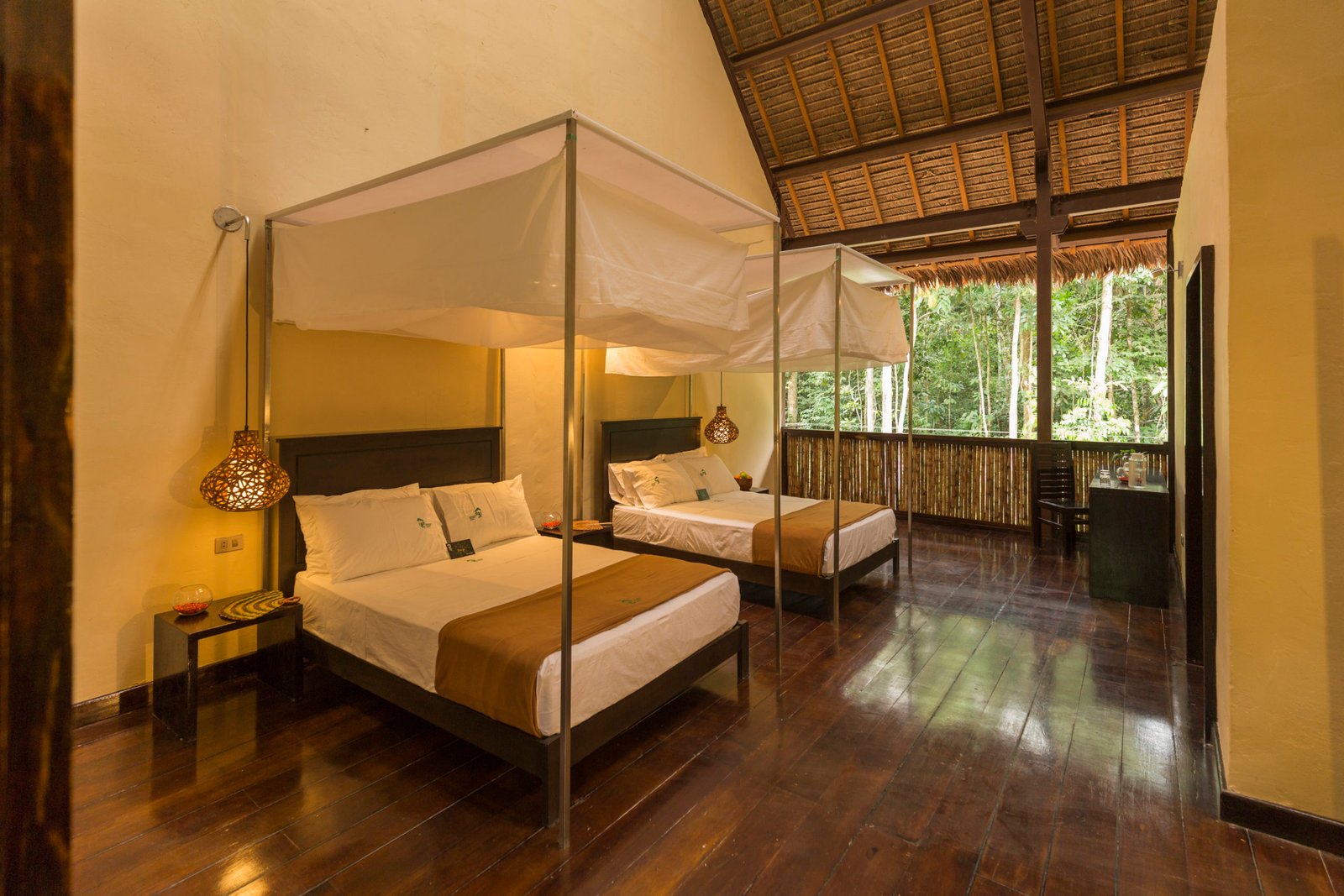 Superior Rooms
Superior Rooms measure approximately 226 square feet and are furnished with two twin-size beds.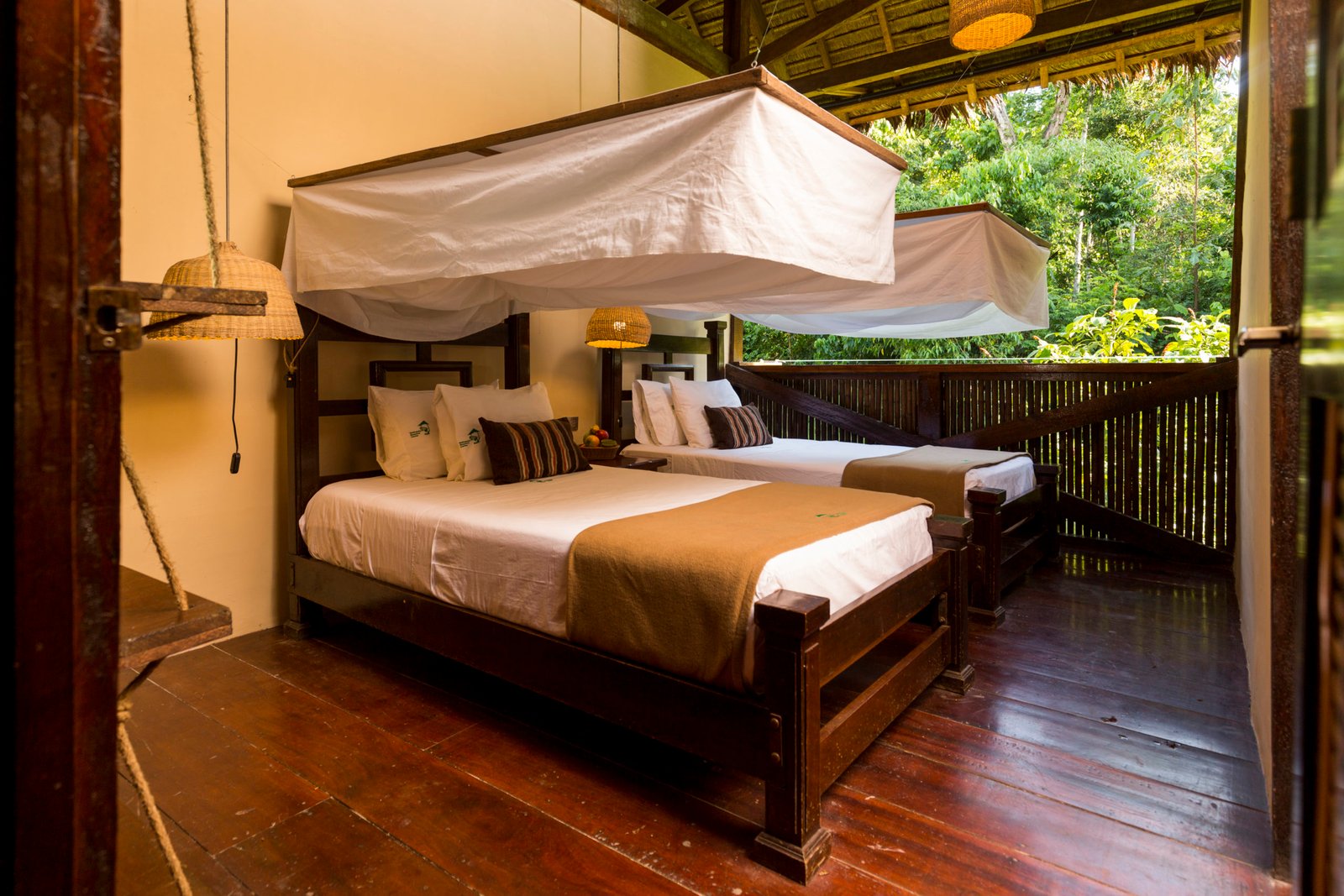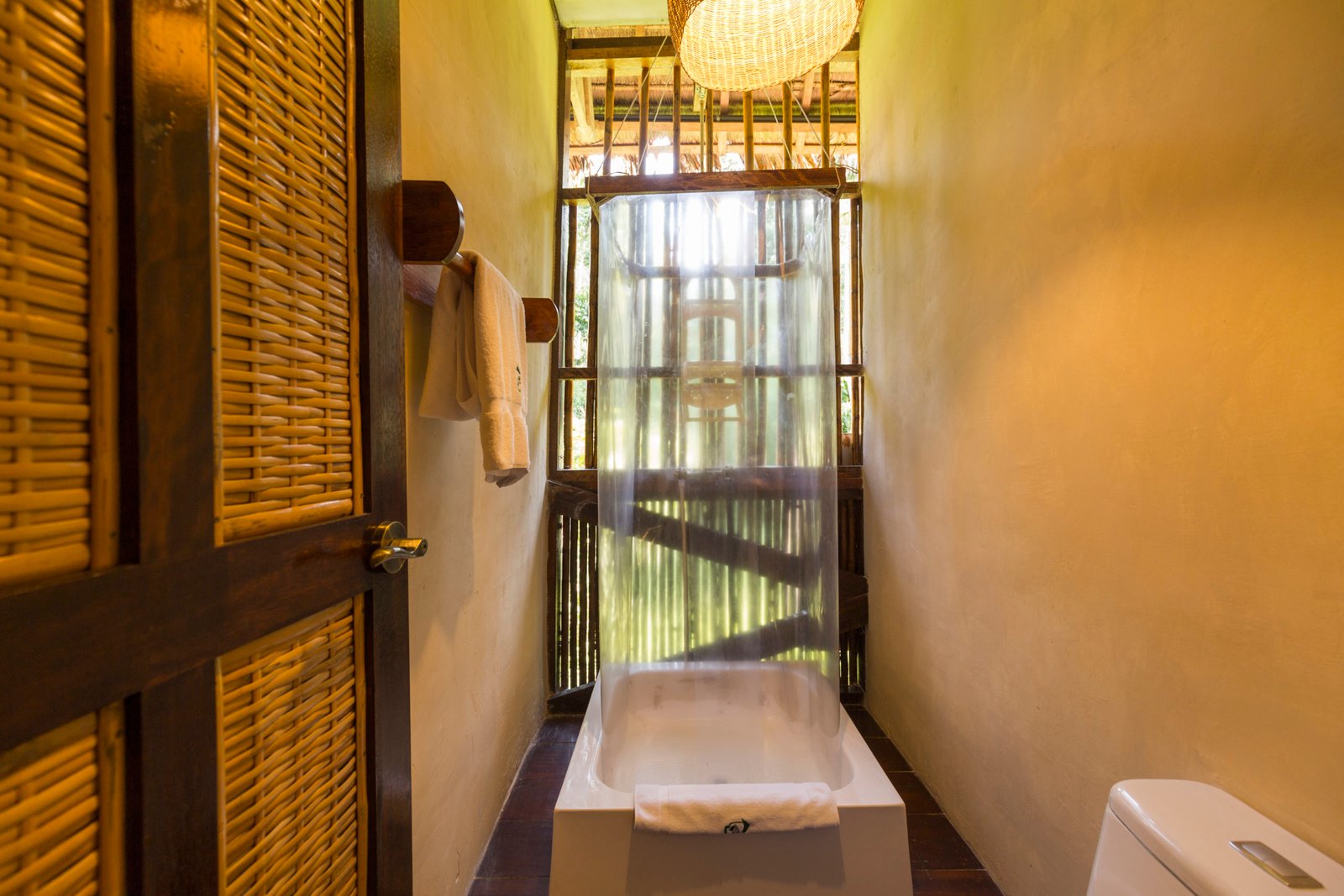 How do I reach Tambopata Research Center?
As you read this section, keep in mind that remoteness has its advantages.
First, you'll arrive in the port / airport city of Puerto Maldonado in southeastern Peru, usually by regular / commercial airliner from Lima (90 minutes) or Cusco (30 minutes). Outside the airport's baggage claim area, representatives from Refugio Amazonas will meet you and assist with your luggage. You'll be taken by shuttle bus (one-hour) to the Filadelfia River Port.
Then you'll continue by motorized riverboat–earplugs are helpful–along the Tambopata River. The river portion of the journey generally spans two hours, but may vary as eagle-eyed guides spot wildlife en route: macaws, herons, caimans, sloths, and capybaras. As you arrive at the National Reserve of Tambopata, you will stop at Malinowski Check Point to register your entry.
Contact LANDED for help with your flights. Pick up from the airport is available at 1:00 PM and 1:30 PM, while transfers from the lodge to the airport depart at 7:00 AM.
Luggage is transported by hand in several stages of the trip, so guests are asked to limit luggage to 32 pounds per piece.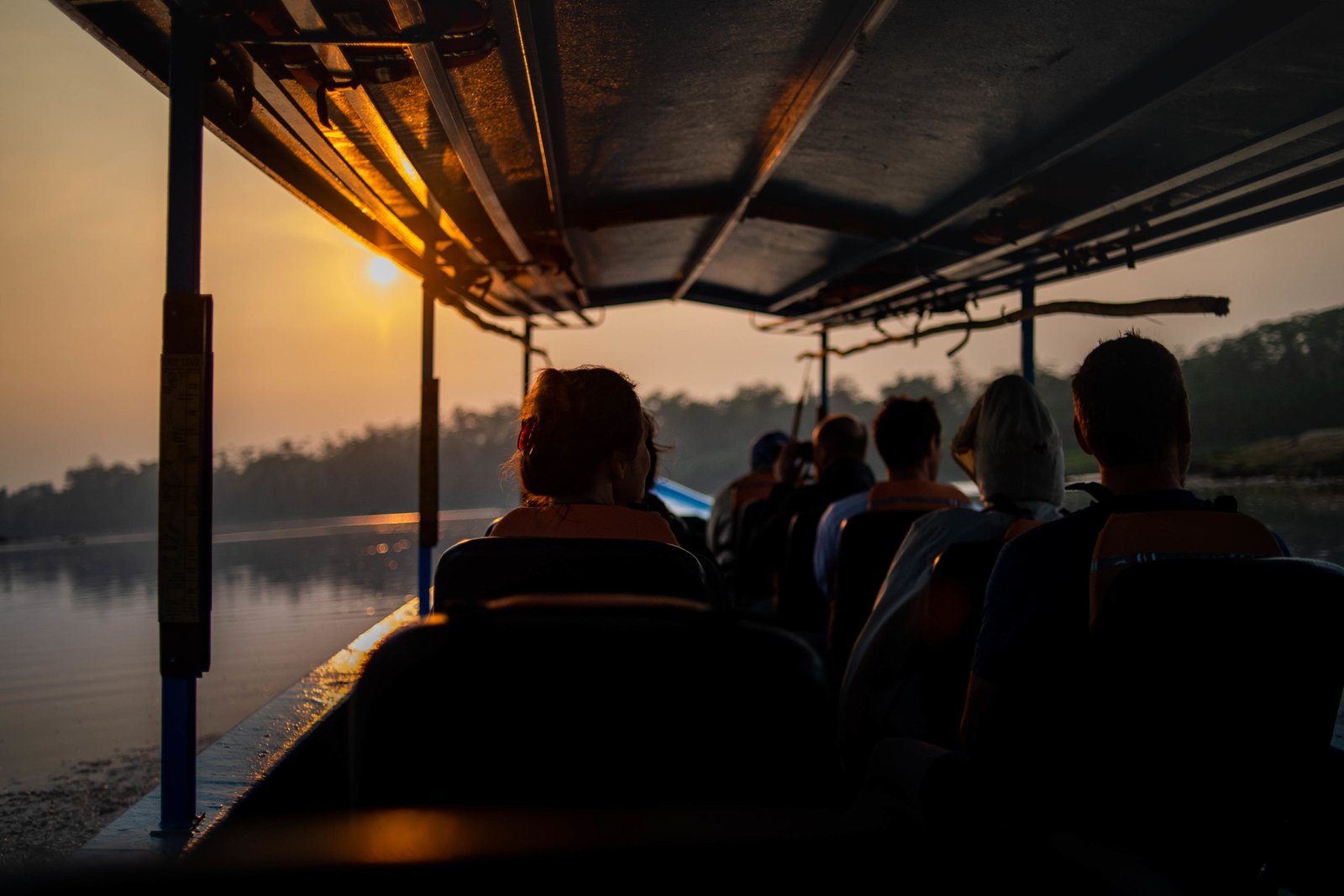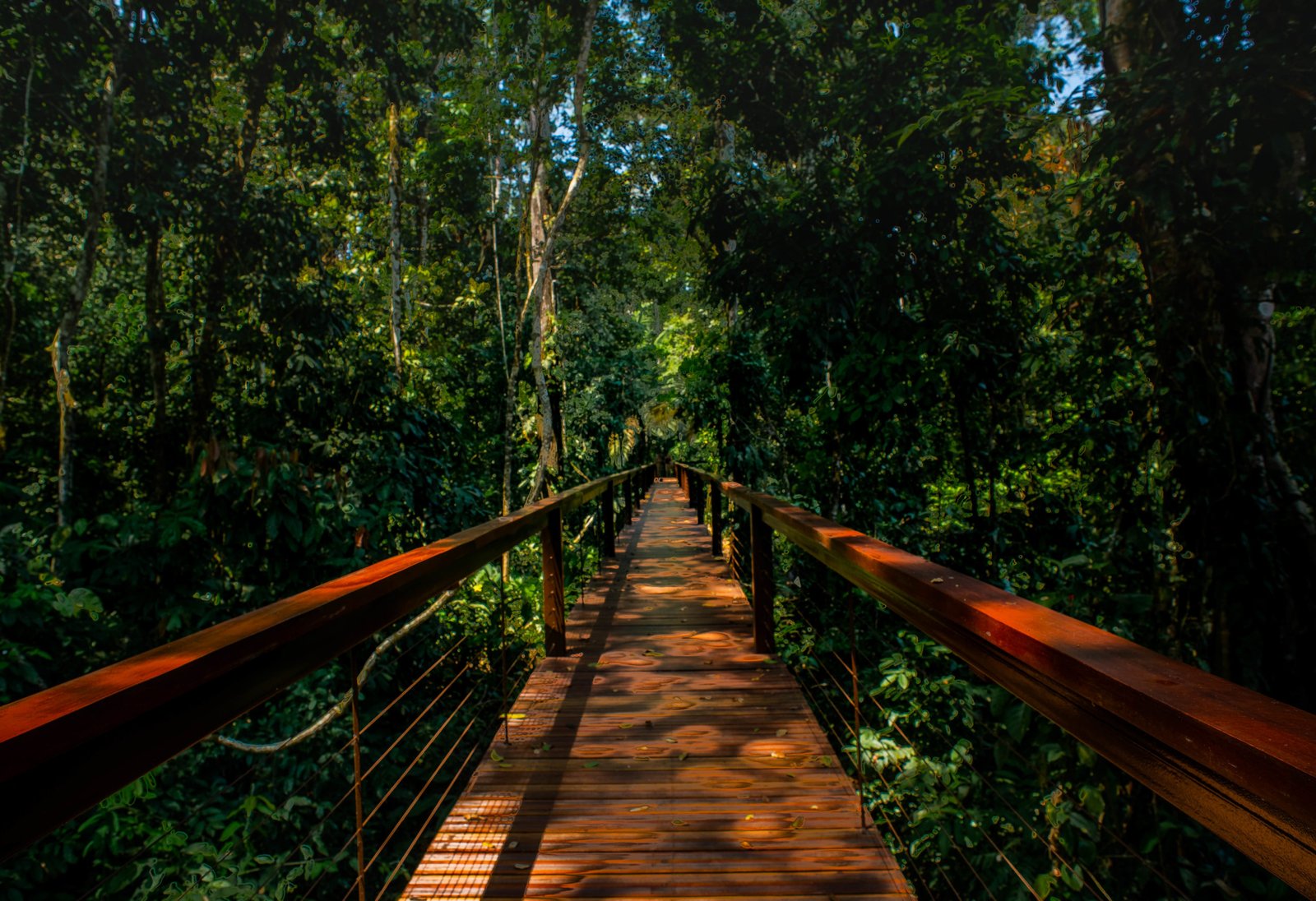 ARE YOU CONSIDERING A STAY AT TAMBOPATA RESEARCH CENTER? LANDED PROVIDES PERSONALIZED, CUSTOM TRAVEL WITHIN CENTRAL AMERICA, SOUTH AMERICA, AND THE ANTARCTIC. WE'LL CREATE A UNIQUE ITINERARY PLAN TAILORED TO YOUR INTERESTS AND DREAMS. EXPERIENCE THE TRIP OF A LIFETIME. SPEAK WITH ONE OF OUR EXPERT TRAVEL PLANNERS TODAY AT 801.582.2100.