Alaia Hotel is set on a gently sloping hillside, directly in front of Punta Lobos Beach, on
Chile
's temperate central coast.
This area–the Punta de Lobos Peninsula and nearby town of Pichilemu–are known for consistent world-class surfing, preservation of native flora and fauna, warm welcomes, and natural beauty.
The surrounding landscape is a mosaic of rolling mountains, ancient forests, pastures, and brackish lagoons.  The wine valleys of Colchagua and Maule lie to the east and south.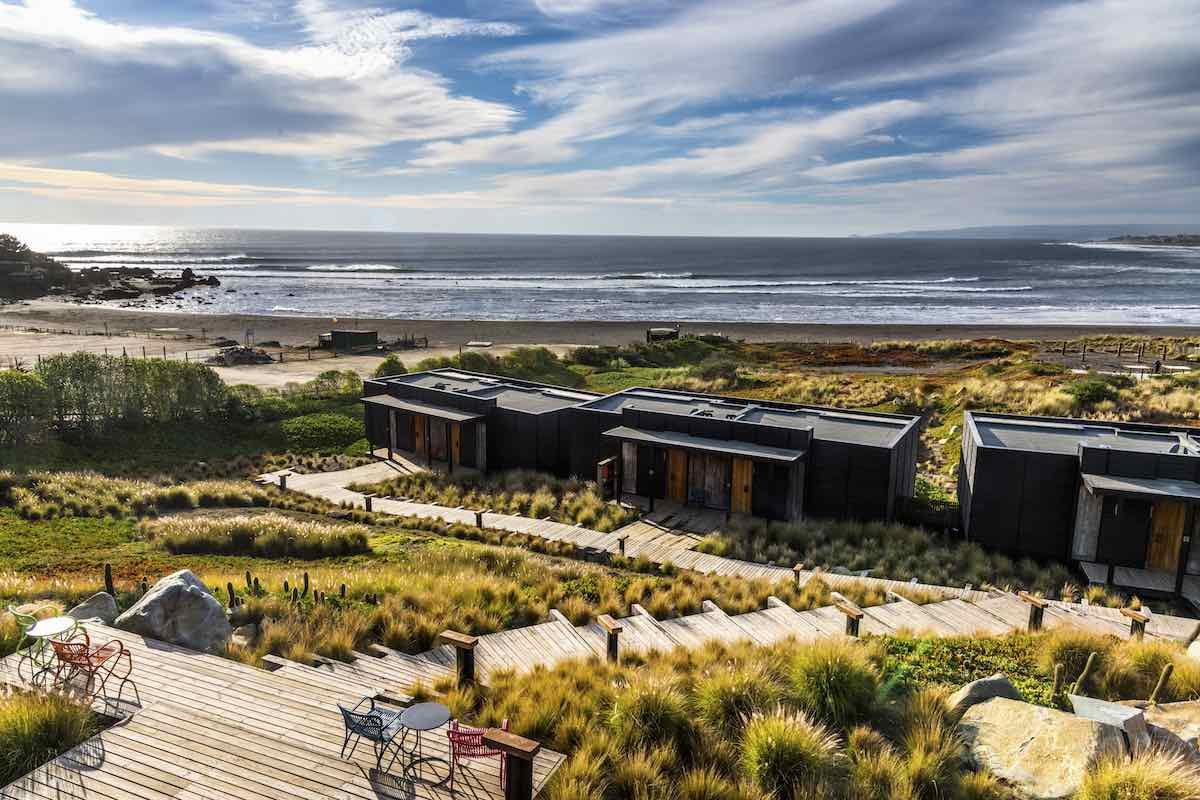 The lodge interior emphasizes the coast, with accents in shell, driftwood, and stone. In front of the reception area, you'll find a wall of surfboards. Panoramic windows and wooden decks for lounging draw guests outside to enjoy the salt air.  More than half of the dining space is outdoors.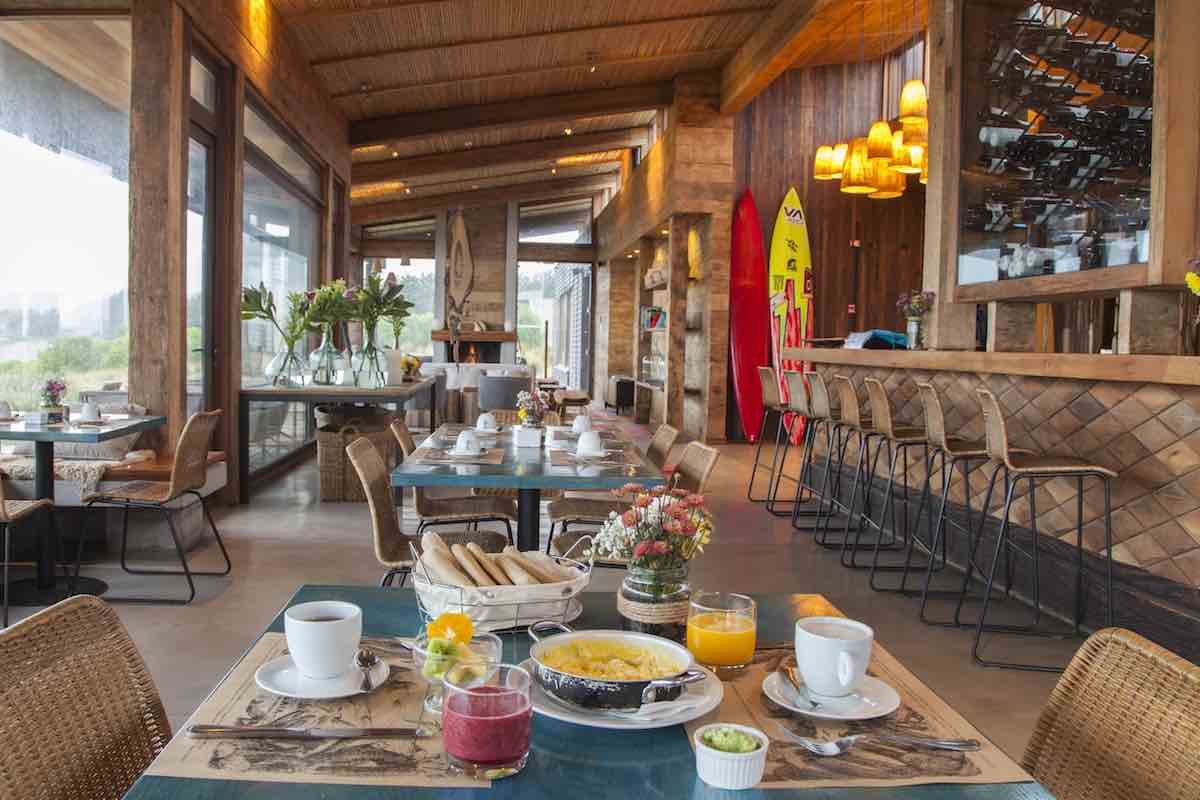 Accommodations
The hotel's 8 suites–each measuring 376 square feet–look out onto the grassy dunes in front of the ocean. Interiors are simple yet comfortable, finished in polished concrete and light-colored wood.
Each suite has a private desk in front of the dunes. Instead of bathrobes, terry-cloth surf ponchos are provided.  Rooms also feature television, coffee maker, mini-bar, security box (large enough for a laptop), slippers, and hair dryer.  Turndown service (with caramels) is provided.
The rooms feature king-size beds (or the option of two twin beds).  Interconnection is possible between a king room and a room with two twin beds.  Rollaway bedding can be arranged, allowing for triple occupancy.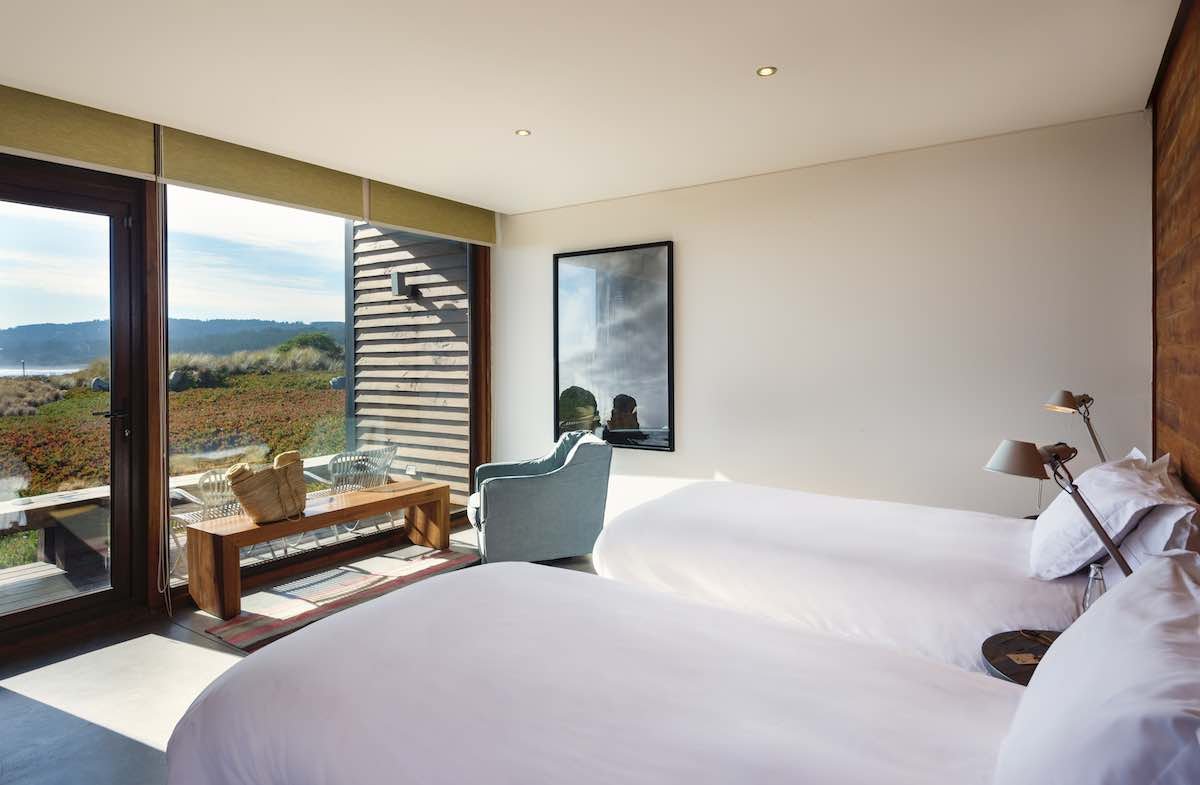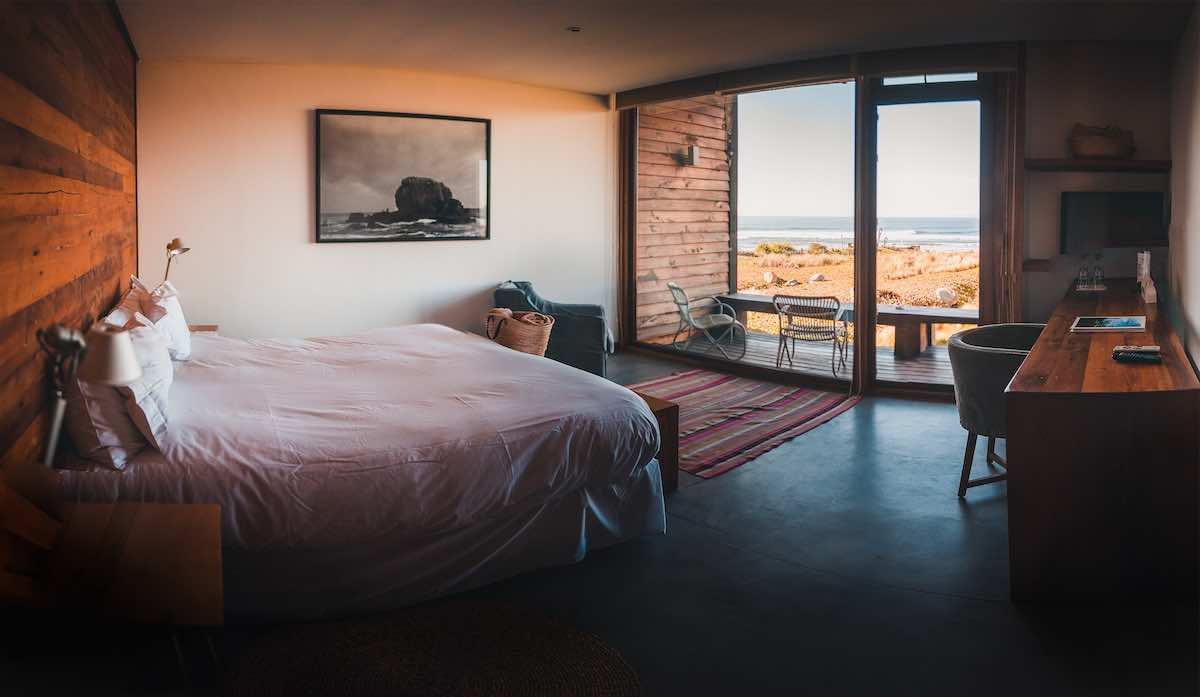 Amenities
As guests enter the hotel, they are greeted by a skate park and bouldering wall.
The hotel also has an outdoor (ambient temperature) pool and two hot tubs in front of the beach. A fully-equipped surf school (operated by world-class big wave riders) is stationed at the edge of the sand.
The restaurant at Hotel Alaia is a highlight. Even without the call of the surf, the breakfast would be motivation enough to get out of bed. The lunch and dinner menus feature fresh seafood; locally produced salt, vegetables, and quinoa; and regional wines. The hotel's organic garden and greenhouses, located across the street from the main lodge, are open to hotel guests.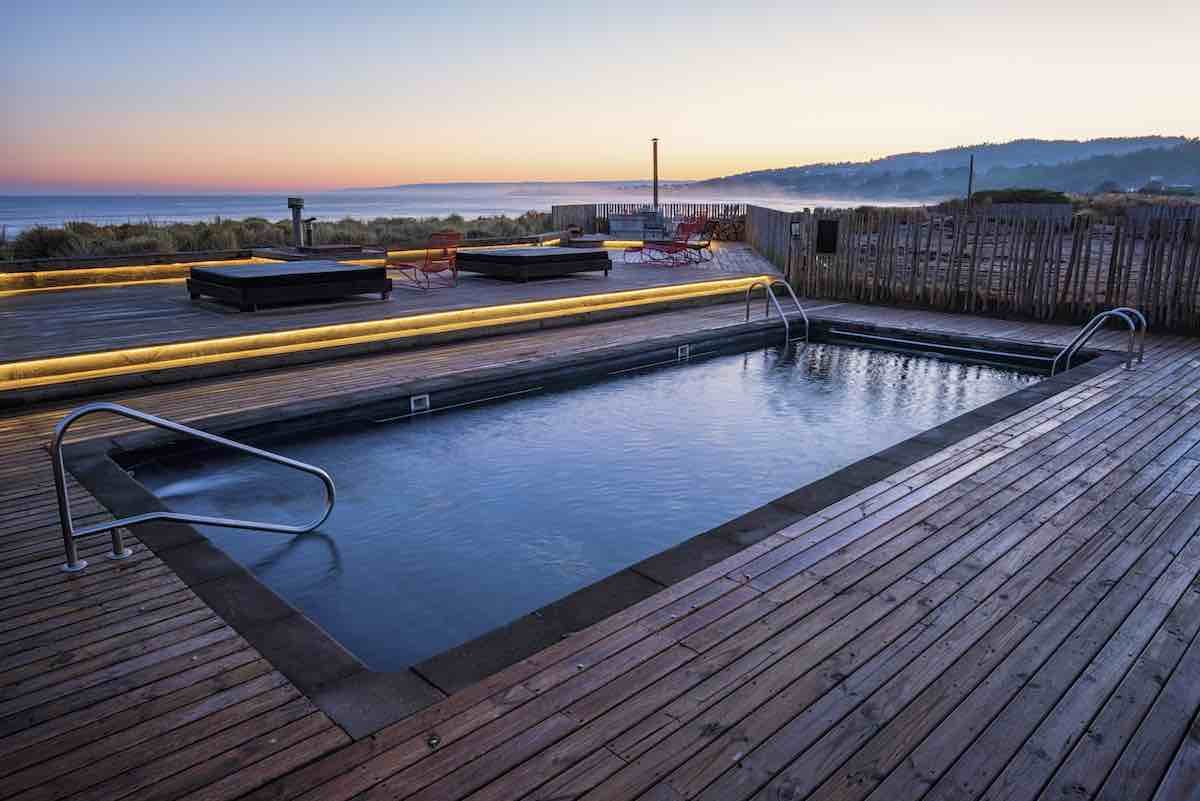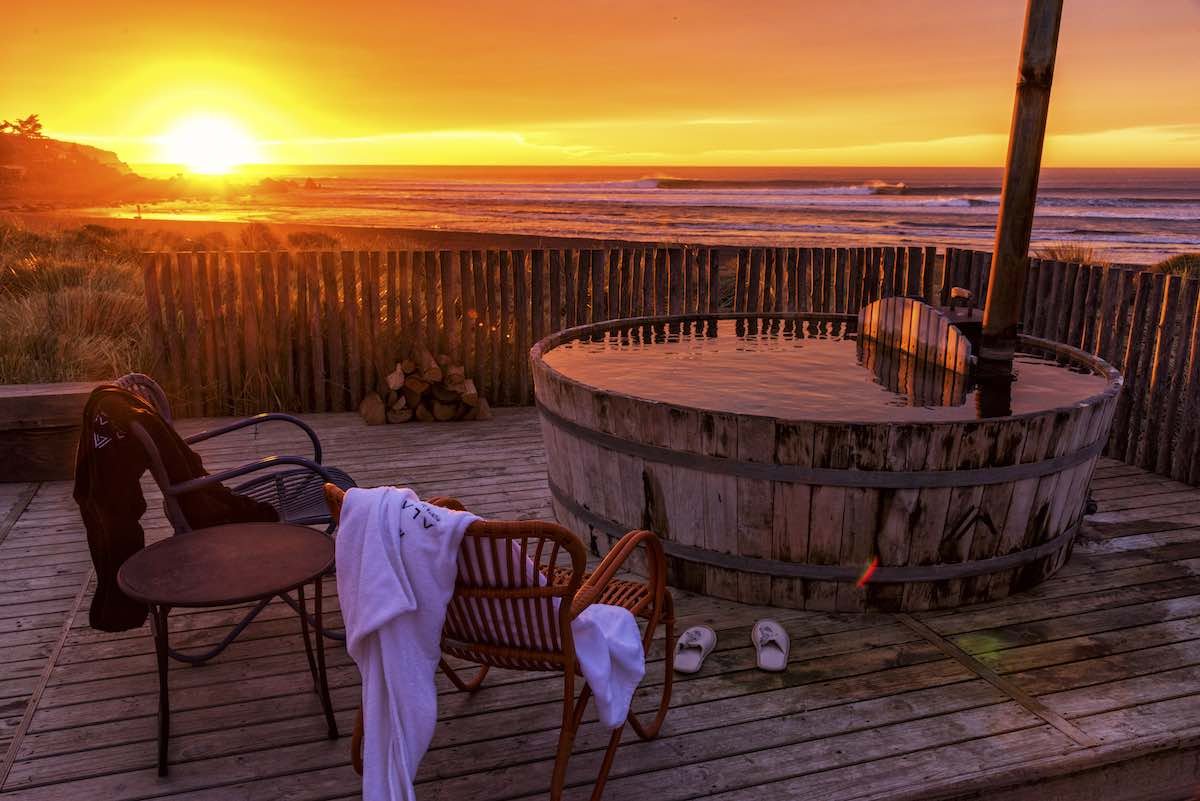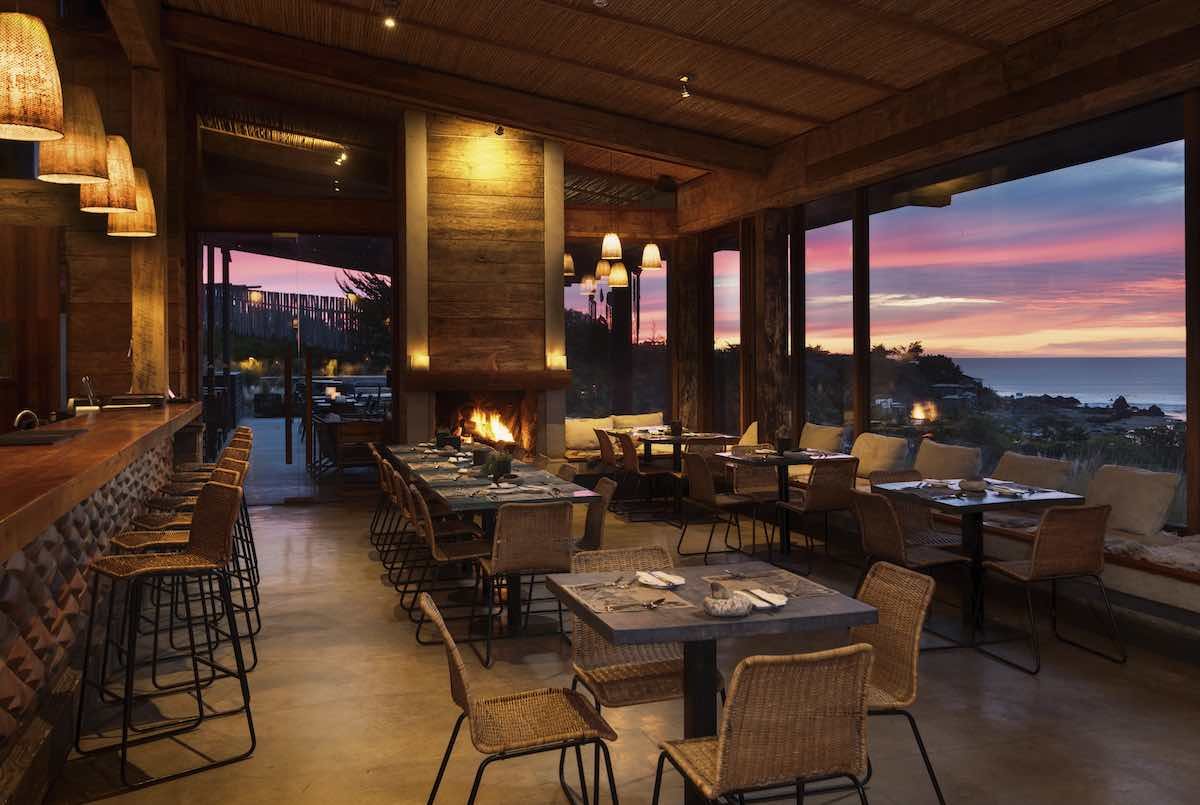 Activities 
Guests in Punta de Lobos have access to some of the most consistent surf in the world. The coaches here are patient, zen-like, and always encouraging.
A short walk from the hotel, the Punta de Lobos Foundation protects the peninsula's native cacti and works to prevent habitat loss. The owner of Alaia is one of the area's strongest conservation advocates.
LANDED also arranges privately guided visits to Cahuil's lagoon (for birding and kayaking), paddle boarding, yoga classes, bouldering, mountain biking, and hiking.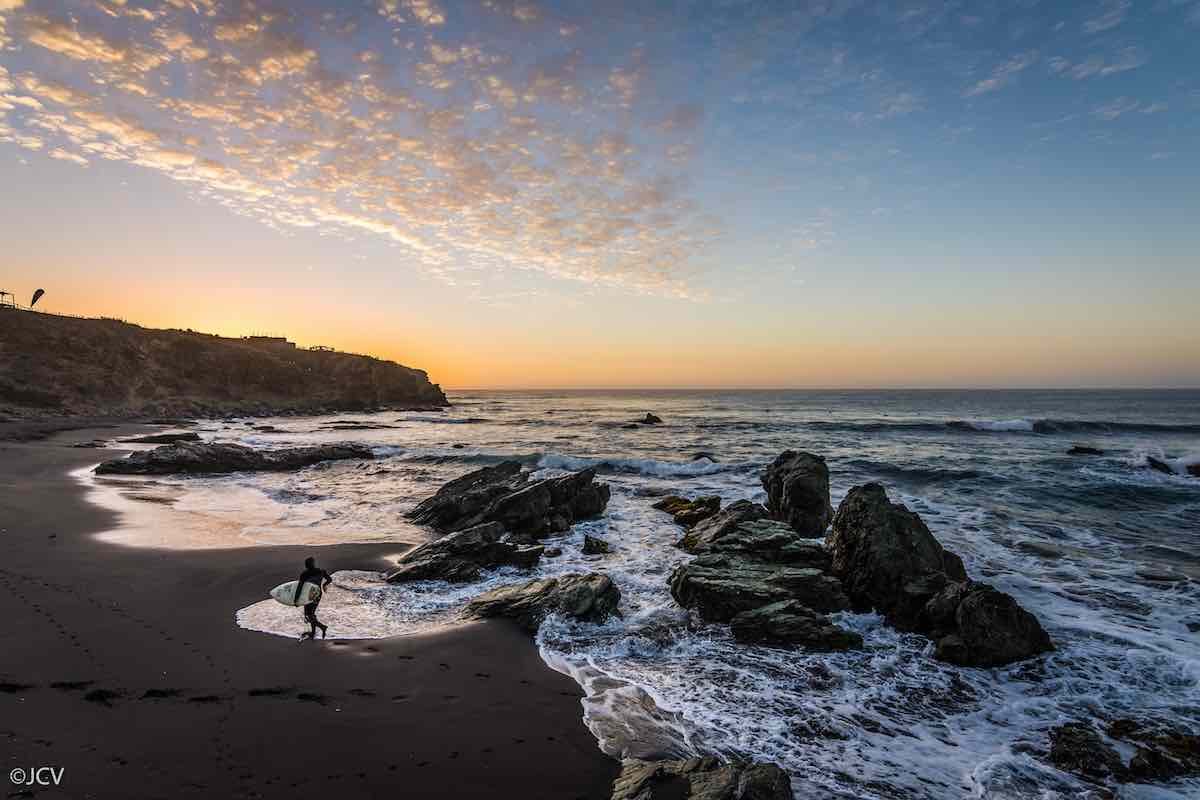 ARE YOU CONSIDERING A STAY AT HOTEL ALAIA? LANDED PROVIDES PERSONALIZED, CUSTOM TRAVEL WITHIN CENTRAL AMERICA, SOUTH AMERICA, AND THE ANTARCTIC. WE'LL CREATE A UNIQUE ITINERARY PLAN TAILORED TO YOUR INTERESTS AND DREAMS. EXPERIENCE THE TRIP OF A LIFETIME. SPEAK WITH ONE OF OUR EXPERT TRAVEL PLANNERS TODAY AT 801.582.2100.
PICHILEMU FAMILY TRAVEL ALBUM