Awasi Iguazu
Awasi Iguazu is our favorite hotel in Argentina and is located within a private Atlantic Rainforest reserve in Misiones, Argentina, approximately 30 minutes by car from the Iguazu National Park gate.
Each of the 14 villas is surrounded by jungle foliage, and each has its own plunge pool and sundeck.
Each villa receives a private guide and 4WD vehicle allowing guests to explore whenever and however they want.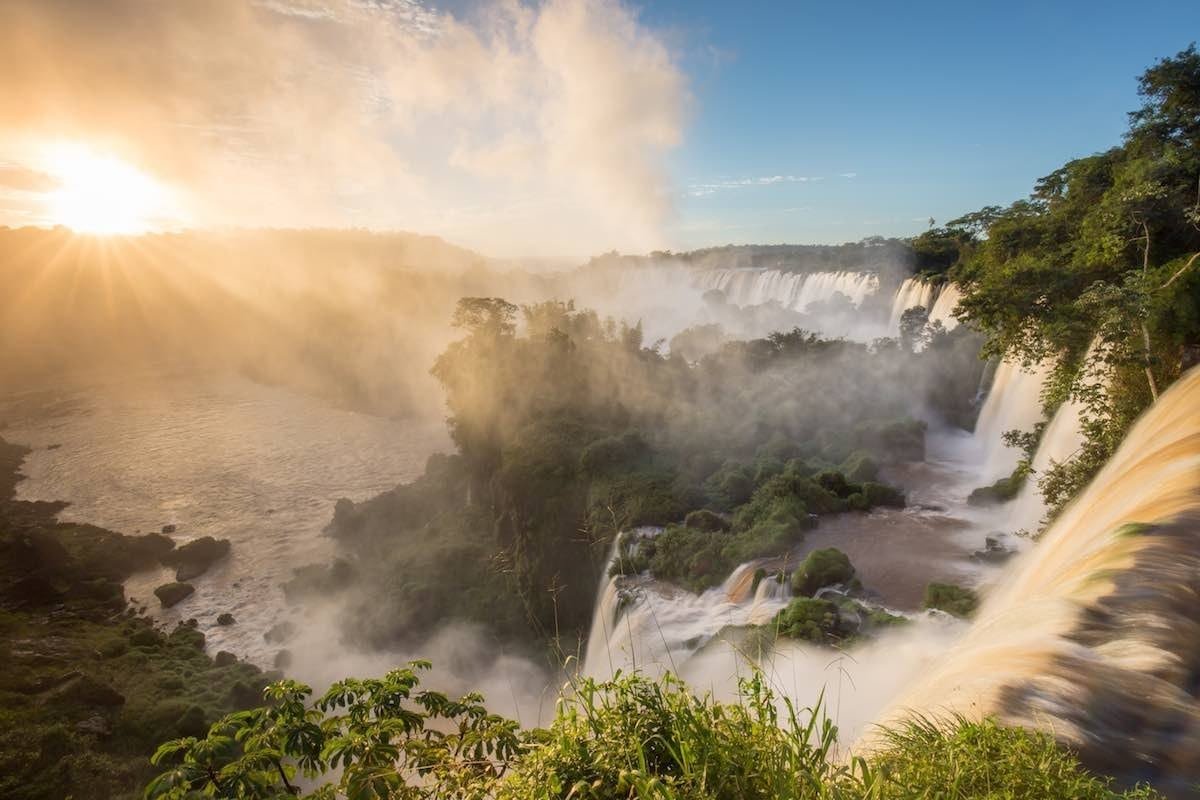 [toc]
Awasi Iguazu Location
Just 20 minutes from the Puerto Iguazu Airport and the Argentinian entrance to the Iguazu National Park, Awasi Iguazu occupies a large private plot of rainforest. The main attraction of the park is undoubtedly the Iguazu Falls, the largest falls in the world in terms of volume.
Depending on the season and water flow, Iguazu has as many as 275 distinct cascades within its two-mile wide, horseshoe-shaped curve.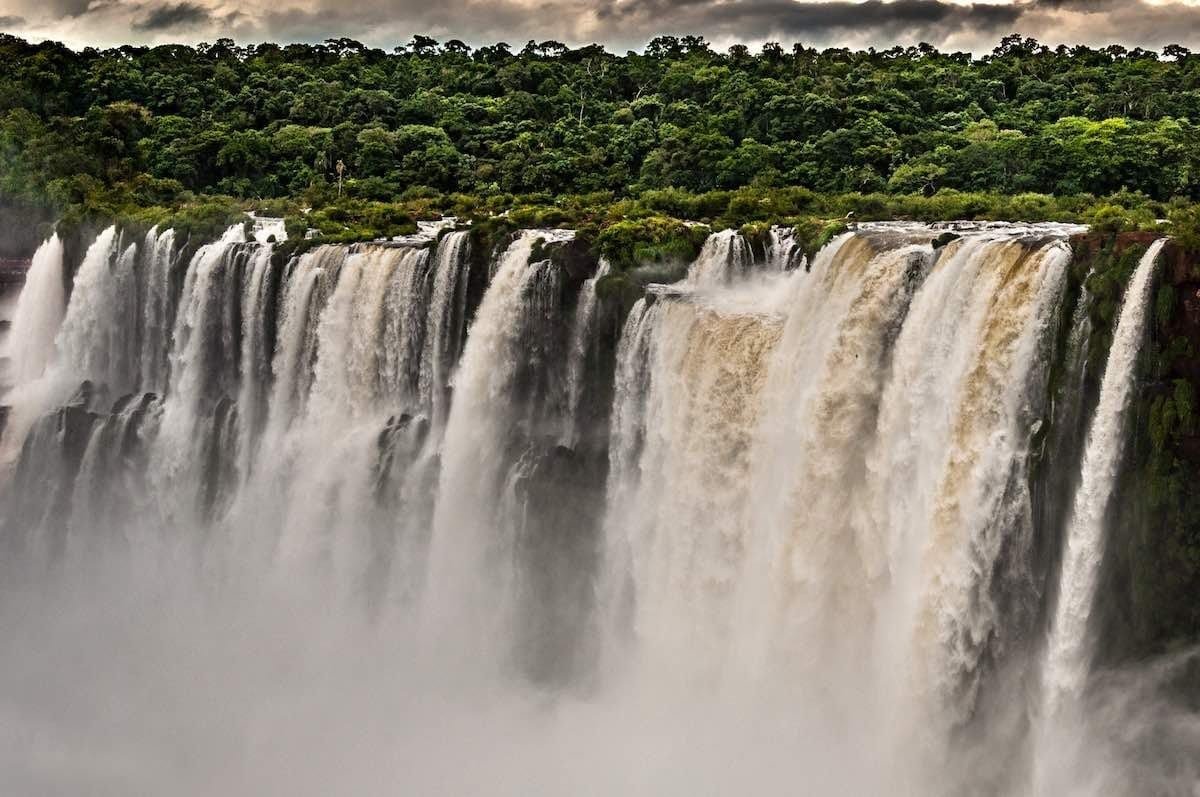 But perhaps the most spectacular section of the falls is known as La Garganta del Diablo, or "The Devil's Throat." There, the Iguazu River crashes 240 feet to its lower course.
The Iguazu National Park is also home to over 2,000 species of plants and indigenous wildlife of the region including howler monkeys, jaguars, and giant anteaters.
Awasi Iguazu Accommodations
Awasi Iguazu's 13 standard villas and 1 master villa are planted within a thick rainforest with nothing but open sky and buzzing branches waiting outside the doors.
Each cozy villa is built on stilts for minimal environmental impact and the interiors are accented with traditional baskets woven by the indigenous Guarani people, who still inhabit the region.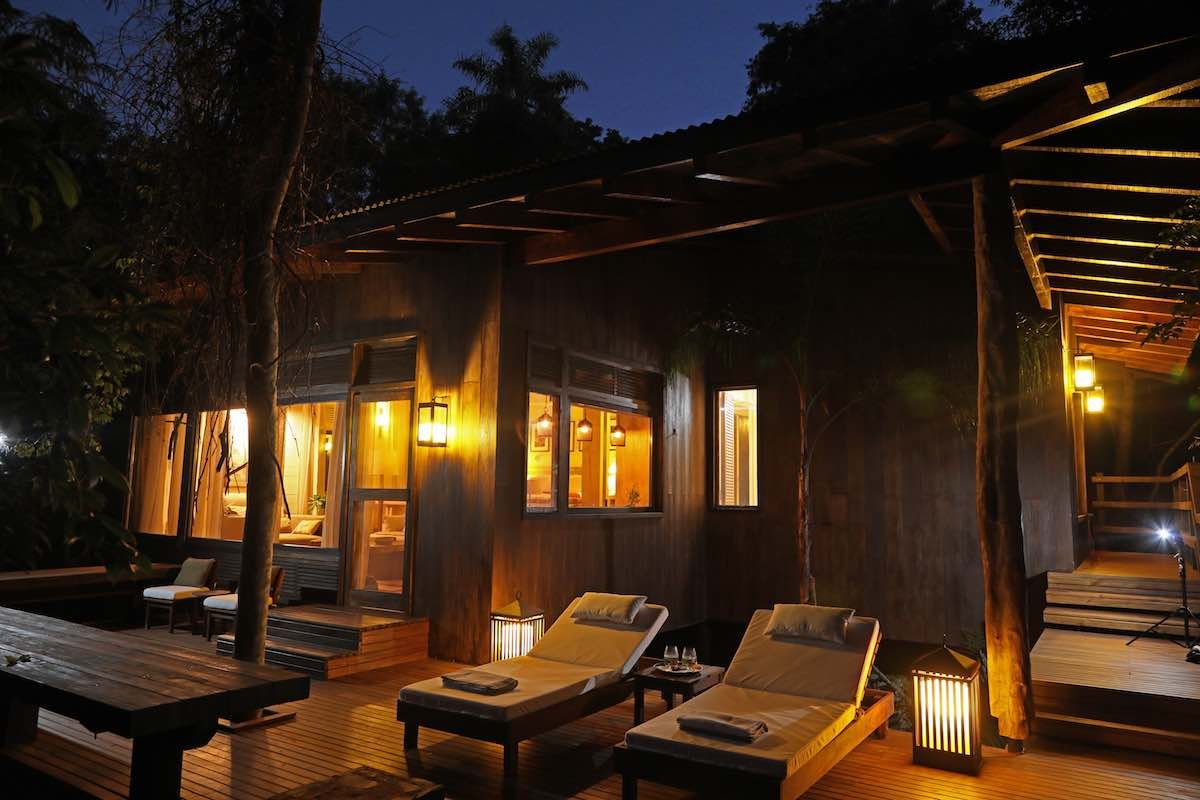 Each villa is fitted with a mini-bar, bathtub, robes, slippers, ambient-temperature plunge pool, sundeck, and Wi-Fi. In-room massages can also be arranged for an additional fee.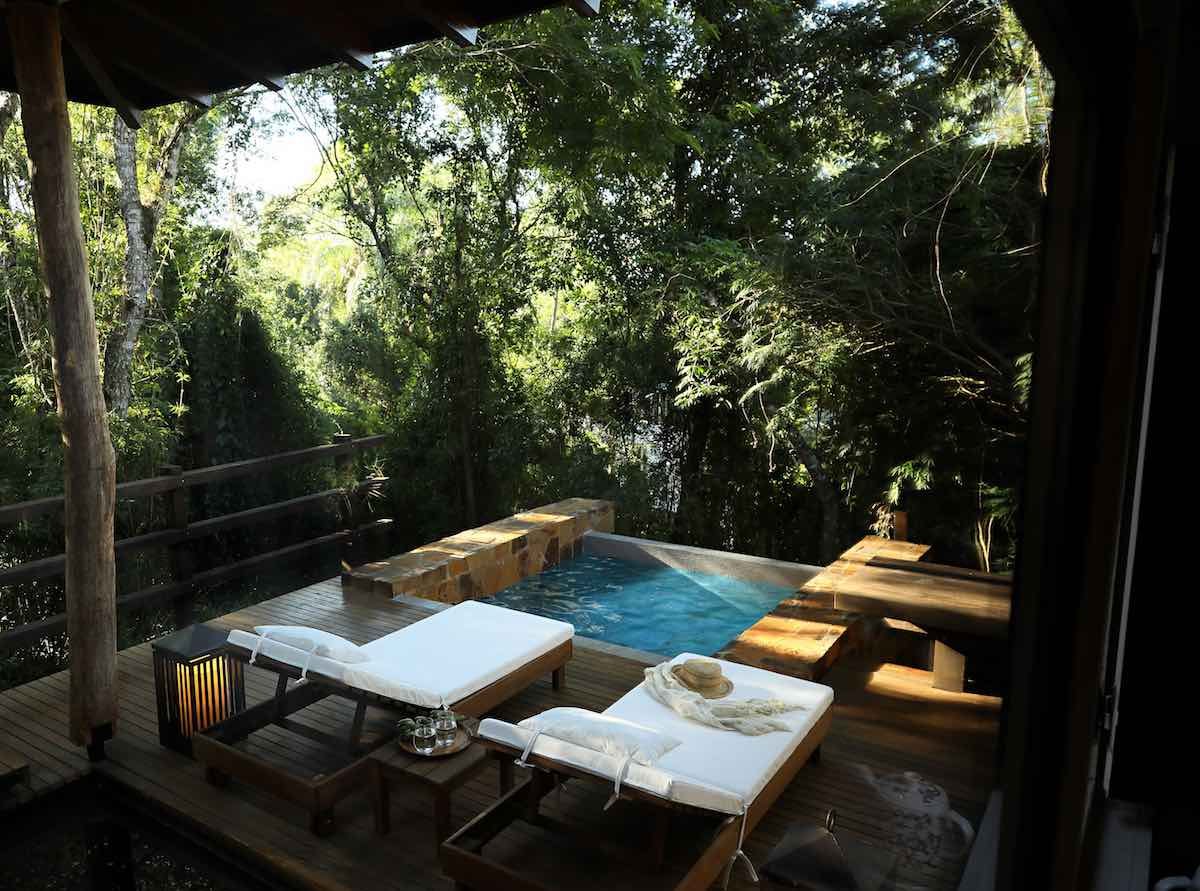 ---
Standard Villas
Measuring 1,076 square feet, each of the 13 standard villas has a coffee corner and large living room, as well as a large deck, lounge chairs and a plunge pool. These villas are primarily designed for couples or two friends.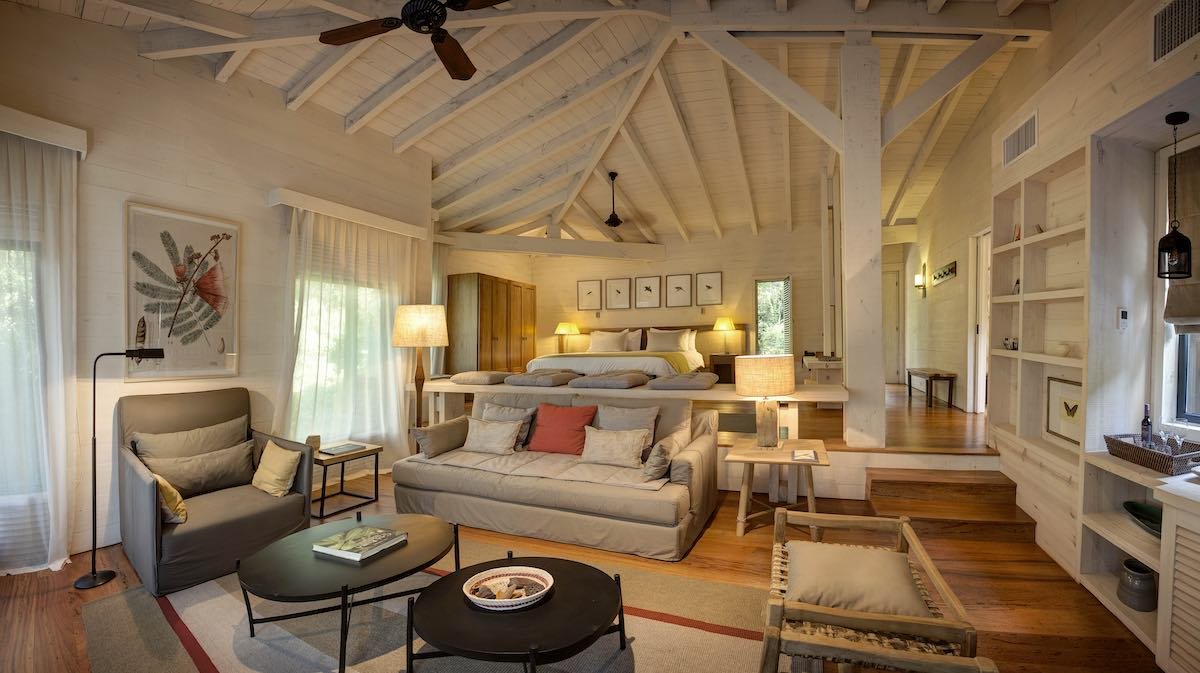 ---
Master Villa
Measuring 1,614 square feet, this exclusive master villa has a spacious living area and a larger plunge pool allowing plenty of space for two couples or families.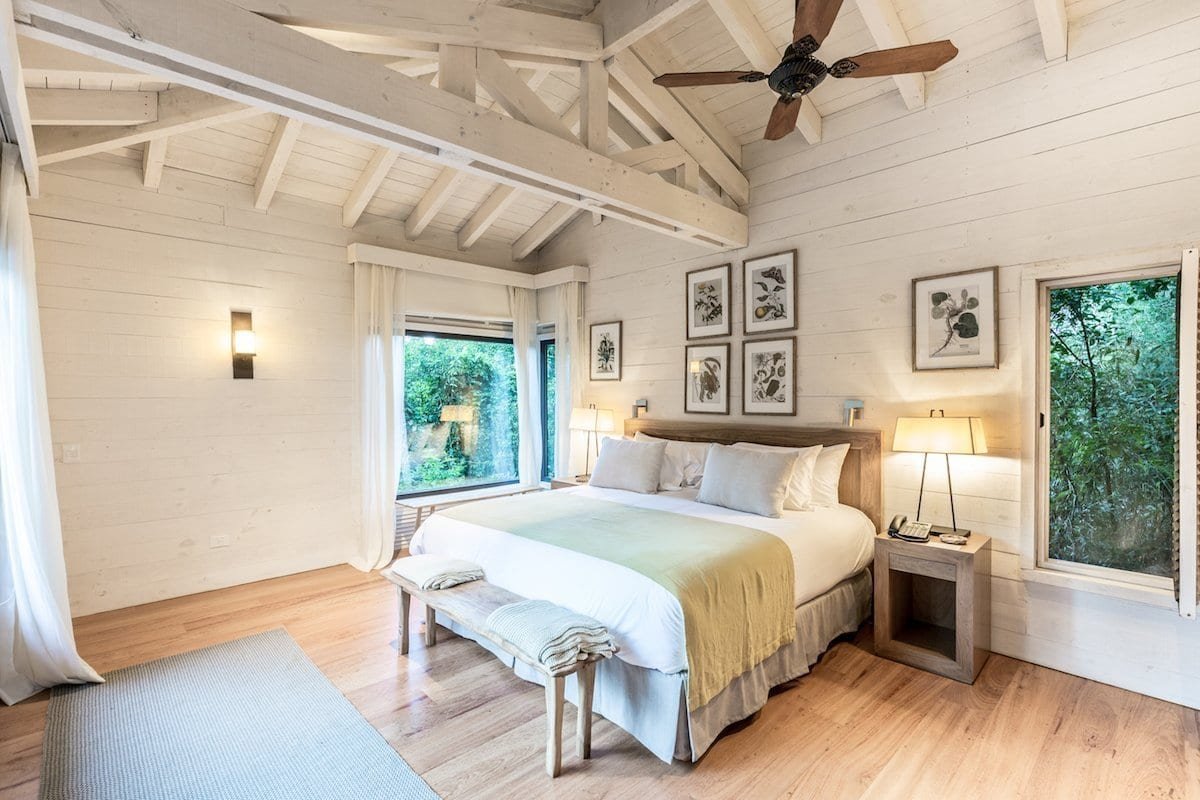 Awasi Iguazu Dining
Resident chef, Aarón Castillo Tellería characterizes his meals as rich in flavor, with seasonal produce, local inspiration and vegetables from the kitchen garden. The Awasi recipe is a mix of sophistication and simplicity, witch each meal catered to guests' needs.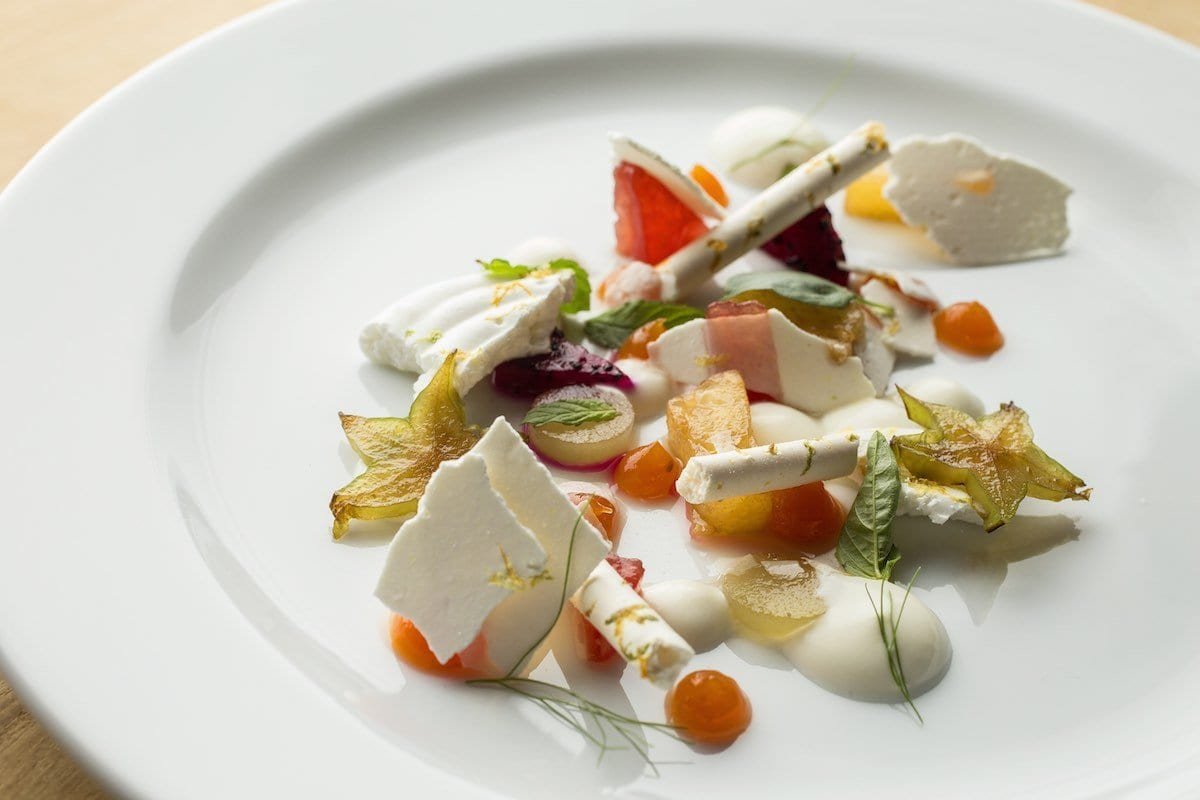 Excursions
Awasi Iguazu has worked with renowned biologists to create a series of adventures that go beyond the falls. From its landscape to its history, the Misiones Province is a melting pot of diversity.
The Iguazu Falls are part of the Atlantic rainforest which is home to more than 400 species of birds. Orchids and ferns are unique to the rainforest, as well as tapirs, monkeys and puma. Excursions through the rainforest involve hiking jungle trails, visiting crystal pools, archaeological ruins and local Guarani who practice ancient artisan crafts.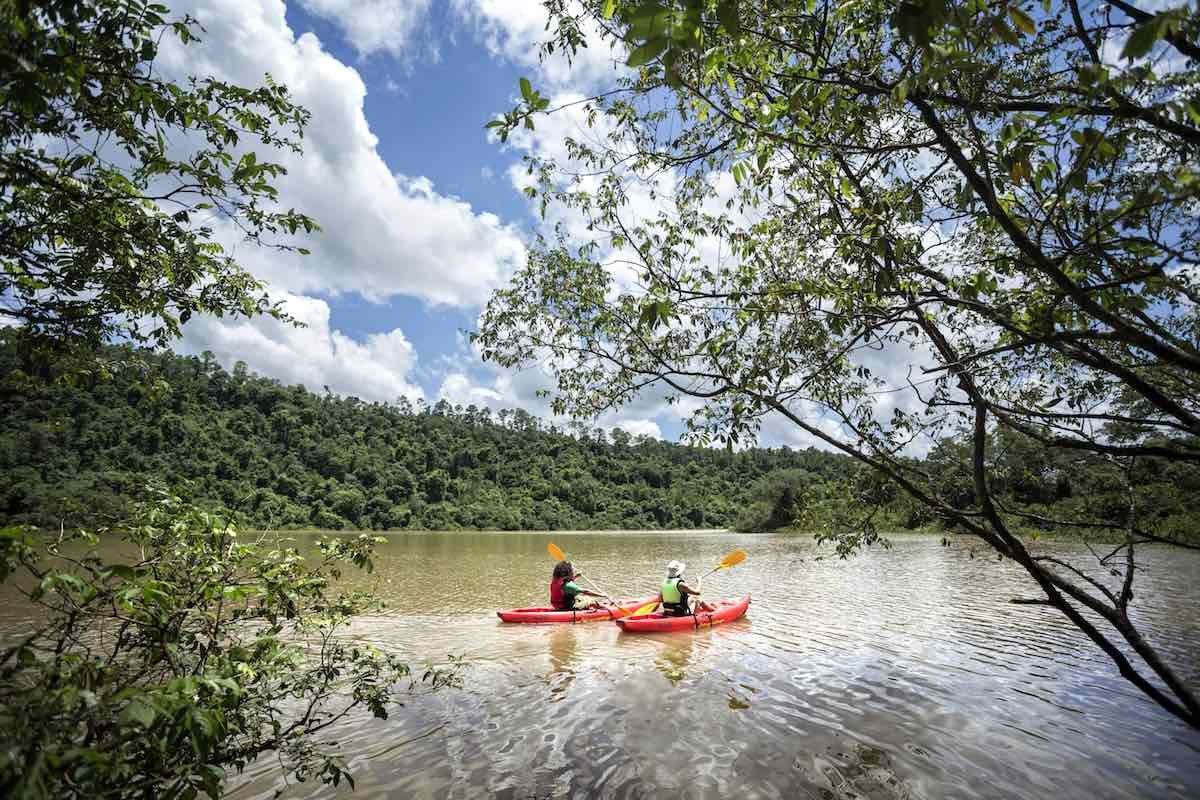 Privately-guided, tailor-made touring is also included. Upon arrival, you'll meet with your guides to choose your excursions. Choose from one full-day (approximately 6 to 8 hours) or two half-day (2 to 4 hours) excursions per day.
Airport transfers to either airport (IGR or IGU) are also included. Advance visas are required for entrance to Brazil.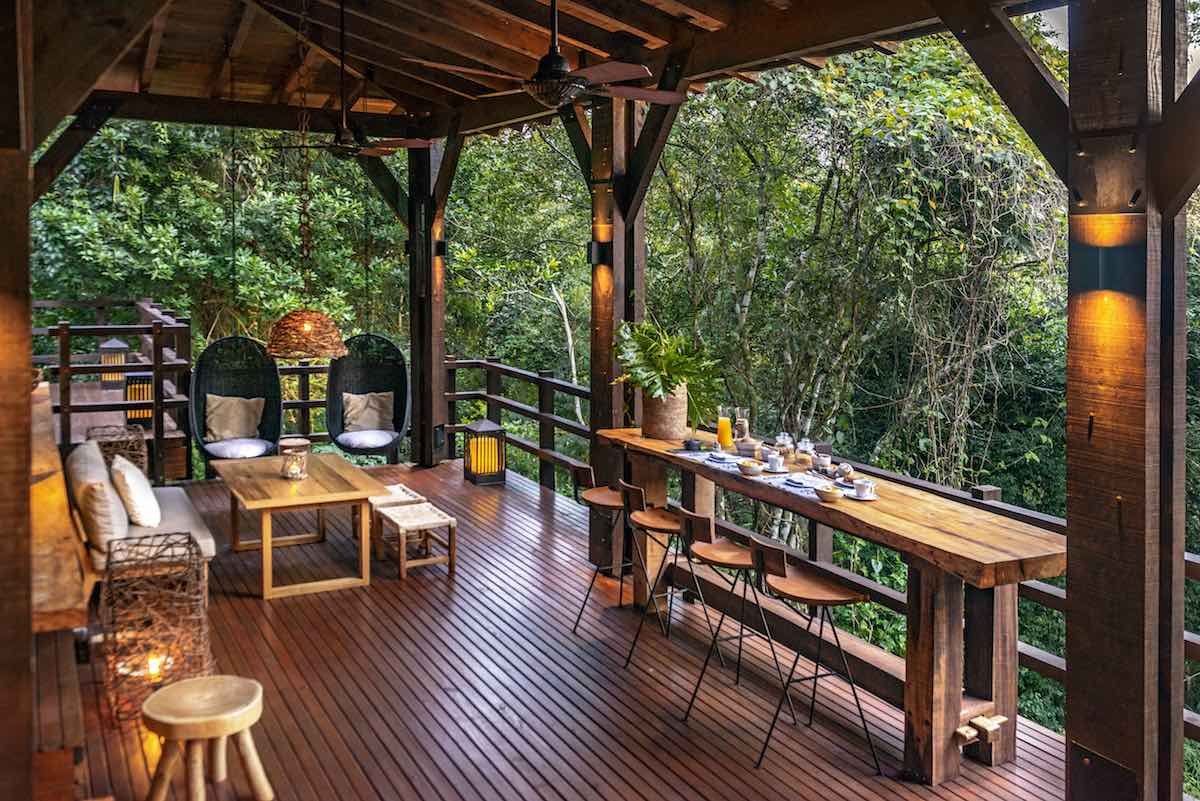 ARE YOU CONSIDERING A STAY AT AWASI IGUAZU? LANDED PROVIDES PERSONALIZED, CUSTOM TRAVEL WITHIN CENTRAL AMERICA, SOUTH AMERICA, AND THE ANTARCTIC. WE'LL CREATE A UNIQUE ITINERARY PLAN TAILORED TO YOUR INTERESTS AND DREAMS. EXPERIENCE THE TRIP OF A LIFETIME. SPEAK WITH ONE OF OUR EXPERT TRAVEL PLANNERS TODAY AT 801.582.2100.