Awasi Patagonia
Nestled into a forested hillside on a private reserve, Awasi Patagonia is our favorite hotel in Chile and faces the Torres del Paine National Park, Lake Sarmiento, and the wild Patagonian Steppe in the Chilean Patagonia. Vistas, pastures, forests, mountains and lakes abound, offering guests unprecedented passage into a wild and remote wilderness.
This southernmost Relais & Chateaux lodge provides guests with a private guide and four-wheel drive vehicle allowing them to explore the 15,000-acre private nature reserve as they choose, and at their own pace.
Awasi Patagonia's 14 villas are adorned with fireplaces, hot tubs, and luxury linens, each providing a minimum of 860 square feet of living space.
Food is another highlight — executive Chef Matías Crosta creates seasonal meals, made to order. Meals and privately guided excursions are included.
Lodge amenities include a restaurant, open bar for select alcoholic and non-alcoholic beverages, library, lounge, and a menu of privately guided excursions.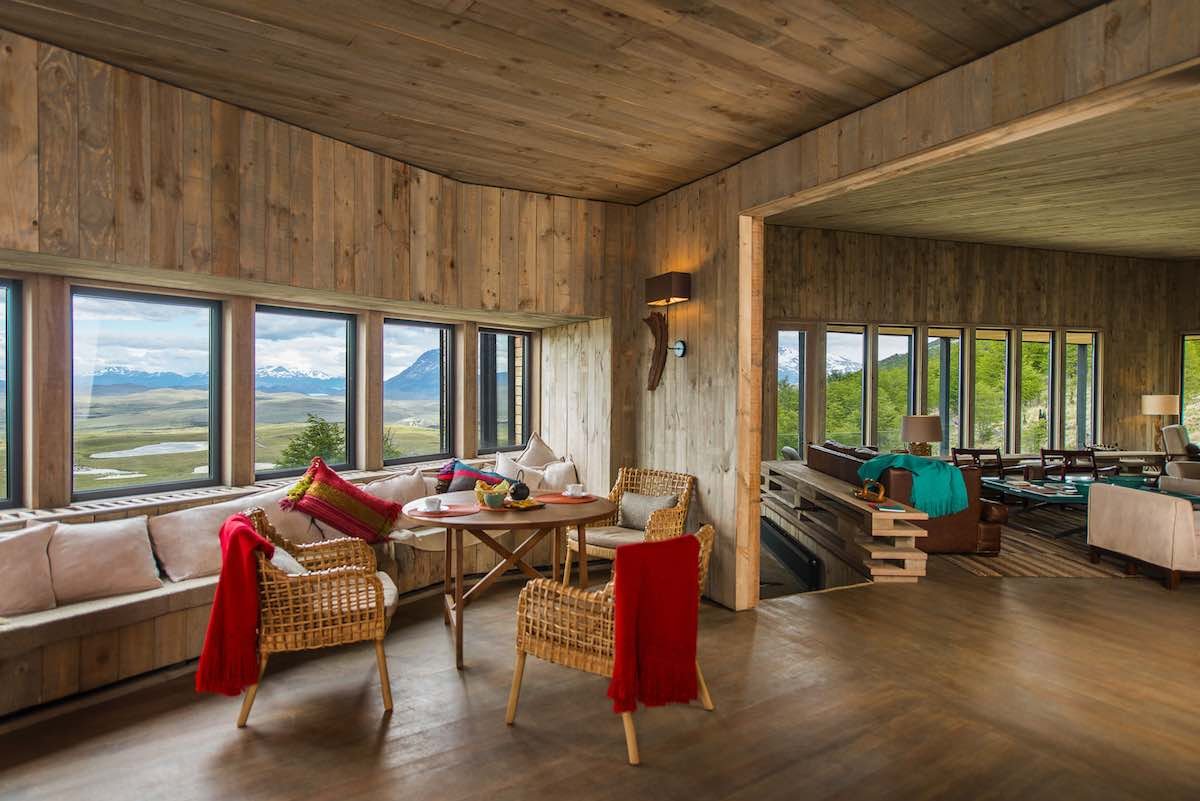 [toc]
Awasi Patagonia Location
Awasi Patagonia's 14 private villas are positioned on a private reserve facing the Torres del Paine National Park in Southern Chile. This 15,000-acre private reserve is home to foxes, horses, sheep, glacier-walking, biking, kayaking and more.
The Villas are positioned to ensure the utmost privacy and offer pristine views of surrounding forests, Lake Sarmiento and the pampas (grasslands) in Torres del Paine.
Awasi Patagonia Accommodations
Inspired by the style of classic Patagonian shelters and ranching outposts, these 12 villas (one with two suites) are wood-paneled from floor-to-ceiling with large windows opening to views of the forest reserve. Surrounded by lenga and nirre trees, these villas are sheltered from the Patagonian winds.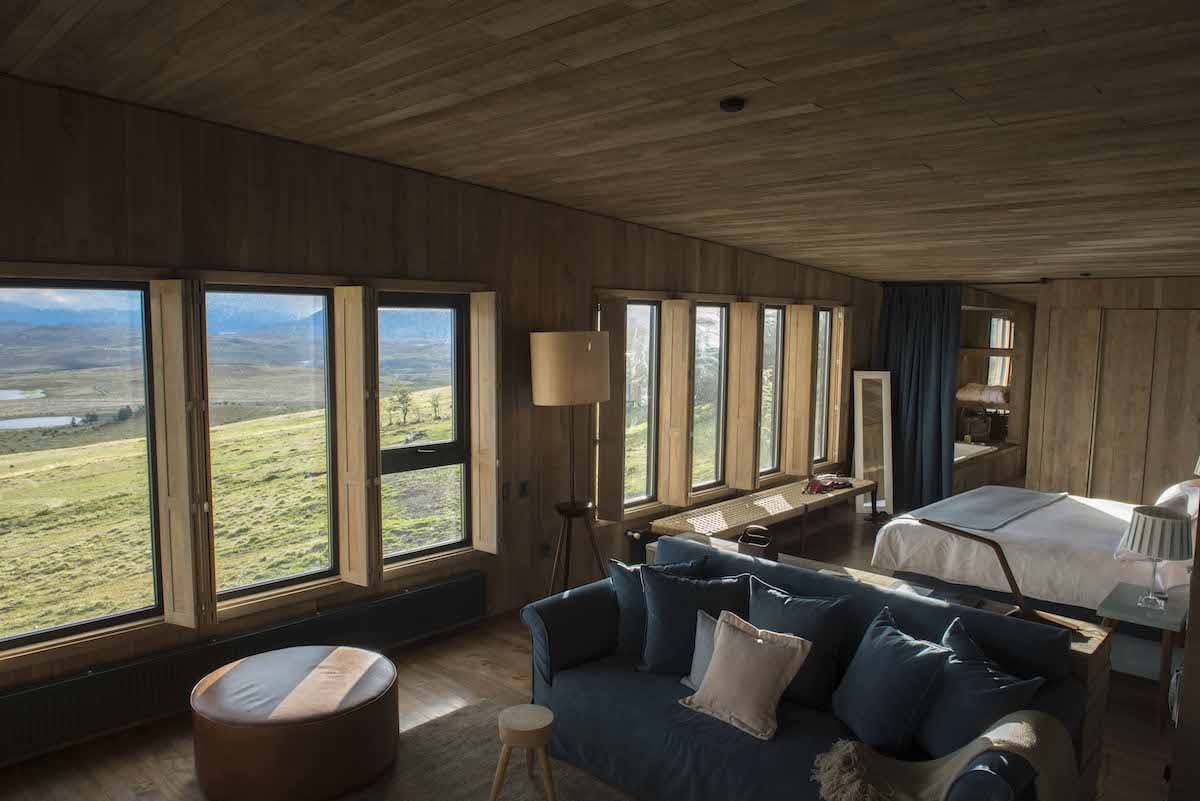 Each villa has a hot tub, wood burning stove, living room, fireplaces, separate baths and showers, bathrobes, slippers, security box, and minibar.
Some services can be arranged for an additional cost (e.g. massage, fly-fishing, laundry). Premium beverages carry an additional charge. Room service is available. Rooms do not have televisions. Internet service is remote in this part of the Patagonia — the main lodge has the best Wi-Fi access.
---
Private Villas
These 13 villas are 800 square feet each and located about 160-1200 feet from the main lodge
Each room has a king-size bed or two double beds
A small vehicle transportation system is available to travel between villas and common areas
Each room has a striking view of the Torres Del Paine National Park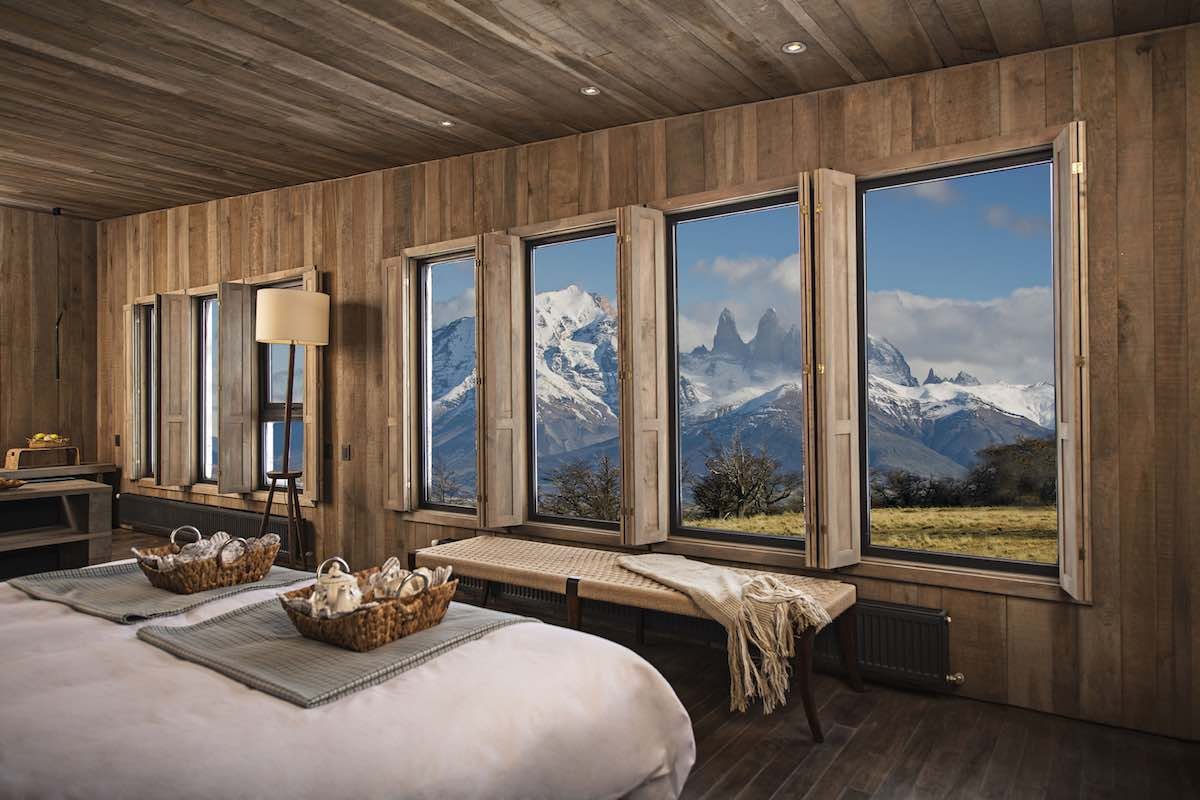 ---
Master Villa
The master villa is 1500 square feet featuring a master bedroom with a king-size bed and a master bath
The second bedroom has two twins and bathroom with shower
The villa also has a wood burning stove and open-air hot tub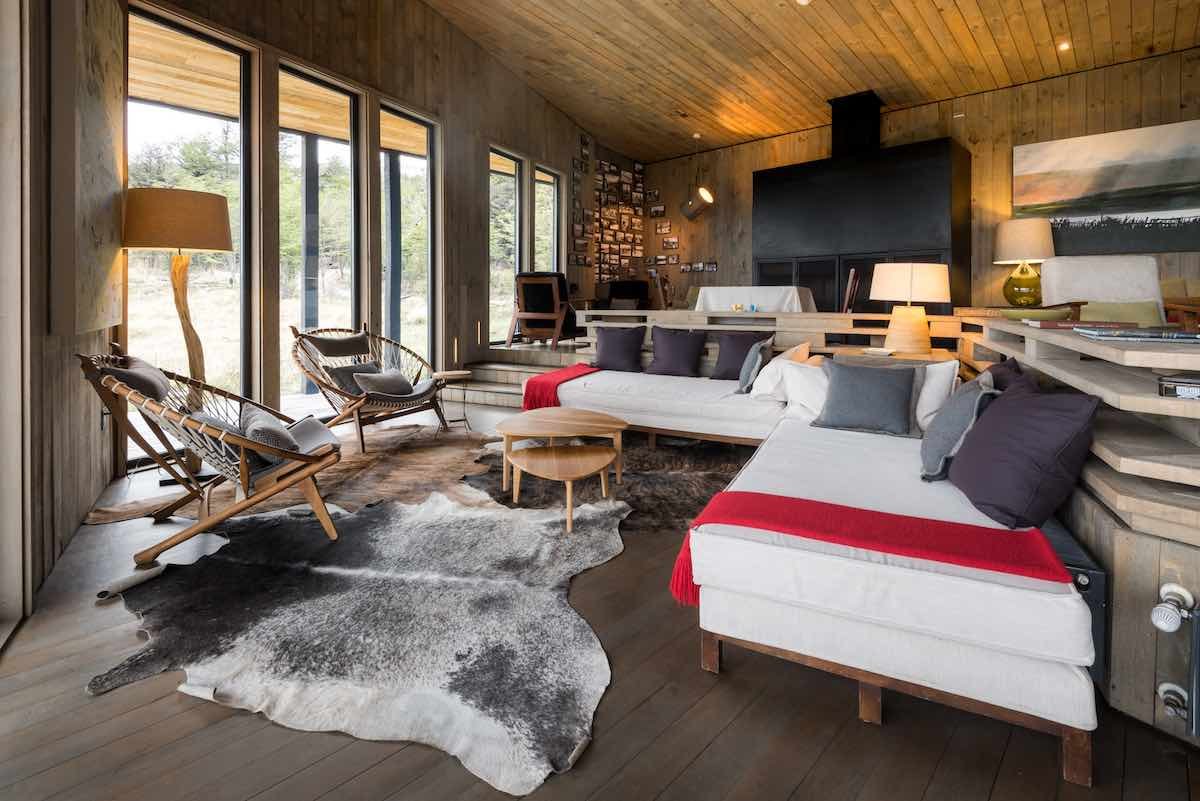 Awasi Patagonia Dining
Seasoned Chef Matias Crosta describes his ingredients as seasonal, fresh, sophisticated and all are picked from the kitchen garden. Each dish is handcrafted to fit each individual need.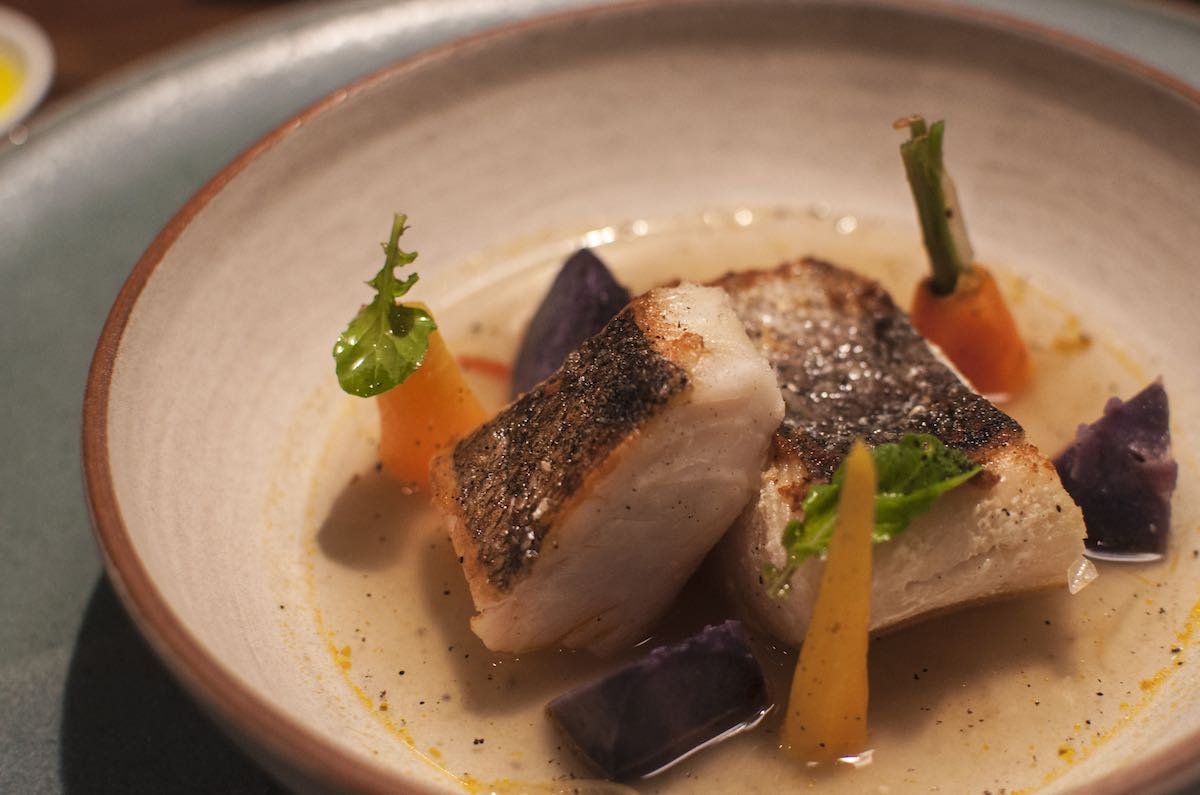 Private Excursions
Continuing Awasi's tradition of excellence in hospitality, Awasi Patagonia is the only property in the region to provide a 100% tailor-made experience. Each villa includes a dedicated professional guide where guests can choose from a complete menu of excursions, without the inevitable compromises of group-basis touring.
A 4×4 vehicle and a private guide design the excursions that best suit guests' preferences and interests. They can may choose between full-day excursions with lunch included (from 4 to 6 hrs.) or two half-day excursions (between 2 and 5 hrs.) returning to have lunch at Awasi between both excursions.
At the time of reservation, a personal reservations assistant will be in charge of coordinating the details of your trip to Chilean Patagonia, taking your interests and expectations into account.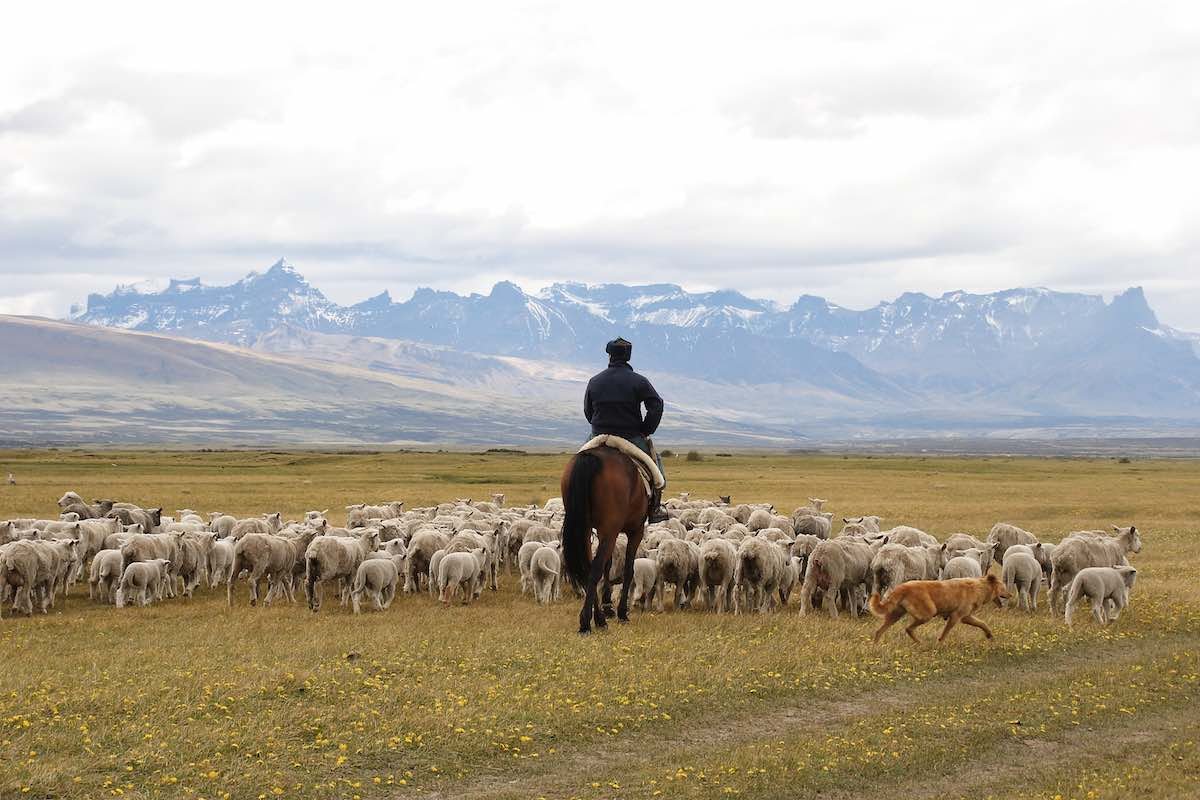 Awasi Puma Foundation
Because Awasi Patagonia borders the Torres del Paine National Park, which is home to hundreds of indigenous species of flora and fauna, they decided to launch the Awasi Puma foundation.
Awasi Patagonia expanded its private reserve from 1,400 to 11,000 acres by renting a sheep farming estancia and transforming it into an area aimed to protect the puma population in and around Torres del Paine National Park. They are working with scientists and researchers to gather information about behavioral patterns of these species.
The purpose of this protected area is to limit the amount of land dedicated to sheep farming, allowing the grasslands and shrubs to regrow after years of over-grazing, and leaving the area uninhabited and open for the return of its rightful inhabitants: guanacos, pumas, condors and many other species.
ARE YOU CONSIDERING A STAY AT AWASI PATAGONIA? LANDED PROVIDES PERSONALIZED, CUSTOM TRAVEL WITHIN CENTRAL AMERICA, SOUTH AMERICA, AND THE ANTARCTIC. WE'LL CREATE A UNIQUE ITINERARY PLAN TAILORED TO YOUR INTERESTS AND DREAMS. EXPERIENCE THE TRIP OF A LIFETIME. SPEAK WITH ONE OF OUR EXPERT TRAVEL PLANNERS TODAY AT 801.582.2100.