Torres del Paine National Park
The Torres del Paine National Park may be the most spectacular region in Chilean Patagonia.
The breathtaking peaks and ridges of the Paine Massif form a postcard-perfect backdrop for 927 square miles of ancient glaciers, windswept grasslands, and turquoise lakes.
Paine is a Tehuelche word meaning "blue"—a reference to the park's resplendent glacial waters.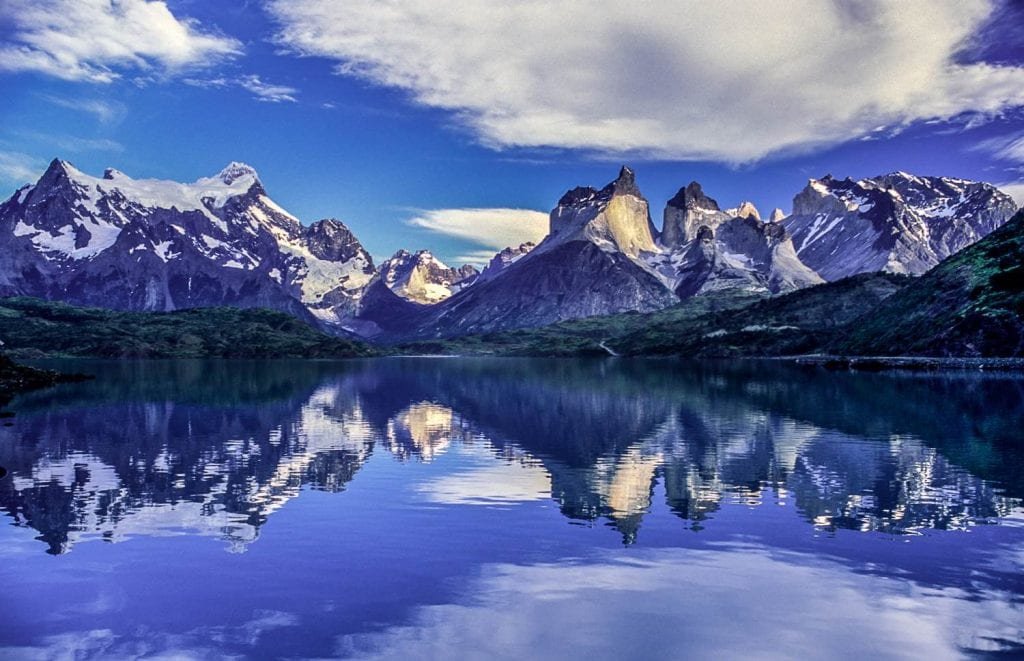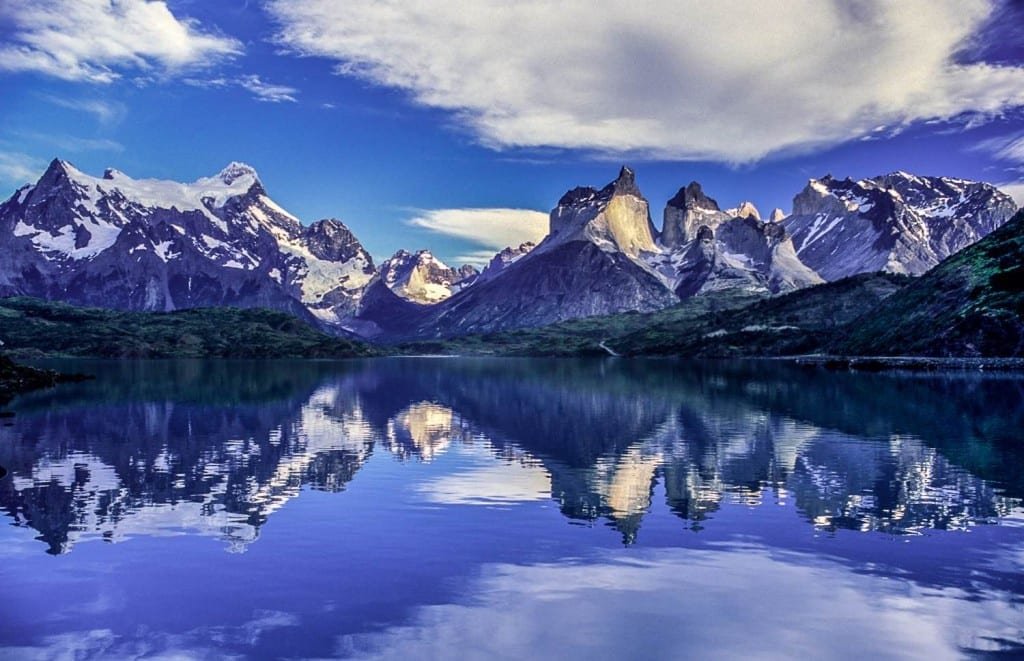 UNESCO World Biosphere Reserve
Declared a UNESCO World Biosphere Reserve in 1978, this park protects guanacos, foxes, and pumas.
Torres del Paine is home to over 100 avian species, including:
Flamingos
Parakeets
Condors
Rheas
Although adjacent to the Andes, Torres del Paine is a separate and much newer geologic formation.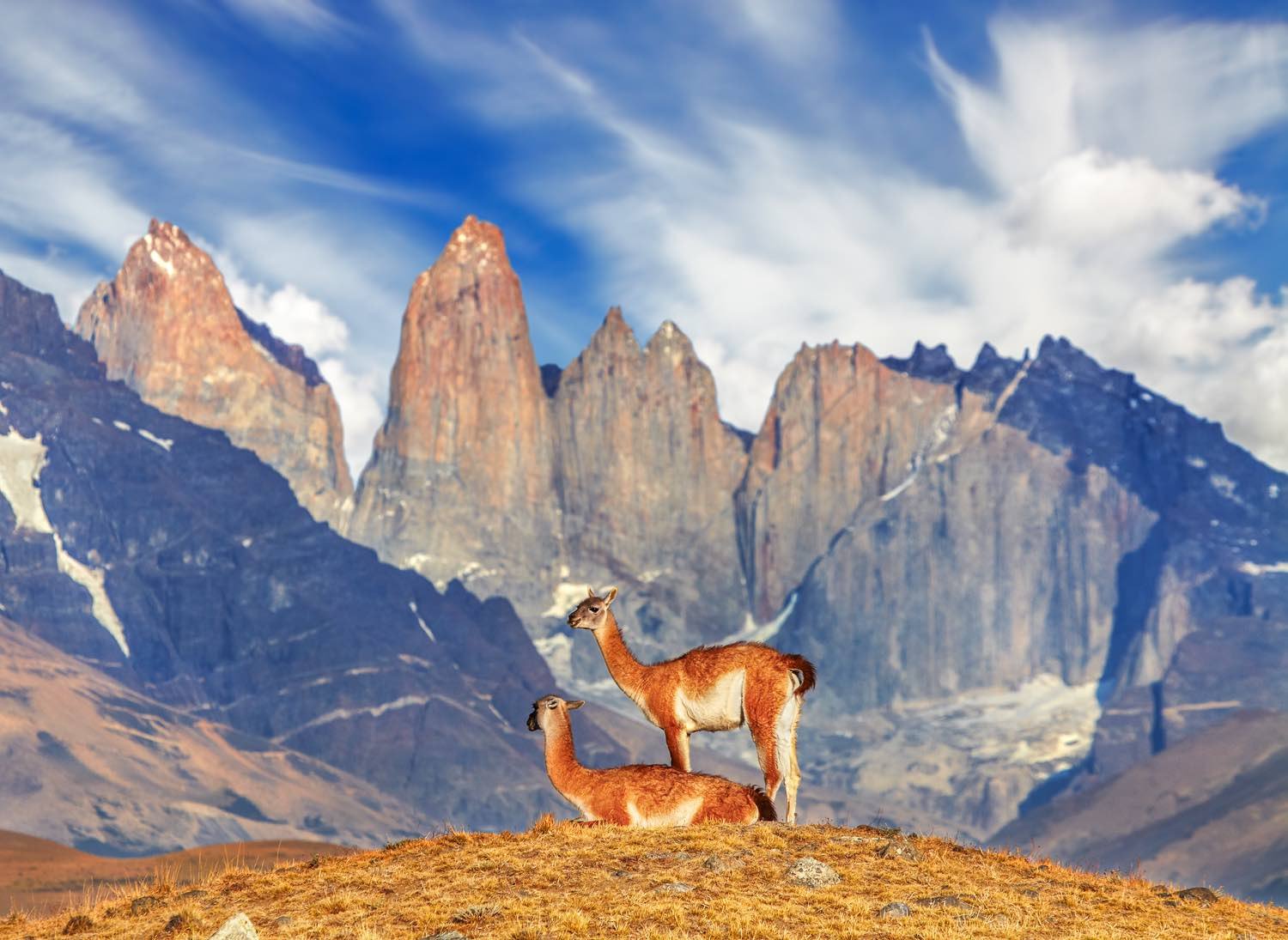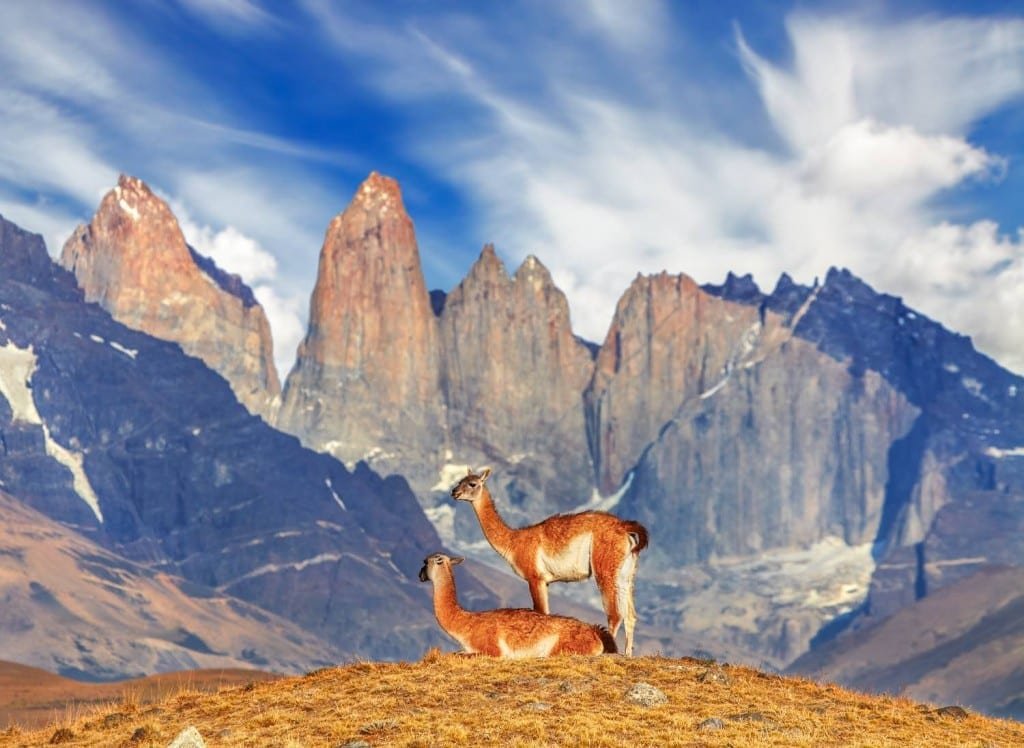 The salmon-colored Torres (or Towers) are among the highest sheer drops on the planet.
Cuernons and The South Tower
The south tower is thought to be the tallest, with a vertical height of over 8,200 feet.
The Cuernos (or Horns) are rugged granite spires, varying in color from pale grey to deep black.
Accommodations: Luxurious to Rustic
Accommodations near and within Torres del Paine range from luxurious to rustic.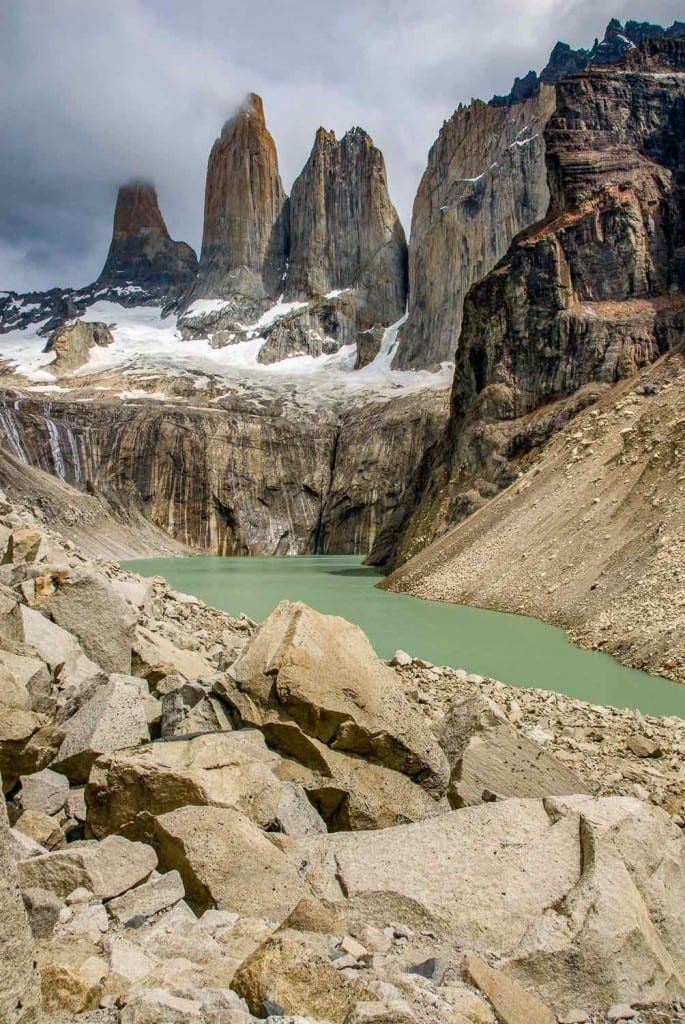 Some lodges offer set programs of four, five, or eight nights, with full board and guided excursions.
Visitors to Torres del Paine can spend days trekking, horseback riding, or touring the lakes by boat or kayak.
Day hikes can take you to the Towers, the breathtaking French Valley or Grey Glacier.
Birdwatching on the hike to Lago Pingo
Among birdwatchers, the hike to Lago Pingo is a favorite.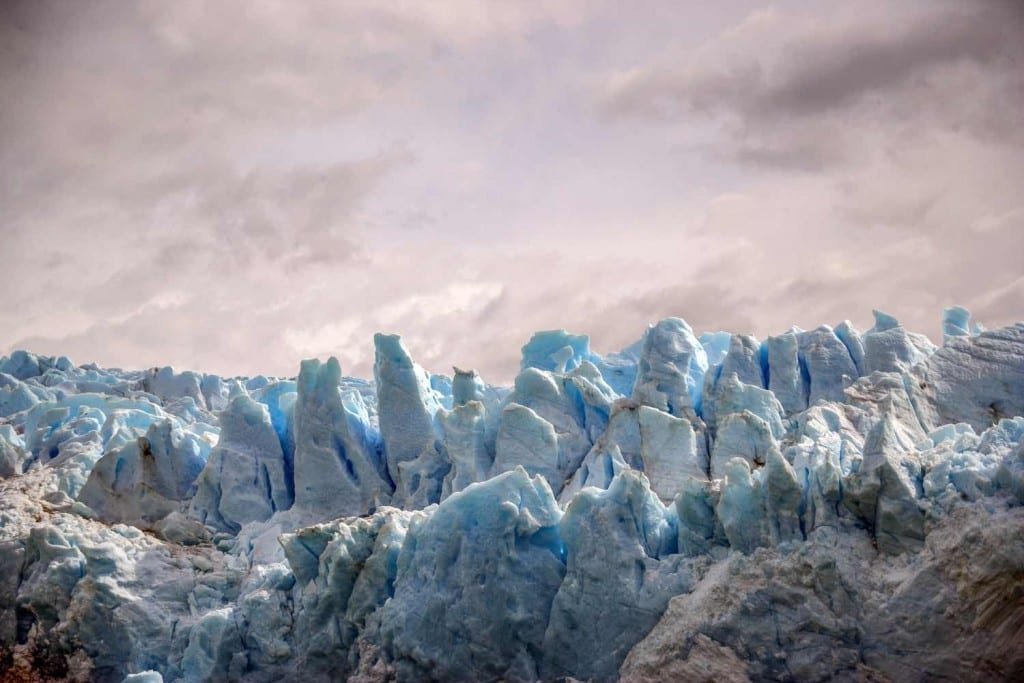 Multi-day Backpacking Treks
Multi-day backpacking treks around Torres del Paine can also be arranged—the park has over 150 miles of trail, punctuated by campsites and refuges.
The short "W" route, passing the Torres, the Cuernos and Glacier Grey, can be traversed in four or five days.
The full circuit around the massif typically takes eight to eleven days.
Getting to Torres del Paine
Torres del Paine can be reached by flights from Santiago to Punta Arenas (3.5 hours).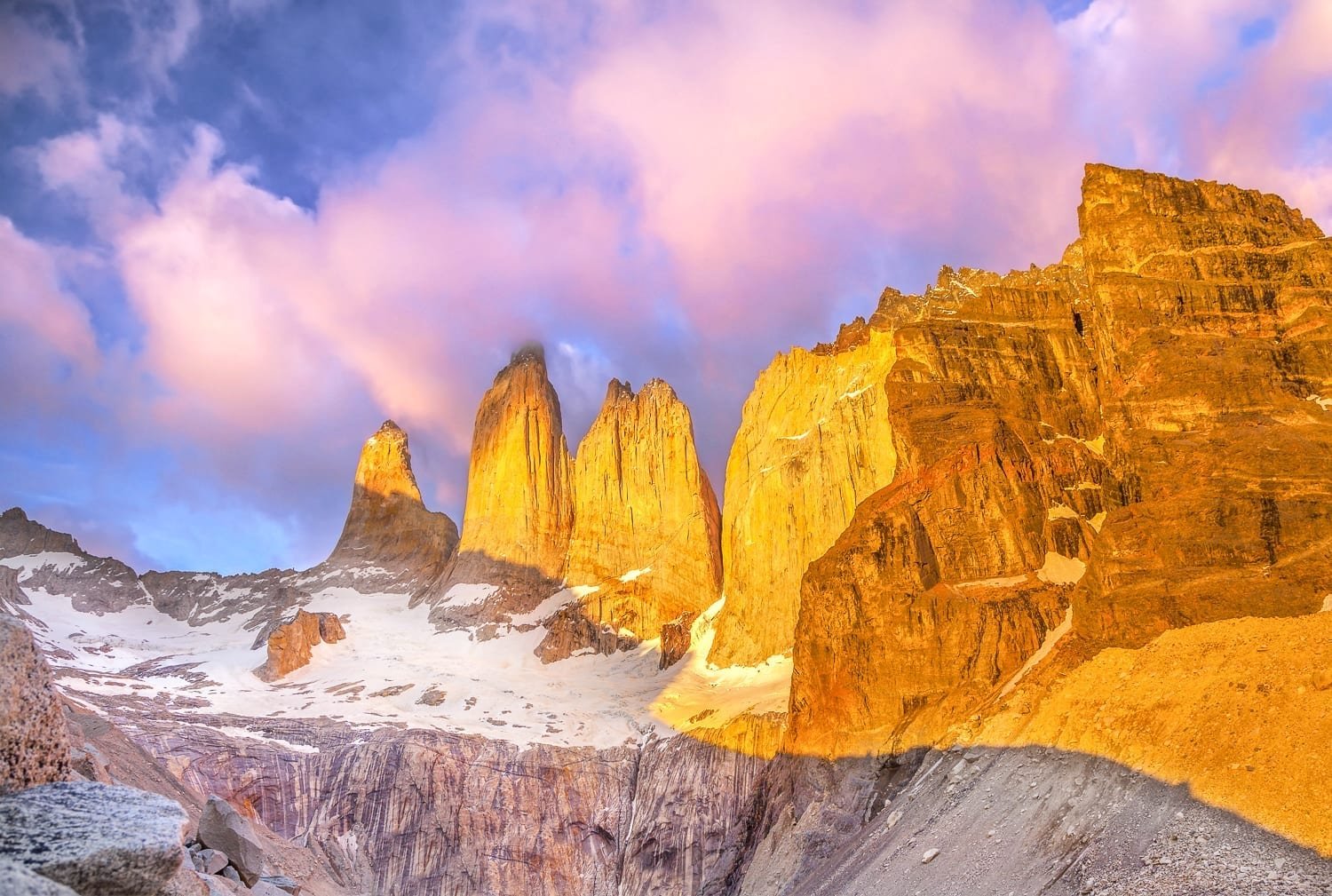 A flight from Santiago to Puerto Natales is also availibe (roughly 3 hours), followed by a land transfer across the Patagonian steppe.
Visitors can also cross the international border into Argentina by land near Cerro Castillo.
El Calafate
Near the town of El Calafate, you can explore Los Glaciares National Park—site of the Perito Moreno glacier and other wonders of the southern ice fields.
The Patagonian summer stretches from November to early March, with long days and photo perfect evening light.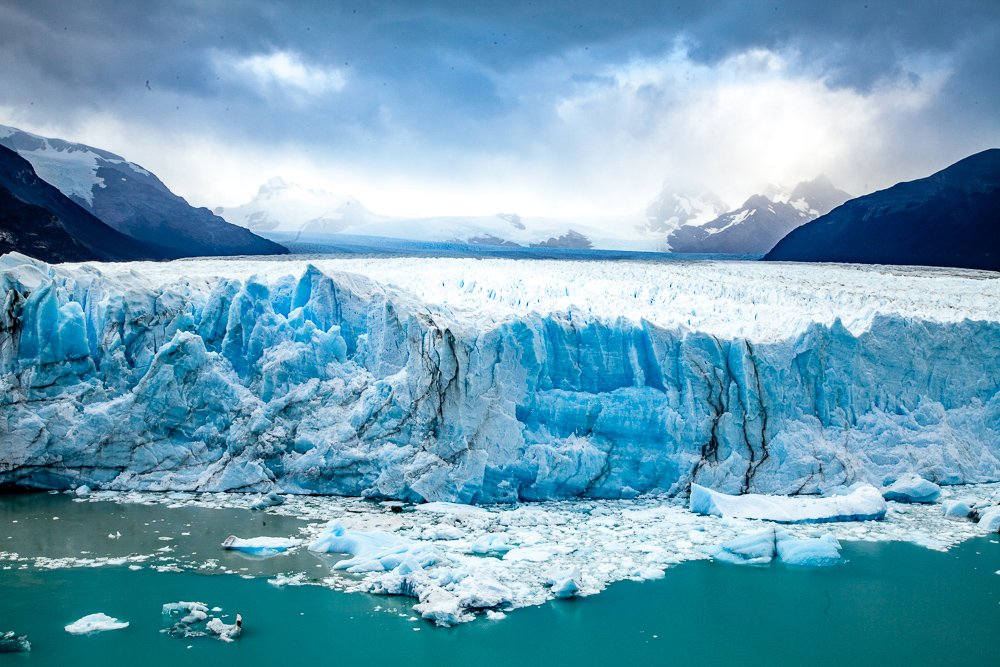 Torres del Paine Climate
The warmest months are December and January, with highs near 65° F and lows near 40° F.
Temperatures range from 60° F to near 30° F during the shoulder months.
Winter (May through August) is characterized by fleeting daylight, highs around 40° F and freezing nights.
Precipitation is light year-round. Winds are strongest from late November to mid-March.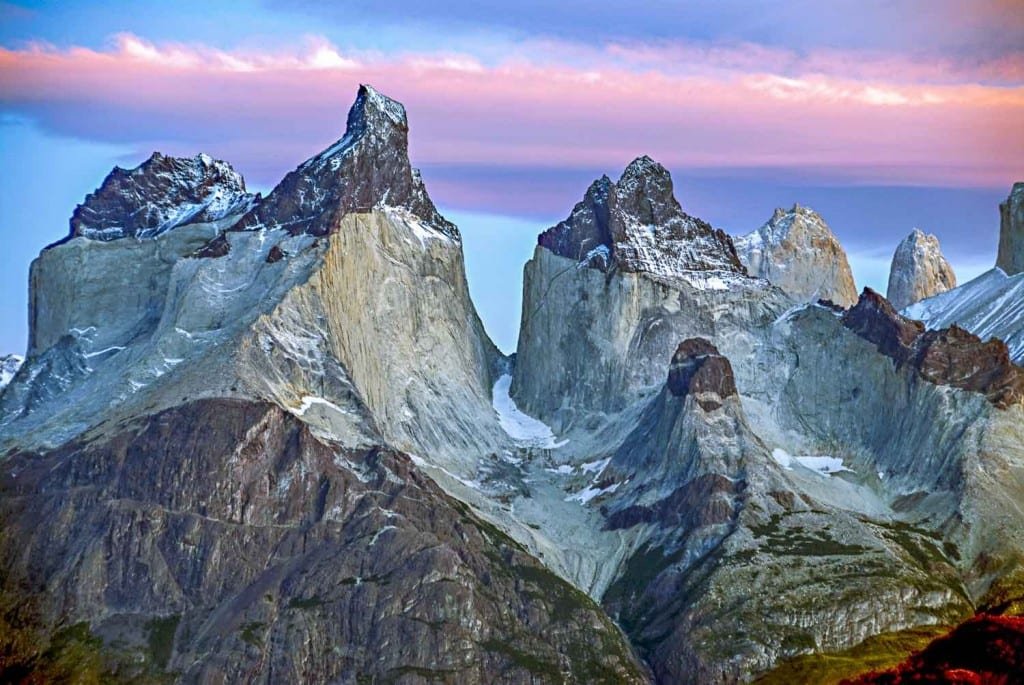 LANDED delivers the finest in custom, private travel to South America, Central America, and Antarctica. These regions are our passion; we know them first-hand and by heart. Speak with one of our expert travel planners today at 801.582.2100. We'll create the most exceptional trip of your life.
"The Paine massif is unrivaled…In its colors and form, it is without doubt one of the most fantastic and spectacular sights that human imagination can conceive."

Salesian missionary Padre Agostini
PERFECT

Could not have been more pleased.  This was the trip of a lifetime for our family.  Thank you!
GO WITH LANDED

If you're planning to travel, go with LANDED. You won't be disappointed.
AMAZING ADVENTURE

The whole rhythm of the trip was perfect, and leaving one place for the next worked perfectly. This trip definitely made me want to experience other great spots in South America.
TRIP OF A LIFETIME

The locations were amazing. Your on-the-ground team was fantastic–knowledgeable and accommodating. Beautifully organized.
ABSOLUTELY AMAZING

The best guide I've ever had anywhere in the world. Top notch talent.
GREAT SERVICE

You were a great help in planning–ensuring that I was staying at the right places and enjoying the type of activities we love–and the follow up was incredible.
YOU GOT TO KNOW US

Exactly the bonding and sharing experience we'd hoped for. The rhythm, variety, and tone was spot on. With effective listening skills, you built a good picture of what we wanted–more complicated than "just" luxury. The result was a great trip, one made just for us.
BEST EVER

Excellent attention to detail. You listened carefully, asked the right questions, and customized with just the right balance. Superb guides. We felt relaxed and pampered all the way. You'll plan our next trip.
FANTASTIC EXPERIENCE

Not a single thing on the itinerary that we would change.  The guides were knowledgeable, friendly, and prompt.  The hotels were beautiful, the food delicious and the pace of the activities was perfect for us.
DO IT!

In short, our trip was amazing. Thanks so much for your constant assistance and thorough planning.
PERFECT

The planning, service and execution of the trip was flawless – thank you!
EXCELLENT

LANDED was helpful and knowledgeable, making our trip a memorable one.  I will use your services in the future as I continue to explore Central & South America.
A VERY WELL ORGANIZED DREAM

Your patience with my questions and concerns during the planning stage was remarkable.
THANK YOU

You actually got to know us, which made it possible to know just what we like. You promised the best trip ever and you kept your promise.
ENTIRELY AMAZING

Your recommendations were well thought out. We thoroughly enjoyed our honeymoon. Thank you!
THE ULTIMATE GUIDE

LANDED is the ultimate. You helped us make the most out of a week's time.
DIDN'T MISS A THING

We zip-lined, rafted, sailed, and surfed. The contacts were professional and courteous. We don't want to be back at work. Thank you for all of the work you did to set up this trip.