ECUADOR'S AVENUE OF VOLCANOES
The Andes Mountains stretch north to south across Ecuador, dividing its coastal lowlands from the Amazon Basin.
A 200-mile section of this continental spine known as the Avenue of Volcanoes is famous for its unmatched concentration of high volcanic summits.
Visitors to the Avenue of Volcanoes in Ecuador can explore nearly 40 mountains, most exceeding 15,000 feet above sea level.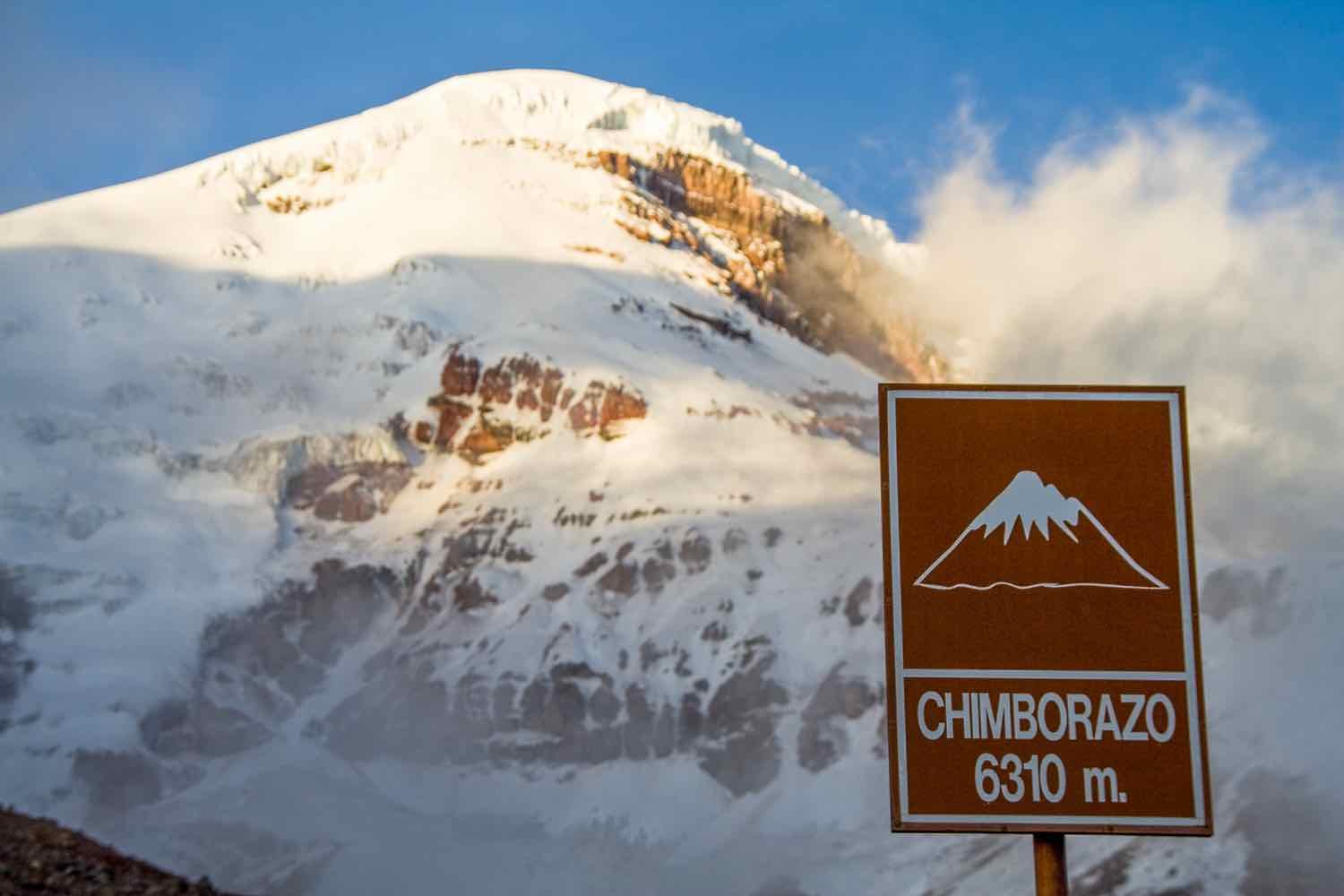 Cotopaxi
Cotopaxi, one of the highest active volcanoes in the world, is located 50 miles south of Quito.
Cotopaxi's icy summit rises a staggering 19,347 feet, dominating the treeless paramo at its base. The surrounding national park is home to Andean Condors, guanacos, and wild horses.
Day Trips From Quito
Multi-day climbs can be arranged, in addition to day trips from Quito.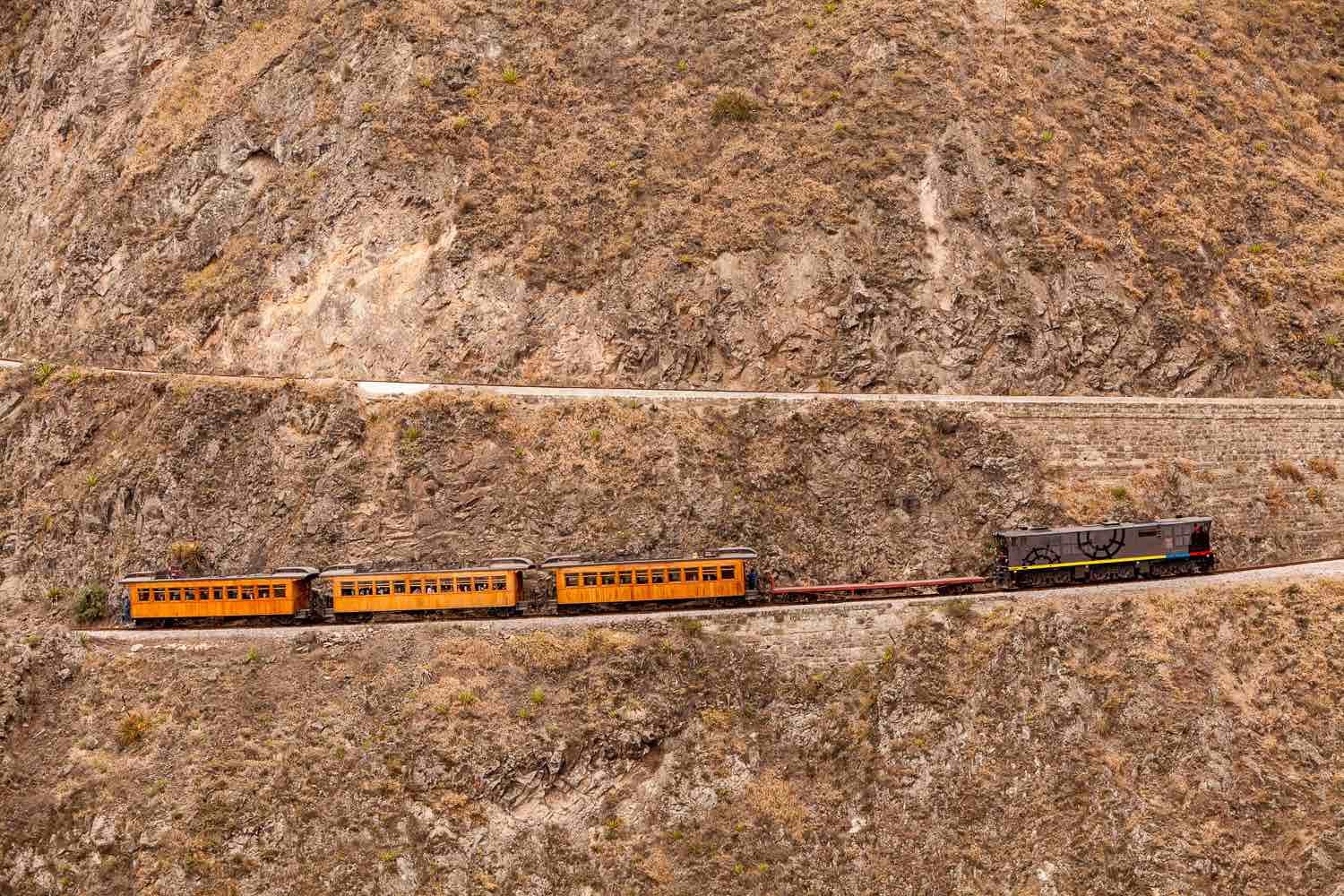 Exploring Cotopaxi
One of the best ways to experience this region is on horseback, preferably combined with lodging at one of the area's comfortable haciendas.
Time permitting, you can visit the traditional market towns near Latacunga, 20 miles to the southwest.
The villages of Saquisilí, Pujilí, Tigua, and Zumbahua each hold lovely weekly markets, offering textiles, ceramics, glass, and leather goods.
Volcan Chimborazo
Another 50 miles to the south sits the peaceful town of Riobamba, a perfect base for exploration of Volcan Chimborazo, Ecuador's highest mountain.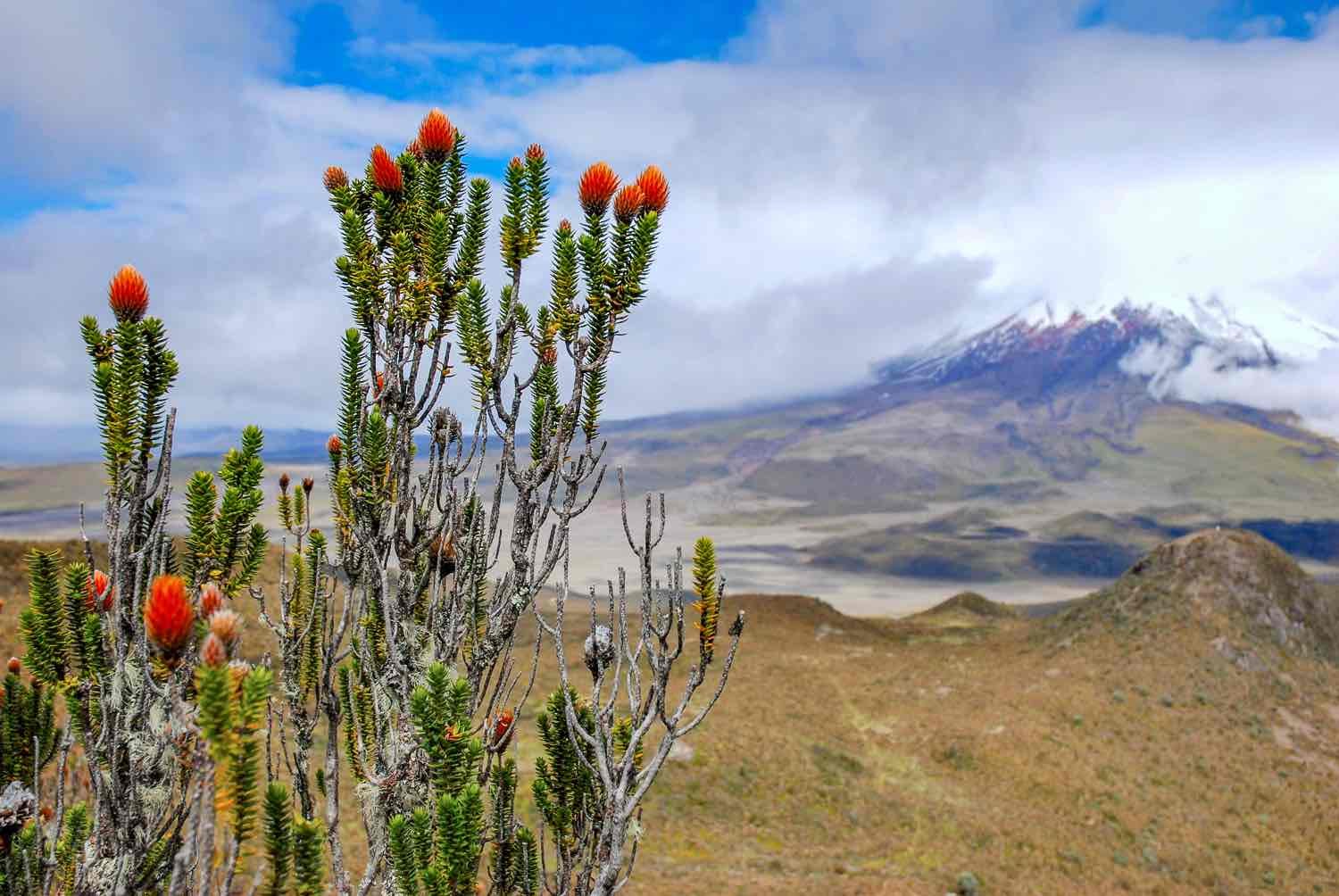 The Chimborazo Volcano is 20,703 feet tall, looming seven miles to the northwest. Four other snow-capped peaks also surround the town.
Nariz del Diablo
Riobamba is also the northern departure point for the famous Nariz del Diablo (Devil's Nose) train journey.
The Devil's Nose is known for its harrowing switchback descent and audacious engineering.
The train usually departs Riobamba on Wednesday, Friday, and Sunday mornings, returning from Alausi and Sibambe by early evening.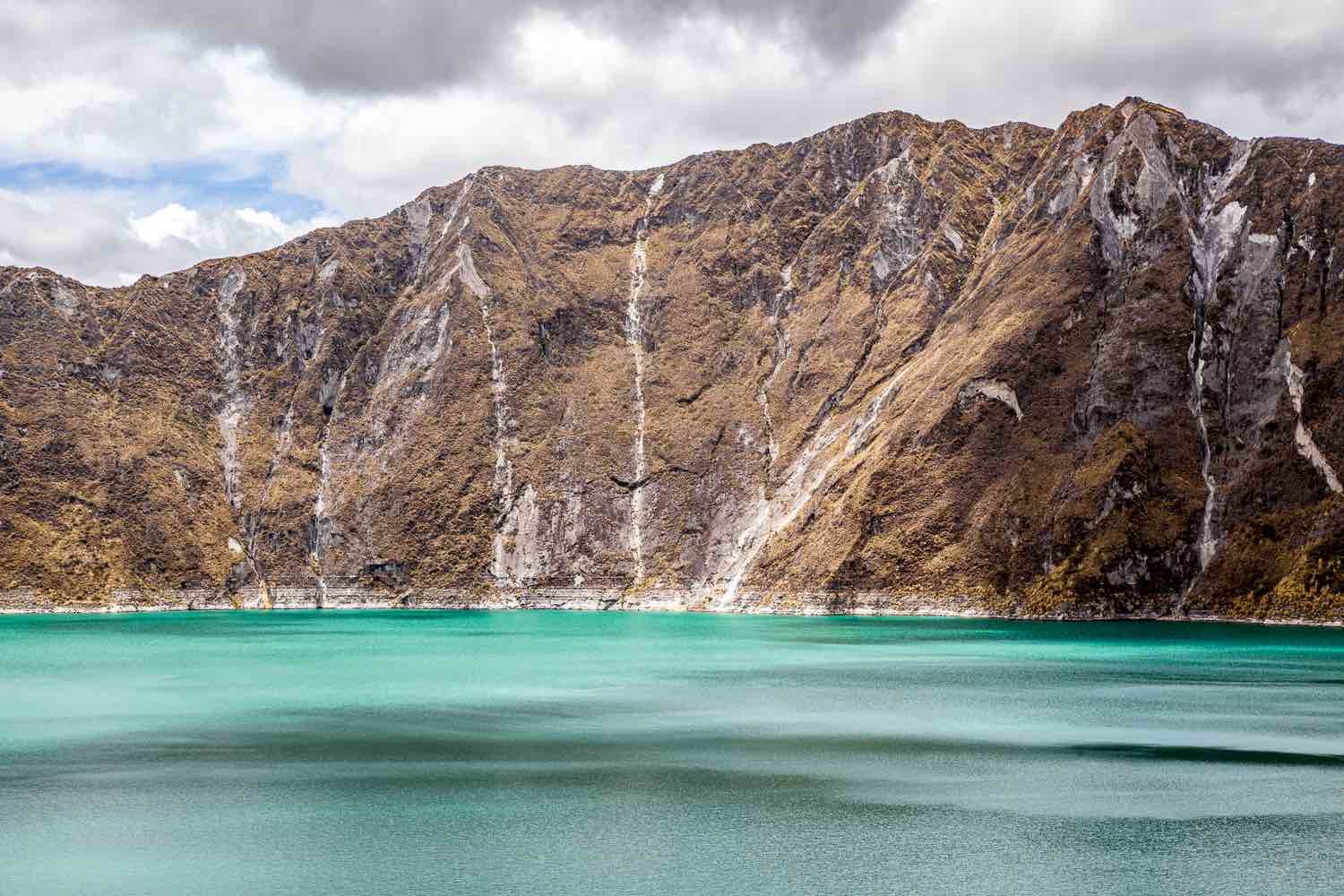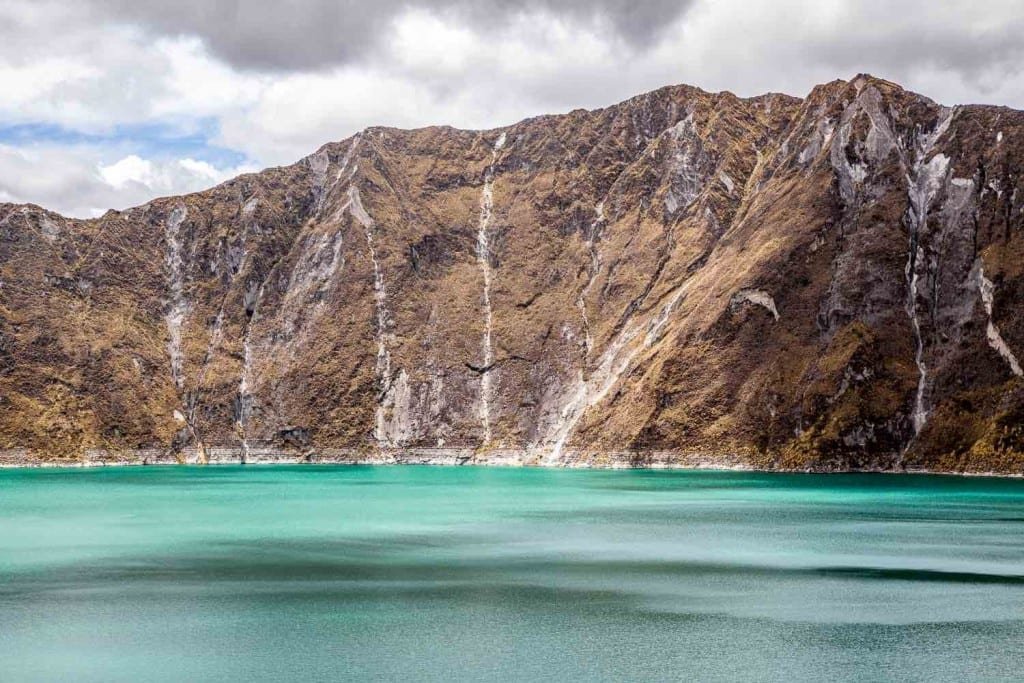 Tungurahua
The riverside town of Baños, 34 miles to the northeast of Riobamba, lies near the base of the active Tungurahua Volcano.
The town is famous for its hot springs, waterfalls, and temperate climate.
Nearby, the Sangay National Park (a UNESCO World Heritage Site) protects ecosystems ranging from glaciers to tropical rainforest.
Mountain Biking, Whitewater Rafting, and Horseback Riding
Visitors to the area can enjoy mountain biking, river rafting, horseback riding, and rappelling.
LANDED designs custom travel to the Avenue of Volcanoes and throughout Central America, South America and Antarctica. When you travel with us, you'll be relaxed, prepared, and delighted. In fact, more than 90% of our business is repeat or referral. Speak with one of our expert travel planners today at 801.582.2100. Soon, you'll have LANDED.
"There are only two ways to live your life. One is as though nothing is a miracle. The other is as though everything is a miracle."
Albert Einstein
PERFECT

Could not have been more pleased.  This was the trip of a lifetime for our family.  Thank you!
GO WITH LANDED

If you're planning to travel, go with LANDED. You won't be disappointed.
AMAZING ADVENTURE

The whole rhythm of the trip was perfect, and leaving one place for the next worked perfectly. This trip definitely made me want to experience other great spots in South America.
TRIP OF A LIFETIME

The locations were amazing. Your on-the-ground team was fantastic–knowledgeable and accommodating. Beautifully organized.
ABSOLUTELY AMAZING

The best guide I've ever had anywhere in the world. Top notch talent.
GREAT SERVICE

You were a great help in planning–ensuring that I was staying at the right places and enjoying the type of activities we love–and the follow up was incredible.
YOU GOT TO KNOW US

Exactly the bonding and sharing experience we'd hoped for. The rhythm, variety, and tone was spot on. With effective listening skills, you built a good picture of what we wanted–more complicated than "just" luxury. The result was a great trip, one made just for us.
BEST EVER

Excellent attention to detail. You listened carefully, asked the right questions, and customized with just the right balance. Superb guides. We felt relaxed and pampered all the way. You'll plan our next trip.
FANTASTIC EXPERIENCE

Not a single thing on the itinerary that we would change.  The guides were knowledgeable, friendly, and prompt.  The hotels were beautiful, the food delicious and the pace of the activities was perfect for us.
DO IT!

In short, our trip was amazing. Thanks so much for your constant assistance and thorough planning.
PERFECT

The planning, service and execution of the trip was flawless – thank you!
EXCELLENT

LANDED was helpful and knowledgeable, making our trip a memorable one.  I will use your services in the future as I continue to explore Central & South America.
A VERY WELL ORGANIZED DREAM

Your patience with my questions and concerns during the planning stage was remarkable.
THANK YOU

You actually got to know us, which made it possible to know just what we like. You promised the best trip ever and you kept your promise.
ENTIRELY AMAZING

Your recommendations were well thought out. We thoroughly enjoyed our honeymoon. Thank you!
THE ULTIMATE GUIDE

LANDED is the ultimate. You helped us make the most out of a week's time.
DIDN'T MISS A THING

We zip-lined, rafted, sailed, and surfed. The contacts were professional and courteous. We don't want to be back at work. Thank you for all of the work you did to set up this trip.