Bãnos de Santa Agua
The riverside town of Baños de Santa Agua (or simply Baños) rightfully claims the title of Ecuador's Adventure Capital.
Here, one can ride horses in the Andes, raft and kayak the roaring Pastaza River, rappel down waterfalls, bungee jump, and hike ice-clad volcanoes.
The Ruta de las Casacadas, a popular mountain biking route stretching 58 miles, begins in Baños, passing spectacular falls along the way.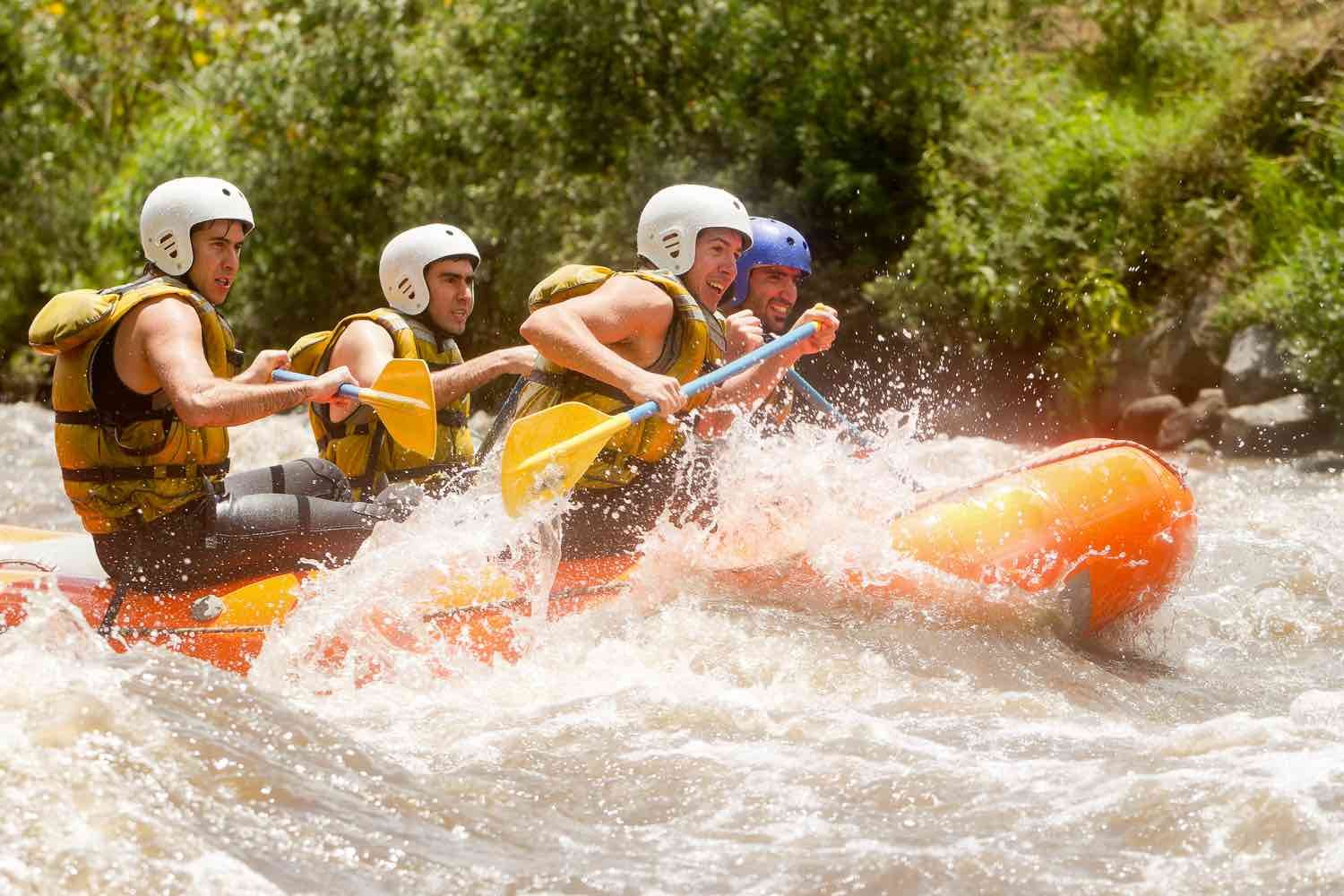 A ride down this route rewards travelers with amazing views of waterfalls such as Agoyan, The Bride's Cloak, The Devil's Cauldron, Machay, and San Pedro.
Vulcan Tungurahua
Even the land is active in Baños.
The Tungurahua Volcano, rising south of the city, entered an eruptive phase in 1999, after 80 years of slumber. In addition to heating the area's springs, this volcano regularly spews smoke and ash.
Plans to visit Baños should be coordinated with recommendations from the national geophysics organization.
Banos Volcano Viewing Tours
During periods of light to moderate eruptive activity, spectacular nighttime volcano viewing tours can be arranged.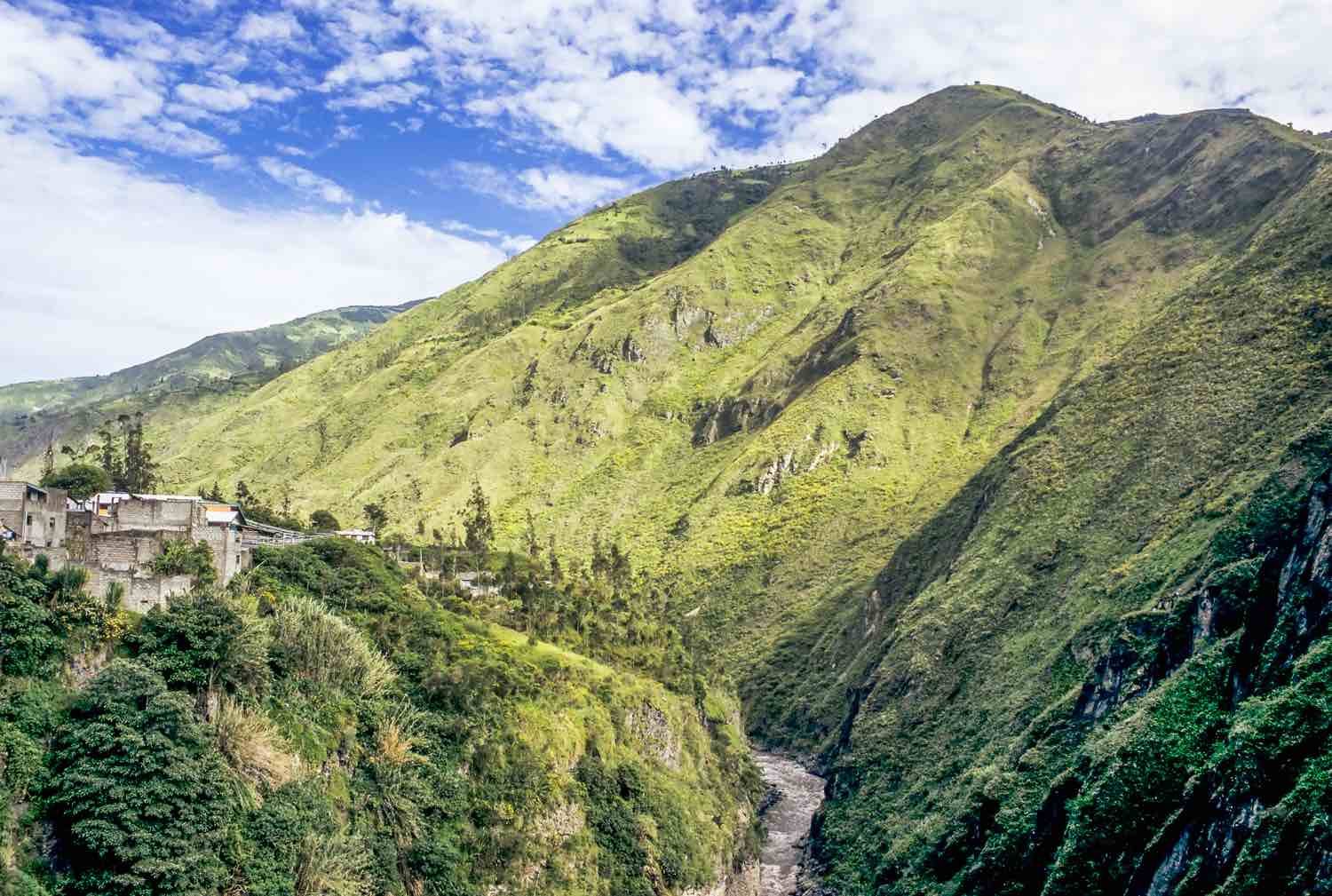 Sangay National Park
Sangay National Park, 43 miles southeast of Baños, protects ecosystems ranging from glaciers to tropical rainforest.
Sangay's 1.3 million-acre territory includes a network of 324 lakes and lagoons, three volcanoes, and vast expanses of highland and lowland ecosystems.
Wildlife Watching & Birding in Sangay
Sangay is vital habitat for rare species such as:
Mountain Tapirs
Spectacled Bears
Giant Otters
Jaguars
Condors
Giant Hummingbirds
Sangay and Galapagos are the only two parks in Ecuador to be declared UNESCO World Heritage Sites.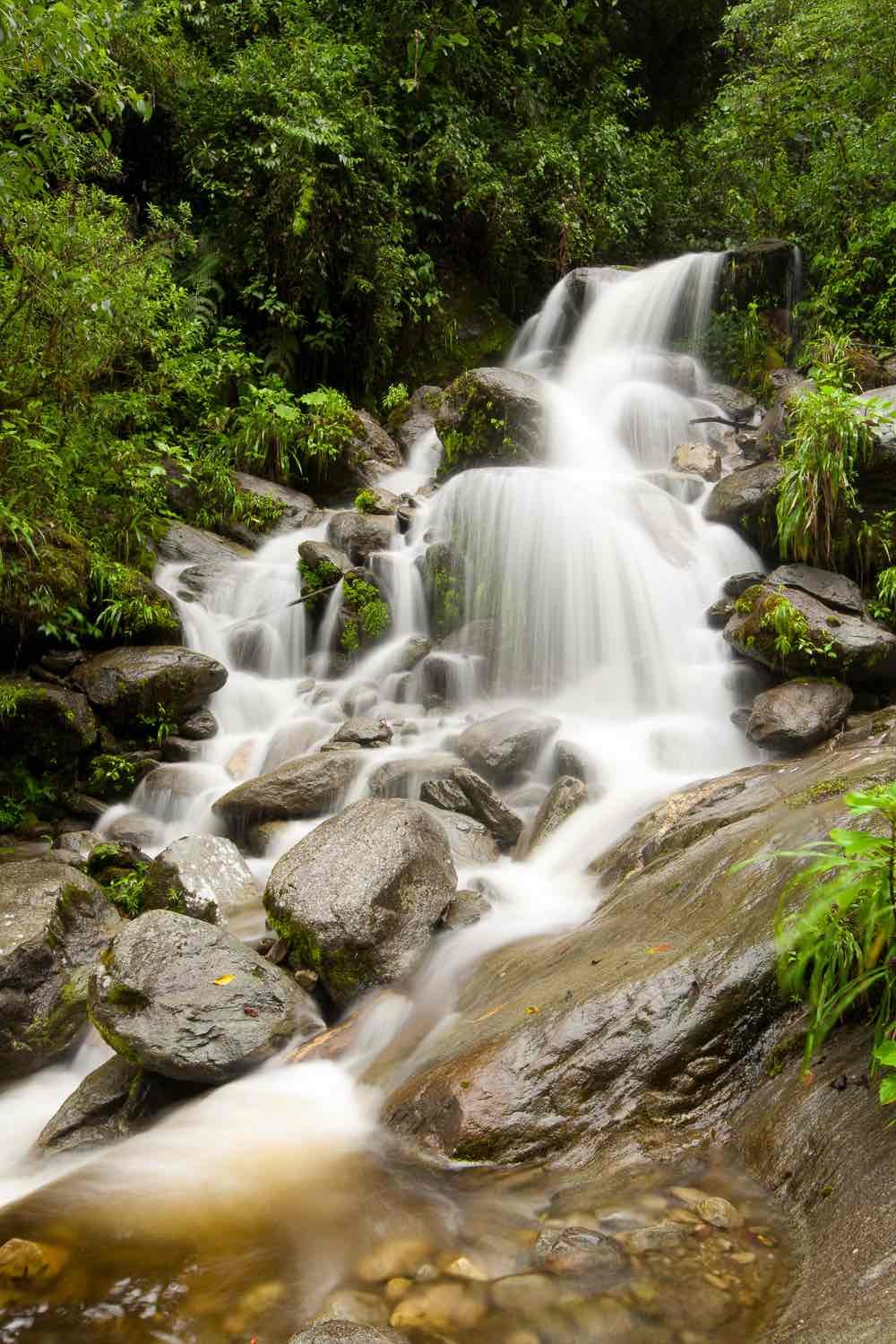 Our Lady of the Holy Water
Baños itself is relaxed, friendly, and compact enough to explore on foot or by bicycle.
The city's neo-Gothic church, Our Lady of the Holy Water, is a pilgrimage site for supplicants from across Ecuador.
The streets outside the church are perfumed with the fragrant smoke of palo santo incense.
Banos Handicrafts
Baños handcraft stores are famous for their brightly painted wooden parrots.
After a full day of activity in the countryside, you can relax with a massage and a soothing soak in the town's mineral-rich thermal baths.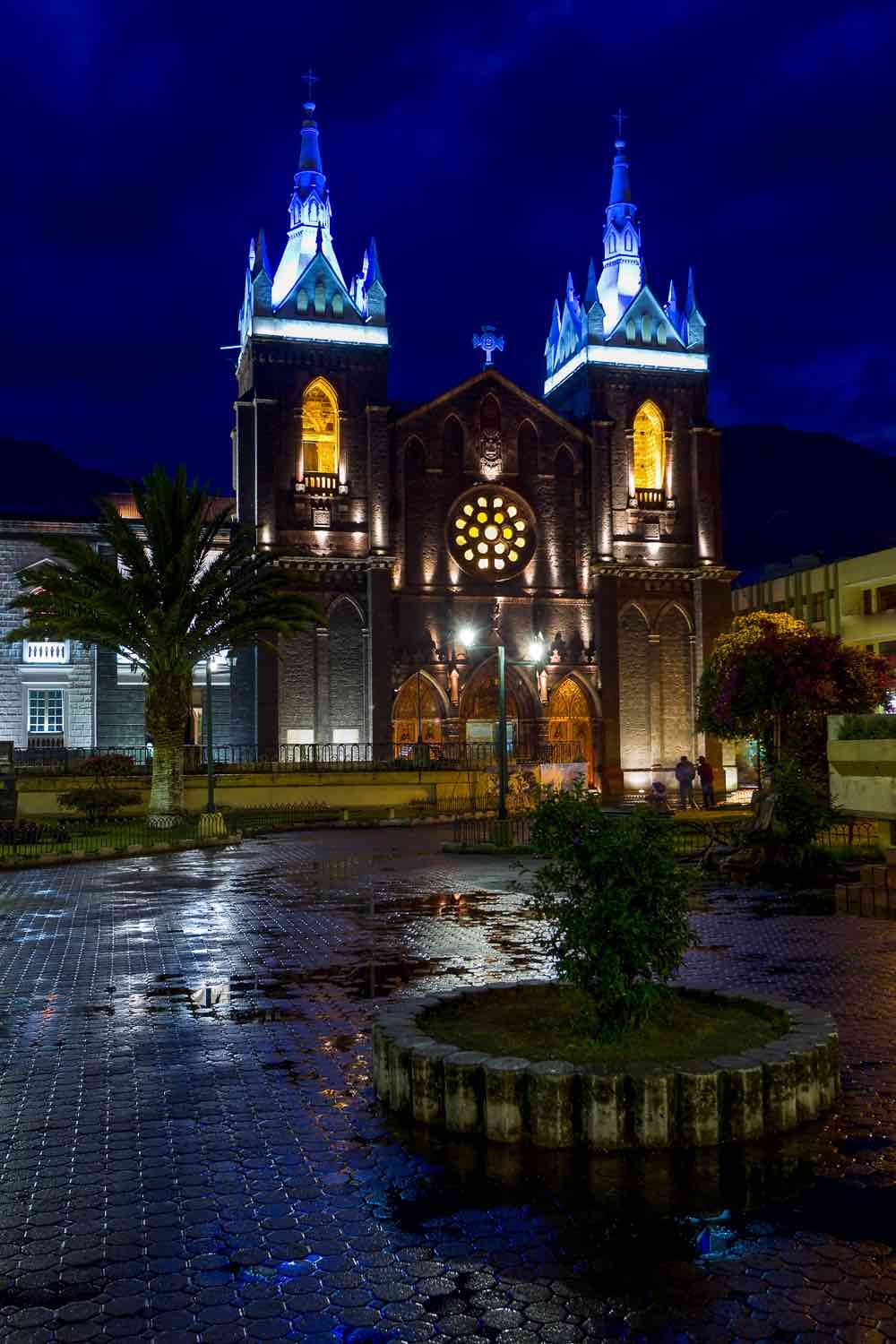 Amazon Excursions
Additional pick-me-ups present themselves in the forms of traditional sugarcane taffy (melcocha), insulin-spiking sugarcane juice (jugo de caña), and nightly performances of traditional music at the city's peñas.
Excursions to Puyo, Rio Napo, and Cuyabeno
Baños also serves as an excellent base for short explorations of the Amazon Basin. Day trips and multi-day excursions to the Puyo, Rio Napo, and Cuyabeno are possible.
Visitors to Baños can canoe on the Rio Napo, stay with Quichuas indigenous communities, and observe charismatic wildlife.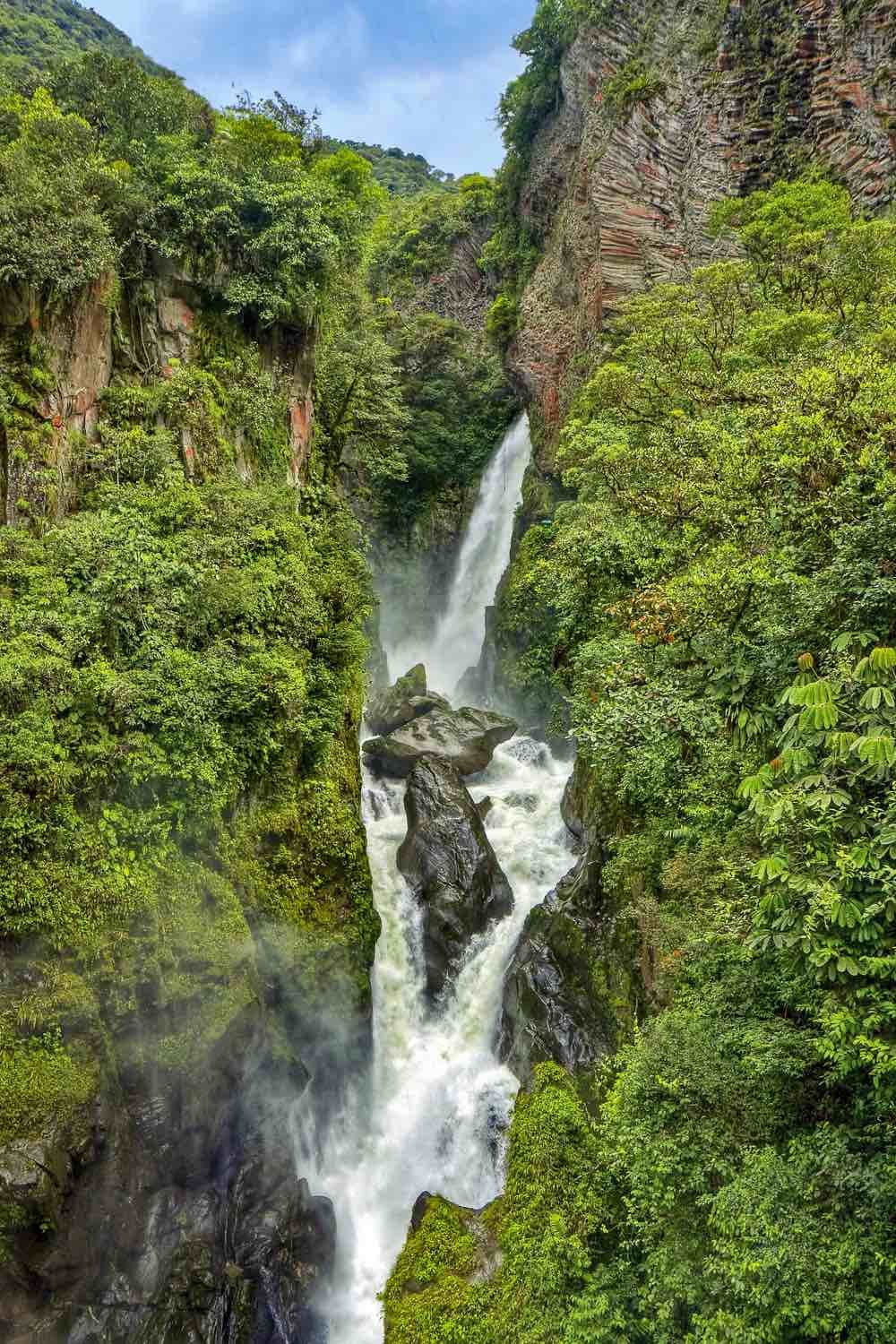 Here, you can encounter an array of interesting species, including:
River Dolphins
Monkeys
Toucans
Parrots
Baños is situated in the Andean highlands, 110 miles (approximately three hours by land) south of Quito.
Banos Climate
The climate around Baños is generally sunny and warm, with year-round highs near 87ºF and lows near 70ºF.
Precipitation is light; the two rainiest months—February and March—receive less than three inches of rainfall.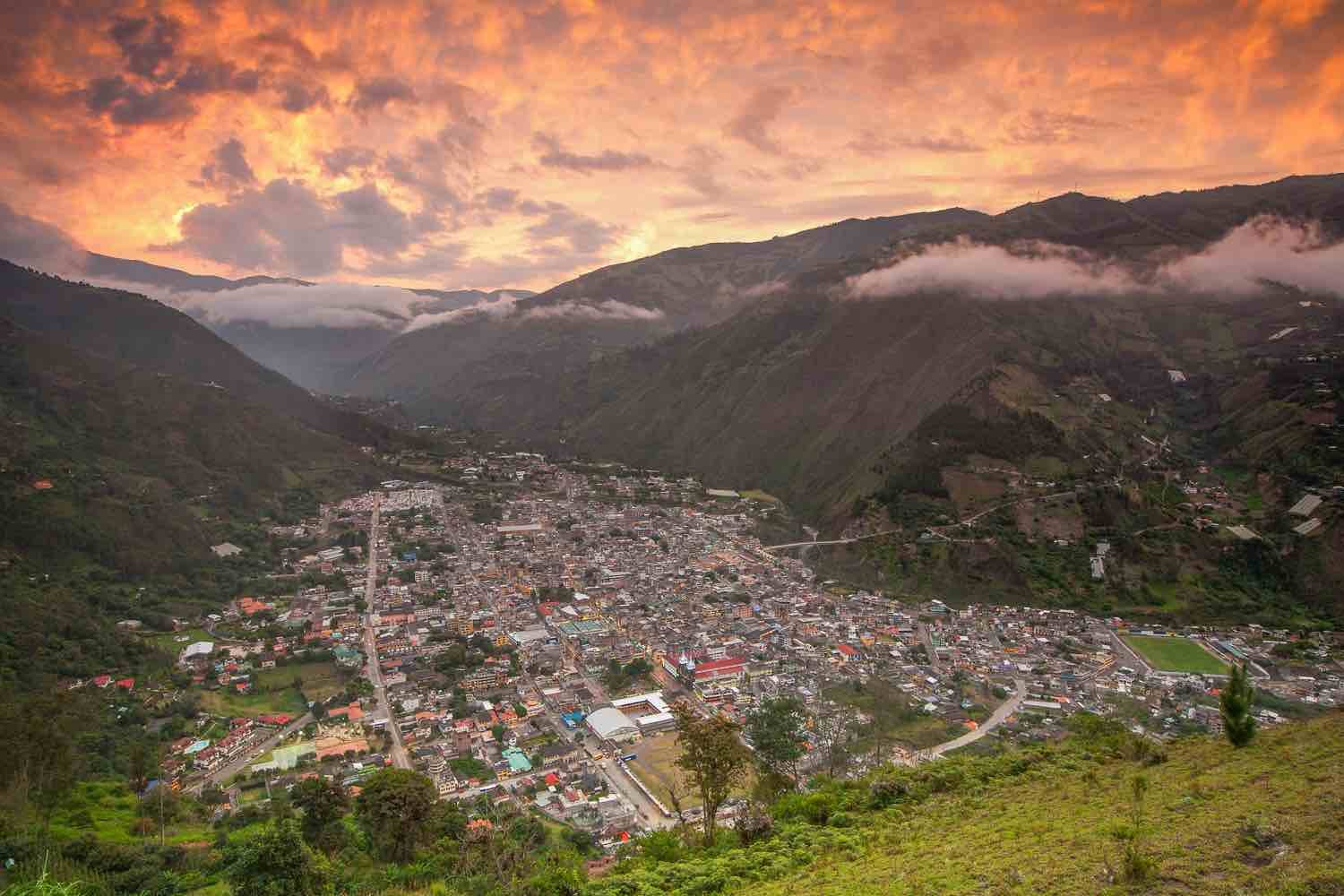 When you travel with LANDED, our team of travel experts and network of local contacts are at your service. We'll handle the details, freeing you to savor the moments. Call us today at 801.582.2100. Dream big. We've got you.

"There is nothing like a comfortable adventure to put people in a good humor."
RAILWAY JOURNEYS IN ECUADOR