Guatemalan Festivals & Celebrations
Guatemalan Festivals
Guatemalans have a special talent for public festivities.
These celebrations are characterized by extravagant pageantry balanced with sincere expressions of faith, commemoration, and joy.
Many local and regional festivals, and even national holidays, are rooted in religious traditions—both Maya and Catholic.
Cofradias
In most towns, elected groups known as cofradias are responsible for the care of religious icons and the staging of holiday celebrations.
Some of these groups trace their origins to 16th-century Franciscan missionaries, a heritage that informs even the most raucous holiday events.
Some of our favorite events include:
Carnival
The Carnival holiday is celebrated in February, in the week leading up to Lent.
Guatemalan Carnival is much tamer and more family-friendly than the Carnivals held in Brazil.
The most noteworthy examples are held in the southwest region of Retalhuleu and in the Caribbean Coast city of Livingston.
Semana Santa (Holy Week)
The most famous celebration in all of Guatemala is Semana Santa—the weeklong observance of Christian Holy Week.
The festivities in Antigua are arguably the most impressive in Latin America.
Brightly colored carpets of sawdust and flower petals—alfombras—pave the city streets and church floors.
Palm Sunday and Good Friday
While processions are held each day, the largest take place on Palm Sunday and Good Friday.
Easter falls on the first Sunday following the full moon, on or after the March 21st equinox; Semana Santa can take place anywhere between late March to mid-April.
Most of the better hotels in Antigua require a four-night minimum during the Holy Week events. Many sell out months in advance.
Jueves de Ascencion (Ascension Day)
Each year on May 9th, the Ascension Day is celebrated at Lake Chicabal, a highland crater lake sacred to the Mam Maya.
This Guatemalan celebration includes traditional music, flowers and prayers by the lakeshore.
The deepest respect is to be shown to the participants. Photos and video are strictly prohibited.
Fiesta de Santiago (Antigua Fair)
Town fairs are a longstanding tradition in Guatemala, with most held on the day of town's patron saint.
Antigua holds its fair—the festival of Santiago (Saint James)—on July 25th.
This Guatemalan festival is marked by processions, concerts, folkloric dancing, and carnival rides.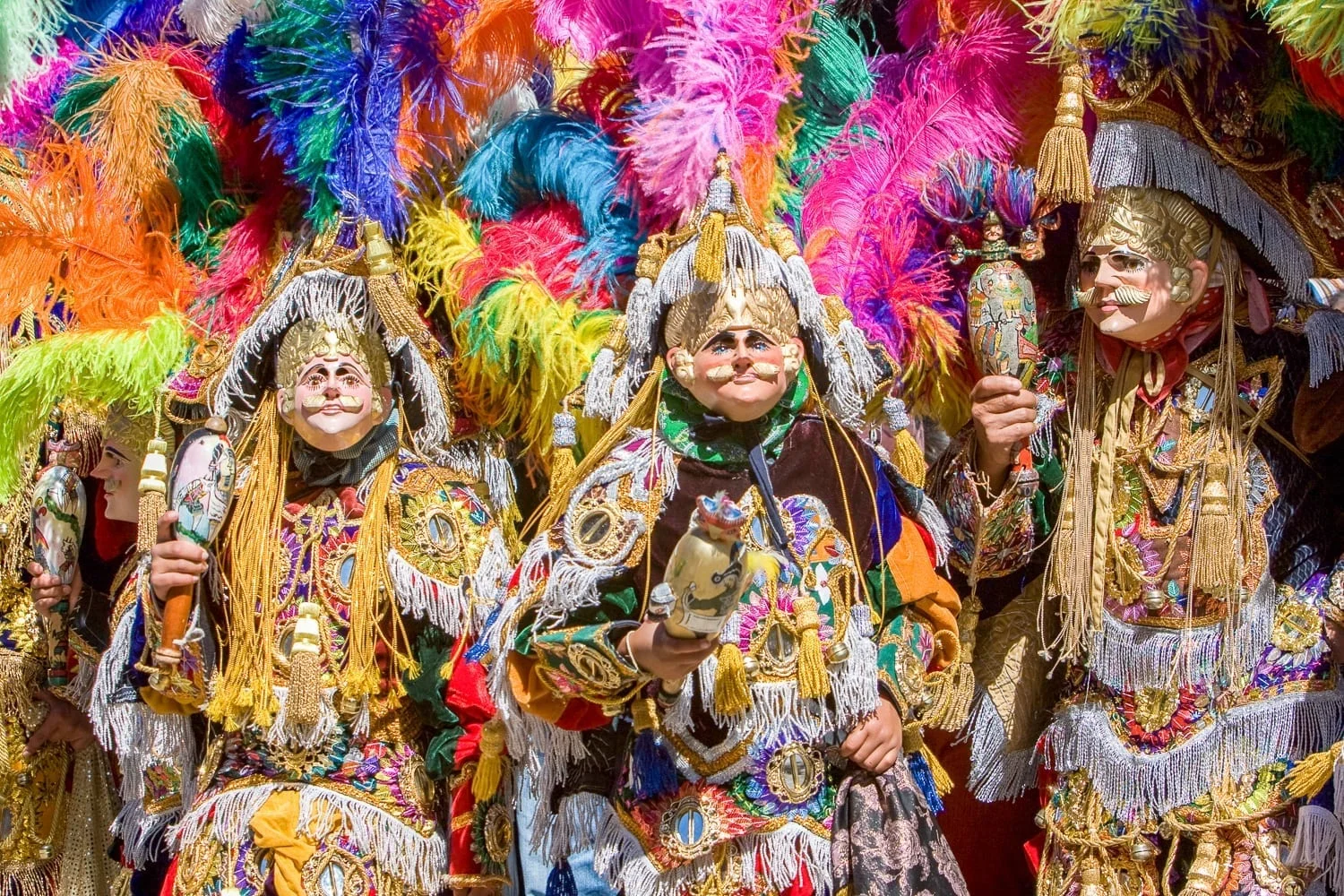 La Fiesta Nacional Indigena de Guatemala (National Folkloric Festival)
On July 27th, Coban holds its annual Rabin Ajau festival.
At this Guatemalan festival, indigenous groups gather from around the country to perform traditional dances and ancestral music.
The festival's centerpiece is a pageant, in which Maya women compete for the title of Queen.
Contestants are primarily judged on their commitment to Maya values and traditions.
Fiesta de la Virgen de la Asunción (Day of Our Lady of Assumption)
August 15th is the day of the Virgin of the Assumption, patron saint of Guatemala City.
During this celebration, parades, fairs, and parties are held throughout the country.
The largest of these happenings are in Guatemala City.
In the Atitlan town of Sololá, the cofradia—a group of Roman Catholic laymen—of the Lady of Assumption passes through the streets, carrying her effigy to the church on their shoulders.
Dia de la Independencia (Independence Day)
September 15th commemorates Guatemala's peaceful independence from Spain in 1821.
In the weeks leading up to Guatemalan independence day, buildings and buses are decorated in nationalistic blue and white.
During this time, the country also holds numerous military parades. The day itself is celebrated with dances, fiestas, regional fairs, and fireworks.
Independence day is one of the largest festivals held in Quetzaltenango.
Dia de Los Santos (All Saints Day)
On November 1st, All Saints Day is celebrated throughout Guatemala.
This is a happy time when families gather to pay respects to deceased relatives by visiting and adorning family graves.
These Guatemalan festivals are marked by the flying of kites, in a symbolic effort to communicate with the dead.
Tradition takes on legendary proportions in the small highland town of Santiago Sacatepéquez.
Here, friends band together in the town cemetery, constructing and attempting to fly huge kites, some measuring upwards of 45 feet in diameter.
Similar festivities also take place in the town of Sumpango, near Antigua.
In the mountain town of Todos Santos Cuchumatan, the celebration includes marimba music, folkloric dances, and a relay horse race known as the Skatch Koyl.
Fiesta de Santo Tomas (Chichicastenango Fair)
The town fair of Chichicastenango extends from December 14th to the 21st.
During this celebration, young men test their strength and bravery by climbing a pole known as the Palo volador. Upon reaching the top, they spin back to earth on ropes.
Nativity scenes, handmade Christmas ornaments, and processions known as posadas add to the festival atmosphere.
Vispera de Año Nuevo (New Year's Eve)
New Year's Eve is celebrated with vigor throughout Guatemala.
People wear new clothes in the hope of receiving prosperity and good fortune.
Parties last all night, dances erupt spontaneously, and music fills the air. Fireworks are essential and applied liberally.
One of the zaniest traditions involve the toritos, men wearing cages of ametralladora de cohete (bottle rockets/firecrackers), charging the crowds while dancing and setting off their ordinance.
In Antigua, crowds gather under the clock at Calle del Arco for the midnight countdown.
LANDED provides personalized, custom travel within Central America, South America, and the Antarctic. We arrange private charters, accommodations, and tours to each of these locations and throughout Guatemala. Experience the trip of a lifetime. Speak with one of our expert travel planners today at 801.582.2100.
"Throw your dreams into space like a kite and you do not know what it will bring back, a new life, a new friend, a new love, a new country."