Guatemala's Pacific Coast
In Guatemala's southern region, cool volcanic highlands and mountain-fed rivers plunge down to a lush coastal plain.
Sugarcane, coffee, and banana plantations extend for miles, and black sand beaches and mangrove estuaries line the shore.
The Pacific Coast–La Costa–arcs for 155 miles from Mexico in the west to El Salvador in the east.
La Costa's Pacific Highway
The Pacific Highway links these ends, with numerous finger roads running south to ports and fishing villages.
Although this region is not as developed as the coasts of other Central American nations, its emergent nature has a key advantage; visitors often have beaches, waves, and archeological sites entirely to themselves.
Monterrico
Monterrico, 77 miles (2.5 hours) south of Guatemala City, is a sandal-and-tee-shirt village, fronted by a wide, volcanic-sand beach.
When you mention the Pacific to Guatemalans, they reflexively mention Monterrico.
Friday and Saturday nights can bustle, as city dwellers flee the capital for bass-thumping beach parties.
Fresh Ceviche and Stunning Sunsets
The rest of the week is relaxed and hammock friendly.
The morning catch becomes ceviche lunch, and days finish with marvelous sunsets.
Monterrico's waves are powerful, re-forming the beach from mirror smooth to sand cliff, with daily regularity.
Nature Reserves and Sea Turtle Nesting Sites
Monterrico is well-known for its neighboring nature reserves and sea turtle nesting sites.
While egg-laying season extends from June to November, visitors can observe rescued turtles and iguanas year-round at the Tortugario conservation project.
The Monterrico-Hawaii Nature Reserve encompasses eleven square miles of mangrove forest, beaches, and canals—prime habitat for caimans, herons, leatherback and olive ridley sea turtles.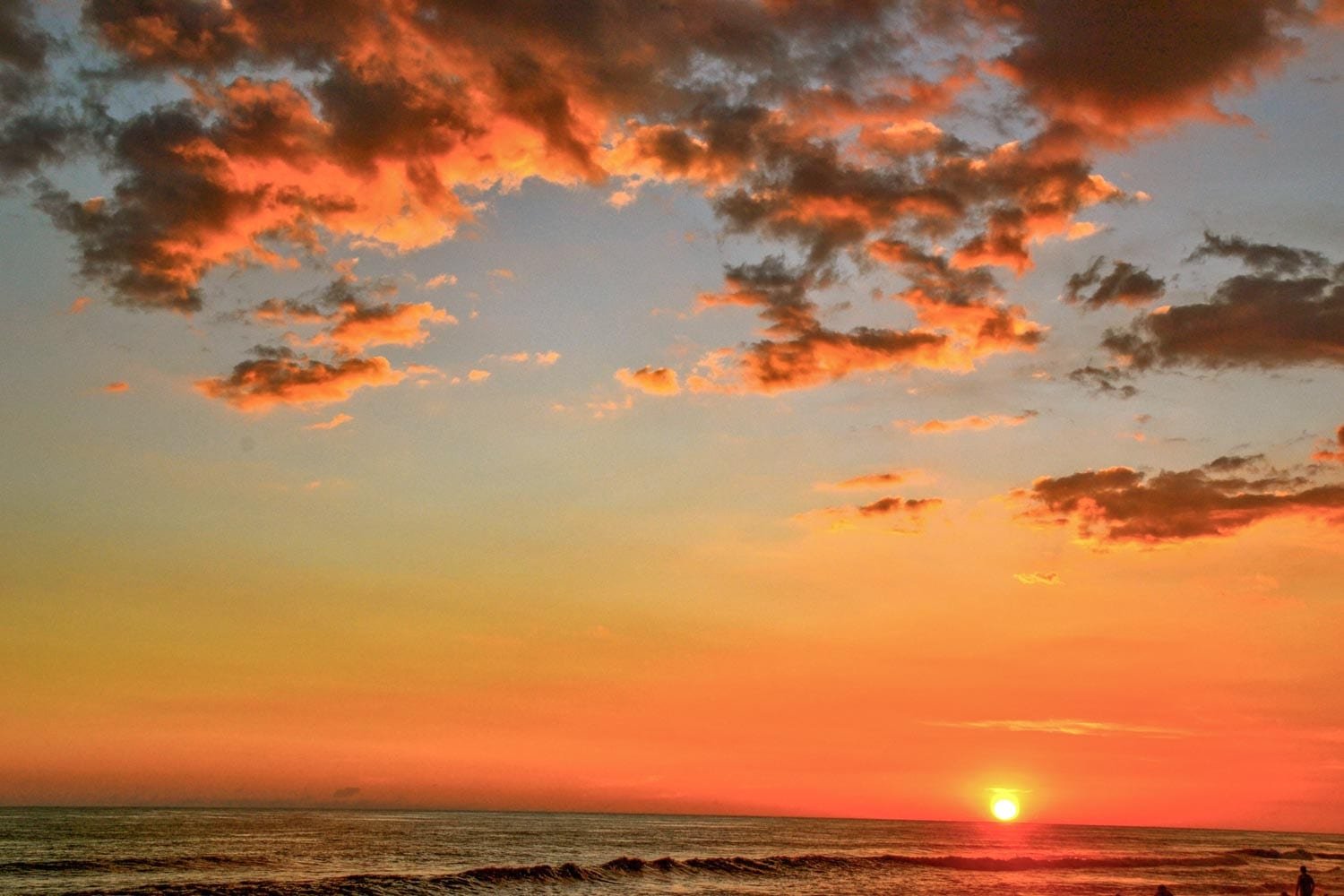 San Jose
A short drive west of Monterrico, the town of San Jose is home to Puerto Quetzal, Guatemala's largest port.
Nearby, the towns of Chulamar and Itztapa are known for their beaches, surf, and sport fishing.
Sipacate-Naranjo
To the west, the Sipacate-Naranjo National Park comprises a twelve-mile stretch of mangrove forest and dark sand coast.
Four species of sea turtles nest here, along with Roseate spoonbills, Boat-billed herons, Wood storks, and Brown pelicans.
Surfing is possible within the park, with waves ranging between three and twelve feet.
The biggest swells arrive from June to October in the rainy season. December to April brings swells better-suited for beginners.
Santa Lucia Cotzumalguapa
Inland, the Pacific Slope is rich in pre-Columbian sites.
The town of Santa Lucia Cotzumalguapa is situated near the largely unexcavated sites of El Baul, El Castillo, and Bilbao.
Abaj Takalik
In the west, the Abaj Takalik Archeological Park protects what remains of an ancient city, displaying late Olmec and early Maya characteristics.
According to local archeologists, the site was continuously occupied for nearly 2,000 years.
Highlights include massive sculpted monuments, a pyramid, a ball court, and a steam bath with a multicolored floor.
Thinking of visiting Guatemala? When you travel with LANDED, you'll be relaxed, prepared, and delighted. In fact, more than 90% of our business is repeat or referral. Speak with one of our expert travel planners today at 801.582.2100. Soon, you'll have LANDED.
"The first experience can never be repeated. The first love, the first sunrise, the first South Sea Island, are memories apart, and touched a virginity of sense."
Robert Louis Stevenson
PERFECT

Could not have been more pleased.  This was the trip of a lifetime for our family.  Thank you!
GO WITH LANDED

If you're planning to travel, go with LANDED. You won't be disappointed.
AMAZING ADVENTURE

The whole rhythm of the trip was perfect, and leaving one place for the next worked perfectly. This trip definitely made me want to experience other great spots in South America.
TRIP OF A LIFETIME

The locations were amazing. Your on-the-ground team was fantastic–knowledgeable and accommodating. Beautifully organized.
ABSOLUTELY AMAZING

The best guide I've ever had anywhere in the world. Top notch talent.
GREAT SERVICE

You were a great help in planning–ensuring that I was staying at the right places and enjoying the type of activities we love–and the follow up was incredible.
YOU GOT TO KNOW US

Exactly the bonding and sharing experience we'd hoped for. The rhythm, variety, and tone was spot on. With effective listening skills, you built a good picture of what we wanted–more complicated than "just" luxury. The result was a great trip, one made just for us.
BEST EVER

Excellent attention to detail. You listened carefully, asked the right questions, and customized with just the right balance. Superb guides. We felt relaxed and pampered all the way. You'll plan our next trip.
FANTASTIC EXPERIENCE

Not a single thing on the itinerary that we would change.  The guides were knowledgeable, friendly, and prompt.  The hotels were beautiful, the food delicious and the pace of the activities was perfect for us.
DO IT!

In short, our trip was amazing. Thanks so much for your constant assistance and thorough planning.
PERFECT

The planning, service and execution of the trip was flawless – thank you!
EXCELLENT

LANDED was helpful and knowledgeable, making our trip a memorable one.  I will use your services in the future as I continue to explore Central & South America.
A VERY WELL ORGANIZED DREAM

Your patience with my questions and concerns during the planning stage was remarkable.
THANK YOU

You actually got to know us, which made it possible to know just what we like. You promised the best trip ever and you kept your promise.
ENTIRELY AMAZING

Your recommendations were well thought out. We thoroughly enjoyed our honeymoon. Thank you!
THE ULTIMATE GUIDE

LANDED is the ultimate. You helped us make the most out of a week's time.
DIDN'T MISS A THING

We zip-lined, rafted, sailed, and surfed. The contacts were professional and courteous. We don't want to be back at work. Thank you for all of the work you did to set up this trip.