Baja and Alta Verapaz: Wild Adventure
The departments of Baja and Alta Verapaz (collectively, Las Verapaces) form the geographic heart of Guatemala.
Cloud-forested mountains comb these skies, sustaining powerful rivers and rich farmlands.
This territory is awash with wildlife, natural beauty, and opportunities for adventure.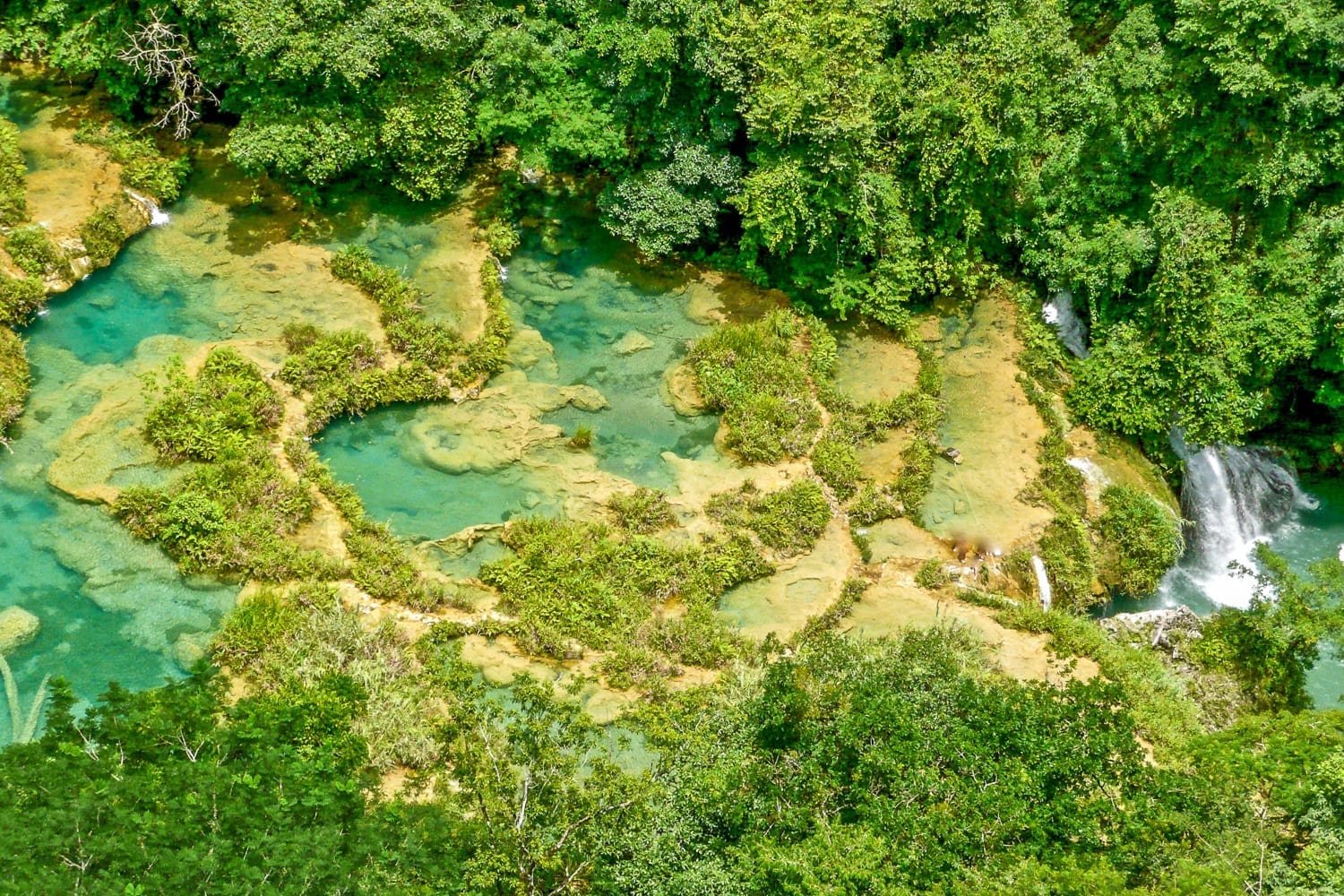 The gateway to the region is hilly Cobán, 135 miles north of
Guatemala City
.
Known as The Imperial City—a reference to its 1538 charter by Holy Roman Emperor Carlos V—Cobán holds a rich history, textured by Maya, Spanish, and German influences.
National Indigenous Celebration of Guatemala
Each year, between June and July, Cobán hosts the National Indigenous Celebration of Guatemala—a colorful festival, culminating in the Rabin Ahhua pageant.
Cobán is also an important pilgrimage site; El Calvario Church is known for its visions, healings, and panoramic views.
Outside the city, visitors can tour plantations renowned for fragrant coffee, allspice, and cardamom.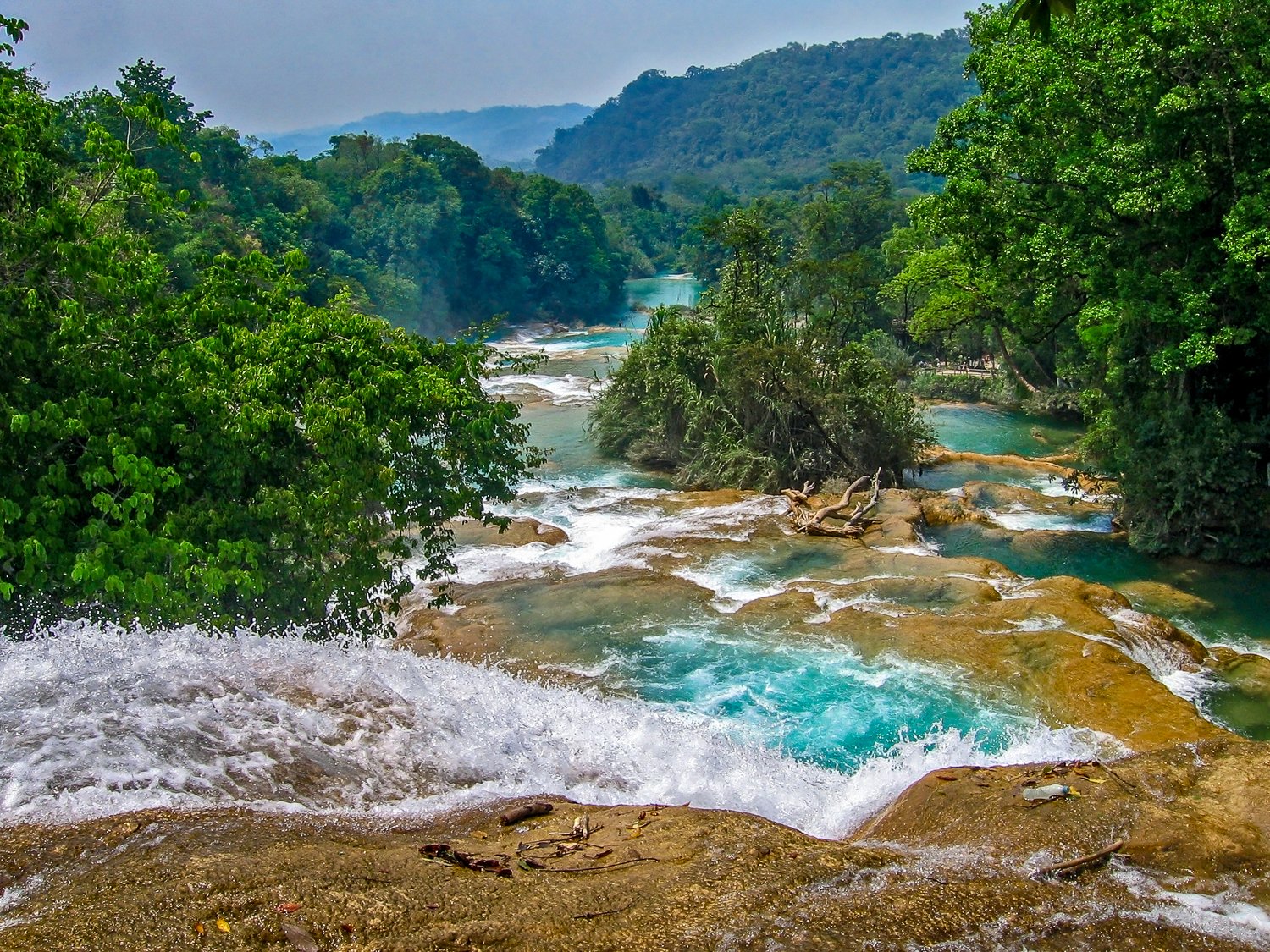 Verapaz Greenhouse and National Orchid Show
Nearby, the Verapaz Greenhouse (Vivero Verapaz) houses a collection of some 60,000 orchids, including around 800 endemic species and 200 miniature varieties.
The national orchid show is held in Cobán each December.
Birding in Guatelmala: Resplendent Quetzals
About an hour south of Cobán, near the town of Purulhá, the Biotopo Quetzal (Biotopo Mario Dary Rivera) is a 2,470-acre cloud forest preserve, marking the misty western edge of the Sierra de las Minas.
This is the most important habitat for Resplendent Quetzals in Guatemala.
These fantastically colorful birds—gloriously arrayed in iridescent emerald and scarlet—are sacred in Maya culture and emblematic of Guatemala's national identity.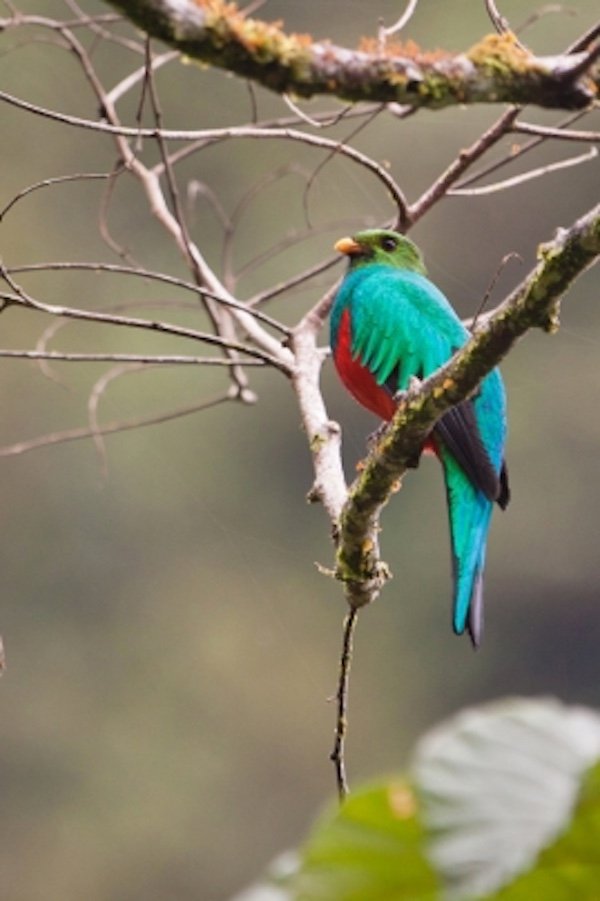 Quetzal plumes ornamented the crowns of Maya rulers, and their name adorns the national currency—the
Quetzal
.
Rare, shy, and well camouflaged, quetzals are most likely to be seen here, feeding on aguacatillo and other fruits in the early morning and early evening, between February to September.
This site's two inviting trails lead through cloud-quiet woods dense with orchids, ferns, and waterfalls.
Hiking Tours to El Salto de Chilascó
Another rewarding hike begins in the fringes of the neighboring Sierra de las Minas Biosphere Reserve.
Here, a well-maintained, two-mile forest trail culminates in El Salto de Chilascó, a giant waterfall with an estimated drop of 426 feet.
This region's most famous attraction is Semuc Champey Natural Monument, located 2.5 hours east of Cobán, near the Q'eqchi' Maya town of Lanquín.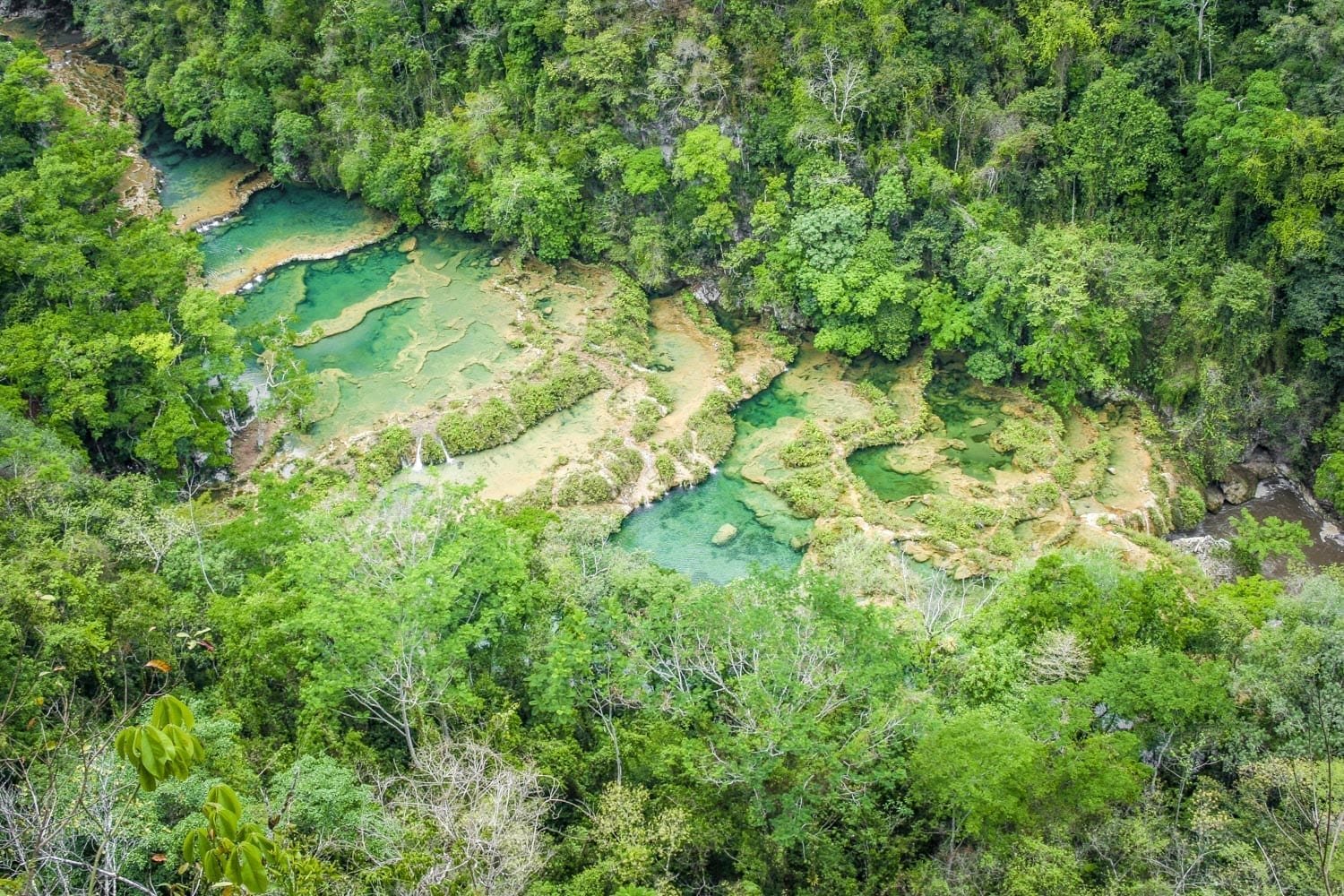 Semuc Champey is a natural limestone bridge over the Cahabón River.
Here, the river has worn away the softer lower layer of rock, plunging thunderously underground at the top of the bridge, before reemerging in another large waterfall, 984 feet downstream.
Whitewater Rafting & Caving
The bridge is a scenic wonder—a stepped series of inviting turquoise pools flanked by lush forest.
Other sections of the Rio Cahabón are open for thrilling whitewater rafting tours with Class II to Class IV rapids.
This limestone region is honeycombed with caves and caverns. Several near Lanquín and Semuc Champey can be visited easily.
The most spectacular caverns are found in the Candelaria Caves National Park, which can be visited as a day trip or overnight excursion from Cobán.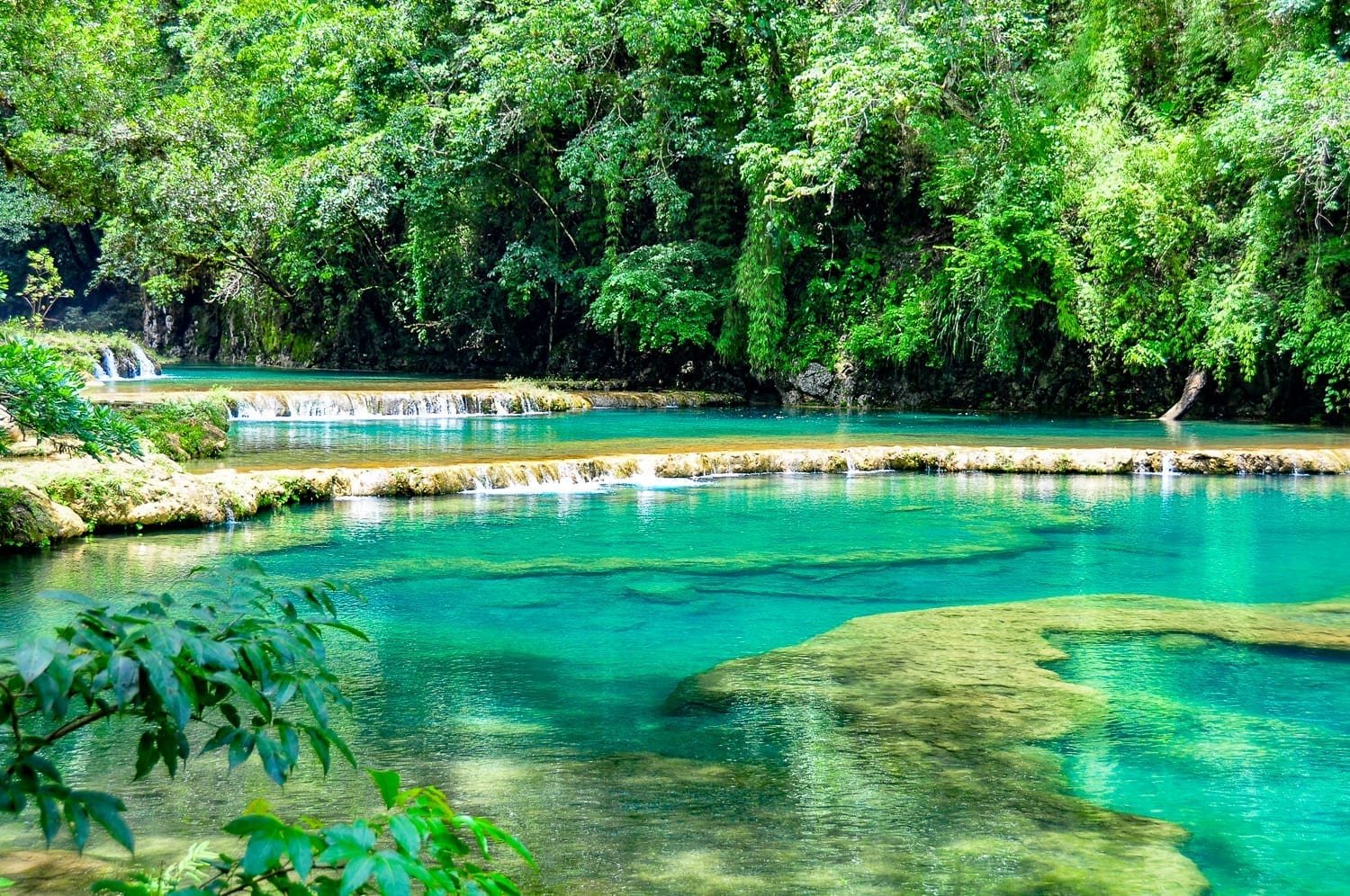 Carved by the Candelaria River, this 18-mile cave complex features a fantastic 200-foot-high main gallery.
Natural windows illuminate stalagmites nearly 100 feet in length.
Side chambers show evidence of Maya rituals. The main section of the cavern can be explored end-to-end by raft, gently guided by the river's current.
LANDED provides personalized, custom travel within Central America, South America, and the Antarctic. We'll create a unique itinerary plan tailored to your interests and dreams. Experience the trip of a lifetime. Speak with one of our expert travel planners today at 801.582.2100.
"Life is either a daring adventure or nothing."
GUATEMALA'S CARIBBEAN COAST