Ski the Andes in Chile
Seasons are reversed in the Southern Hemisphere, meaning you can ski fresh Andean powder from mid-June to late October.
Because most southern-cone storm systems form in the Pacific before traveling east, South America's best snow falls on the Chilean side of the Andes.
Chile is home to over a dozen ski resorts, welcoming skiers and snowboarders (selectively) from June to early November.
Whether you are looking for the best heliskiing on the Andes or an exclusive Ski Lodge with ski in-out directly to the slopes LANDED can arrange accommodation, touring, and transfers. Some of our favorite ski resorts in Chile include:
Valle Nevado
When it comes to accessibility and family-friendliness, no other South American ski resort compares to Valle Nevado.
Located just 35 miles from Santiago, in the Central Andes, the ski resort at Valle Nevado encompasses 23,000 skiable acres on three mountains.
Valle Nevado's amenities include:
High-Speed Lifts
Multi-Lingual Ski School
Snowboard Half-Pipe
Eight Restaurants
Inter-resort passes permit access to the neighboring slopes at La Parva and El Colorado.
Valle Nevado's best lodging option is the ski-in ski-out Hotel Valle Nevado.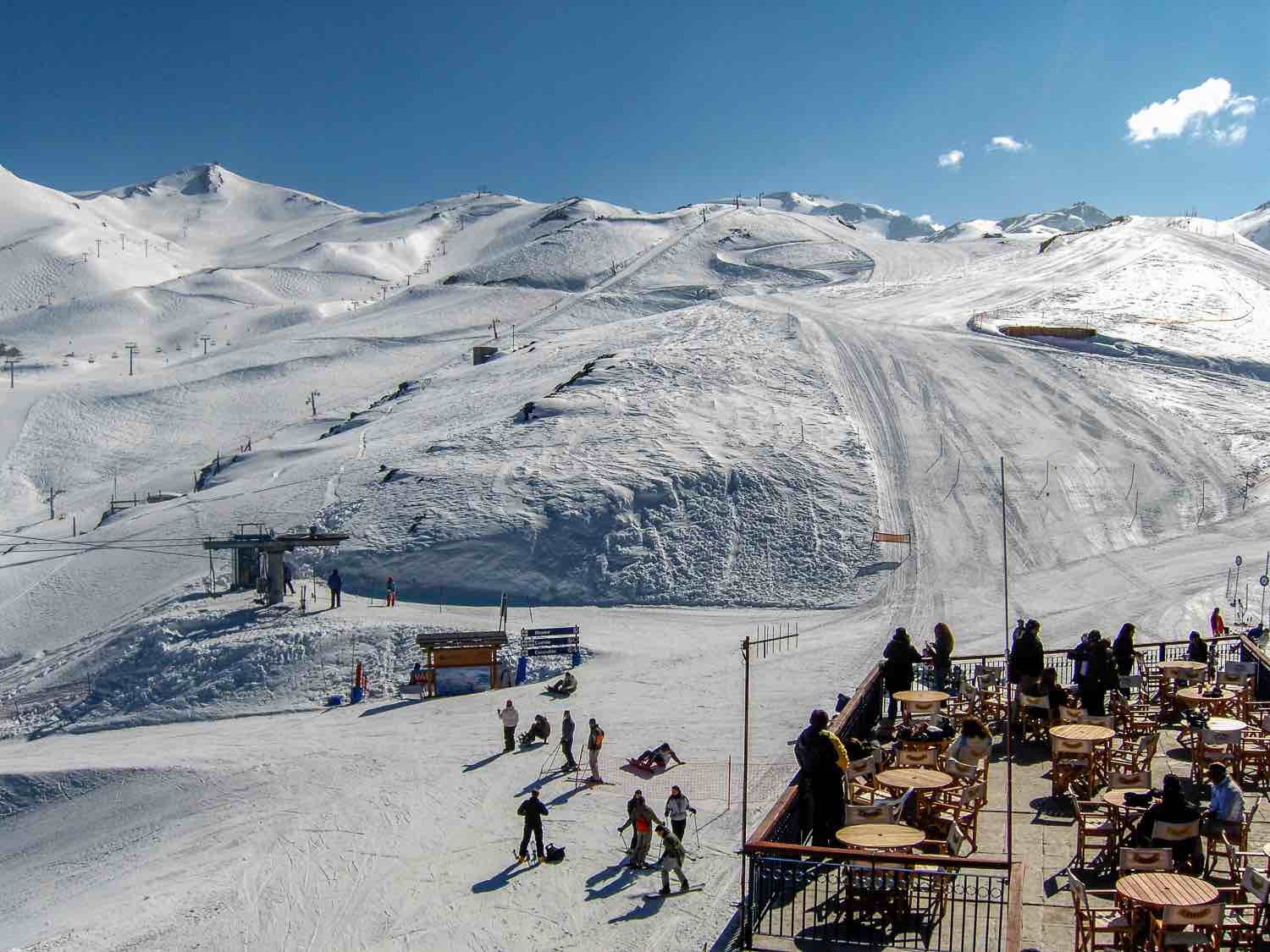 Nevado ski package options include a three-night package (Tuesday to Friday), a four-night package (Friday to Tuesday), and a seven-night package (Friday to Friday).
How to get there?
Once in Santiago, Valle Nevado is just 1.5-hours from the city. LANDED can arrange transportation to the airport, city, or surroundings.
Portillo
Portillo is South America's oldest and most famous ski destination. Founded in 1949, this Chilean mountain is known for its challenging, treeless terrain and off-slope camaraderie.
Unsurprisingly, Portillo has hosted alpine championship events, in addition to serving as a training base for the US, Austrian, and Italian ski teams.
While runs are 55% advanced/expert, newcomers are encouraged. Private ski lessons are readily available.
Snowboarding is also permitted at Portillo. The base altitude is 9,448 FASL, with the highest peak reaching 10,930 FASL.
Portillo operates on a Saturday-to-Saturday program. Meals, lift tickets, and round-trip transfers—102 miles from Santiago—are included in most Portillo ski packages.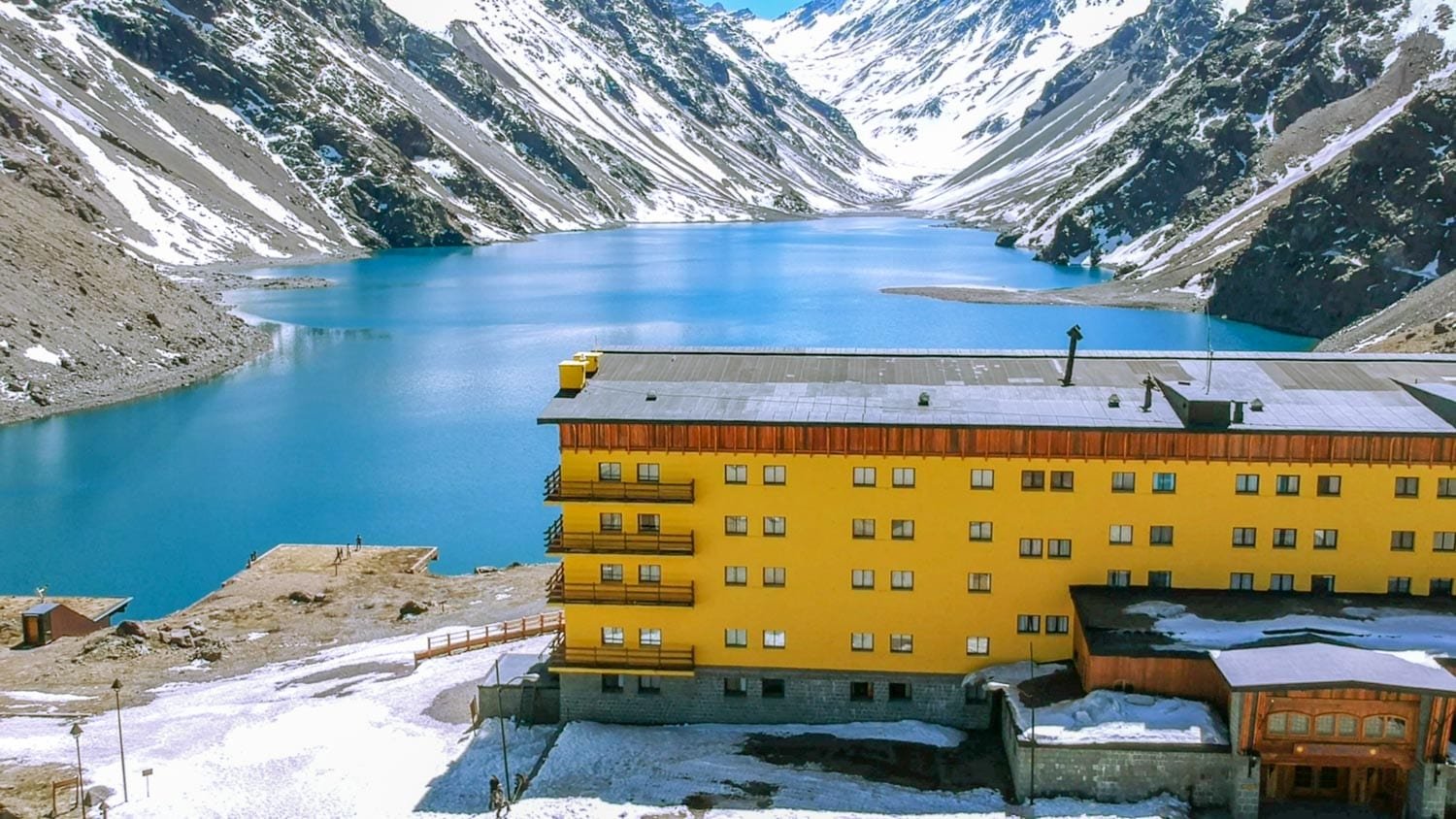 Termas de Chillán
252 miles south of Santiago, Termas de Chillan sprawls out beneath the 10,535-foot Chillan Volcano.
The volcano's pine-cloaked slopes provide 3,600 feet of vertical drop, as well as geothermal heat for the area's famous hot springs. The ski resort gets a deep average annual snowfall of over 30 feet.
Termas de Chillan's geography offers something for everyone. Of the 28 available runs at Termas de Chillan:
30% are Beginner
40% are Intermediate-Advanced
30% are Expert
Las Tres Maria's, a sweeping 8-miler, holds the title of the longest run in South America.
Skiers and snowboarders (in off-piste sections) are welcome, and the resort operates a friendly, multi-lingual ski school.
Dog sledding, night skiing, snow paintball, and snowmobiling round out winter offerings. Chillan is one of the few ski resorts in Chile with tree skiing.
In summer, the resort hosts mountain bikers, hikers, and rock climbers.
Termas de Chilla's best lodging option is the ski-in ski-out Termas Chillan Hotel.
How to get there?
Once in Santiago, take a 50-minute flight from Santiago to Concepción airport (CCP). From here, it is an approximately 2.5-hour transfer to the hotel.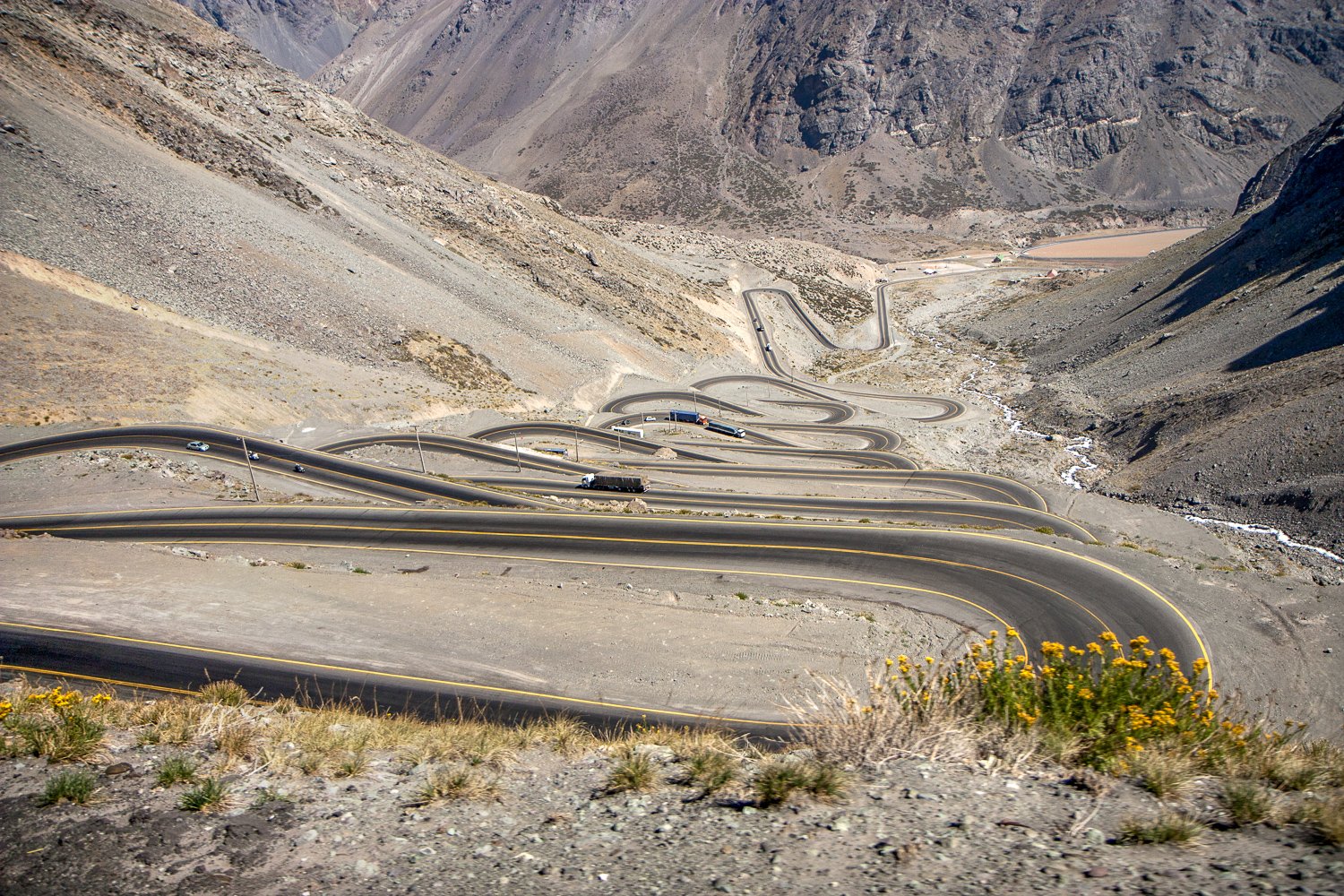 Custom and Private Heliskiing in the Andes
While resort skiers in Argentina and Chile only see the far Western and Eastern flanks of the Andes, respectively, heli-skiers can dive deeper into the second largest mountain range in the world.
Runs average 5,000 vertical feet and often extend to 9,000 feet. With many landing zones higher than the summits of South American ski resorts, heli skiers are rewarded with thigh-deep blower powder.
If your time in Santiago is limited, you can still enjoy the thrill of steep verticals, wide-open slopes, and rugged Andean scenery. Being based in the capital will allow for more flexibility.
Snowcat skiing (up to 12,000 FASL) and heli-skiing day trips can be arranged from the capital. Full-day and overnight options are available.
Looking for more remote options?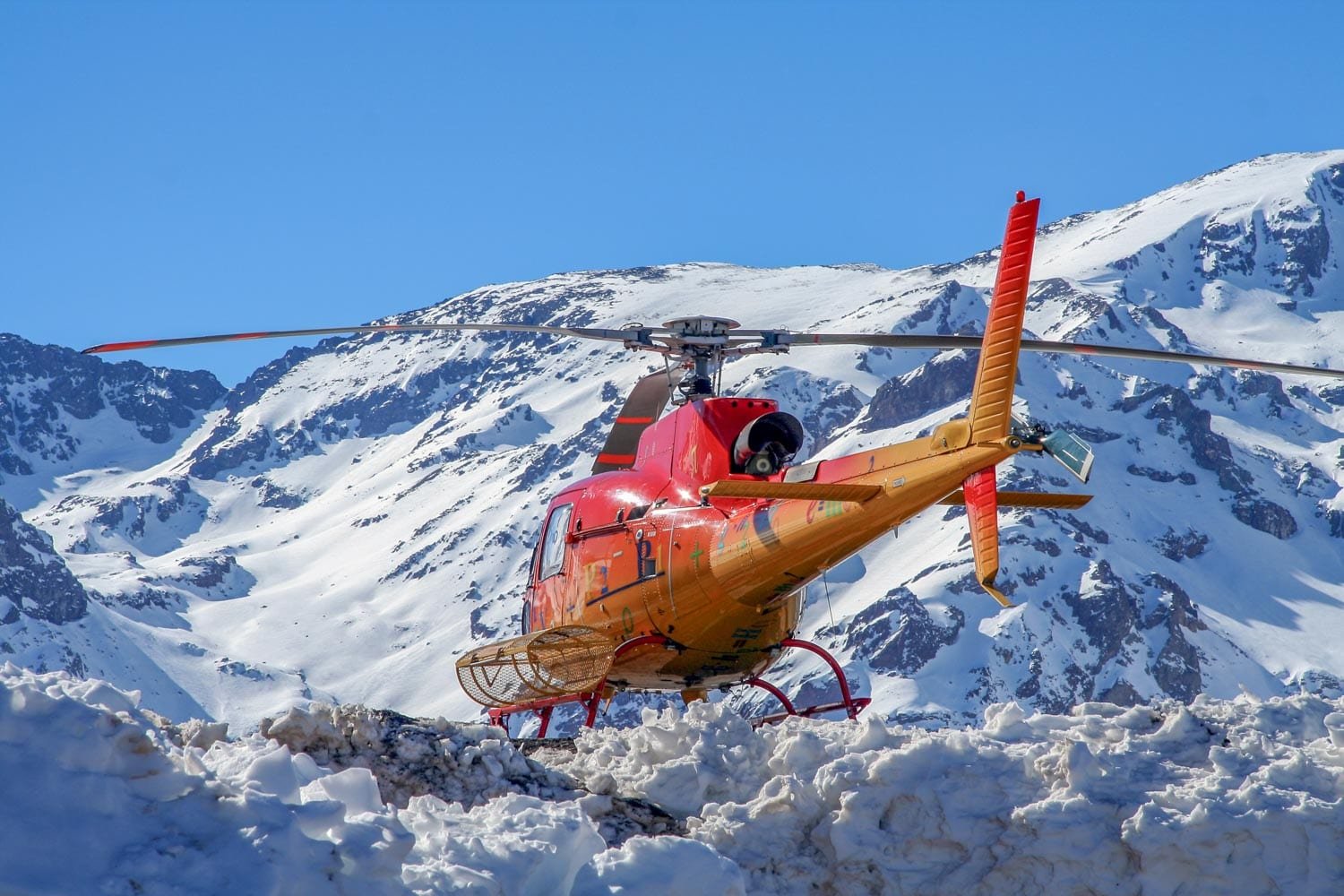 Río Palena Lodge
Located in Northern Patagonia, Rio Palena Lodge operates a heli-skiing operation on October and November. The alpine ski terrain surrounding Rio Palena Lodge offers open bowls, steep couloirs, and mellow glacier runs. Your guides can tailor the itinerary to suit your group's preferences. Your typical ski day will include 6 to 10 runs.
Favorably located in a remote region of Patagonia, first descents await in every direction. Helicopter access allows for a day full of exploring new zones and never-repeated runs.
Rio Palena Lodge's ski operation is focused on Advanced and expert skiers, with a minimum age of 14. Average vertical runs range between 2k feet and 2.5k feet.
The hotel provides all avalanche safety equipment, skis, and poles but guests are required to bring their own ski boots.
Weather permitting, guests can also enjoy hiking, mountain biking, stand-up paddle boarding, and whitewater rafting.
In summer, guests can enjoy heli-hiking or heli-fishing, hiking, stand-up paddle boarding, whitewater rafting, inflatable kayaking, climbing, walk, wade, and float fishing, and horseback riding.
How to get there?
Arriving anywhere in Patagonia requires time and patience but it is definitely worth it. To get to Palena, fly from Santiago to Puerto Montt (PMC) where you'll connect with a flight to Chaitén (flights to Chaitén operate in 9-passenger aircraft). From Chaitén it is an approximately 2.5-hour transfer to Palena Lodge. LANDED can also arrange charters to Palena airstrip, just 15 minutes from the lodge.
Nomads of the Seas
Nomads of the Seas offers luxury adventure cruises along Chile's lush Patagonian Coast.
The company's flagship is Atmosphere, an elegant 150-foot motor yacht with only 14 guest cabins (maximum of 28 passengers).
Each day aboard Atmosphere offers unique itineraries. Daily tour options include:
River and Sea Kayaking
Whale and Dolphin Watching
Whitewater Rafting
Horseback Riding
Jet Boat Excursions
Helicopter Aerial Sightseeing
Hiking (Including Helicopter Airlifts)
Heli-skiing trips are available from mid-September through November.
Atmosphere is equipped with two Bell 407 helicopters, zodiacs, drift boats, and an assortment of various other watercraft.
How to get there?
Nomads of the Seas cruises begin and end in Puerto Montt, the primary port of the Chilean Lake District. Direct flights connect Puerto Montt with Santiago daily (one hour and 40 minutes).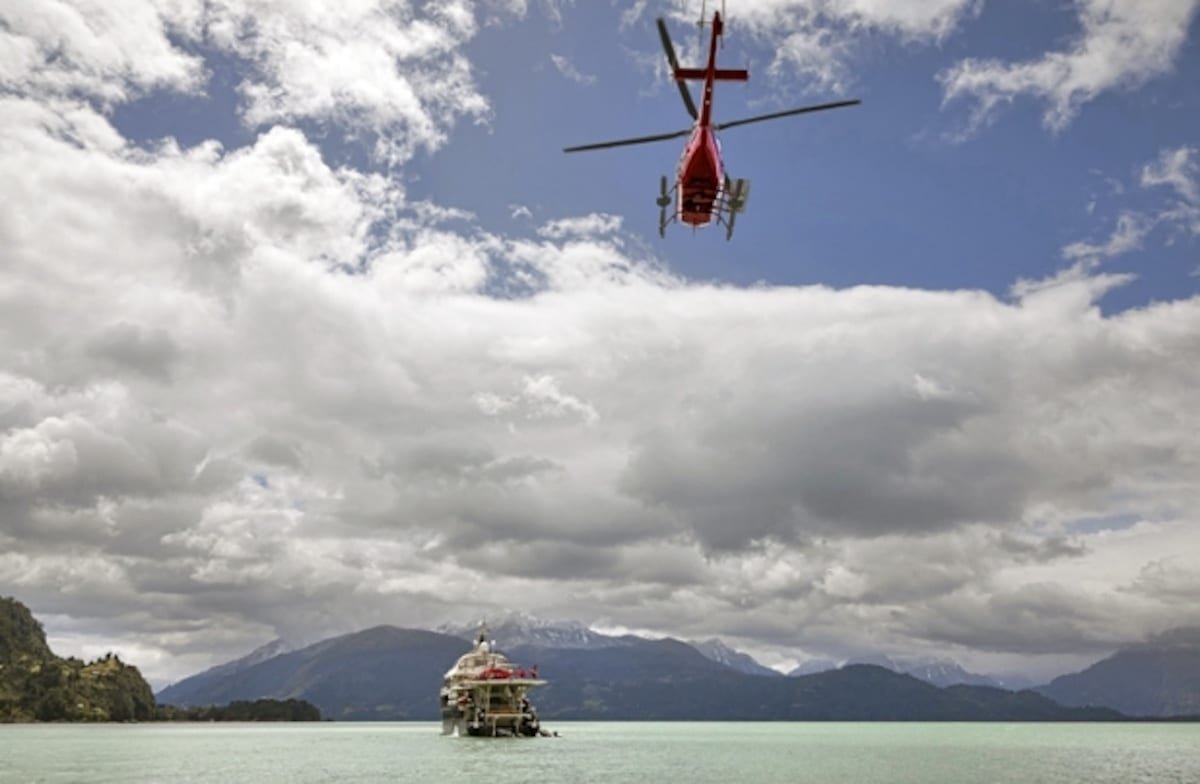 Backcountry Skiing
If you are looking for a bigger adventure, dig deep into Chile's Lake District to ski some of Chile's largest volcanoes, such as Lonquimay, Villarica, Lanin, and Llaima.
With backcountry ski descents over 5,000 vertical feet on Lonquimay, Llaima and Villarrica, your quads might start burning by just reading this. Ours definitely did.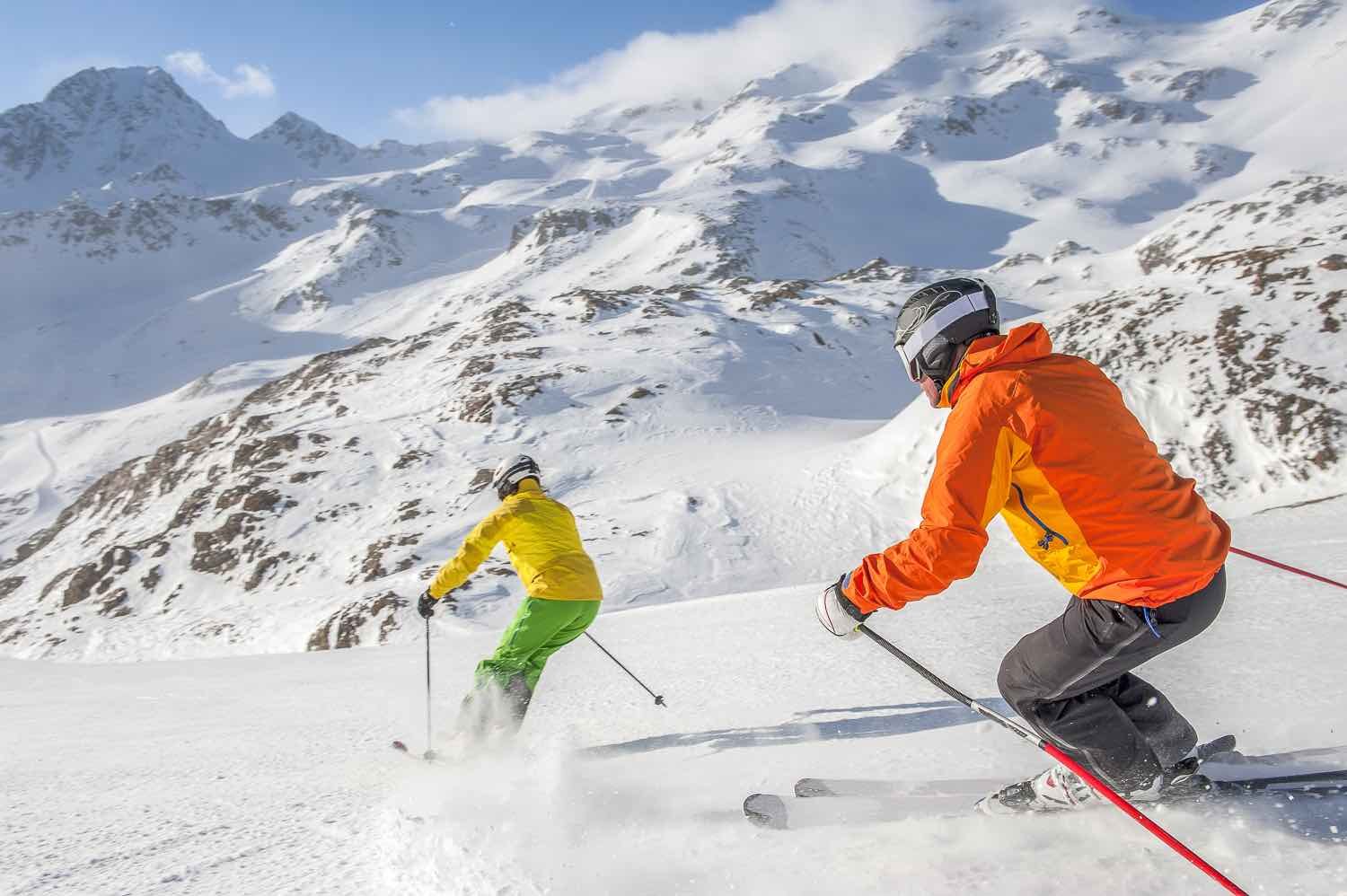 Paguimalal
Pucon is sometimes called the Jackson Hole of South America–a place with natural beauty, a vibrant town center, and dozens of outdoor activity options.
Guests at Paguimalal enjoy privately-guided experiences, tailor-made to their interests, skills, and desired level of activity. Each guide is hand-selected by the homeowners, and most of the excursions are included in your stay*.  Some activities are scheduled in advance, while others can be timed with same-day flexibly.
During the winter season (May to September) guest options include:
Skiing and snowboarding (usually June to September)
Dog sledding
Snowmobiling
Heli-skiing *
Helicopter tours of the volcanos *
Randonee / backcountry skiing on the Villarrica Volcano
Hiking
Visit to the volcano's lava tubes
Visits to the hot springs
Yoga and meditation classes
Visits to the Cassis chocolate factory, local pubs, or the town's galleries and boutiques
Picnics and s'mores parties
Cooking classes and foraging in the Patagonian forest
Visits to native Mapuche communities (cultural exchange, weaving, music, and traditional food)
* Some winter activities (e.g. helicopter flights carry an additional surcharge).
How to get there?
Once in Santiago, take a 1 hour 22 minutes flight to Temuco (ZCO) where LANDED can either arrange a 75-minute transfer to Paguimalal or a 25-minute heli ride.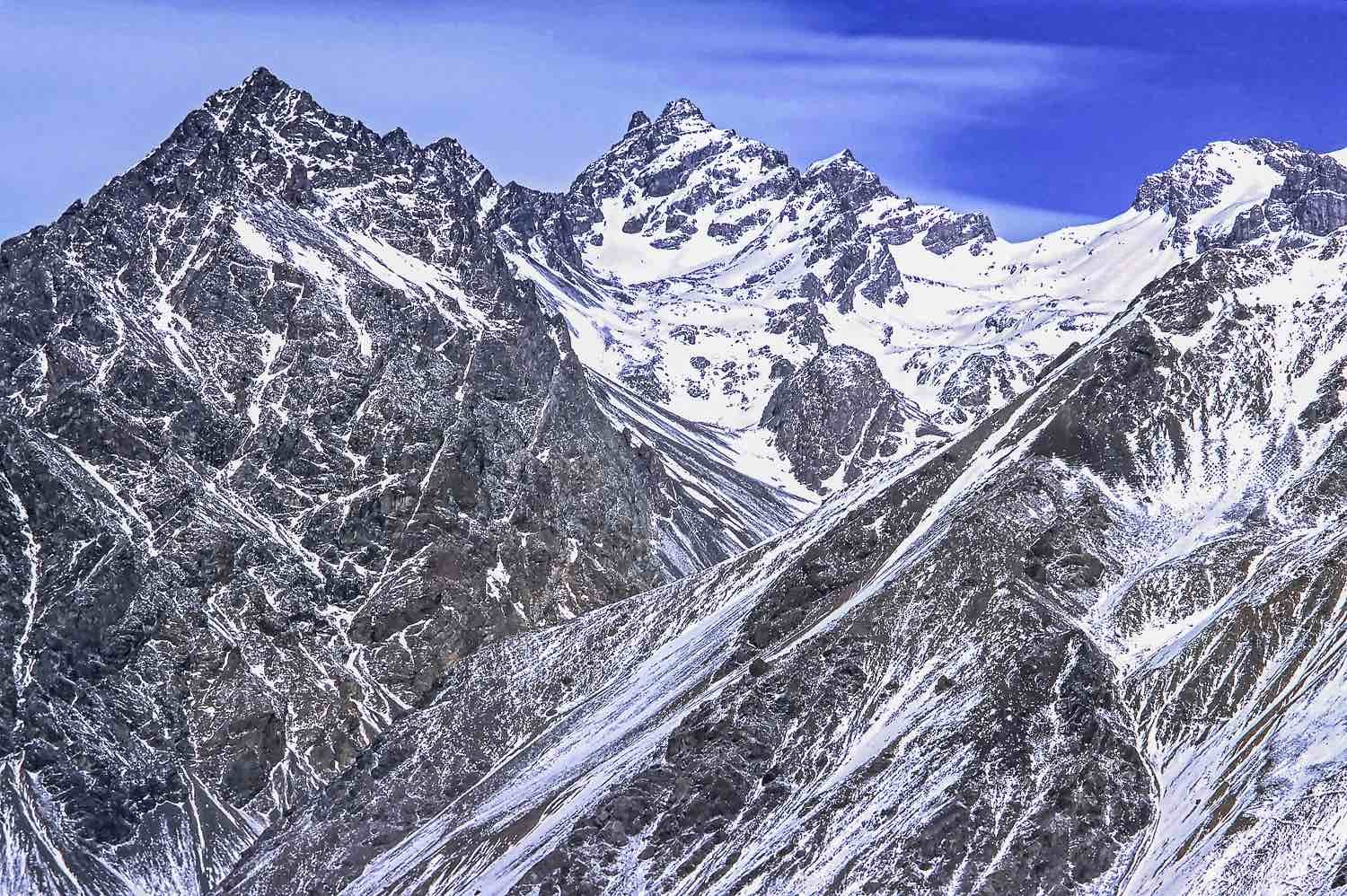 LANDED arranges vacations throughout Chile's ski regions. The ski season in Chile coincides with the best times to visit Machu Picchu, Easter Island, the Atacama Desert, and many other locations throughout Peru and Chile. LANDED organizes luxury accommodation, private transportation, and tours with expert guides. Speak with a travel planner today
THE CHILEAN LAKE DISTRICT
TORRES DEL PAINE NATIONAL PARK
VALPARAISO & VIÑA DEL MAR
YACHT CHARTERS IN CHILEAN PATAGONIA