Explora Patagonia Lodge
Explora was founded in 1993 by a group of friends who were passionate about adventuring through untamed terrain. Their travel philosophy seeks to provide guests unparalleled entry to some of South America's most extraordinary regions.
Explora Patagonia (also known as Hotel Salto Chico) was the group's first lodge. It enjoys a privileged position within Torres del Paine National Park, at the edge of Lake Pehoe and facing the Paine Massif.
Explora Patagonia is convenient to some of the park's best-known trails, waterfalls, lakes, and viewpoints.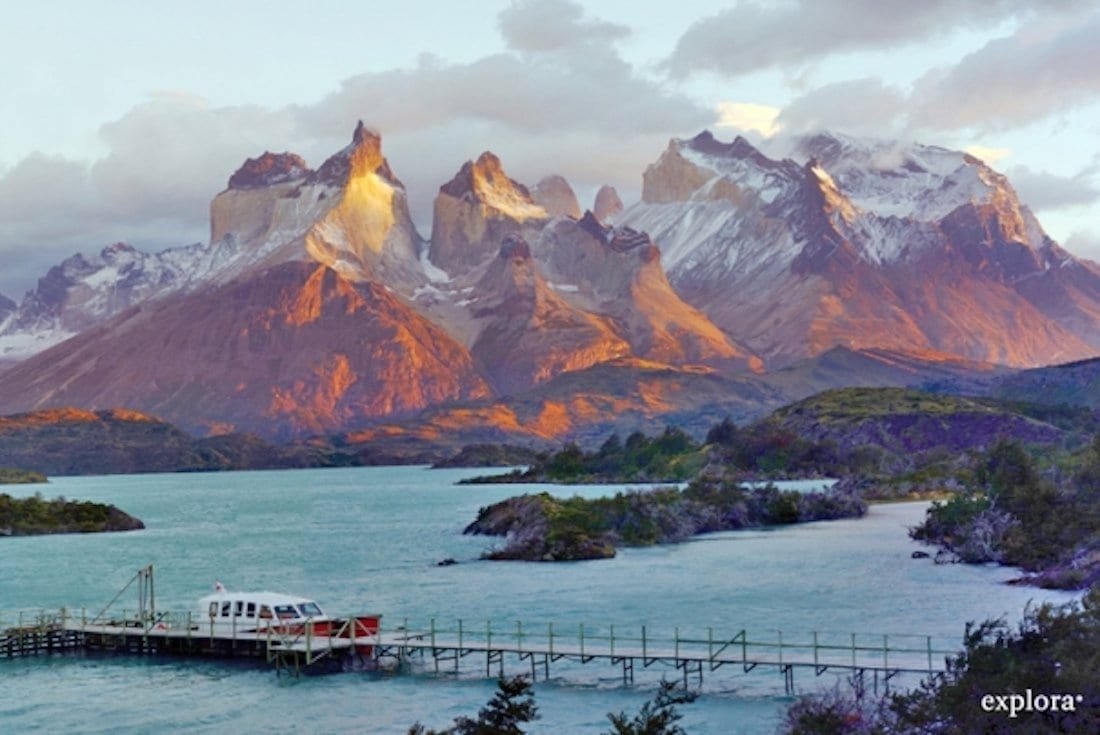 The full board program at Explora Patagonia includes group-basis guided touring (maximum of 14 guests per group, with more than 40 explorations to choose from), three meals daily, open bar with select beverages, and group-basis transportation to and from the Punta Arenas or Puerto Natales.
Each of the hotel's 49 rooms is equipped with an expansive wall window that boasts incredible views of either the Paine Massif and Lake Pehoe, or oblique views of the Salto Chico Waterfall.
Because the rooms are designed to strengthen guests' connection to the landscape, they do not include televisions or Wi-Fi. Explora Patagonia is open year round.
Explora Patagonia Lodge Location
Explora Patagonia rests on a hill above Lake Pehoe, near the southern entrance of the vast Torres del Paine National Park. The 700-square-mile park is renowned for its wildlife, mountains, glaciers, lakes, and grasslands.
Explora Patagonia faces the breathtaking Macizo del Paine or Paine Massif—a cluster of snow-capped granite peaks reaching a height of 9,840 feet.
The Torres del Paine National Park is located in the southern Chilean Patagonia. The nearest airports are Puerto Natales (2.0 hours / 61 miles south) and Punta Arenas (4.5 hours / 211 miles south).
The park borders Bernardo O'Higgins National Park to the west and Argentina's Los Glaciares National Park to the north.  The border crossing to Argentina, at Cerro Castillo, lies 90 minutes / 48 miles to the southeast.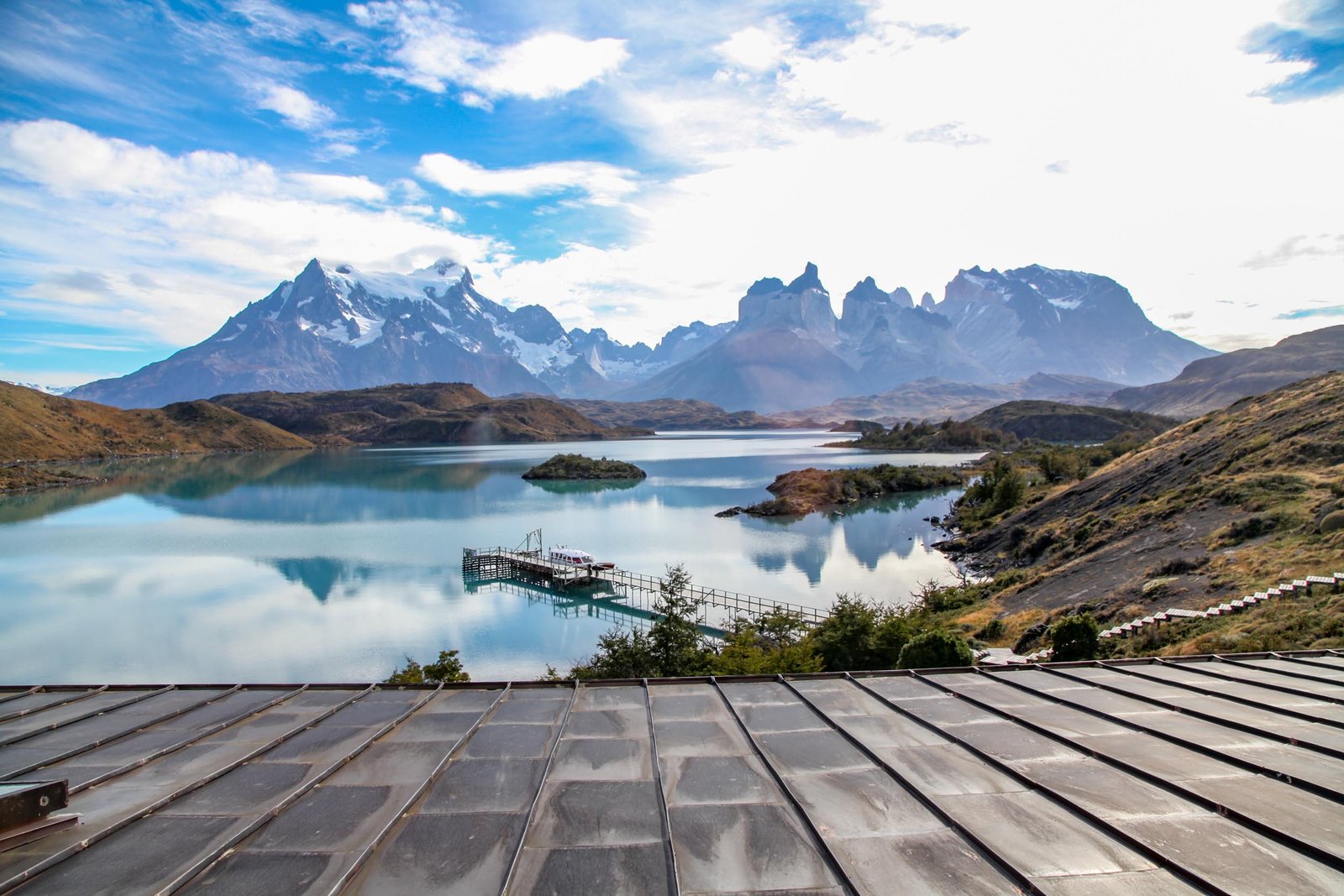 To this day, vast sections of Patagonia–the southern portions of Chile and Argentina—remain largely uninhabited.
Explora Patagonia Lodge Accommodations
Explora Patagonia's 49 rooms have a contemporary design that draws inspiration from the surrounding landscape.
Each room features light, wood-paneled walls made from lenga, cypress, and almendrillo. The interiors provide the essential amenities, yet still allow the focal point to be the striking window views.
Rooms with view of Paine Massif
Explora Patagonia's has 6 Exploradores Suites (450 sq. ft.) and 36 Cordillera Paine Rooms (300 sq. ft.).  Both of these room categories provide panoramic mountain views of the Paine Massif.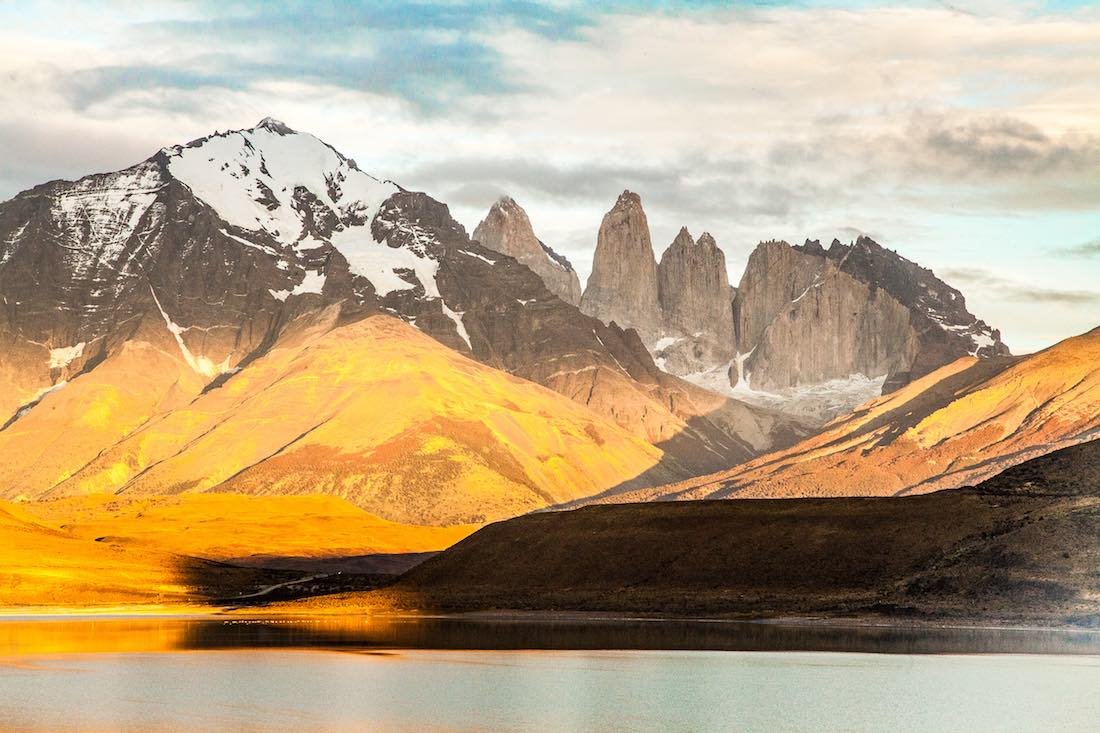 Rooms with view of the Salto Chico Waterfall
The hotel also offers 7 Salto Chico Rooms (300 sq. ft) that offer oblique views of the Salto Chico Waterfall.
In-room Amenities
Each room has the option of either a king bed or two twin "full" beds, with sitting areas available. The room provides bathrobes, slippers, hair dryers, and a security box. Rooms do not have televisions, Wi-Fi, or air conditioning.
Premium beverages, laundry, and massage treatments carry an additional charge.  Wi-Fi is available in the common rooms at Explora Patagonia.
Spa – Ona
To access the spa, guests are invited to walk down an outdoor, wooden staircase that follows the Paine River for about 300 feet.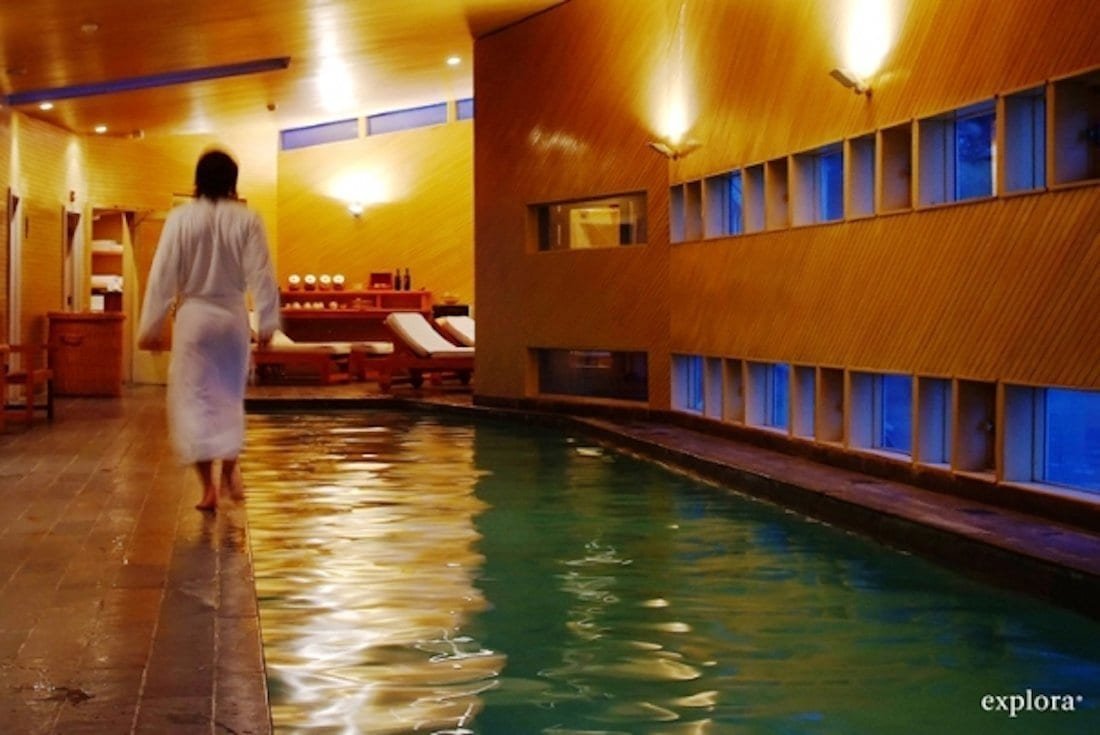 The Casa de Baños del Ona, an annex to the lodge, houses a heated indoor lap pool.
Inside, guests can relax in a sauna or unwind with therapeutic massages. Outside, four open-air hot-tubs bubble, allowing guests to relax and enjoy views of the Paine River.
Explora Patagonia Dining
Meals at Explora Patagonia are designed to leave guests feeling satisfied, healthy, and ready to venture out on their next excursion. The menu emphasizes clean flavors and locally-sourced ingredients. At dinner, dishes are paired with Chilean wines.
The Explorer's bar is stocked with specialty Chilean wines and a menu of other beverages.  Premium beverages carry an additional charge.  The bar is frequently used as a gathering place for evening events.
Horseback Riding at Dos De Enero Ranch
Located 32 miles / 35 minutes from the lodge, the Dos de Enero Ranch is a 6,000-acre ranch (estancia) owned by Explora.
Explora Patagonia is the only hotel in the area with its own horses. Twenty-six horses of different breeds and crosses have been raised in the Ibáñez family estate in the Central Valley of Chile.  Mounts are available for almost every level of experience, from beginner to advanced.
The care of the horses is the responsibility of a team led by Gaela Hourcq, Explora Patagonia's veterinarian horse specialist.
Gaela has over 15 years of professional equine experience having worked in prestigious stables in England, Ireland, France, United States, and Japan. She has been with Explora since 2013 supervising the breeding, raising, breaking, feeding and care of the horses.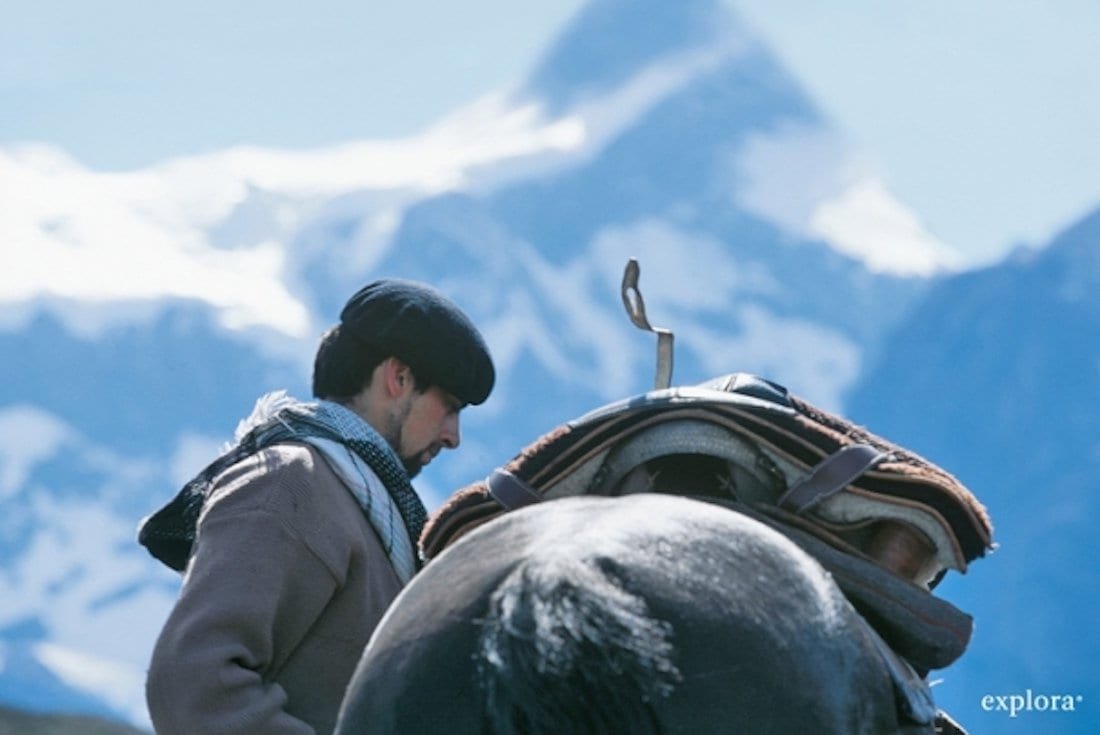 The Quincho at Dos de Enero Ranch is the starting point for many horseback rides. From September to April, as weather permits, guests can enjoy a traditional spit-roasted lamb barbeque (asado) here.
Adventure Tours
Because Torres del Paine National Park is so large and diverse, each itinerary can be tailored to your preferences.
The hotel offers more than 40 explorations covering all major areas in the park that can be traveled by foot, horseback, or van.
Although the menu of excursions emphasizes hiking, options are available for most levels of activity.  Multi-generational families can choose to take separate explorations, meeting back at the lodge afterwards.
Each exploration is led by a bilingual tour guide who can speak either English or Spanish.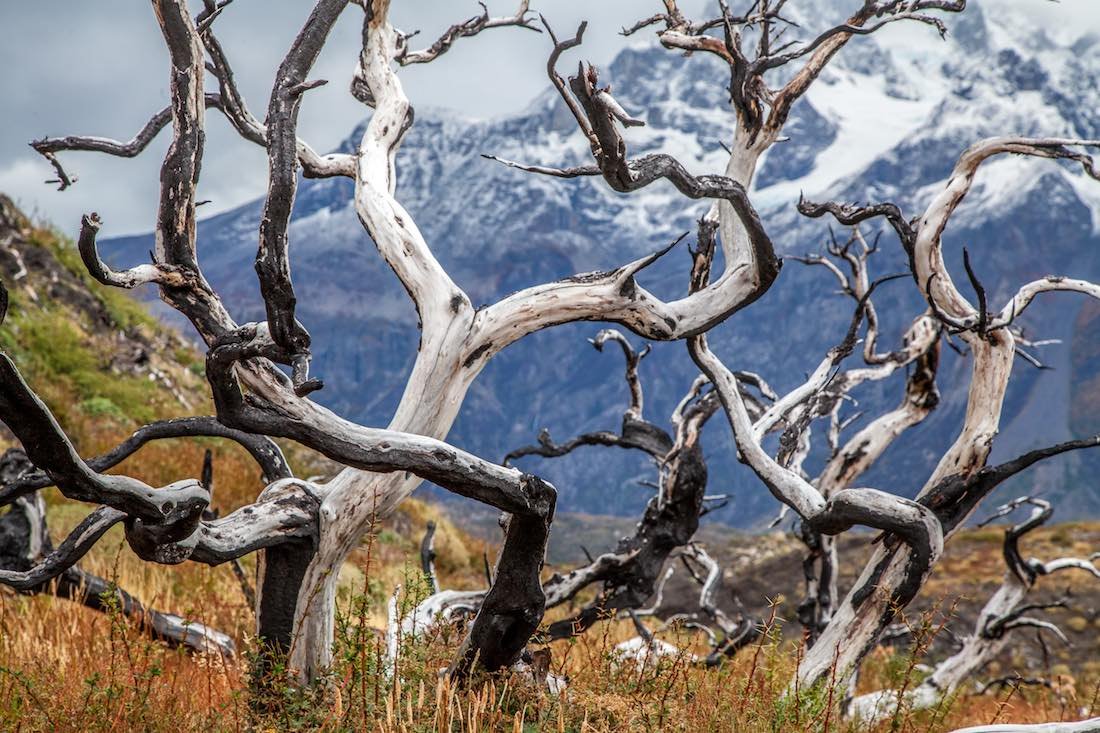 Some of the most popular excursions follow the majestic "W" circuit that weaves through trails surrounding the Paine Massif. Included in that circuit are stops at the Torres Base, Grey Glacier, and Valle Frances (French Valley).
Full and half-day explorations such as birdwatching, horseback riding, mountain biking, and boating are available. A variety of hikes are offered to nearby glaciers, lakes, and viewpoints.
Your touring is not planned in advance.  Instead, you'll meet with a guide soon after arrival at the lodge.  During this meeting, you'll choose excursions based on local conditions and your desired level of activity.
Most excursions are in groups of 14 guests or fewer.  Often, guests are transported by van from the hotel to another location to begin the excursion.
Explora Patagonia offers programs of four and eight nights. In addition, six-night programs are available for the December holidays. However, the hotel recommends a minimum of five nights to thoroughly experience all that Patagonia has to offer.
Gratuities are voluntary at Explora Patagonia. Recommend at $100 per guest per stay. Left at reception desk at checkout. Can be paid by credit card.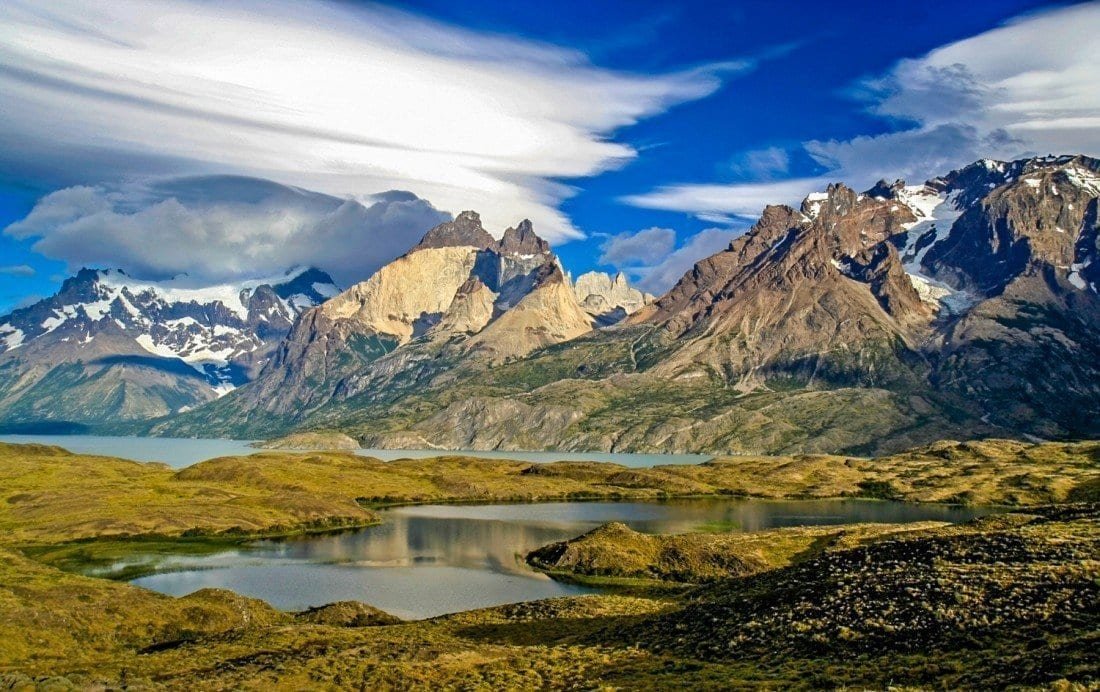 Are you considering a stay at Explora Patagonia? LANDED provides personalized, custom travel within Central America, South America, and the Antarctic. We'll create a unique itinerary plan tailored to your interests and dreams. Experience the trip of a lifetime. Speak with one of our expert travel planners today at 801.582.2100.