Gitana del Mar Boutique Beach Resort is located on Caribbean Coast of Colombia. The resort lies at the foothills of Sierra Nevada de Santa Marta, just 15 minutes from Tayrona National Park.
The easiest way to arrive to Gitana del Mar is by road from Santa Marta; the Santa Marta airport is approximately a one-hour drive from the hotel. LANDED also arranges private car and helicopter transfers from Barranquilla and Cartagena.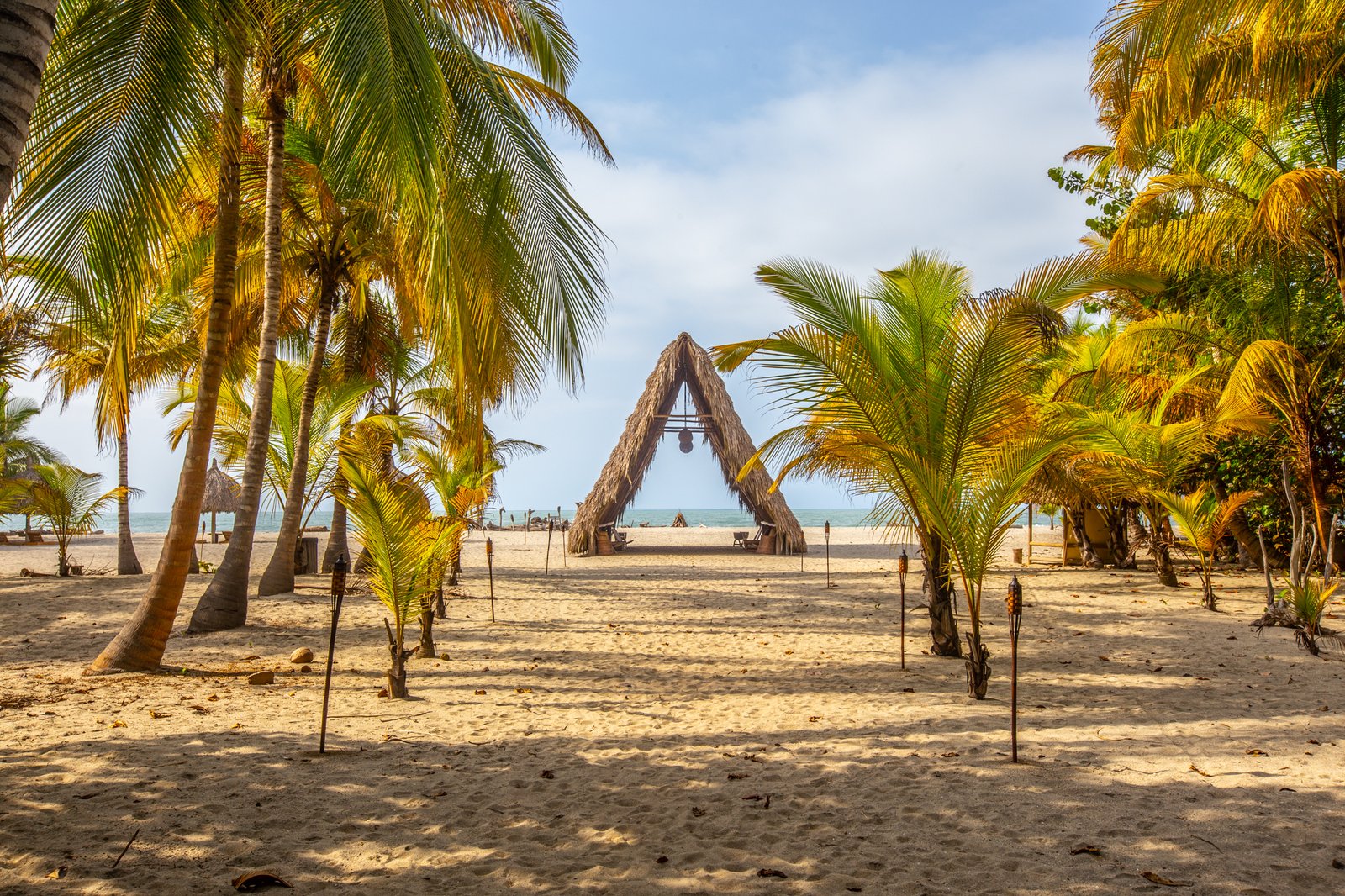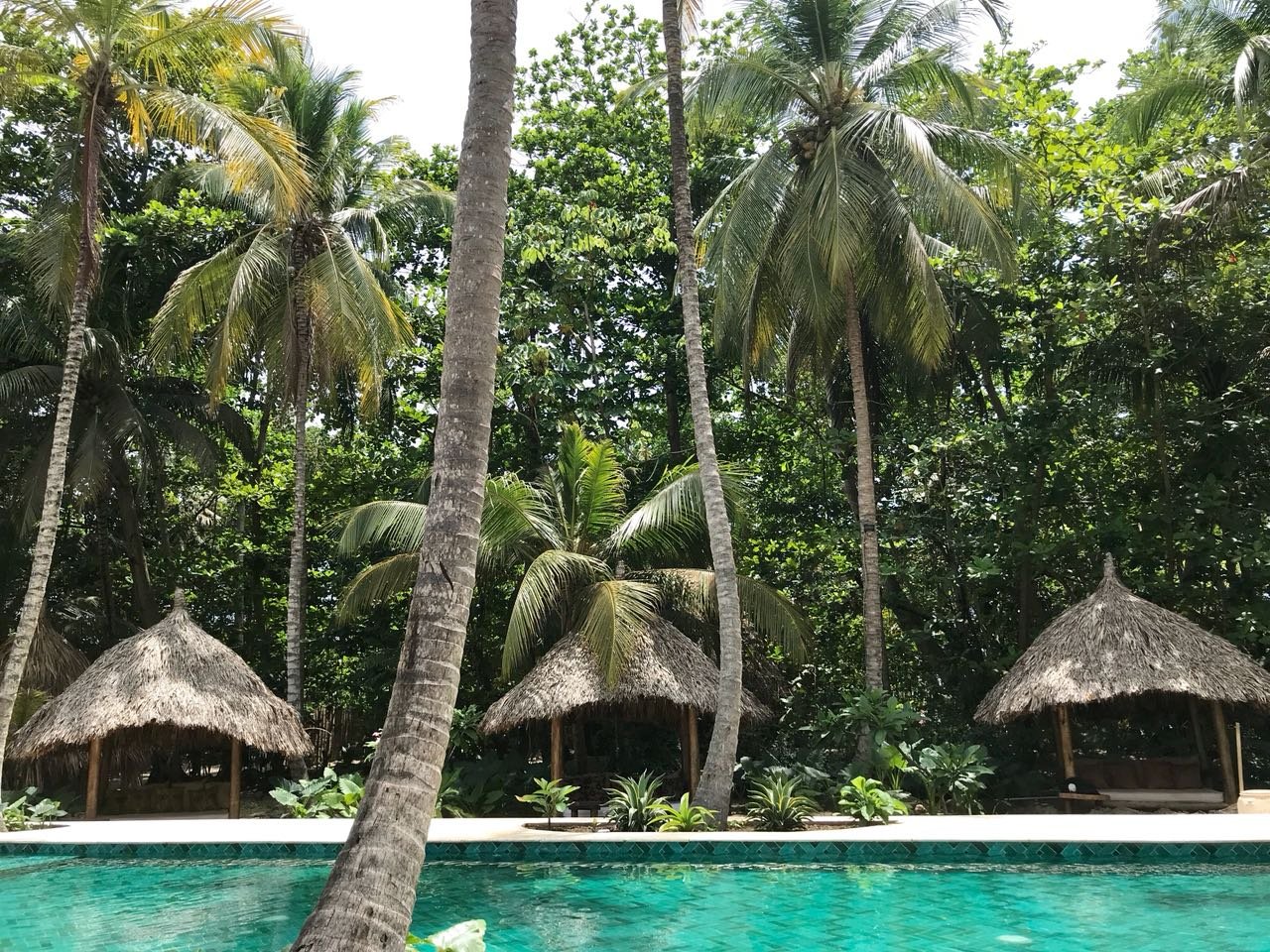 The area is famous for the postcard-perfect beaches of Tayrona National Park. This natural treasure protects 37,000 acres of reef, coastline, rainforest, and mangrove habitat.
Tayrona National Park is home to black howler and squirrel monkeys, eagles, iguanas, and parrots. LANDED can arrange you tours and transfers to the park.
Amenities & Services
Among the resort's amenities guests can enjoy their pool, hammocks, loungers, and palm-roofed beach beds.
Gitana del Mar features an ocean side Spa & Wellness Center with an extensive spa services and treatments menu. All services are provided by the hotel's local staff.
Yoga classes are available everyday at 8AM and 5PM at an additional cost. Gitana del Mar hosts local and international yoga teachers specializing in Vinyasa, Hatha, Ashtanga, Restorative & Yin Yoga techniques.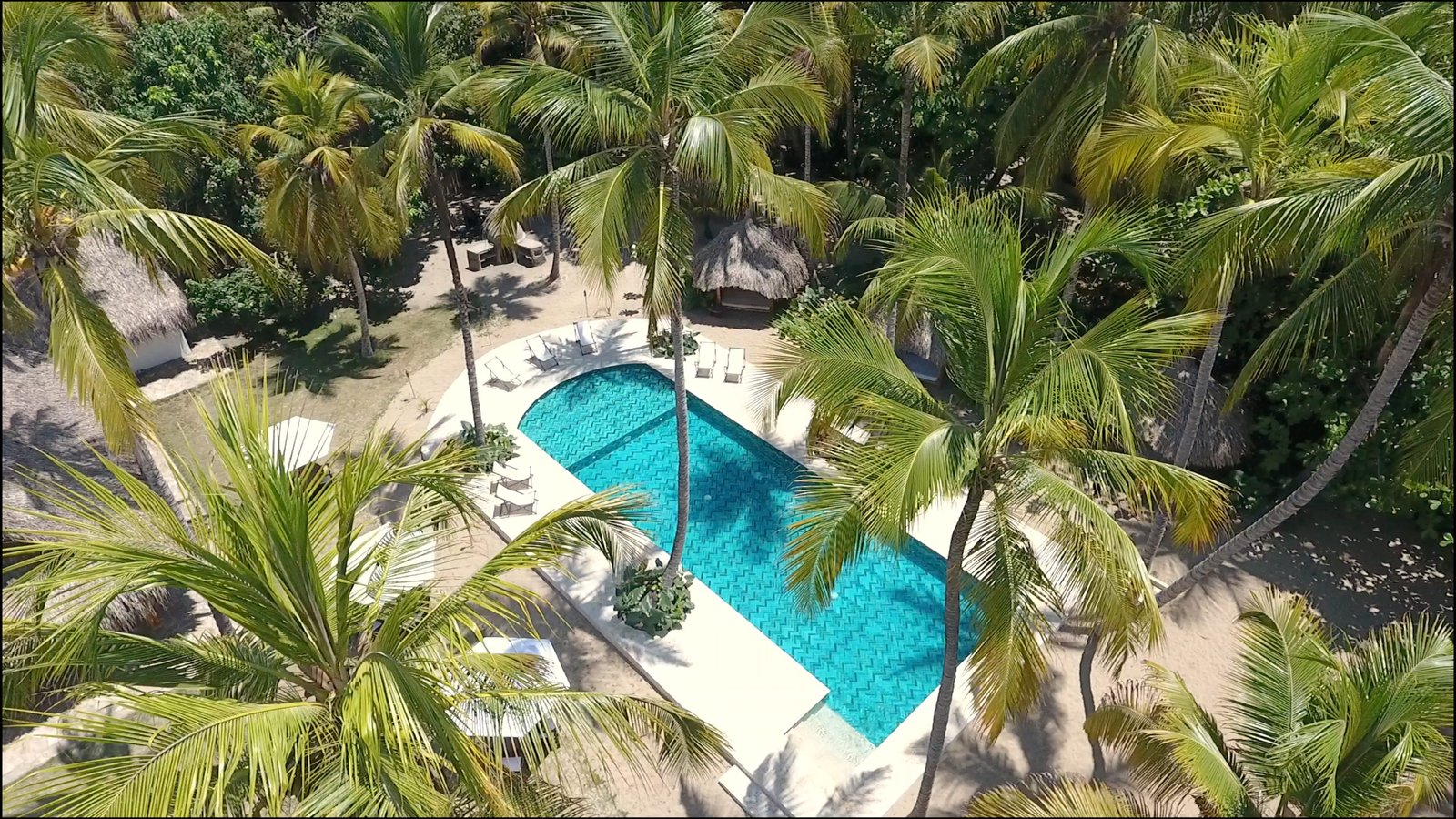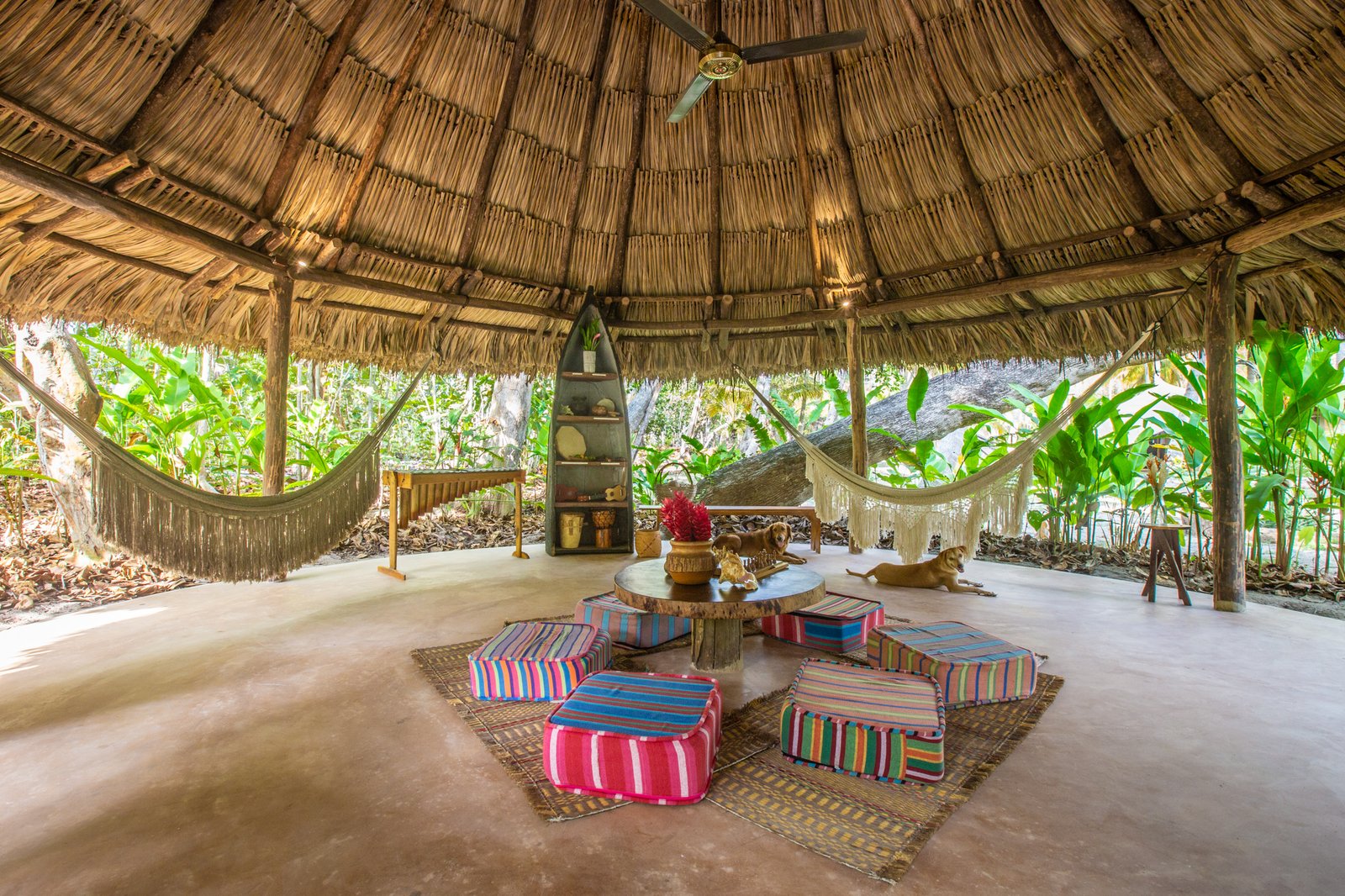 Restaurant
Gitana del Mar's kitchen works with the local fishermen. Their sea-to-table menu features Colombian, Latin and Asian flavors.
Fresh fruit juices are one of Colombia's culinary traditions. Daily offerings can include passion fruit, star fruit, guava, lulo, mango, and pineapple. Fresh fruit and herb infused cocktails are also available per request.
Guests at Gitana del Mar can enjoy three daily meals, included in full-board rate option. The menu at the hotel's restaurant changes daily, and includes fresh fruit juices, bottled water, coffee and tea. Special dietary considerations are accommodated with advance notice. These can include vegetarian, vegan, or gluten-free meal plans.
The Gitana Bar serves cocktails, beer, wine, liquor, sodas, smoothies, additional fruit juices, and snacks. All of these come at an additional cost and are not included in the daily rate.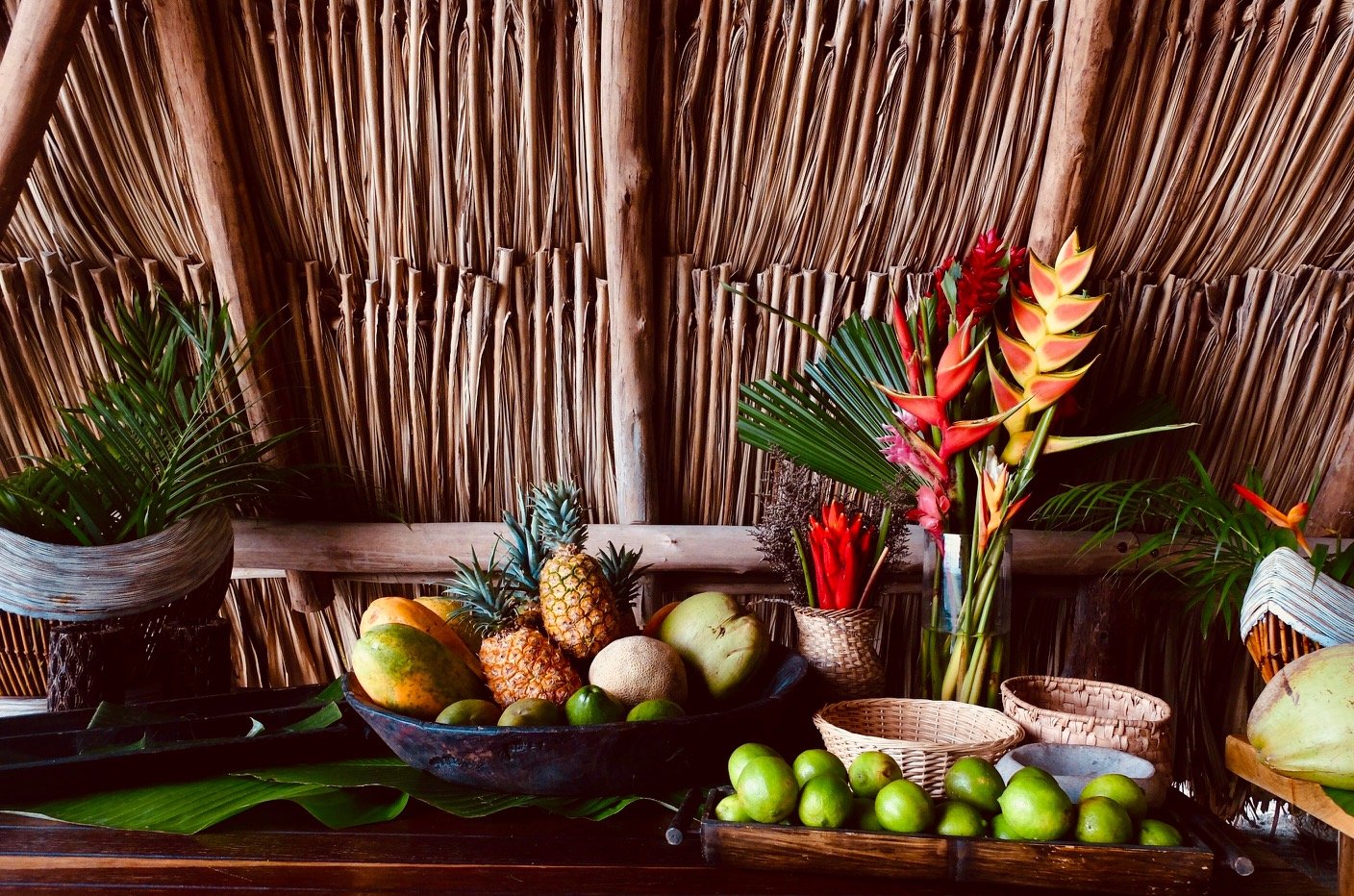 Accommodations 
Gitana del Mar has ten bungalows. Each of these guest rooms is designed with pitched, palm roofs in the manner native to the area. These structures are made from sustainably and locally harvested palm fronds, and the vaulted ceiling design allows heat to rise, keeps the lower portion of the rooms cooler and fresher.
Each bungalow has en suite private bathroom, outdoor shower, and fan. Rooms at Gitana del Mar do not have air conditioning and most of their showers do not have hot water.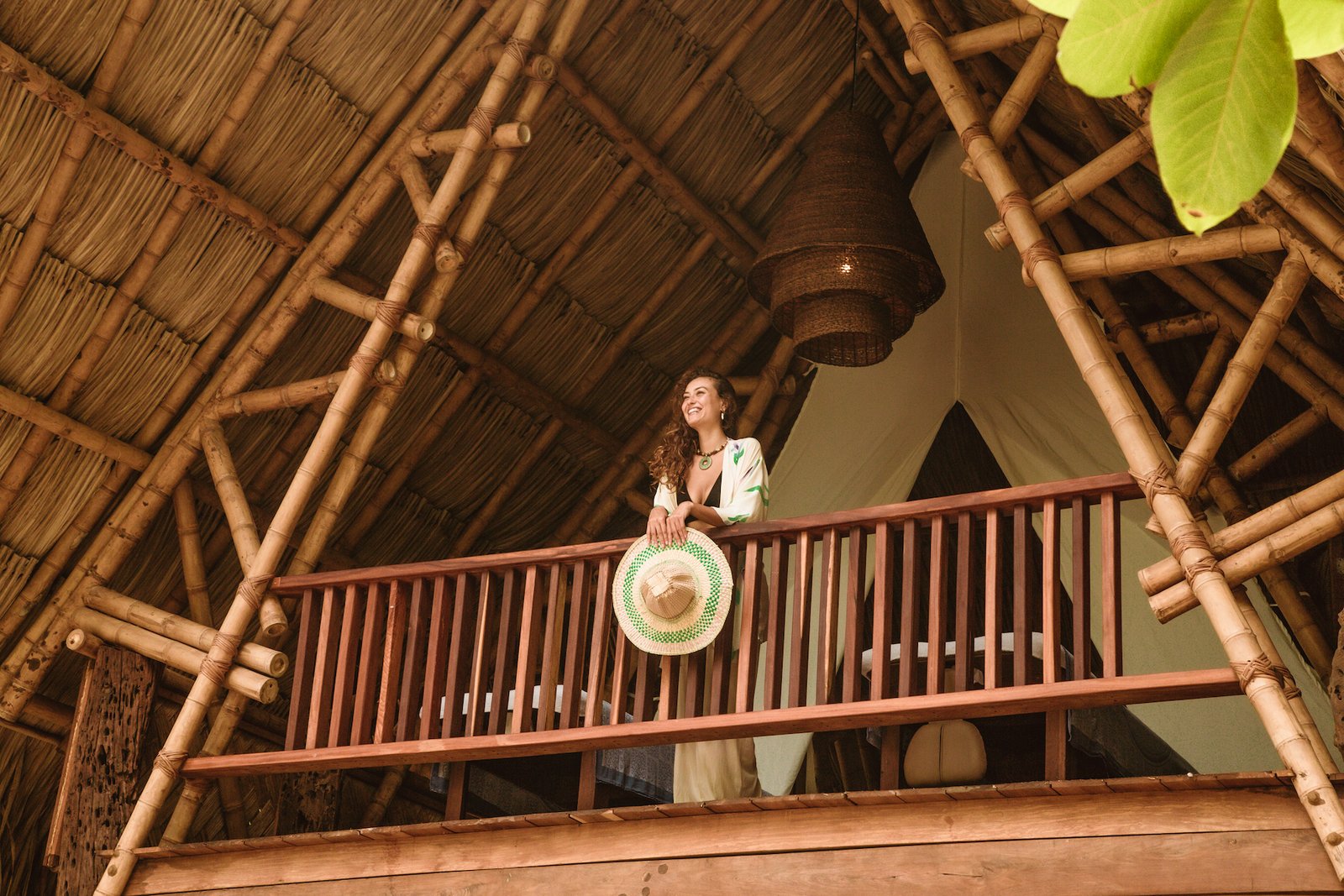 Bungalow Suites
Bungalow Suites at Gitana del Mar are furnished with a queen-size bed and a twin-size bed. Two of these bungalows feature a hot-water shower, while the other two do not have hot water.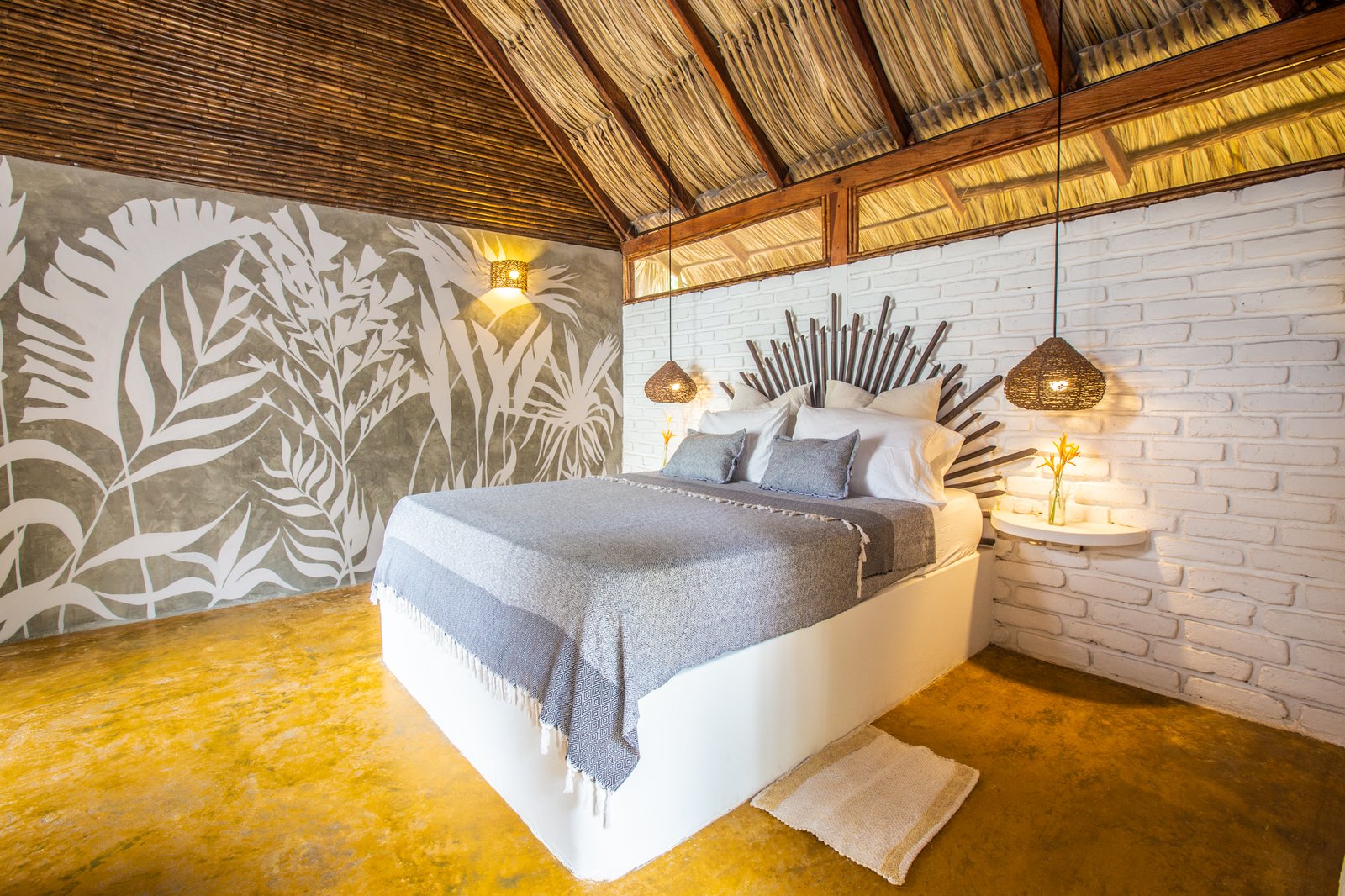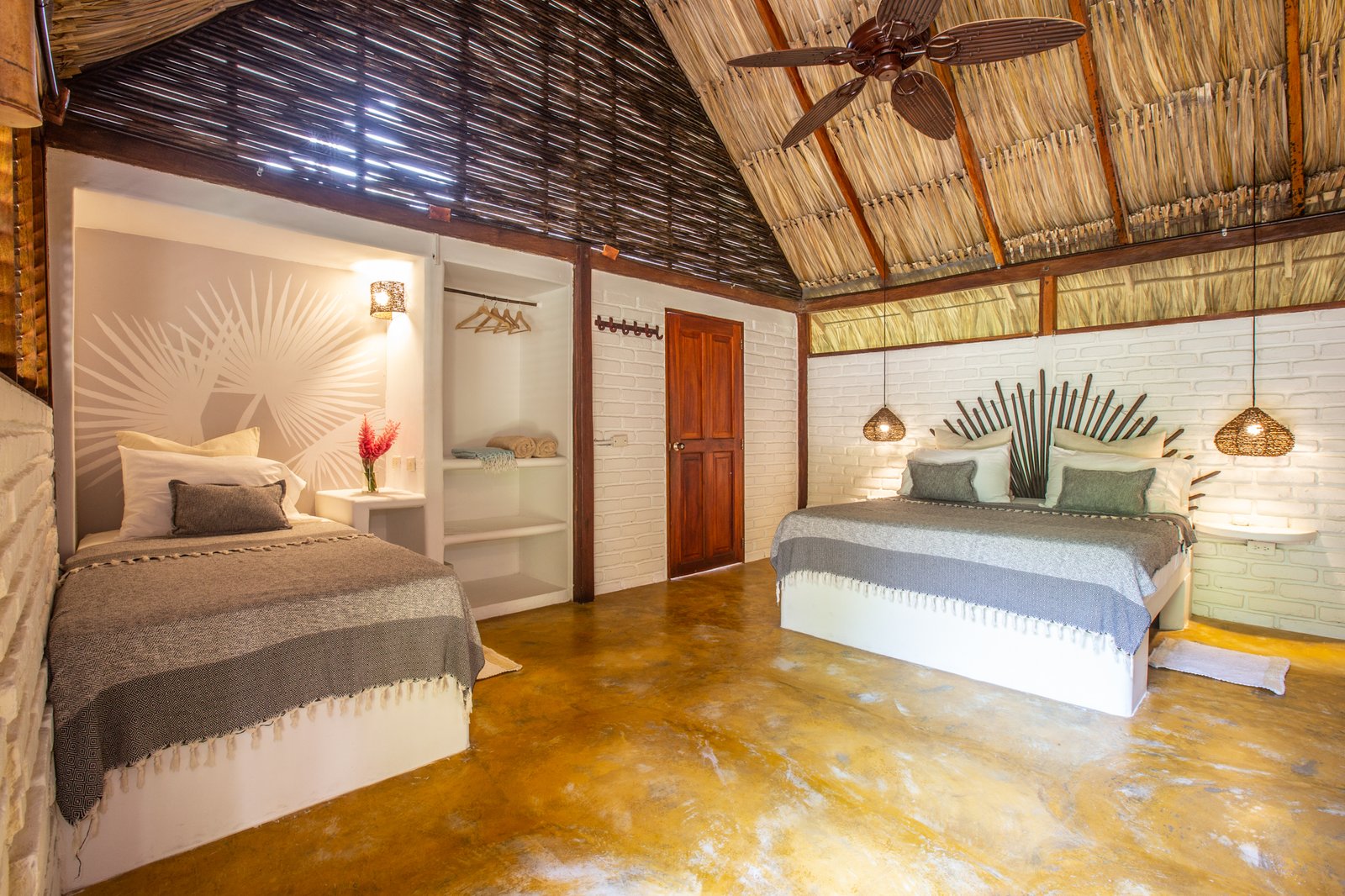 Treehouse Bungalow
This two-story bungalow is located in the jungle gardens of Gitana del Mar, under the hotel's mango trees. This bungalow features an opened living room, a balcony overlooking the beachfront forest, and a private bathroom with outdoor shower. This room can be furnished with a king-size bed or two twin-size beds.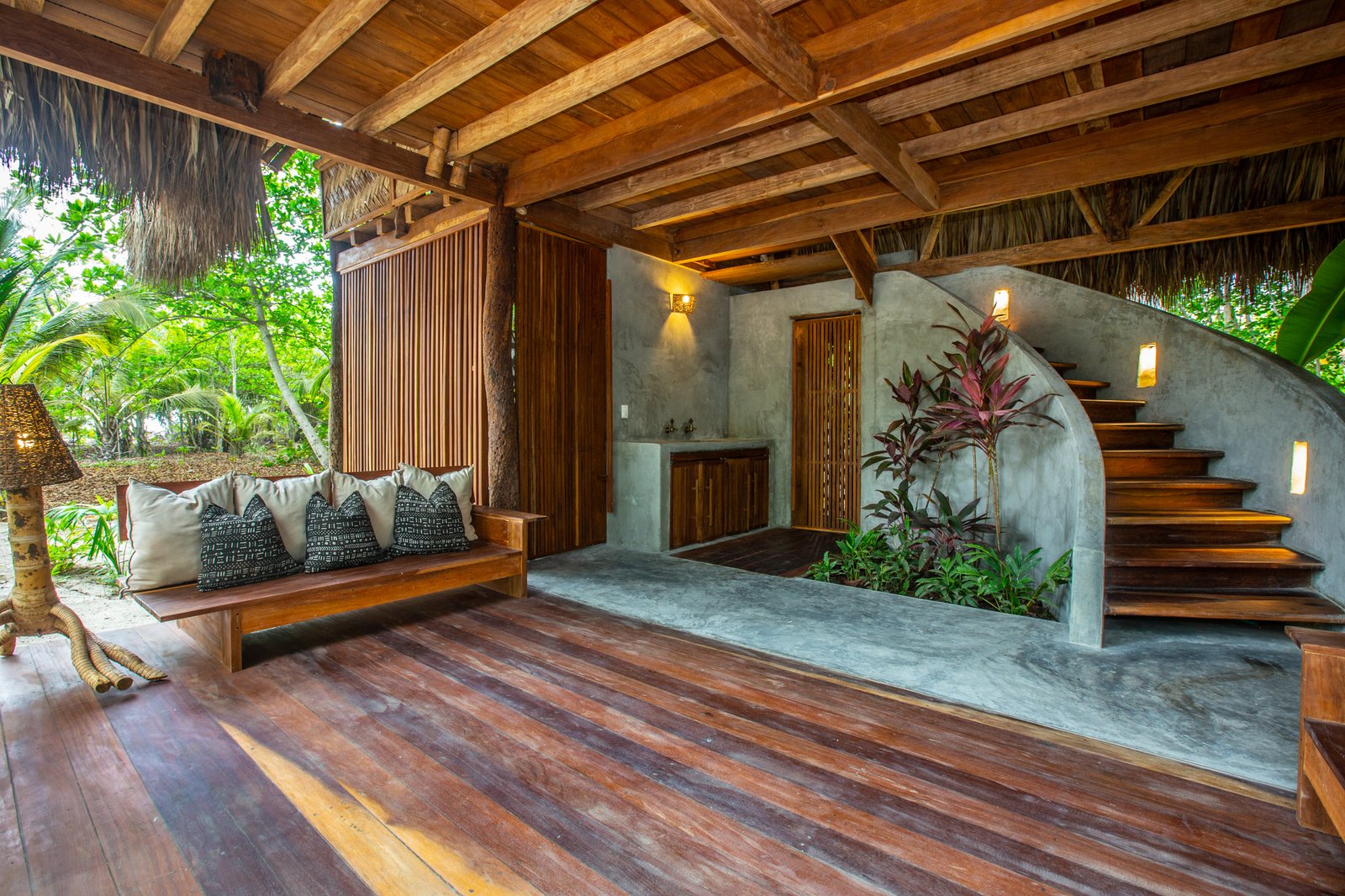 Selva Bungalow
The Selva Bungalow is the resort's most private option. This room can be furnished with a queen-size bed and one single bed, and features a private bathroom with open air shower and hot water, as well as a private sitting garden. The Selva Bungalow is the closest option to the beach.
Standard Bungalow
The two Standard Bungalows are furnished with three single beds and a private bathroom with an open-air shower.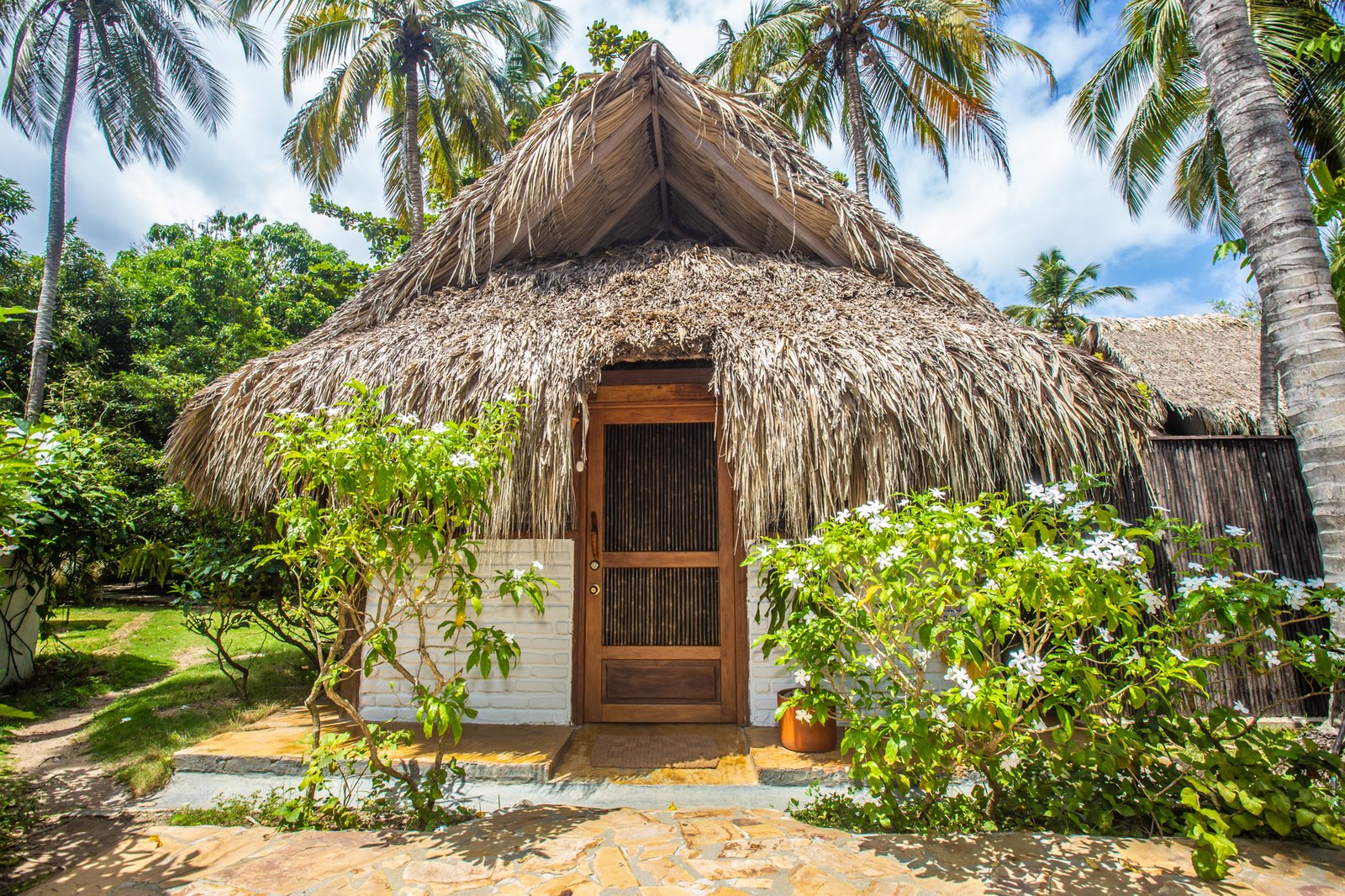 Luxury Glamper Tents
Gitana del Mar offers two Luxury Glamper Tents with a wood deck front porch. Luxury Glamper Tents are furnished with a queen-size bed a single bed. Alternatively, they can be arranged to have three single beds upon advance request. The Glampers each have their own private, open-air bathroom without (unnecessary) hot water.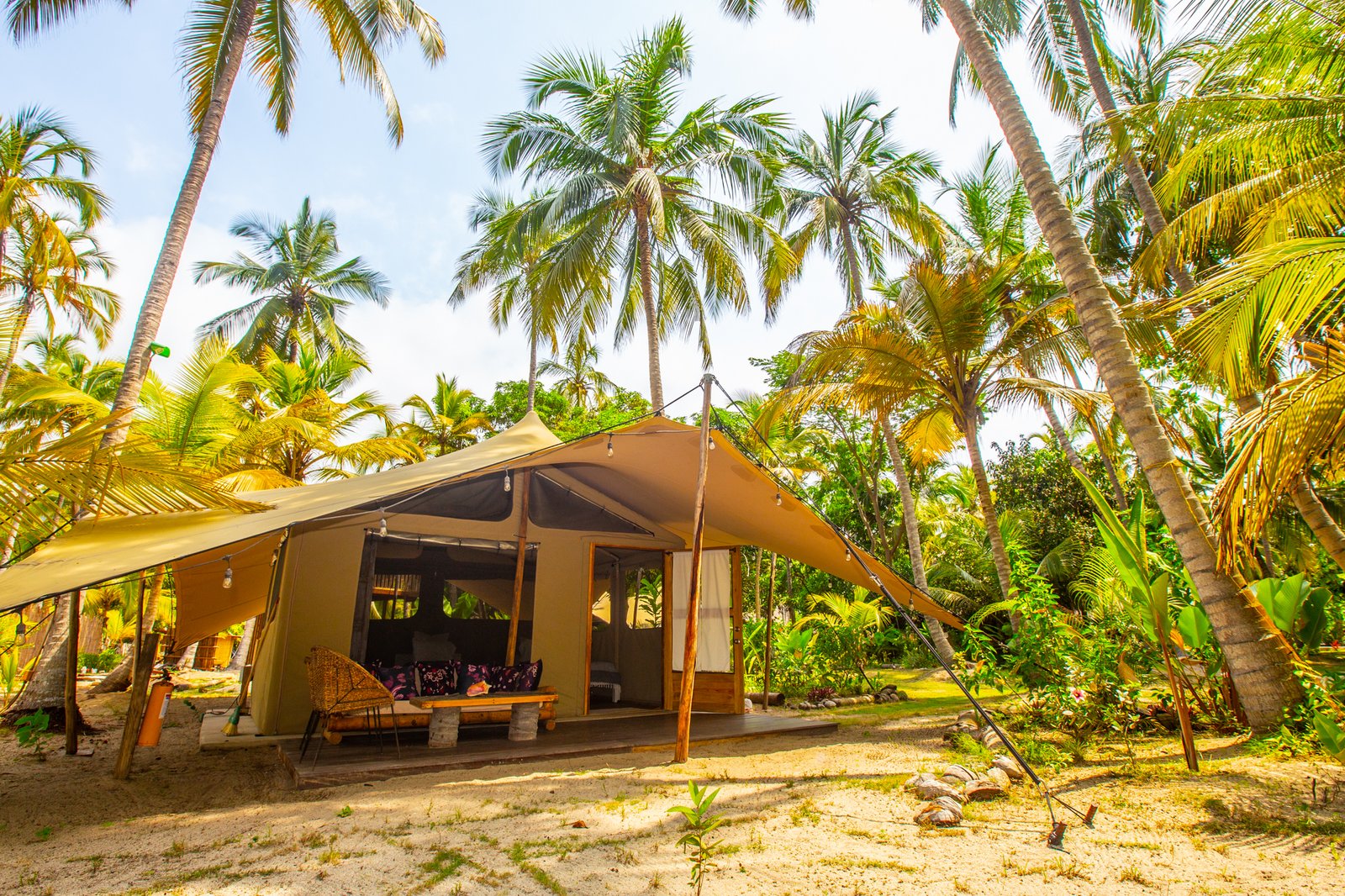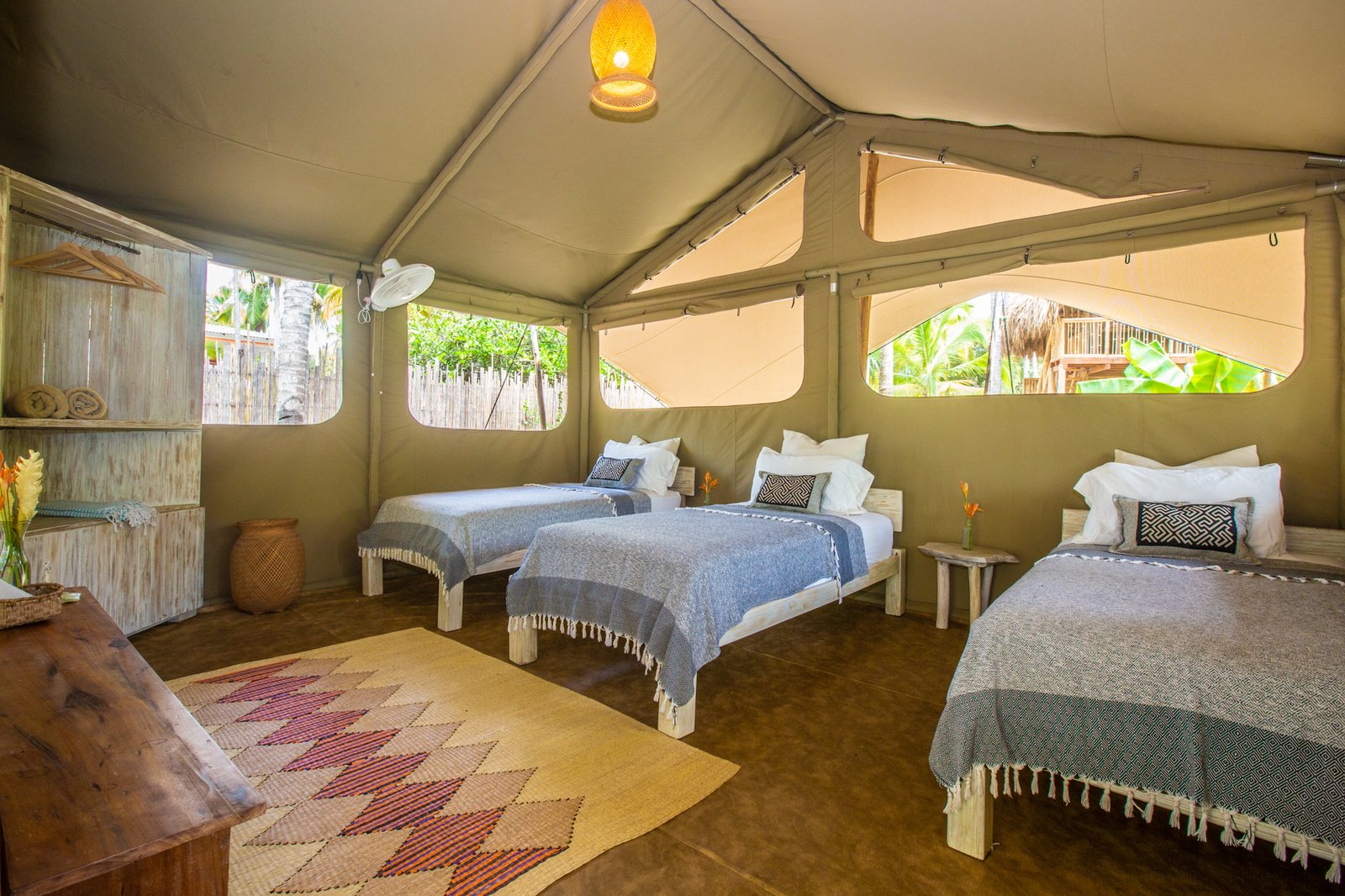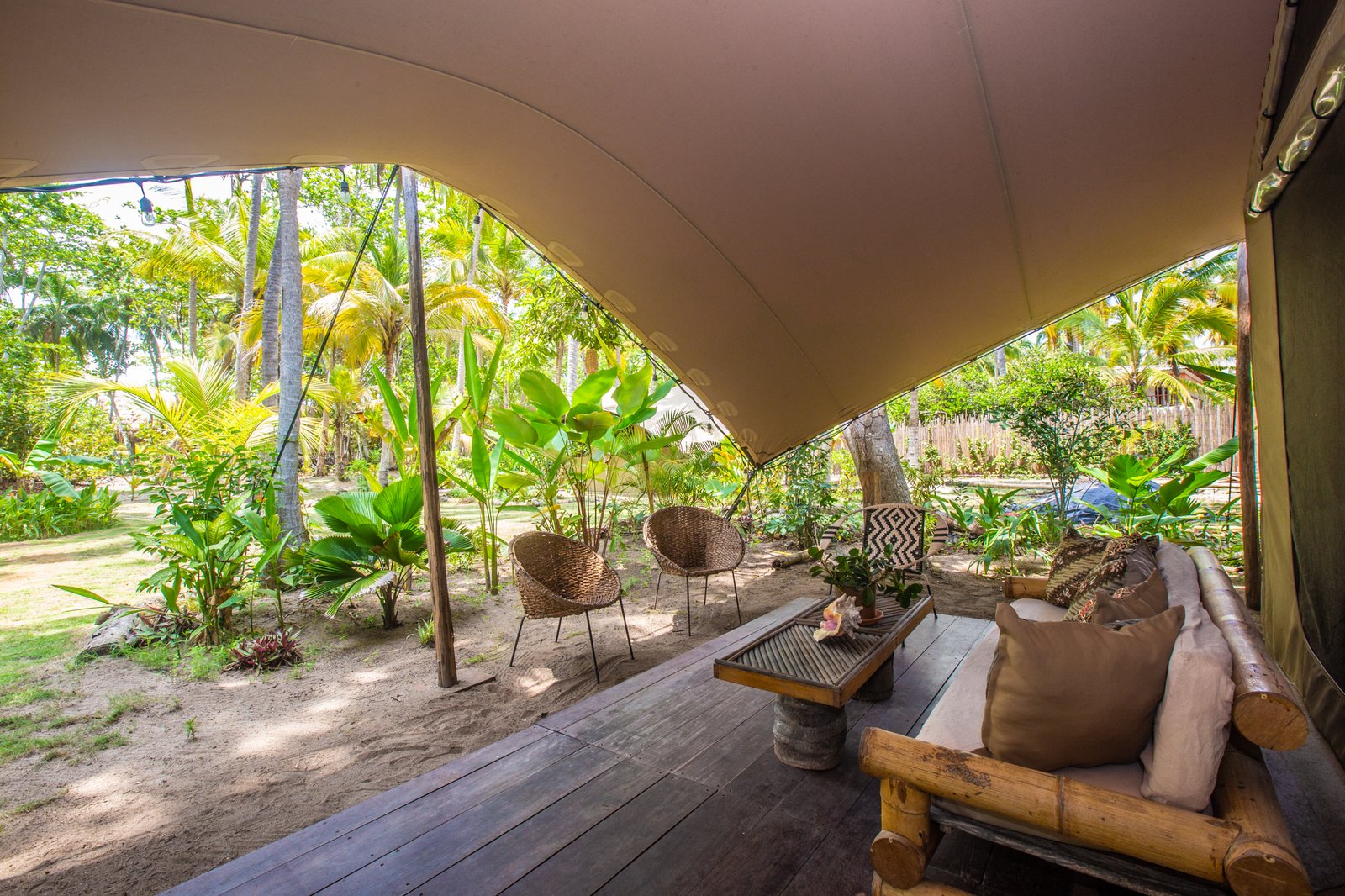 ARE YOU CONSIDERING A STAY AT GITANA DEL MAR? LANDED PROVIDES PERSONALIZED, CUSTOM TRAVEL WITHIN CENTRAL AMERICA, SOUTH AMERICA, AND THE ANTARCTIC. WE'LL CREATE A UNIQUE ITINERARY PLAN TAILORED TO YOUR INTERESTS AND DREAMS. EXPERIENCE THE TRIP OF A LIFETIME. SPEAK WITH ONE OF OUR EXPERT TRAVEL PLANNERS TODAY AT 801.582.2100.