Chiloe Island
The Grand Island of Chiloe and its neighboring islands are divided from the mainland by the Gulf of Ancud and the Canal de Chacao.
These islands are part of the Chilean Coastal Range, the oceanfront cordillera running north-to-south; parallel to the Andes.
Scores of islets lie off Chiloe's coast, providing a perfect setting for sea kayak and sailing trips.
Chiloe Curantos
High tides wash shellfish ashore, which residents gather and prepare in savory curantos—hearty mixtures of native potatoes, meat, muscles, and razor clams.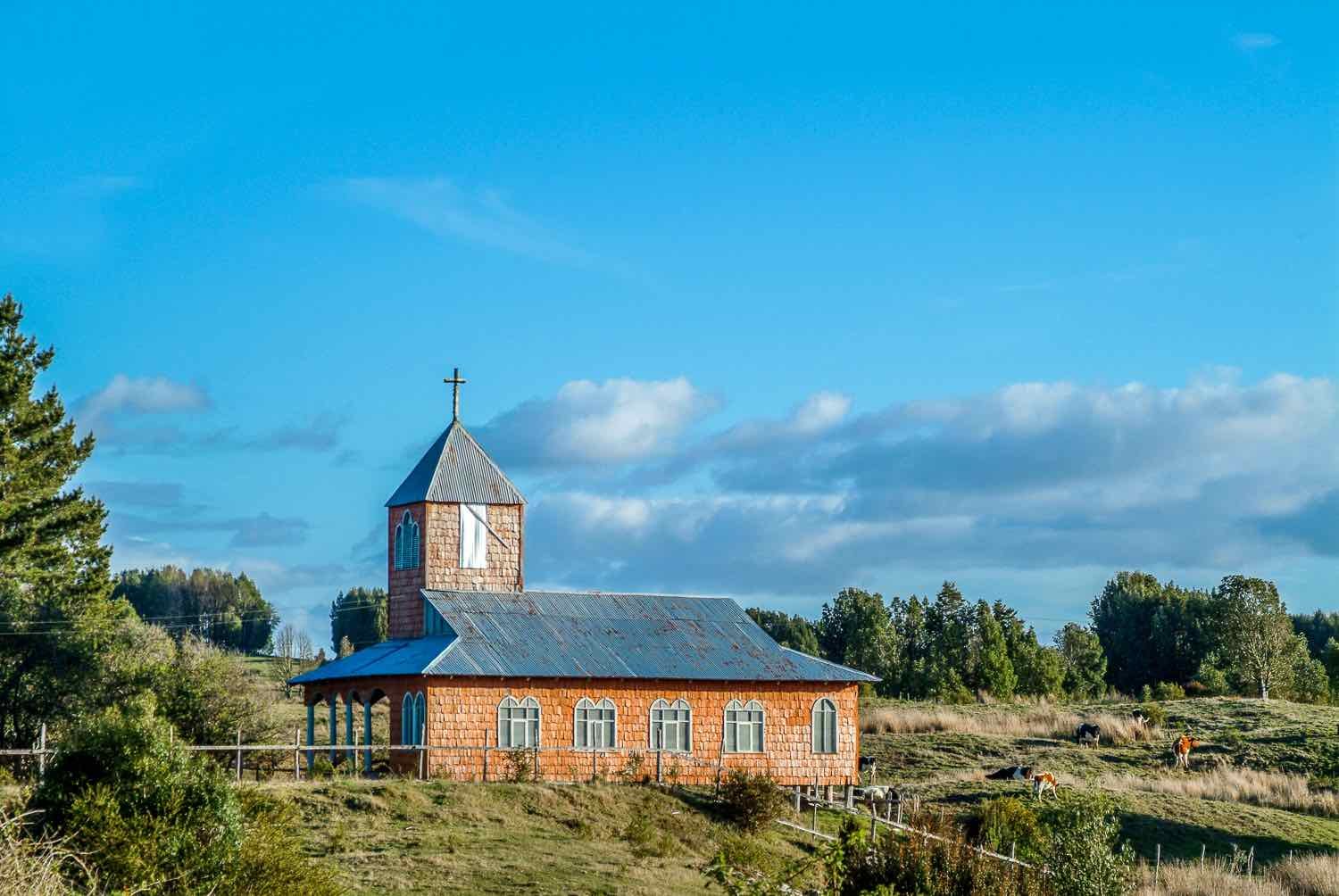 Spanish colonizers were never able to conquer the mighty Mapuche people of the southern mainland.
As a result, Chiloe was the only Spanish outpost south of the Bio Bio River for over 300 years.
Over time, Spanish immigrants blended with the island's indigenous population.
Inspired by the myths of both cultures and the misty wonder of their island, Chilotes developed a unique folklore inhabited by gods, dwarves, wizards, mermaids, and magical beasts.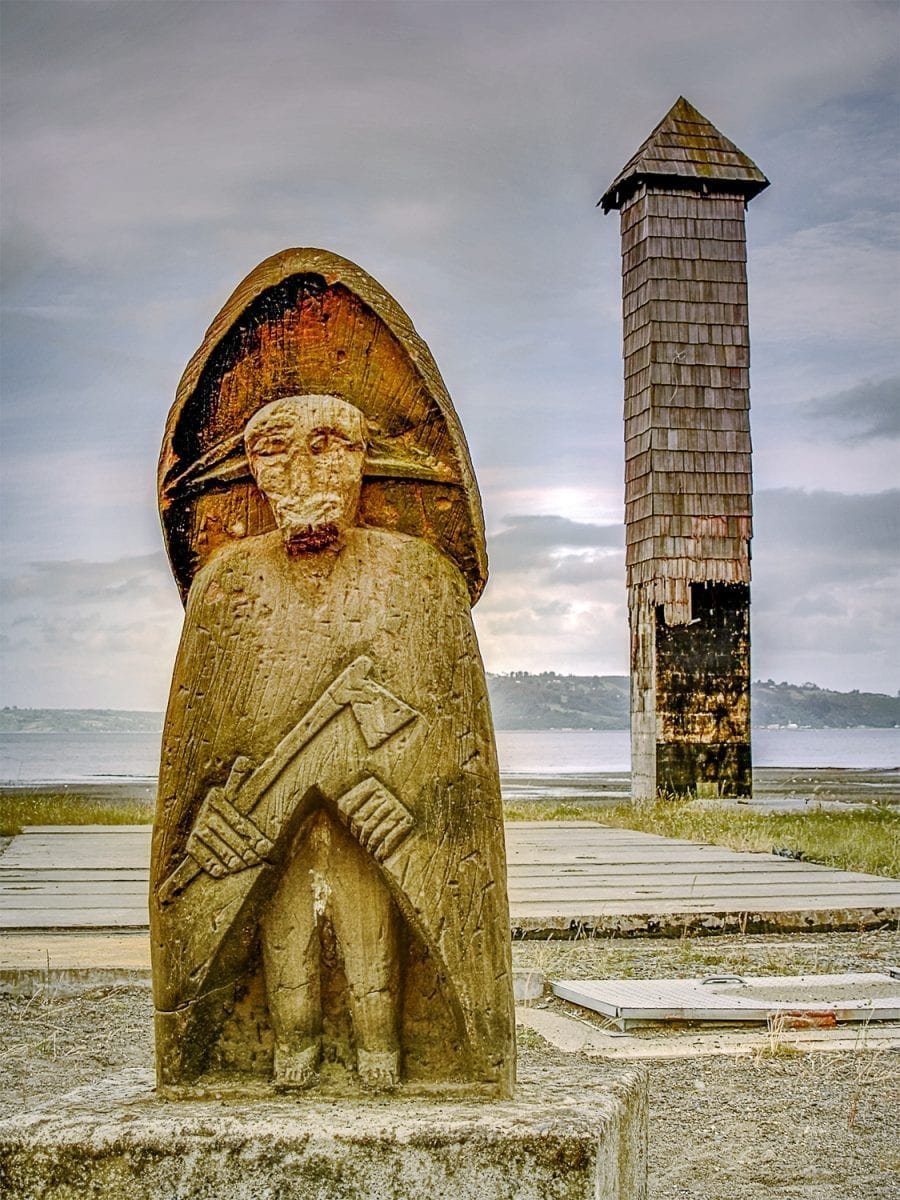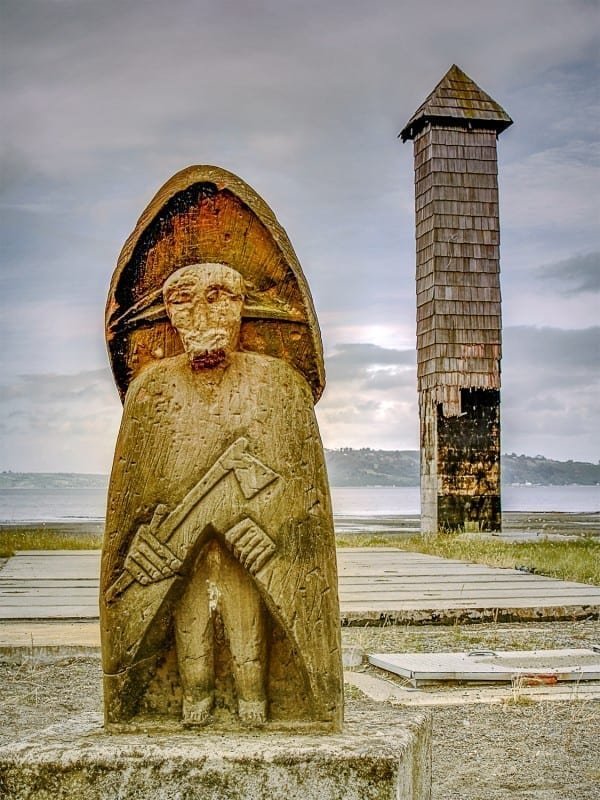 These legends live on in the practices, sayings, and superstitions of locals.
Ancud and Castro
Ancud and Castro, the island's main port towns, exhibit an air of timelessness.
Fisherman still bring in the daily catch, the main plazas are quiet, and local markets sell handcrafted boxes and sweaters.
The surrounding countryside—rolling hills, pastures, and woodland—is dotted with small farming settlements.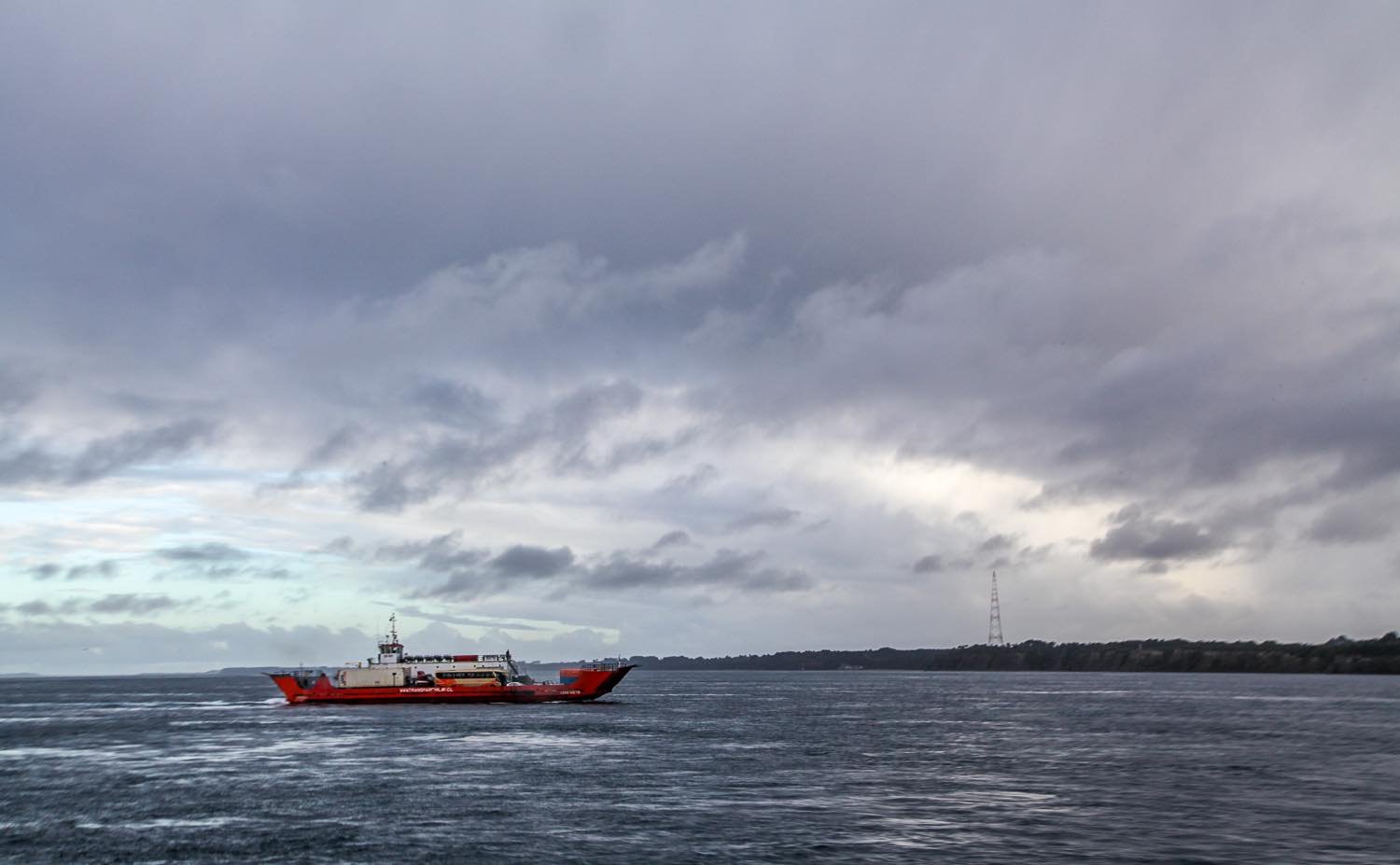 While you'd be forgiven if you mistook this landscape for New Zealand or Ireland, one noteworthy difference is the traditional wood-shingled homes and churches.
Chiloe National Park
In recognition of their unique architectural form, fourteen wooden churches were declared World Heritage Sites by UNESCO in the year 2000.
Chiloe's island's south and west coasts are thick with evergreen rainforests.
Chiloe National Park protects 106,000 acres of old growth woodlands and beaches.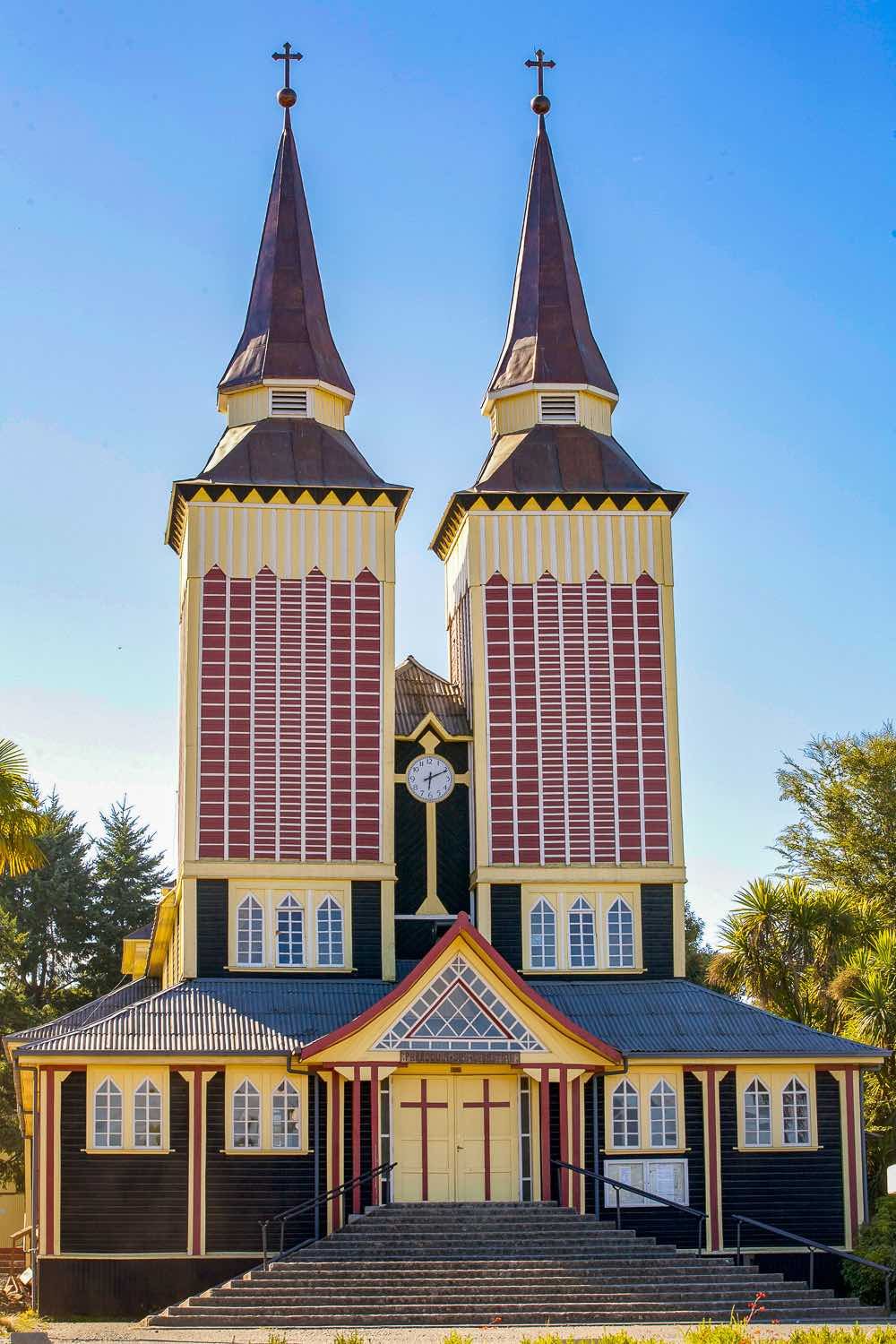 During the November through February summer season, backpackers can hike from trailheads near Cucao, 22 miles southwest of Castro, through the humid tepú forest, and along the pristine shore.
Getting to Chiloe Island
Most visitors reach Chiloe by ferry from Pargua, near the Lake District town of Puerto Montt.
Direct flights are available between Puerto Montt and Santiago (approximately 1.5 hours).
Chiloe has a mild climate and plentiful rainfall, similar to that of coastal Washington State.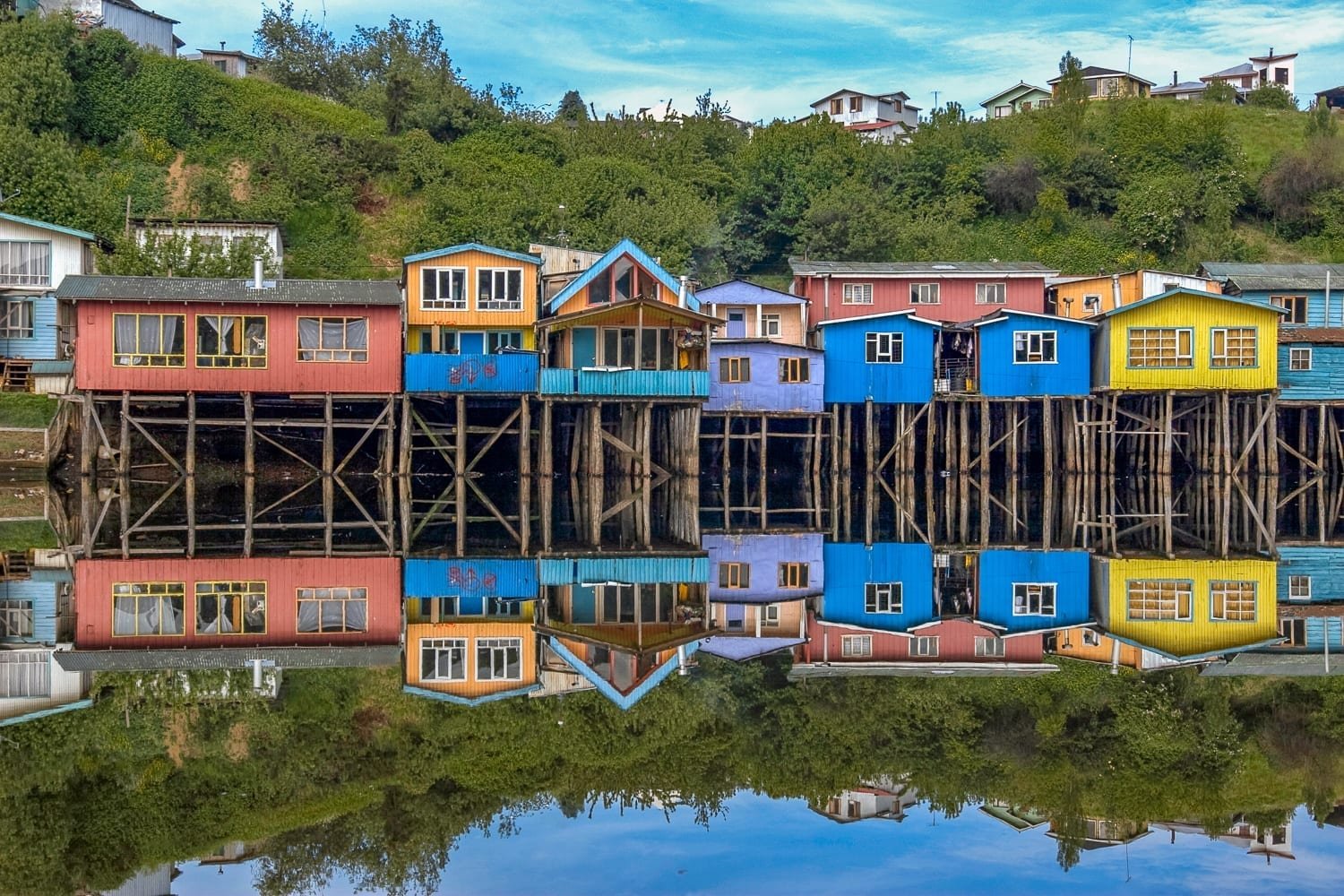 At LANDED, each travel request is personal. After all, you're trusting us with your most precious asset—free time with the people you care about. By getting to know you, we'll create the most memorable, most exceptional trip of your life. Call us today at 801.582.2100. Dream big. We've got you.
"Every legend, moreover, contains its residuum of truth, and the root function of language is to control the universe by describing it."
James Arthur Baldwin
PERFECT

Could not have been more pleased.  This was the trip of a lifetime for our family.  Thank you!
GO WITH LANDED

If you're planning to travel, go with LANDED. You won't be disappointed.
AMAZING ADVENTURE

The whole rhythm of the trip was perfect, and leaving one place for the next worked perfectly. This trip definitely made me want to experience other great spots in South America.
TRIP OF A LIFETIME

The locations were amazing. Your on-the-ground team was fantastic–knowledgeable and accommodating. Beautifully organized.
ABSOLUTELY AMAZING

The best guide I've ever had anywhere in the world. Top notch talent.
GREAT SERVICE

You were a great help in planning–ensuring that I was staying at the right places and enjoying the type of activities we love–and the follow up was incredible.
YOU GOT TO KNOW US

Exactly the bonding and sharing experience we'd hoped for. The rhythm, variety, and tone was spot on. With effective listening skills, you built a good picture of what we wanted–more complicated than "just" luxury. The result was a great trip, one made just for us.
BEST EVER

Excellent attention to detail. You listened carefully, asked the right questions, and customized with just the right balance. Superb guides. We felt relaxed and pampered all the way. You'll plan our next trip.
FANTASTIC EXPERIENCE

Not a single thing on the itinerary that we would change.  The guides were knowledgeable, friendly, and prompt.  The hotels were beautiful, the food delicious and the pace of the activities was perfect for us.
DO IT!

In short, our trip was amazing. Thanks so much for your constant assistance and thorough planning.
PERFECT

The planning, service and execution of the trip was flawless – thank you!
EXCELLENT

LANDED was helpful and knowledgeable, making our trip a memorable one.  I will use your services in the future as I continue to explore Central & South America.
A VERY WELL ORGANIZED DREAM

Your patience with my questions and concerns during the planning stage was remarkable.
THANK YOU

You actually got to know us, which made it possible to know just what we like. You promised the best trip ever and you kept your promise.
ENTIRELY AMAZING

Your recommendations were well thought out. We thoroughly enjoyed our honeymoon. Thank you!
THE ULTIMATE GUIDE

LANDED is the ultimate. You helped us make the most out of a week's time.
DIDN'T MISS A THING

We zip-lined, rafted, sailed, and surfed. The contacts were professional and courteous. We don't want to be back at work. Thank you for all of the work you did to set up this trip.