Colca Canyon
Colca Canyon, located approximately 100 miles northwest of Arequipa, is one of the deepest chasms in the world.
At some points, Colca's sloping walls drop for over two miles. The surrounding landscape is dominated by the snowy peaks of the Cordillera Chila.
Mount Hualca Hualca, Sabancaya, and the 20,630-foot Ampato volcano feed the Colca, the river that carved this enormous canyon.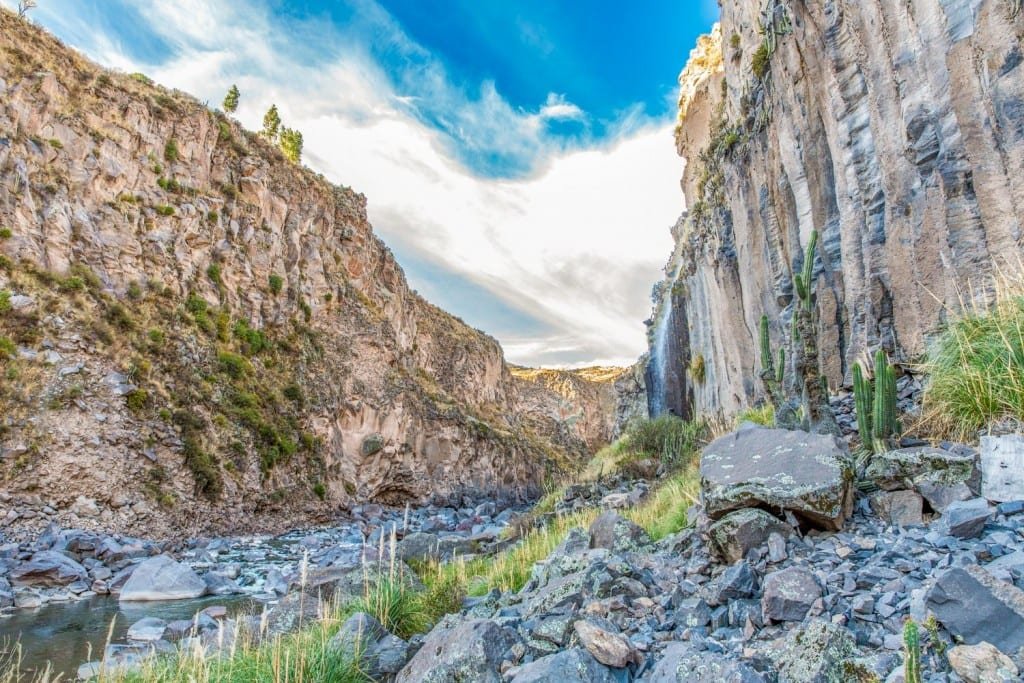 Colca has been inhabited for thousands of years; Inca and pre-Inca sites are found at Jusacallacta, Pumunuta, Uyo Uyo and Tupay.
Today, the Colca settlements include more than a dozen traditional towns, where life is much as it was a century ago.
Maca and Lari, in the central portion of the valley, are noteworthy for their historic churches.
Coporaque, Ichupampa, and Yanque
In the valley's east, Coporaque, Ichupampa, and Yanque are home to indigenous communities, dutifully maintaining their traditions and cultivating the terraced hillsides.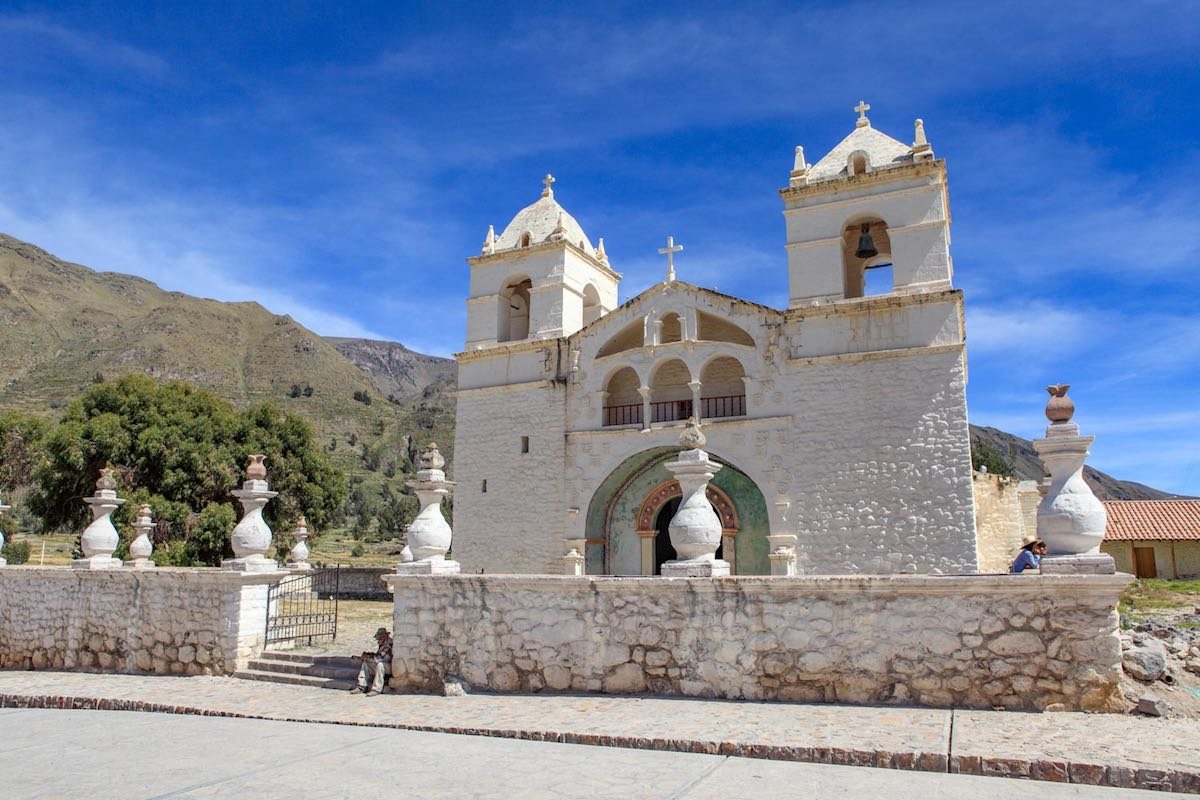 Colca is most easily reached by land from Arequipa.
The four-hour journey passes through Altiplano, populated by vicuña, alpacas, and llamas.
Several of the mountainsides along the route feature remarkable terraces, constructed by Inca and pre-Inca cultures.
Horseback Riding, Mountain Biking, Hot Springs and Fly Fishing
An excellent way to see the canyon is on horseback. Trekking, mountain biking, fly fishing, and day-trips to hot springs and geysers are also available.
For many visitors, the highlight of this destination is a morning excursion to the Condor's Cross, one of the highest points in the canyon.
Andean Condors, some with wingspans in excess of ten feet, ride thermal currents near this observation point.
Colca Canyon Climate
Several hotels and lodges are perched in or around the colonial town of Chivay. Due to the altitude, the climate is warm during the day and chilly at night.
Average dry season temperatures range from freezing to the high 60s. During the rainy season, (November to March), cloud cover is often present.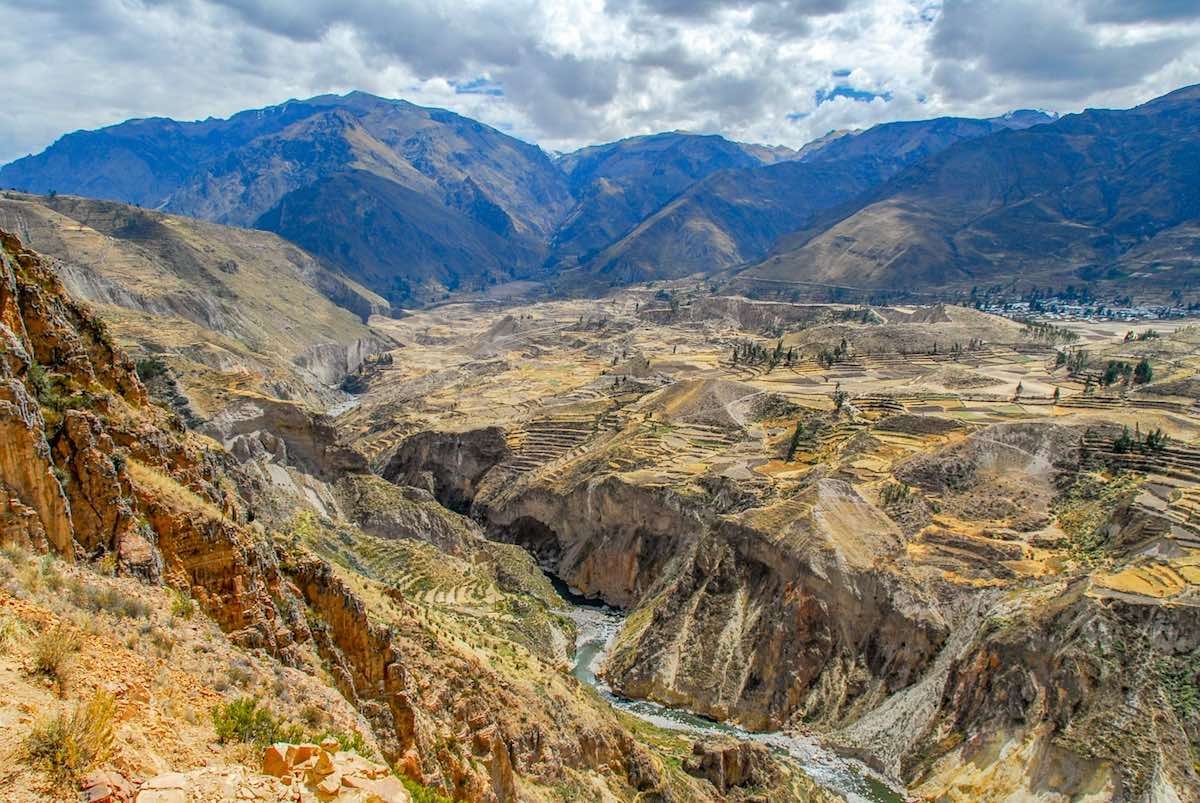 At LANDED, each travel request is personal. After all, you're trusting us with your most precious asset—free time with the people you care about. By getting to know you, we'll create the most memorable, most exceptional trip of your life. Call us today at 801.582.2100. Dream big. We've got you.
"Against my will, in the course of my travels, the belief that everything worth knowing was known at Cambridge gradually wore off. In this respect, my travels were very useful to me."
Bertrand Russell
PERFECT

Could not have been more pleased.  This was the trip of a lifetime for our family.  Thank you!
GO WITH LANDED

If you're planning to travel, go with LANDED. You won't be disappointed.
AMAZING ADVENTURE

The whole rhythm of the trip was perfect, and leaving one place for the next worked perfectly. This trip definitely made me want to experience other great spots in South America.
TRIP OF A LIFETIME

The locations were amazing. Your on-the-ground team was fantastic–knowledgeable and accommodating. Beautifully organized.
ABSOLUTELY AMAZING

The best guide I've ever had anywhere in the world. Top notch talent.
GREAT SERVICE

You were a great help in planning–ensuring that I was staying at the right places and enjoying the type of activities we love–and the follow up was incredible.
YOU GOT TO KNOW US

Exactly the bonding and sharing experience we'd hoped for. The rhythm, variety, and tone was spot on. With effective listening skills, you built a good picture of what we wanted–more complicated than "just" luxury. The result was a great trip, one made just for us.
BEST EVER

Excellent attention to detail. You listened carefully, asked the right questions, and customized with just the right balance. Superb guides. We felt relaxed and pampered all the way. You'll plan our next trip.
FANTASTIC EXPERIENCE

Not a single thing on the itinerary that we would change.  The guides were knowledgeable, friendly, and prompt.  The hotels were beautiful, the food delicious and the pace of the activities was perfect for us.
DO IT!

In short, our trip was amazing. Thanks so much for your constant assistance and thorough planning.
PERFECT

The planning, service and execution of the trip was flawless – thank you!
EXCELLENT

LANDED was helpful and knowledgeable, making our trip a memorable one.  I will use your services in the future as I continue to explore Central & South America.
A VERY WELL ORGANIZED DREAM

Your patience with my questions and concerns during the planning stage was remarkable.
THANK YOU

You actually got to know us, which made it possible to know just what we like. You promised the best trip ever and you kept your promise.
ENTIRELY AMAZING

Your recommendations were well thought out. We thoroughly enjoyed our honeymoon. Thank you!
THE ULTIMATE GUIDE

LANDED is the ultimate. You helped us make the most out of a week's time.
DIDN'T MISS A THING

We zip-lined, rafted, sailed, and surfed. The contacts were professional and courteous. We don't want to be back at work. Thank you for all of the work you did to set up this trip.