Coral I and Coral II: Galapagos Motor Yachts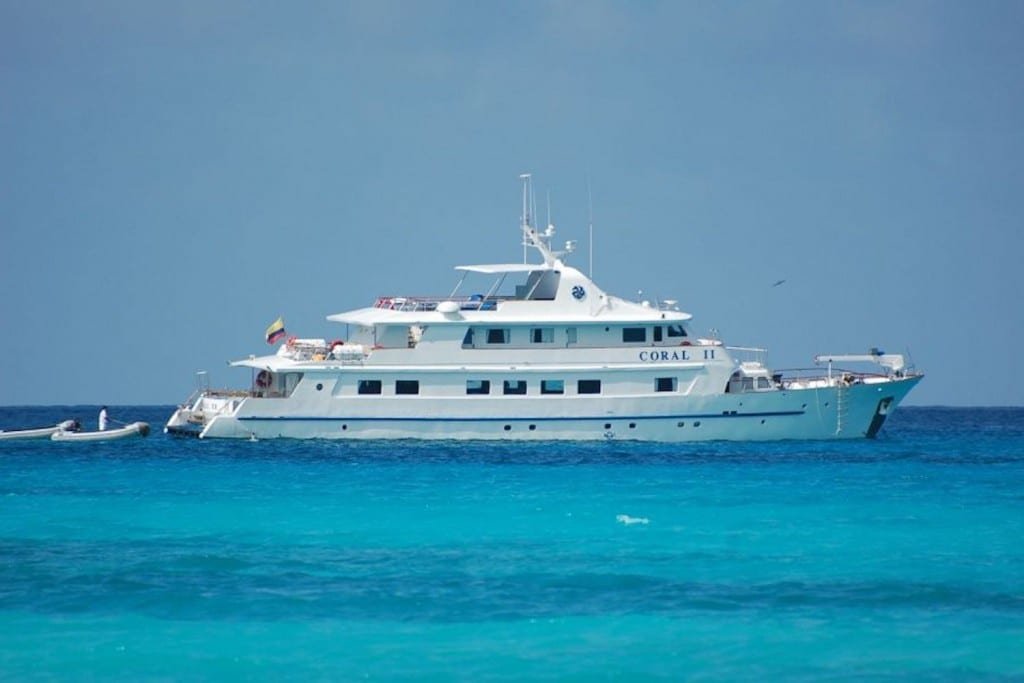 Each vessel's restaurant serves delicious Ecuadorian and international cuisine; even extending to a BBQ dinner on the open-air Moon Deck.
These Galapagos yachts are great cruise vessels for charter groups, striking a nice balance between thrill and comfort.
Yacht Amenities
Onboard, both Coral I and Coral II feature:
Dolphin Observation Deck
Sun & Shadow Terrace
Stargazing Area
Roofed Terrace
Al Fresco BBQ
Restaurant
Boutique
Jacuzzi
Lounge
Library
Bar
Coral Cabin Options
Cabin interiors are thoughtfully designed to resemble a private yacht experience in a cozy ambiance.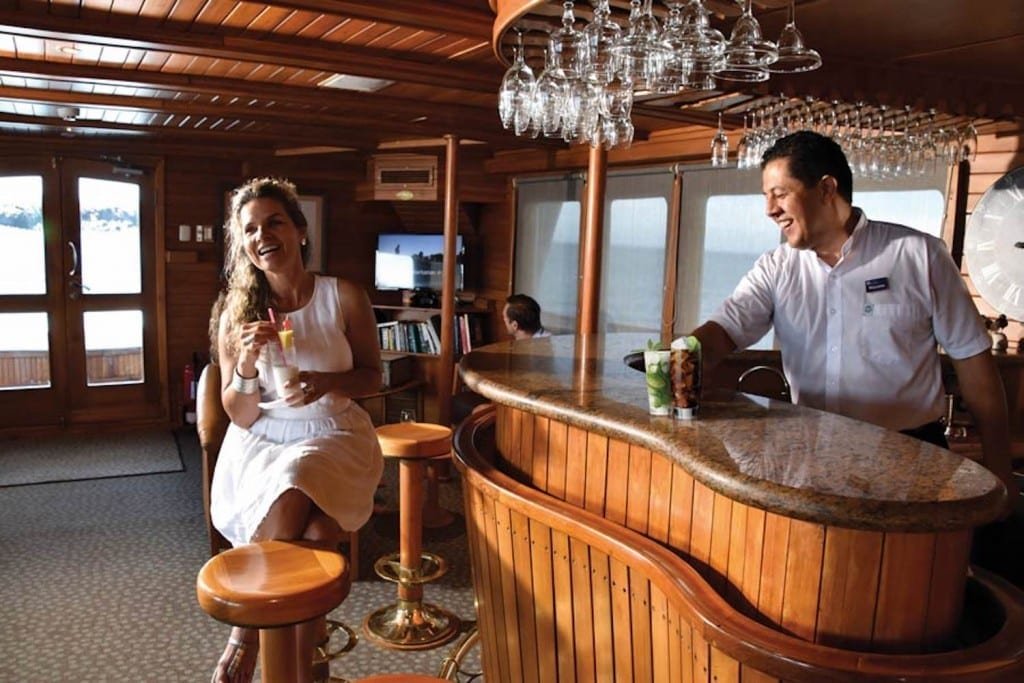 Each Coral cabin can accommodate either twin beds or a full size bed. All feature a private bathroom, ocean-view and air-conditioning.
Coral I has 18 total cabins, while Coral II has 11.
Matrimonial, Double and Triple Cabin Options
Cabins also offer interconnecting doors, enabling them to be connected for families or friends traveling together.
Matrimonial, double or triple cabin options are each available.
Cabin Options Include:
Standard Plus Cabin—(8) on Coral I and (4) on Coral II (Avg. 12 m2 / 128ft2)
Junior Cabins—(8) on Coral I and (7) on Coral II (Avg. 12 m2 / 128ft2)
Standard Cabin—(2) on Coral I and (1) cabin on Coral II (Avg. 7 m2 / 75ft2)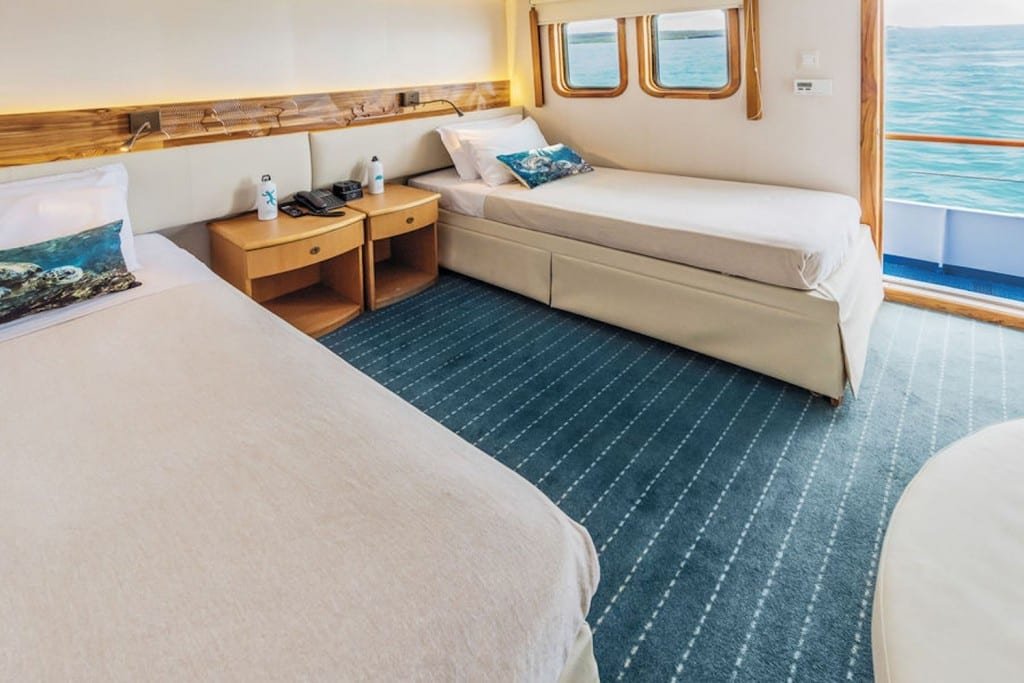 Standard Cabin General Specifications:
Located on Sea Deck
Portholes
Standard Plus Cabin General Specifications:
Double and Triple Options Available
Located on Sea Deck
Portholes
Junior Cabin General Specifications:
(3) Triple: (2) in Coral I, (1) in Coral II (with an extra bed)
Picture windows
Located on Earth and Sky Decks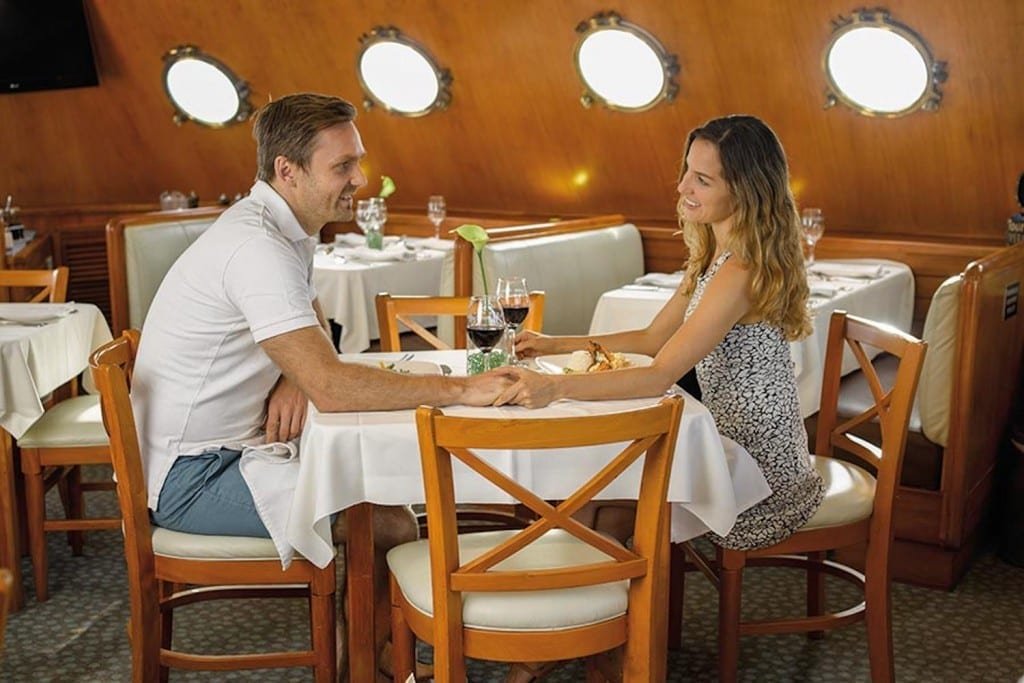 Additional Cabin Features
Each Coral I and Coral II cabin also includes:
Security Box
Entertainment System with LCD TVs
Hair Dryer
Special Bedding
Remodeled Furniture in Each Cabin
Onboard voltage is set for 110-220 volts/60 Hz.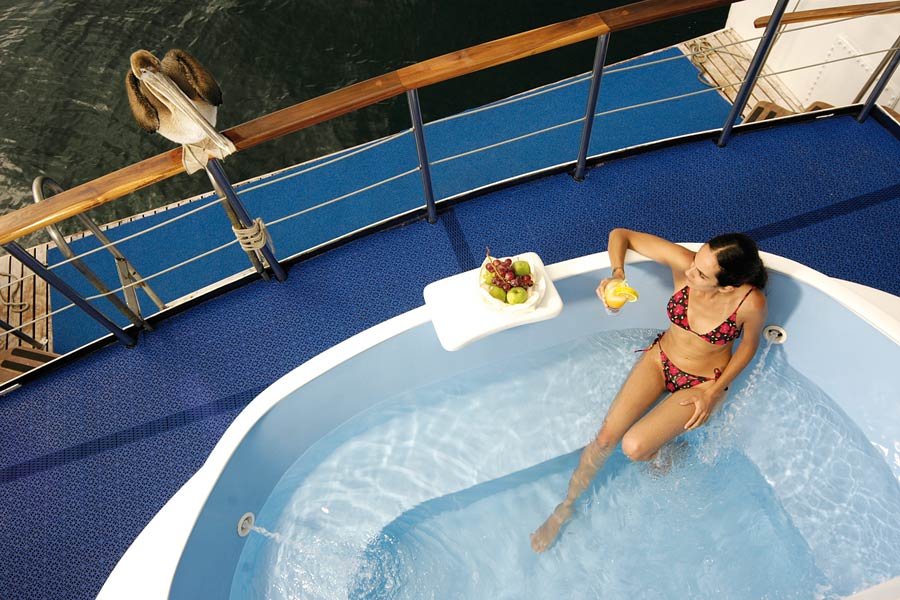 Coral I Specifications
| | | | |
| --- | --- | --- | --- |
| Length: | 131 ft (40 m) | Safety: | ISM, SMC, ISSC, IOPP, DOC |
| Width: | 28 ft (8.5 m) | Voltage: | 110 & 220V |
| Cruising Speed: | 10 Knots | Decks: | 4 |
| Max Speed: | 12 Knots | Built/Rebuilt: | 2004 |
| Guest Capacity: | 36 | Refurbished: | August 2016 |
| Crew: | 12 | Dinghies: | 2 for 20 pax each |
| Life Rafts: | 4 for 25 pax each | Made In: | Germany |
Coral II Specifications
| | | | |
| --- | --- | --- | --- |
| Length: | 113 ft (34.4 m) | Safety: | ISM, SMC, ISSC, IOPP, DOC |
| Width: | 20.8 ft (6.3 m) | Voltage: | 110 & 220V |
| Cruising Speed: | 10 Knots | Decks: | 4 |
| Max Speed: | 12 Knots | Built/Rebuilt: | 2006 |
| Guest Capacity: | 20 | Refurbished: | September 2017 |
| Crew: | 9 | Dinghies: | 2 for 17 pax each |
| Life Rafts: | 2 for 25 pax each | Made In: | Holland |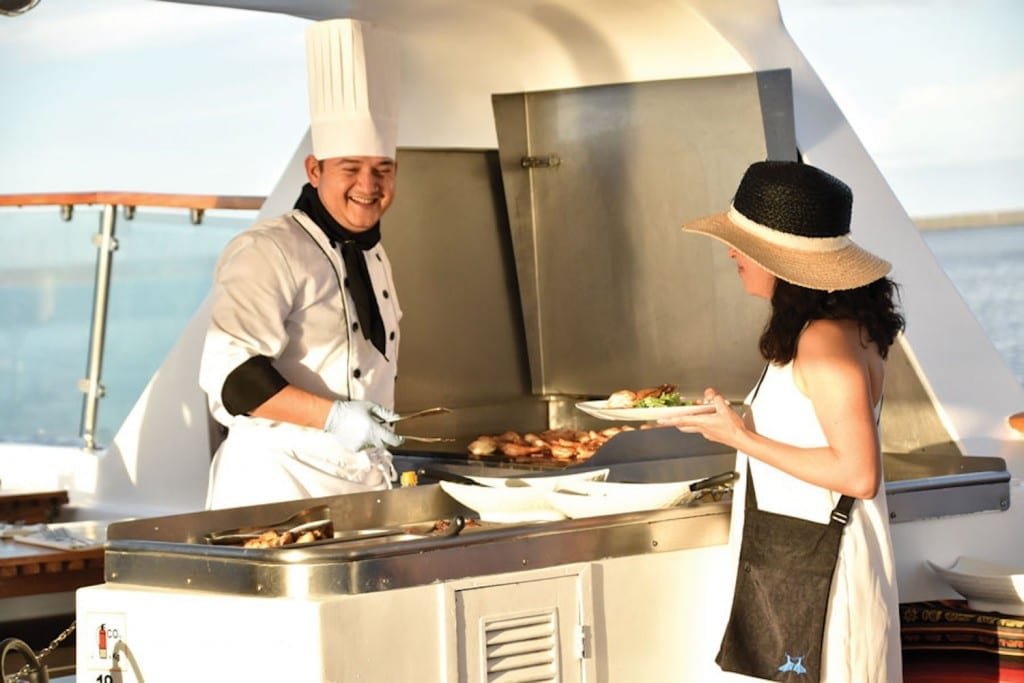 Coral Galapagos Cruise Itineraries
North Central (4 Days/3 Nights)
Santa Cruz
Bartolome
Rabida
Santiago
West (5 Days/4 Nights)
Santa Cruz
Isabela
Fernandina
Santiago
East (4 Days/3 Nights)
Santa Cruz
North Seymour
Santa Fe
South Plaza
Kicker Rock
San Cristobal
North (5 Days/4 Nights)
San Cristobal
Espanola
Floreana
Santa Cruz
Those looking for more information about chartering a yacht in the Galapagos can find it here.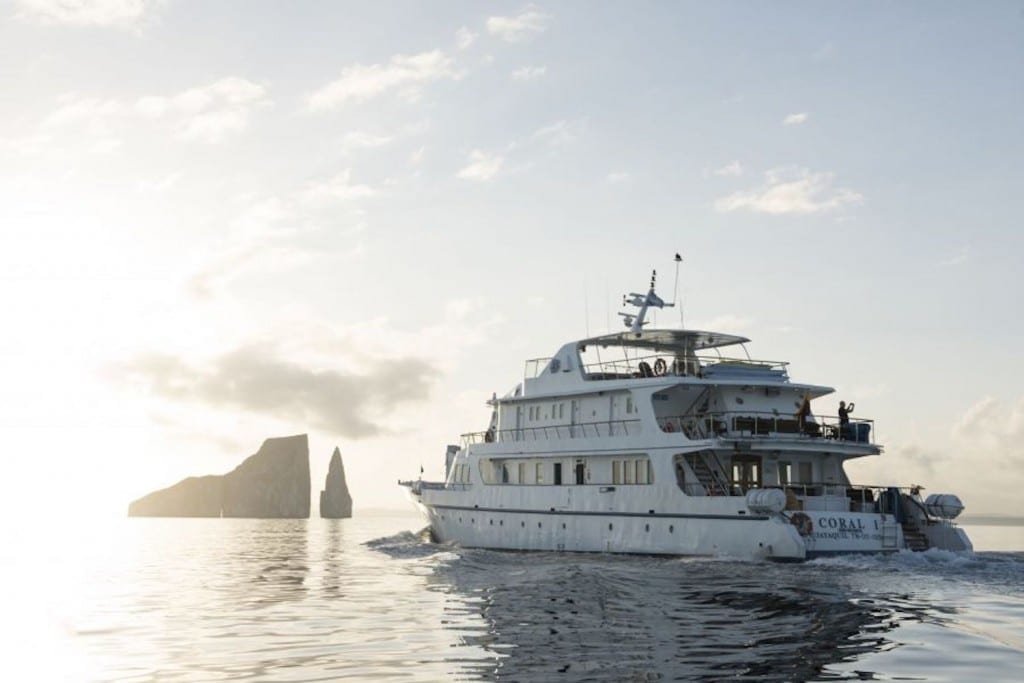 Coral I and Coral II Galapagos Yacht Voyages can be combined with pre- and post-cruise touring in mainland Ecuador, Peru, Panama, Colombia, or Costa Rica. Contact LANDED at 801.582.2100 for full information and availability. We've got you.
"The real voyage of discovery consists not in seeking new landscapes, but in having new eyes."

Marcel Proust

GO WITH LANDED.

Could not have been more pleased.  This was the trip of a lifetime for our family.  Thank you!
IF YOU LIKE TO TRAVEL.

What an amazing adventure we have had.  Many thanks to you for putting it together. The whole rhythm of the trip was perfect, and leaving one place for the next worked perfectly. This trip definitely made me want to experience other great spots in South America as the people have been wonderful and the places incredible. Wish we had a month to really explore.  Everybody in the family had a great life experience. Thanks again!
DO IT.

One of our best trips ever, made excellent by LANDED's attention to detail. When planning the trip our travel planner listened to us carefully, asked the right questions, and customized the trip to have just the right balance of adventure and city sights for us. The guides, drivers, and "handlers" were superb. The hotels were top notch. We felt relaxed and pampered all the way. Will definitely look to LANDED to plan our next trip to South America.
Absolutely amazing. Thanks again John. Carlos was the best guide I've ever had anywhere in the world. Top notch talent.
We returned yesterday from our trip and I wanted to let you know that it was absolutely amazing!  There is not a single thing on the itinerary that we would change.  The guides were knowledgeable, friendly, and prompt.  The hotels were beautiful, the food delicious and the pace of the activities was perfect for us. Thank you so much for making our trip such a fantastic experience.
In short, our trip was amazing, and, as we had hoped, the Inca civilization was fascinating to us. Thanks so much for your constant assistance and thorough planning.
The planning, service and execution of the trip was flawless – thank you for making it perfect!
LANDED's services were excellent. You were helpful and knowledgeable, making our trip a memorable one.  I will use your services in the future as I continue to explore Central & South America.
It was like being in a very well organized dream. Your patience with my questions and concerns during the planning stage was remarkable.
I've never had such great service from a tour operator. Not only were you a great help on the planning-insuring that I was staying at the right places and enjoying the type of activities we love-but the follow up was incredible. Your team checked in with us several times during the trip to confirm that everything was going well, and that the guides you assigned were satisfying us. It's one thing to get a "thank you card" or a "hope your trip was great" note after you're back, but to insure that it's going well during the trip is a welcome first! I look forward to working with you again on a another trip.
You actually got to know us, which made it possible to know just what we like. You promised the best trip ever and you kept your promise.
The entire trip was amazing. Both the hotel & restaurant recommendations were well thought out and helped us thoroughly enjoy our honeymoon.
LANDED is like the ultimate virtual guide, suggesting the high points and helping us get the most out of a week's time.
We had a great time, and didn't miss anything. We zip-lined, rafted, sailed and surfed. The contacts and drivers were professional and courteous. We don't want to be back at work. Thank you for all of the work you did to set up this trip.