San Augustin: Ancient Megalithic Sculptures
The largest collection of ancient megalithic sculptures in South America is located in Colombia's mountainous southwest.
In this fertile volcanic zone, emerald pastureland and rain-forested hills plunge into steep river valleys.
One of these gorges in particular, near the headwaters of the Rio Magdalena, was settled in consecutive cultural waves.
The people now known as the Agustinian Culture arrived in the 1st century BC.
Over the next seven centuries, they created massive stone artworks, monumental platforms, and complex burial mounds.
Today, these structures are recognized by UNESCO as a World Heritage Site.
San Agustin Archeological Park
More than 100 such monuments are clustered in the Archeological Park, located just west of the town of San Agustin.
For some its main draw, park visitors can explore a "forest" of zoomorphic monoliths carved from white volcanic stone.
San Agustin's four mesitas (manmade hills) are believed to serve as ritual anchors.
Near the park's entrance, a small archeological museum displays other statues, as well as a collection of ceramics, jewelry and other funerary artifacts.
Fuente de Lavapatas, located nearby, is a ritual bath site, painstakingly sculpted into the riverbed rock.
Carved channels link the geometric fonts, with lizards, snakes and turtles marking the rock face.
Alto de Lavapatas
From the river, an uphill trail leads to Alto de Lavapatas, the area's oldest archeological site
First occupied around 3300 BC, Alto de Lavapatas is a burial and ceremonial center overlooking some of the area's most photogenic landscapes.
El Tablon Horseback Tour
One of our favorite outings in San Agustin is the half-day horseback tour to El Tablon, famous for its stone statues.
The ride continues to La Chaquira, where the living rock has been carved into a diety—its ancient hands reaching up to the sky above.
Just over a mile to the west sit the compact sites of La Pelota and El Purutal. Here, the dolmen tombs are guarded by stout divinities.
San José de Isnos, 16 miles north of San Agustin, is flanked by two other ceremonial centers.
Alto de los Idolos
The hilltop known as Alto de los Idolos is populated by a menagerie of 37 funerary monuments.
Captivating visitors from near and far, examples of the peculiar "double-self" or "alter-ego" statuary are arranged around one of the site's mounded tombs.
Some of the tombs and statuary at Alto de los Idolos sustain traces of their original paints.
Located six miles to the east, Alto de las Piedras is known for its impressive carvings of anthropomorphic divinities, one of which is nearly 23 feet high.
Mortino and Bordones Waterfalls
These sites are within easy reach of two spectacular waterfalls: Mortiño, which cascades 590 feet and Bordones, with a vertical drop of 1,050 feet.
Beyond its archeological treasures, the San Agustin can be appreciated for its glorious scenery.
Whitewater rafting tours, mountain bike rides, horseback outings and jeep excursions help you explore the landscape beyond the towns.
If you're here on a Monday, be sure to visit San Agustin's colorful agricultural market.
San Agustin's remoteness lends to its sense of mystery. Neiva, the nearest major city with airport service, is approximately four hours' drive to the northeast.
Getting to San Agustin
Bogota is roughly seven hours farther to the north.
Popayan, roughly 78 miles to the northwest, awaits the completion of a paved road that will cut the five-hour journey by at least an hour.
The best time to visit the San Agustin area is during the sunny months of January, February, August, and September.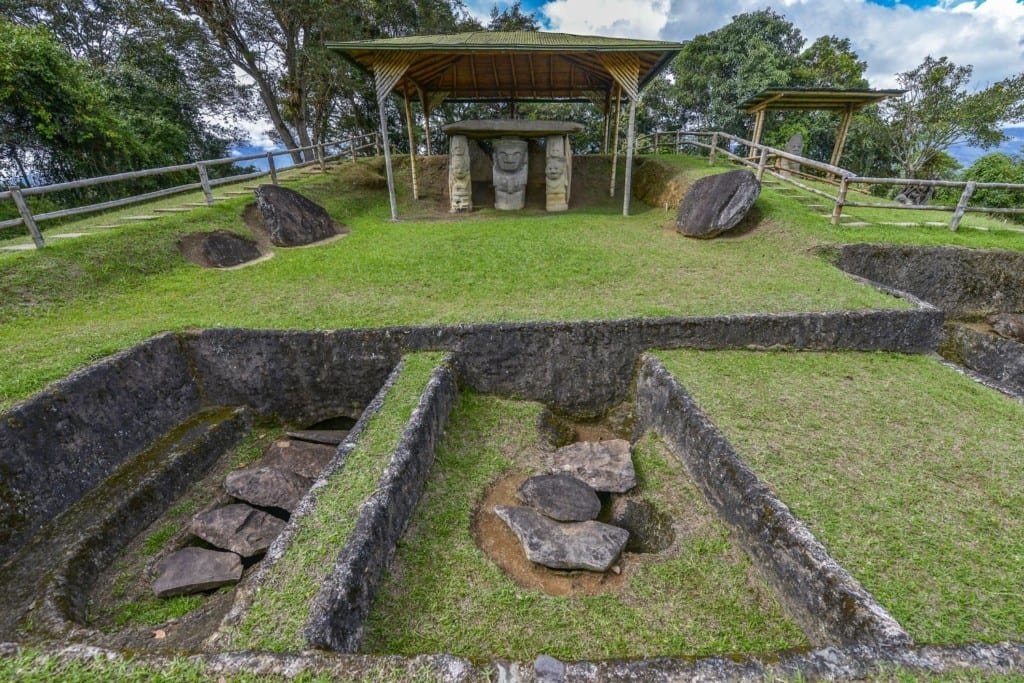 LANDED delivers the finest in custom, private travel to Central America, South America, and Antarctica. These regions are our passion; we know them first-hand and by heart. Speak with one of our expert travel planners today at 801.582.2100. We'll create the most exceptional trip of your life.
"The most beautiful thing we can experience is the mysterious. It is the source of all true art and science."
Albert Einstein
PERFECT

Could not have been more pleased.  This was the trip of a lifetime for our family.  Thank you!
GO WITH LANDED

If you're planning to travel, go with LANDED. You won't be disappointed.
AMAZING ADVENTURE

The whole rhythm of the trip was perfect, and leaving one place for the next worked perfectly. This trip definitely made me want to experience other great spots in South America.
TRIP OF A LIFETIME

The locations were amazing. Your on-the-ground team was fantastic–knowledgeable and accommodating. Beautifully organized.
ABSOLUTELY AMAZING

The best guide I've ever had anywhere in the world. Top notch talent.
GREAT SERVICE

You were a great help in planning–ensuring that I was staying at the right places and enjoying the type of activities we love–and the follow up was incredible.
YOU GOT TO KNOW US

Exactly the bonding and sharing experience we'd hoped for. The rhythm, variety, and tone was spot on. With effective listening skills, you built a good picture of what we wanted–more complicated than "just" luxury. The result was a great trip, one made just for us.
BEST EVER

Excellent attention to detail. You listened carefully, asked the right questions, and customized with just the right balance. Superb guides. We felt relaxed and pampered all the way. You'll plan our next trip.
FANTASTIC EXPERIENCE

Not a single thing on the itinerary that we would change.  The guides were knowledgeable, friendly, and prompt.  The hotels were beautiful, the food delicious and the pace of the activities was perfect for us.
DO IT!

In short, our trip was amazing. Thanks so much for your constant assistance and thorough planning.
PERFECT

The planning, service and execution of the trip was flawless – thank you!
EXCELLENT

LANDED was helpful and knowledgeable, making our trip a memorable one.  I will use your services in the future as I continue to explore Central & South America.
A VERY WELL ORGANIZED DREAM

Your patience with my questions and concerns during the planning stage was remarkable.
THANK YOU

You actually got to know us, which made it possible to know just what we like. You promised the best trip ever and you kept your promise.
ENTIRELY AMAZING

Your recommendations were well thought out. We thoroughly enjoyed our honeymoon. Thank you!
THE ULTIMATE GUIDE

LANDED is the ultimate. You helped us make the most out of a week's time.
DIDN'T MISS A THING

We zip-lined, rafted, sailed, and surfed. The contacts were professional and courteous. We don't want to be back at work. Thank you for all of the work you did to set up this trip.