Magical Cartagena
Cartagena is magical—a graceful colonial masterpiece set on the sparkling Caribbean Coast.
Long ago "discovered" by European travelers, the city's charms are still unknown to most North Americans. Those who have visited wax nostalgic about the city's colors, cuisine, and culture.
Cartagena was founded in 1533 by the conquistador Don Pedro de Heredia on the site of a Carib settlement.
Fueled by gold, gemstones, and the slave trade, Cartagena rapidly developed into a jewel of the Spanish crown.
The city's expanding wealth attracted waves of pirates, corsairs, and English troops over the next three centuries.
Las Murallas
In response, Spain protected its cash flow by constructing the largest collection of fortifications in the New World—high walls (Las Murallas) around the central city and a series of coastal fortresses.
As a result, Cartagena's colonial center—now called the Old City—was also protected from expansion and redevelopment.
Today, Cartagena houses what may be the Americas' finest collection of colonial architecture—frosted spires and pastel-hued domes soar above balconied façades and narrow, cobblestone streets.
UNESCO World Heritage Status
Restoration accelerated after 1984 when UNESCO granted the city World Heritage status.
Visitors to Cartagena are quickly enchanted by the palm-shaded plazas, open-air cafes, and photogenic side streets.
During the 19th century, Cartagena was at the forefront of the region's independence movement.
Innovative Caribbean Cuisine
That independent spirit lives on in the city's Caribbean influenced music, innovative cuisine, and willingness to celebrate.
Here, parties are spontaneous, frequent, and often mobile. This is a friendly, welcoming city with a feeling all its own.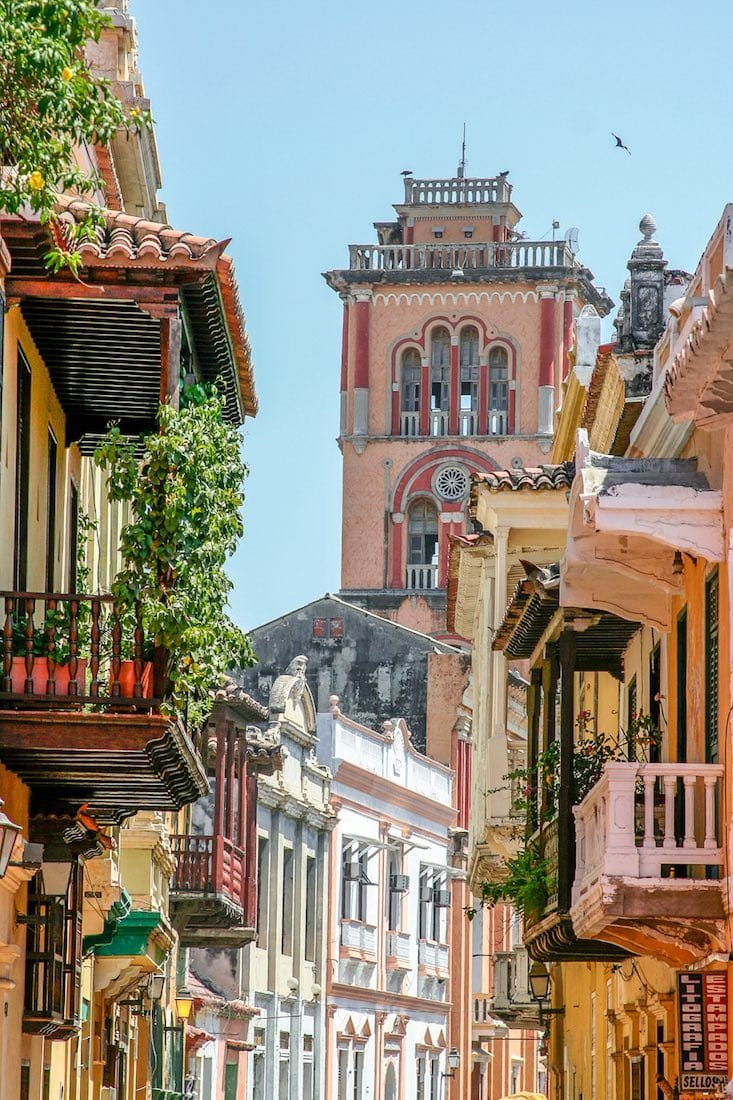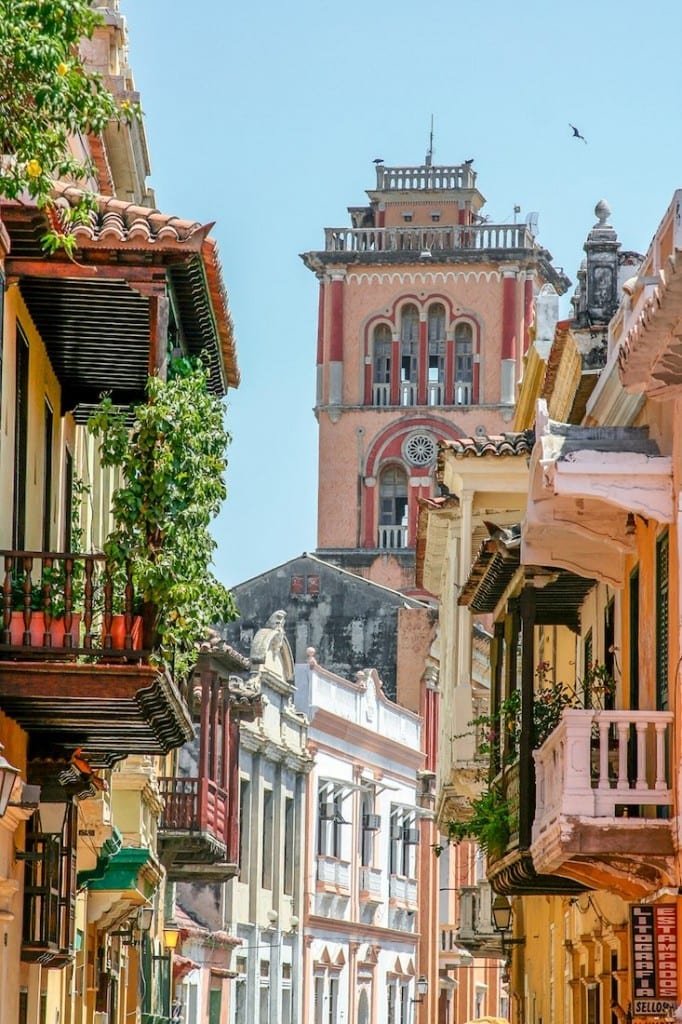 Many of our clients stay in Cartagena for four nights or more.
Popular activities in Cartagena include:
Strolling the Historic Center
Enjoying Coconut and Spice-infused Seafood
Sampling Top-Notch Ice Cream and Traditional Sweets
Sipping Rum While Watching the Sunset
Dancing Until Dawn
Outside the historic center, visitors can explore the sprawling Bazurto Market, enjoy panoramic views from the hilltop Convento de la Popa, amble through the bohemian Getsemani district, and tour the walls and tunnels of the hemisphere's greatest fortress.
Farther afield, attractions include gold and white sand beaches, picturesque fishing villages, and the coral reefs of the Islas del Rosario.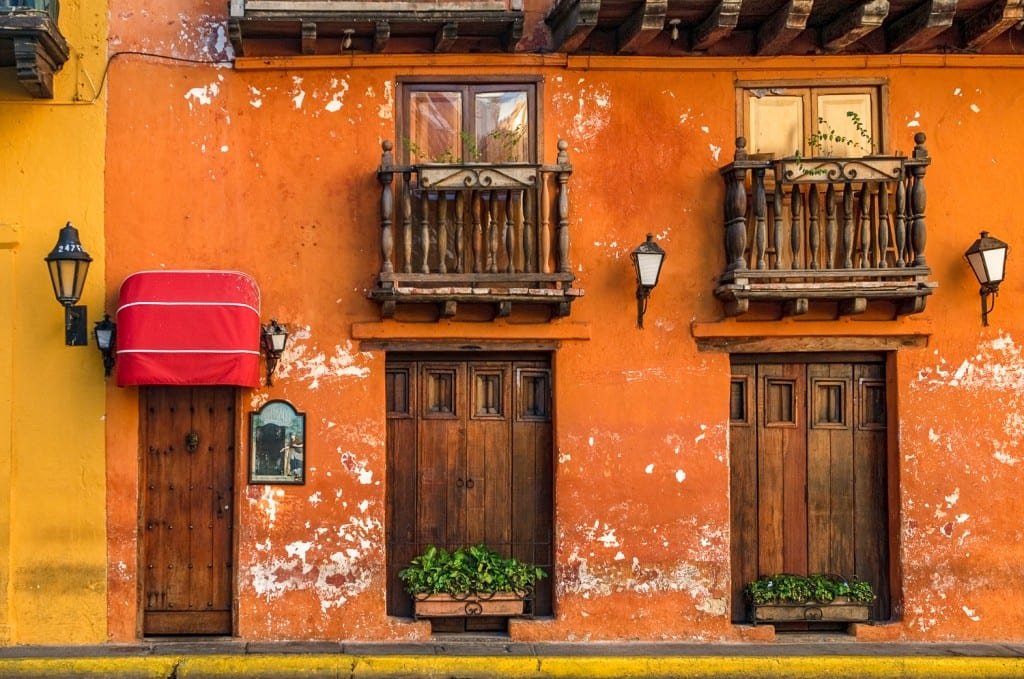 Cartagena Climate
Cartagena's warm climate changes little throughout the year. Temperatures reach into the 90s, with 90% humidity.
Welcome breezes cool the area from November to February.
Hurricanes are rare, and even in the wettest season (September – November) monthly rainfall almost never exceeds five inches.
Getting to Cartagena
Cartagena is convenient to Bogota (90 minutes) and Miami (2.5 hours).
The Old City has a fine selection of boutique hotels—with accommodations ranging from contemporary to grand.
LANDED delivers the finest in custom, private travel to Central America, South America, and Antarctica. These regions are our passion; we know them first-hand and by heart. Speak with one of our expert travel planners today at 801.582.2100. We'll create the most exceptional trip of your life.
"A true friend is the one who holds your hand and touches your heart."
Gabriel Garcia Marquez
PERFECT

Could not have been more pleased.  This was the trip of a lifetime for our family.  Thank you!
GO WITH LANDED

If you're planning to travel, go with LANDED. You won't be disappointed.
AMAZING ADVENTURE

The whole rhythm of the trip was perfect, and leaving one place for the next worked perfectly. This trip definitely made me want to experience other great spots in South America.
TRIP OF A LIFETIME

The locations were amazing. Your on-the-ground team was fantastic–knowledgeable and accommodating. Beautifully organized.
ABSOLUTELY AMAZING

The best guide I've ever had anywhere in the world. Top notch talent.
GREAT SERVICE

You were a great help in planning–ensuring that I was staying at the right places and enjoying the type of activities we love–and the follow up was incredible.
YOU GOT TO KNOW US

Exactly the bonding and sharing experience we'd hoped for. The rhythm, variety, and tone was spot on. With effective listening skills, you built a good picture of what we wanted–more complicated than "just" luxury. The result was a great trip, one made just for us.
BEST EVER

Excellent attention to detail. You listened carefully, asked the right questions, and customized with just the right balance. Superb guides. We felt relaxed and pampered all the way. You'll plan our next trip.
FANTASTIC EXPERIENCE

Not a single thing on the itinerary that we would change.  The guides were knowledgeable, friendly, and prompt.  The hotels were beautiful, the food delicious and the pace of the activities was perfect for us.
DO IT!

In short, our trip was amazing. Thanks so much for your constant assistance and thorough planning.
PERFECT

The planning, service and execution of the trip was flawless – thank you!
EXCELLENT

LANDED was helpful and knowledgeable, making our trip a memorable one.  I will use your services in the future as I continue to explore Central & South America.
A VERY WELL ORGANIZED DREAM

Your patience with my questions and concerns during the planning stage was remarkable.
THANK YOU

You actually got to know us, which made it possible to know just what we like. You promised the best trip ever and you kept your promise.
ENTIRELY AMAZING

Your recommendations were well thought out. We thoroughly enjoyed our honeymoon. Thank you!
THE ULTIMATE GUIDE

LANDED is the ultimate. You helped us make the most out of a week's time.
DIDN'T MISS A THING

We zip-lined, rafted, sailed, and surfed. The contacts were professional and courteous. We don't want to be back at work. Thank you for all of the work you did to set up this trip.