Estancia Peuma Hue is a private ranch located within the grounds of Argentina's first and largest national park–Parque Nacional Nahuel Huapi. The ranch spans some 500 acres, in the heart of Argentina's Lake District, on the idyllic shores of the Lake Gutierrez.
Peuma Hue (place of dreams in the native Mapuche language) is the incarnation of the owner's lifelong dream. The estancia features a main lodge and three independent log homes, where most of the guest rooms are located.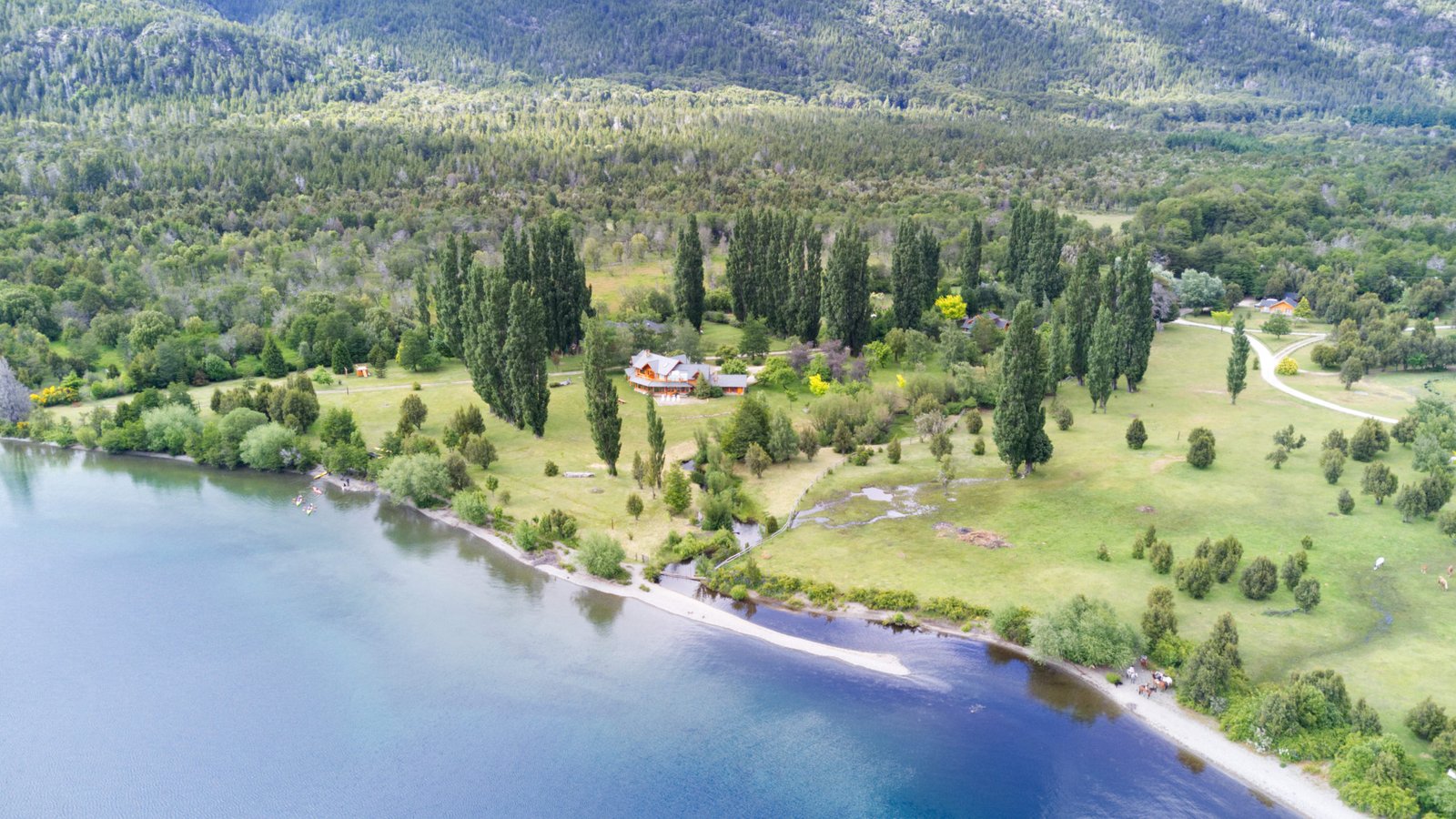 Amenities & Services
Guests at Estancia Peuma Hue can enjoy the sauna, massage room, shared living rooms, a boardroom, a non-denominational chapel, an organic vegetable garden, a greenhouse, a boathouse, and stables.
The ranch guides (some human, some canine) help guests explore the mountain scenery on by hiking path, on horseback, and via kayak. The property is lined with forest and mountain trails. Guests often observe deer, woodpeckers, foxes, and owls.
Private concerts, tango classes, massages, yoga classes, and wine tastings can be arranged for an additional charge.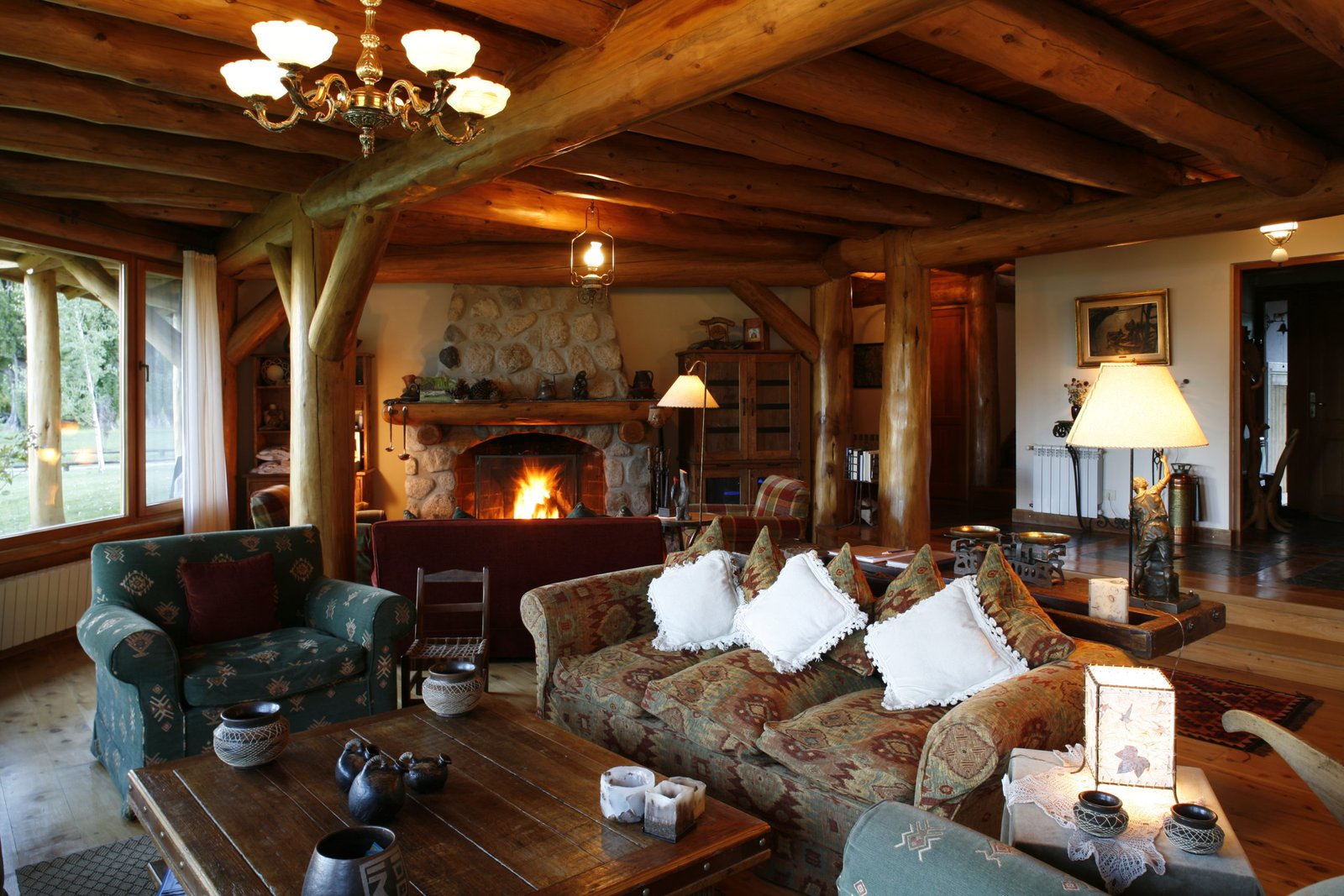 Meals at Estancia Peuma Hue highlight traditional Argentine (especially Patagonian) products and flavors. The focus is on balanced, healthy, and delicious meals, prepared with care.
Breakfasts, lunches (with picnic options), appetizers, and dinners are included in most rates. The lodge offers a fixed daily menu that changes with the season. Dietary restrictions and preferences can be accommodated with advance notice. Premium regional wines and microbrew beers are available at an additional cost.
Accommodations 
Estancia Peuma Hue offers 4 houses and 2 yurts. These contain a total of 13 guest rooms.
---
Poplar Lodge
Poplar Lodge has a capacity of 8 to 11 guests in 4 bedrooms. It is designed to take full advantage of the setting, with large windows overlooking the lake.
The Master Suite at the Poplar House features a balcony with lake view. It has an en suite bathroom and jetted tub.
---
Radal Lodge
Radal Lodge can accommodate up to 10 guests in 4 independent double bedrooms, each with a private bathroom.
This lodge also features a large living and dining room with a stone fireplace overlooking the lakefront and the stables, as well as a fully equipped kitchen.
---
Coihue Villa
The Coihue Villa can accommodate up to 5 guests. It's a perfect location in terms of both privacy and closeness to the Poplar House.
It features two double rooms – one upstairs and one downstairs – with a full bathroom with bathtub each, a living room with an extra twin bed or second couch, a fireplace, and a fully equipped kitchen. The Lake Bedroom located on the upper floor offers views of the lake and creek, while the Garden Bedroom is located on the ground floor and overlooks the lake and the Estancia's vegetable garden.
---
Creek Villa
Creek Villa was the only standing structure when the property was purchased. This bungalow features a double bedroom that can accommodate up to 4 guests adding two couches or extra twin beds if needed, a living room with a fireplace, a kitchenette, and a bathroom with a shower.
---
The Yurts
The yurts offer a "glamping" experience. Overlooking the lake and mountains, yurts can either be furnished with a king-size bed or two twin-size beds, plus an extra bed if needed. The yurts feature wooden floors, electric and firewood heating, a deck overlooking the lake, and a private bathroom with a shower and buthtub.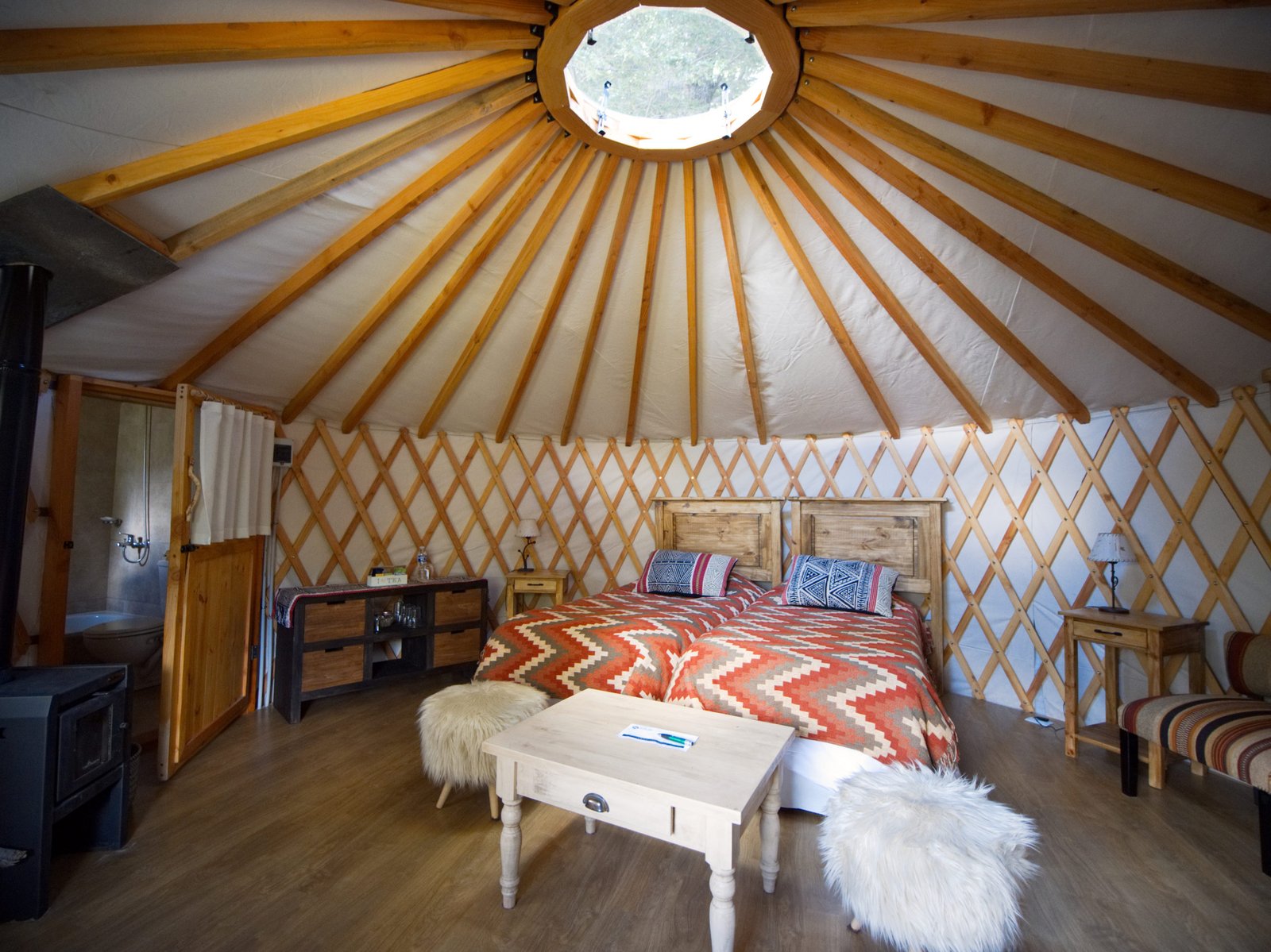 Activities
Estancia Peuma Hue is located approximately 45 minutes by road from San Carlos de Bariloche. Bariloche is the gateway to the Argentine Lake District. It is a year-round destination, famous for its landscapes, and outdoor adventure in every season.
Bariloche began as an outpost for early German settlers. The town later attracted Swiss, Austrian, Italian, and Chilean immigrants. Summer high season runs from November to March, with highs near 70° and lows around 40°.
Guests typically stay three or four nights. Since 2006, LANDED has arranged experiences such as these for our guests in Bariloche:
Privately guided canoe or lake kayak trips
Navigations on Lake Nahuel Huapi (private or group options) with privately guided hiking and lake shore picnics
Privately guided rafting trips
Day trips to a private estancia for hiking, canoeing, and horseback riding
Chocolate making classes and chocolate tastings
Condor viewing excursions with an expert ornithologist
Privately guided fly-fishing outings
Privately guided mountain biking and hiking in the Andes
Multi-sport adventures combining mountaineering, kayaking, and hiking
Helicopter overflights of glaciers and lakes
Privately guided scenic driving tours
Wine tastings
Cooking classes and chef's table dining
Photo workshops with master photographers (November to March)
Private lakeside dinners
Privately guided backcountry skiing, snowboarding, and snowshoeing days (June to August)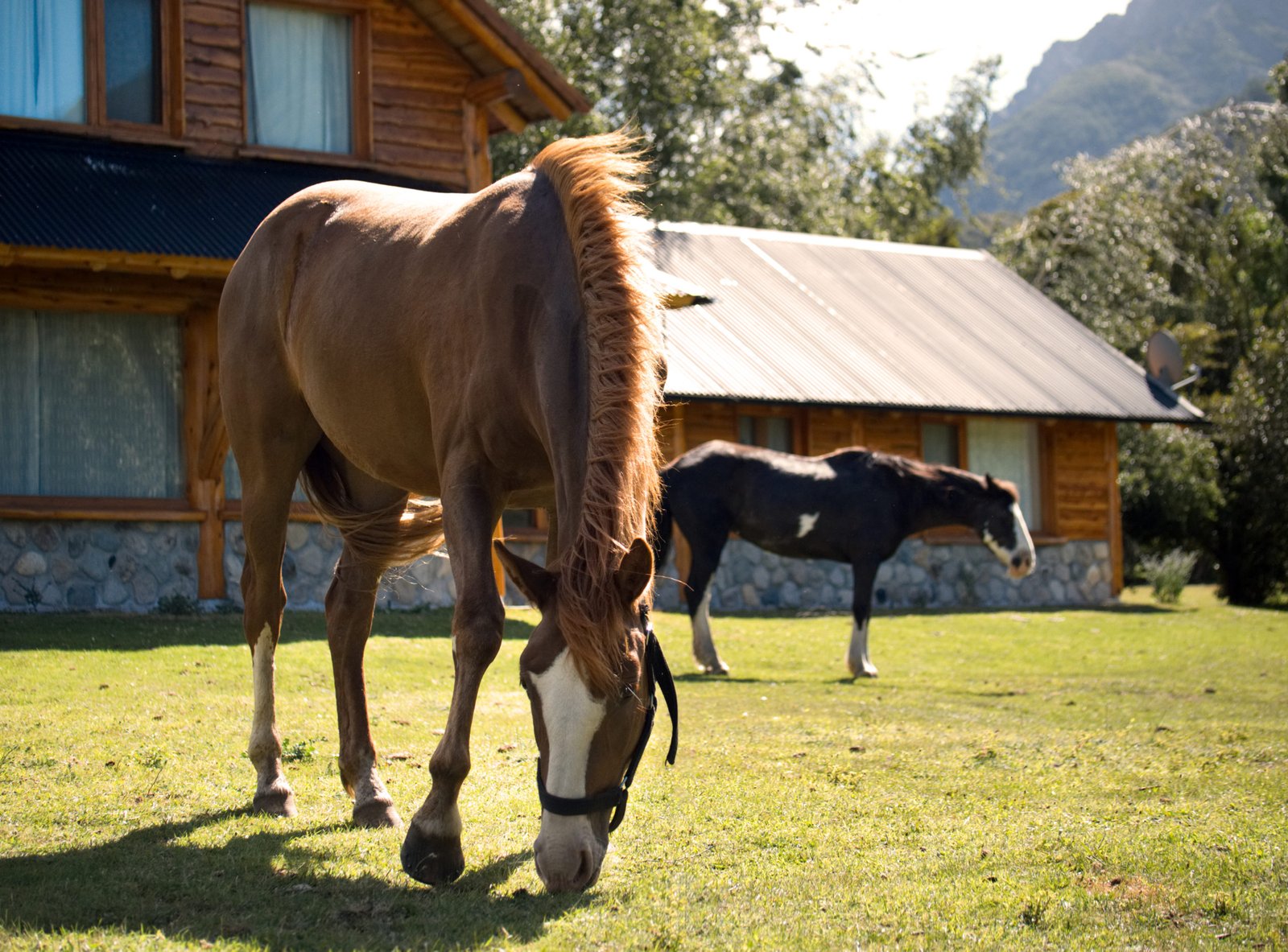 ARE YOU CONSIDERING A STAY AT ESTANCIA PEUMA HUE? LANDED PROVIDES PERSONALIZED, CUSTOM TRAVEL WITHIN CENTRAL AMERICA, SOUTH AMERICA, AND THE ANTARCTIC. WE'LL CREATE A UNIQUE ITINERARY PLAN TAILORED TO YOUR INTERESTS AND DREAMS. EXPERIENCE THE TRIP OF A LIFETIME. SPEAK WITH ONE OF OUR EXPERT TRAVEL PLANNERS TODAY AT 801.582.2100.