The Grand Hyatt Resort in Rio de Janeiro is located in the Natural Park of Marapendi, across Avenida Lucio Costa from Praia da Reserva, within easy reach of the city's south-zone sand, surf, and samba.
The hotel is approximately one mile from the boutiques and restaurants of Barra da Tijuca.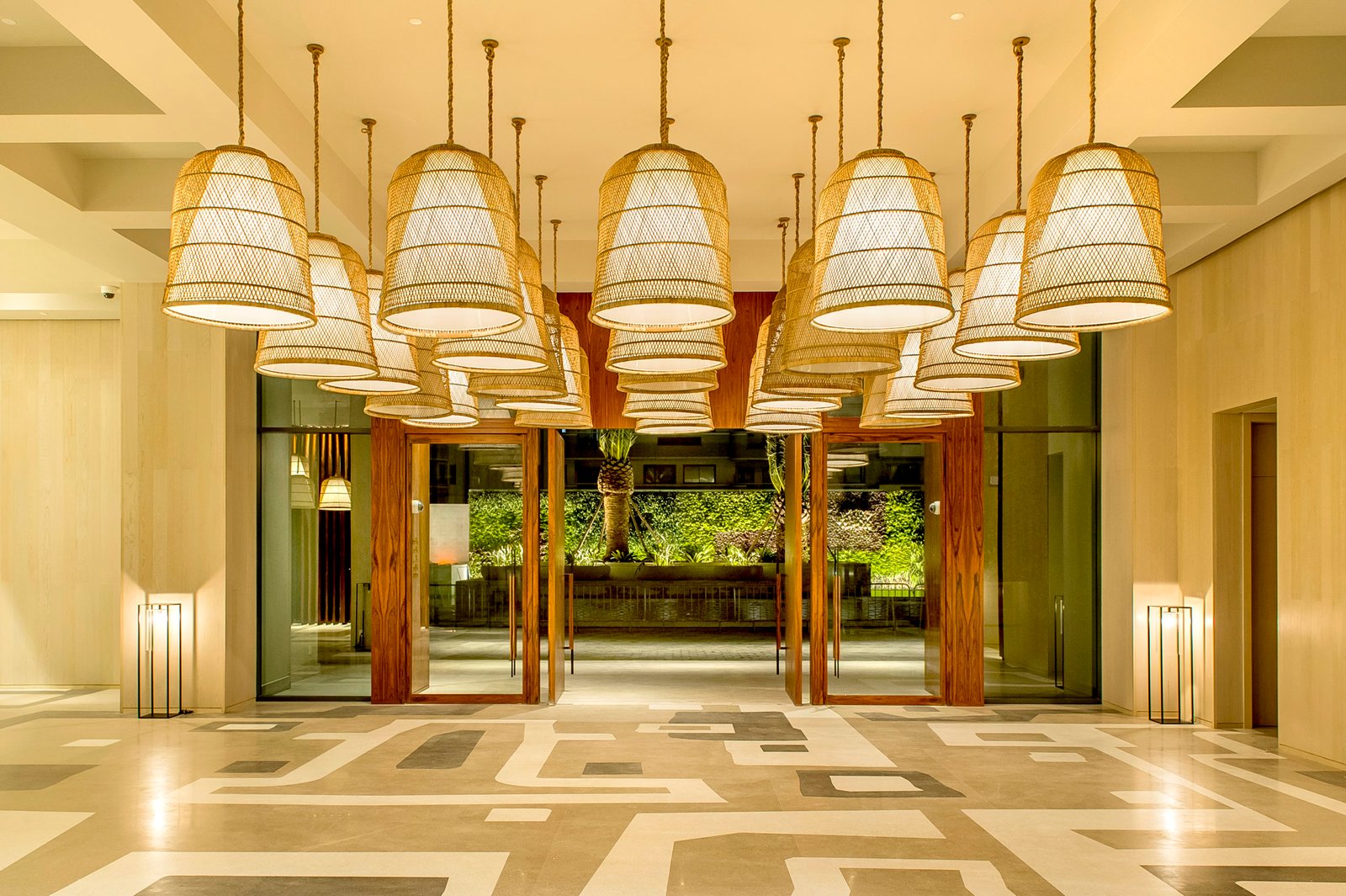 Accommodations 
The 436 guest rooms at Grand Hyatt Rio de Janeiro offer private balconies, bathrooms with bathtub and separate walk-in shower, and feature native stones and exclusive fabrics.
Grand Club Rooms offer exclusive lounge access, including all-day refreshments and daily afternoon cocktails.
In-room amenities include a TV, blackout curtains with remote control, hairdryer, tea/coffee maker, Nespresso machine, Wi-Fi, air conditioning, security box, and bathrobes.
Roome service is available. Grand Hyatt Rio de Janeiro offers pet-friendly accommodation options.
---
Rooms
Rooms at Grand Hyatt measure approximately 450 square feet and are furnished with a king-size bed or two twin-size beds. Most rooms have direct or partial views of the ocean.
Upper category rooms offer access to the Grand Club.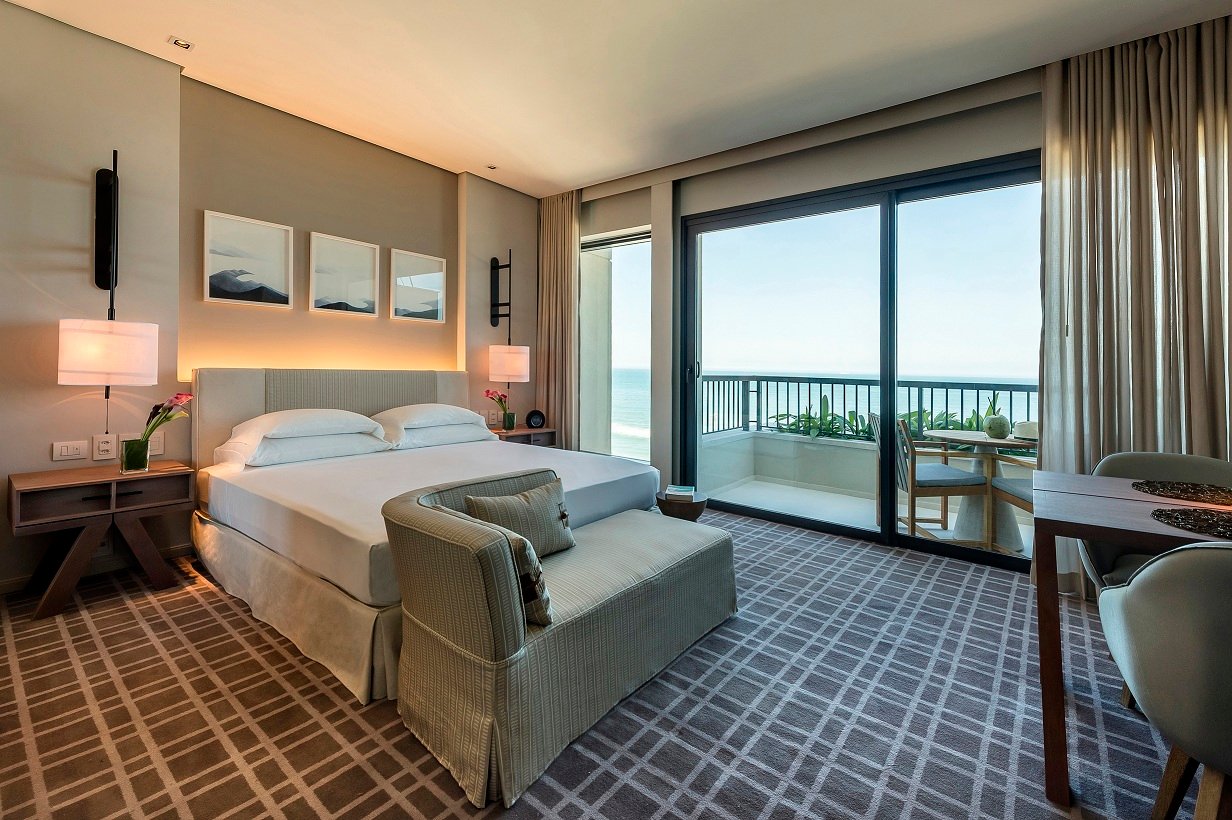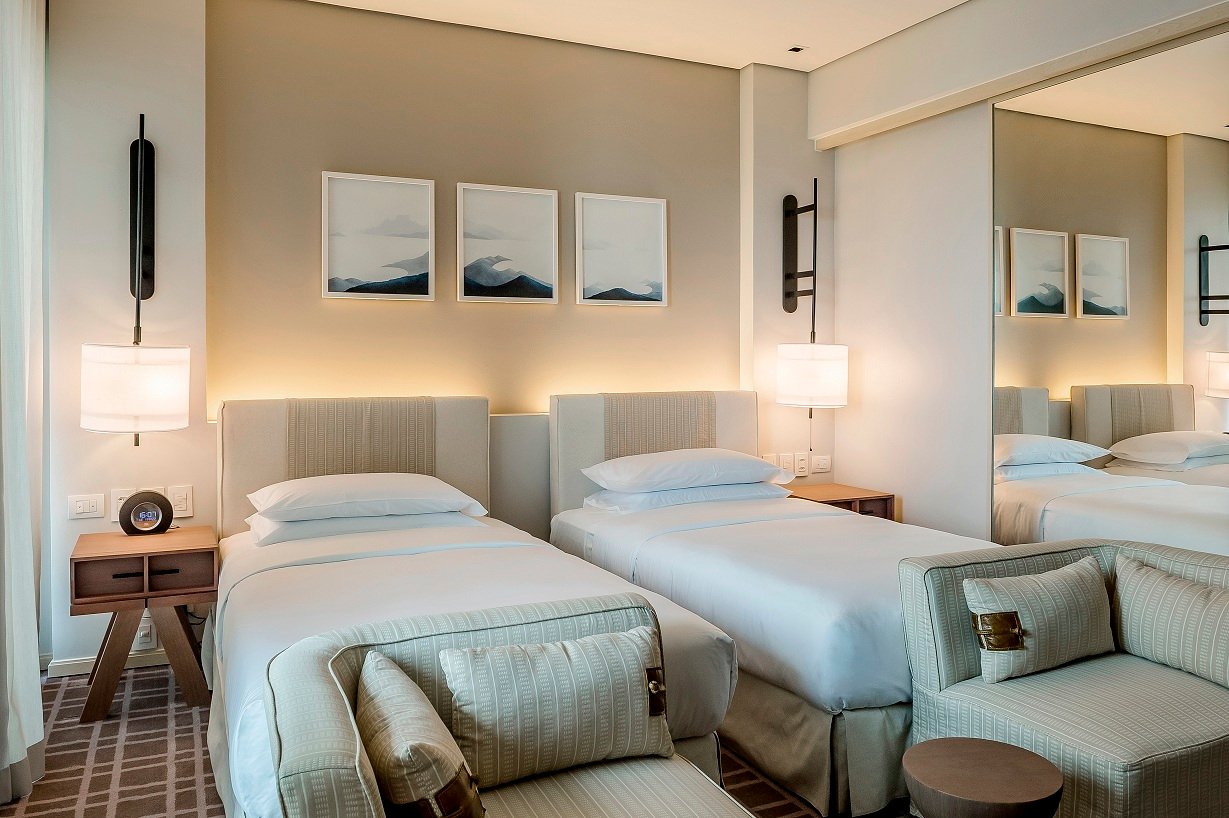 ---
Suites
Suites at Grand Hyatt Rio de Janeiro range in size from approximately 750 to 2,100 square feet and offer access to the Grand Club.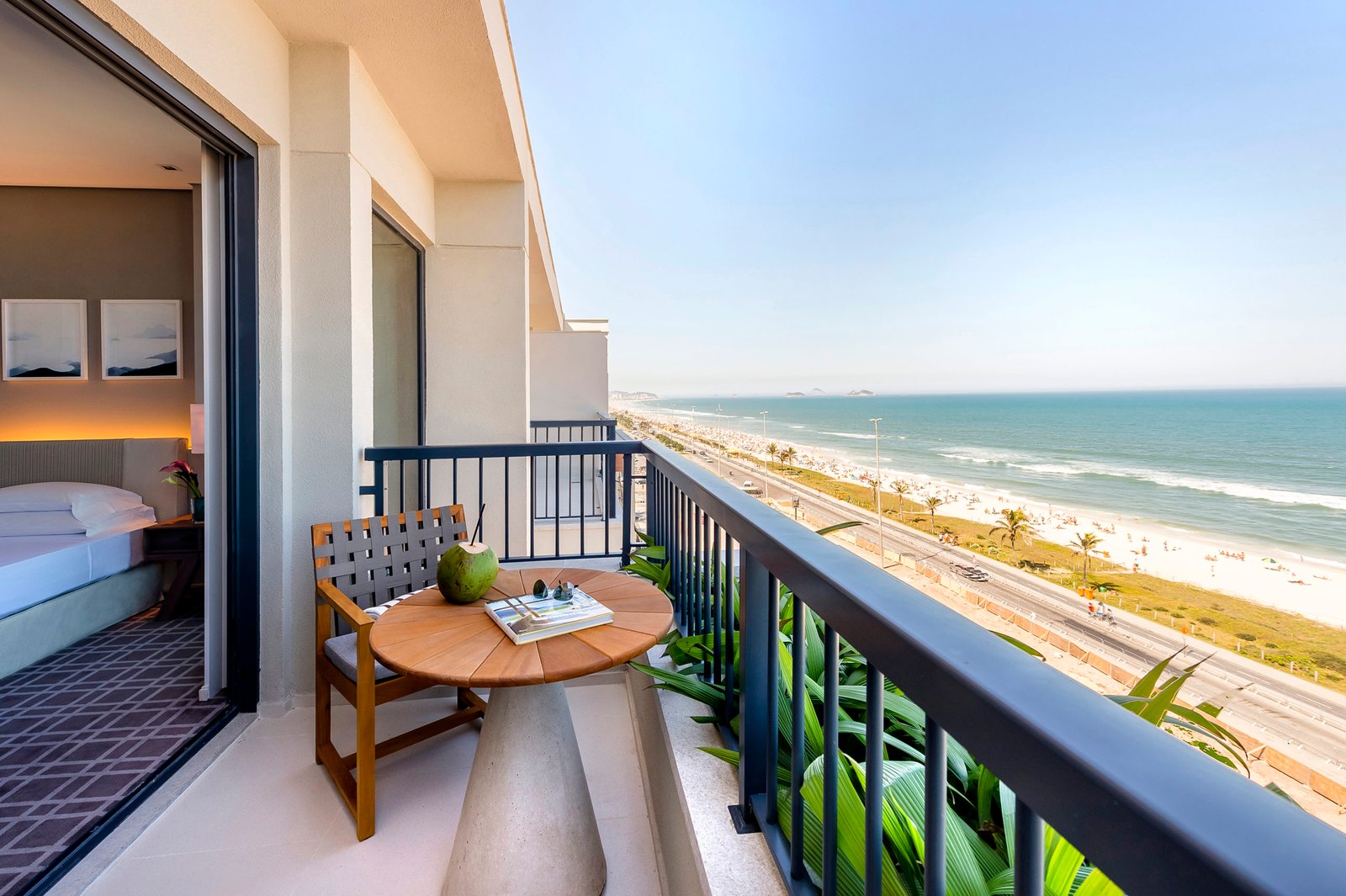 Grand King Suite
Grand King Suites have a private balcony, walk-in closet, work desk, and view to the pool or to the Marapendi Lagoon.
Ocean Front Suite
Ocean Front Suites offer a private balcony, walk-in closet, work desk, and oceanfront view.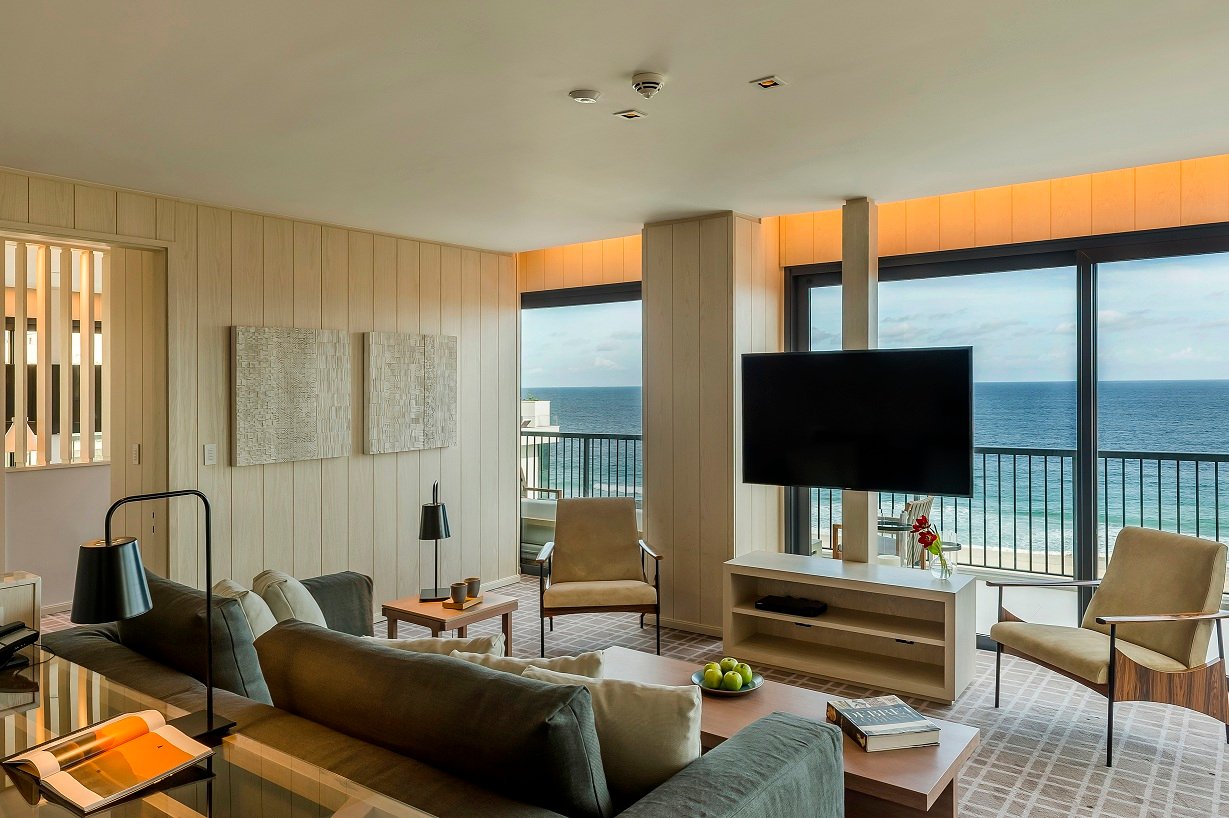 Ocean Lagoon Suite
Ocean Lagoon Suites feature a private balcony, walk-in closet, work desk, and views to the ocean and the Marapendi Lagoon.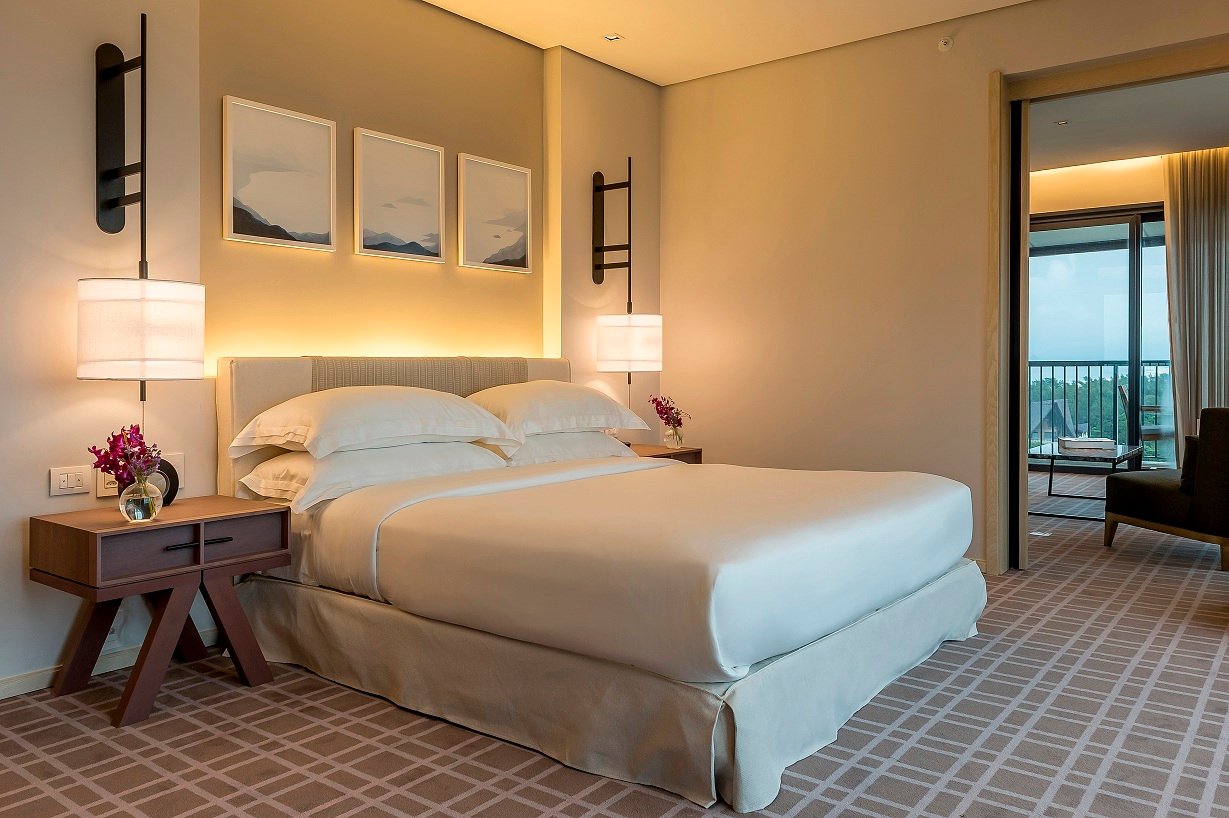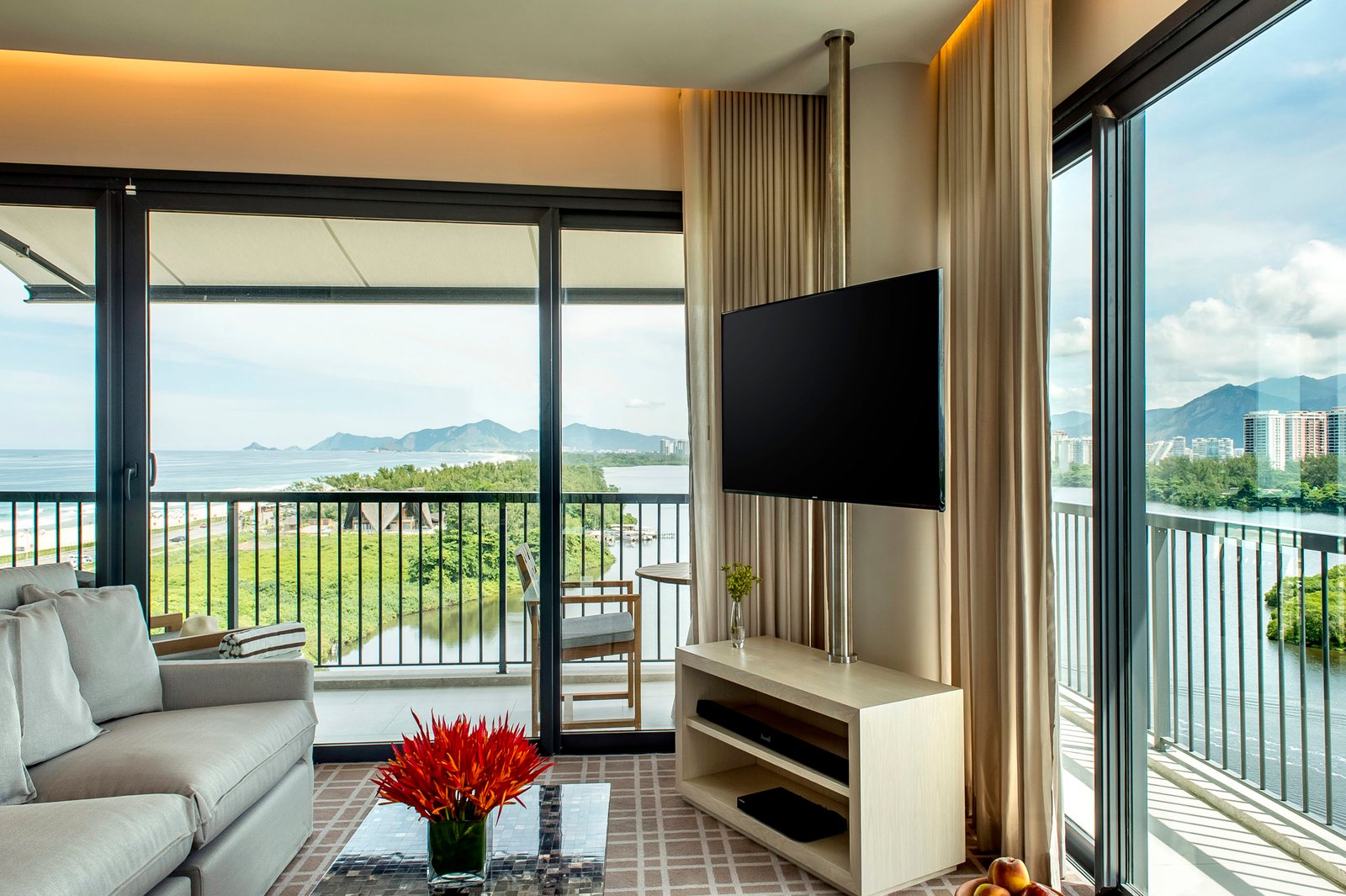 Diplomat Suite
The DIplomat Suite overlooks the ocean and features a balcony, a living room, a dining area, a kitchen, a walk-in closet, a work desk, a spacious bathroom with a bathtub with TV, and a separate shower.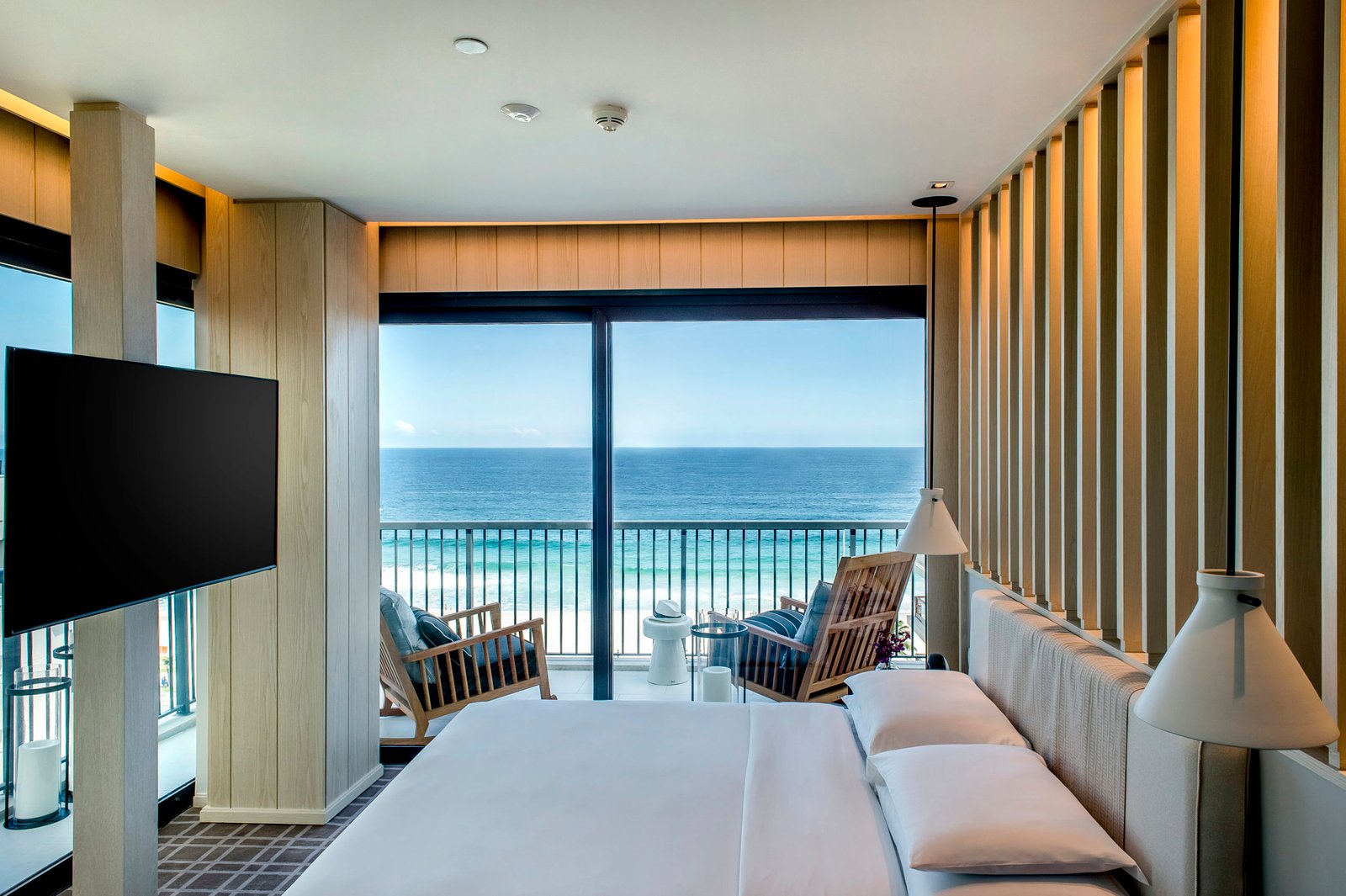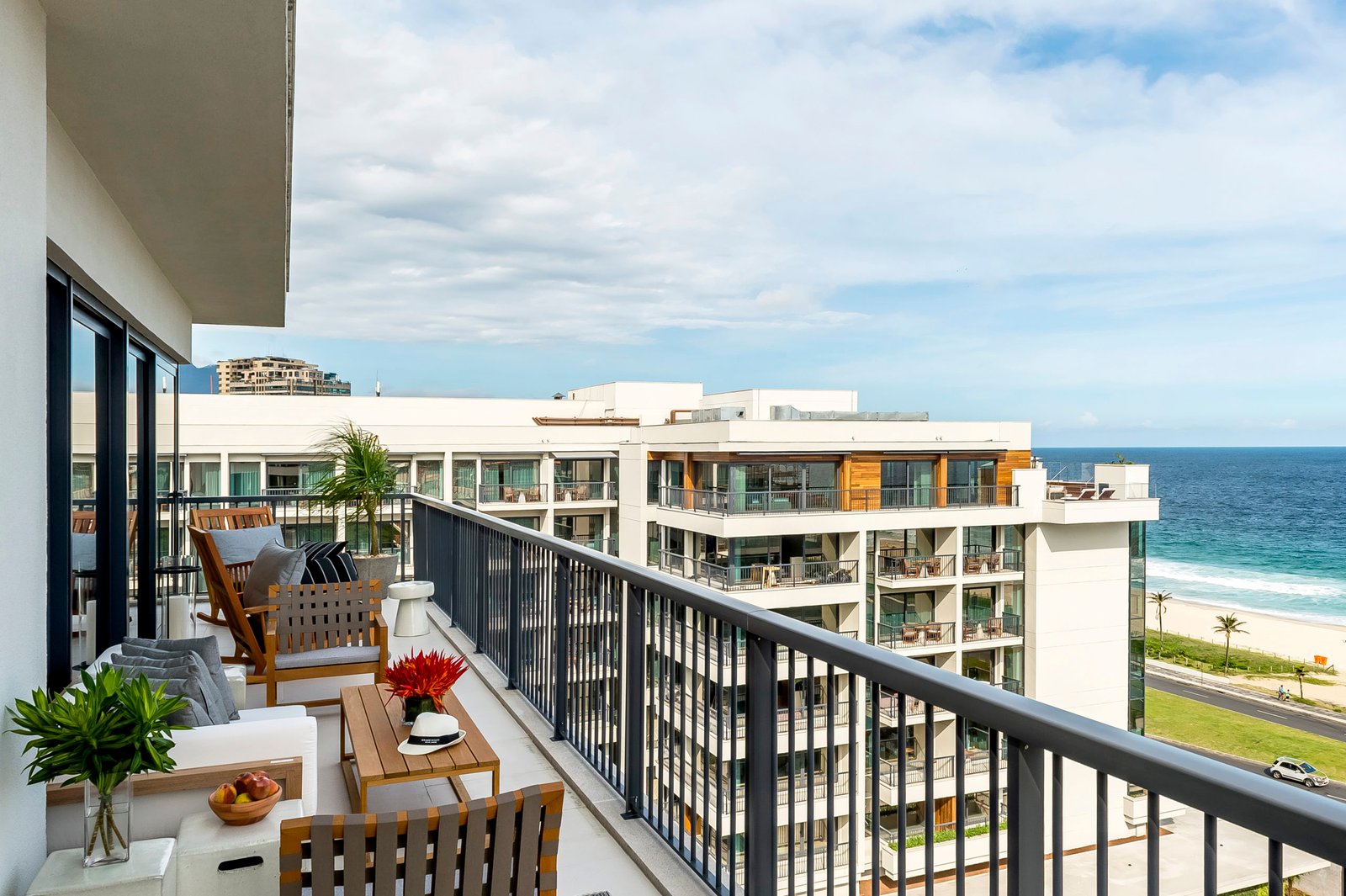 Presidential Suite
Presidential Suites at Grand Hyatt feature a living room, a dining room, a kitchen, a walk-in closet, a spacious bathroom with a bathtub with TV and separate shower, and a large balcony overlooking the ocean.
Penthouse Suite
The Penthouse Suite has a private pool, a large balcony with ocean front view, a living room, a dining room, a kitchen, a walk-in closet, a work desk, and a wide bathroom with a bathtub with TV and a separate shower.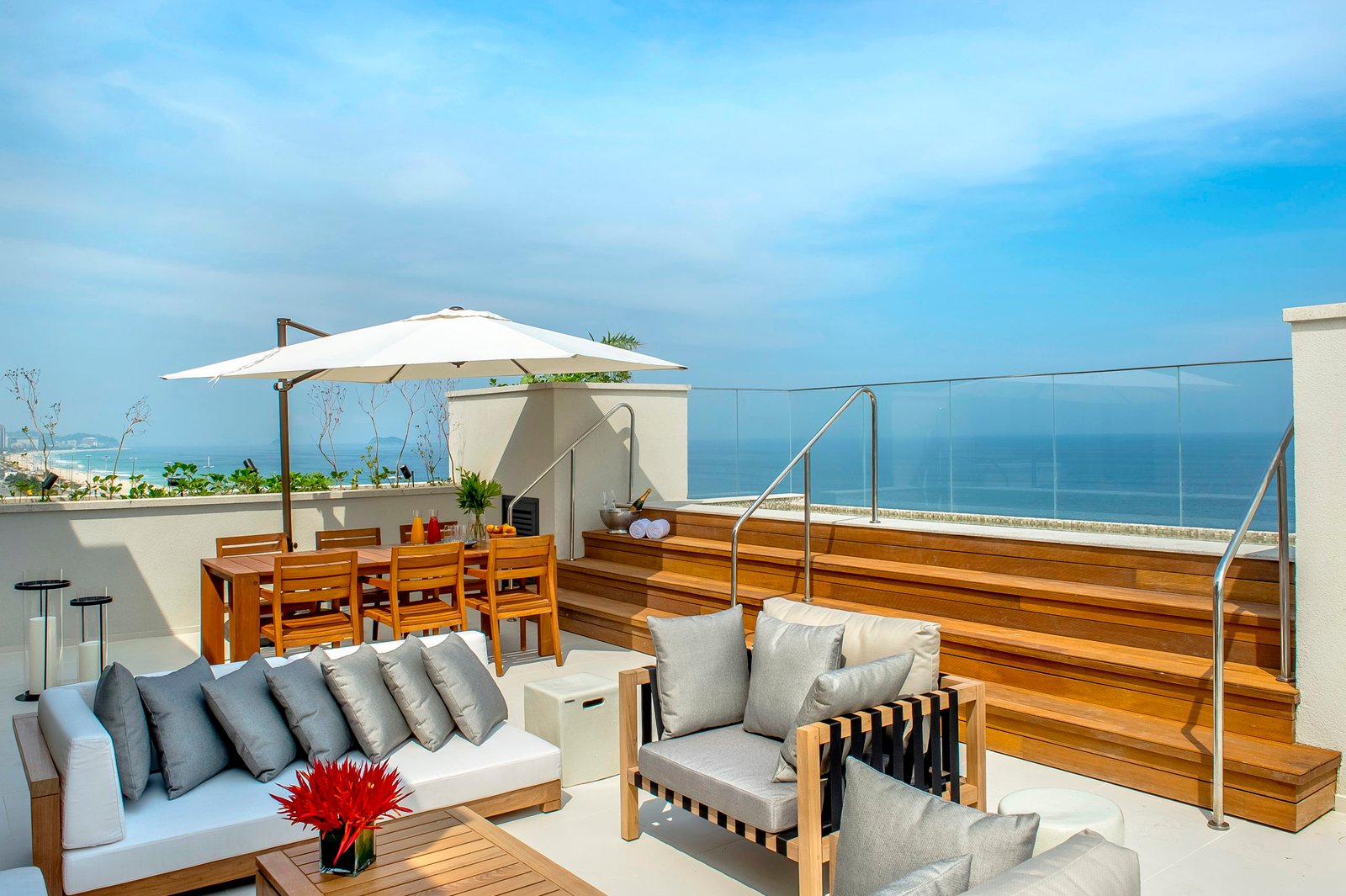 Amenities
Among the hotel's amenities are a fitness center, a yoga/movement studio, an outdoor pool with a wet deck, a business center, nine meeting rooms and two ballrooms, Wi-Fi, and a hospitality lounge for early check-in and late check-out.
The full-service Atiaia (which means "luminosity in the Tupi-Guarani language) Spa has nine private suites, six singles, and two doubles.
Dining options include three signature restaurants and a Quiosque.
Laundry service is available at an additional cost.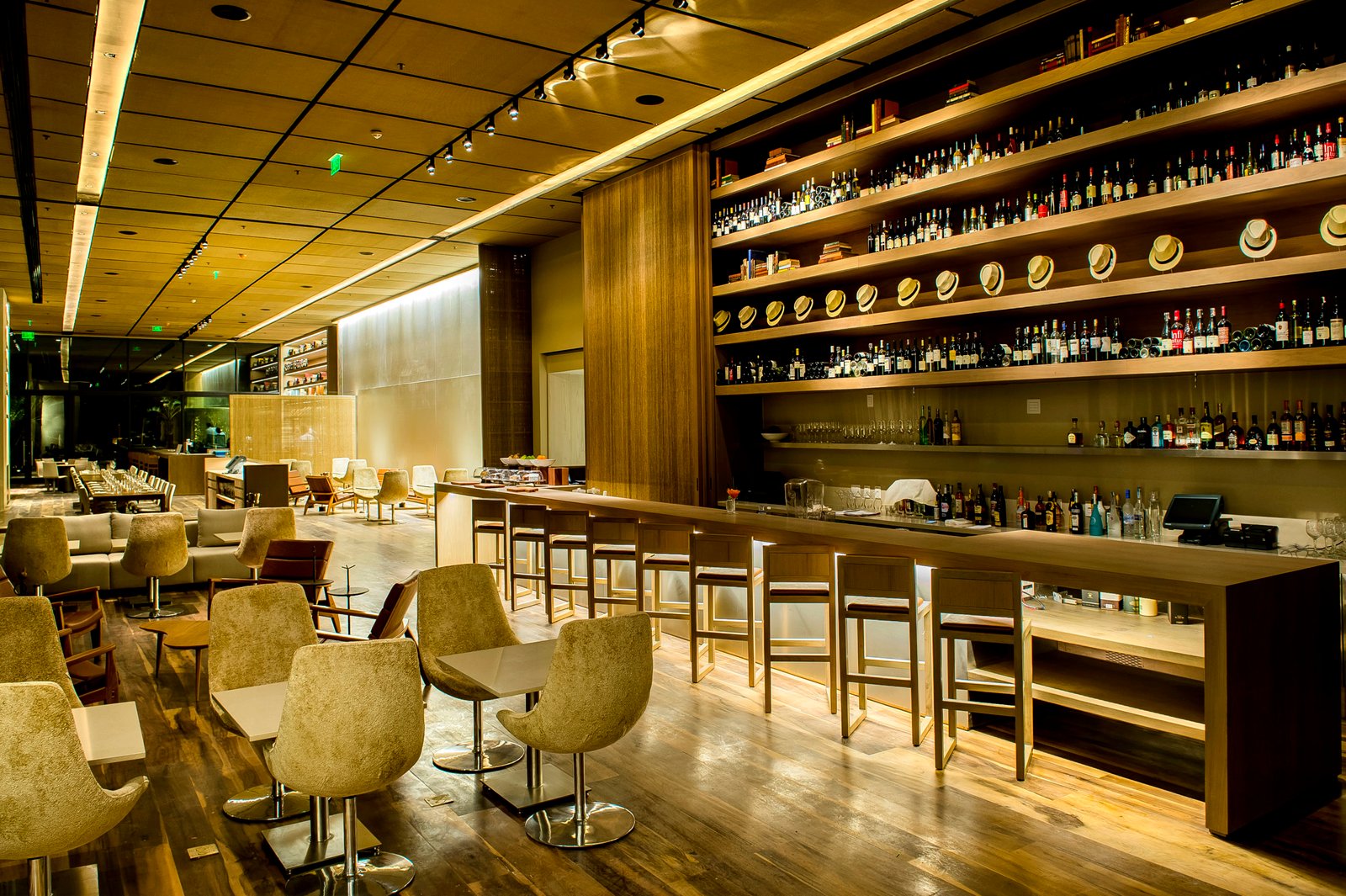 Dining
Shiso: Open for dinner from Tuesday to Sunday, Shiso is a Japanese restaurant led by Chef Miriam Moriyama. Inspired by the fusion of traditional oriental elements with contemporary interpretations, Shiso is specialized in a sushi, sashimi, and yakitori menu. Guests also have the opportunity to enjoy a cocktail from the sake bar and observe as the dishes are being prepared.
Cantô Gastrô & Lounge: Open every day for lunch and dinner this restaurant offers creative dishes and signature Caipirinha cocktails, seeking to reflect the Carioca neighborhood. Cantô Gastrô & Lounge highlights the attention to details, plates created for sharing, and live music in the evening. As the restaurant is open towards the swimming pool and gardens pool service is available.
Tano: Open for breakfast Tano restaurant was designed by Arthur Casas to integrate contemporary elements with the view of Marapendi Lagoon.
Quiosque: The Grand Hyatt convenience store, located in the lobby, offers food and beverage options such as sandwiches, salads, fruits, Japanese food, sweet options, and more.
Grand Club Lounge: The Grand Club Lounge is one of the benefits offered to the premium category of the Grand Hyatt Rio de Janeiro. Guests with access to the Grand Club service can enjoy breakfast at the hotel's restaurant, complimentary coffee and tea service, and an exclusive cocktail in the afternoon.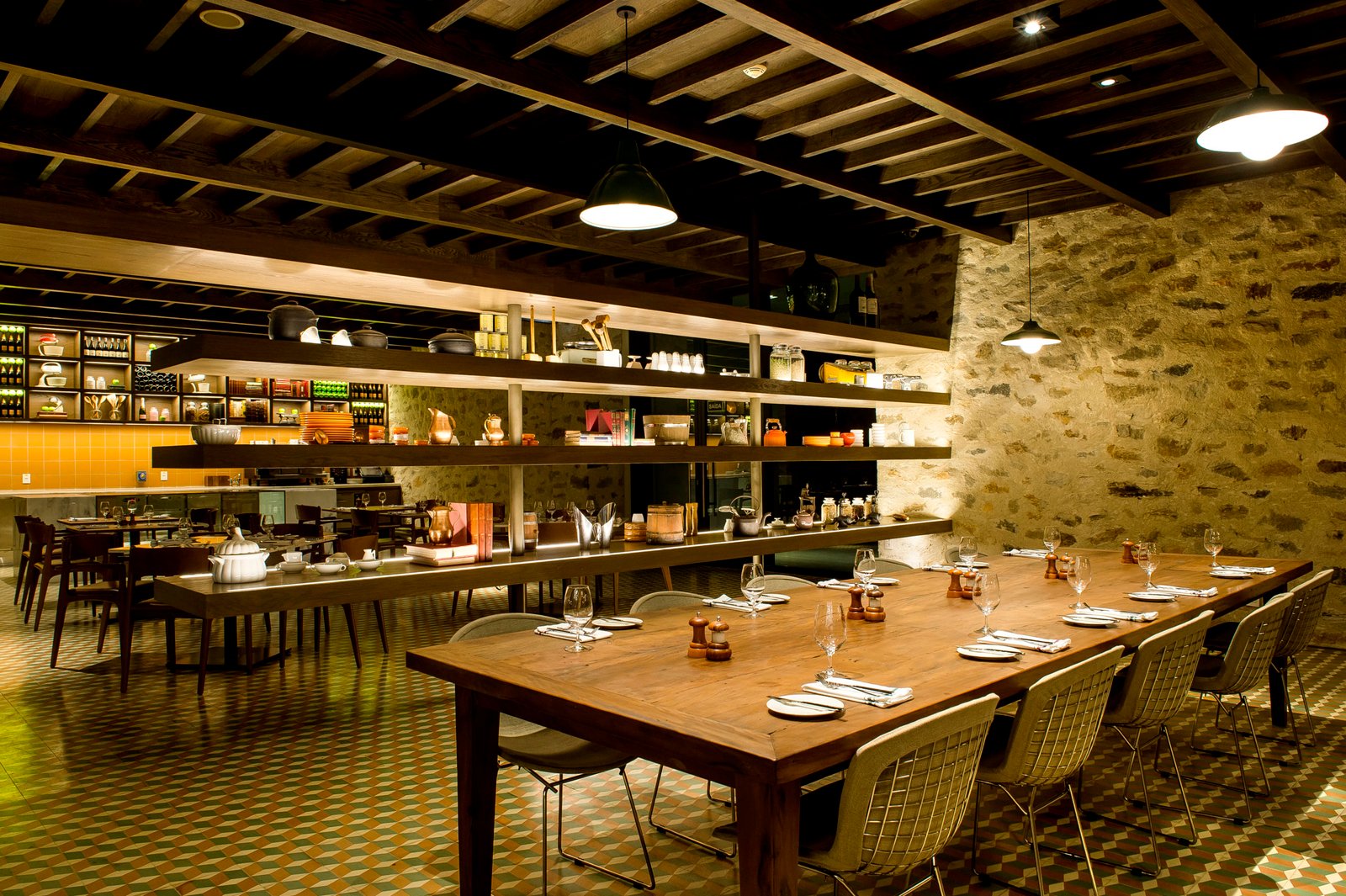 Rio de Janeiro
Since 2006, LANDED has arranged these signature experiences for clients in Rio de Janeiro:
Market visits, cooking classes, and chef's table experiences
Sunset visits to Sugarloaf Mountain
Street-art explorations with graphic designers and graffiti artists
Photo workshops with master photographers
Surfing lessons and surf day trips
Accompanied visits to samba clubs and live music venues in the Lapa neighborhood
Samba school visits (seasonally available)
Explorations of the city's street food culture
Jewish cultural explorations
Accompanied visits to soccer matches (January to December)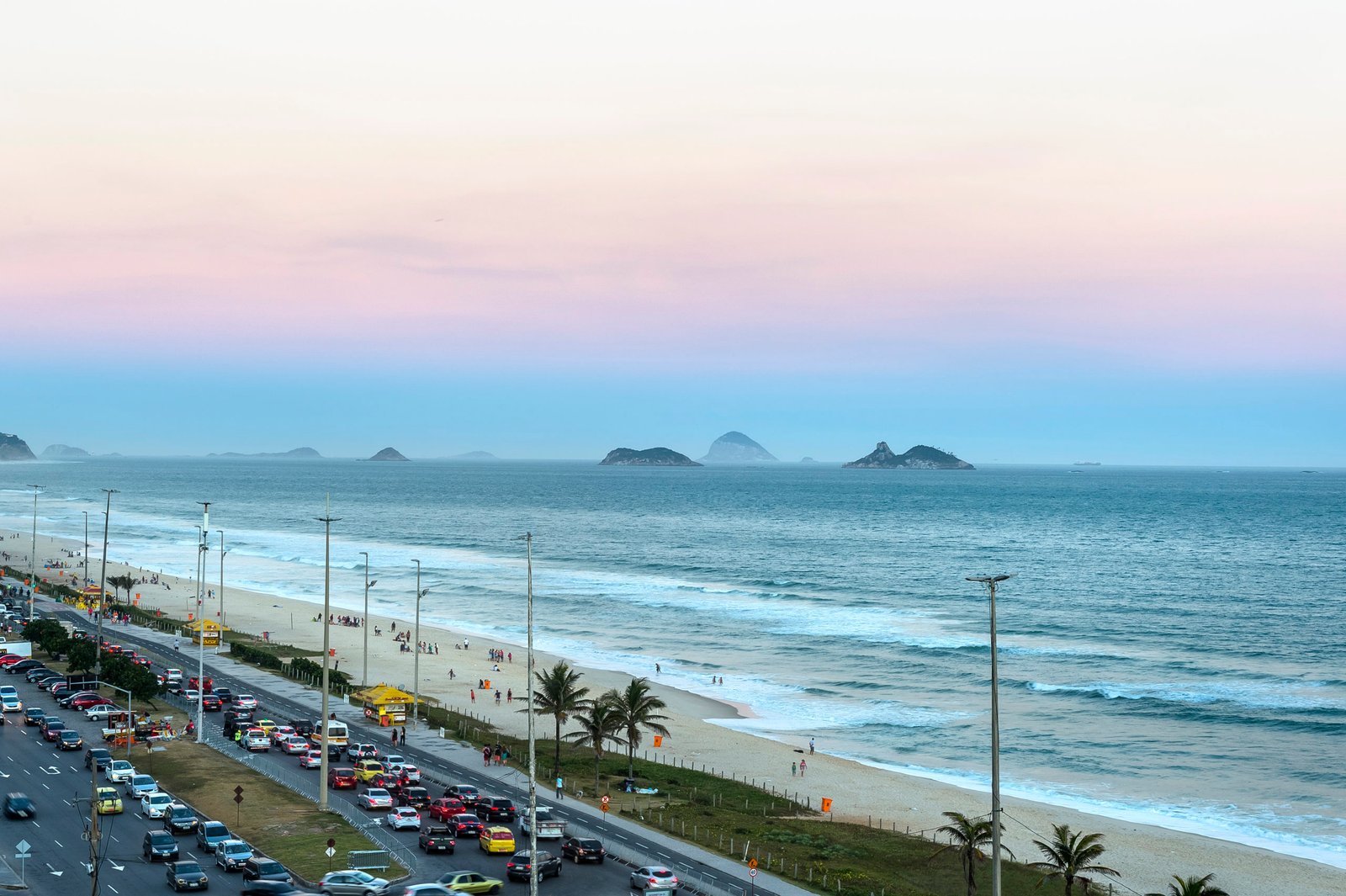 Pictures by Tadeu Brunelli
ARE YOU CONSIDERING A STAY AT GRAND HYATT RIO DE JANEIRO? LANDED PROVIDES PERSONALIZED, CUSTOM TRAVEL WITHIN CENTRAL AMERICA, SOUTH AMERICA, AND THE ANTARCTIC. WE'LL CREATE A UNIQUE ITINERARY PLAN TAILORED TO YOUR INTERESTS AND DREAMS. EXPERIENCE THE TRIP OF A LIFETIME. SPEAK WITH ONE OF OUR EXPERT TRAVEL PLANNERS TODAY AT 801.582.2100.