Blancaneaux Lodge Mountain Hideaway
Famed director Francis Ford Coppola first visited Belize in the early 1980s, soon after the country's independence.
He purchased Blancaneaux Lodge for use as a family hideaway. As more and more friends visited, he realized the retreat's universal appeal. Today, 20 guestrooms are set among the flowers and palms of Blancaneaux's creekside gardens.
The guestrooms feature thatched roofs, outdoor showers, and fully-screened windows without glass. Each is furnished with security box, hammock, mini-bar, hairdryer, bathrobes, and sandals. Guestrooms at Blancaneaux do not have air conditioning, television, or telephone.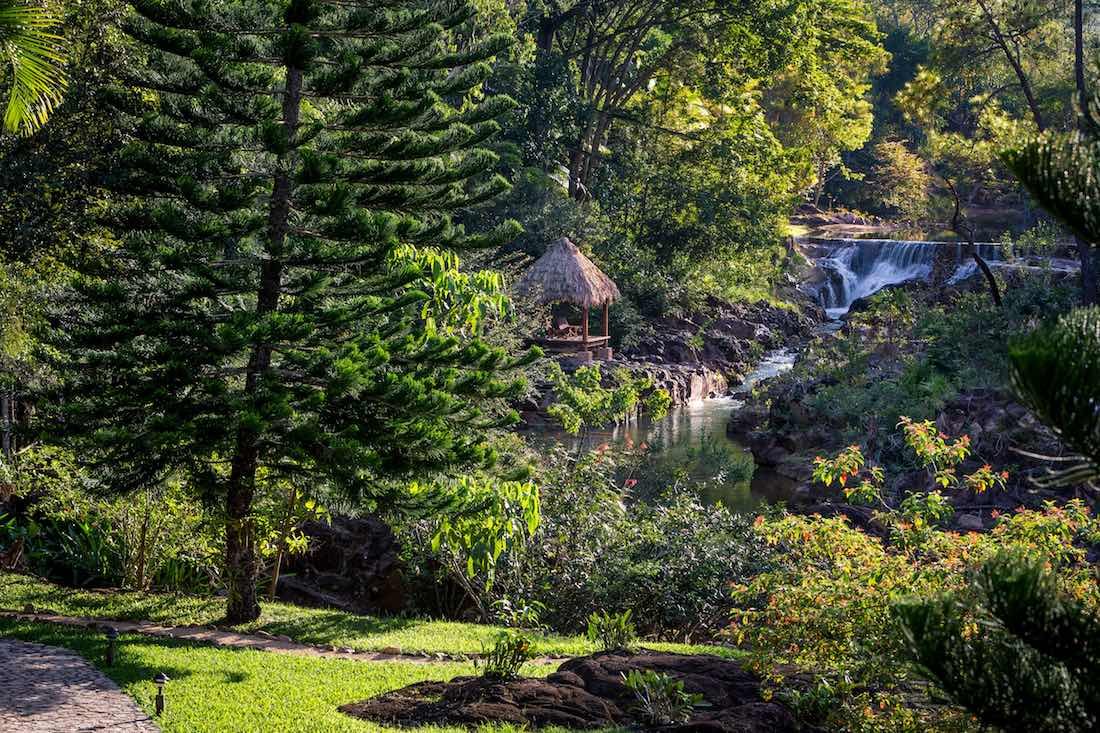 The Mountain Pine Ridge is generally cool, and reception can be reached via "shellphone" intercom. Wi-Fi is available throughout the property.
Food is a highlight at Blancaneaux; the lodge has three restaurants (Italian, Guatemalan, and garden) many of the ingredients are grown on property. Other hotel amenities include a riverside hot tub, a swimming pool, a spa pavilion (specializing in Thai massage), stables, gardens, and hiking trails.
Birding, hiking, and river tubing excursions are available to guests at no charge. Riding and massages can be arranged for an additional fee. Service is warm and genuine; the hotel staff treat guests and each other like family.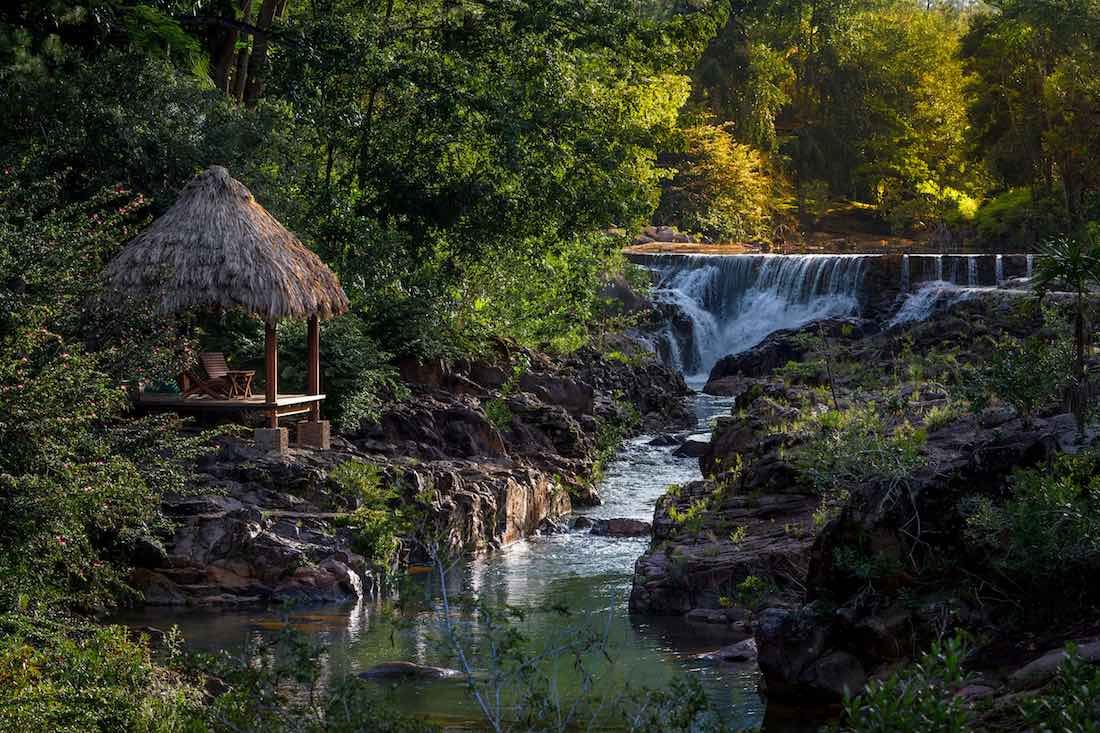 Blancaneaux Lodge Location
Blancaneaux Lodge is located in the northwest corner of the 107,000-acre Mountain Pine Ridge Forest Reserve, in the pine covered highlands of western Belize.
Perched on the banks of Privassion Creek, Blancaneaux is ringed with oaks, tropical pines, palmetto, craboo, and ancient melastome shrubs.
"Experience teaches wisdom."
Belizean Proverb
Beyond Mountain Pine Ridge, a network of 14 protected areas combine to form the 1.2 million acre Maya Mountain Massif.
The 13,000-acre Noj Kaax Meen Elijio Panti National Park sits just a few miles from the lodge. Chiquibul National Park and the Caracol Archaeological Reserve are also well within reach.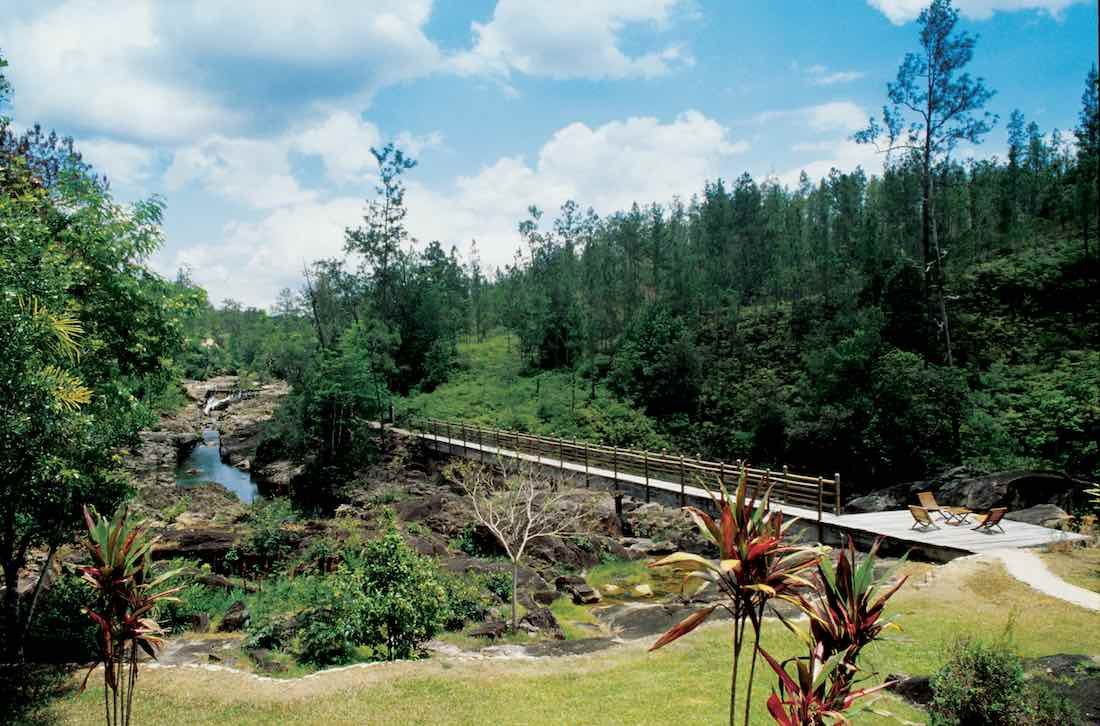 Blancaneaux Lodge Accommodations
Blancaneaux Lodge offers several categories of accommodation:
Garden View Cabañas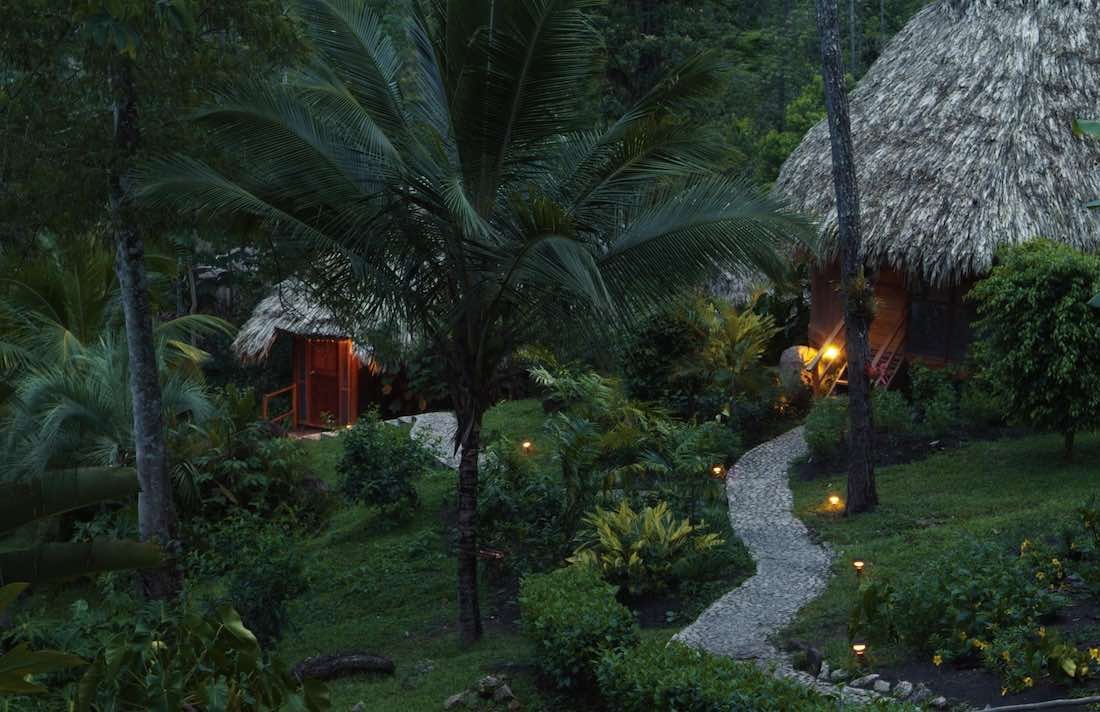 Nestled in the Blancaneaux Lodge gardens, Garden View Cabañas are decorated with native arts and antiques.
These cabanas features a queen bed, private bath, and screened-in porch with hammock.
Honeymoon Cabaña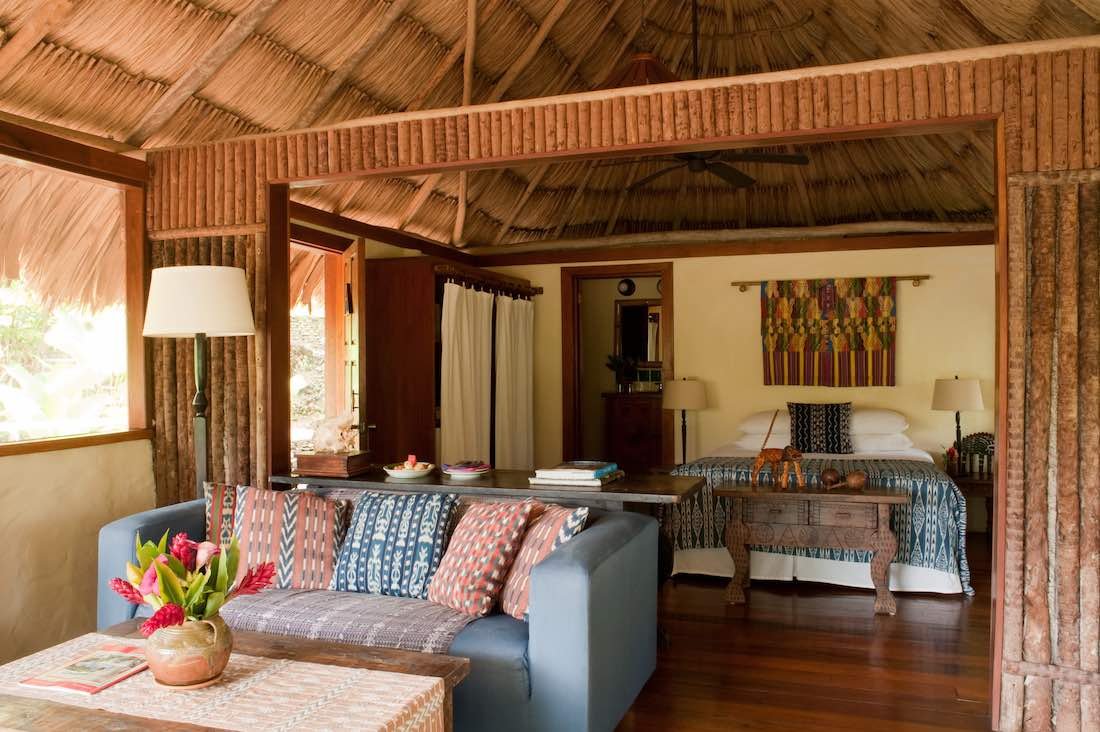 Perched over Privassion Creek waterfall, this Blancaneaux cabana is a good choice for a romantic Belize honeymoon. 
The Honeymoon Cabana features a large private deck overlooking the falls, with attached stairs leading down to a separate deck with private lounge chairs.
Adorned with Guatemalan décor, this cabana has a queen bed, private bath, ceiling fan, and sofa.
Riverfront Cabañas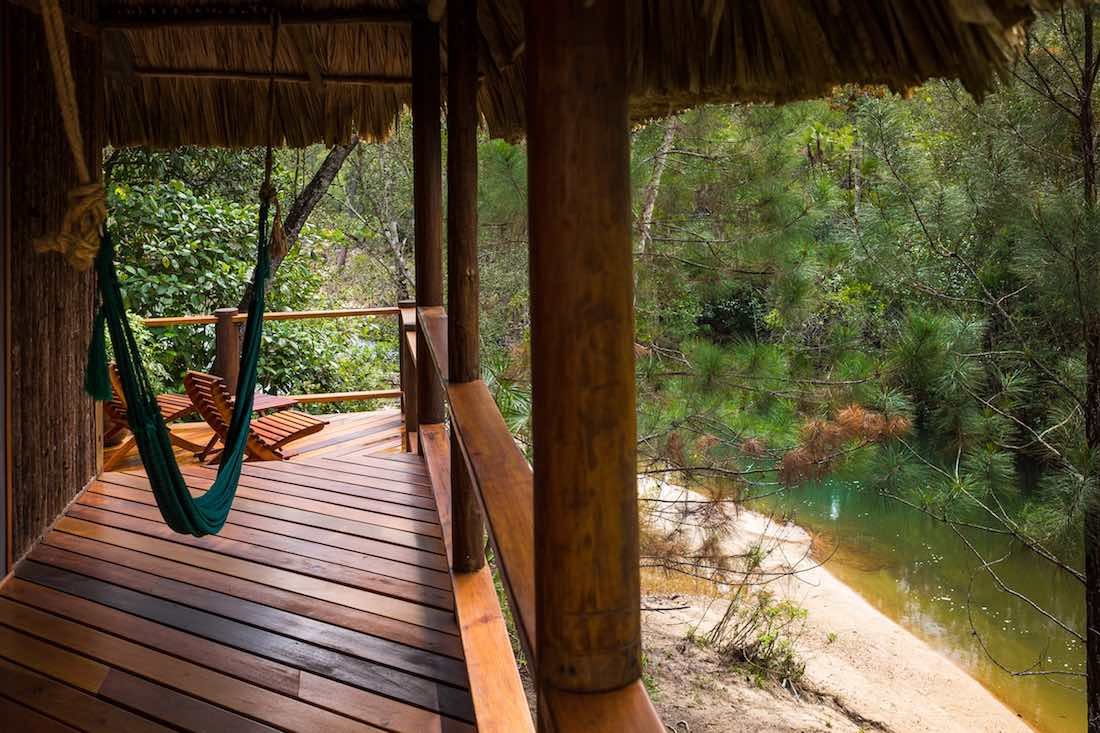 All Riverfront Cabañas at Blancaneaux Lodge feature a deck overlooking the Privassion Creek, complete with lounge chairs and hammock.
Each is accented with native art and local textiles. Riverfront Cabanas are equipped with a queen bed, sofa, ceiling fan, and hand-painted tile bathroom.
Luxury Cabañas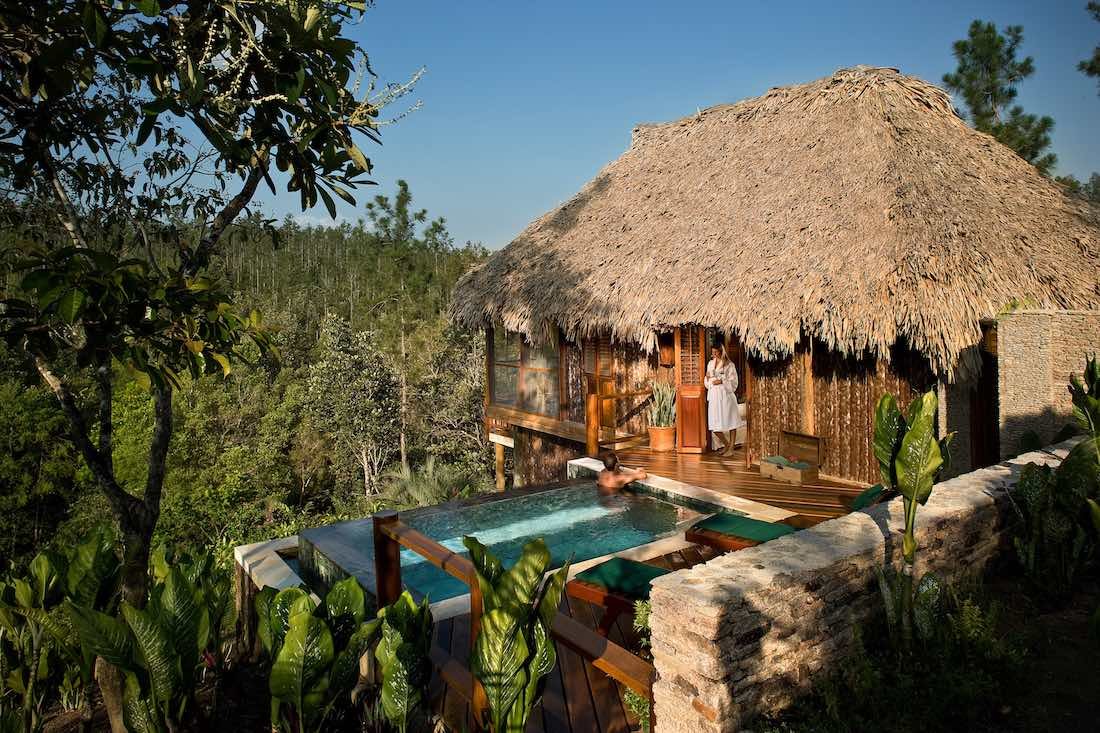 Built in early 2008, the two Luxury Cabanas at Blancaneaux Lodge are located at the far eastern end of the property, overlooking Privassion Creek. Each features a private plunge pool, king bed, Guatemalan décor, private bath and a second outdoor shower.
Family Cabaña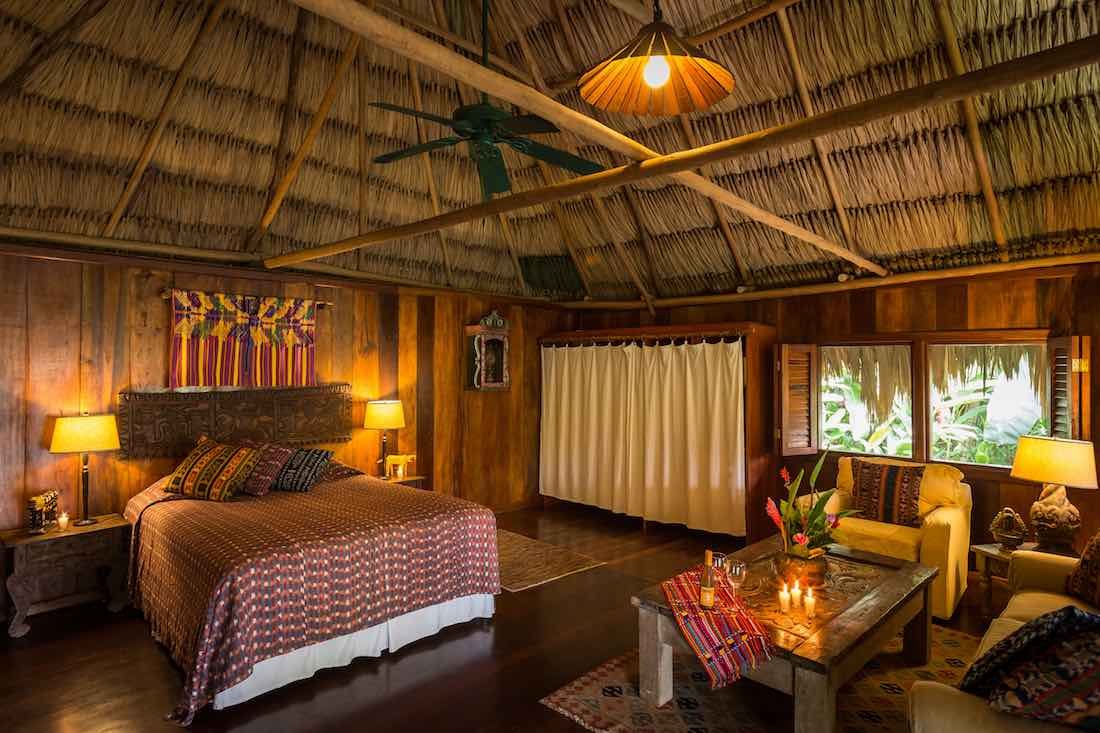 The Family Cabana is a great choice for guests of Blancaneux requiring a little more space.
This cabana includes a private bath, queen bed, twin bed, and sleeper sofa. Its large, screened-in porch overlooks the lodge garden, equopped with a hammock and lounge chairs.
Two-Room Villas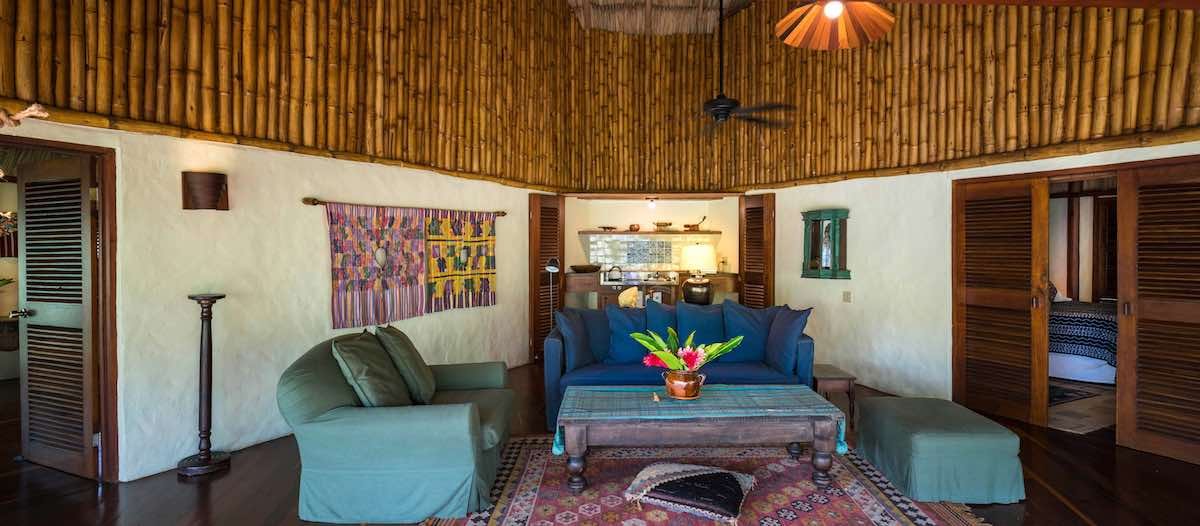 The Two-Room Villas at Blancaneaux Lodge are best suited to families or couples traveling together.
These 1,600 square foot villas each feature an open-air living room with a small attached kitchen. On either side of the living room sits a bedroom with a private bath and queen bed.
Both Two-Room Villas also include a private covered deck with chairs and a hammock overlooking Privassion Creek.
Francis Ford Coppola's Villa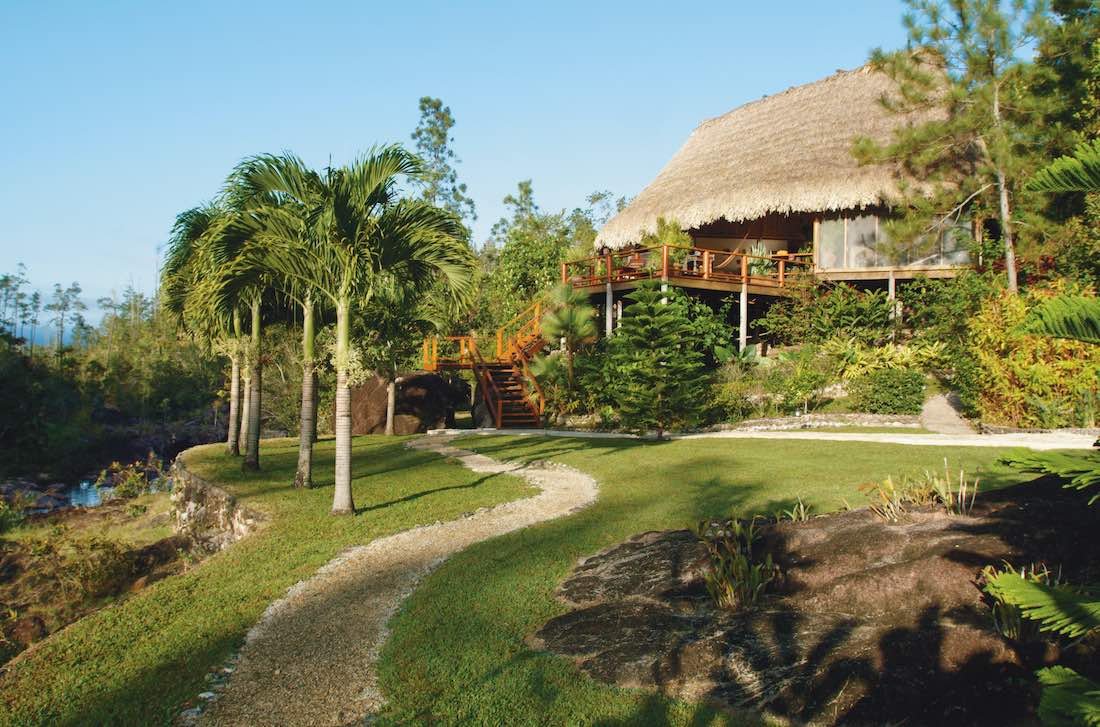 Francis Ford Coppola's Villa features an elevated open-plan living area, private plunge pool, and hardwood sun deck; ringed by a lush tropical garden.
This Blancaneaux villa also features a small kitchen with an Illy espresso machine, refrigerator, and wet bar. A hand-carved antique dining table with seating for fourteen overlooks the tumbling waterfalls and deep rock pools of Privassion Creek.
Each of its two bedrooms has a private bathroom, equipped with a hand-painted tile shower and Japanese-style tub.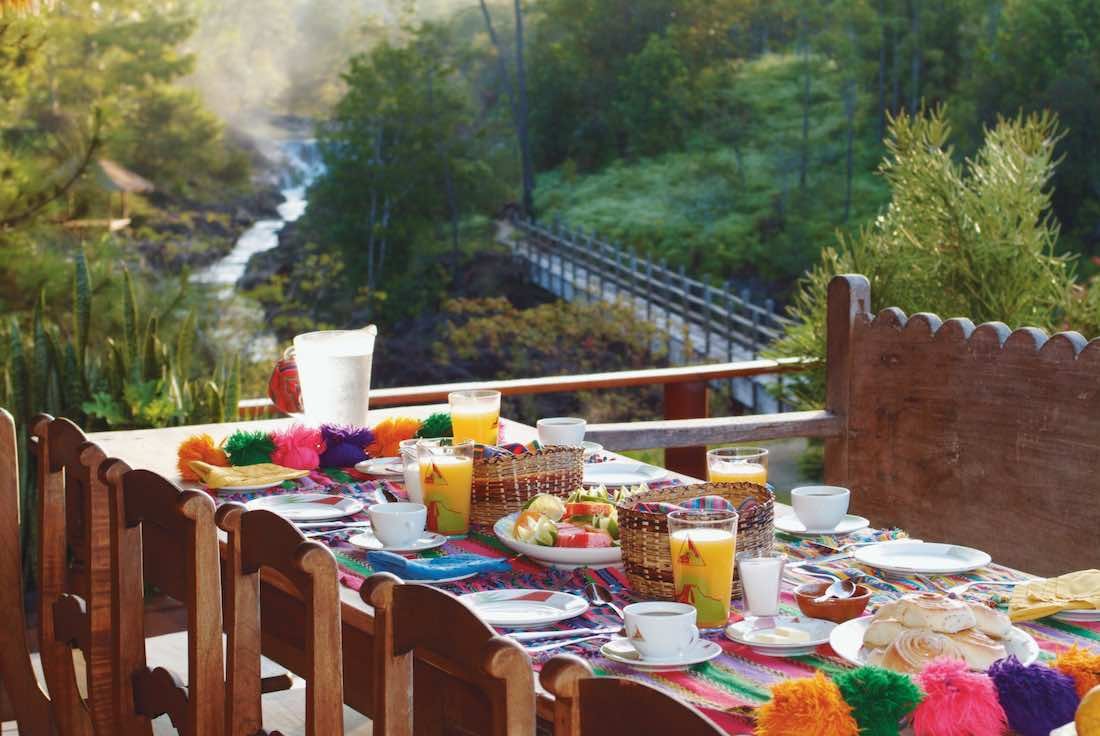 The decor of this villa combines regional antiques, Guatemalan textiles, artisanal masks, and hand-carved figurines, along with Mr. Coppola's art, family photos, and antiques.
In-room amenities include monogrammed bathrobes, wine glasses, organic bath products, and goose down or hypo-allergenic pillows.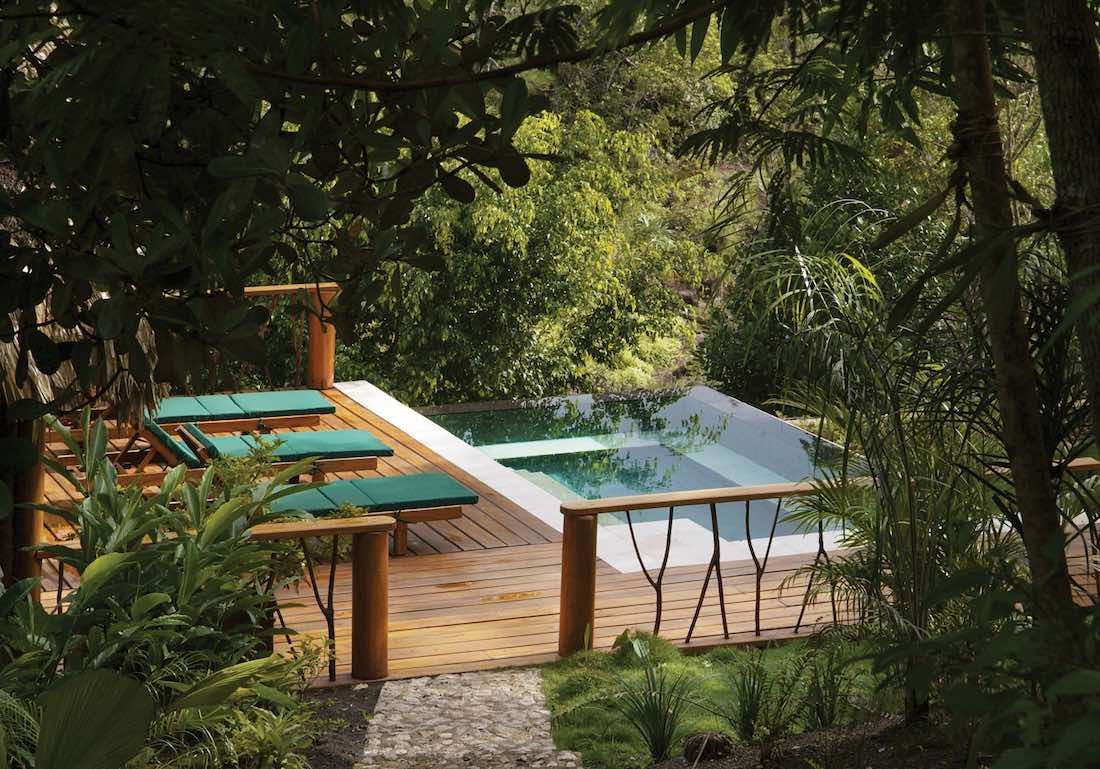 Guests at the Francis Ford Coppola Villa have access to a full-time attendant, who can be reached via a walkie-talkie radio system.
Blancaneaux Lodge Enchanted Cottage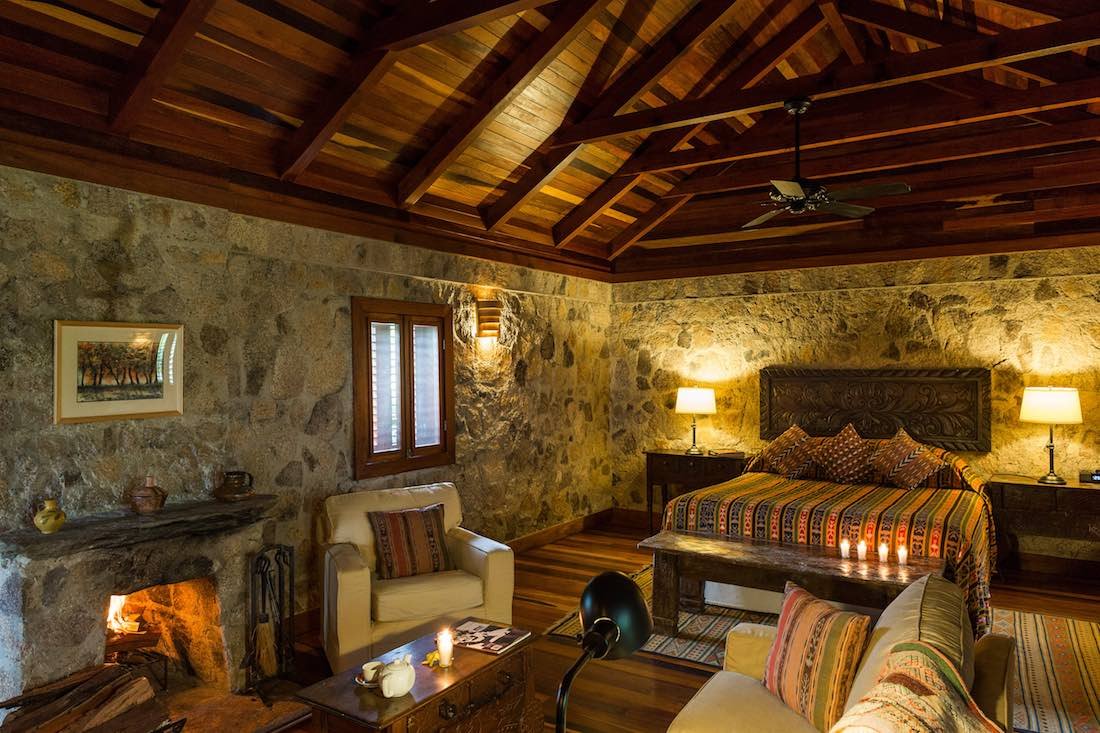 The secluded Enchanted Cottage at Blancaneaux Lodge cottage sits atop a steep forested bluff, offering panoramic views of Privassion Creek and the distant Maya Mountains.
The bedroom is furnished with a king bed, writing desk, and fireplace. Its master bath features underfloor heating, fireplace, shower, Japanese-style tub, and steam room.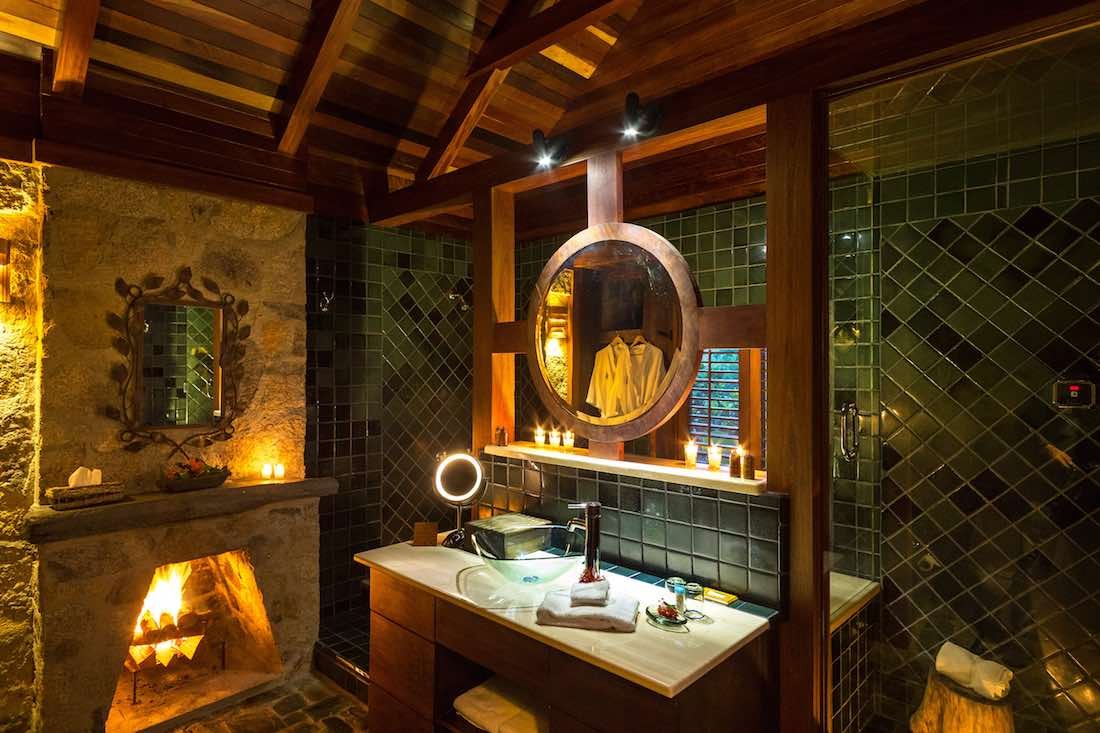 This option also features a second half-bath in its entryway and a kitchen with a wine cooler, Illy espresso machine, breakfast bar, and a heated slate floor.
Adjacent to the kitchen sits a day room with a sofa bed, coffee table, and armchair. Screened doors open onto a hardwood deck, complete with an infinity pool and lounge chairs.
The cottage also includes a full-time attendant to light fires, cook breakfast, prepare cocktails, and anticipate your every need.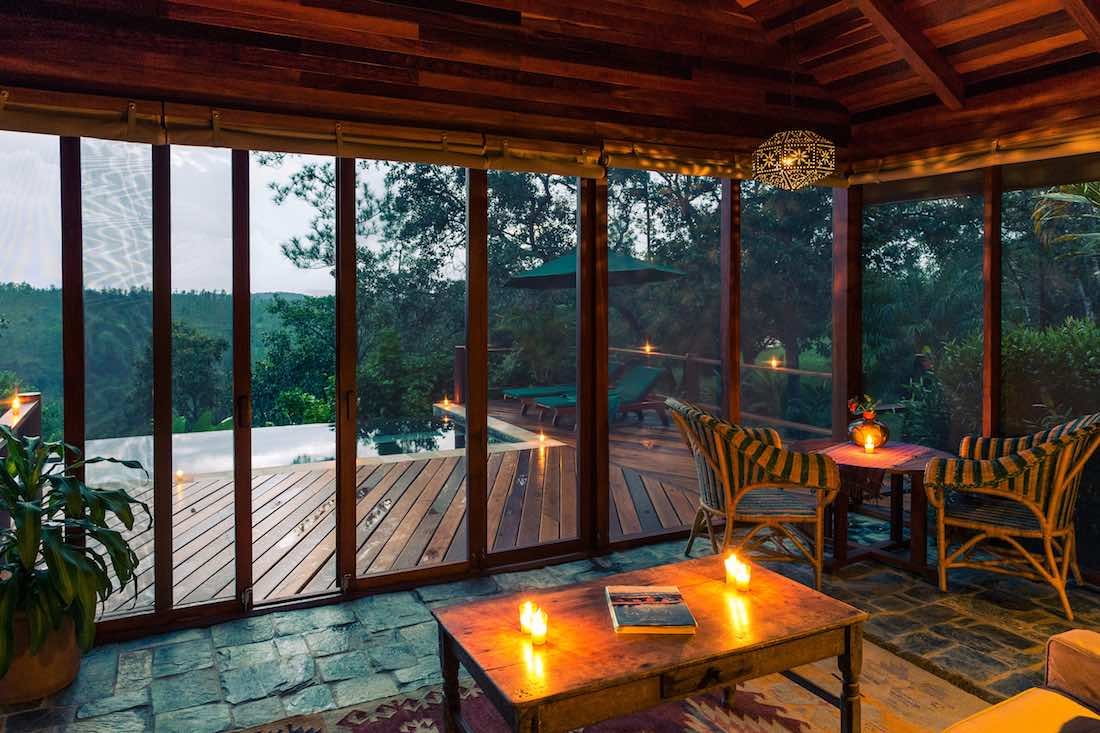 The Waterfall Spa
Set on the banks of Privassion Creek, the Blancaneaux Lodge Waterfall Spa offers a variety of skin treatments, wraps, and massages, as well as access to a rejuvenating hot pool overlooking cascading waterfalls.
This spa was built to provide sustainable eco-luxury in an elegant setting. The hot pool is heated by hydroelectricity, spa treatments use locally sourced organic ingredients, and the spa layout captures natural light.
Spa staff members are trained in Thai massage.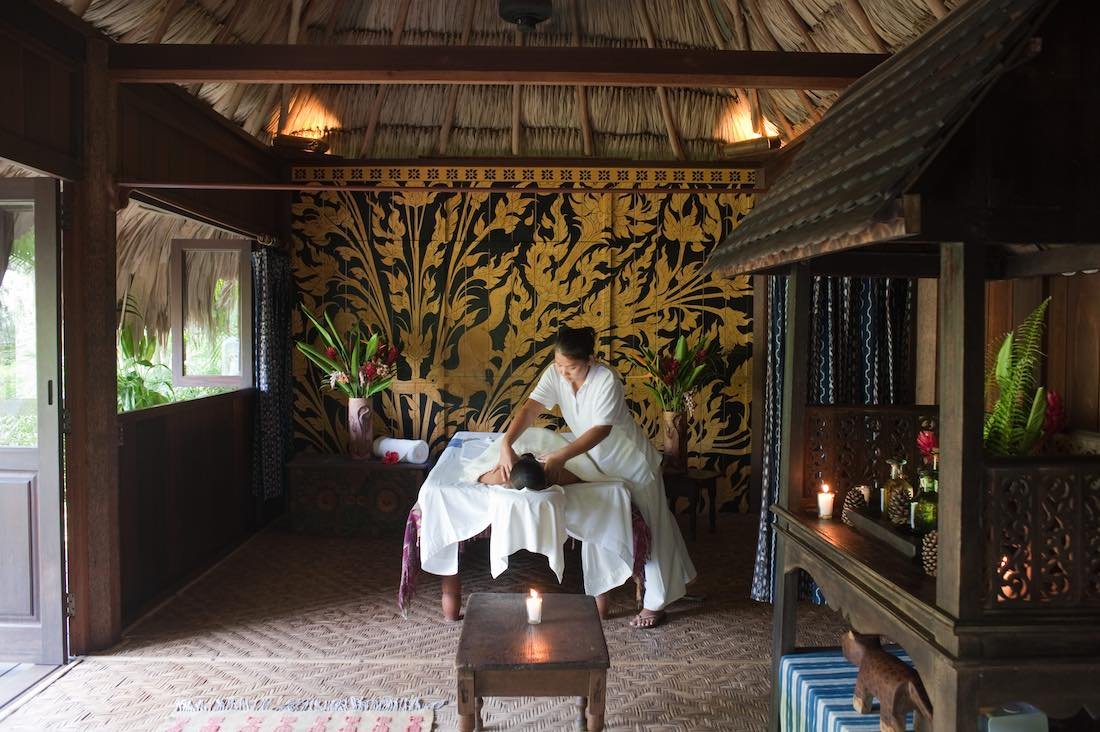 Horseback Tours and Active Adventure
The on-property horse stables at Blancaneaux Lodge offers excursions for riders of all skill levels. Stable staff match each rider with the most suitable horse to ensure comfort and safety. Riding helmets are available upon request.

Many of the horses were born at Blancaneaux and named by young guests; some of these sturdy mounts have names like Barbie, Muffin, and Sponge Bob.
Other available activity options at Blancaneaux include hiking, trekking, mountain biking, swimming, and birding.  A riverside trail reaches Big Rock Falls in about an hour.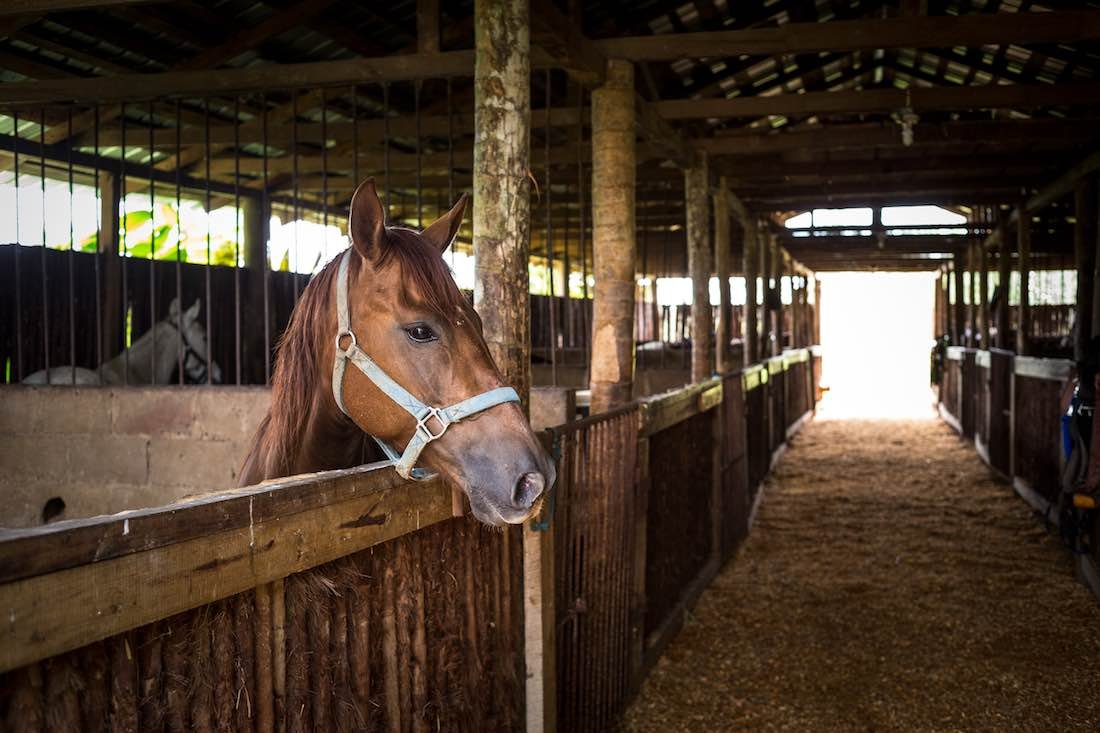 Natural Pools
Over a thousand streams begin their journey in the Mountain Pine Ridge Forest Reserve.
Lined with granite boulders, sandy beaches, and waterfalls, Privassion Creek has some of the best natural swimming holes in Belize.
Guests of Blancaneaux can swim in the deep, cool pools close to the lodge or discover other hidden rock pools on the journey to Big Rock Falls, accessed by a riverside trail.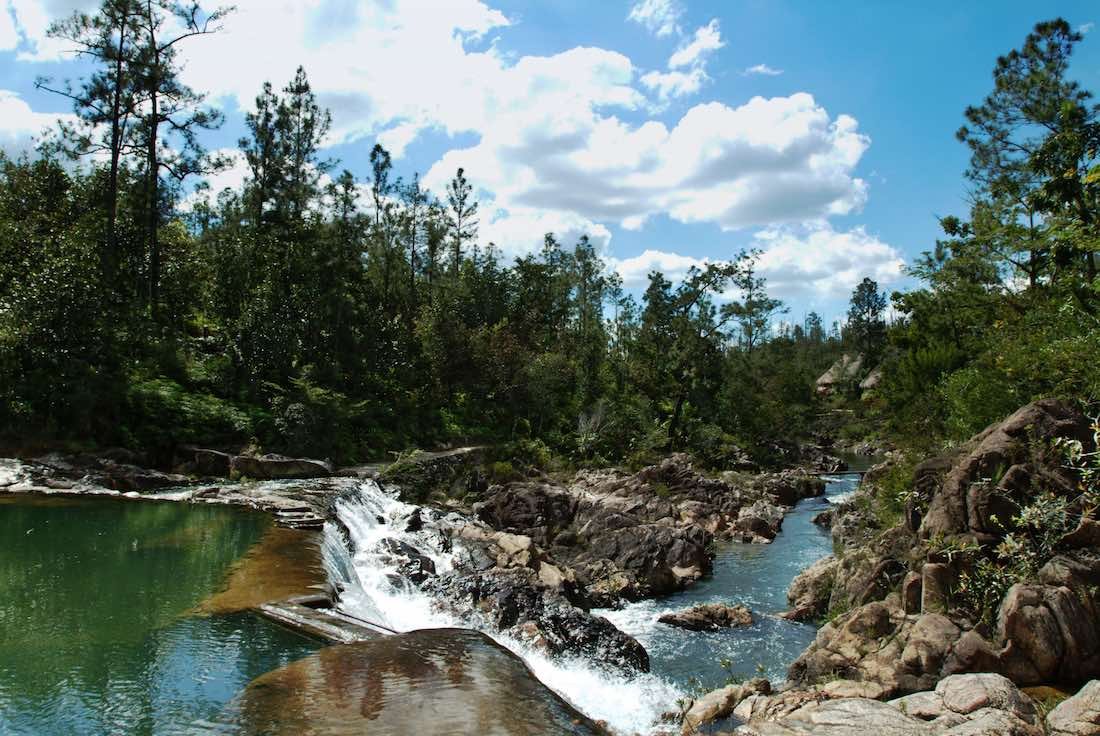 Blancaneaux Organic Garden
The gardening staff grows all the organic vegetables and many of the fruits used in meals served at the lodge.
For those interested an immersive dining experience, Blancaneaux Lodge invites guests for a bi-weekly family dinner in the garden restaurant.
After a welcome cocktail and tour led by the head gardener, participants head to the communal table for a three-course meal, featuring ingredients picked fresh from the garden that day.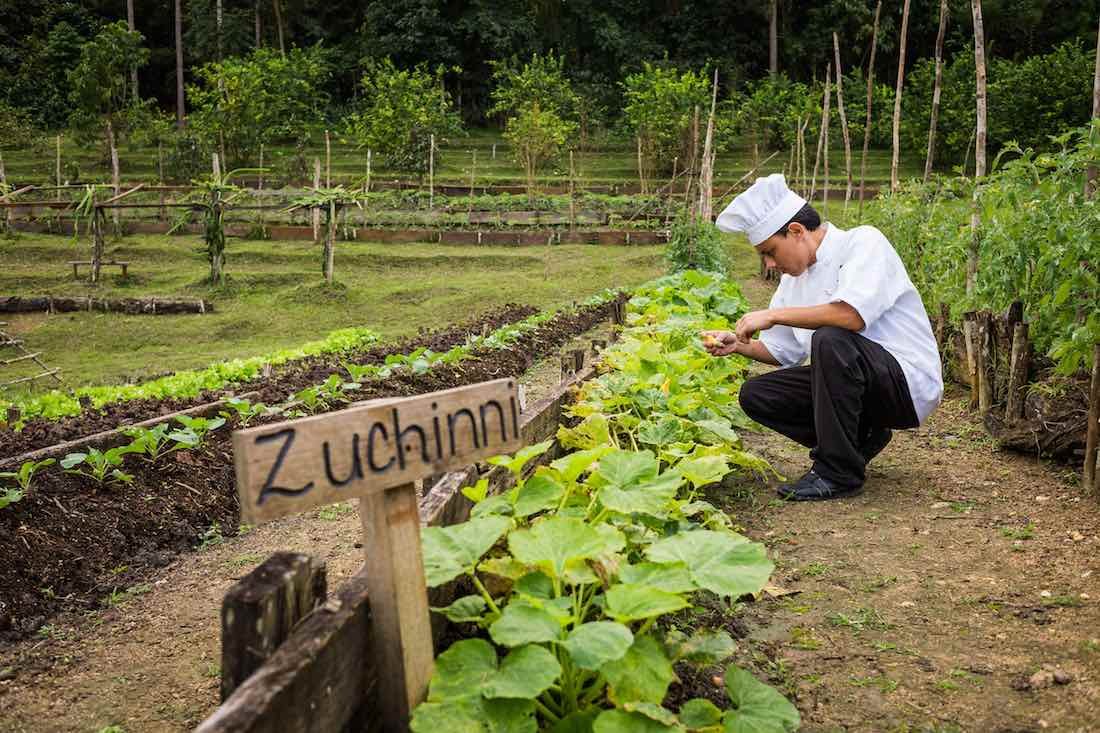 Blancaneaux Restaurants
Montagna Ristorante- This Blancaneaux restaurant serves traditional Italian dishes with a special focus on Coppola family recipes. Menu items include pastas, fresh fish, and braised or grilled local meats; all prepared with herbs and vegetables from the organic garden. Montagna also serves made-to-order pizza, cooked in an authentic brick oven.
Guatemalteca Restaurant- A poolside restaurant specializing in traditional Guatemalan cuisine. Menu highlights include Salpicon, shredded beef salad flavored with sour orange and cilantro; Jocon, chicken cooked with green herbs and spices; and Rellenitos, a dessert consisting of plantains filled with sweetened black beans.
Jaguar Bar– The lodge bar featuring ceiling fans from the set of Apocalypse Now, framed photos of archaeological digs, antique furnishings, and a hand-carved slate bar.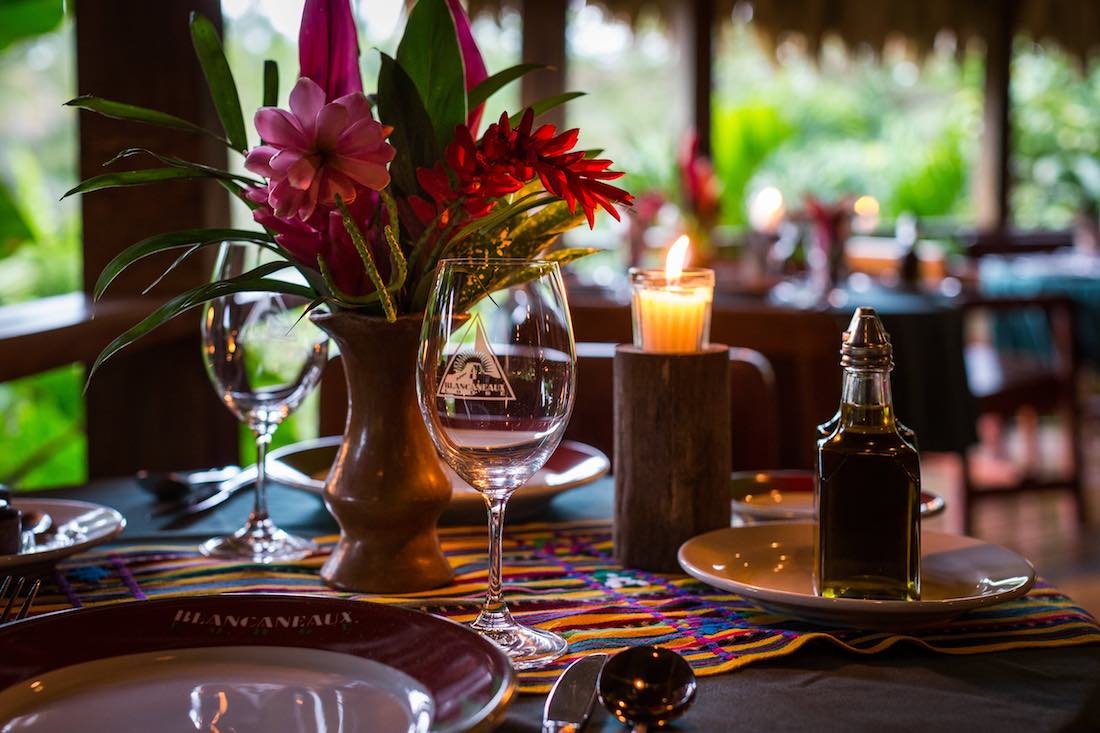 Considering a stay a Blancaneaux Lodge? LANDED provides personalized, custom travel to Belize and throughout Central America, South America, and the Antarctic. We'll create a unique itinerary plan tailored to your interests and dreams. Experience the trip of a lifetime. Speak with one of our expert travel planners today at 801.582.2100.