Cassa Zenda is a 4 suite private villa, ideally located in the Rio Dulce lake, perfect to accommodate up to 16 guests comfortably plus 4 extra service crew guests.
Zenda means "sacred and beautiful" and as it's name suggests this private property is brimming with natural beauty and soulfulness in its design and architecture with the simplicity of natural rustic elements.
This vacation rental villa is fully staffed with Concierge & House Manager, House Butler (fluent in English), Professional Chef, Sous-chef, Waiter, Housekeeping Maids, Masseuse and Yacht Captain.
Accommodations
All 4 Bungalow bedrooms are palm-thatched roofed, and decorated with rustic, hand-crafted furniture and textiles.
The two spacious master suites feature front sitting lounges, nature showers and en-suite bathrooms with additional shower, two balconies and a mezzanine bedroom on the second floor with a queen bed.
The two guest suites feature an en-suite bathroom and a front side sitting lounge.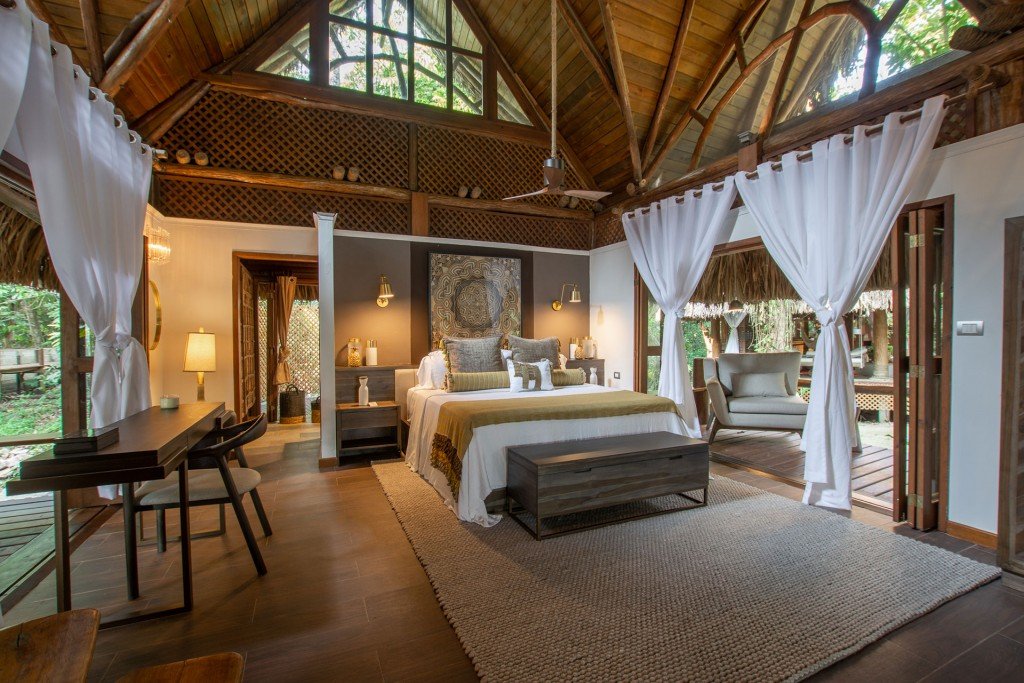 Amenities
Cassa Zenda is fully staffed and has all three necessary private entry access, a dock, helipad, and a gated terrain entrance.
It also offers a fully equipped kitchen, dining terrace, three social living rooms with fully equipped bars, a dock with water sport amenities, two wave runners, Jet ski, Nautique ski boat and 38 foot Yacht , jacuzzi beneath the moonlit sky and a saltwater pool fading into Rio dulce´s horizon. All of this makes Cassa Zenda the perfect retreat for a family or group destination getaway.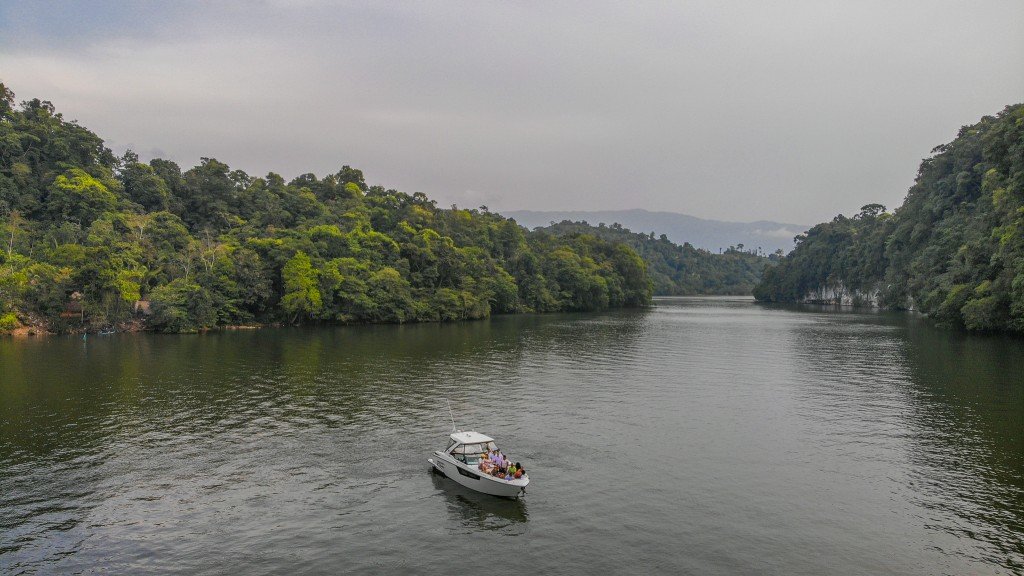 Rio Dulce connects Lake Izabal, Guatemala's largest lake, with the town of Livingston. The lake is known for its silk felt water which temperature has been said to be costumed made. Enjoy Cassa Zendas's tailor made tours, designed by expert guides to explore Guatemala's sites and beauty.
Cruise along the Rio Dulce in the Izabal district of Guatemala by sailboat, kayak or motorboat. Whichever way you tour "Rio Dulce," enjoy the view of gorges, canyons, tropical vegetation, and abundant wildlife.
ARE YOU CONSIDERING A STAY AT cassa zenda? LANDED PROVIDES PERSONALIZED, CUSTOM TRAVEL WITHIN CENTRAL AMERICA, SOUTH AMERICA, AND THE ANTARCTIC. WE'LL CREATE A UNIQUE ITINERARY PLAN TAILORED TO YOUR INTERESTS AND DREAMS. EXPERIENCE THE TRIP OF A LIFETIME. SPEAK WITH ONE OF OUR EXPERT TRAVEL PLANNERS TODAY AT 801.582.2100.