Cavas Wine Lodge was the first of its kind in the Mendoza region: a luxury hotel set among the region's famed vineyards and wineries. In 2003, Cecilia Diaz Chuit and her husband Martin Rigal selected the hotel's location from dozens of options.
Their efforts created a tranquil, 55-acre retreat in the heart of Lujan de Cuyo—a bullseye location surrounded by Mendoza's most noteworthy winemakers–names such as Catena Zapata, Vina Cobos, Achaval Ferrer, Caelum, and Mendel.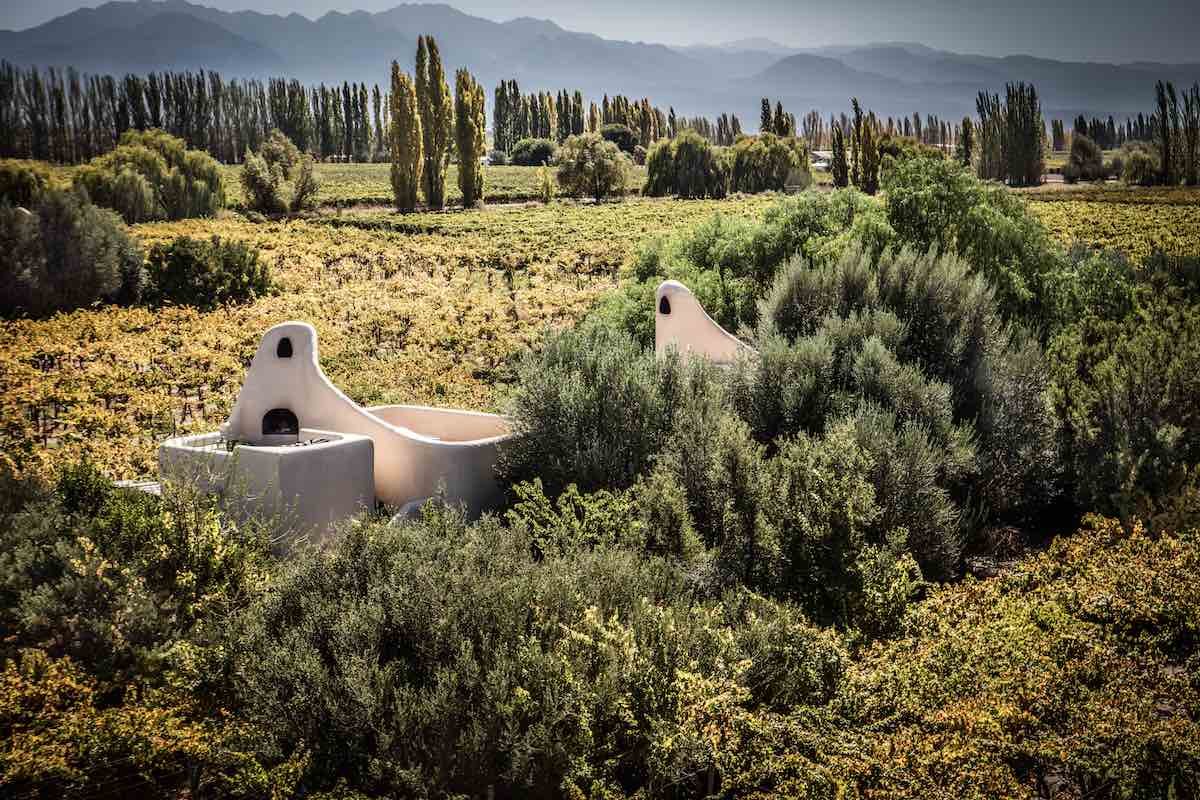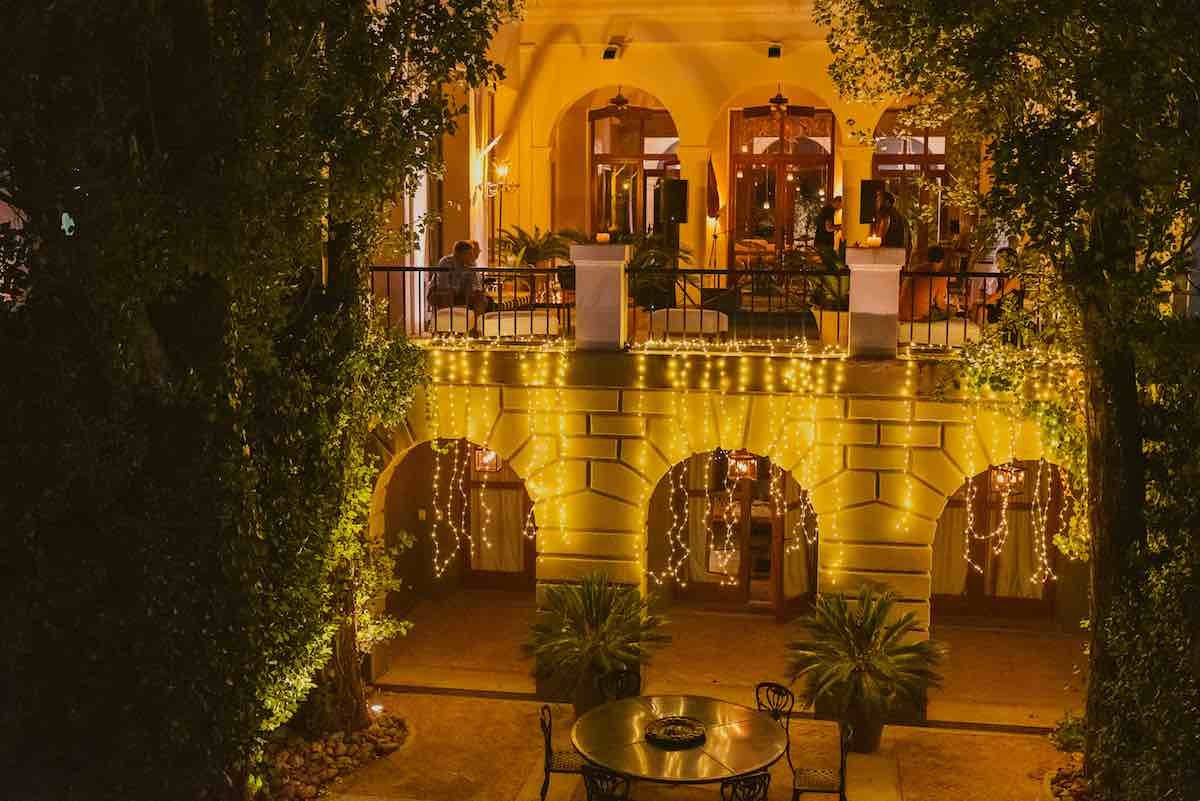 Cavas Wine Lodge is a member of the Relais & Chateaux family of boutique hotels.
Food is a priority; the lunch menu is updated seasonally and the dinner menu is changed each night. Meals feature organic locally-sourced meats and produce.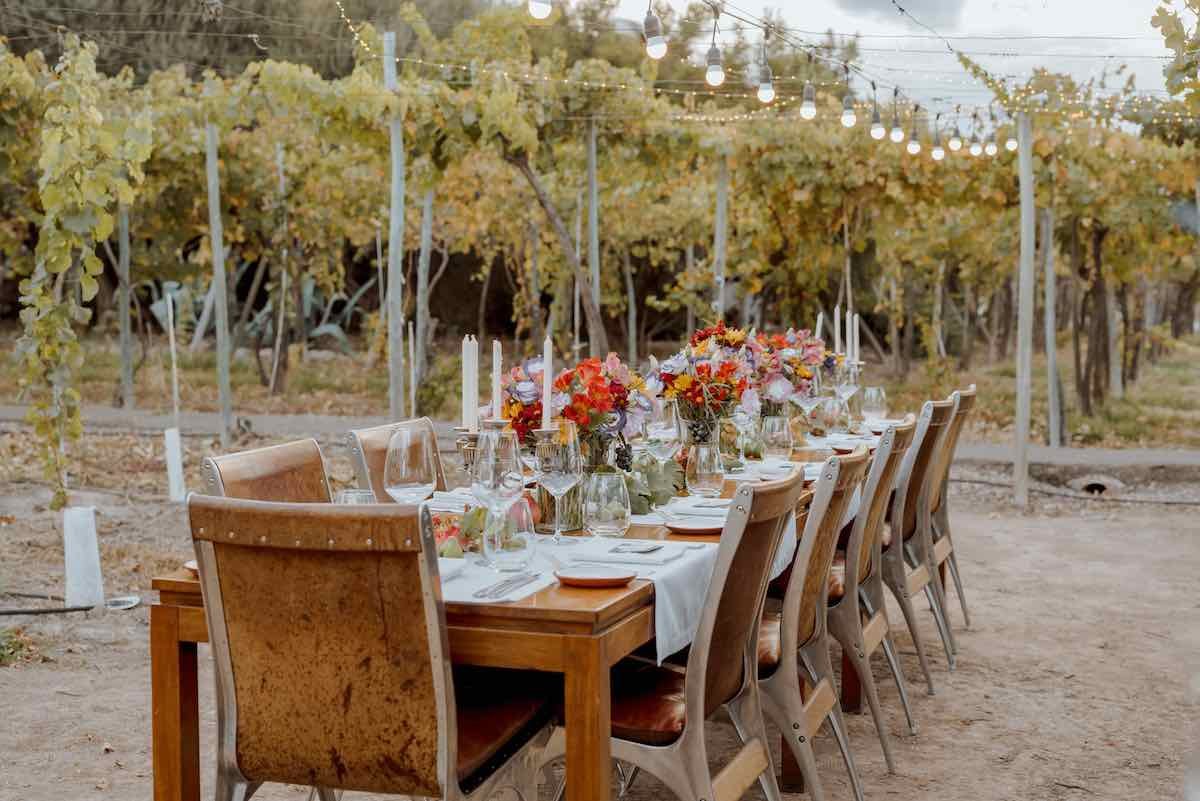 Accommodations 
Each of the 18 guest rooms and villas is furnished with a private plunge pool, fireplace, bathtub, deck or patio, and air conditioning.
The rooms are arrayed in the vineyard so that each has a view of the Andes Mountains.
In-room amenities include: luxury linens, security box, hair dyer, robes, slippers, and Wi-Fi.
Because Cavas Wine Lodge is focused on wine, fine dining, and active outdoor pursuits, the lodge is primarily a couples retreat. The minimum age for guests 12-years-old. (Exceptions are possible; please contact LANDED for details.)
---
Grand Villa:
Ideal for couples and families with children 12 and older. The villa measures 3,500 square feet, and features two full bedroom suites, one room with a king bed, and one with king or two twins.
It is equipped with a 700 square foot living room with fireplace, pullout sofa, pantry, fridge, outdoor dining facilites, private shower garden, jacuzzi and plunge pool.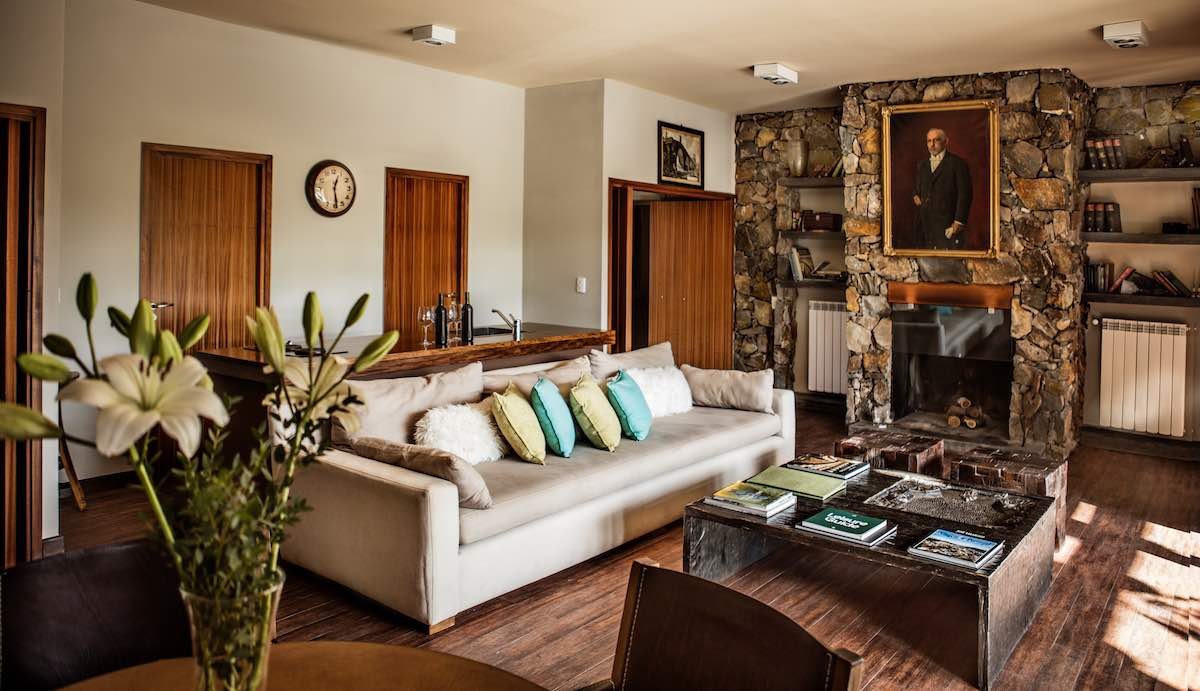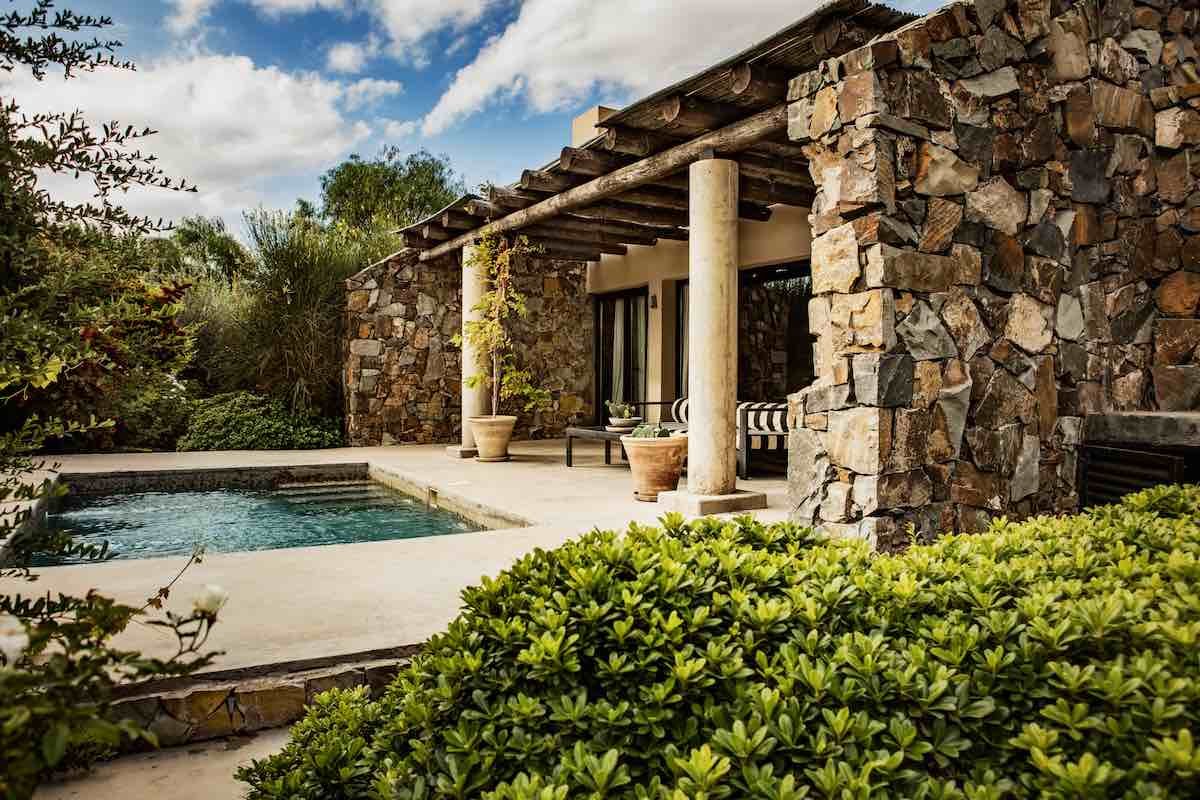 ---
One-Bedroom Villa:
This 2,800 square foot villa features inside and outside living space, views of the Andes and a private terrace.
It also includes at outdoor hote tub and private pool, jet shower, a private outdoor shower, and private patio.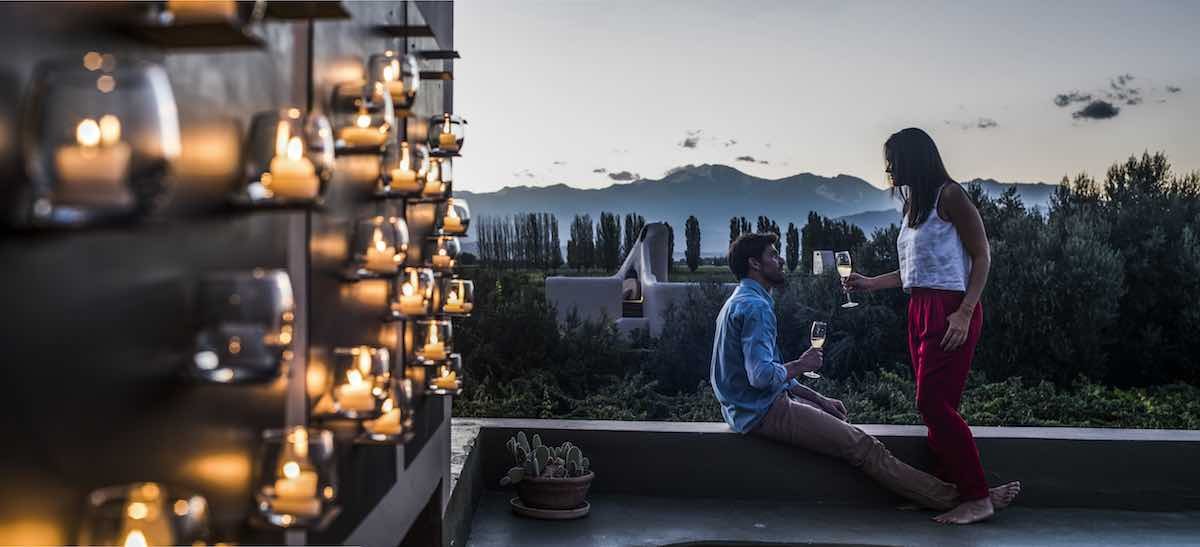 ---
Vineyard Villa:
This 2,200 square foot villa features a large master bedroom, living room and inside-outside living space.
It is also equipped with a private plunge pool and outdoor hot tub, outdoor shower, and an oversized terrace with views of the Andes mountains.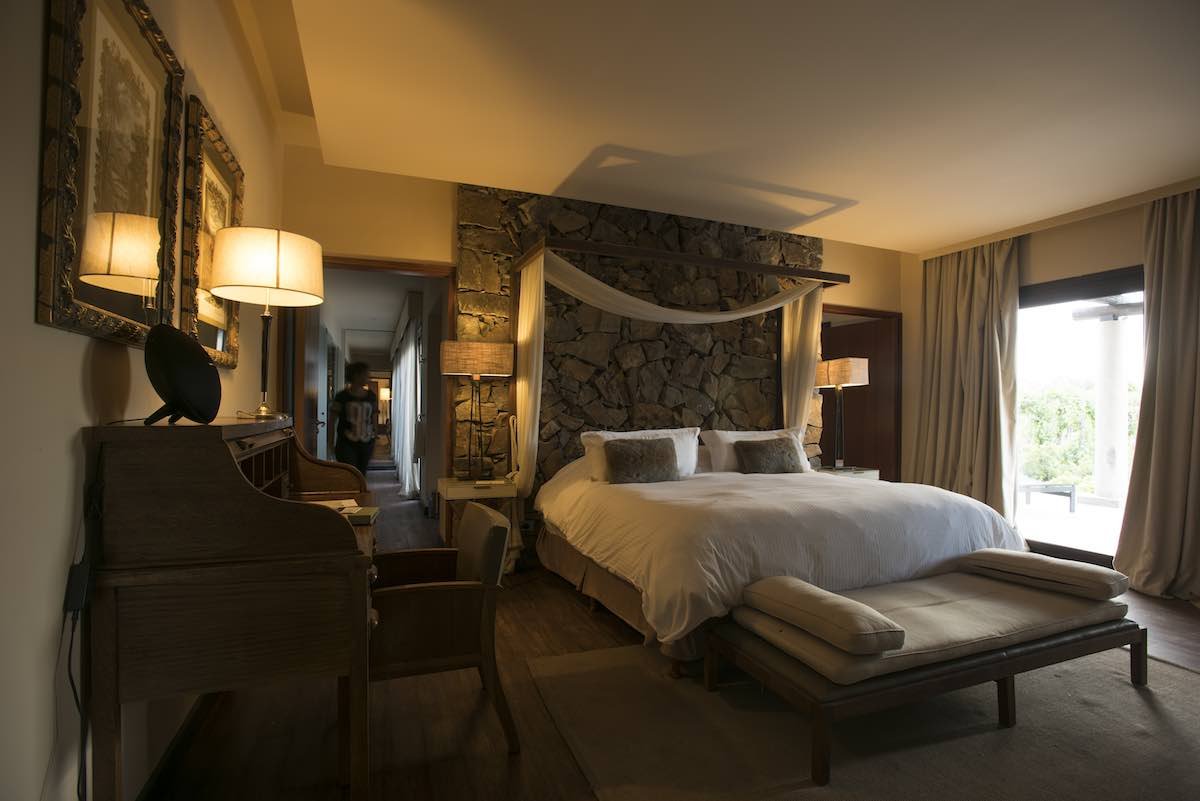 ---
Front Row Room:
This 970 square foot room features a spacious living areas, terrace, and fireplace. It also includes a deep soaker tub, indoor and outdoor shower and private plunge pool and patio.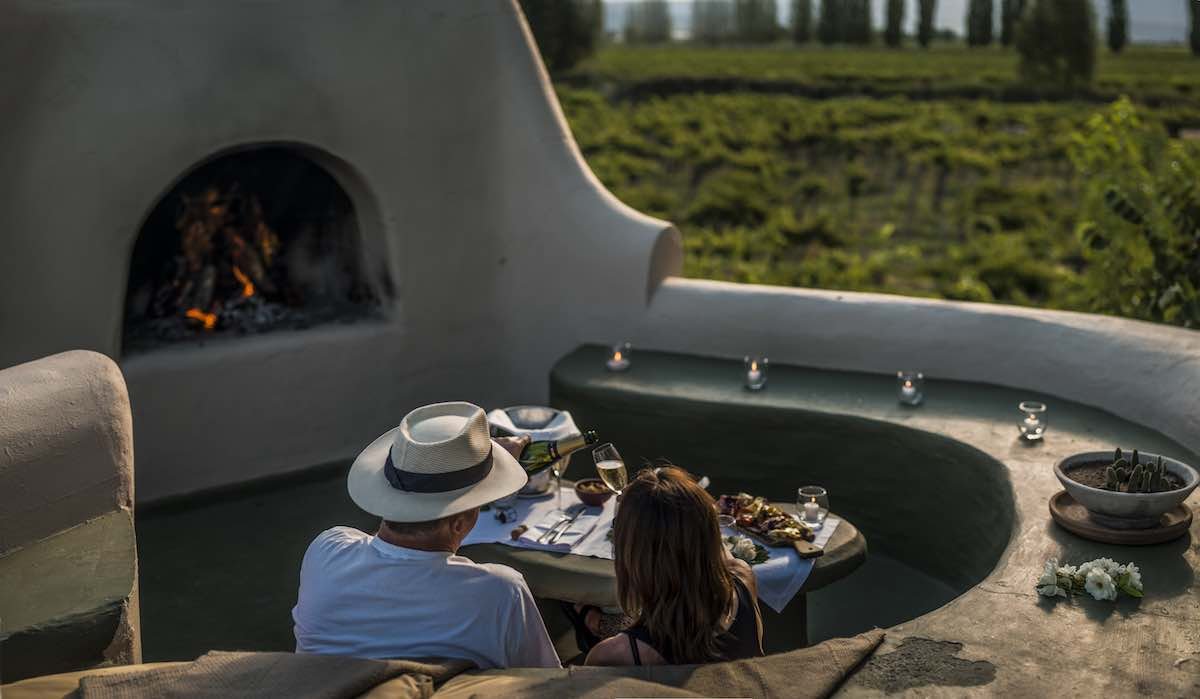 ---
Luxury Room:
This 970 square foot room features private vineyards, outdoor deck, large windows and a large living space.
It also includes a deep soaker tub, indoor and outdoor shower and private plunge pool and patio.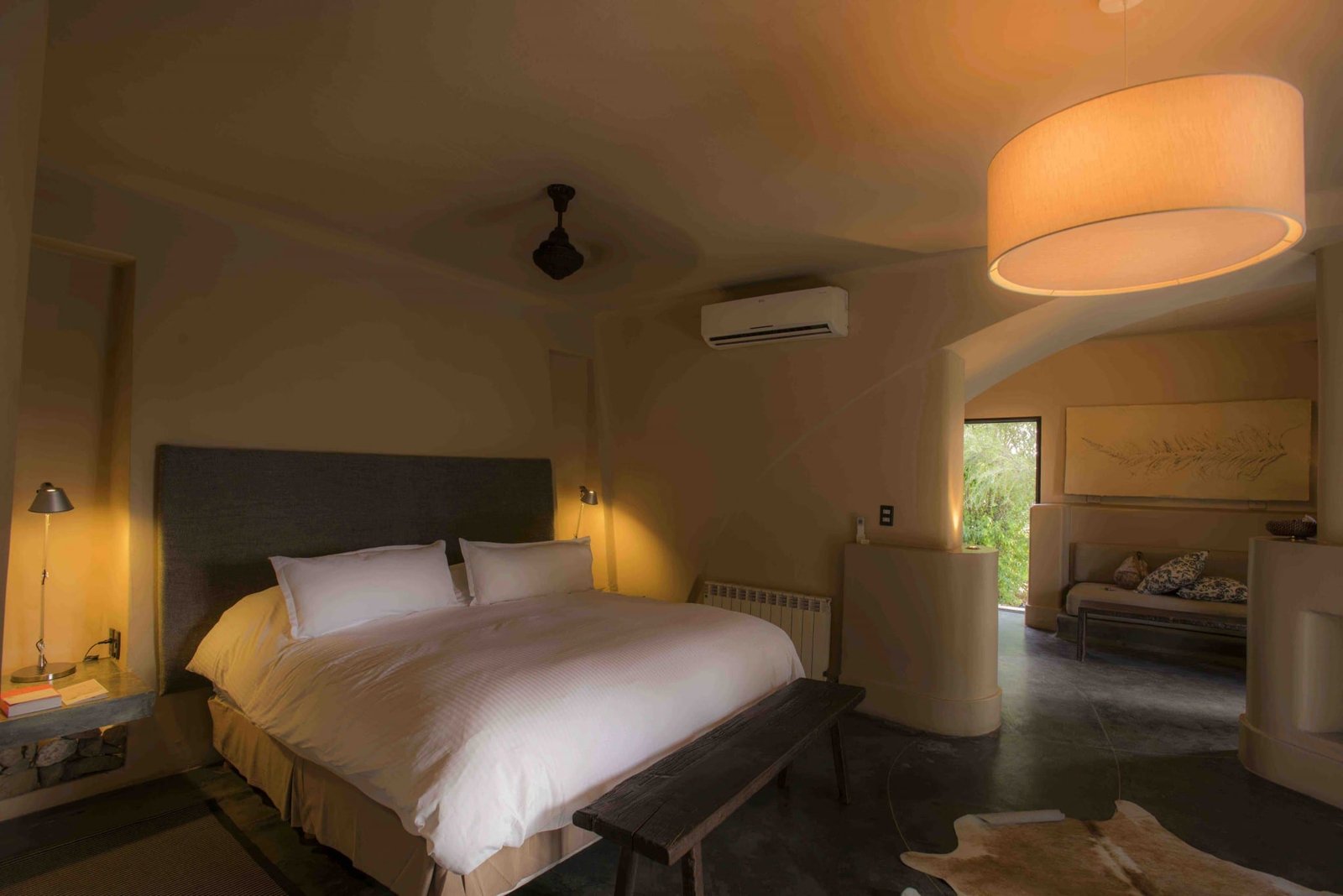 Amenities
On property, guests can enjoy the outdoor swimming pool, sundeck, spa, restaurant, wine cellar, gardens, and vineyard trails for hiking and biking.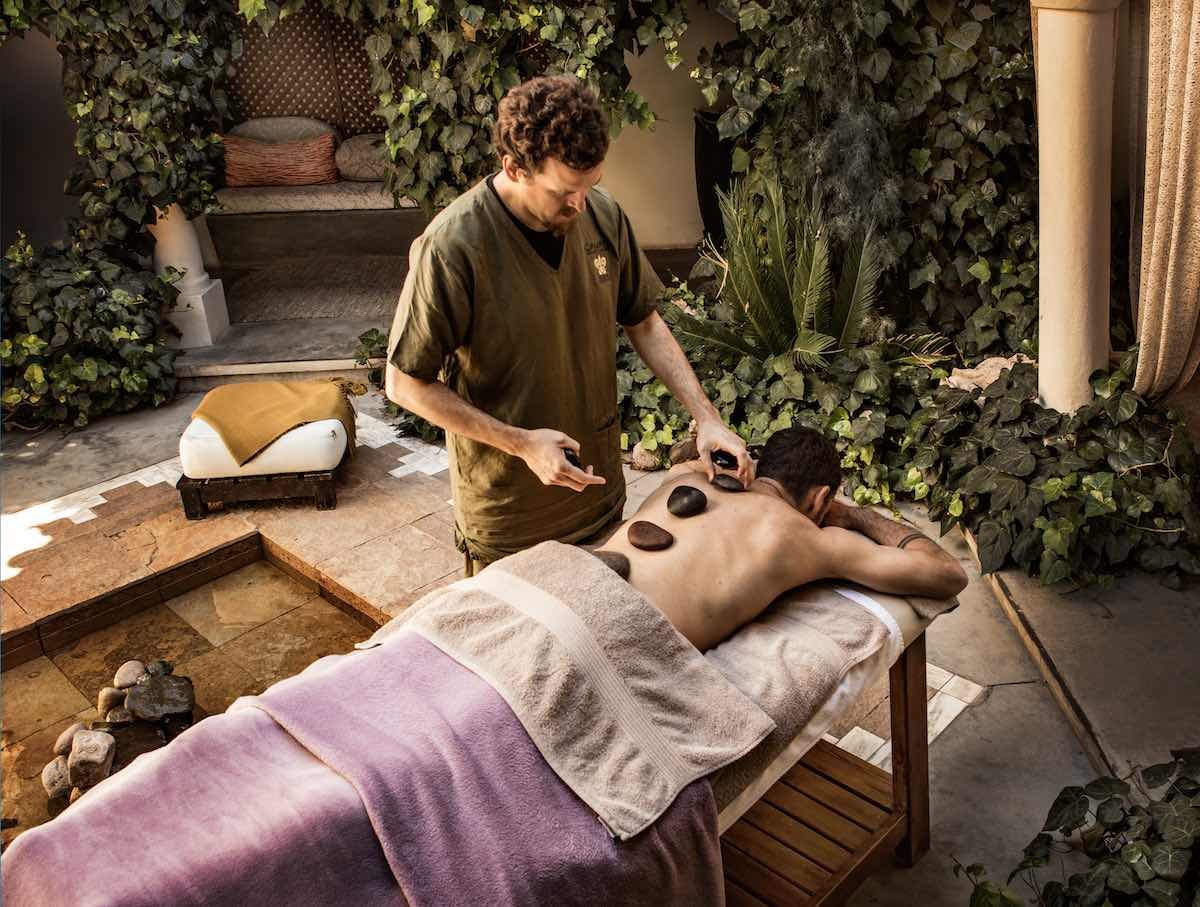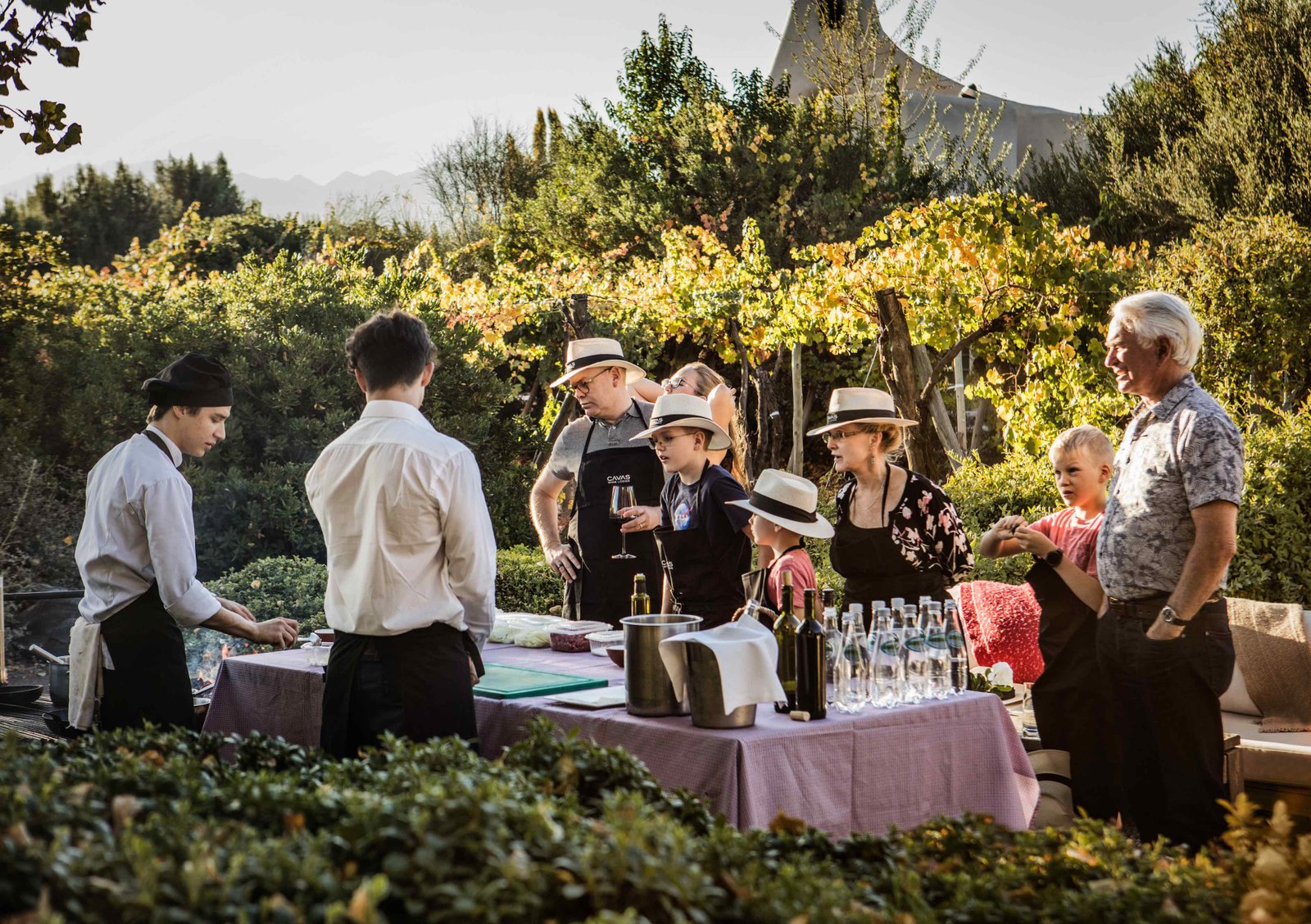 Exploring Mendoza
Just a 90-minute flight from Buenos Aires, Mendoza lies at the foothills of the Andes and boasts over 900 wineries. Some of the top wineries are within walking distance from Cavas Wine Lodge.
Other activities include horseback riding through the vineyards, hiking through the Andes, zip-lining, bike rides and river rafting.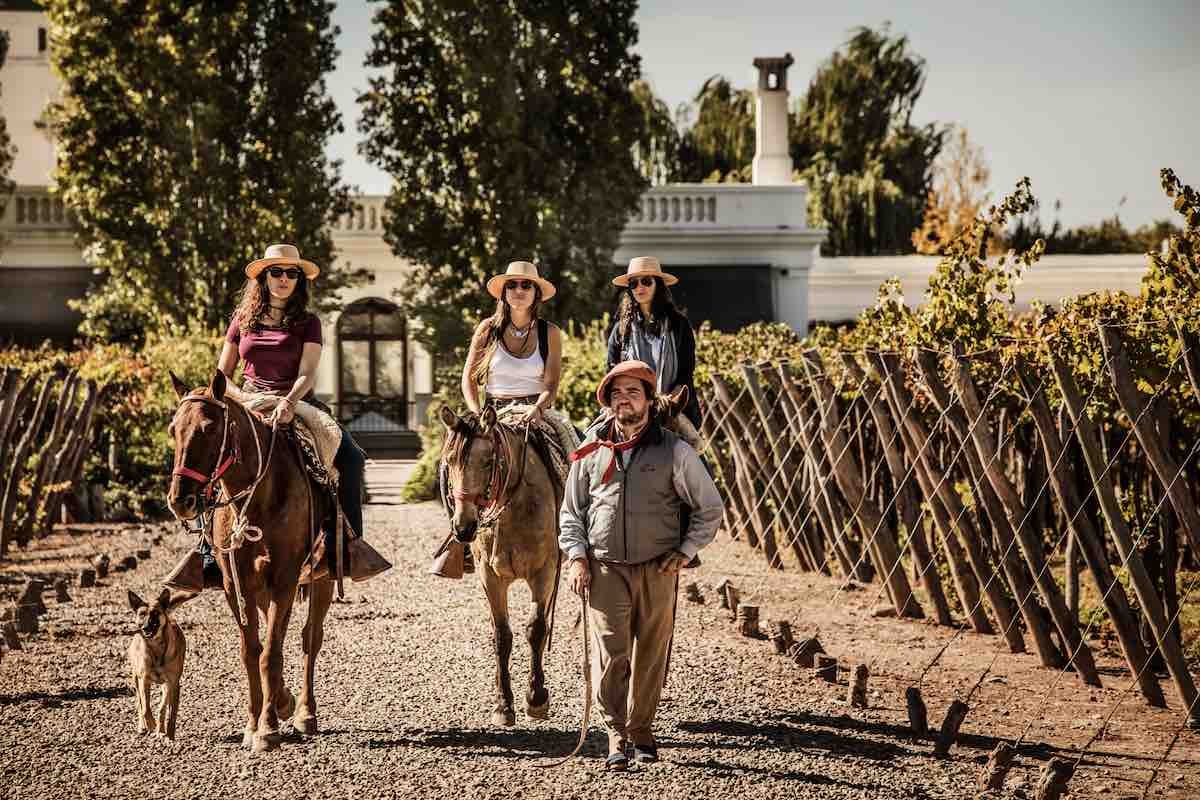 ARE YOU CONSIDERING A STAY AT CAVAS WINE LODGE? LANDED PROVIDES PERSONALIZED, CUSTOM TRAVEL WITHIN CENTRAL AMERICA, SOUTH AMERICA, AND THE ANTARCTIC. WE'LL CREATE A UNIQUE ITINERARY PLAN TAILORED TO YOUR INTERESTS AND DREAMS. EXPERIENCE THE TRIP OF A LIFETIME. SPEAK WITH ONE OF OUR EXPERT TRAVEL PLANNERS TODAY AT 801.582.2100.