Corocora Camp is Colombia's first high-end wildlife camp. The camp rests within a huge private reserve–more than 22,000 acres–within the vast rolling grasslands and wetlands known as Los Llanos. This region is celebrated for its wide-open spaces, rich cultural traditions, and abundant wildlife.
Corocora is an exclusive, tented camp designed to give travelers the opportunity to experience wildlife in Colombia without compromising comfort and service. The camp four sleeping tents are large and comfortable. Each has an en-suite bathroom. An open-air social tent serves as a lounge and dining room.
The camp rests alongside a small river, and is flanked by forests bursting with wildlife.
The Llanos region shares much of the biodiversity with the Amazon region in Colombia, but unlike the thick jungles of the Amazon Rainforest, the Llanos region is largely composed of savannahs, wetlands, and gallery forests. In this open country, wildlife is easy to spot.
Corocora Camp's private reserve is home to avian superstars such as the jabiru stork, black-collared hawk, scarlet ibis, roseate spoonbill, and the endangered Orinoco goose. The gallery forests flicker with color; expect an array of tanagers, ant-shrikes, oropendulas, parakeets, jacamars, and puffbirds. You might even catch a glimpse of the beautiful male wire-tailed manakin performing for potential mates. All told, Los Llanos are home to more than 600 avian species.
Other resident species include giant anteaters, capybaras, caimans, and white-tailed deer. Howler monkeys troop through the forest canopy. Very lucky guests can spot rare pink river dolphins, pumas, or even jaguars.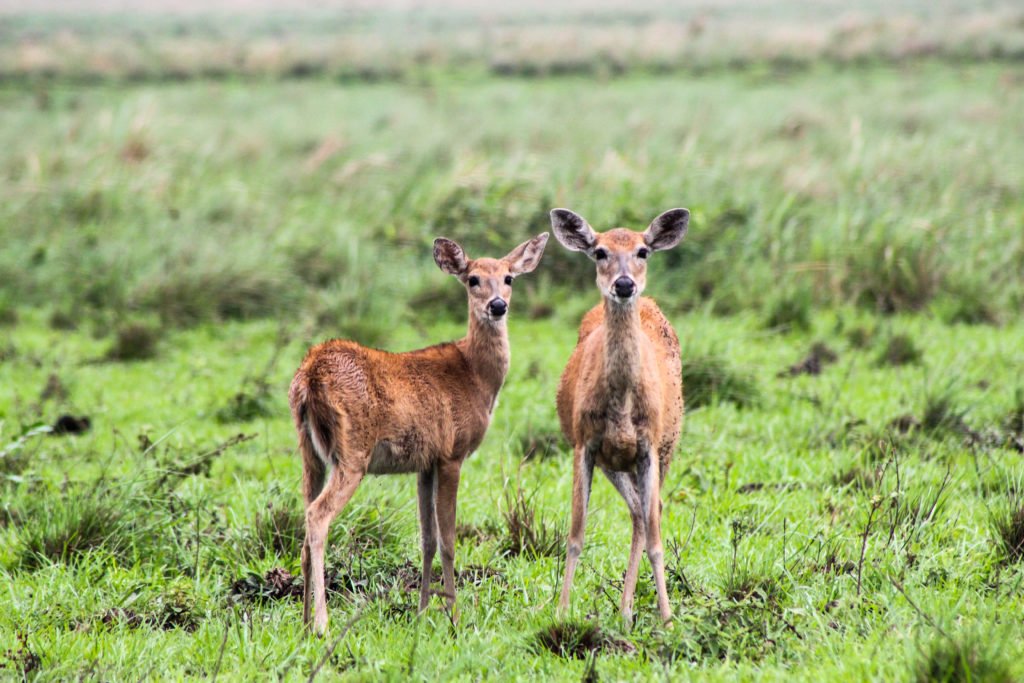 Amenities & Services
Corocora Camp's social tent provides a shared space with a comfortable seating area, indoor and outdoor dining space, a cocktail bar with premium liquors and wines, and a bonfire area. This space is also furnished with board and lawn games; hammocks; and a collection of books on Colombian wildlife, birds, and culture.
All meals and snacks are prepared at the camp, emphasizing products sourced from neighboring communities and local markets. Corocora Camp's chef uses local techniques and traditional recipes, showcasing Colombia's diverse and colorful larder.
Dinners are served on a communal table inside the social tent or by the bonfire. Guests also have the option of enjoying a private dinner and bonfire at their terrace.
Accommodations 
Corocora Camp's four spacious guestroom tents are adorned with fabrics and handcrafts from different regions of Colombia, showcasing the country's artistic and cultural diversity. Each tent is furnished with either one king-size bed or two twin-size beds. An additional bed for triple accommodation can be added to the room.
The en-suite bathrooms are equipped with showers, wash basins, and flushing chemical-trap toilets. Water is sourced from a deep well and distributed throughout the camp using a gravity-flow system. Refillable Loto del Sur amenities are provided, avoiding the waste of single-use plastic bottles.
These tents also feature a private terrace with lounge chairs and a traditional hammock, a writing desk, closet space, radio communication system, portable USB battery packs, and a rechargeable fan. Air conditioning is not provided. All lights and limited electric appliances are powered with solar panels.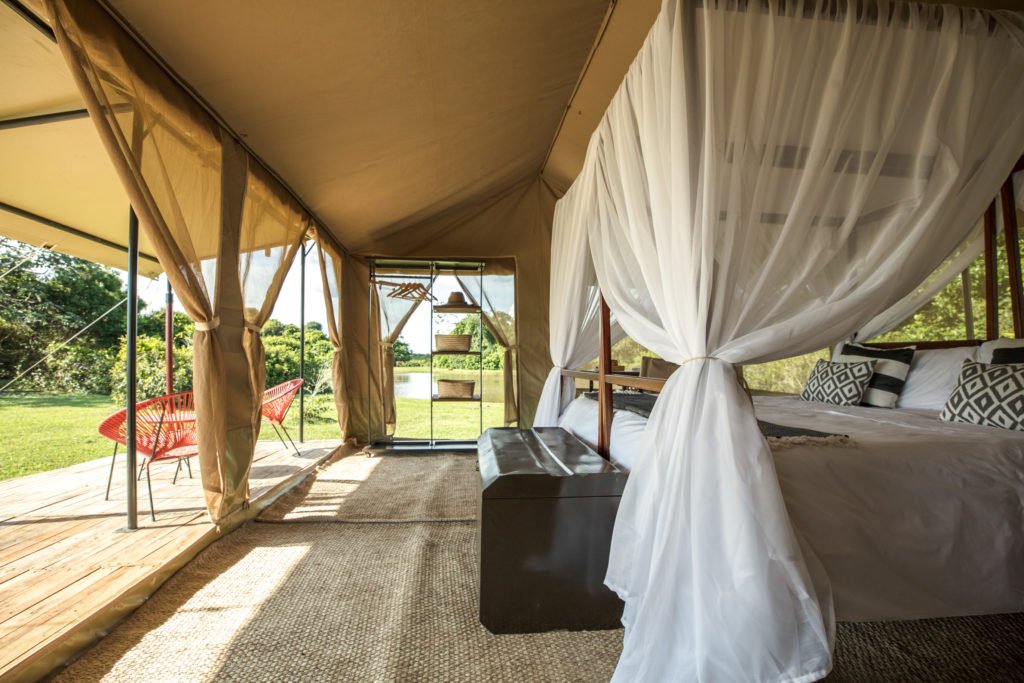 Experiences
Corocora Camp offers its guests the possibility to get up close and personal with Colombia's wildlife alongside English-speaking naturalists guides, as well as llanero horsemen who have a deep empirical knowledge of the region's fauna.
Corocora Camp also offers optional horseback riding, trekking, canoeing, 4×4 and helicopter expeditions and experiences. Guests can settle deeply into the llanero culture on the reserve's working ranch.
Set out on early morning walks in search of anteaters, night drives tracking pumas, or enjoy some of the experiences tailored to younger guests–piranha fishing, nature walks, canoeing, scavenger hunts, and bonfire concerts. Kids can prepare local treats, try their hands at local crafts, and participate in conservation and reforestation efforts.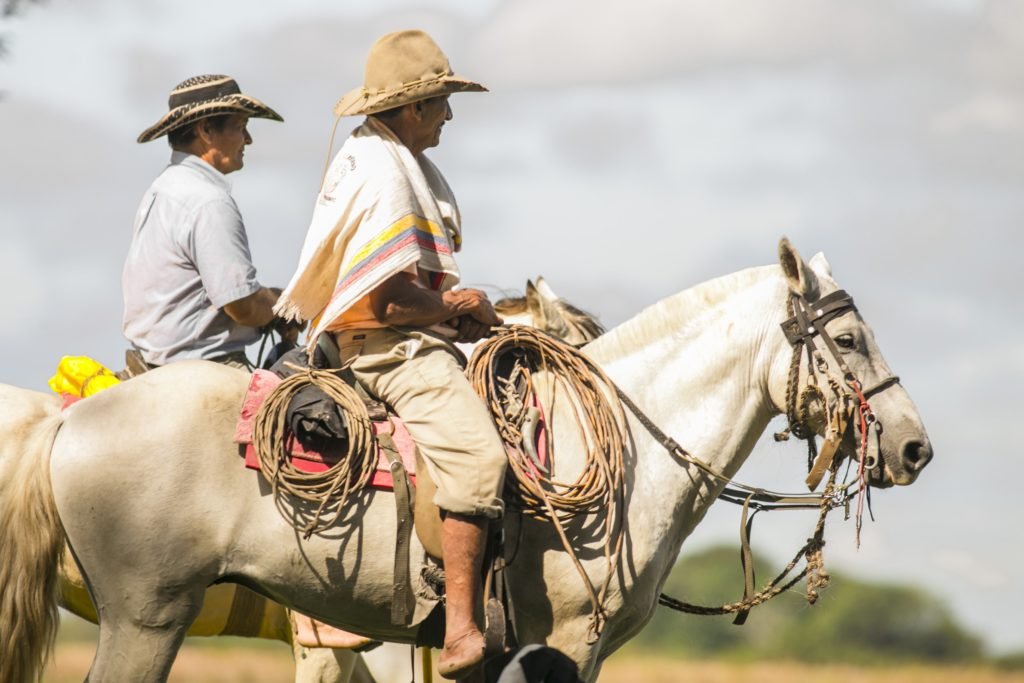 When to Visit Corocora Camp?
The region surrounding Corocora Camp has two main seasons: wet and dry. The dry season lasts from December to March, enjoying warmer temperatures and a light breeze. Guests can expect to see impressive bird migrations during this period, as species search for the remaining water deposits in the region.
The region's wet season falls between April and November, with some very impressive rain showers. The landscapes change quite dramatically during the rainy season, as large sections of the plains become flooded and greener than ever, attracting ample mammals to the water.
When to visit Los Llanos depends entirely on each client's preferences, as there is no one season best to visit the region. April and December are the months that fall at the turn of the seasons, meaning the seasonal weather conditions are slightly less pronounced, and visitors can enjoy a range of wildlife on both dry land and some flooded plains.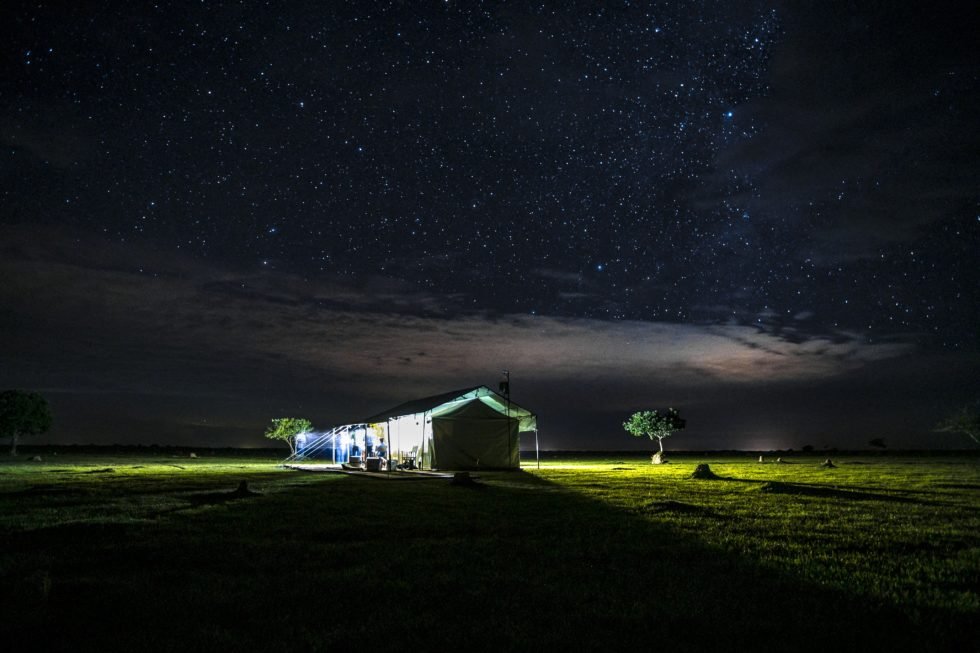 How to get there? 
Corocora Camp is located in a remote private reserve, and is accessible by plane, helicopter, or car. The closest city to the camp is Yopal, the capital of Casanare department.
Yopal has daily flights to and from Bogota and Bucaramanga on twin-engine turbo propeller planes with 48-68 seats (ATR 42-500 and ATR 72-600).
By Car
Once in Yopal Corocora Camp is a 2-hour drive from the city. While most of the roads are paved, the last 4 miles are on an unpaved road inside the reserve. This last part takes approximately 30 minutes and can be quite bumpy. Please note that due to rainy conditions, driving times inside the reserve can take longer.
By Helicopter
From Yopal, you can also arrive to Corocora Camp by helicopter, and land just a few minutes walk from the camp. Helicopter options include Eurocopter 136, Bell 206 L3 and Bell 412. Please note helicopters are subject to availability, and due to weight limitations luggage might be transported by car.
LANDED can make arrangements for all ground transfers, helicopter, plane flights, and private jet charters to easily transfer between Yopal and other destinations in Colombia.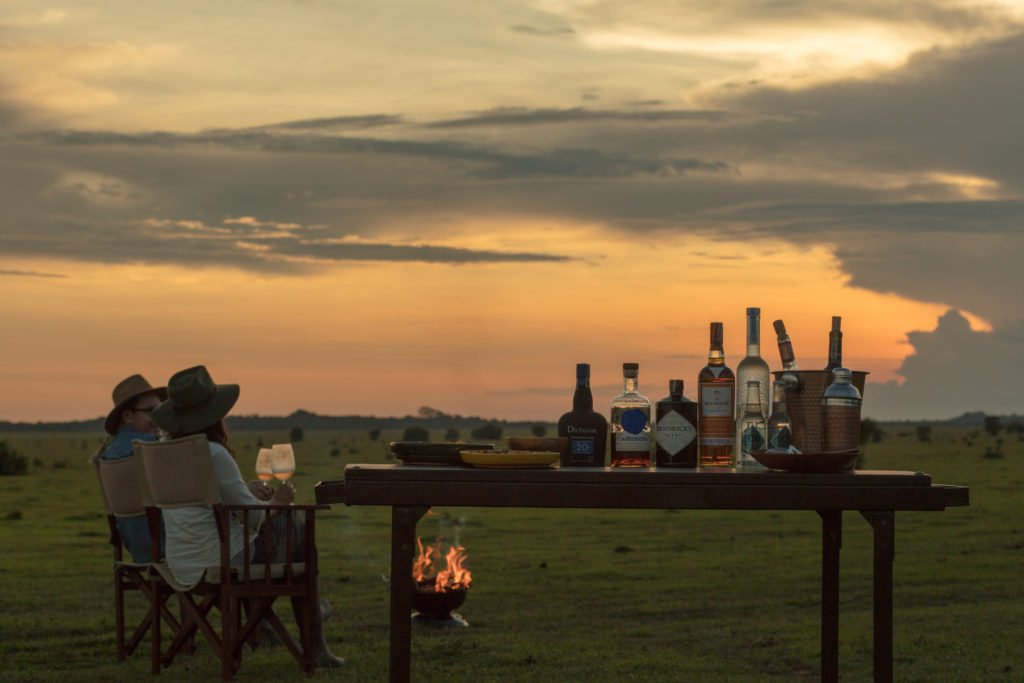 ARE YOU CONSIDERING A STAY AT COROCORA CAMP? LANDED PROVIDES PERSONALIZED, CUSTOM TRAVEL WITHIN CENTRAL AMERICA, SOUTH AMERICA, AND THE ANTARCTIC. WE'LL CREATE A UNIQUE ITINERARY PLAN TAILORED TO YOUR INTERESTS AND DREAMS. EXPERIENCE THE TRIP OF A LIFETIME. SPEAK WITH ONE OF OUR EXPERT TRAVEL PLANNERS TODAY AT 801.582.2100.