Rapi Nui: Easter Island
Rapa Nui, also known to visitors as Easter Island or Isla de Pasqua, is the world's most remote inhabited island.
Its position is 2,200 miles west of Chile's Pacific Coast—a rough midpoint between South America and Tahiti.
Although the island has been under Chilean administration since 1888, Rapa Nui's heritage is unmistakably Polynesian.
The original inhabitants of Easter island are believed to have sailed from the Cook or Marquesas islands around 800 AD.
In the centuries that followed, they developed a complex culture with written language and monumental architecture.
Terevaka, Poike, and Rano Kau
Rapa Nui's 63 square miles are distributed in a triangle between three extinct volcanoes: Terevaka, Poike, and Rano Kau.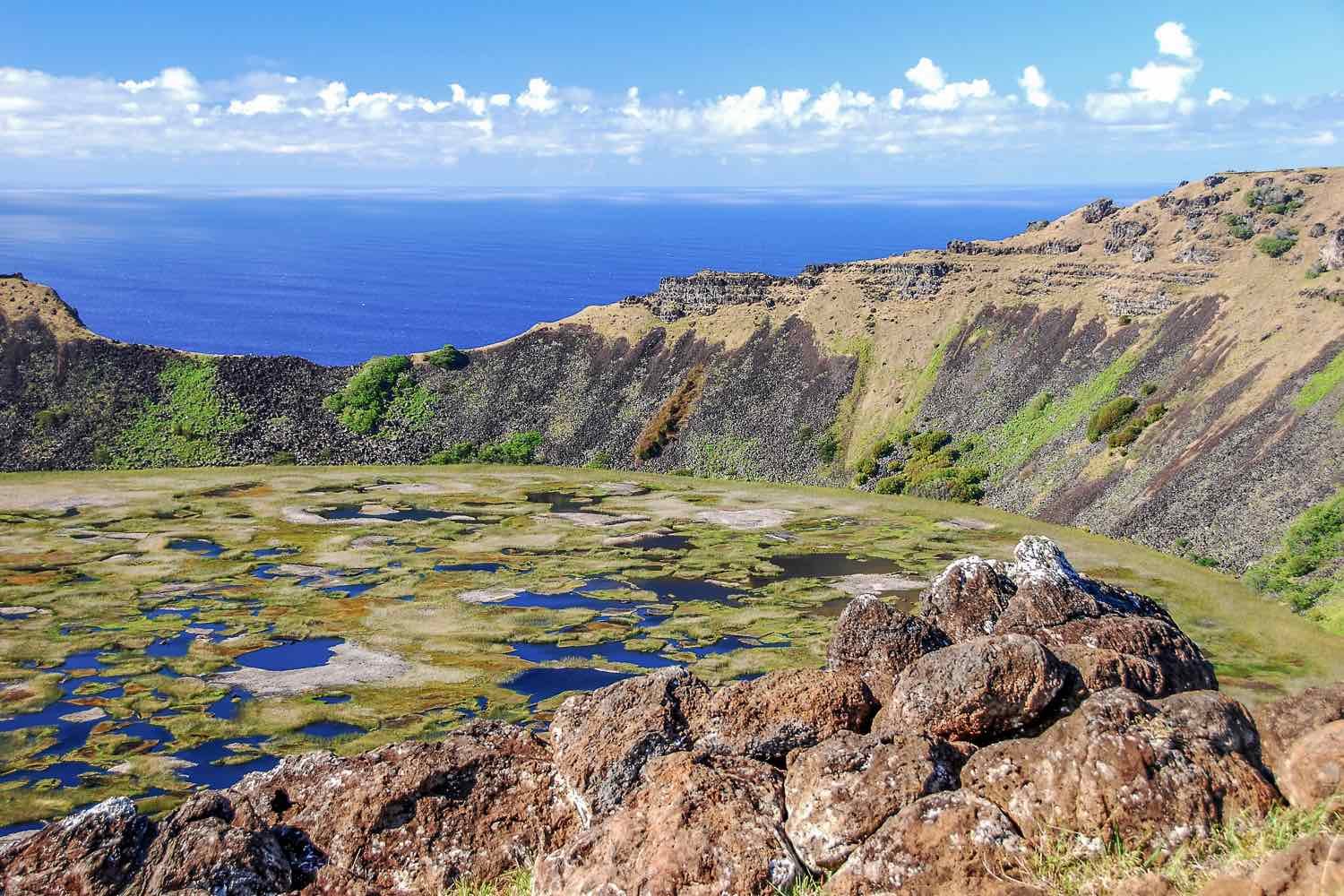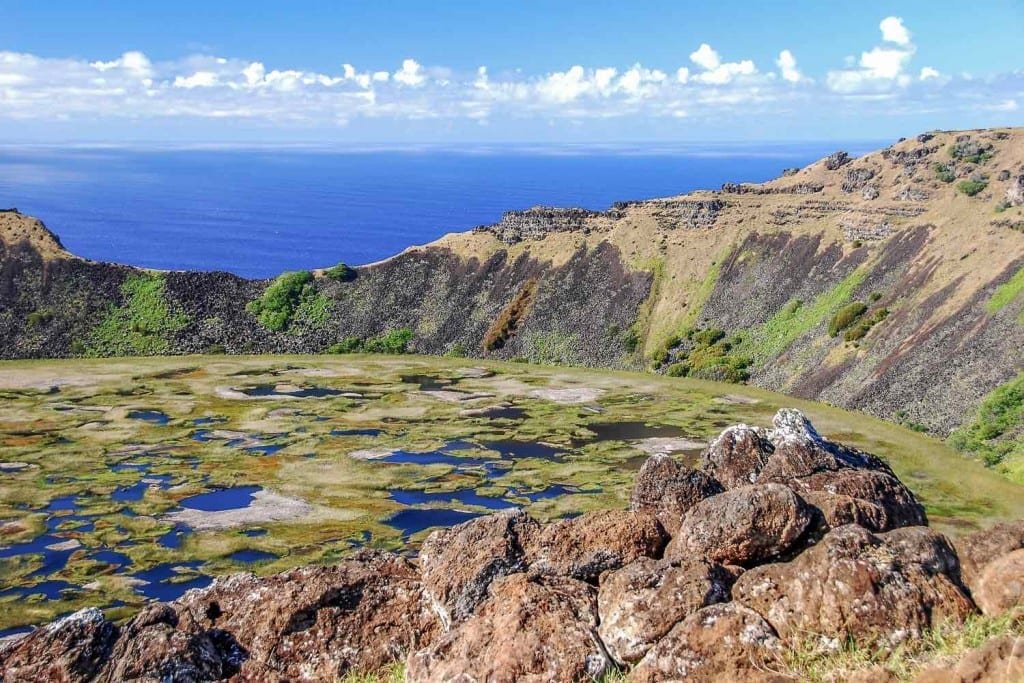 The only residential township, Hanga Roa, rests on the western coast.
Rapa Nui National Park
Outside Hanga Roa, nearly all of the island is protected as Rapa Nui National Park, established in an effort to protect the 20,000+ archeological sites that dot the island.
These include 887 moai—massive volcanic stone statues originally finished with white coral eyes, obsidian pupils, and red stone topknots.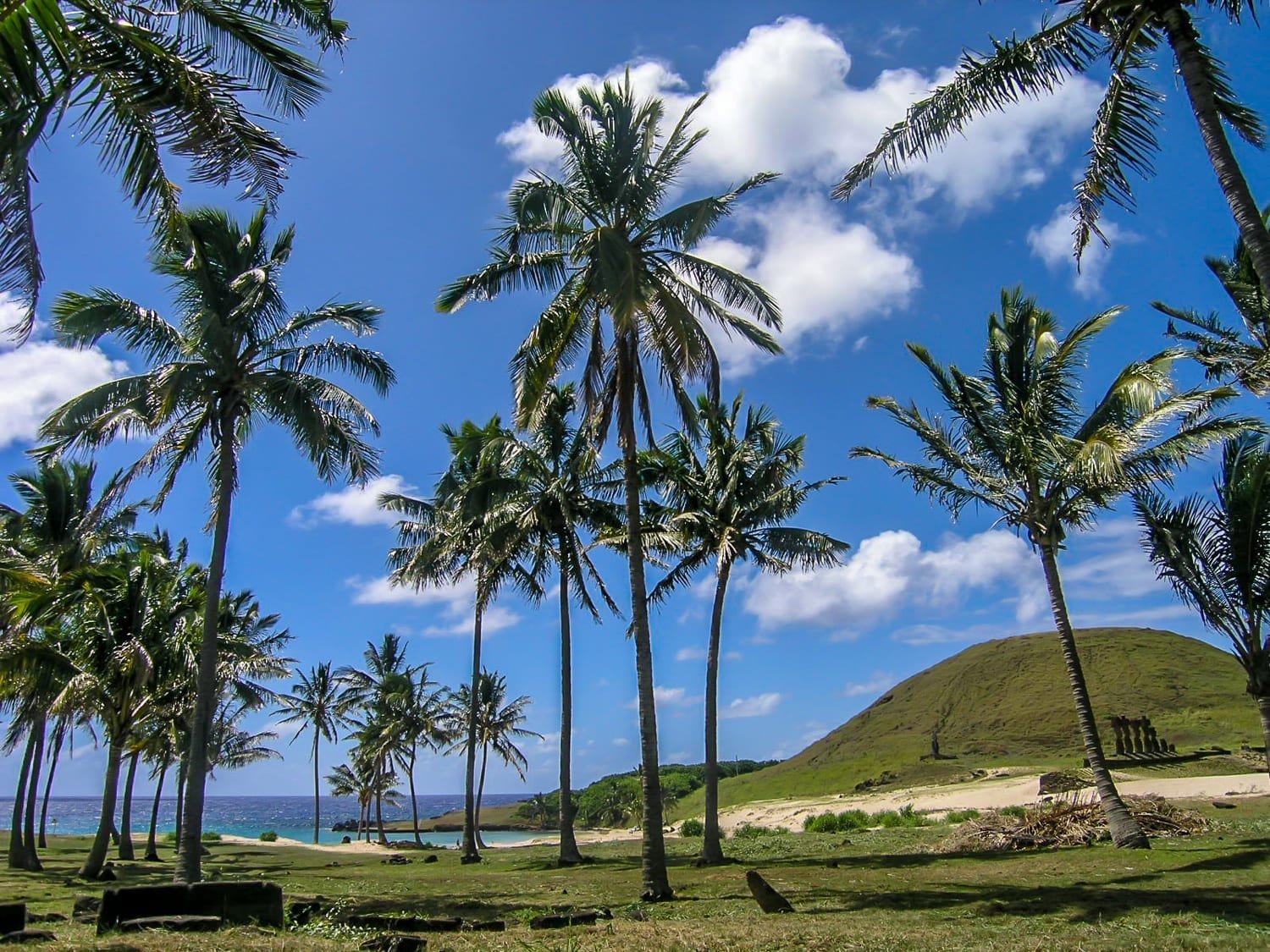 Other noteworthy sites include:
Rano Kau "Bird Man" Petroglyphs
Orongo Ceremonial Center
Quarries at Puna Pao and Rano Raraku
Various Caves
Unique Boat-House Settlements
Most visitors stay for at least three or four days, touring the archeological sites, trekking, mountain biking, and diving.
Surfing and Snorkeling
Surfing lessons and snorkeling excursions can also be arranged.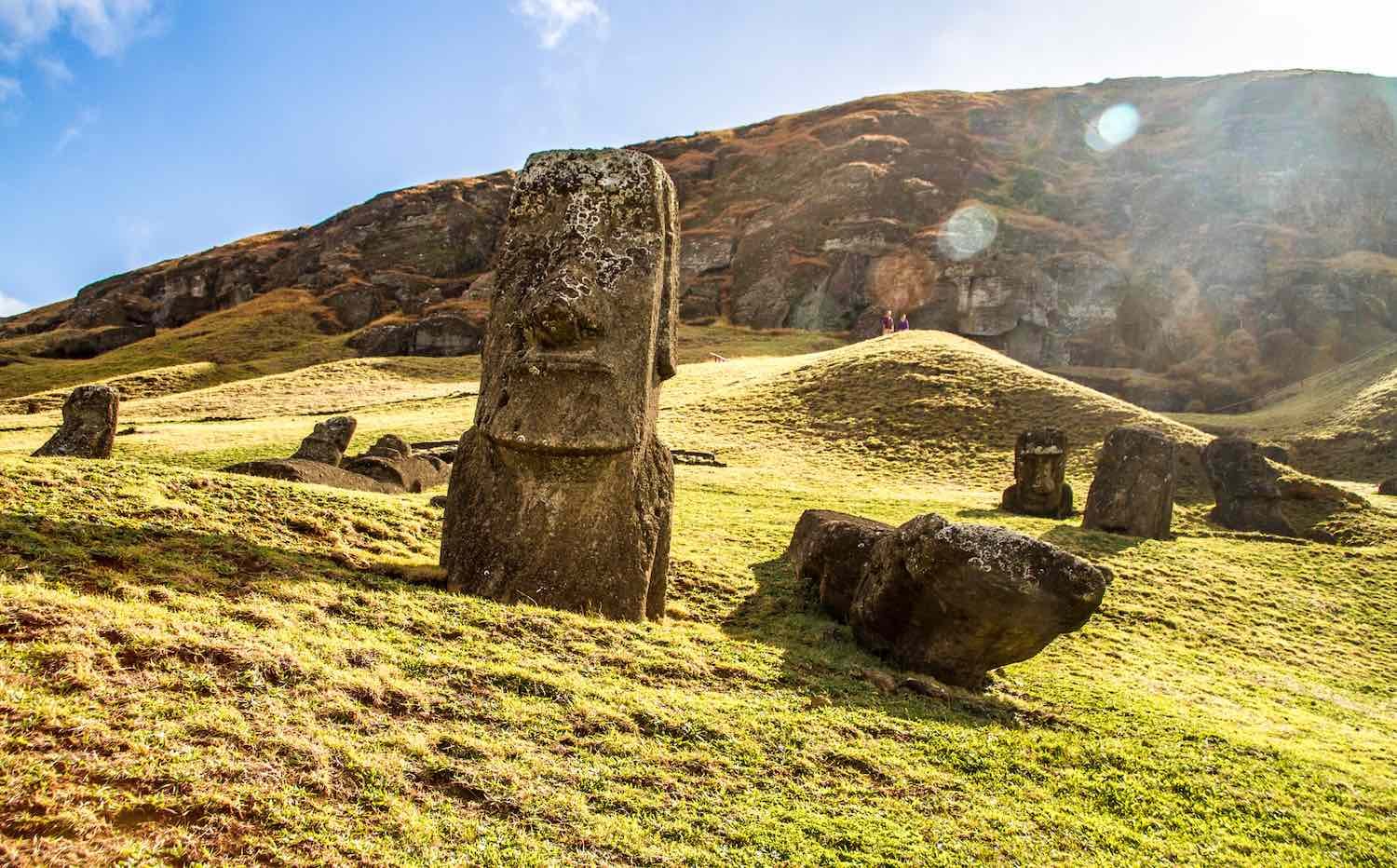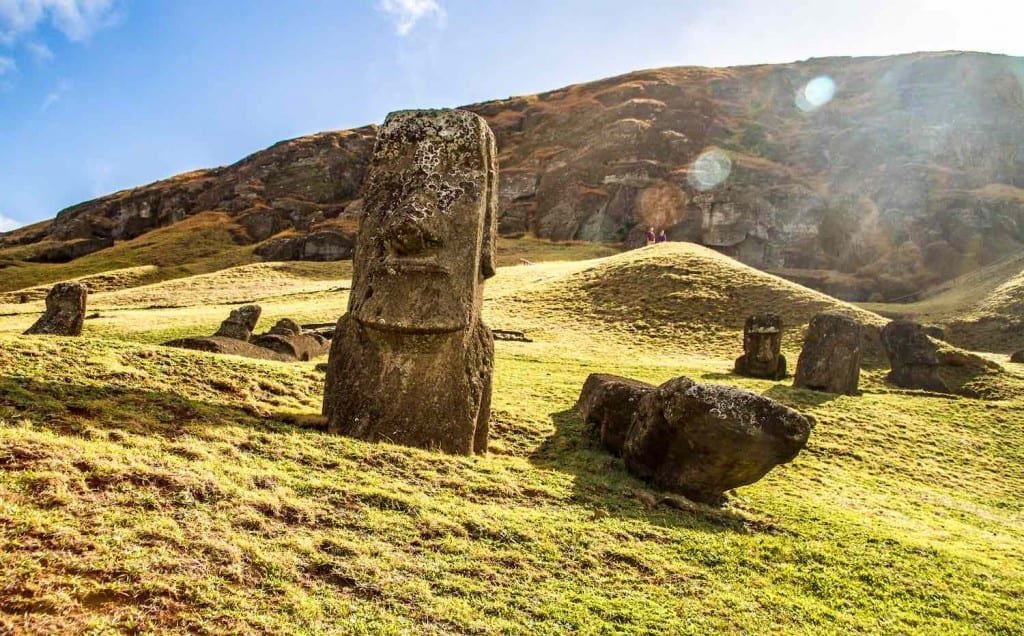 The island's main beach, Anakena, invites travelers to linger and enjoy the gentle surf, pale sand, and transplanted Tahitian palms.
Easter Island can be reached by air from Santiago (five hours and 40 minutes), and Papeete, Tahiti (seven hours and 20 minutes).
Rapa Nui Climate
Easter Island's climate is marine subtropical, with little precipitation and fairly constant temperatures year-round.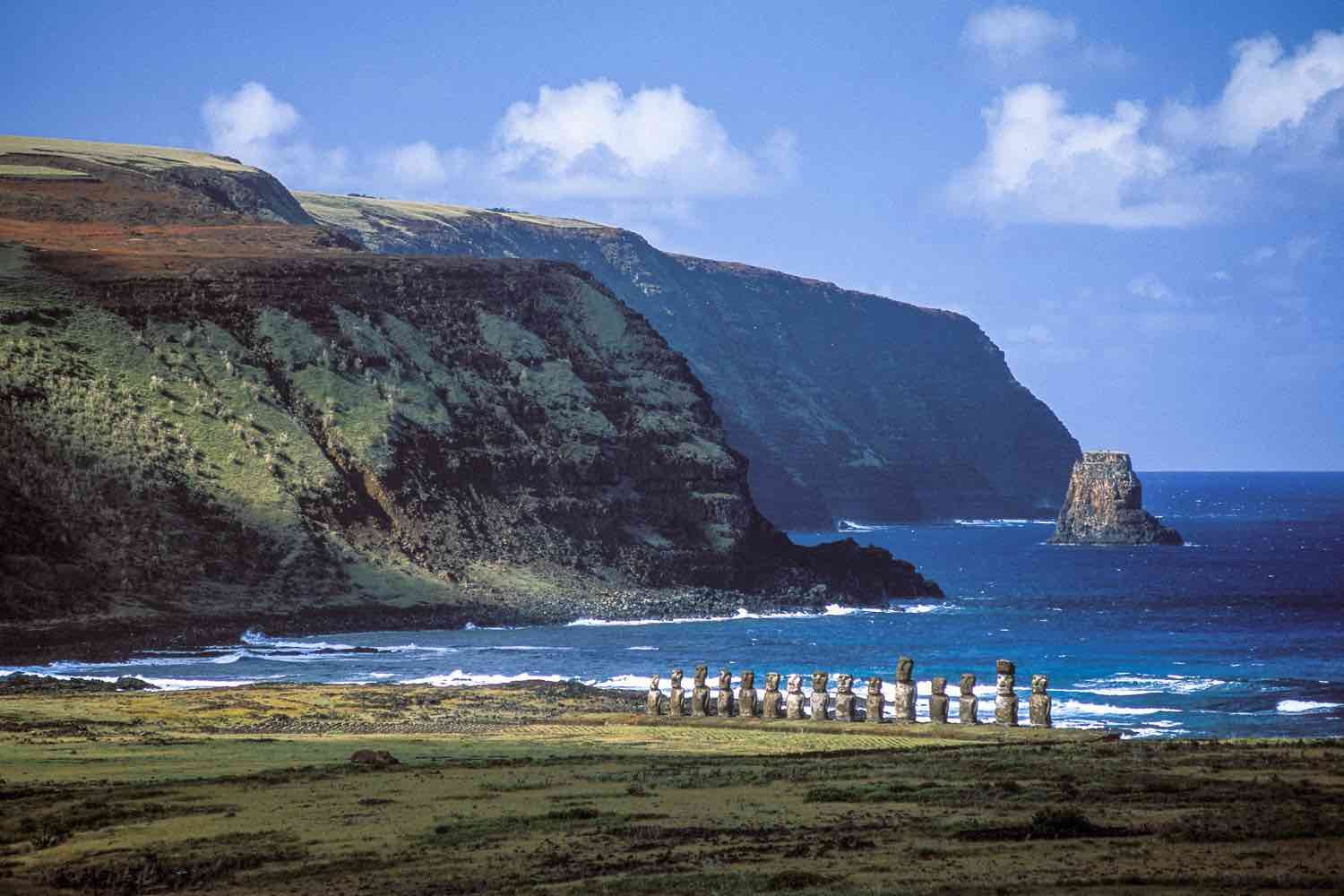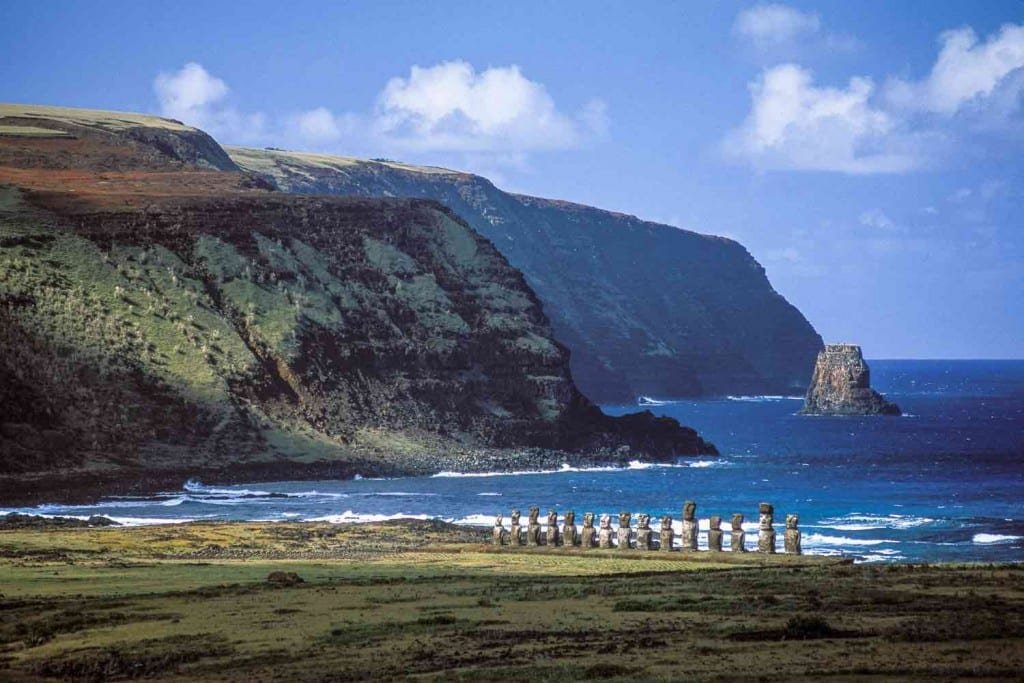 During the Easter Island summer months—November through March—highs reach into the low-80s and dip into the mid-60s.
The June through August winters bring highs in the mid-70s and lows near 60° F.
While cloud cover and light rain can arrive at any time of year, the winter months typically bring more precipitation and a more verdant landscape.
The high season for visitors is December through March. Lodging for those months should be booked well in advance.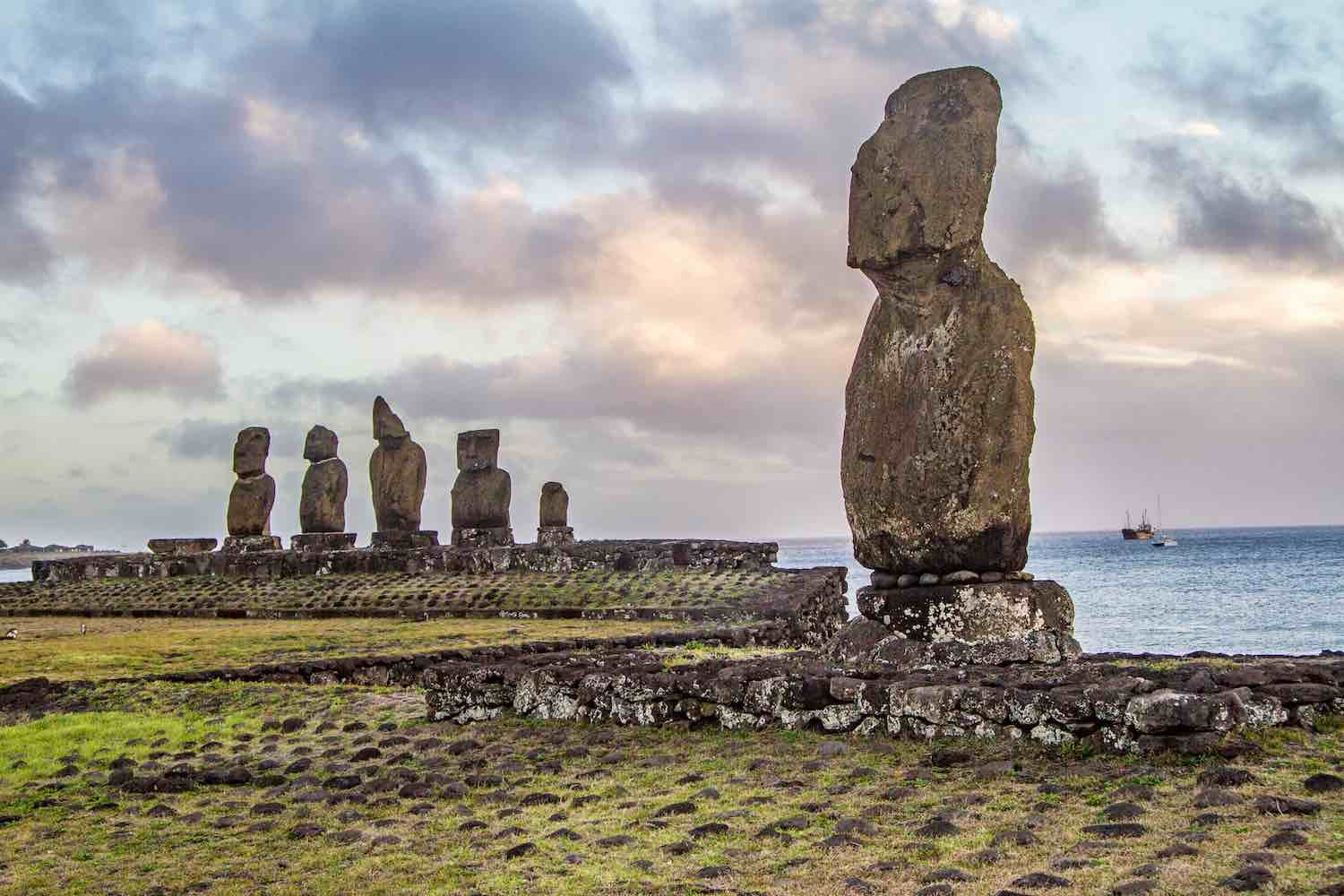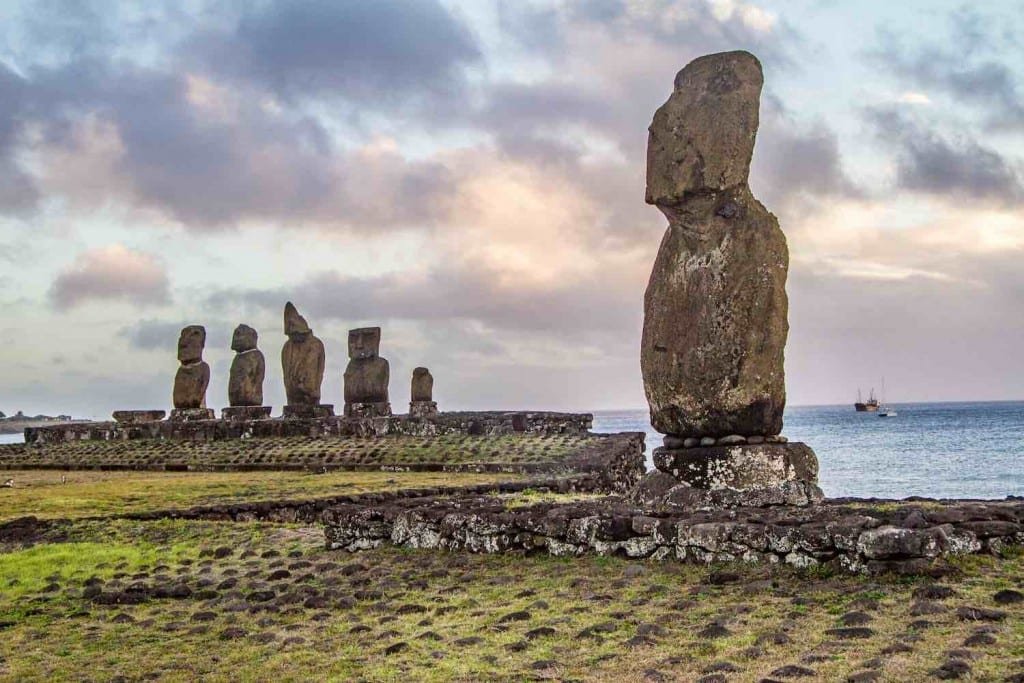 Have you dreamed of visiting Easter Island? When you travel with LANDED, you'll be relaxed, prepared, and delighted. In fact, more than 90% of our business is repeat or referral. Speak with one of our expert travel planners today at 801.582.2100. Soon, you'll have LANDED.
"How was it possible that these people, who are devoid of heavy lumber for making any machines, as well as strong ropes, nevertheless had been able to erect such images?"
Captain Jacob Roggeveen
PERFECT

Could not have been more pleased.  This was the trip of a lifetime for our family.  Thank you!
GO WITH LANDED

If you're planning to travel, go with LANDED. You won't be disappointed.
AMAZING ADVENTURE

The whole rhythm of the trip was perfect, and leaving one place for the next worked perfectly. This trip definitely made me want to experience other great spots in South America.
TRIP OF A LIFETIME

The locations were amazing. Your on-the-ground team was fantastic–knowledgeable and accommodating. Beautifully organized.
ABSOLUTELY AMAZING

The best guide I've ever had anywhere in the world. Top notch talent.
GREAT SERVICE

You were a great help in planning–ensuring that I was staying at the right places and enjoying the type of activities we love–and the follow up was incredible.
YOU GOT TO KNOW US

Exactly the bonding and sharing experience we'd hoped for. The rhythm, variety, and tone was spot on. With effective listening skills, you built a good picture of what we wanted–more complicated than "just" luxury. The result was a great trip, one made just for us.
BEST EVER

Excellent attention to detail. You listened carefully, asked the right questions, and customized with just the right balance. Superb guides. We felt relaxed and pampered all the way. You'll plan our next trip.
FANTASTIC EXPERIENCE

Not a single thing on the itinerary that we would change.  The guides were knowledgeable, friendly, and prompt.  The hotels were beautiful, the food delicious and the pace of the activities was perfect for us.
DO IT!

In short, our trip was amazing. Thanks so much for your constant assistance and thorough planning.
PERFECT

The planning, service and execution of the trip was flawless – thank you!
EXCELLENT

LANDED was helpful and knowledgeable, making our trip a memorable one.  I will use your services in the future as I continue to explore Central & South America.
A VERY WELL ORGANIZED DREAM

Your patience with my questions and concerns during the planning stage was remarkable.
THANK YOU

You actually got to know us, which made it possible to know just what we like. You promised the best trip ever and you kept your promise.
ENTIRELY AMAZING

Your recommendations were well thought out. We thoroughly enjoyed our honeymoon. Thank you!
THE ULTIMATE GUIDE

LANDED is the ultimate. You helped us make the most out of a week's time.
DIDN'T MISS A THING

We zip-lined, rafted, sailed, and surfed. The contacts were professional and courteous. We don't want to be back at work. Thank you for all of the work you did to set up this trip.