MV ORIGIN: LUXURY GALAPAGOS YACHT
In September 2018, MV Origin, and the sister vessel MV Theory, became the first luxury Galapagos expedition yacht to become an official member of the esteemed Relais & Châteaux collection.
Launched in February of 2016, this Galapagos yacht was designed for stability, efficiency, and comfort.
Origin is the most modern luxury yacht in the Galapagos Islands and one of our favorites!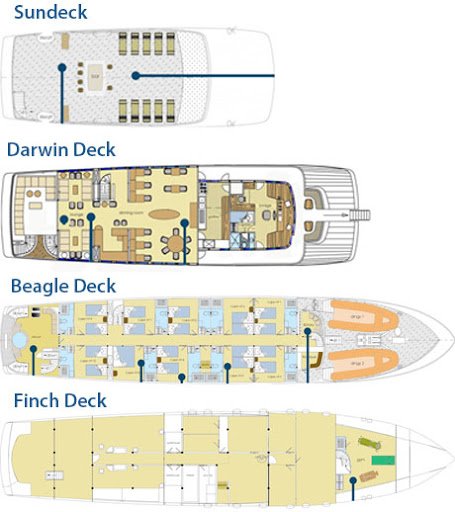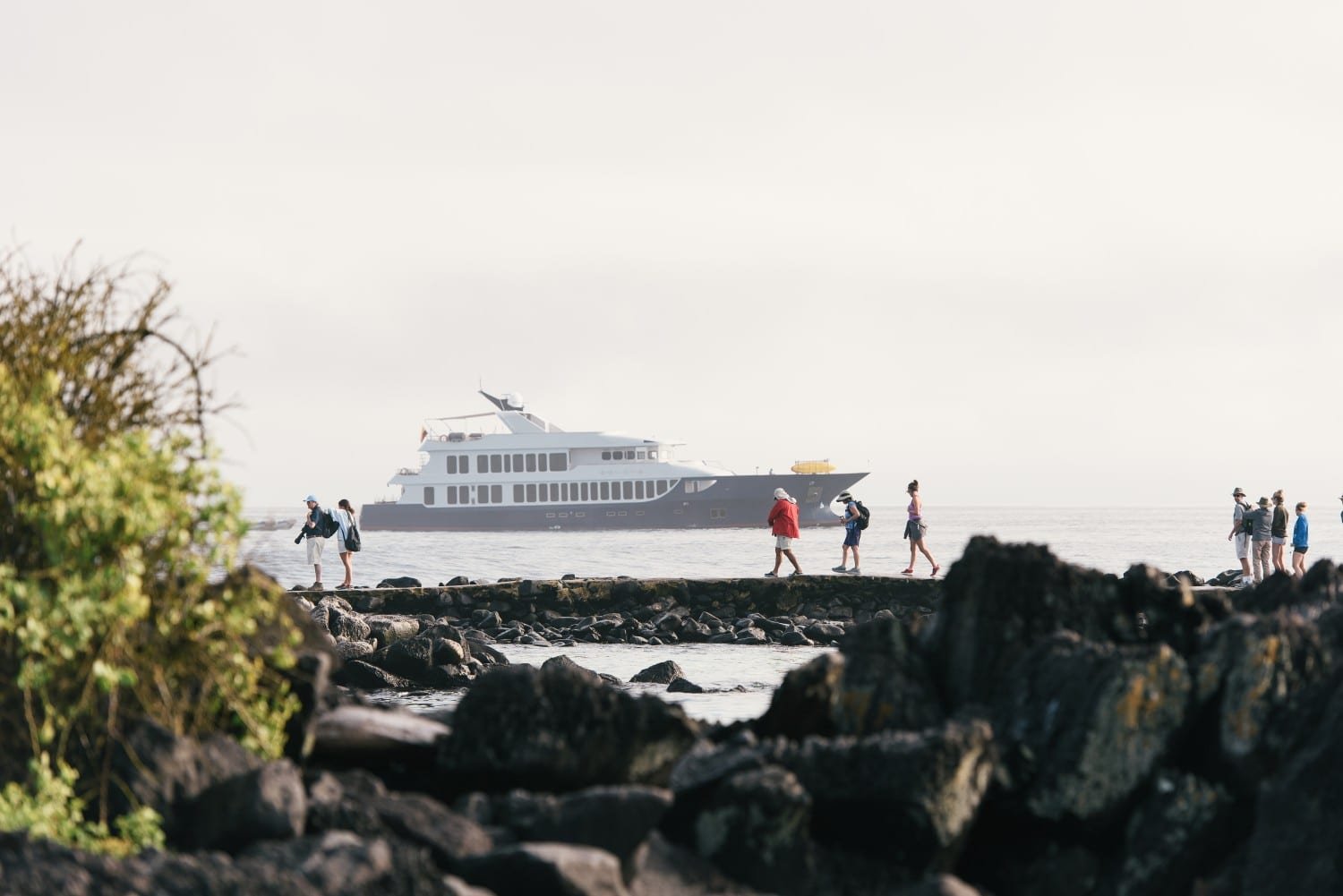 Origin's sleek, stylish, and modern spaces were designed to make guests feel like they are onboard a luxury boutique hotel.
TEN LUXURIOUS STATEROOMS
Triple-occupancy accommodations are available in two cabins, with an additional two sets of cabins also interconnectable.
Guest rooms average 145 sq. ft, configurable with either two smaller beds or one king-sized.
All cabins are located on the Beagle deck, which also houses a common area jetted tub.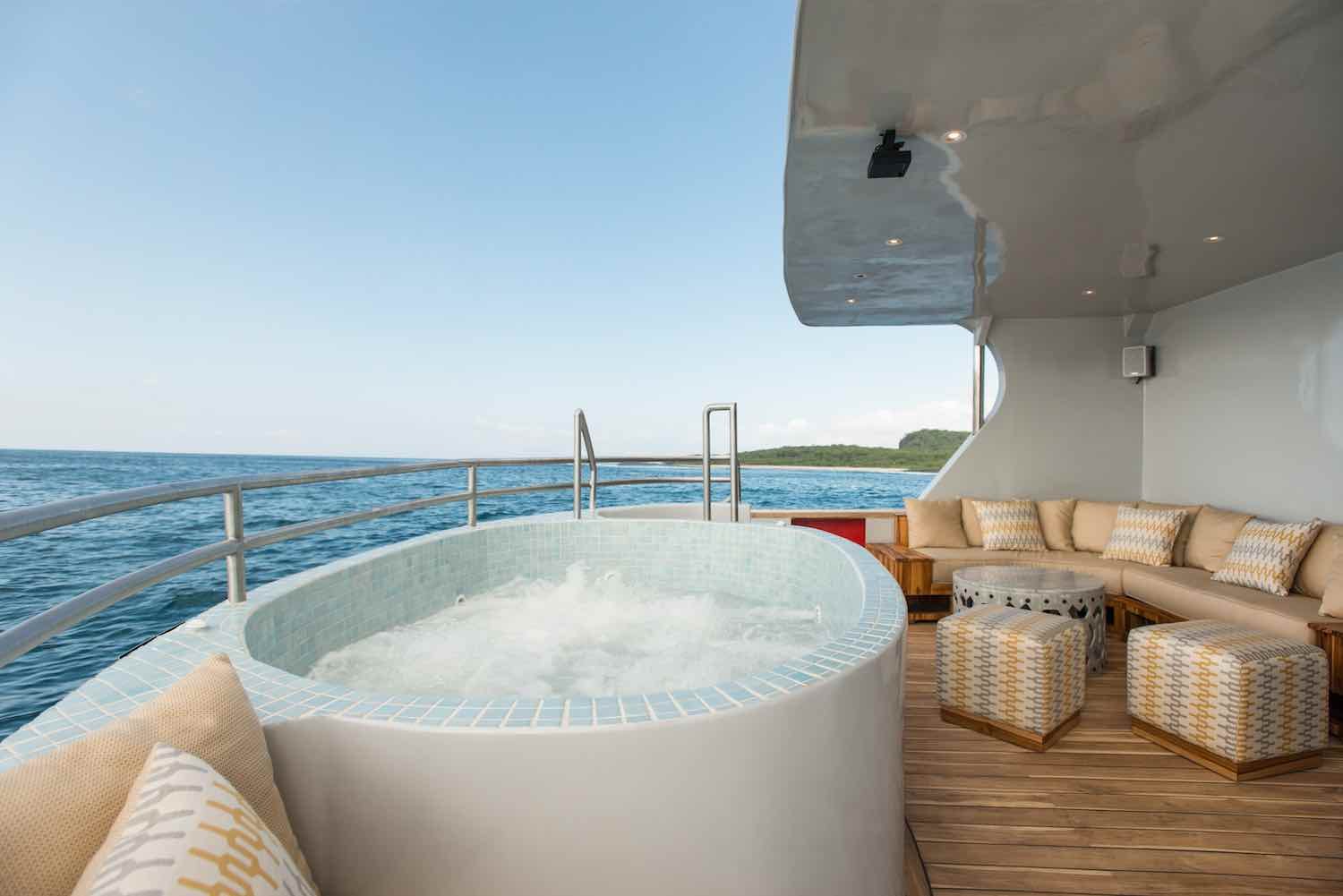 Each stateroom onboard the MV Origin features:
Plush Bedding
Large Ocean View Windows
Private En-Suite Bathroom with Shower
Individual Climate Control
Ample Storage Space
Espresso Machine
Apple TV
Wi-Fi is available throughout the vessel (additional charges apply).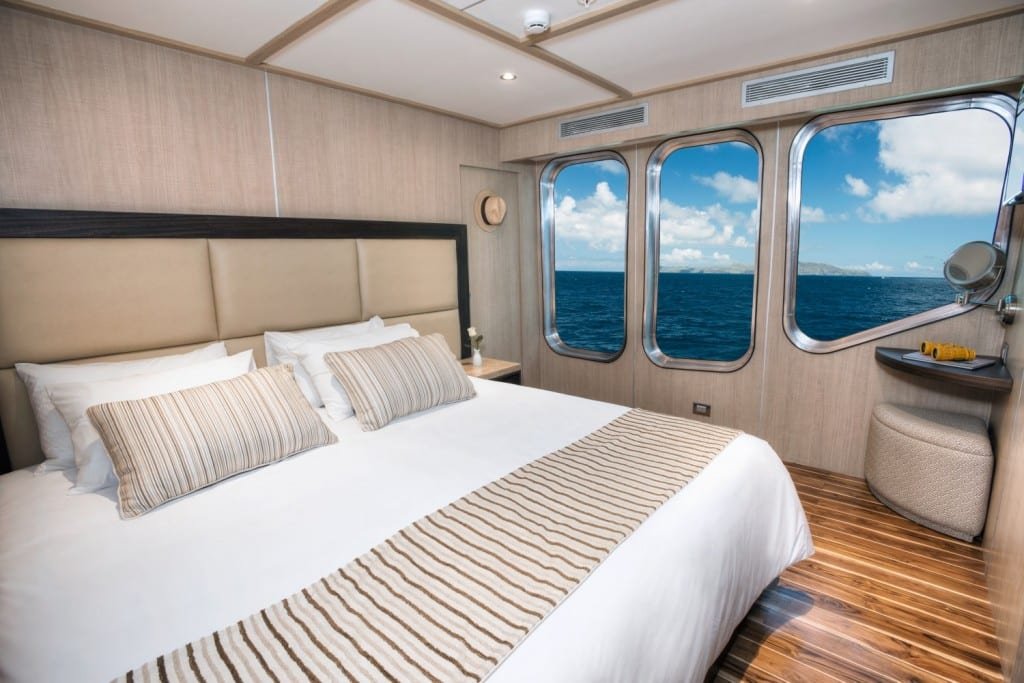 Cabins are cleaned twice daily and laundry service is available for an additional charge.
INNOVATIVE CUISINE AND AL FRESCO DINING
Onboard, expert chefs prepare innovative cuisine using fresh, locally sourced ingredients.
Origin's dining room features marble table tops, with configurations from two to ten guests for private or group dining.
During the week, guests can enjoy a cooking demonstration or BBQ lunch, served al fresco on Origin's spacious sundeck.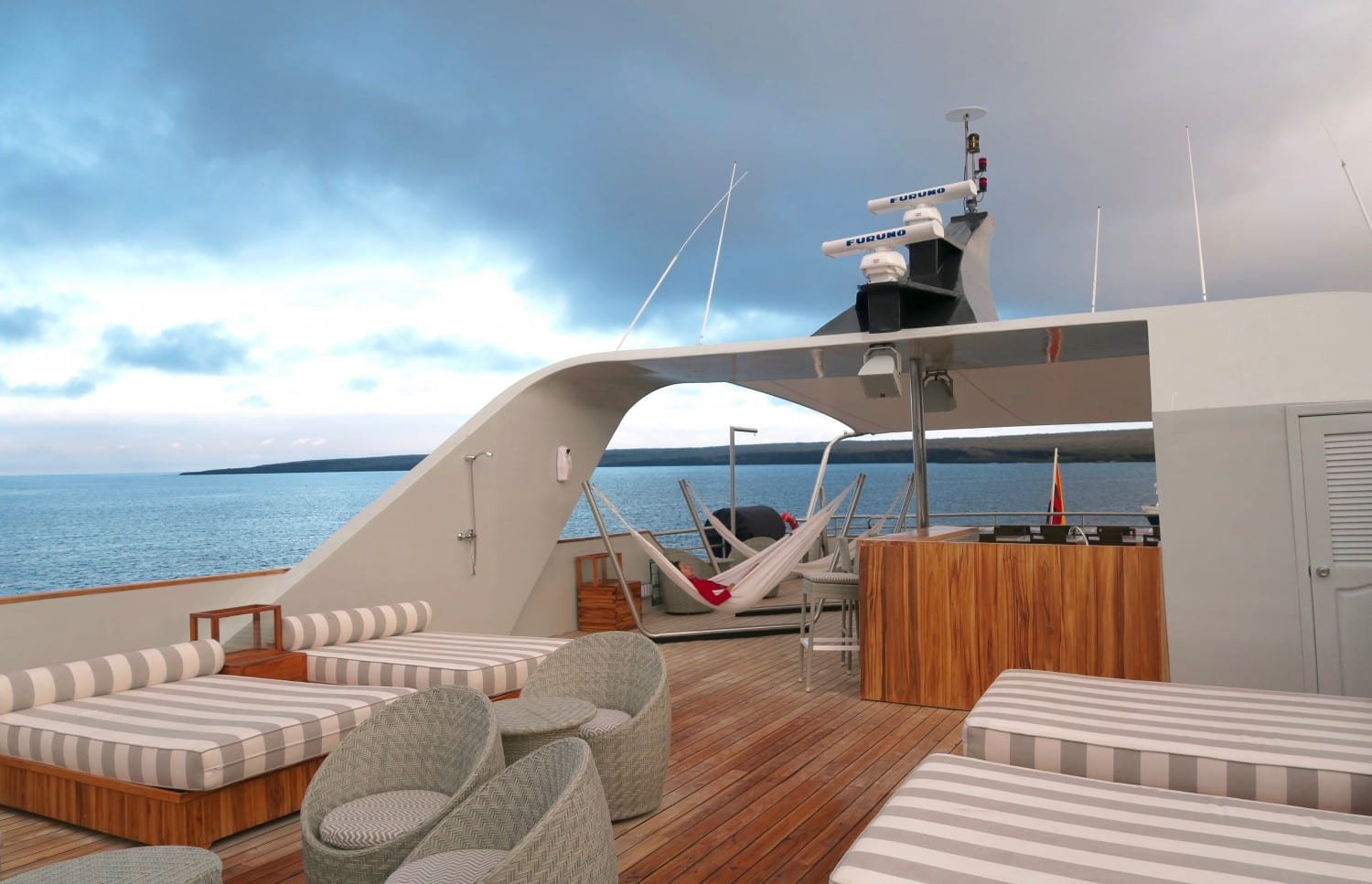 OPEN BAR AND AMPLE SOCIAL AREAS
The intimate indoor bar is always open, serving specialty cocktails, wine, beer, sodas, juices, coffee, and tea.
Origin maintains an open bar policy throughout all Galapagos cruises.
Interior social areas include a comfortable lounge, in which evening briefing and enrichment lectures are offered by staff naturalists.
Guests can also opt to use the lounge to watch a movie on available flat screen televisions.
SUNDECK FEATURES
Origin's sundeck is the ideal place to unwind between island excursions.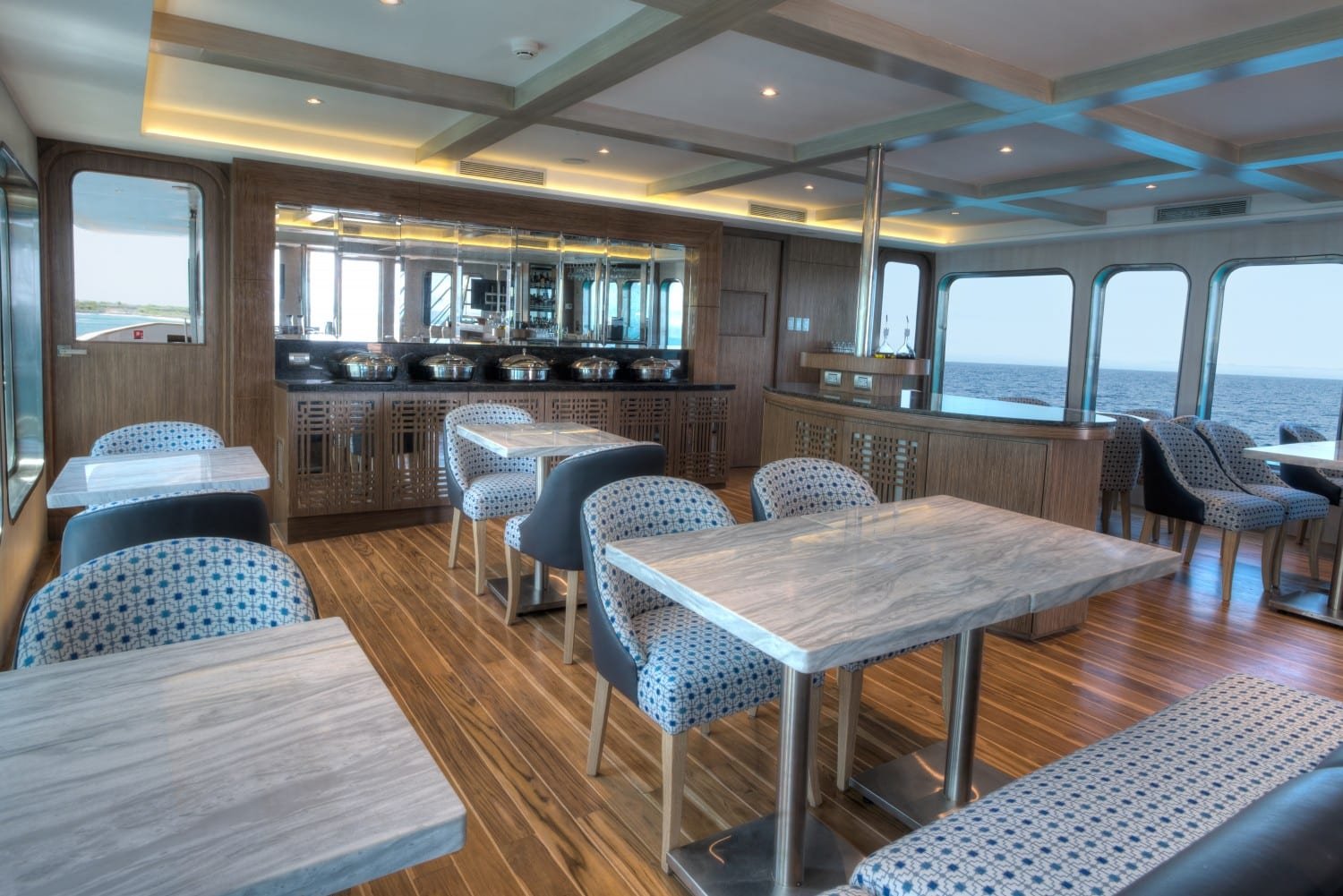 Here, guests can enjoy:
Day Beds
Chaises Lounges
Hammocks
Tables and Chairs
Public Restroom
Outdoor Shower
BBQ
Wet Bar
Other common areas include a library, boutique, lounge, bar, dining room, boutique, and 24-hour fitness room.
CONCIERGE AND EXPERIENCED NATURALIST GUIDES
Origin's experienced 14-member Ecuadorian crew includes a high-level Captain, a full time concierge, and two naturalist guides (one for every ten guests).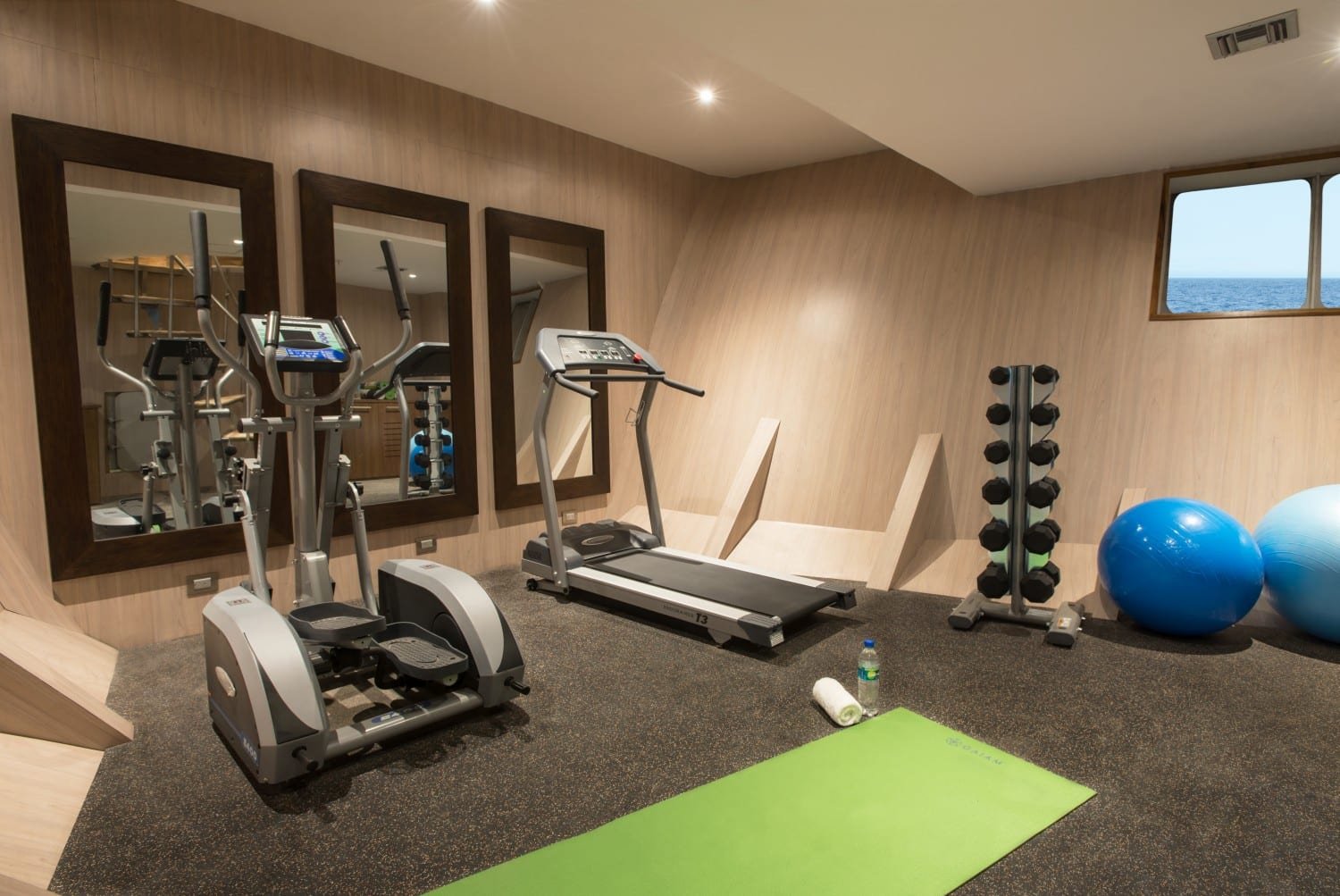 These outstanding naturalists delight in sharing their knowledge and passion of one of the most memorable places on Earth.
Guests can observe the marine environment with guided excursions by:
Zodiac
Glass-Bottom Boat
Snorkeling
Stand Up Paddle Board
Kayak
Each day in the Galapagos also brings intriguing opportunities to explore on land, from guided walks along pristine beaches or lush vegetation to hikes over lava and through volcanic tunnels.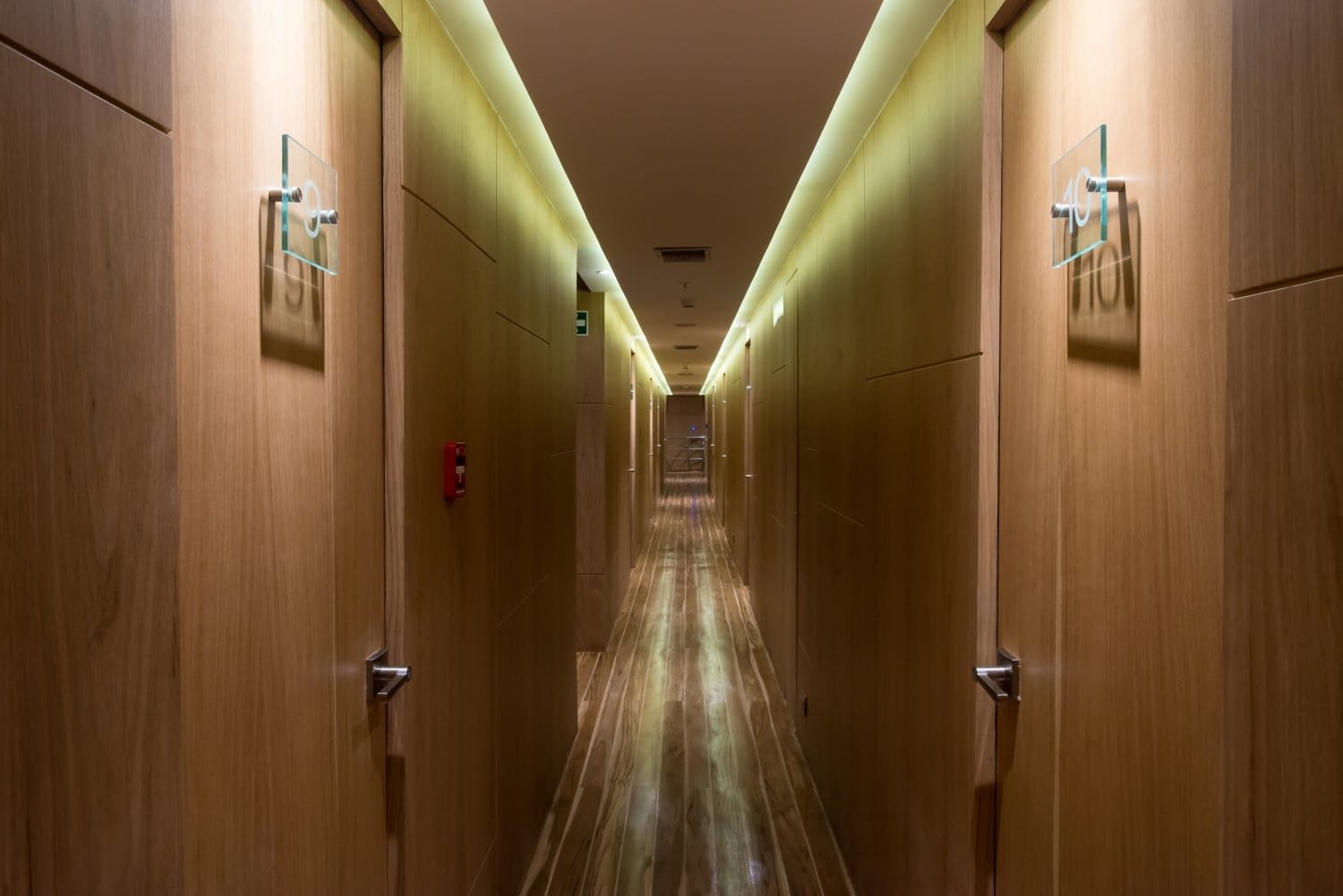 VESSEL SPECIFICATIONS
Origin is 142.16 feet in length, with a beam of 27.43 feet.
This yacht's large dimensions and the curved bow design result in excellent stability.
The type of steel and welds used, combine with the super-efficient engines to reduce noise and vibration, even while maintaining a cruising speed of 12 knots.
AVAILABLE GALAPAGOS CRUISE ITINERARIES
Galapagos cruise itineraries highlight the very best of the islands—amazing wildlife, striking landscapes, magnificent marine environment and fascinating history.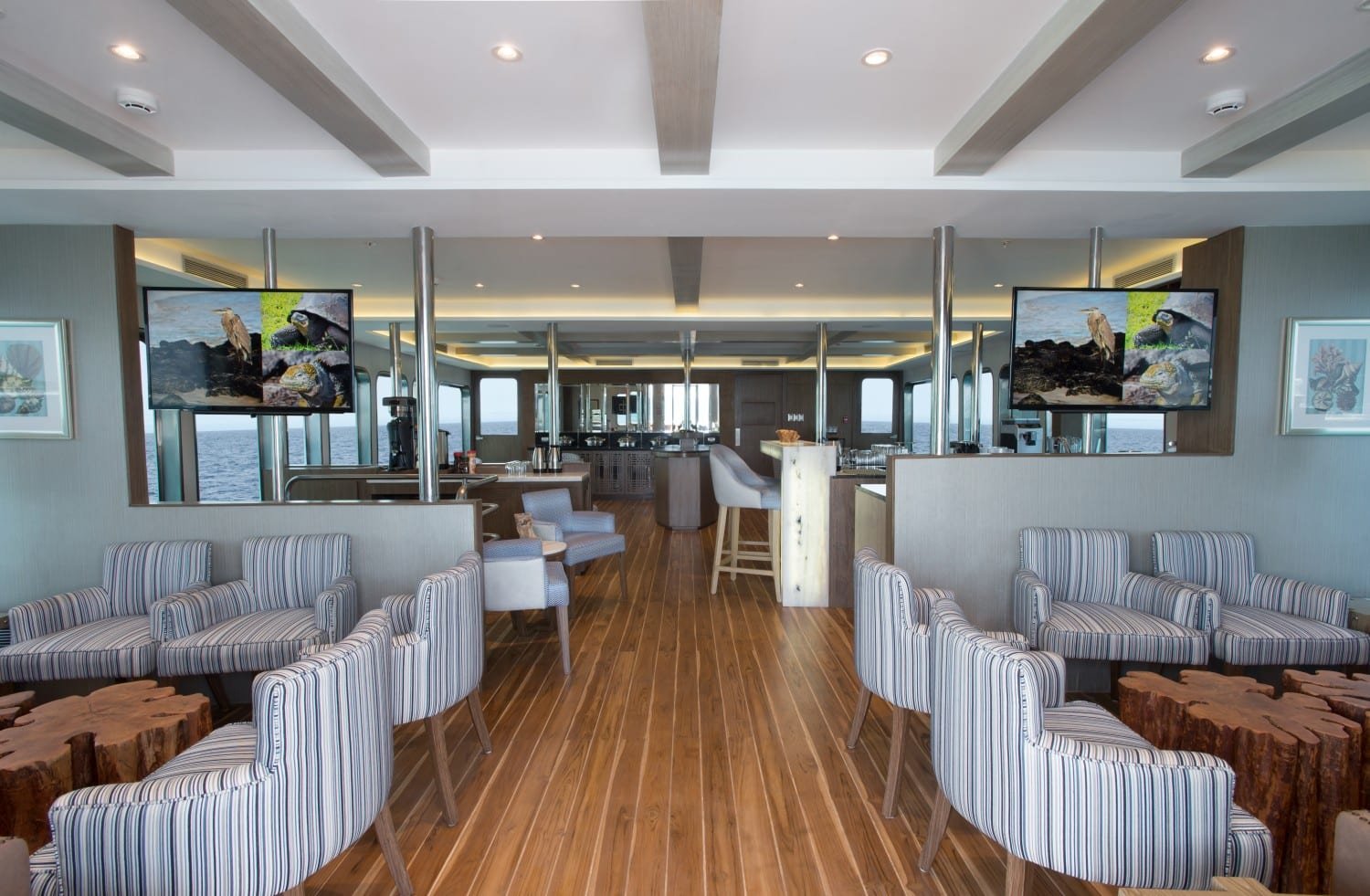 MV Origin Guests can choose between two primary options:
SOUTHERN & CENTRAL ROUTE (8 DAY / 7 NIGHT)
Sunday
Puerto Baquerizo Moreno, SAN CRISTOBAL
Cerro Tijeretas (Frigatebird Hill), SAN CRISTOBAL
Monday
Punta Pitt, (SN, PR) SAN CRISTOBAL
Cerro Brujo (SN, PR, KY) SAN CRISTOBAL
Tuesday
Punta Suarez, ESPANOLA (Hood)
Gardner Bay (SN, PR, KY) ESPANOLA
Wednesday
Punta Cormorant (PR), Devil's Crown (SN)
Post Office Bay (PR, SN),Baroness Point (PR), FLOREANA
Thursday
Highlands of SANTA CRUZ (Indefatigable)
CCFL (Darwin Station), SANTA CRUZ
Friday
Bartolome (PR, SN)Sombrero Chino (PR, SN)
Saturday
South Plaza IslandNorth Seymour (PR, SN)
Sunday
Interpretation Center, SAN CRISTOBAL
 SN = Snorkel, KY = Kayak, PR = Panga (dingy) Ride
WESTERN/NORTHERN ROUTE (8 DAY / 7 NIGHT)
Sunday
Puerto Baquerizo Moreno, SAN CRISTOBAL
CCJG (La Galapaguera, SAN CRISTOBAL
Monday
Darwin Bay (SN, PR, KY), GENOVESA (Tower)
Prince Philip's Steps (SN, PR) GENOVESA
Tuesday
Las Bachas Beach (SN)
Cerro Dragon (SN) SANTA CRUZ
Wednesday
Punta Vicente Roca (PR, SN), ISABELA
Urbina Bay, ISABELA (SN) (Albemarle)
Thursday
Punta Espinoza (SN), FERNANDINA
Tagus Cove, ISABELA (SN, PR, KY)
Friday
Rabida Island (SN, PR, KY) (Jervis)
Black Turtle Cove (PR)
Saturday
CCFL (Darwin Station) SANTA CRUZ (Indefatigable)
Lava tunnel, twin craters, tortoise reserve SANTA CRUZ
Sunday
Interpretation Center, SAN CRISTOBAL
 SN = Snorkel, KY = Kayak, PR = Panga (dingy) Ride
Designated family departures incorporate age-appropriate activities for children and offer discounts for children and teens from age 7 to 17.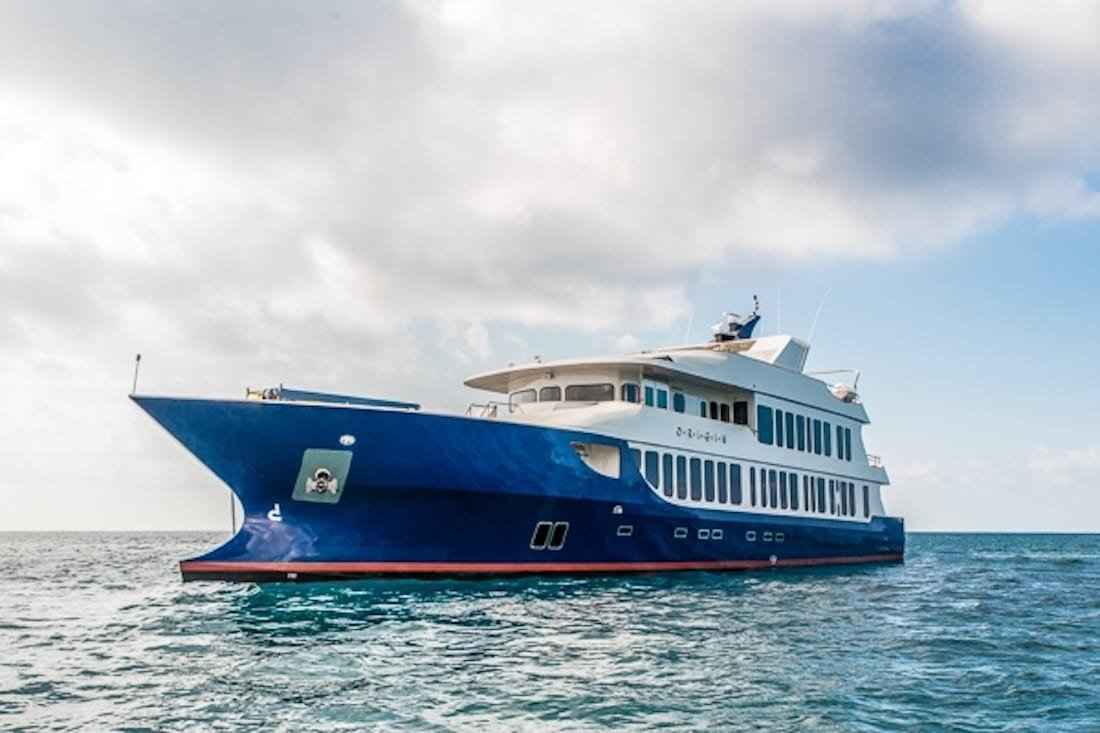 FULL GALAPAGOS CRUISE AND ALTERNATE ROUTES
Those interested in a comprehensive Galapagos experience can opt to combine both itineraries for a two-week exploration of the entire archipelago.
As required by the Galapagos National Park, Ecoventura alternates two alternative full week 7-night itineraries in an effort to better reduce usage on heavily visited sites.
Alternate itinerary details are available upon request.
Looking for more information about yachting in Isla Galapagos? Check out LANDED's free guide here.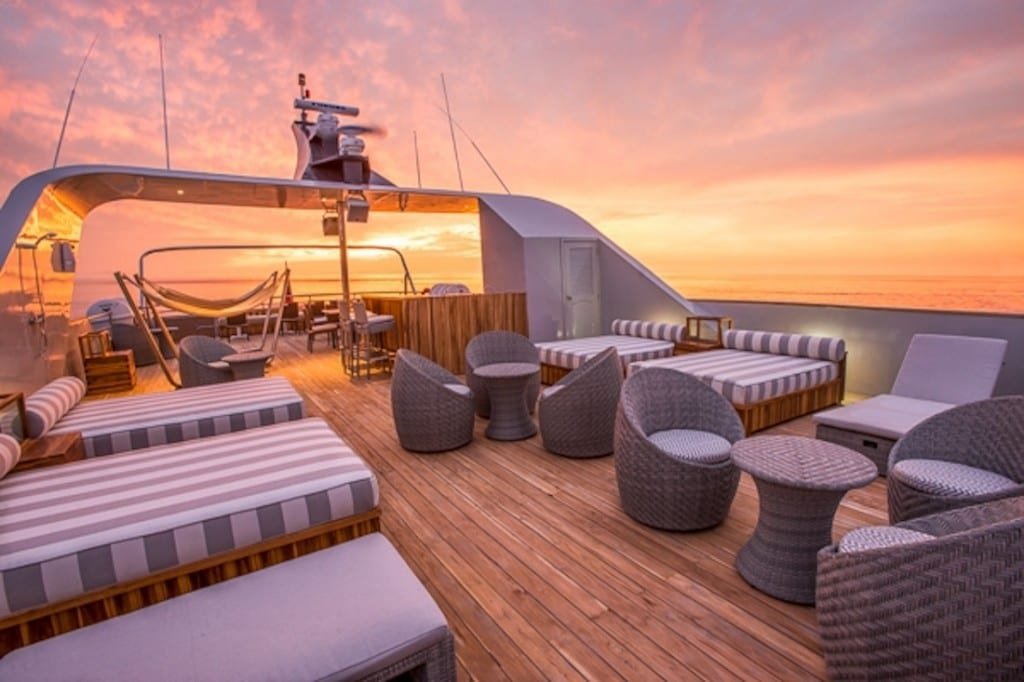 LANDED books cabins onboard the Origin. We also arrange air travel, touring, and accommodations in mainland Ecuador. Speak with a travel planner today at 801.582.2100. We'll take care of the details.