The 10 Best Cruise Options in the Galapagos Islands
Are you ready to plan your vacation to the Galapagos Islands? Often, the best option is a small-scale cruise vessel–a yacht, catamaran, or tri-maran.
These smaller vessels offer an unmatched access to wildlife. Smaller, comfortable live-aboard vessels can navigate and anchor closer to the coast and in shallow, sheltered bays. Many of our recommended yachts have new, modern designs, stabilizers, and anchors both in the bow and at the stern. Others—catamarans and tri-marans—have twin or triple hulls to increase stability. Most of these vessels accommodate 12 to 20 guests; many are built to accommodate 16 guests in 8 cabins.
Most Galapagos cruises span 7-nights, although we can arrange 3-night, 4-night, and 5-night options. Although the archipelago has only about 80 luxury Galapagos cruise vessels for passengers, the fleet has a lot of variety. These vessels can also be privately chartered multi-day cruises in the Galapagos Islands.
LANDED has compiled this list of the 10 best luxury motor yachts, catamarans, and tri-marans in the Galapagos Islands. We offer one-on-one consultations that help you find the perfect Galapagos cruise or private charter. LANDED's team of experts knows the Galapagos first hand and by heart.
[toc]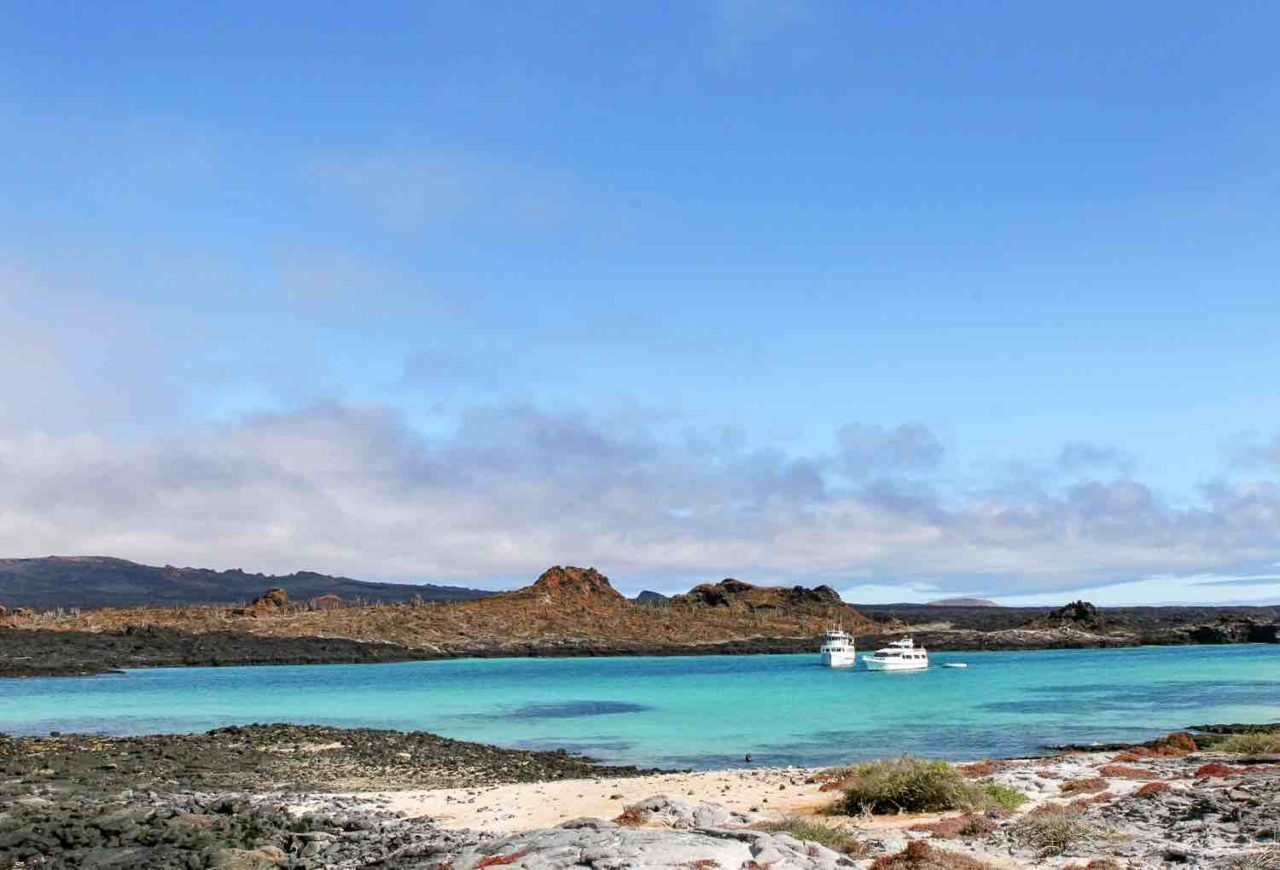 The Galapagos Archipelago consists of thirteen main islands, six minor islands, and scores exposed islets and rocks.
Each island offers different opportunities for visitors. Most have abundant birdlife. Some are known for their strange volcanic features and plant varieties. Yet another group is famous for reptiles and sea mammals.
The three pillars of a Galapagos cruise experience are: the vessel, the guides, and the itinerary. Each choice matters.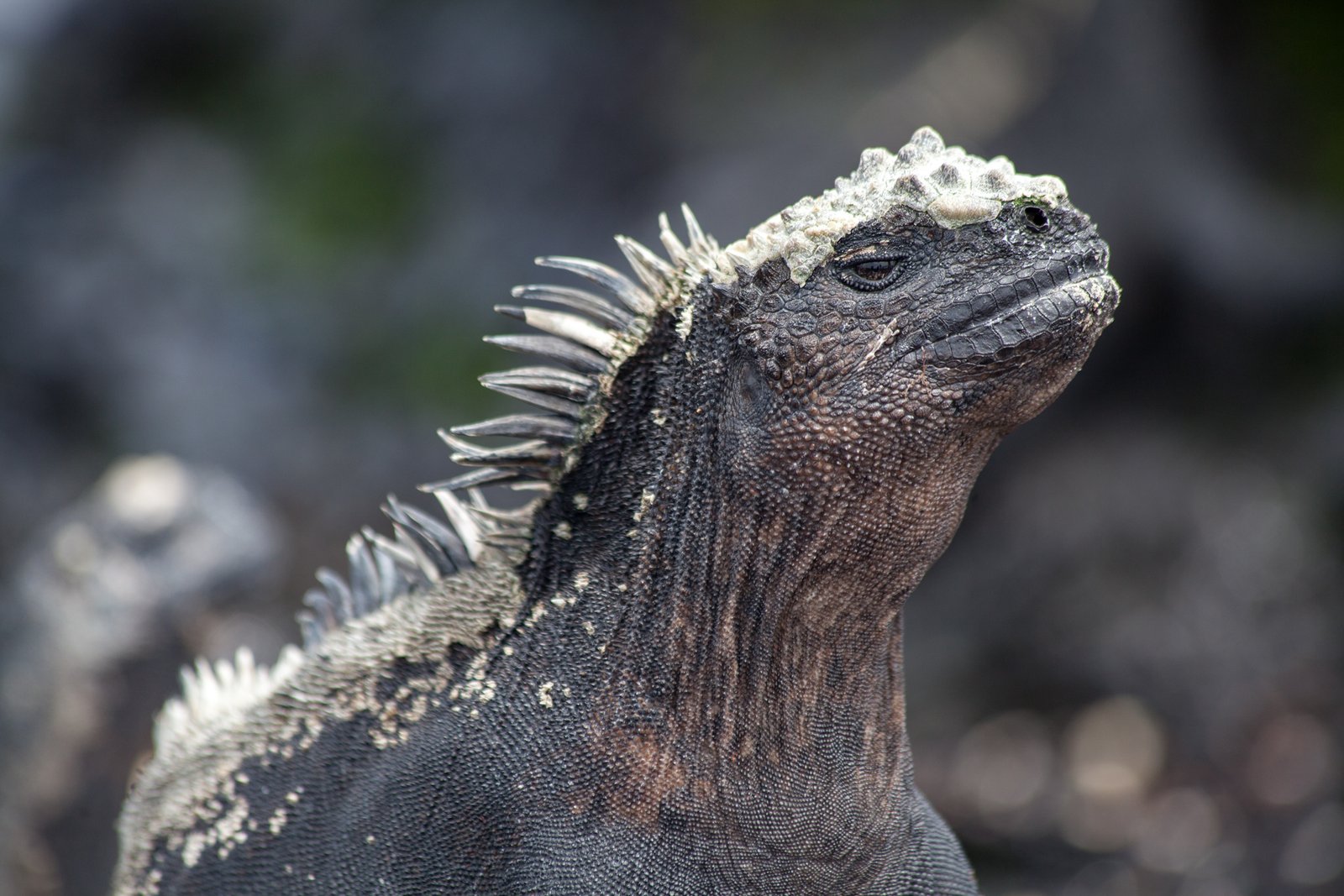 The Best Cruises in the Galapagos
With that in mind, here is our list of the best cruises in the Galapagos. We know these vessels first-hand and by heart.
Have questions? Our team of expert travel advisors is at your service.
10. Petrel (Motor Catamaran)
Launched in 2015 and renovated in September 2017, the M/C Petrel is a luxury motor catamaran that combines speed—ten knots—and steadiness (catamarans tend to be more stable than monohull vessels).
Amenities onboard this Galapagos catamaran include:
Spacious Lounge
Dining Area
Bar
Sundeck with Jetted Tub
Lounge Chairs
The crew of eleven includes an expert bilingual guide, two chefs, and a cruise manager.
The Petrel accommodates 16 passengers in nine comfortable cabins.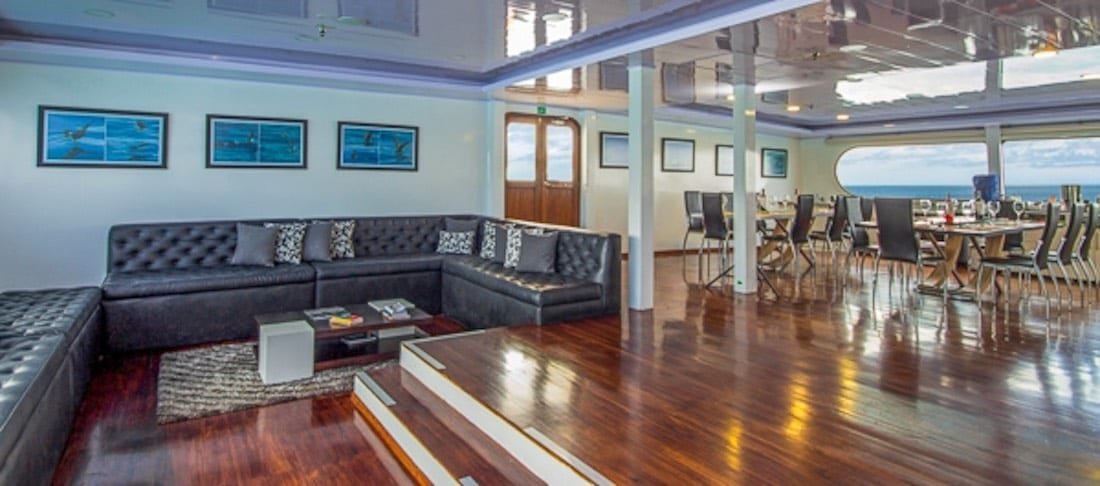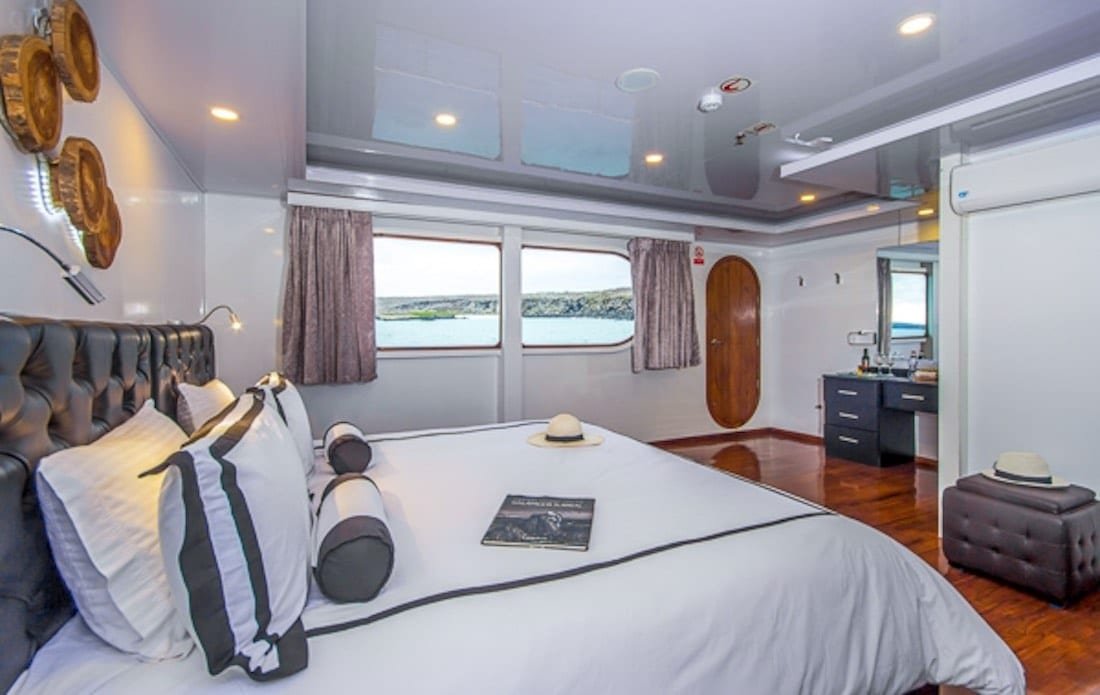 Launched in 2011 and renovated in 2020, the M/C Ocean Spray luxury motor catamaran combines surprising speed—a blazing 15 knots—and steadiness. This vessel carries a crew of eleven, including a chef and bilingual naturalist guide.
Amenities include a jetted tub, indoor and outdoor dining areas, an aft lounge with bar, and a rooftop sundeck.
Ocean Spray has a capacity for sixteen passengers, featuring nine cabins.
Kayaks and paddleboards are available for use.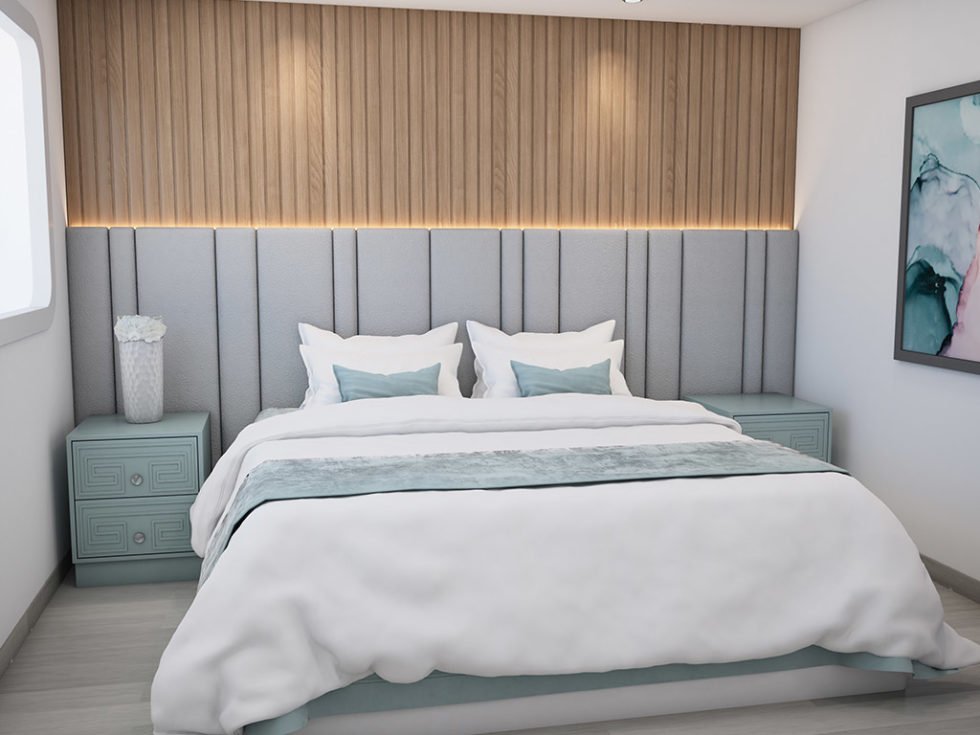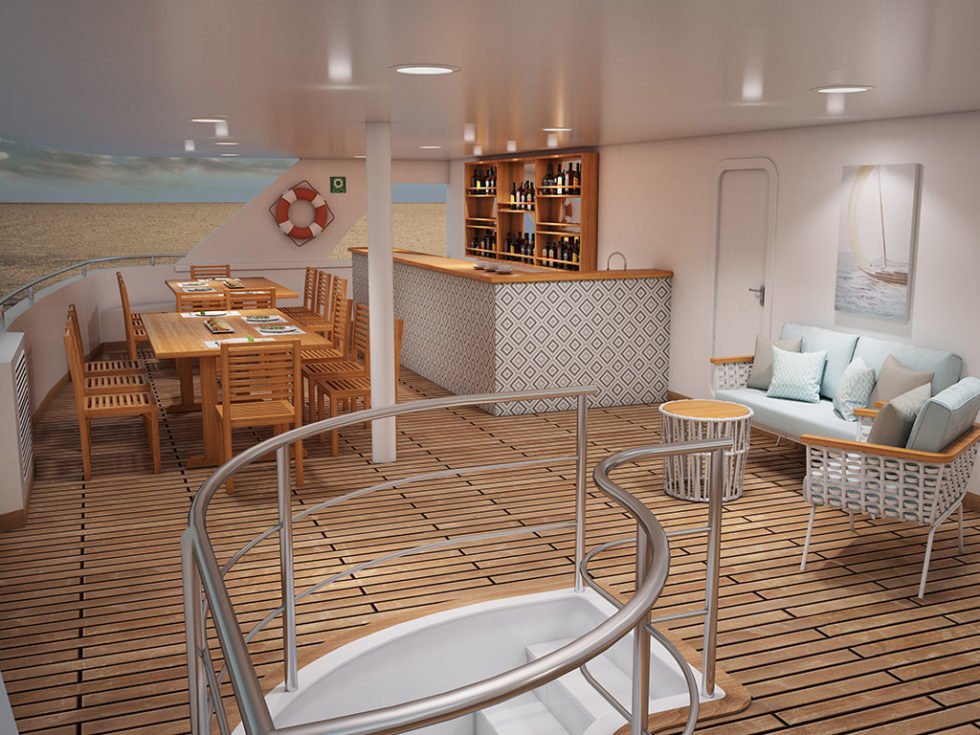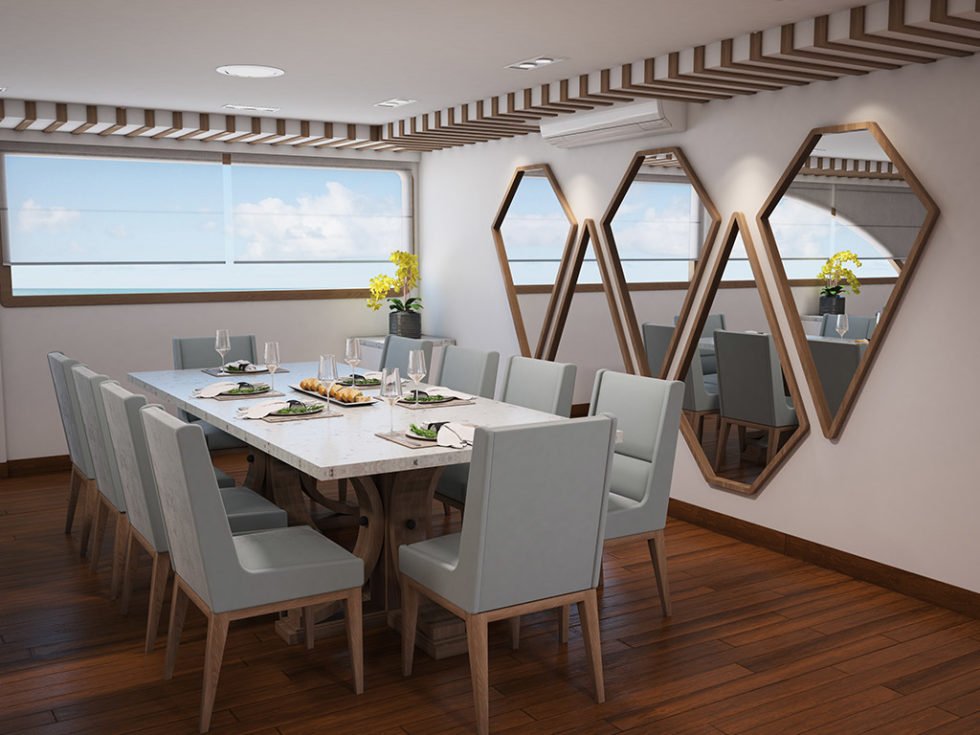 8. Passion (Motor Yacht)
The M/Y Passion stands out among the luxury yachts in the Galapagos—its designed and exclusively offered for private charter.
Passion's service ratio—one crew-member per guest—is unparalleled.
The Passion features two king-bedded suites, and four other staterooms on the lower deck. Although charters are usually for parties of twelve, three additional guests can be accommodated.
Common areas include a panoramic sky lounge with wet bar, a secluded sun deck with lounge chairs and a jetted tub, and over 2,100 square feet of teak decking.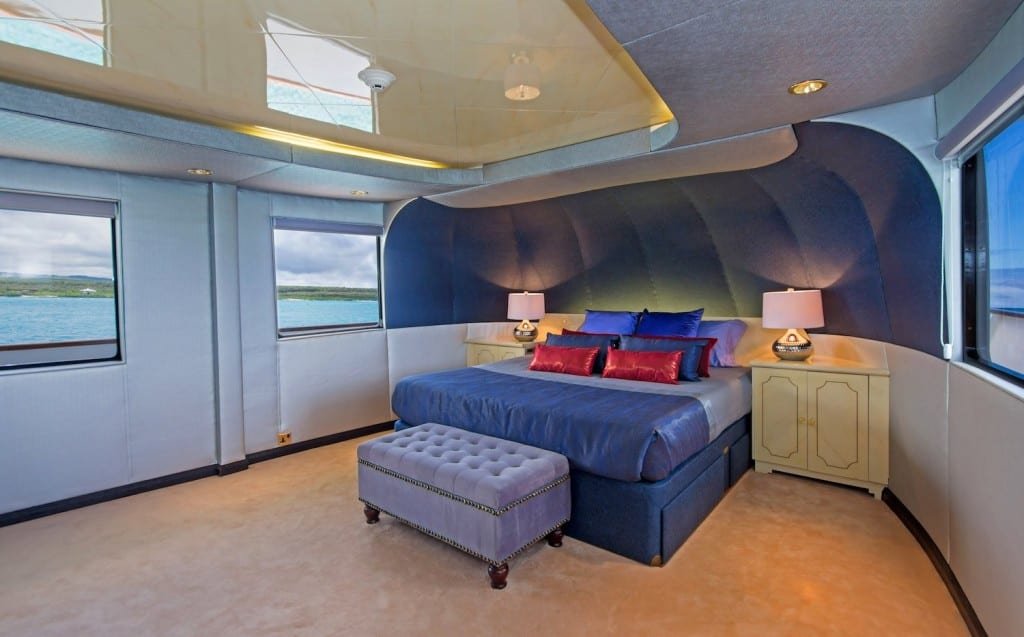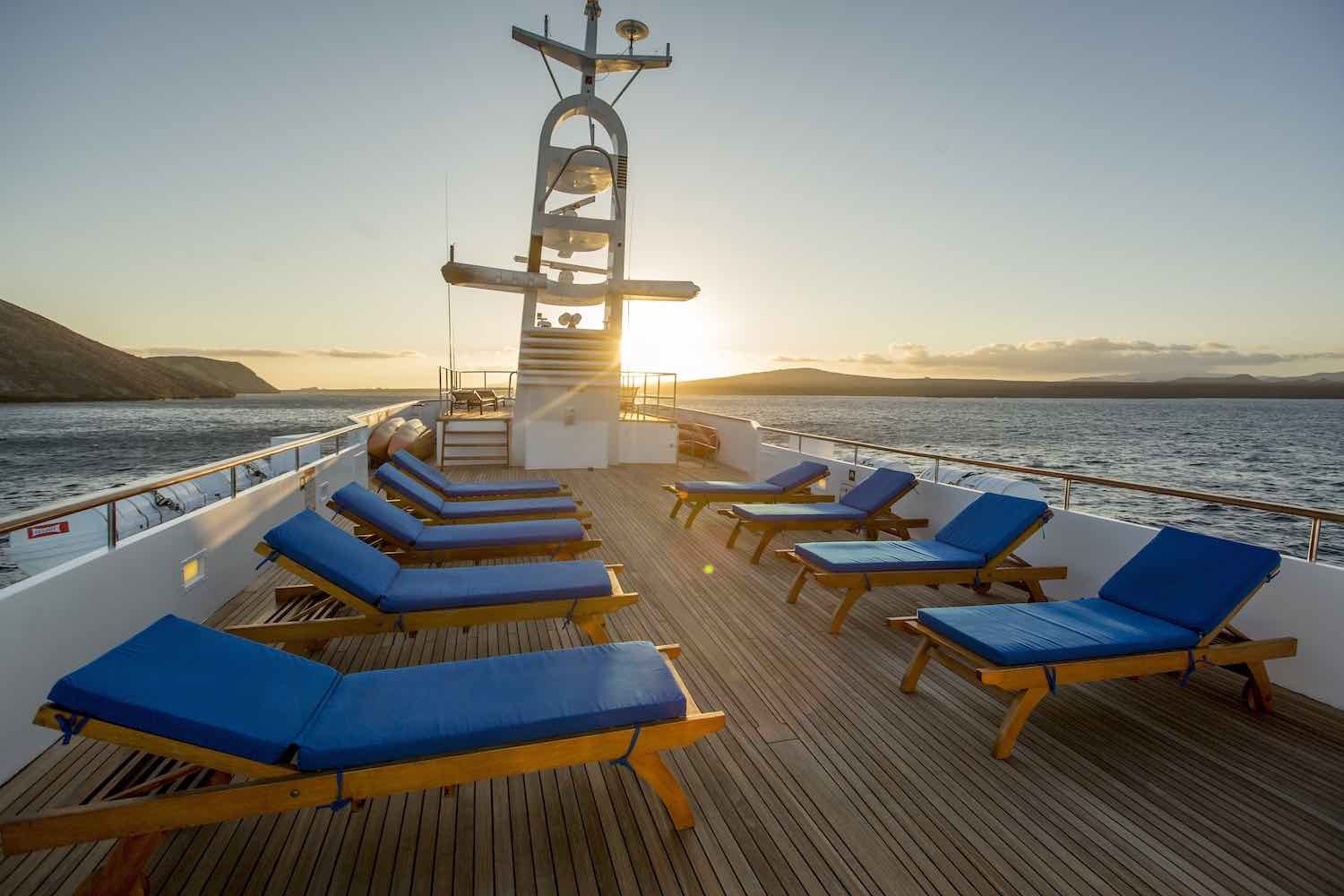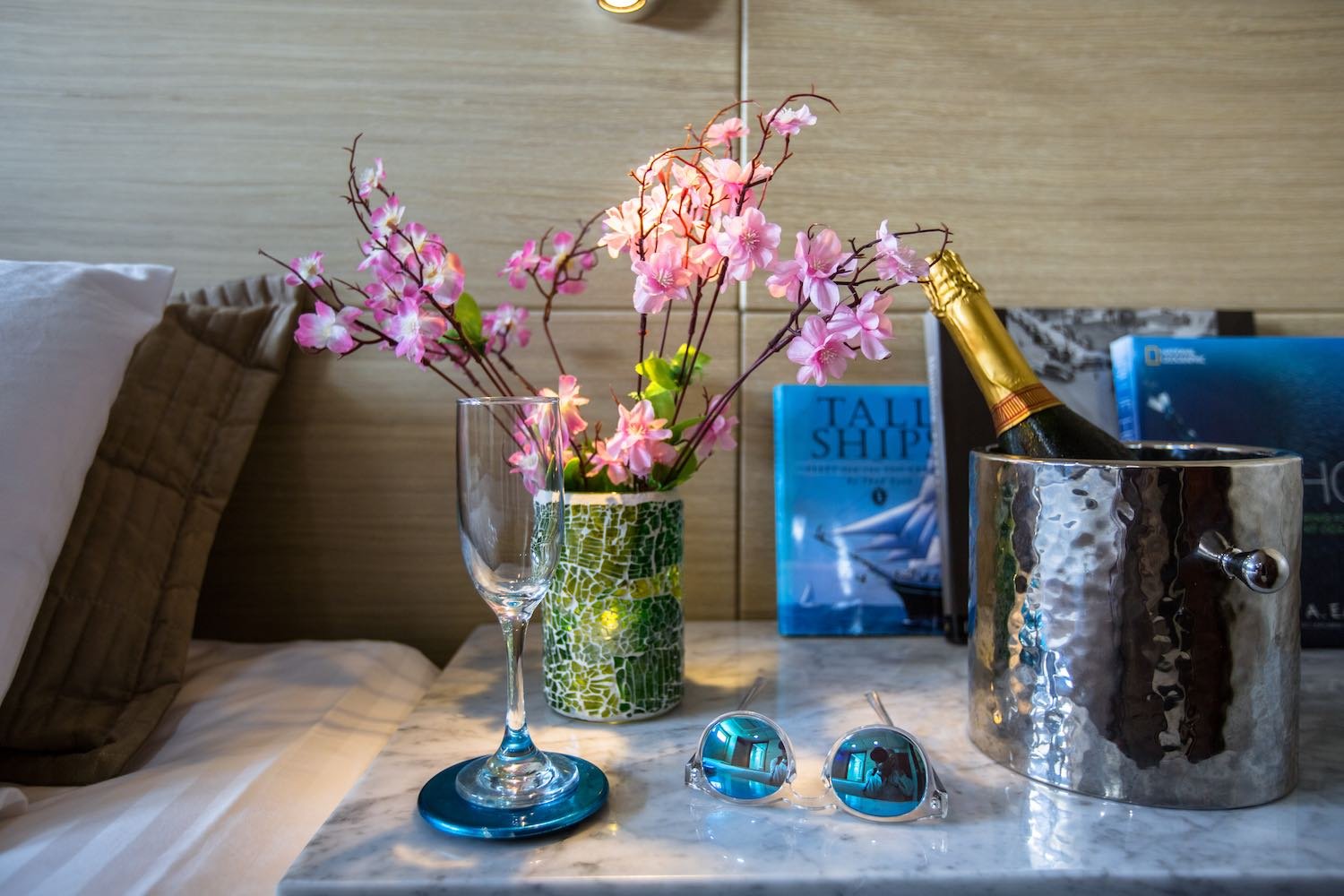 Specifically designed for private Galapagos yacht charters, the Grand Majestic motor yacht was launched in 2018. This yacht is only available for private charters.
This luxury charter vessel has capacity for 16 guests in seven cabins and one master suite. Cabins range in size from 141 to 182 square feet.
The Galapagos Grand Majestic motor yacht has a sun deck with whirlpool tub, al fresco and indoor dining areas, a lounge, a bar, and a coffee station.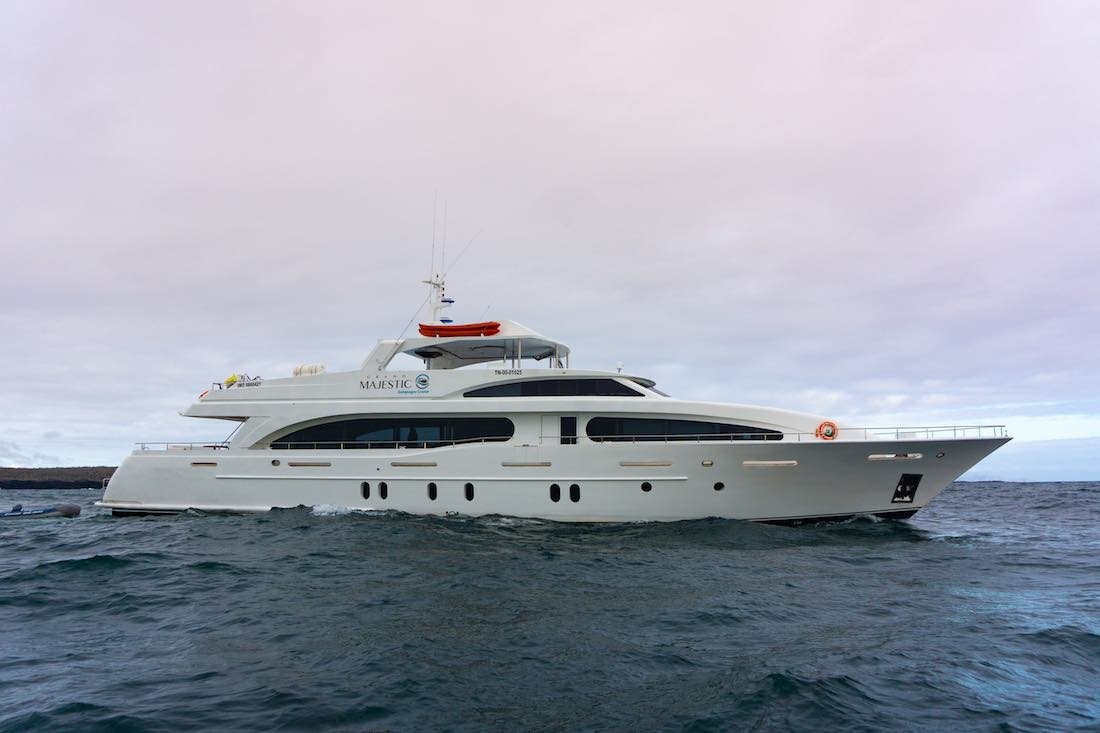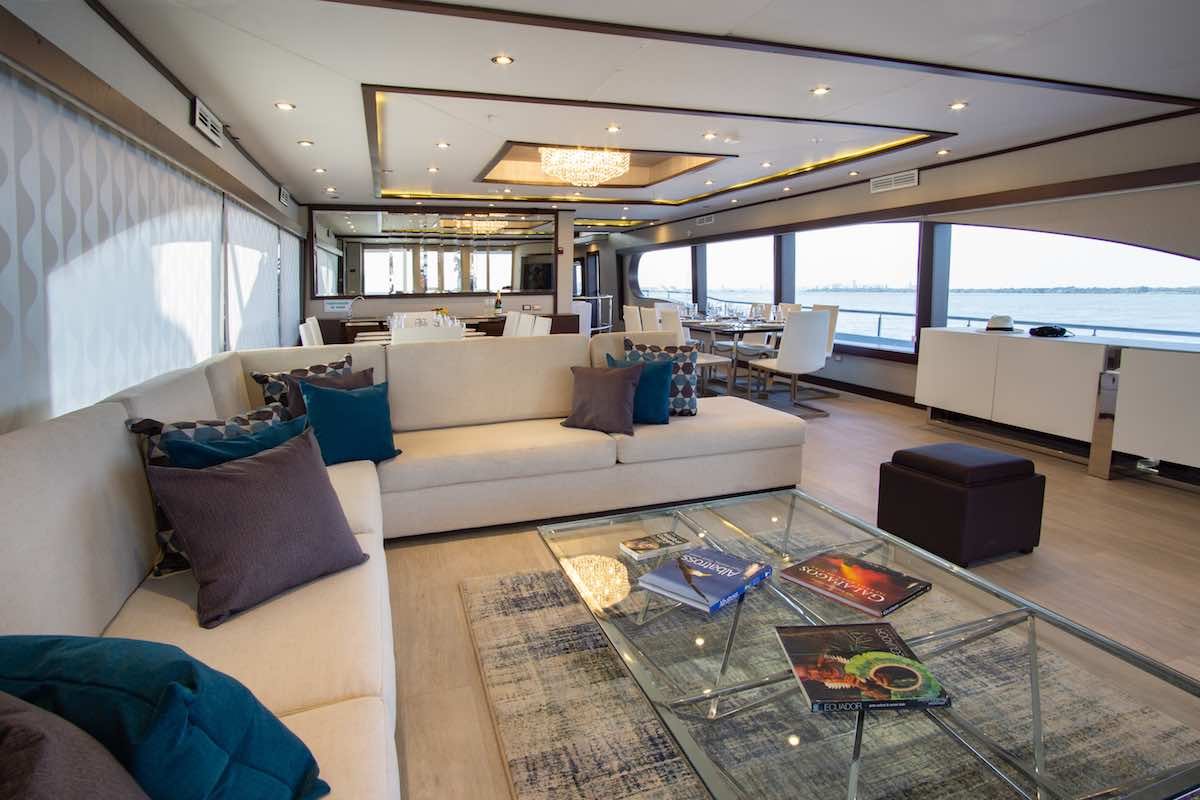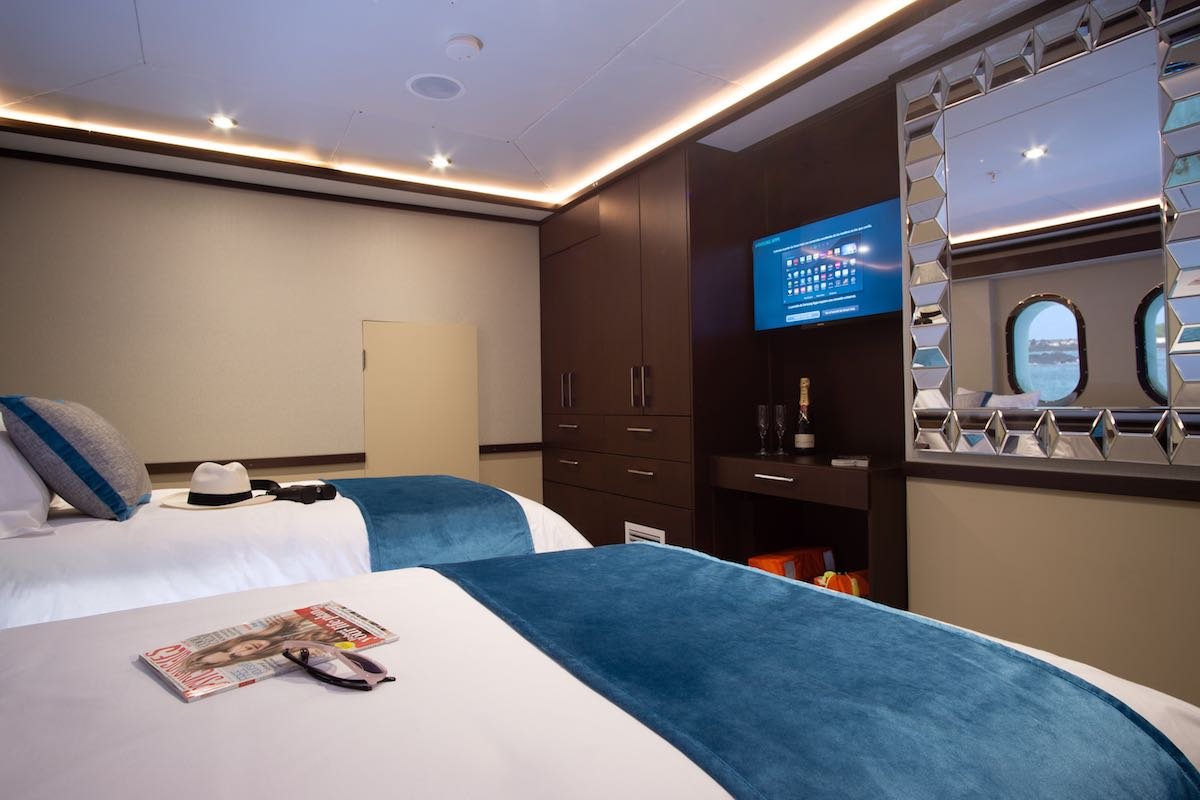 Among the newest and most advanced luxury motor yachts in the Galapagos Islands, Infinity made its debut in 2018.
Galapagos Infinity has capacity for 20 passengers in 10 cabins, with two expert naturalist guides (a 1:10 guide to passenger ratio).
Among the Galapagos Infinity's amenities are al fresco and indoor dining areas, a sun deck with lounge chairs and whirlpool spa, a bar, and a spacious lounge.


In September 2018, the twin vessels M/V Origin and M/V Theory, became the first luxury Galapagos expedition yachts to become official members of the esteemed Relais & Châteaux collection.
Launched in February of 2016, these Galapagos yachts were designed for stability, efficiency, and comfort. The M/V Theory offers a combination of eco-friendly features, modern furnishings, and high-end amenities.
The ten spacious staterooms in both vessel will each offer wide ocean views and two twin beds that easily convert to a King.
Guests of the Origin and the Theory will explore the Galapagos in the company of knowledgeable naturalist guides in small groups or no more than ten per guide, creating an in-depth and intimate learning environment.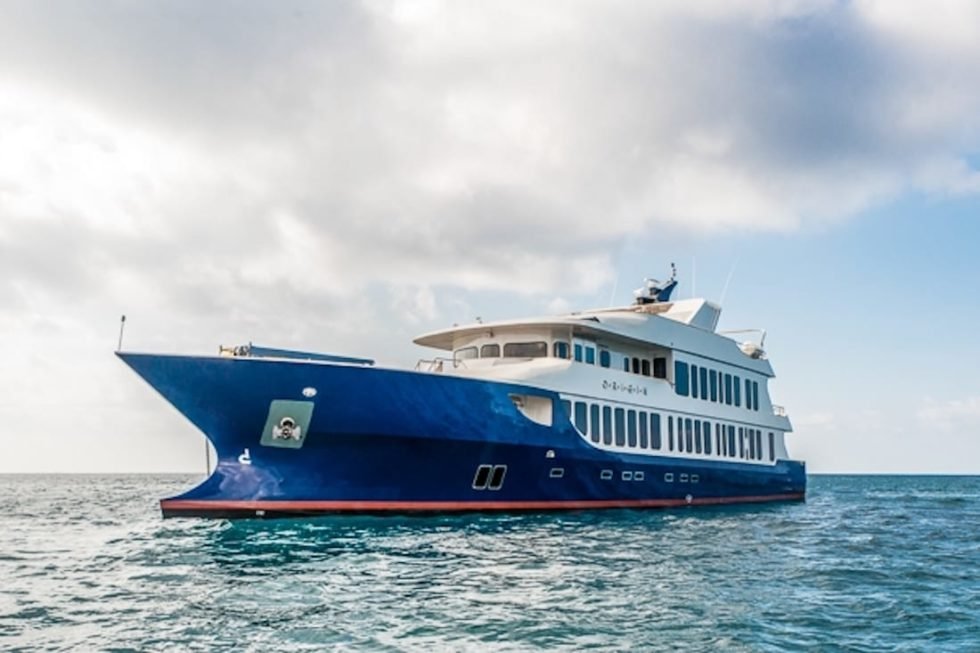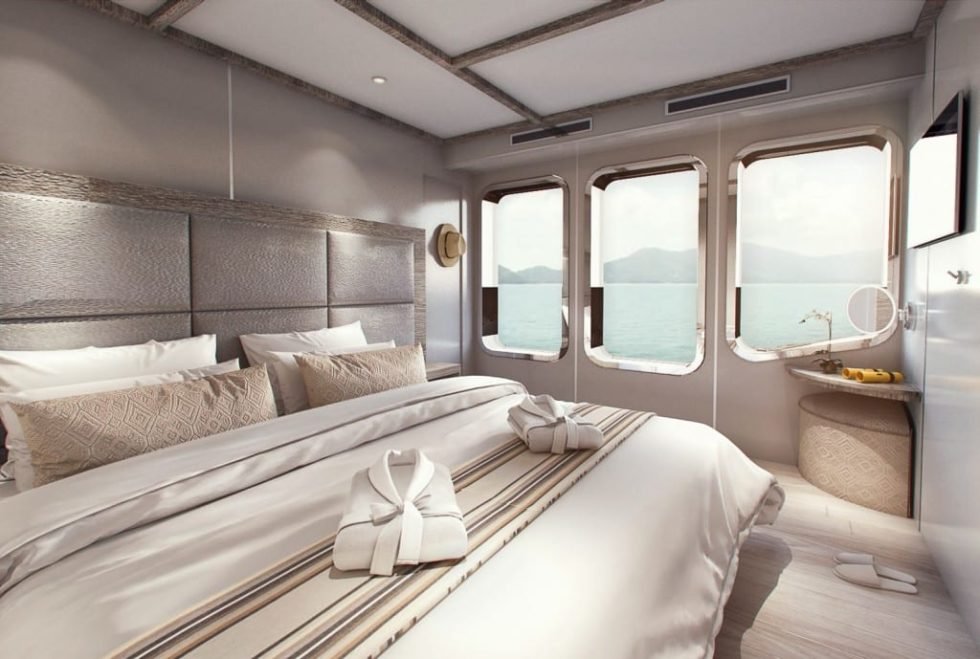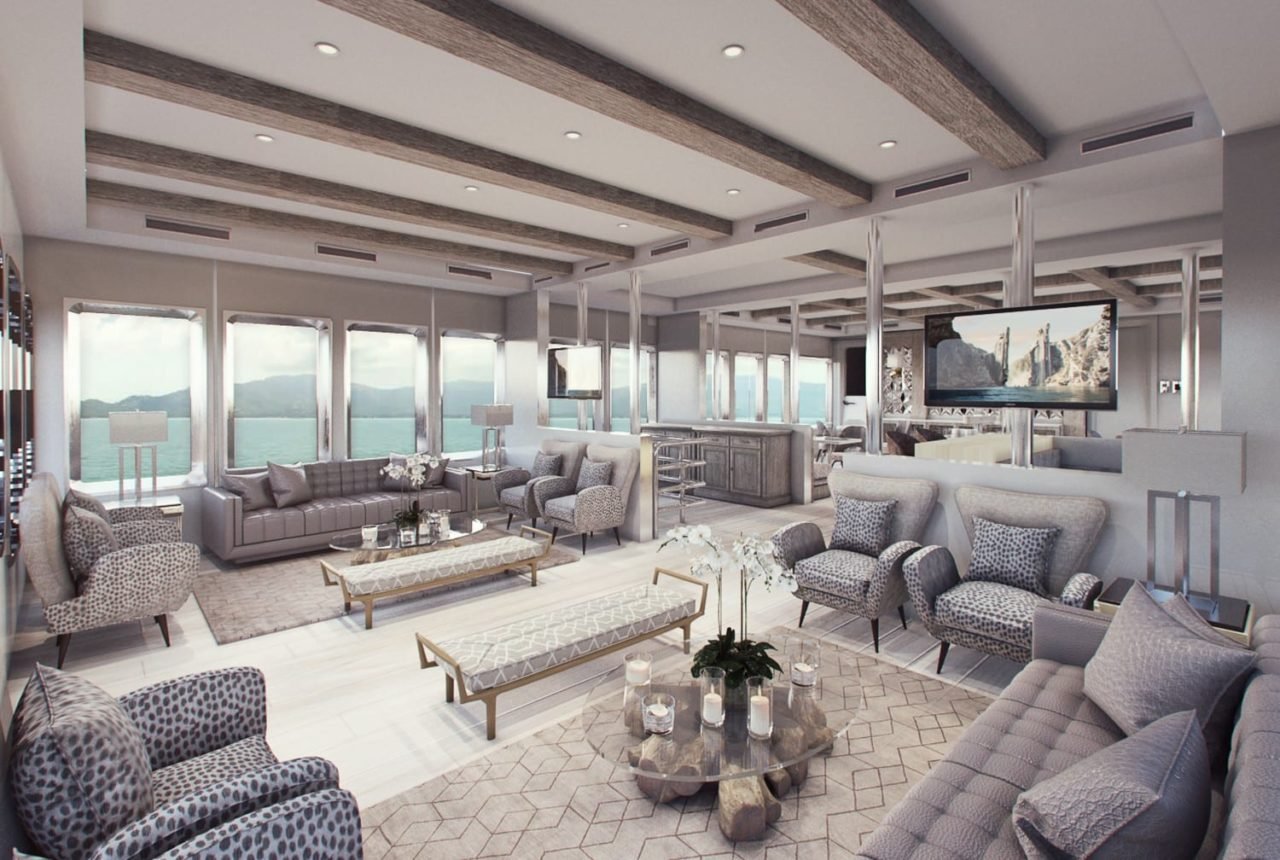 The 16-passenger Galapagos Endemic motor catamaran was launched in July 2018. The Galapagos Endemic is considered a "senior-friendly" vessel. It has fewer stairs than other catamarans, with better accessibility and special accommodation options.
The Galapagos Endemic carries a crew of 10, plus a cruise director, and an expert naturalist guide. The Endemic has capacity for 16 guests in 8 cabins.
Amenities aboard the Endemic include al fresco dining, a hot tub, a sun terrace, and a forward observation platform with lounge chairs, a briefing room, lounge, and an interior dining room.
Other amenities include a BBQ station, television lounge, coffee station, library, kayaks, and snorkeling gear.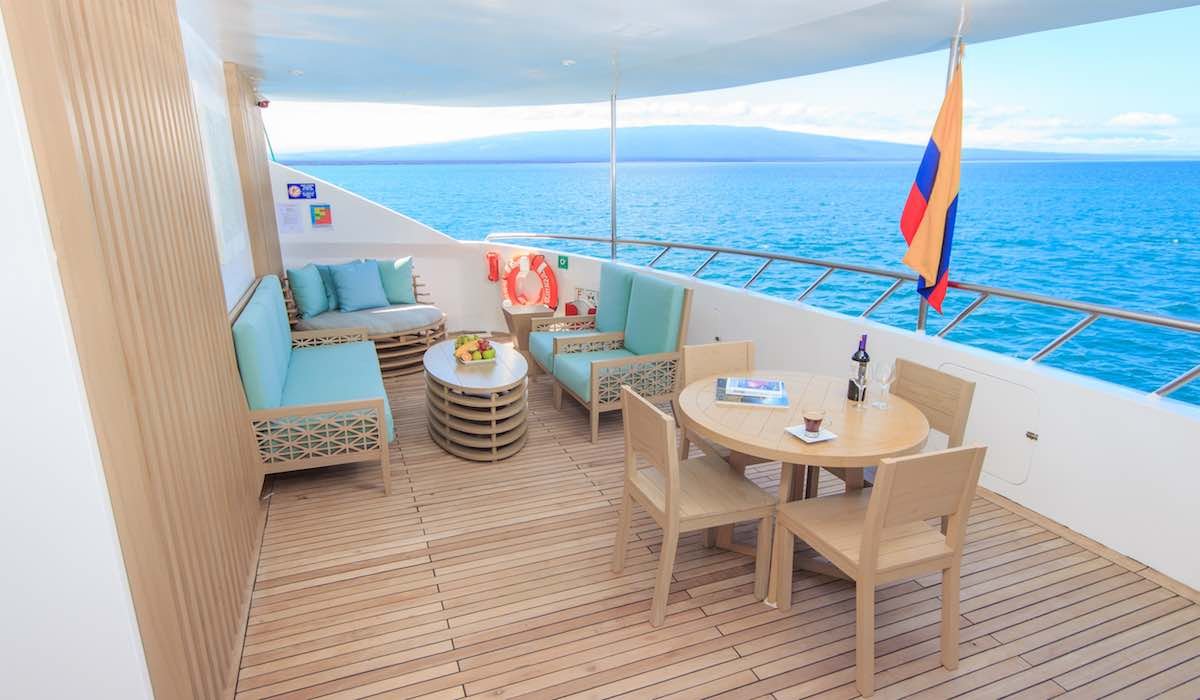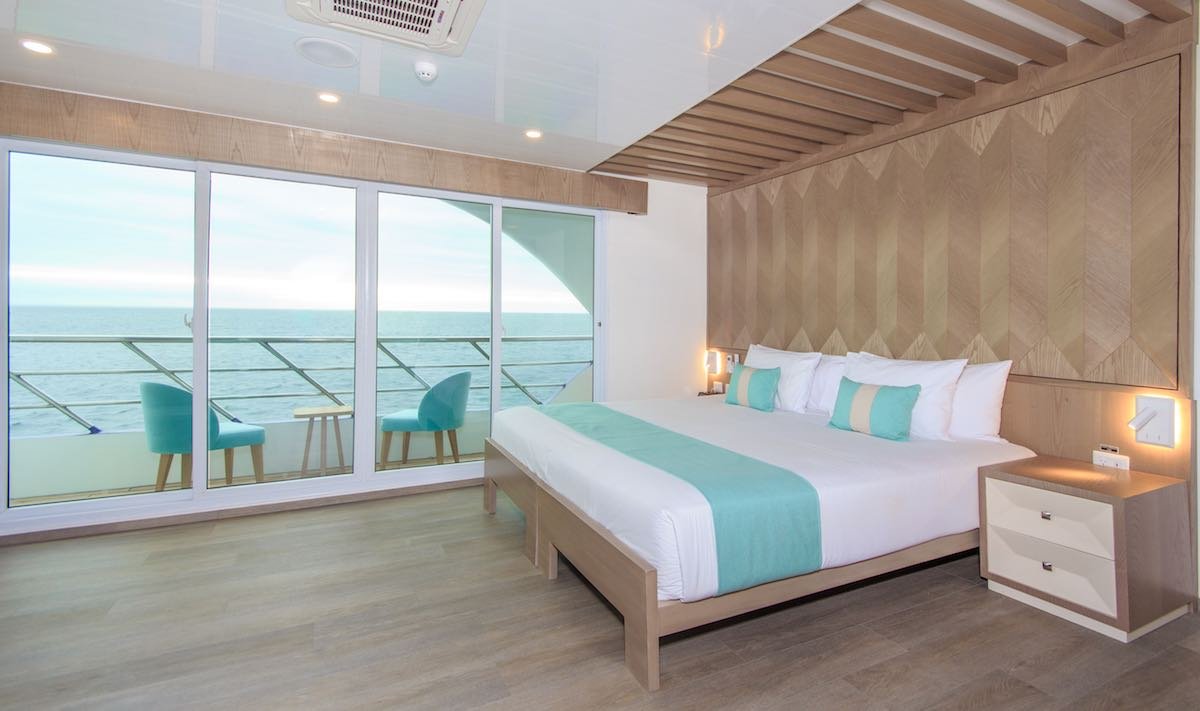 Launched in June 2019, the Galapagos Elite is a luxury motor catamaran that provides smooth, stable, and energy-efficient cruising.
Elite has a dedicated 10-member crew, with an additional cruise director and a naturalist guide for 16 guests accommodated in 8 cabins.
Among The Elite's amenities are a lounge, bar, salon, sky deck, other indoor and outdoor social areas, whirlpool hot tub, and 180-degree panoramic views.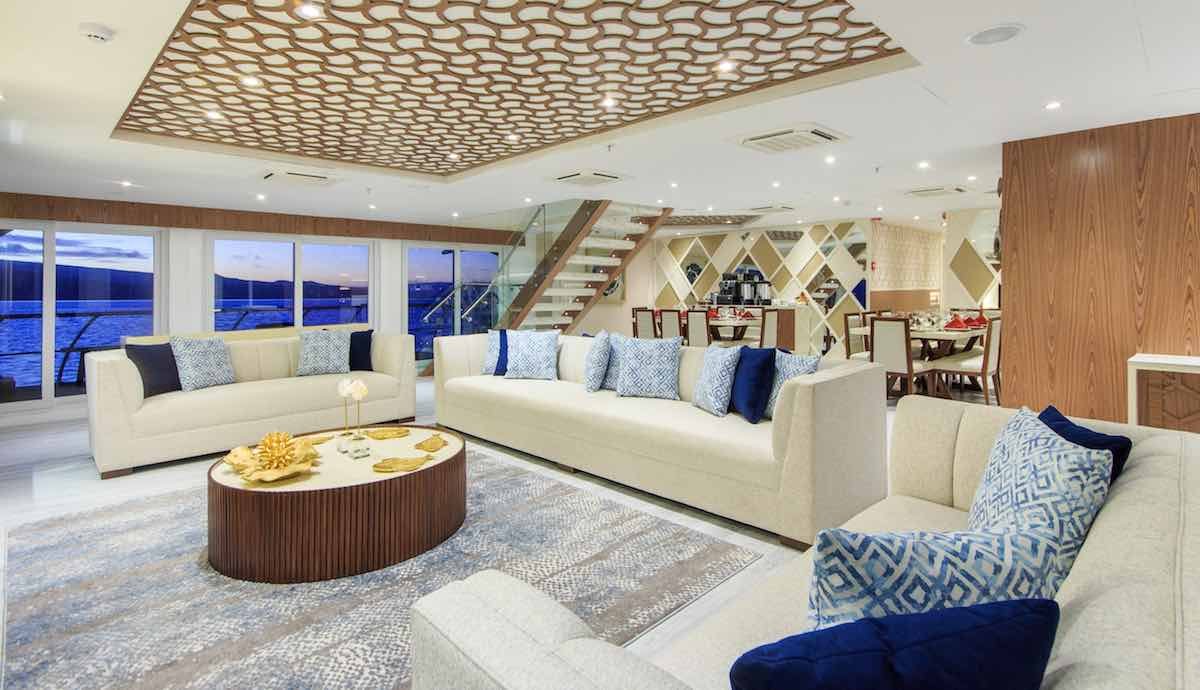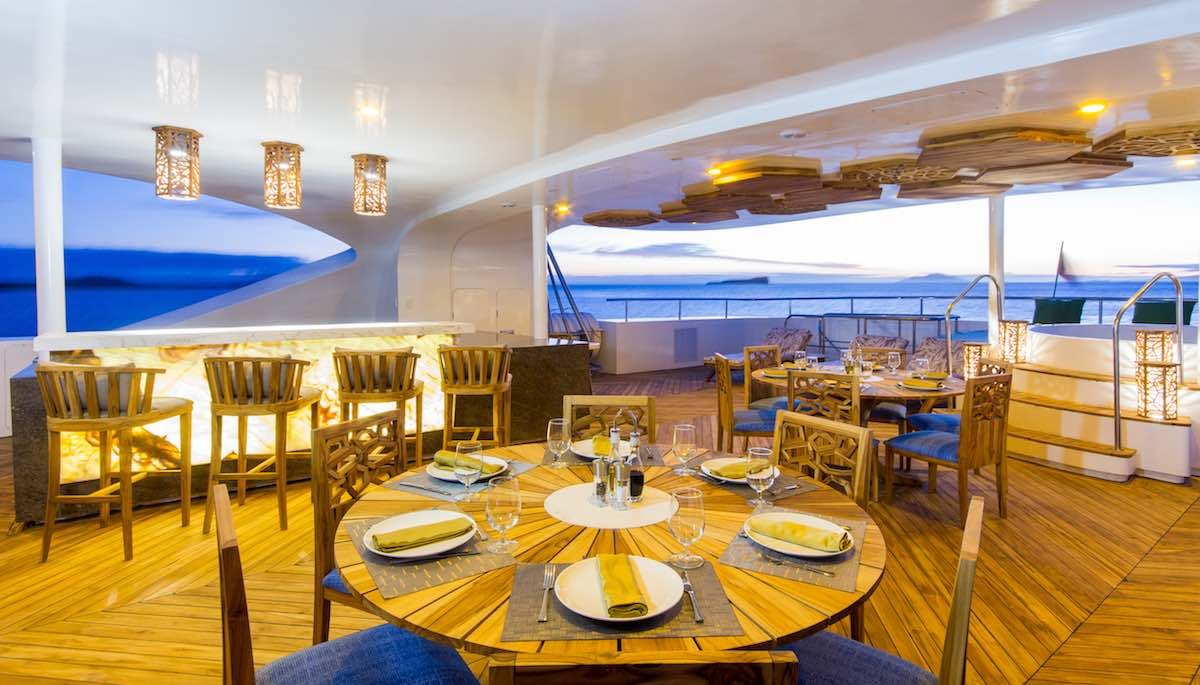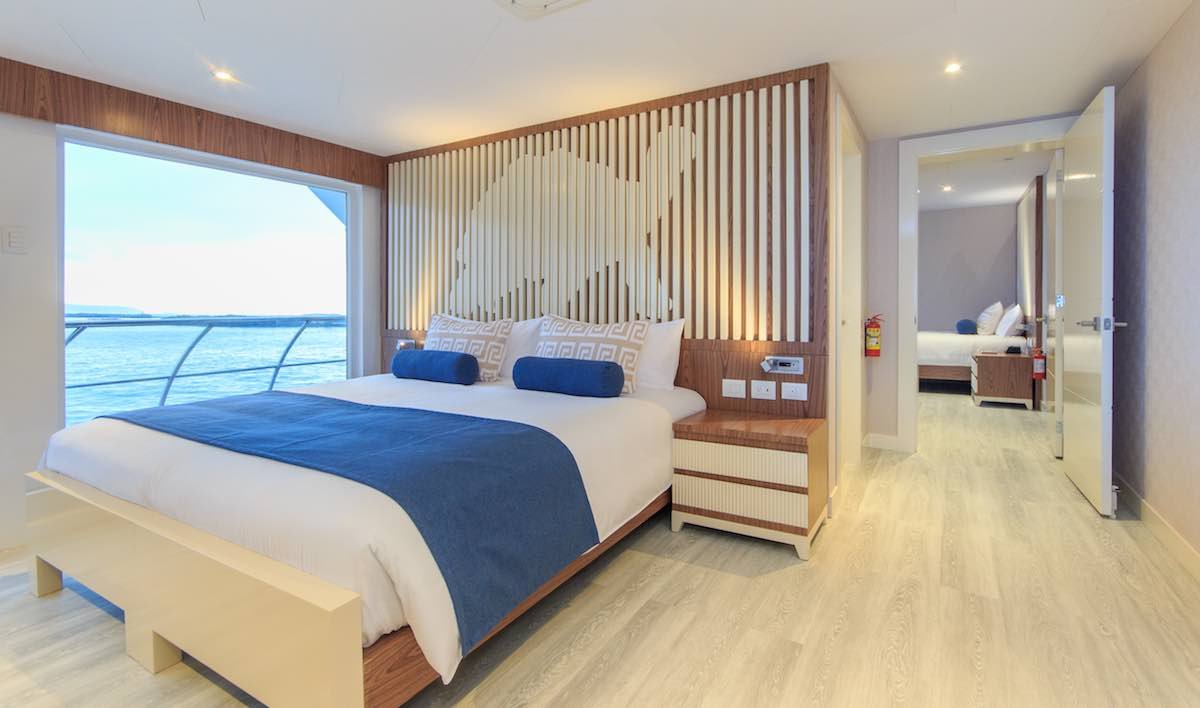 The Stella Maris is the finest luxury yacht in the Galapagos. This is a true charter yacht, designed for exclusive use by an extended family or a group of close friends: up to twelve guests, served by a crew of ten. This yacht is only available for private charters.
Stella Maris houses six air-conditioned en-suite staterooms.
This charter vessel also features a formal dining room, an ample living room, and a large shaded social area, perfect for dining alfresco.
The Stella Maris culinary staff prides themselves on catering to all dining preferences.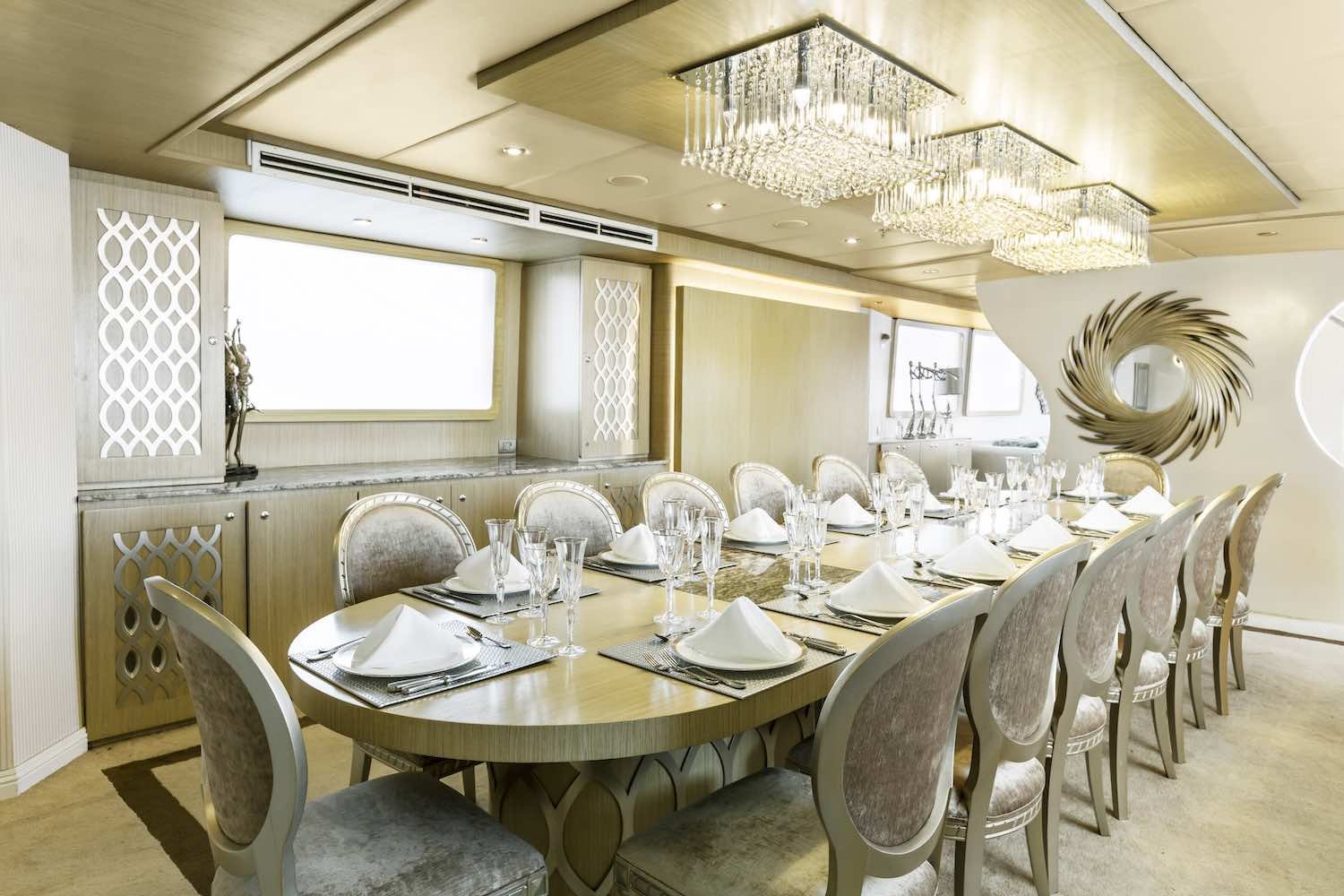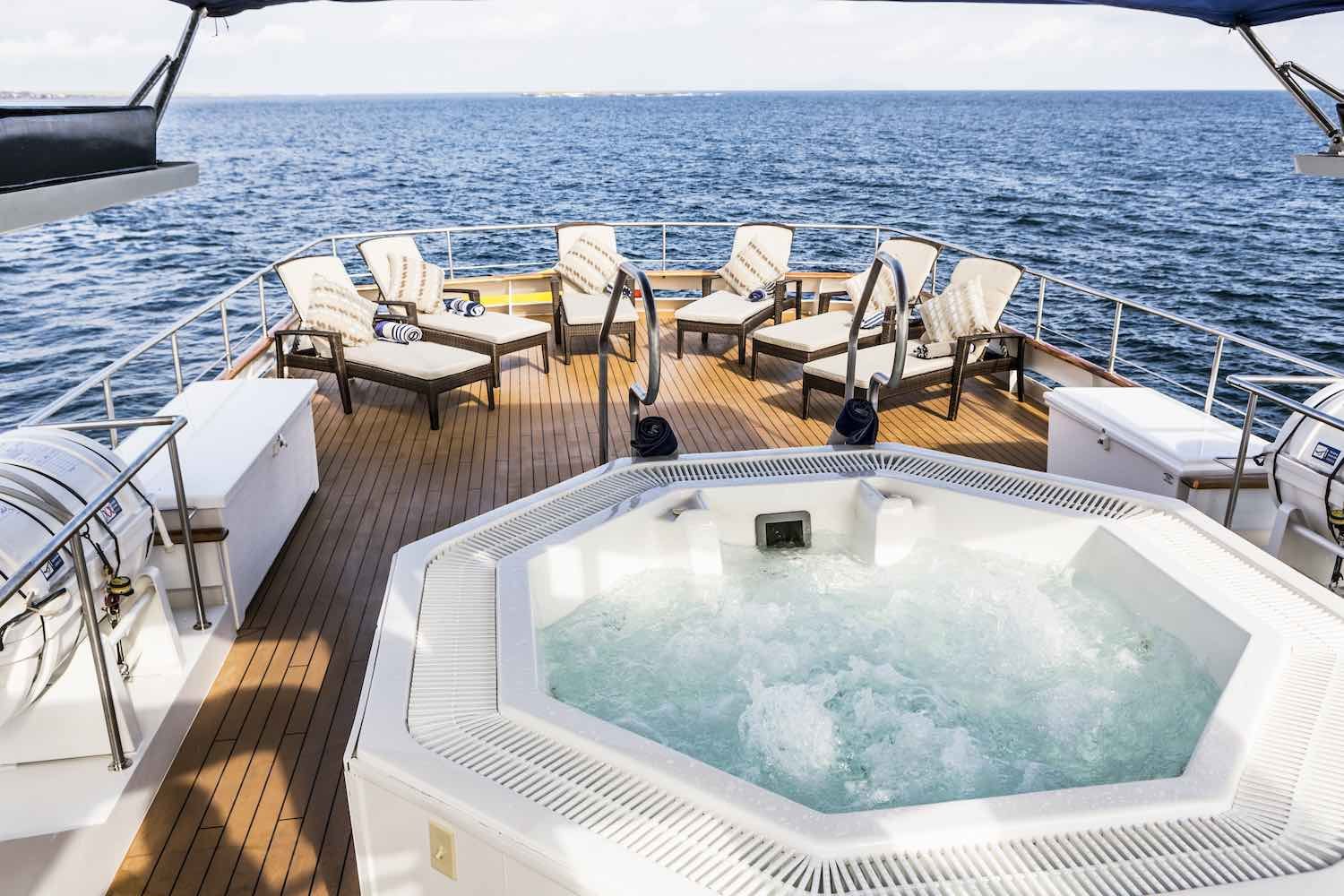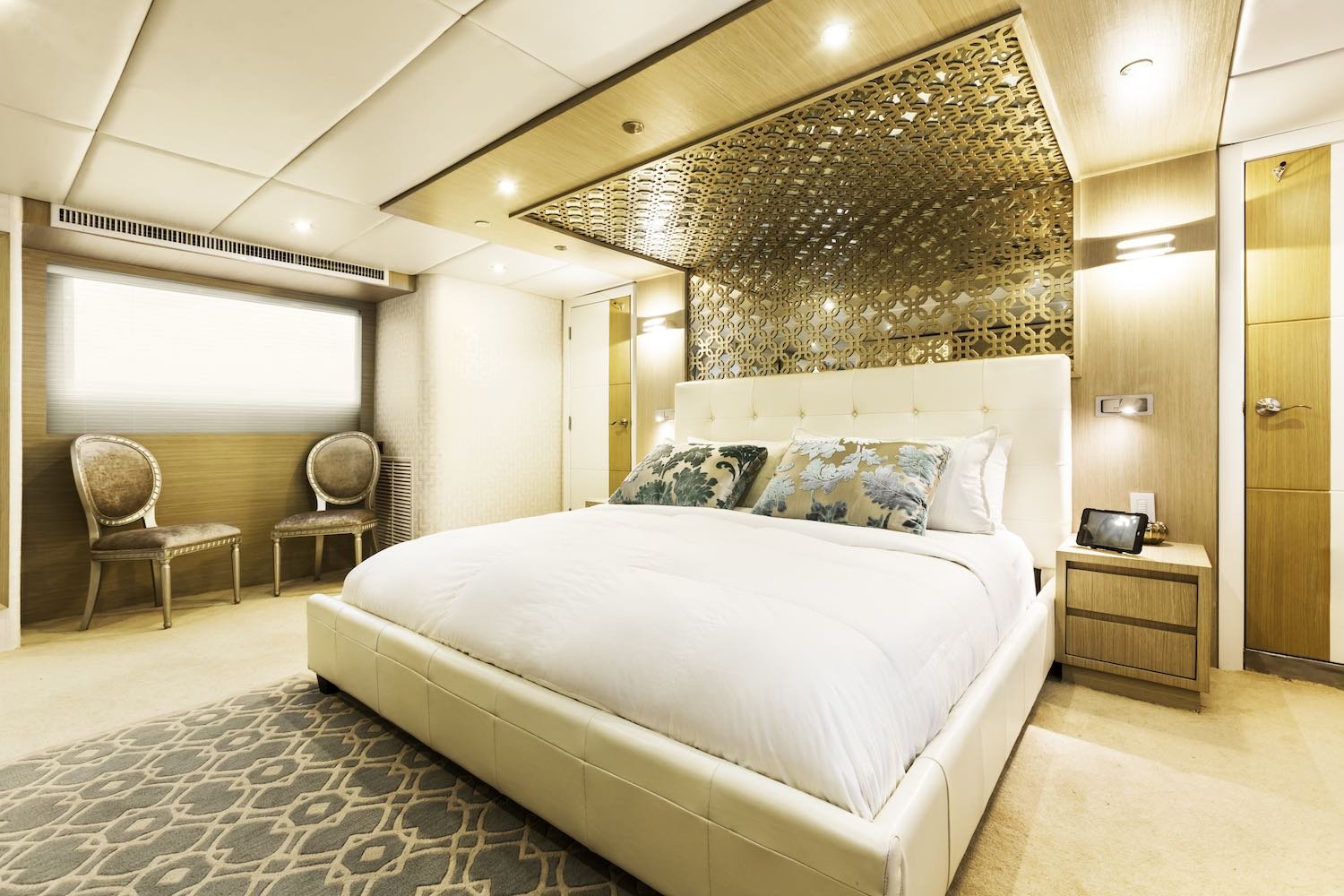 1. The Aqua Mare (Super Yacht)
The Aqua Mare superyacht was launched in November 2021. This vessel has quickly become our favorite on the islands.
The Galapagos Aqua Mare carries a crew of 16, including two naturalist guides. The high crew-to-guest ensures personal attention and care.
The Aqua Mare has capacity for up to 16 guests in seven air-conditioned sea-facing Suites.
Among the superyacht's amenities are outdoor and indoor dining, a Barbecue area, jetted tub, workout zone, library, lobby bar, swim platform, and Beach Club / Movie Room.
Satellite TV is available in all cabins with individual streaming services. Wi-Fi is available throughout the boat; however, Wi-Fi connectivity in the Galapagos is spotty.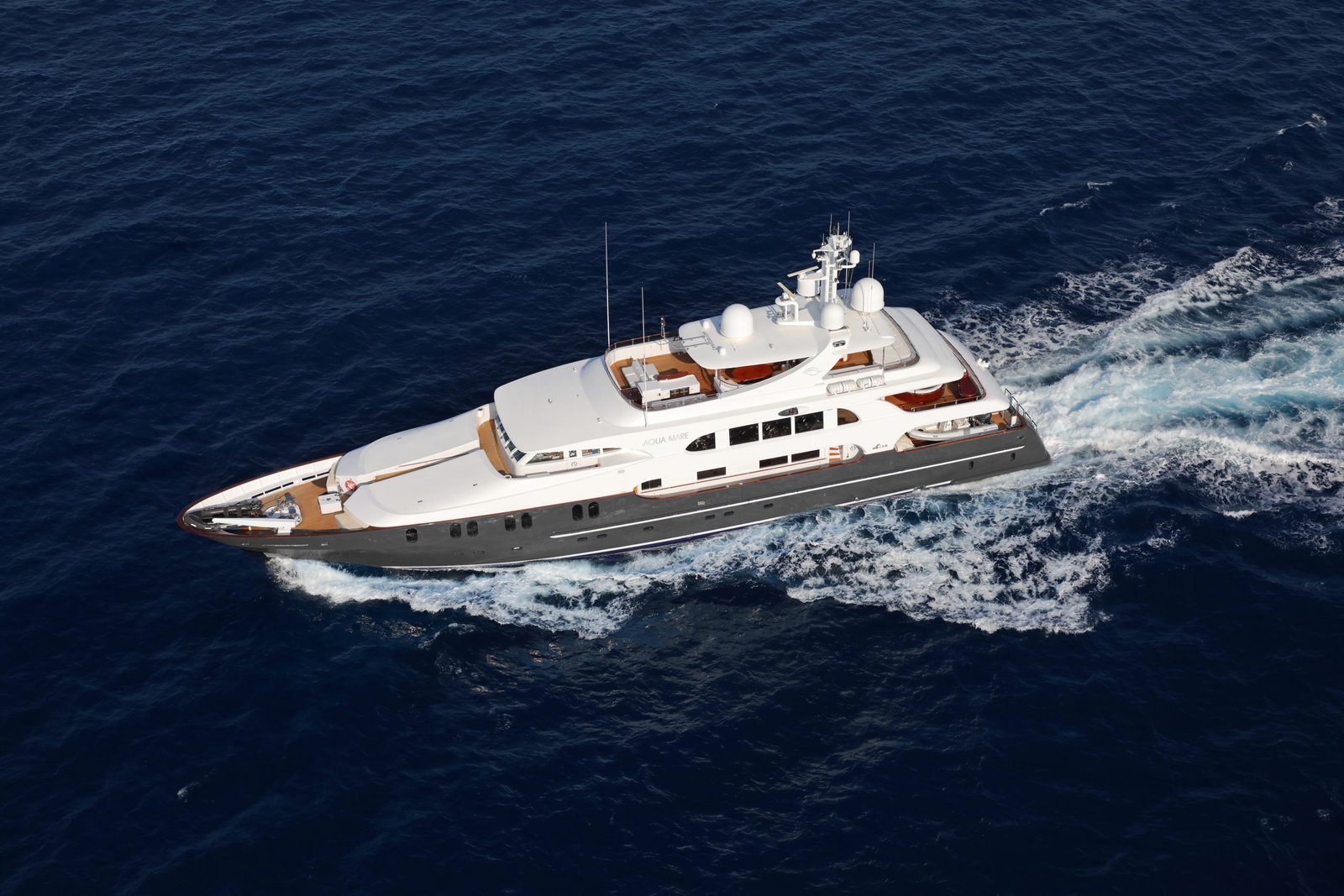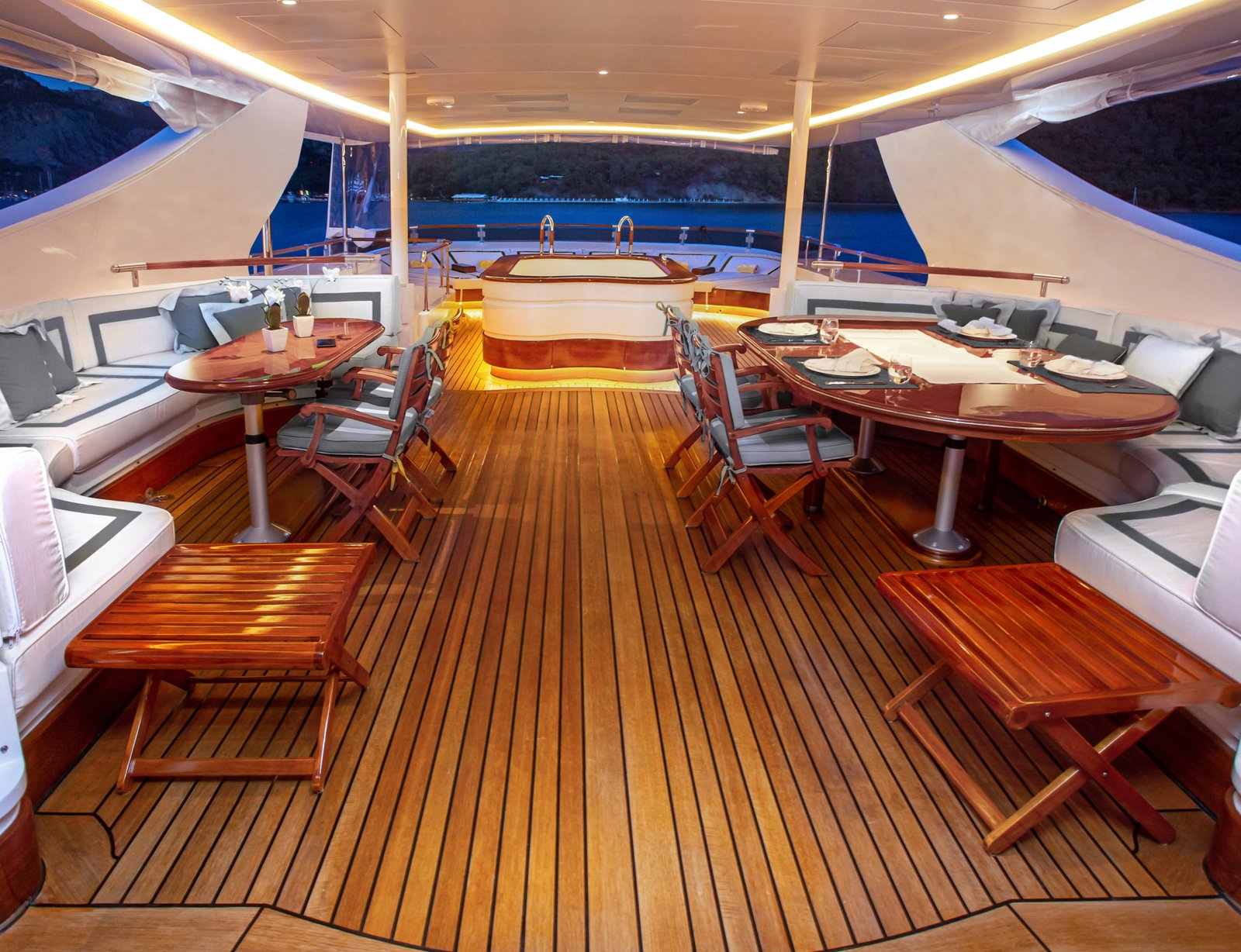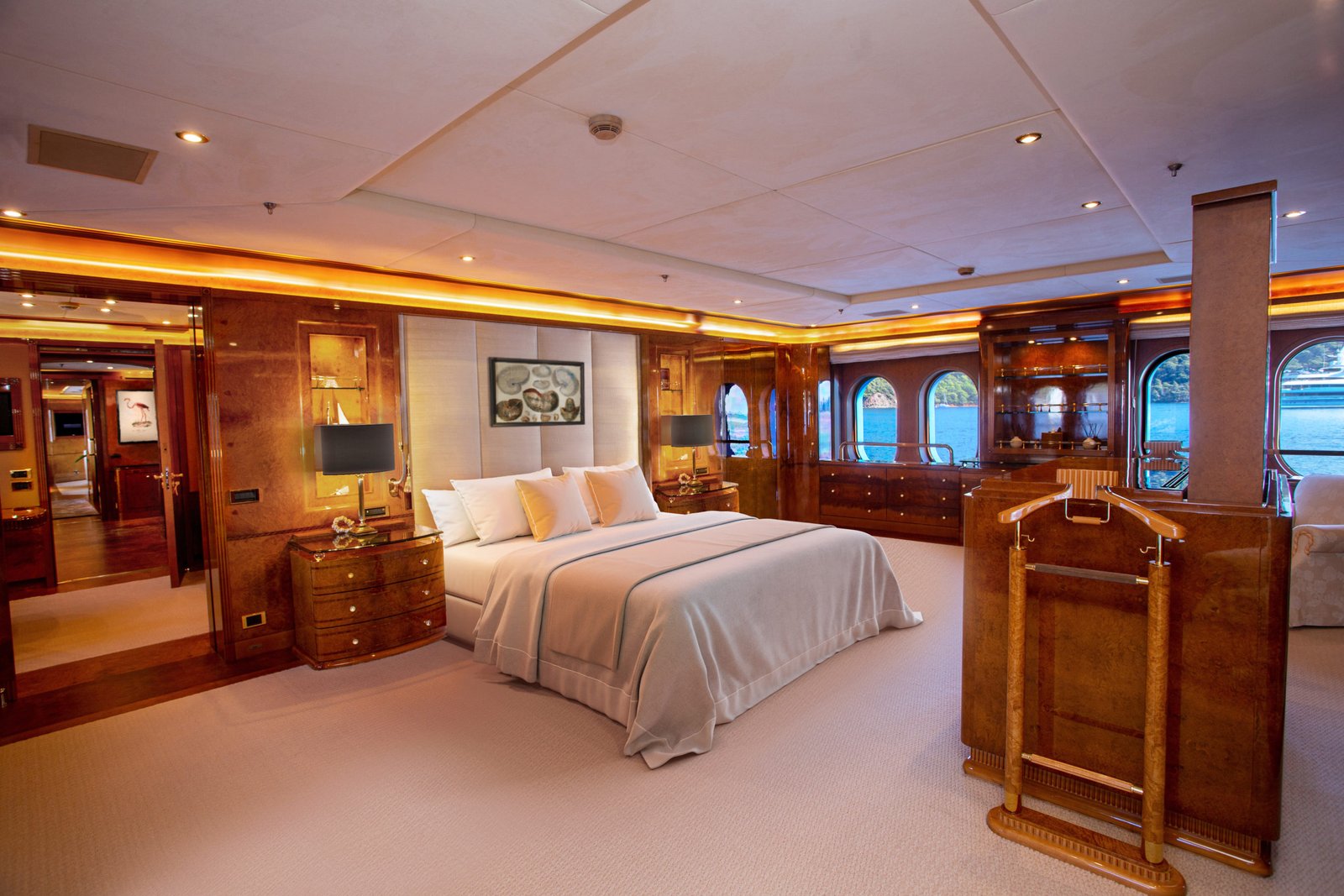 LANDED ARRANGES LUXURY CRUISES AND DESIGNS TRAVEL THROUGHOUT THE GALAPAGOS AND ECUADOR. WE ENJOY PERSONAL RELATIONSHIPS WITH THE PROPRIETORS OF SOME OF THE BEST CRUISES IN THE ISLANDS. LET US TURN YOUR DREAMS INTO MEMORIES. SPEAK WITH ONE OF OUR EXPERT TRAVEL PLANNERS TODAY AT 801.582.2100.