Rio Sagrado
Rio Sagrado, a Belmond Hotel, is set beside the Urubamba River toward the northern end of the Sacred Valley.
The hotel provides an excellent environment for acclimatizing, and can serve as a comfortable base for explorations of the Sacred Valley and day trips to Machu Picchu.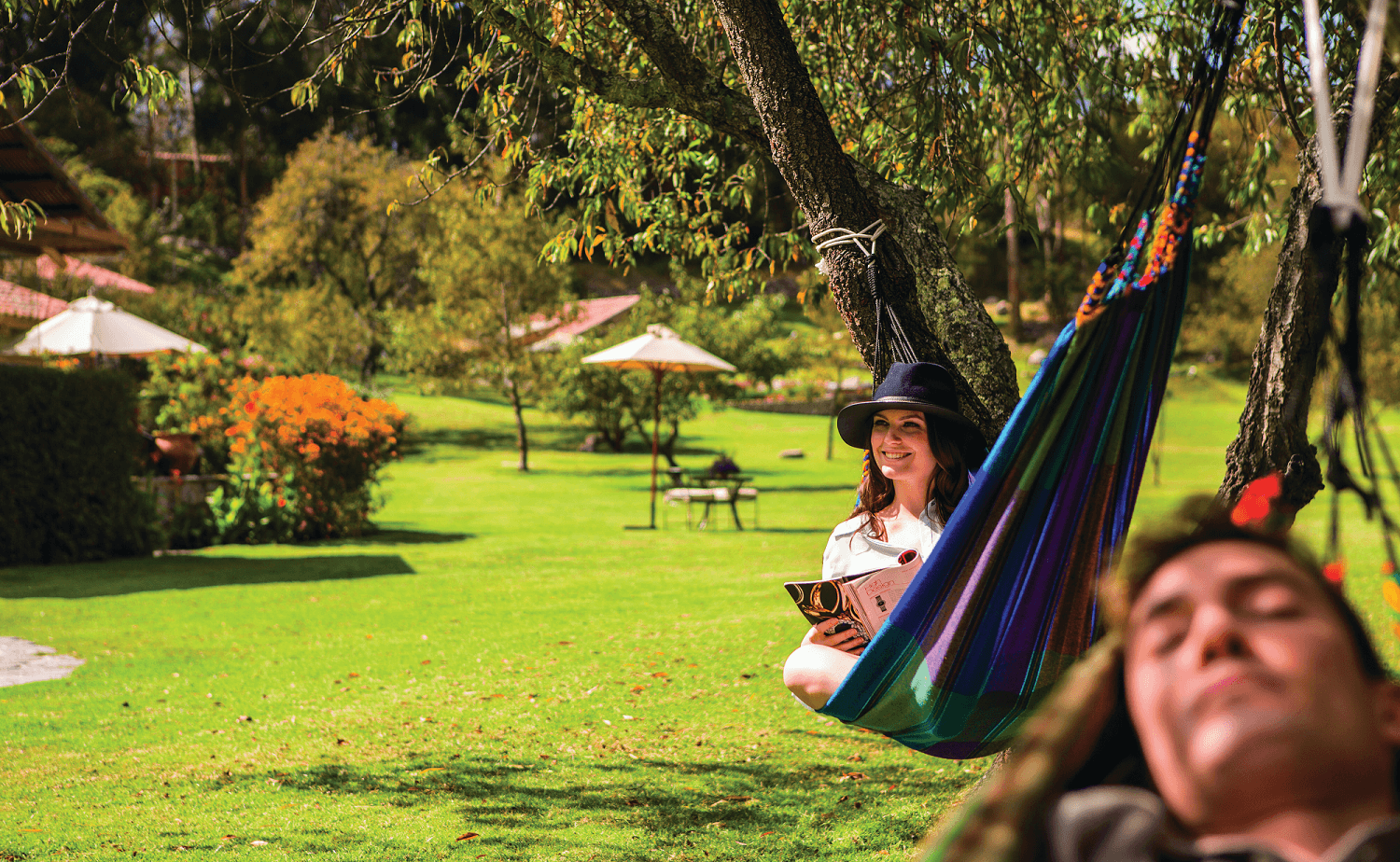 Accommodations
Belmond Rio Sagrado features 11 Suites, 10 Rooms, and two Villas. Each guest room is furnished with wooden decor and local textiles in soft, bright colors. All guest rooms feature floor-to-ceiling windows, and private terraces. Among the in-room amenities are a minibar and Wi-Fi. Rio Sagrado Hotel does not offer in-room televisions, but a TV with DVD player can be added upon request.
Room service is available everyday from 6:00 AM till 10:00 PM.
Deluxe Terrace Rooms
Deluxe Terrace Rooms measure approximately 450 square feet and are furnished with a king-size bed or two queen-sized beds. These rooms offer views over the Urubamba River and the Sacred Valley. These design of these rooms incorporates natural stone and wood.
Garden Junior Suites
Garden Junior Suites measure approximately 990 square feet and are furnished with a king-size bed or two queen-sized beds. These suites feature marble bathrooms and large private terraces with gardens.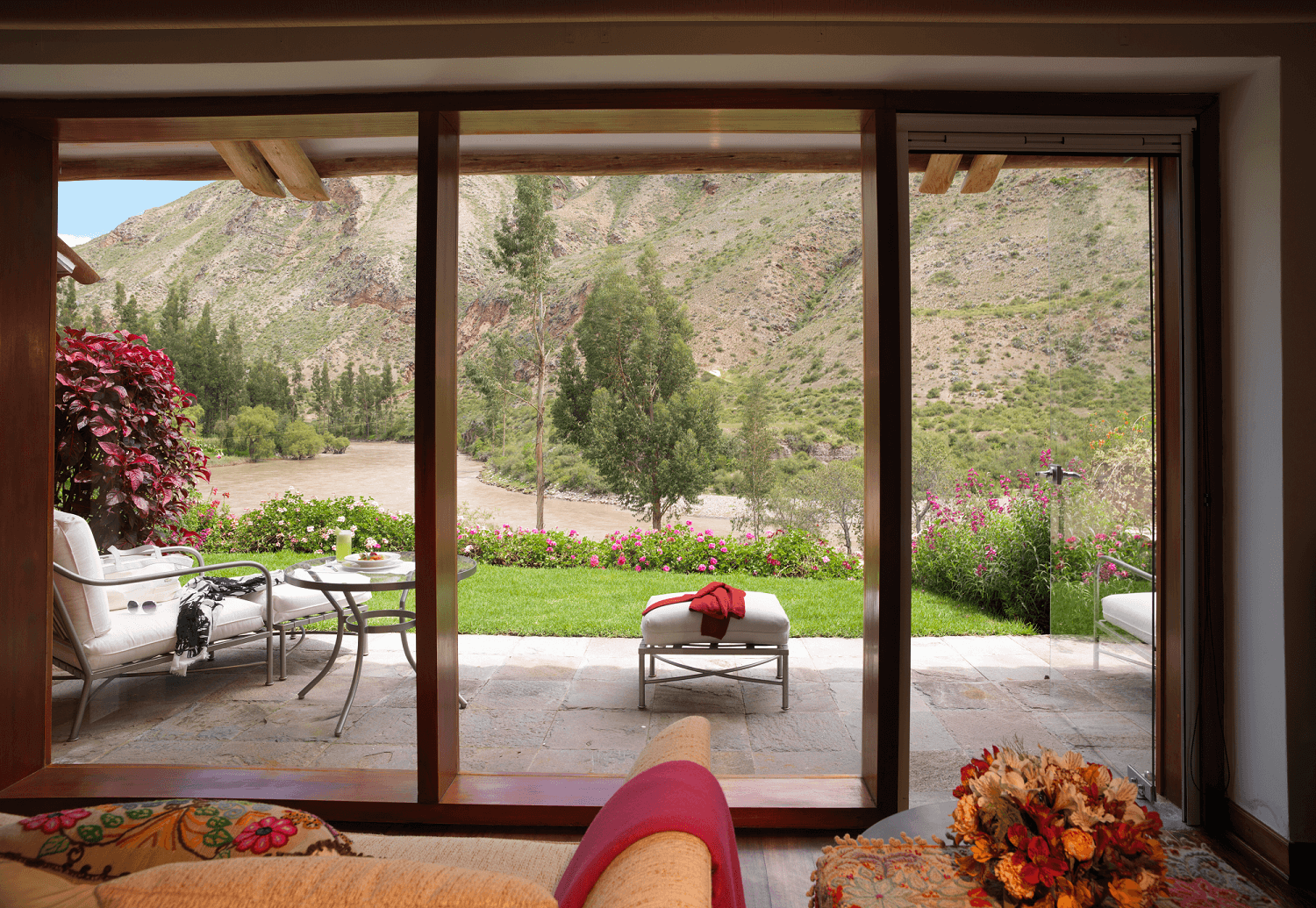 Villas
The two-story Villas at Rio Sagrado Hotel measure approximately 2,370 square feet and can accommodate up to six guests in three en-suite bedrooms. Villas also feature a full kitchen, a dining room, and a fireplace.
Amenities
Among the hotel amenities are a restaurant and bar with panoramic views, a riverside restaurant, a poolside bar, a spa, a climatized swimming pool, a business center, and Wi-Fi. Rio Sagrado offers seasonal Andean cuisine, prepared with locally-sourced ingredients.
The hotel's gardens can be explored with the head gardener, an expert on indigenous botany.
Rio Sagrado, a Belmond Hotel, also offers guests the use of a private train station for boarding the Hiram Bingham, the PeruRail Sacred Valley, and the Vistadome trains to and from Machu Picchu.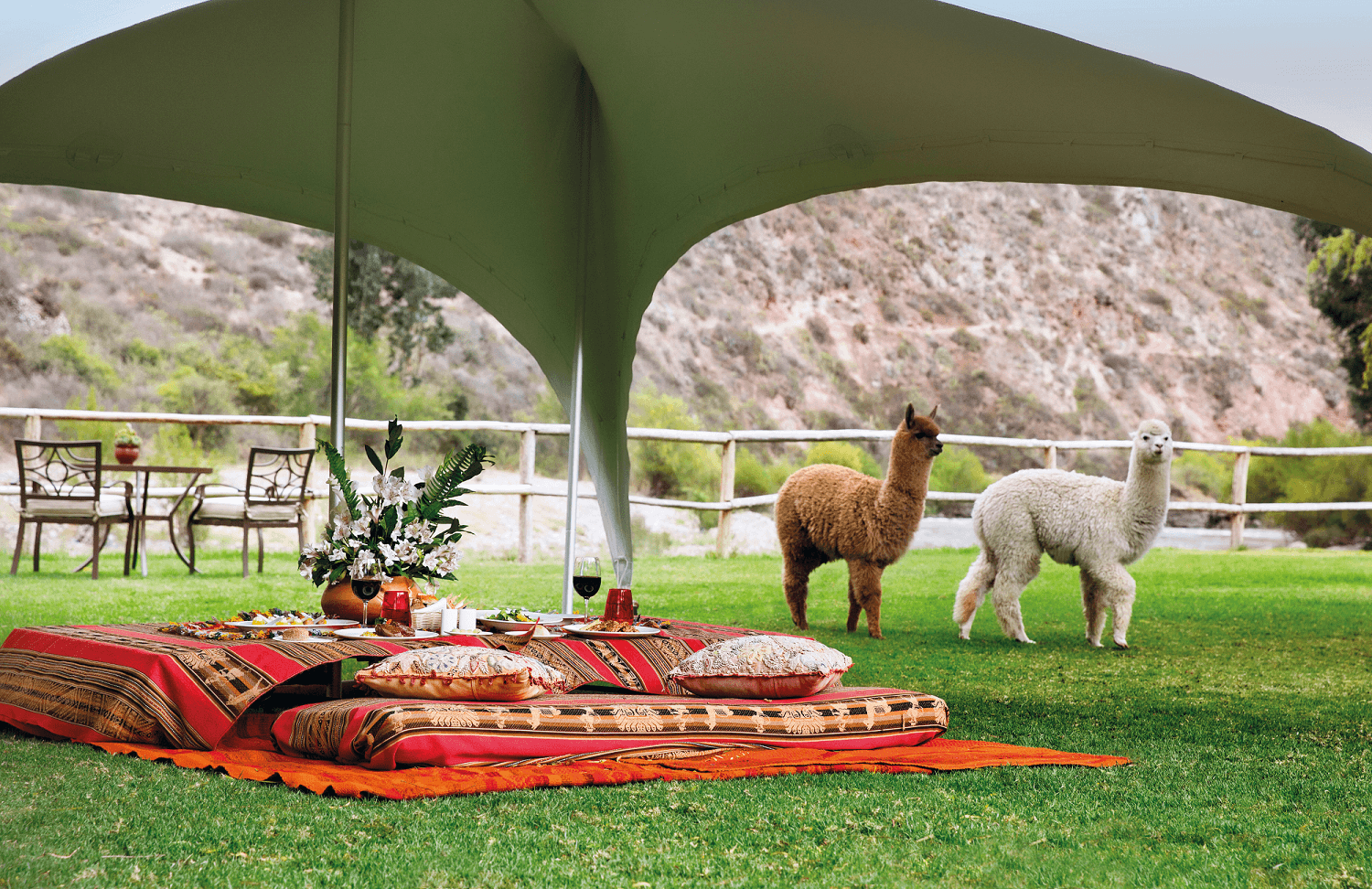 Spa
The Mayu Willka Spa features two individual treatment rooms, one couple's treatment room, an indoor and an outdoor jetted tub, a mixed steam room, and an Inca shower. The Spa's signature experience is the Willka massage, a freestyle massage that blends three techniques to soothe muscles: Swedish, deep tissue, and digito-pressure, with a eucalyptus foot treatment.
Private stretching, guided jogging, and yoga sessions are available at an additional cost.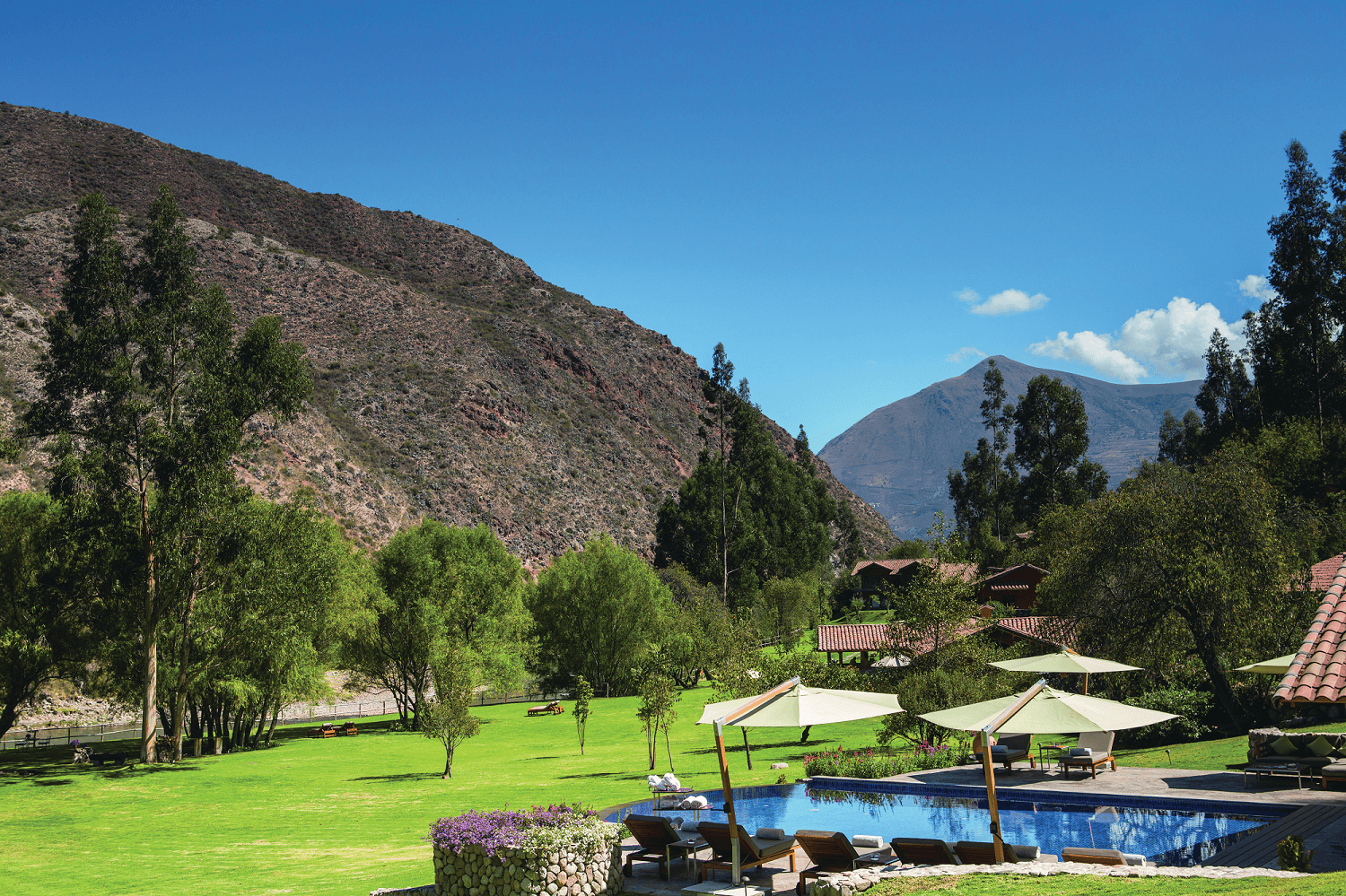 Activities
Horseback riding, biking, spa treatments, yoga sessions, mystic ceremonies, coca leaf readings, cooking classes , garden visits, and face painting for kids are some of the activities that can be arranged on property.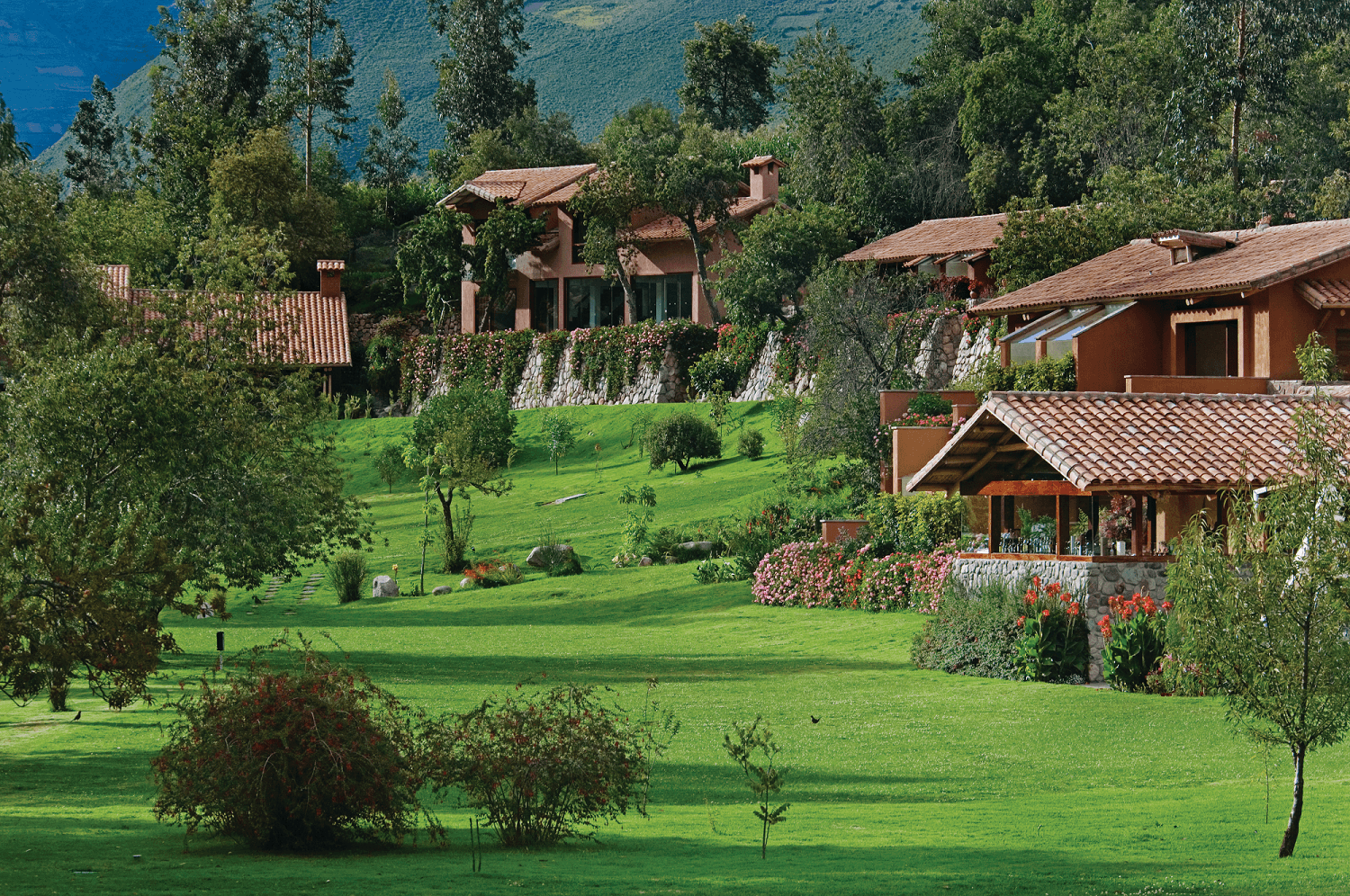 ARE YOU CONSIDERING A STAY AT RIO SAGRADO, A BELMOND HOTEL? LANDED PROVIDES PERSONALIZED, CUSTOM TRAVEL WITHIN CENTRAL AMERICA, SOUTH AMERICA, AND THE ANTARCTIC. WE'LL CREATE A UNIQUE ITINERARY PLAN TAILORED TO YOUR INTERESTS AND DREAMS. EXPERIENCE THE TRIP OF A LIFETIME. SPEAK WITH ONE OF OUR EXPERT TRAVEL PLANNERS TODAY AT 801.582.2100.