Peru By Train
Many visitors to Peru travel by rail, if only from Cusco or the Sacred Valley to Machu Picchu and back. Accordingly, many levels of train service are available on this route.
Some offer basic, economical transportation. However, for passengers seeking a higher level of service and comfort, we suggest the Vistadome, Special Service, Inca Princess, and Hiram Bingham trains.
Vistadome
The Vistadome is fitted with unique panoramic windows, permitting side and roof views of the surrounding mountains. Hot and cold refreshments are included.
Special Service train
The Special Service train is furnished with comfortable wingback seating in an elegant dining car format.
Brunch at Machu Picchu Sanctuary Lodge, and tickets for the round-trip bus transfer from the train station to Machu Picchu are included in most ticket packages.
Wine and cheese are served on the return journey.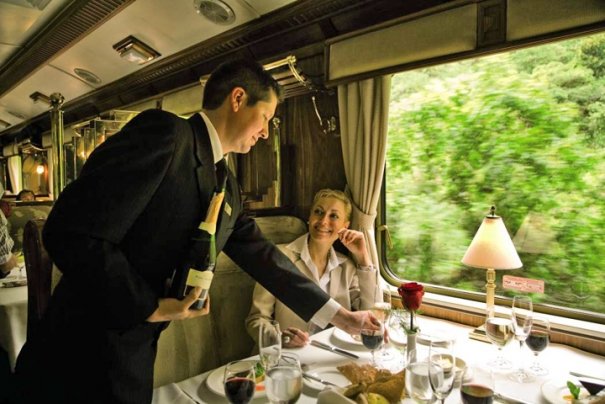 Inca Princess
The Inca Princess is a luxury railcar with capacity for only eight passengers. This "Presidential Service" is designed for travelers seeking privacy, luxury, and comfort.
The car is equipped with a full bar, with buffet catering that can be tailored to passenger tastes.
LANDED booked the first charter of the Inca Princess shortly after the railcar's inauguration in 2011.
Hiram Bingham
The Hiram Bingham, operated by Orient Express, features elegant dining cars, a bar car, air conditioning, live music and fine dining.
The Hiram Bingham departure schedule entitles passengers to sleep in before traveling to Machu Picchu and stay longer at the citadel before their return.
Both of these trains offer service to the Sacred Valley and Poroy, allowing passengers to avoid Cusco's tedious switchback route.
Orient Express
Orient Express also serves the Puno (Lake Titicaca) to Cusco route. The Andean Explorer train is reminiscent of the comfortable Pullman cars of the 1920s.
This ten-hour journey passes soaring mountains, river valleys and high plains inhabited by alpaca and vicuña.
A three-course lunch and afternoon tea are included. Wine and cocktails are available in the bar car, in addition to an open-air observation deck for photographs.
Private Orient Express Charter
Charter trains are available for any of the Orient Express routes, and additional routes—such as the four-hour journey from Arequipa to Puno—can also be arranged.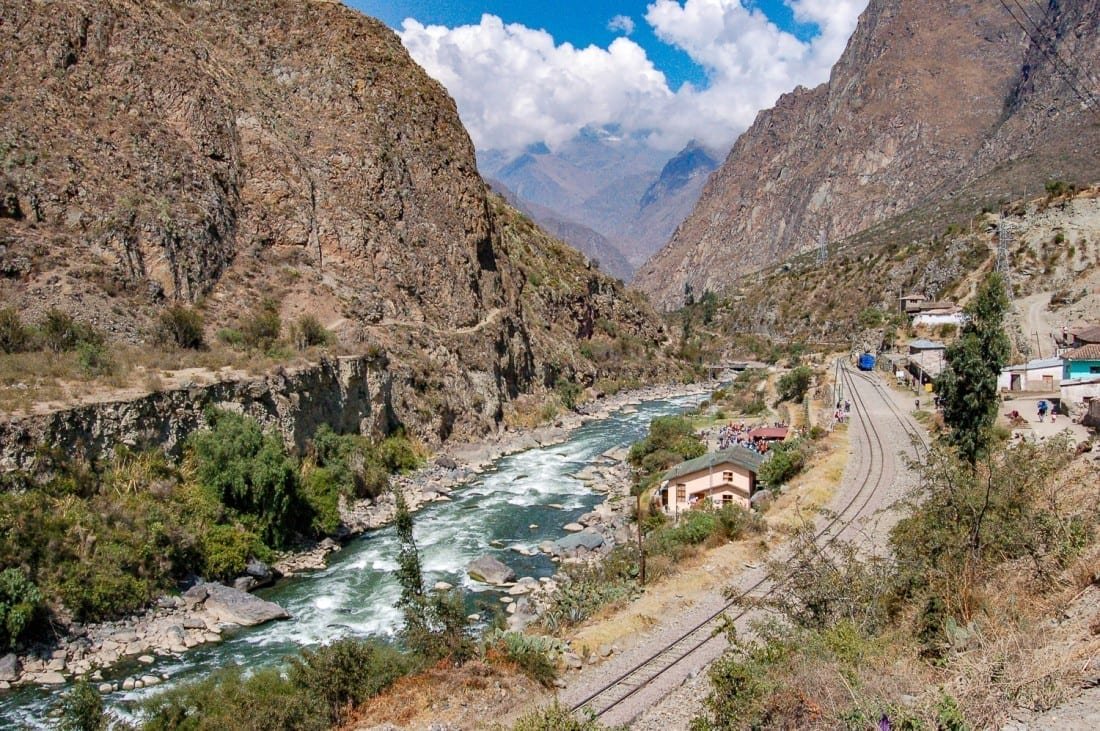 LANDED arranges personalized travel in Peru and throughout South America. We organize luxury accommodation, private transportation, and tours with expert guides. Speak with a travel planner today at 801.582.2100. We'll take care of the details.
"Railway termini are our gates to the glorious and the unknown. Through them, we pass out into adventure and sunshine, to them, alas! we return."
E. M. Forster
PERFECT

Could not have been more pleased.  This was the trip of a lifetime for our family.  Thank you!
GO WITH LANDED

If you're planning to travel, go with LANDED. You won't be disappointed.
AMAZING ADVENTURE

The whole rhythm of the trip was perfect, and leaving one place for the next worked perfectly. This trip definitely made me want to experience other great spots in South America.
TRIP OF A LIFETIME

The locations were amazing. Your on-the-ground team was fantastic–knowledgeable and accommodating. Beautifully organized.
ABSOLUTELY AMAZING

The best guide I've ever had anywhere in the world. Top notch talent.
GREAT SERVICE

You were a great help in planning–ensuring that I was staying at the right places and enjoying the type of activities we love–and the follow up was incredible.
YOU GOT TO KNOW US

Exactly the bonding and sharing experience we'd hoped for. The rhythm, variety, and tone was spot on. With effective listening skills, you built a good picture of what we wanted–more complicated than "just" luxury. The result was a great trip, one made just for us.
BEST EVER

Excellent attention to detail. You listened carefully, asked the right questions, and customized with just the right balance. Superb guides. We felt relaxed and pampered all the way. You'll plan our next trip.
FANTASTIC EXPERIENCE

Not a single thing on the itinerary that we would change.  The guides were knowledgeable, friendly, and prompt.  The hotels were beautiful, the food delicious and the pace of the activities was perfect for us.
DO IT!

In short, our trip was amazing. Thanks so much for your constant assistance and thorough planning.
PERFECT

The planning, service and execution of the trip was flawless – thank you!
EXCELLENT

LANDED was helpful and knowledgeable, making our trip a memorable one.  I will use your services in the future as I continue to explore Central & South America.
A VERY WELL ORGANIZED DREAM

Your patience with my questions and concerns during the planning stage was remarkable.
THANK YOU

You actually got to know us, which made it possible to know just what we like. You promised the best trip ever and you kept your promise.
ENTIRELY AMAZING

Your recommendations were well thought out. We thoroughly enjoyed our honeymoon. Thank you!
THE ULTIMATE GUIDE

LANDED is the ultimate. You helped us make the most out of a week's time.
DIDN'T MISS A THING

We zip-lined, rafted, sailed, and surfed. The contacts were professional and courteous. We don't want to be back at work. Thank you for all of the work you did to set up this trip.