LANDED Podcast 015:
Eolo & Valentin Virasoro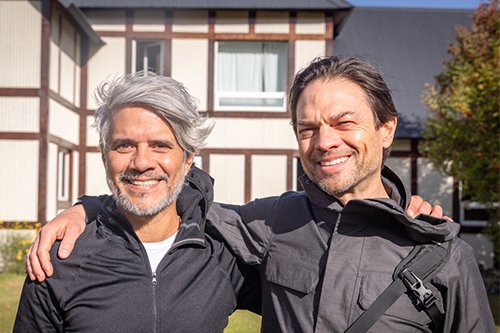 Podcast: Play in new window | Download
Subscribe: Apple Podcasts | Google Podcasts | Spotify | Stitcher | TuneIn
Imagine yourself on a journey. You're in a raw, wild landscape. Multi-colored granite peaks and glacial blue lakes line the horizon. The scale of the scenes before you is epic —amplified, intensified, mythic. It's familiar, but new and surprising —like a waking dream. The distances are vast. In your core, you sense that you're at the edge of the known. Moving forward is a release, a letting go, and a reconnection with some part of you you'd forgotten.
Now imagine being welcomed home here. Entering a refuge from the wind and the wildness. A home that's fitting–appreciative of its surroundings. A place of warmth and rest. Your host greets you with a gentle smile, and you are invited into the heart of the house to relax and be restored. Refreshed, you look forward to your next adventure.
Patagonia is the stuff of legends. It is adventure. Its proportions and beauty reset some inner director. It orients you to your proper place in the natural world.
My guest today is someone who gets it —who has fully embraced the spirit of Patagonia. His name is Valentin Virasoro, and on first meeting him, you may have the sense that you've been friends for years. Valentin has devoted his life to welcoming travelers —to sharing what makes Patagonia singular and unforgettable. He lives in El Calafate, the deep south of Argentina —where steppe meets mountain, near Lago Argentino and the Southern Patagonian Ice Field. By trade, he is the general manager of Eolo —as nearly perfect a small hotel as can exist in a real place.