Luna Salada is located on a low hill, at the edge of the Salar de Uyuni—the world's largest salt flat—at 11,995 feet above sea level.
The hotel is constructed largely of rectangular salt blocks harvested from the salar. The block construction is surprisingly soundproof and well insulated.
To assuage the effects of high altitude, oxygen service is available at the reception desk. Loaner bicycles are available.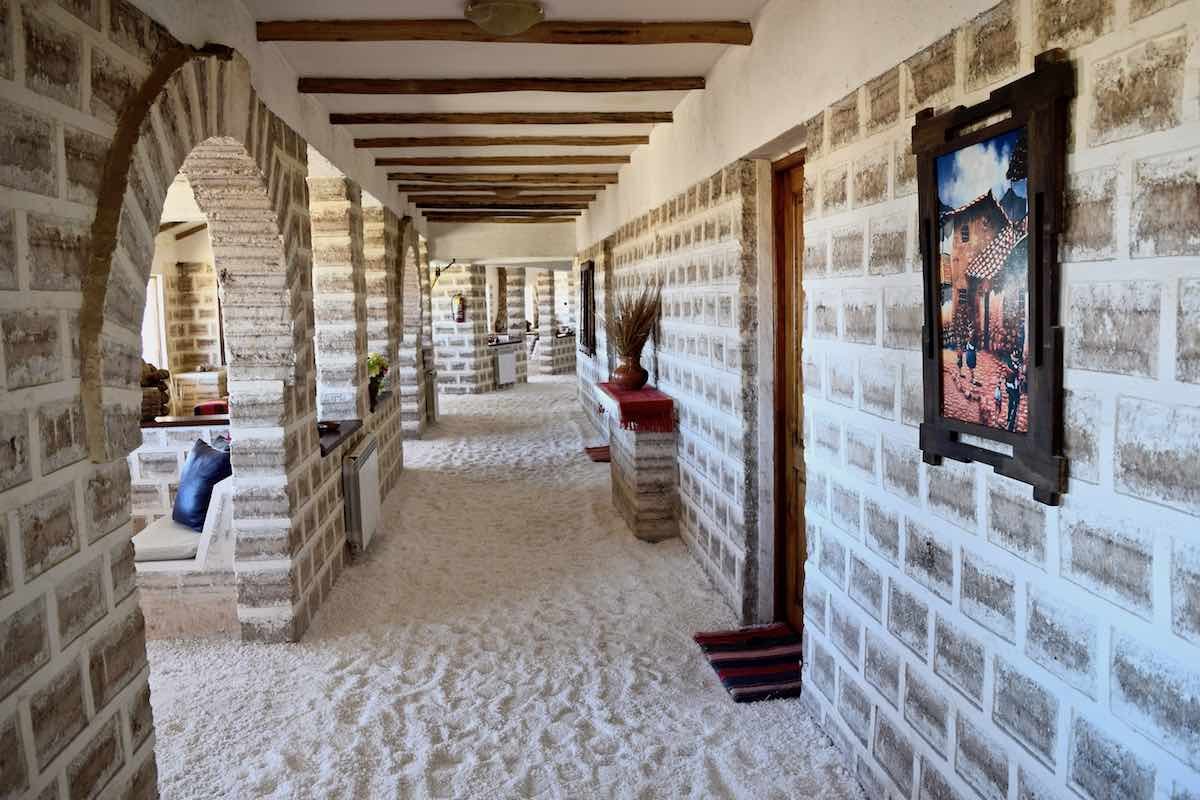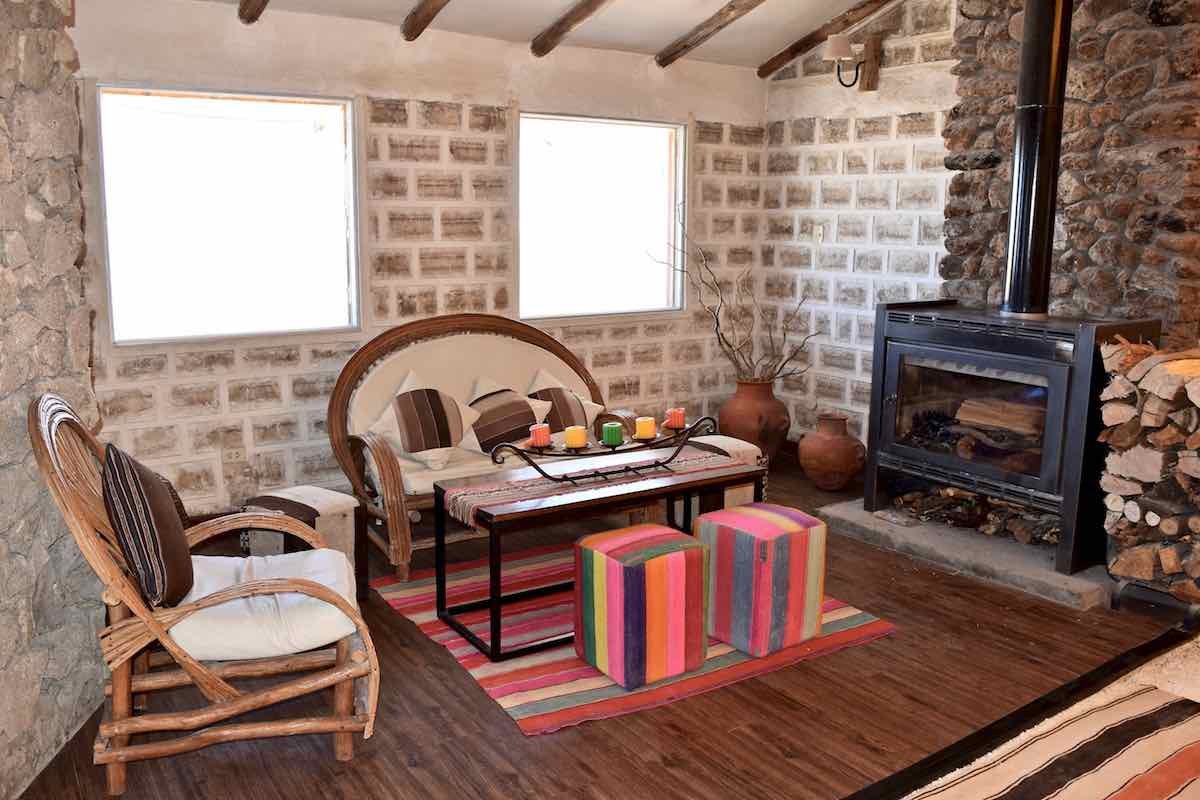 Accommodations 
Each of the 49 rustic guest rooms is equipped with air conditioning, en suite bathroom, telephone, safety box, electrical outlet, electric blanket, down comforters, and central heating.
Most rooms have wood plank flooring, and either one queen or two twin beds. Wi-Fi is available in the hotel's common areas.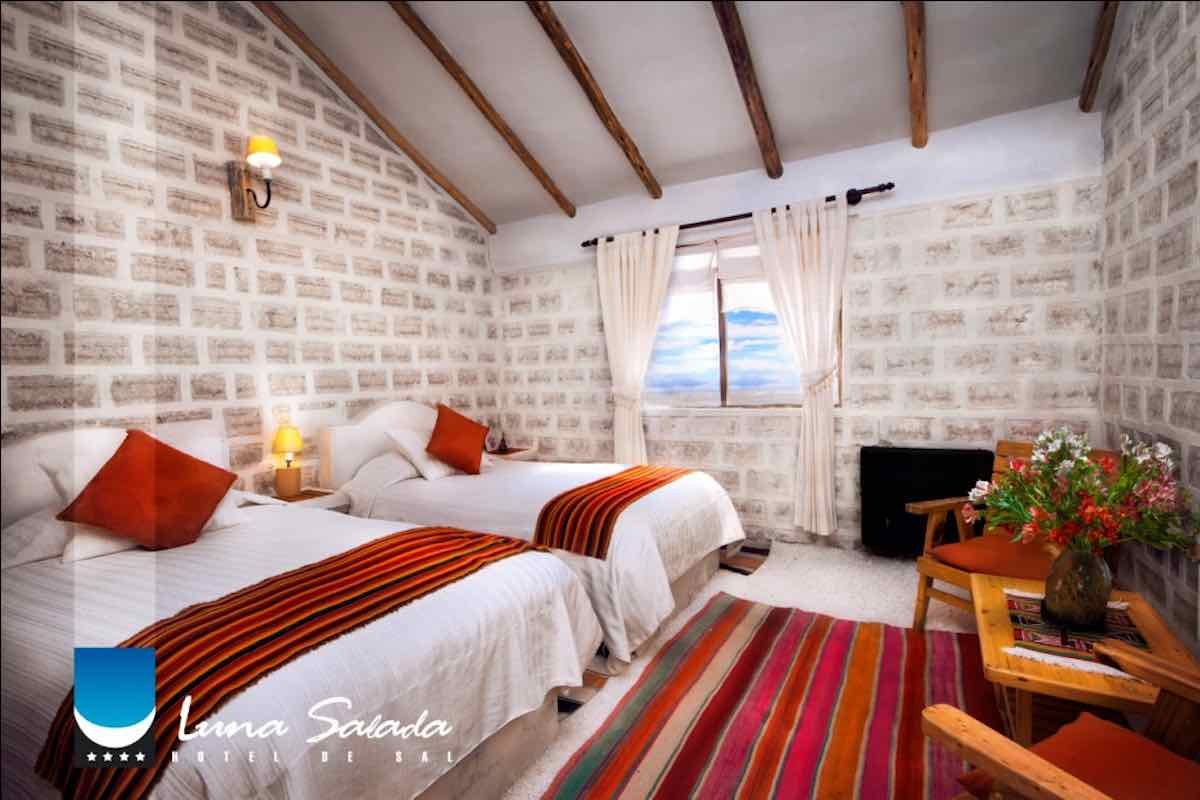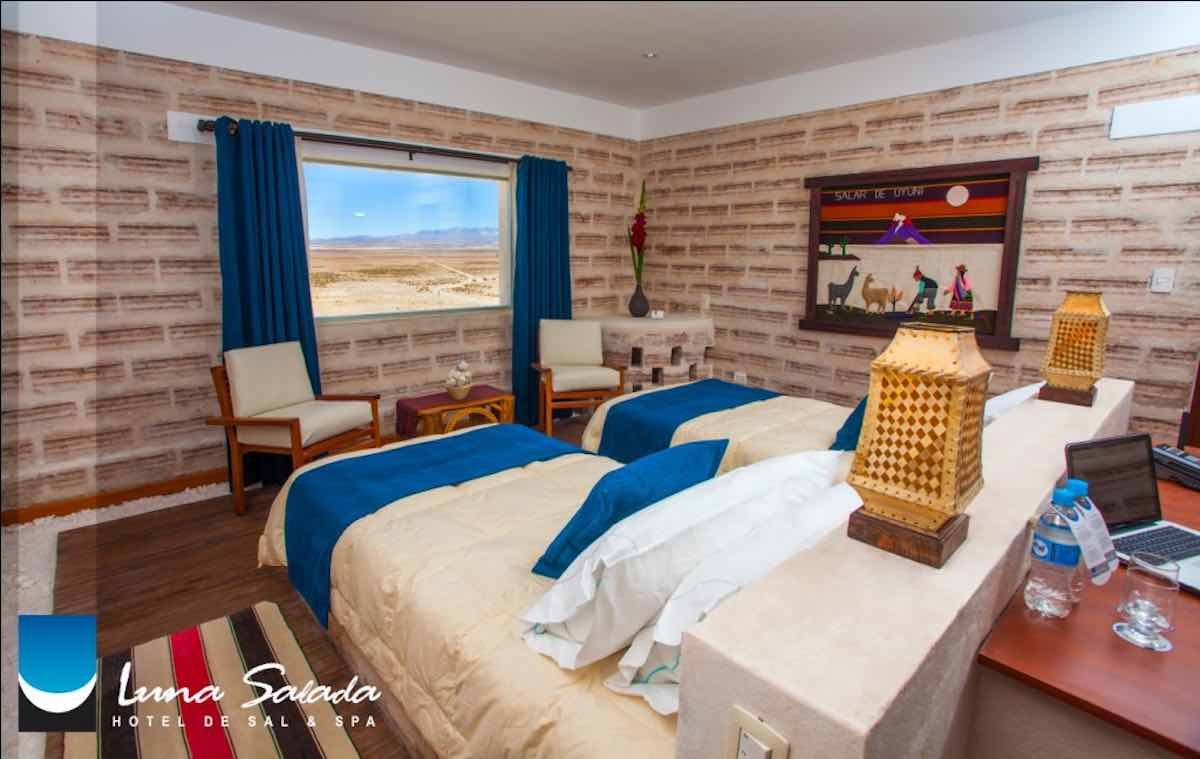 Amenities
The hotel's spa offers massages and is equipped with a whirlpool and steam room. Among the hotel's other amenities are a restaurant, bar, library, game room, lounge with television, fireplace, and boutique.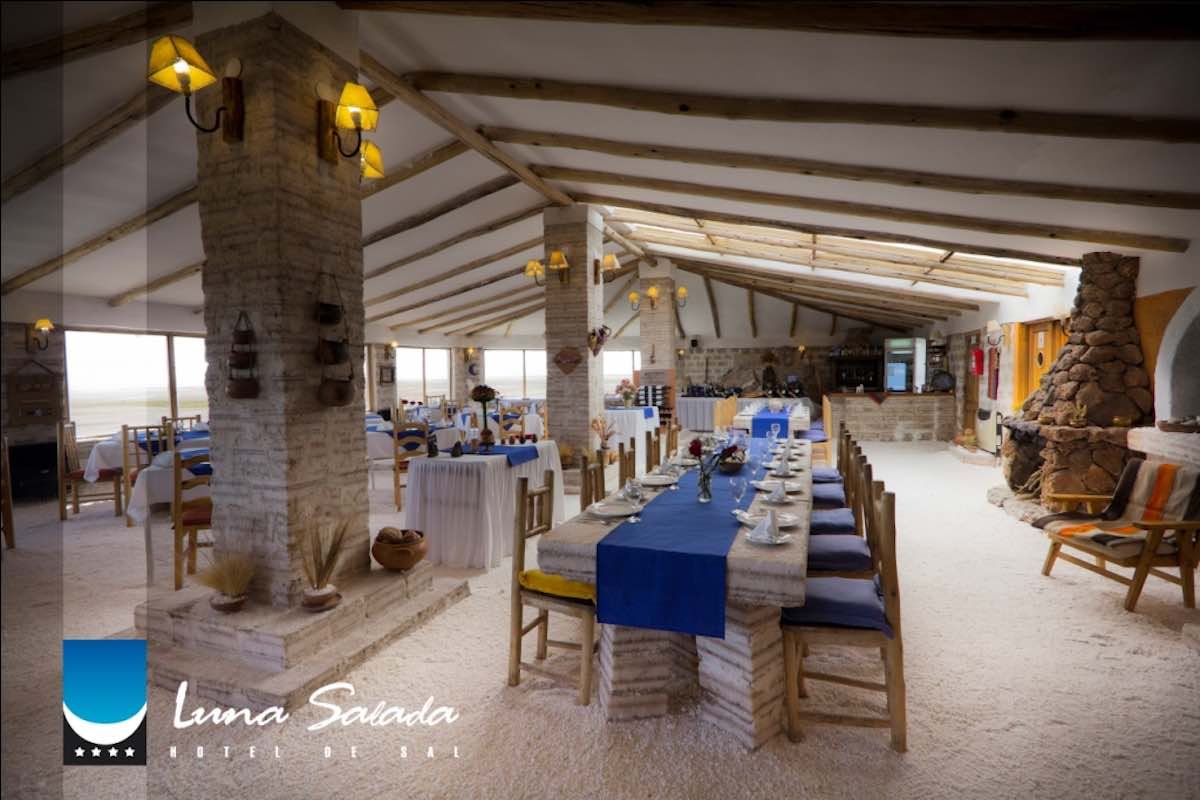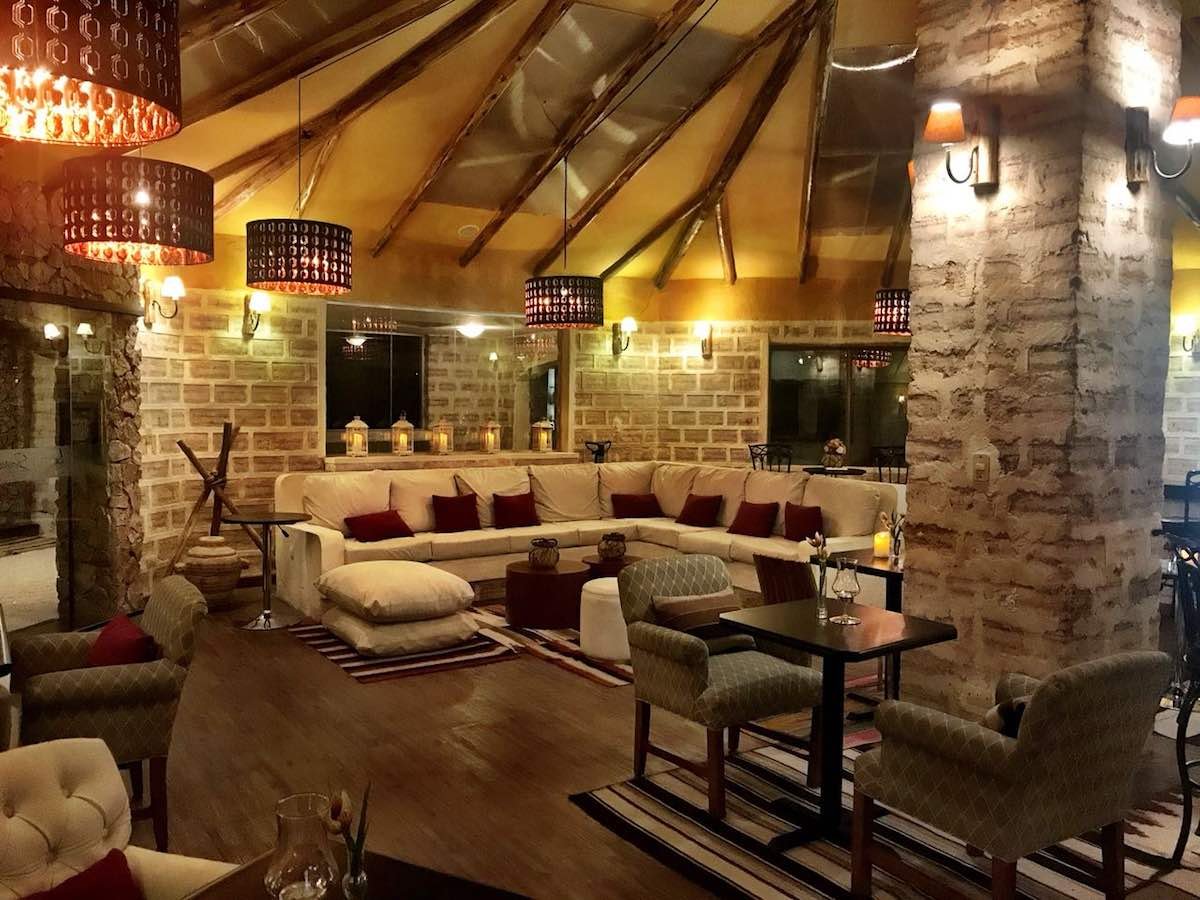 Salar de Uyuni 
High in the Altiplano of southwestern Bolivia, the Salar de Uyuni covers more than 4,000 square miles. This is the world's largest salt flat—a barren pavement of white infinity.
The salar is the evaporated remnant of two enormous prehistoric lakes (Minchín and Tauca), once covering thousands of square miles.
The average altitude at Salar de Uyuni is approximately 11,980 feet above sea level. During the November to March wet season, the salt pan is flooded by overflow from the north.
A thin layer of water covers the salty plain, reflecting the sky with astonishing clarity. Passengers in off-road vehicles crossing the flooded flats often enjoy the sensation of floating.
November is also breeding season for the three species of flamingo that inhabit Salar de Uyuni. Two notable islands rise from the center of the salar, Isla Pescador and Isla Incahuasi—red volcanic oases covered in towering cacti.
Other attractions include a small museum in Coquesa Village, the Tunupa Volcano Trail, and a petrified forest.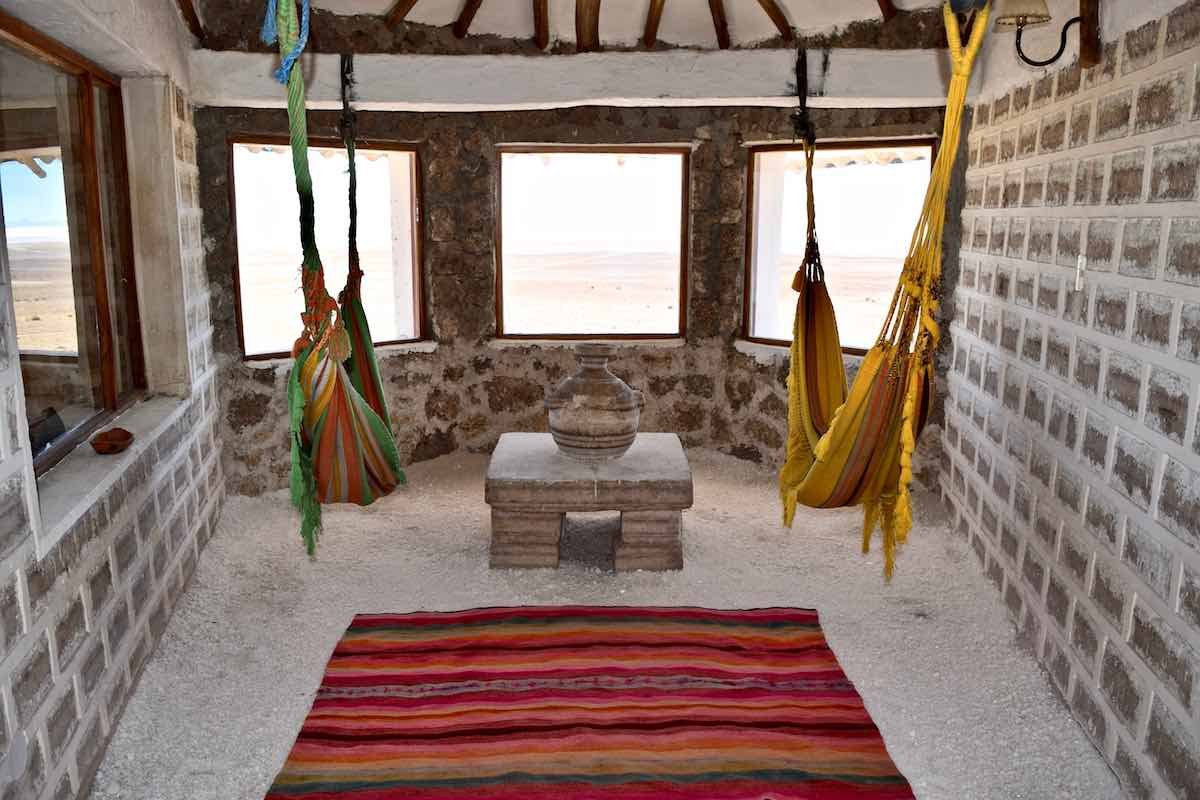 ARE YOU CONSIDERING A STAY AT LUNA SALADA? LANDED PROVIDES PERSONALIZED, CUSTOM TRAVEL WITHIN CENTRAL AMERICA, SOUTH AMERICA, AND THE ANTARCTIC. WE'LL CREATE A UNIQUE ITINERARY PLAN TAILORED TO YOUR INTERESTS AND DREAMS. EXPERIENCE THE TRIP OF A LIFETIME. SPEAK WITH ONE OF OUR EXPERT TRAVEL PLANNERS TODAY AT 801.582.2100.